Are you always looking for activities for kids in Calgary? Look no further. I've compiled a list of things to do with kids in Calgary year-round! No matter the season of the year, you'll find plenty of great ideas here to keep your family occupied all year long.
Some activities are season-specific, meaning they might be closed in winter or summer, but there's still a lot left to do. Calgary has an insane amount of indoor and outdoor activities for kids; I'm constantly amazed.
Our little boy is not even two years old, but we've already tried many of these activities. I put together this guide of fun activities for kids in Calgary for families who like to have fun and never want to run out of ideas, so I'll keep adding to it as I find more.
This huge list starts with year-round activities, then mentions specific activities for spring, summer, autumn, and winter, and day trips from Calgary at the end.
Enjoy!
40 things to do with kids in Calgary
1. Calgary Zoo
I love watching my boy being mesmerized by seeing live animals. It's one thing to see them in books and making animal sounds and a different experience visiting the zoo.
The Penguin Plunge is always a big hit, as well as the Canadian Wilds section, and Africa & Asia Section with giraffes, hippos, gorillas, lions, tigers, lemurs, and many more animals.


DETAILS:
Address: 210 St. George's Drive NE
Admission: free for children under 3, 19.95 Cad/child, 29.95 Cad/adult, 12 Cad parking fee
Open 9 am – 5:00 pm (check the current schedule here)
Read the full blog post: Tips for visiting the Calgary Zoo
2. Creative Kids Museum
Our newest find is the Creative Kids Museum at Telus Spark Science Centre in Calgary. They have the coolest indoor playground I've seen with a giant water play area, climbing structure, and many other activities. It's one of the best things to do with kids in Calgary during winter.
They really thought of all kids from babies to 8-year-olds. Open Studio on the 2nd floor is for older kids.
Read the full blog post: Creative Kids Museum at Telus Spark Science Centre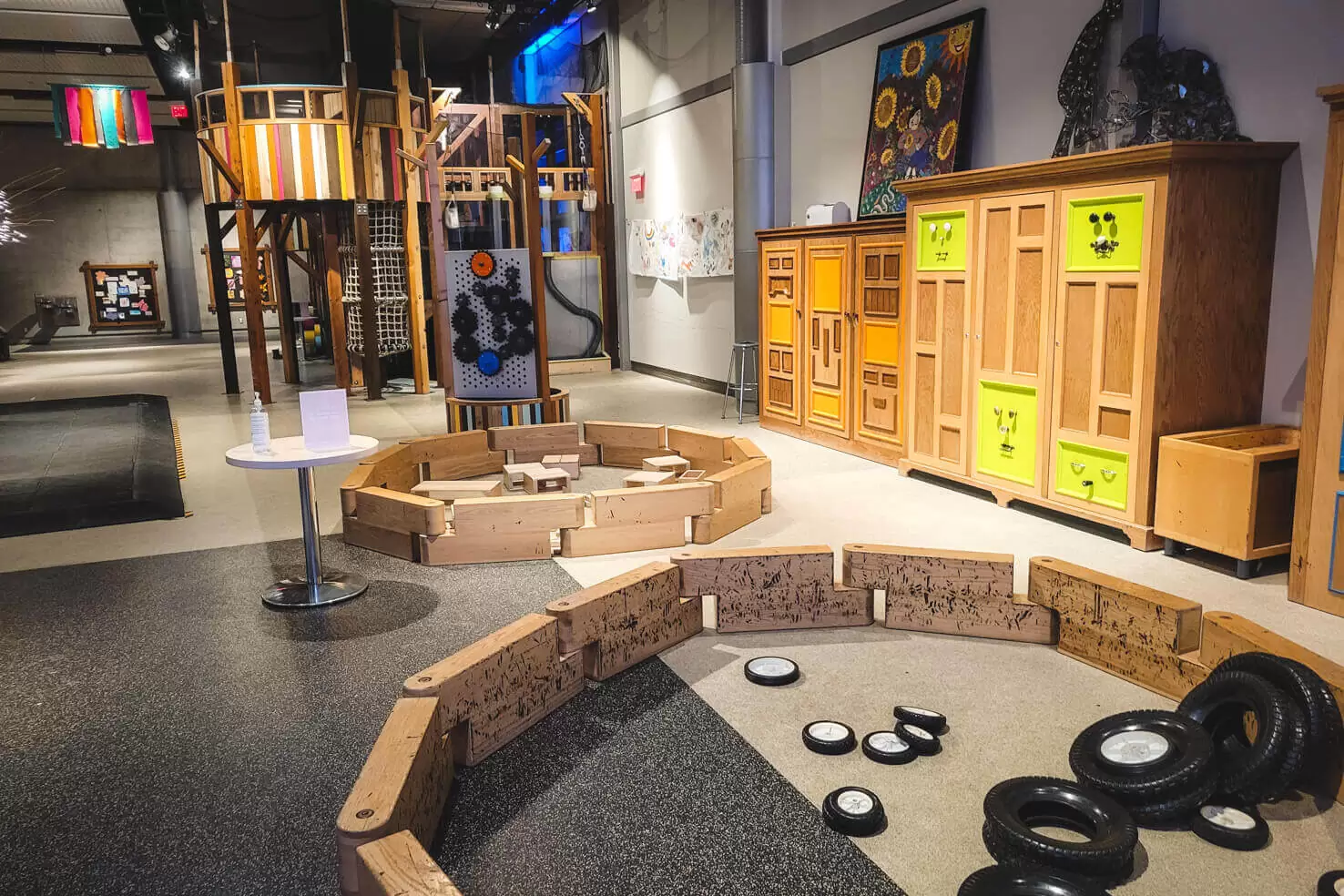 DETAILS:
Address: TELUS Spark Science Centre, 220 St. George's Drive NE
Admission: 19 Cad/child, 26 Cad/adult, 7 Cad parking fee (The adult membership for 76 Cad/year is highly worth it)
Check their opening hours here
3. Calgary Library
Babies and toddlers can enjoy the Early Learning Centre at 12 of Calgary's libraries. Our little Martin enjoys the reading nooks, drawing tables, and the climbing structure.
Every Early Learning Centre is built in a different concept and offers various activities. These are the centre you can find in Calgary:
Discover Dinosaurs at Country Hills Library
Full-Body Play at Central Library
Read and Play at Quarry Park Library
Into the Woods at Shawnessy Library
Rainbow Jungle at Village Square Library
The World is Your Stage at Fish Creek Library
Bird's Eye View at Crowfoot Library's Calgary Foundation ELC
Build and Create at Signal Hill's Calgary Foundation ELC
Up, Up, and Away at Saddletowne Library's Calgary Foundation ELC
Outdoor Nature Playground at Forest Lawn Library
Explore Energy at Forest Lawn Library's Calgary Foundation ELC
Co-Op Community Early Learning Centre at Nose Hill Library
Alouette III helicopter in the Hopewell ELC at Seton Library (courtesy of the Hangar Flight Museum)
Read the full blog post: Early learning centres in Calgary public libraries: play areas for kids


DETAILS:
Address: Click here for locations and opening hours
Admission: free (you can enter without a library card or get a free card to borrow books)
4. Granary Road
Granary Road features a farmer's market and an active learning park for kids. Their special events include Goat yoga in summer, Pumpkin Fest in October, and Christmas Market in December.
They thought of fun activities for kids of any age such as trampolines, mini-golf, slides, a giant rope web for climbing, a big Ant Farm with slides, nets, climbers, mushroom forest, Bee Hive Honeycomb, Orchard treehouse, and many more. Farm animals include goats, sheep, llamas, donkeys, pigs, peacocks, and bunnies.
Granary Road closes after Christmas markets in December and opens again in spring.
Read the full blog post: Granary Road: Active Learning Park & Petting Zoo


DETAILS:
Address: 226066 112 Street West, Foothills County, T1S 5S5 (past the Calgary city limits, south of 22X & Spruce Meadows)
Admission: 13 Cad Adults & children 3 years & up, kids under 3 are free
5. Hangar Flight Museum
Four different airplanes were available during the weekend of summer 2021 to sit inside (closed-toe shoes are required). Since the planes are historical artifacts, you're usually unable to sit inside them. Therefore the best time to visit is during one of their special events. Otherwise, you can see the planes from the ladders.
DETAILS:
Address: 4629 McCall Way NE
Admission: 8 Cad/child, 15 Cad/adult
Open Tuesday to Sunday 10 am – 4 pm (opening hours in summer may differ)
6. Pools & water slides
While Calgary has a short summer season and, therefore, a few outdoor pools, it has a ton of indoor pools! The City of Calgary operates 13 swimming pools, and the most exciting ones for kids are Southland Leisure Centre (2000 Southland Drive SW) and Village Square Leisure Centre (2623 56 St NE). They both have a wave pool, hot tub, water slides, water playground, and a kiddie pool.
I recommend Vecova Aquatics with a warm 34.5 degrees water pool for small toddlers and babies – the warmest swimming pool in Calgary.
DETAILS:
Address: Vecova's Aquatics, Health and Fitness, 3304 33 St NW
Admission: 2.25 Cad/2-6 years, 4.50 Cad/7-17 years, 9.05 Cad/adult, 2 Cad/person during children's playtime
See their website for drop-in schedule and children's playtime drop-in schedule
7. Heritage Park
Heritage Park is an indoor and outdoor museum showcasing life in the settlements of Western Canada from the 1860s to 1930s.
The most popular attraction in the park is riding the antique steam train.
The historical village opens in May and then closes in October. You can, however, visit Gasoline Alley Museum, a huge automobile museum, which is open in winter.
DETAILS:
Address: 1900 Heritage Drive SW
Admission: 4.95 Cad/child, 9.95 Cad/adult for Gasoline Alley Museum
8. Canada Olympic Park
WinSport/Canada Olympic Park is a year-round recreation and training park. You can try Skyline Luge, mountain biking, or mini golf beginning in spring. In winter, go tubing, skiing, or ice skating.
Canada's Sports Hall of Fame has exhibits of Canadian athletes, history panels of 14 different sports and interactive displays.
DETAILS:
Address: 88 Canada Olympic Rd SW
Admission: click here for pricing & opening hours for different activities
9. See bunnies at Lindsay Park
If you have lived in Calgary for a while, you must have noticed rabbits all over the city. While the big ones like to hang out at playgrounds, you can always find little bunnies in Lindsay Park just behind the Repsol Sport Centre.
They're hiding in the bushes, and many of them are hopping all around Lindsay Park. Because they're usually not afraid of humans, they will continue munch on the grass if you approach them—a beautiful sight for all children.
You can park at the Sports Centre or visit the park by bike on the Elbow River Pathway.
DETAILS:
Address: location of Lindsay Park here
10. StoryBook Theatre
StoryBook Theatre is the largest theatre in Canada run by volunteers. Their performances include SpongeBob musical, Disney's Descendants musical, and more. From the age of 6, kids can even sign up to learn acting through games and creative play.
DETAILS:
Address: Beddington Theatre Arts Centre, 375 Bermuda Drive NW, Calgary, Alberta  T3K 2J5
Admission: from 28.50 CAD/kid & 33.60 CAD/adult
READ FOR INSPIRATION
55 Family travel quotes to spark your wanderlust
11. Pony rides
Horsin' Around offers pony rides, riding lessons, bouncy castles, and petting farms of goats, chickens, pigs, rabbits, and more. For an outdoor experience, they offer horse-drawn sleigh rides in winter. In winter, you can even visit when the pony rides take place in the heated indoor facility.
DETAILS:
Address: 3729 146 Ave SW, Calgary, AB T2Y 0B8
Admission: 12 Cad/Adult, 10 Cad/Child
Open daily 9 am – 5 pm
12. Indoor play places
Because of the long winters, there are plenty of indoor playgrounds in Calgary. And sometimes, letting the kids run around while having them contained and being outside the house is just necessary for the mental health of all caregivers. If you're reading this and take care of a kid of any age, I'm sure you understand what I mean.
Of several indoor play places in Calgary, we like Hide 'n' Seek, Kidz Go, and Treehouse indoor playgrounds.
DETAILS for Hide 'n' Seek:
Address: Hide N Seek Indoor Playground, 49 Aero Drive NE #18
Admission: 6.95 Cad/1-3 years, 12.5 Cad/4 years and older, (weekend & holiday rates are 2-3 Cad higher), adults are free
Open daily 10 am – 7 pm
Full blog post: 10 Best indoor playgrounds in Calgary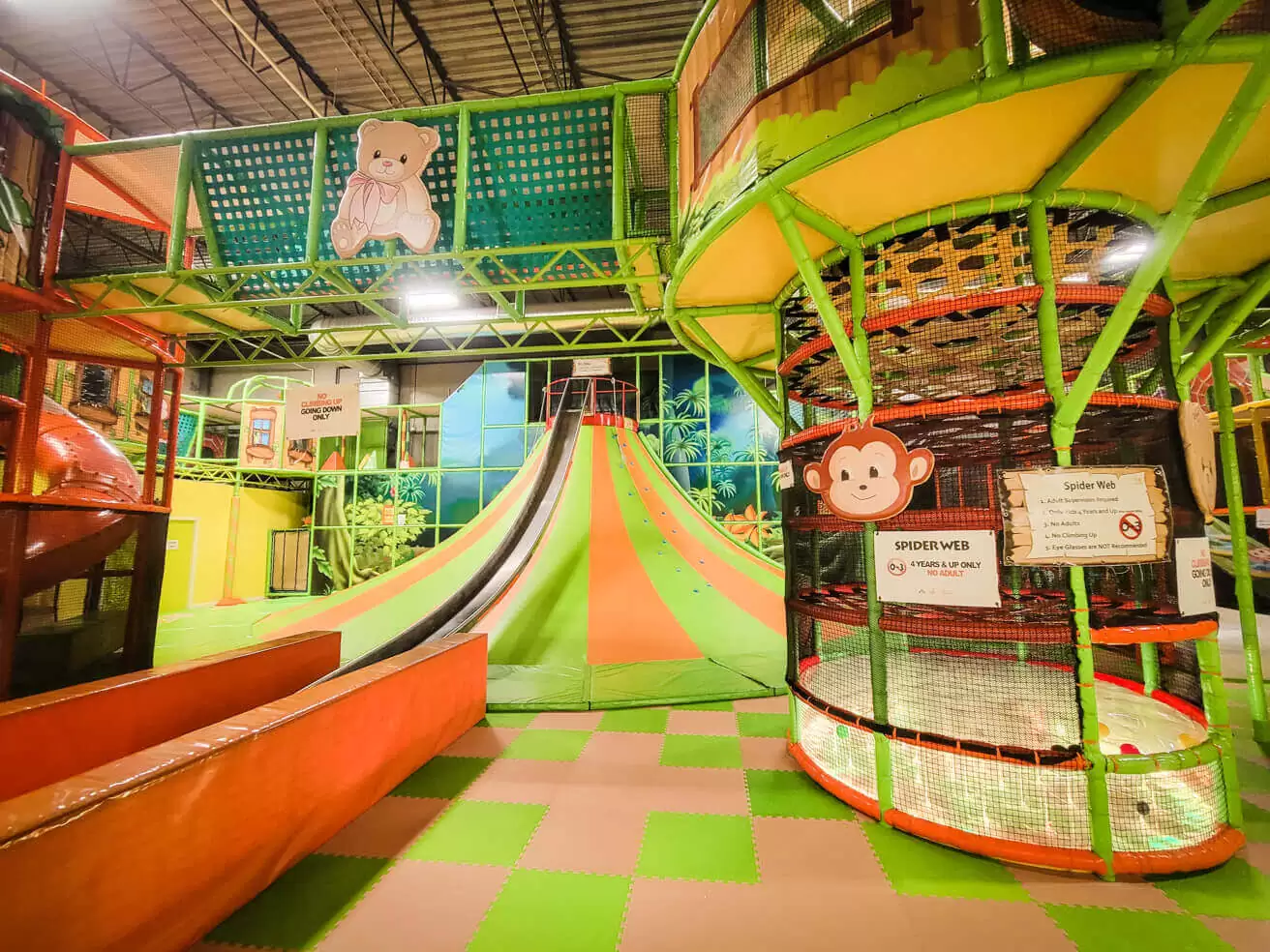 Detailed reviews:
13. Gymnastics
For more than play, kids can attend gymnastics with a teacher and structured activities. They have trampolines, bars, ropes, and soft blocks to encourage movement and have fun.
Check out these gyms:
Kyle Shewfelt Gymnastics (3442 118 Ave SE)
Flip Factory (4500 5 St NE)
My Gym Children's Fitness Center (19606 Walden Blvd SE #150,& 15 Royal Vista Pl NW #118)
See their websites for drop-in sessions, programs, and fees.
Read our review: My Gym in Calgary: Children's Fitness Centre


Things to do with kids in Calgary – Spring & Autumn edition
14. Cobb's Adventure Park (spring, summer & autumn)
Cobb's Adventure Park features a petting zoo, fun games & playgrounds, several mazes, pedal carts, giant slides, kangaroo petting zoo, and tractor rides.
The giant hill slide seemed to be the most popular attraction for kids and adults. We enjoyed the animals the most – kangaroos, pigs, sheep, bunnies, ducks, goats, and alpacas.
Read the full blog post: Cobb's adventure park in Calgary


DETAILS:
Address: 1500 84th Street NE, Calgary T2A 7X4
Admission: 19.75 CAD per person when you buy online; kids under 2 are free (23 CAD per person at the door, 69 CAD per person for season pass)
Open May 22 – October 31
15. Goslings on Prince's Island Park (spring)
A lot of exciting things happen in spring. The land comes alive again with green grass and blooming flowers, and animals have their offspring. One of the joys of spring in Calgary is watching Canada geese and their goslings.
Head to Prince's Island in May, and you get to see plenty of goslings.
You can park by the Eau Claire Market (with washrooms close by) or at 200-286 Memorial Drive NW off of Memorial Drive.
Full blog post: Joys of spring in downtown Calgary


DETAILS:
Address: Prince's Island Park in downtown Calgary
Admission: free
16. Douglas Fir Trail (spring, summer & autumn)
The trail is 2.5 km long and features giant Douglas fir trees and lookout points. Some trees are more than 500 years old. The trail is short with steep sections, and you can see many chipmunks and squirrels.
Edworthy Park features a lovely rocky beach, picnic sites, washrooms, playgrounds, and it's well worth it to stop at Angel's Café for ice cream.
DETAILS:
Address: Douglas Fir Trail is located in Edworthy Park on the southern bank of Bow River. You can access Douglas Fir Trail close to the Edworthy Park South Parking Lot or at the east entrance from Ceder Crescent SW
Admission: Free
Open from late spring when the winter conditions subside
17. Calgary bike paths (spring, summer & autumn)
Kids love biking from a very young age. We've learnt that when we took our little boy for a bike ride at 9 months in the chariot behind the bike and also on the front-mounted child bike seat. The latter gave him a better view, and the interaction with the parent is priceless.
You can download a Bikeway & Pathway map for Calgary or bike in a park. Our favourite city parks for biking are Glenmore Reservoir, Fish Creek Provincial Park, and Bowness Park.
On the other hand, our little one prefers bike rides on busy streets where he can see some actions, big trucks, and occasional fire trucks or an ambulance.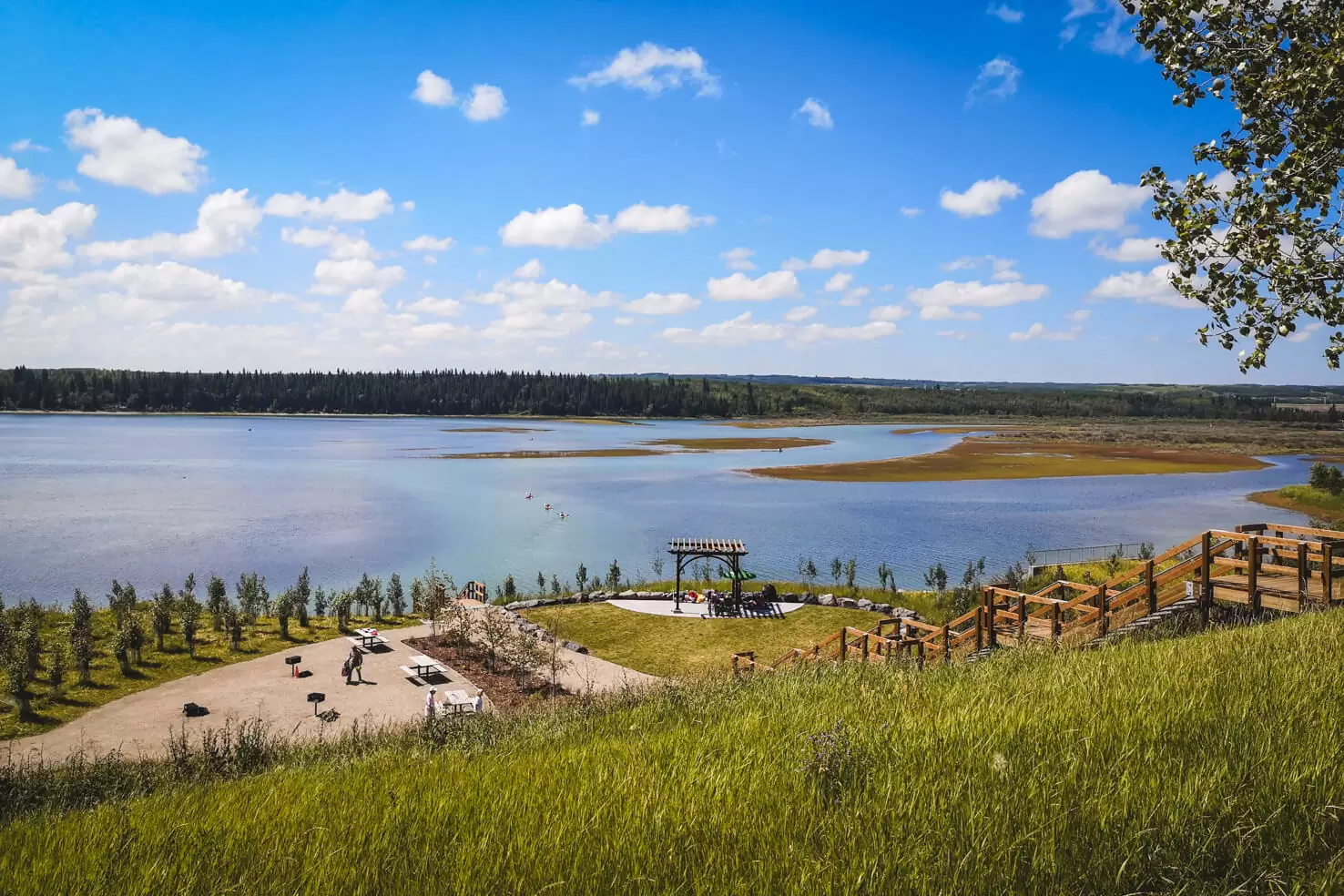 Things to do with kids in Calgary – Summer edition
18. Float down the Bow River
Floating down the river is one of the most popular things to do with kids in Calgary. You can take any boat, kayak, canoe or raft you have, strap your life jackets, fill out the Water safety kit and head down.
You can float down the Bow River or Elbow River, the latter being slower and shallower. There are several designated launching points along the shores.
DETAILS:
Admission: floating down the river is free. You can rent rafts and life jackets at Lazy Day Raft Rentals or The Paddle Station.
19. Watch beavers & geese
While I like to watch little goslings in spring, you can spot Canada geese and beavers the whole summer.
Geese like to hang out near the bridge by Bow River Pathway, and you can spot beavers if you go to the lagoon by the Chevron Learning Pathway.
If driving to Prince's Island Park, park your car by the Eau Claire Market (with washrooms close by) or at 200-286 Memorial Drive NW off Memorial Drive.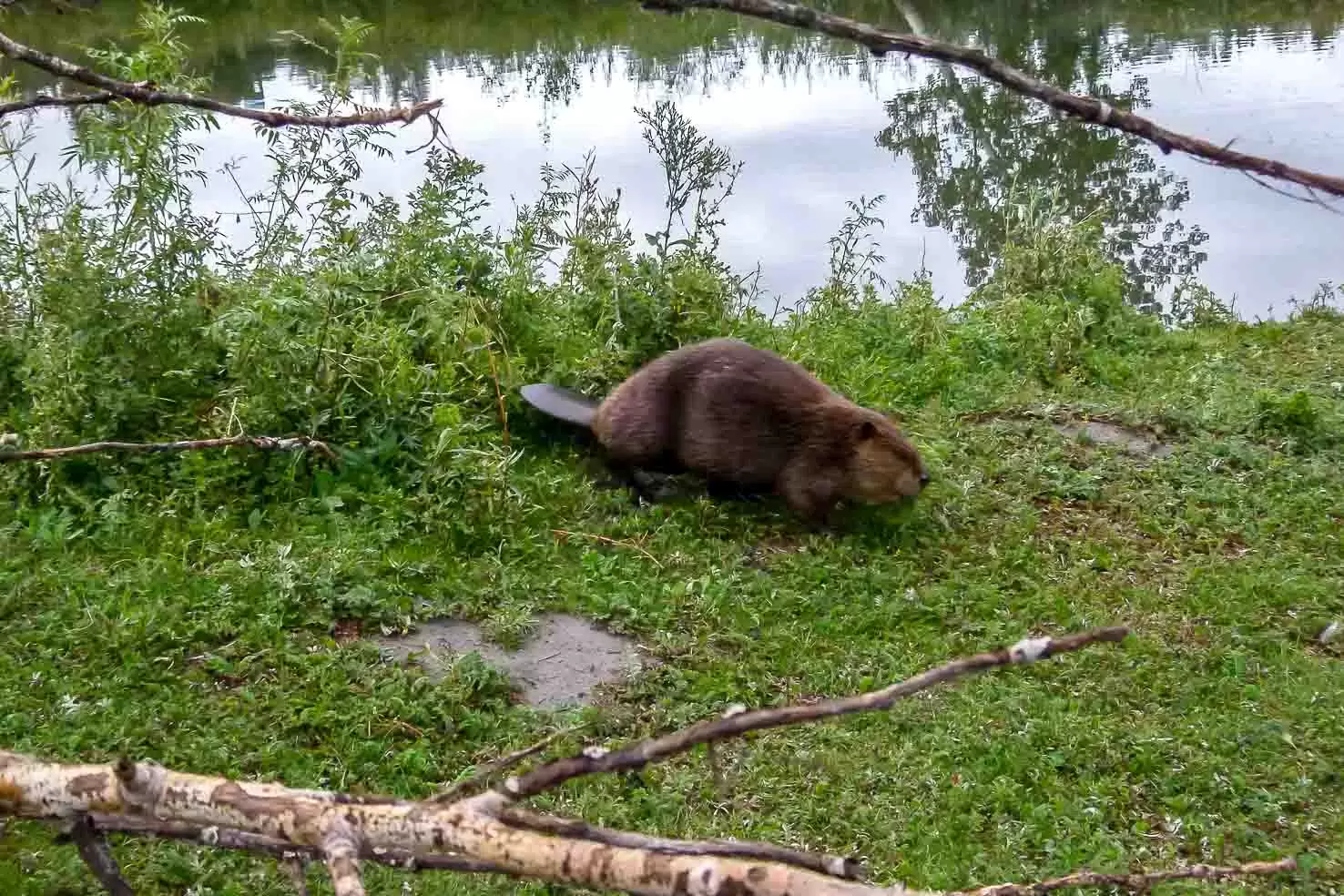 DETAILS:
Address: Prince's Island Park in downtown Calgary
Admission: free
20. Create Kids' Fest
A family-friendly and multi-generational art festival is a yearly August event. It provides plenty of opportunities to have fun through theatre plays, games, dancing, music, and storytelling.
Kids can meet a dragon, create a superhero, sing with a princess, and learn about Niitsitapi, the Blackfoot People.
DETAILS:
Address & admission was free in 2021; check out their website for current info regarding location and admission
READ NEXT
33 best family trip movies you'll love
21. Music festivals
In June:
Calgary Ukrainian Festival
In July:
Mexifest – celebrating Mexican culture with live music and tasty eats
Fiestaval Latin Festival – a free event with multicultural arts and dance performances from Latin American culture
Arab Festival – a free event featuring traditional music, customs and food
In August:
Expo Latino – largest Latin Festival in Western Canada
DETAILS:
Address & Admission varies, so check each festival's website for more info.
22. T'suu Tina Nation's Powwow
Attending a Powwow of First Nations is an excellent opportunity to learn about Canadian land and history. We've been to T'suu Tina's Powwows several times and enjoyed watching their singing and dancing competitions.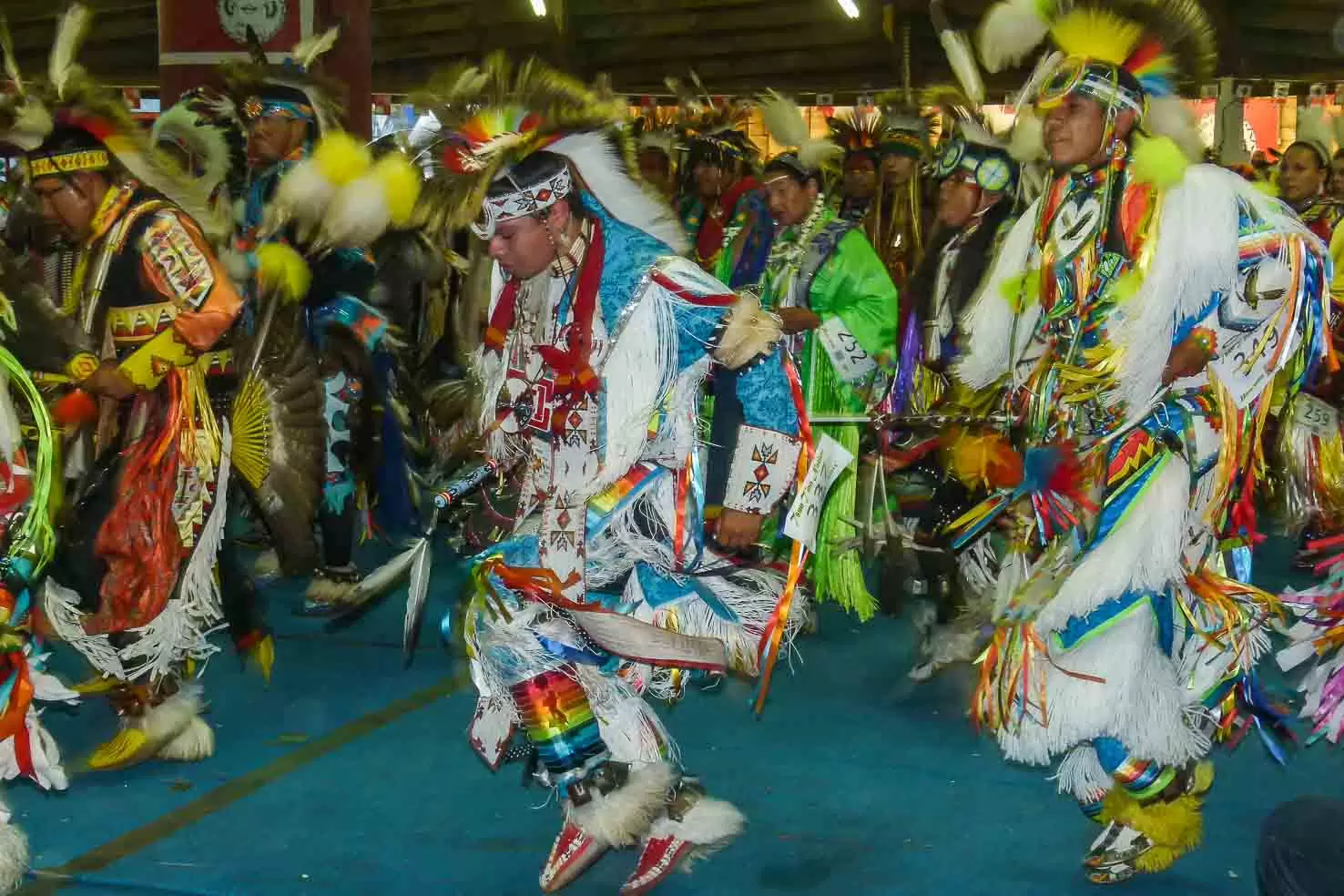 DETAILS:
Address: Redwood Fair Grounds, 5 km north of Bragg Creek
23. Outdoor pools & Splash parks
Visiting outdoor pools is fantastic during summer in Calgary. While there are several pools around the city, we found that our boy had just as much fun at wading pools or splash parks.
You can find the list of all outdoor pools, wading pools, and splash parks here.
Things to do with kids in Calgary – Winter edition
24. Zoolights
Zoolights are a special yearly event when the grounds of Calgary Zoo turn into a magical sparkly place for six weeks. More than 2 million lights decorate the alleys, hot chocolate and special holiday drinks are served, and also a new outdoor market for unique handmade Christmas gifts.
Full blog post: Zoolights in Calgary – 18 Best displays and tips for visiting
DETAILS:
Address: 210 St. George's Drive NE
Admission: 14.95 Cad/child, 21.95 Cad/adult, 12 Cad parking fee
25. Hot Chocolate Festival
In February, usually the coldest month in Calgary, it's time to enjoy some indoor deliciousness! And what better way than sipping hot chocolate (sometimes) by the fire.
For the whole month of February, you can taste a different recipe of hot chocolate at Hot Chocolate Festival in Calgary at more than 55 locations.
Full blog post: Honest review of 9 drinks at Hot Chocolate Festival in Calgary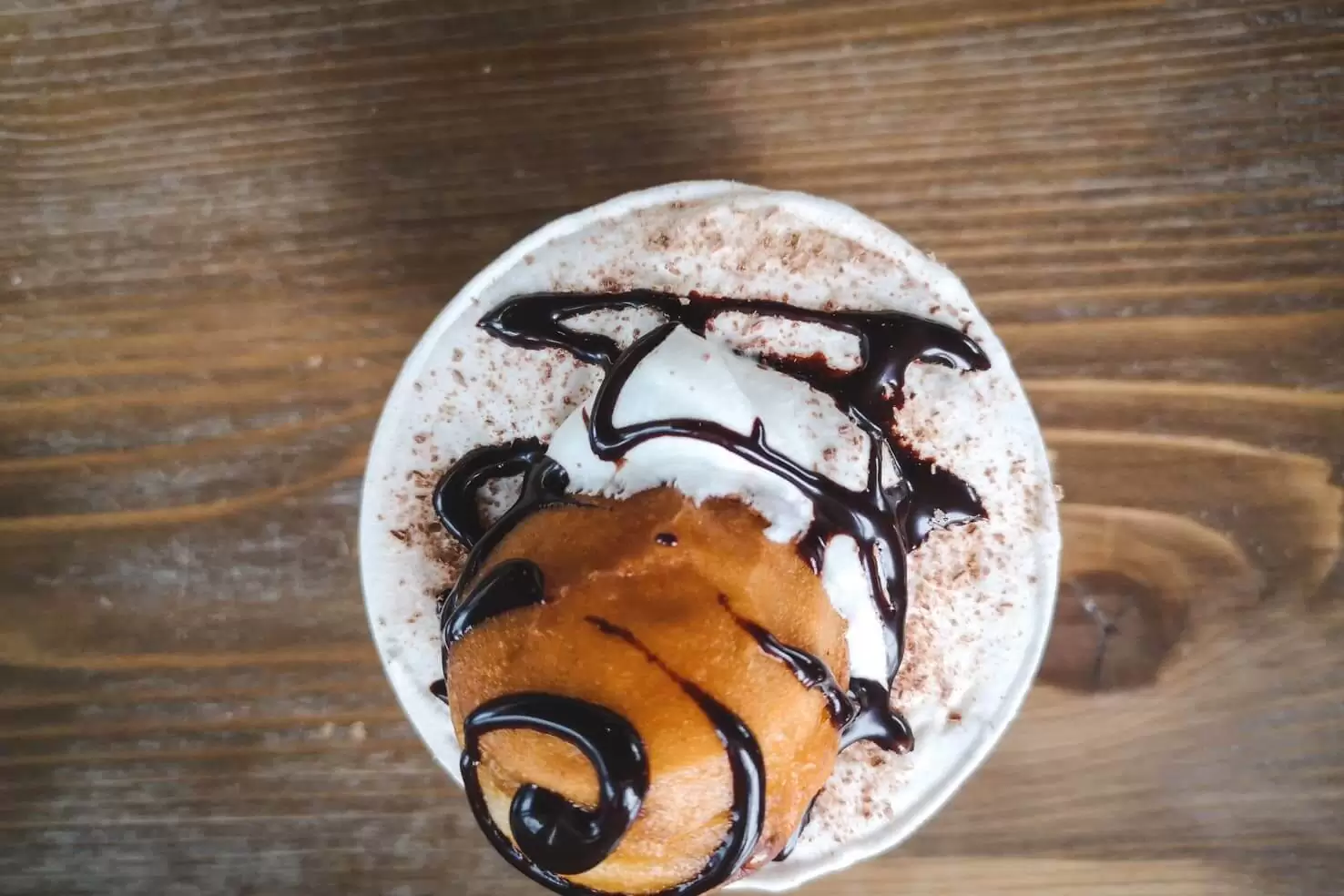 26. Lions Festival of Lights & night sledding
There are different festive light displays all around the city every Christmas, but a few of them stand out. Our favourite is the Lions Festival of Lights. The light displays are giant, and the walk around the park to see them all can take more than an hour with kids.
You can visit the festival at Confederation Park, and don't forget to bring your sleds. Lit-up hills and colourful lights all around make for a perfect night's sledding.
DETAILS:
Address: 14 St NW & 24 Ave NW
Admission: free
Full blog post: Tips for Visiting Lions Festival of Lights
27. Ice skating
Can you believe Calgary has more than 50 ice skating rinks run by volunteers? On top of that, the City of Calgary maintains 9 outdoor rinks: Big Marlborough Park, Bowness Park, Carburn Park, North Glenmore Park, Olympic Plaza, Prairie Winds Park, Thomson Family Park, Prince's Island Park, and Barb Scott Park.
We like to skate at Bowness Park; it's a huge lagoon with fire pits to warm up, café & restaurant, a new 1.6 km ice trail along Bow River, and even ice bikes.
Full blog post: Outdoor ice skating in Calgary: A breakdown of all options
DETAILS:
Address: Check out each park for its location
Admission: free
28. Sledding
Sledding was my favourite winter activity as a kid, and I can't wait to introduce it to our little boy.
While I liked to sled down any hill in sight, Calgary has designated hills or sledding (otherwise, it's illegal, yeah, you hear that right).
Calgary has 22 city-maintained hills for sledding and tobogganing; the complete list is here.
29. Penguin walk at Calgary Zoo
The penguins at Calgary Zoo live indoors at the Penguin lunge but every winter, usually starting in January, they go for a walk around the zoo.
It's up to them whether they'd like to venture outside or not, so you might see all penguins outside or just a few. Their walk lasts about 15 minutes, and visitors can watch them waddle along the pathways.
Check out their website for a date when the walks start.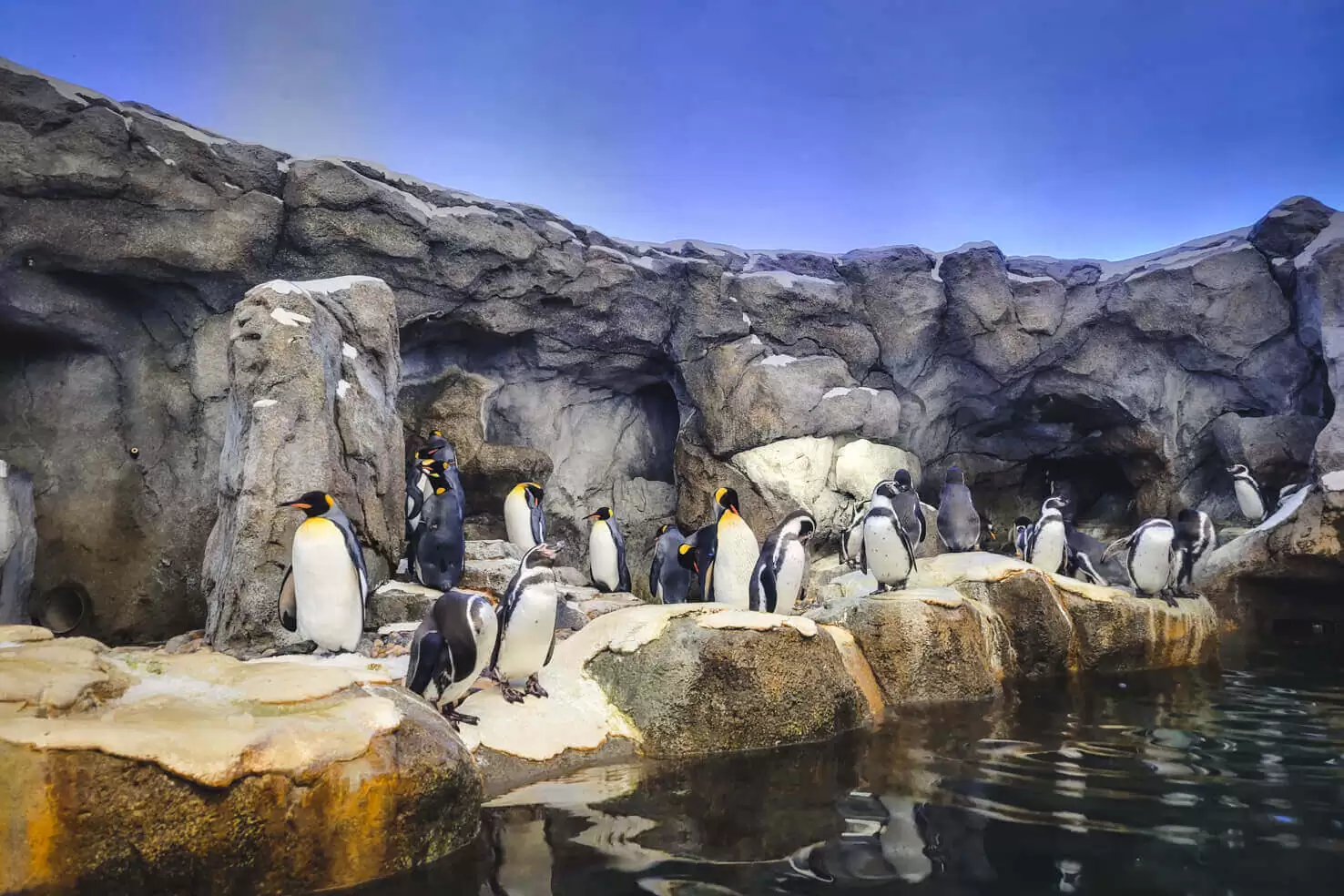 DETAILS:
Address: 210 St. George's Drive NE
Admission: 19.95 Cad/child, 29.95 Cad/adult, 12 Cad parking fee
The walk starts at 10 am
Read the full blog post: Penguin walk at Calgary Zoo
30. Glow Festival
Glow Downtown Winter Light Festival, or Glow Fest, is an annual festival with music, dance shows, fire pits, and interactive light installations. Stephen Avenue in downtown Calgary lights up every 2nd and 3rd weekend in February. Join the fun and bring your whole family. Children were particularly mesmerized by all the lights.
Read full blog post: Glow Festival in Calgary
DETAILS:
Address: Stephen Avenue in downtown Calgary
Admission: free
Family day trips from Calgary
31. Stand up paddleboarding
I've seen countless families enjoying stand-up paddleboarding on alpine lakes in summer. Sometimes kids like to help and paddle; sometimes, they sit on the board and watch their surroundings. Rent or buy a paddleboard and introduce this great summer activity to your kids; they'll love it!
Full blog post: 11 Best places for stand up paddleboarding in Banff & around
32. Ice skating on mountain lakes
Ice skating on ice rinks around the city is one thing, but ice skating on mountain lakes with mirror reflections surrounded by mountain peaks is a whole different experience. People of all ages like to hit the ice, whether skating moms with strollers or grandparents with grandchildren.
Full blog post: Epic places for ice skating in Banff & Canmore (+video)
33. Sulphur Mountain Hike or Banff Gondola
Banff Gondola might be the most popular attraction in Banff. But did you know you can hike up the same mountain for free? Sulphur Mountain Hike starts at the Upper Hot Springs Parking lot, and it's 5.5 km to the top. The best thing is that you can hike year-round.
If you have small kids, taking the gondola is a great option. There's a restaurant, gift shop, and an interactive centre at the upper terminal.
Full blog post: Sulphur Mountain Hike vs. Banff Gondola: which one is better?
34. Drumheller
The small town of Drumheller lies east of Calgary in the Red River Valley, and it's often called the Dinosaur capital of the World. The Royal Tyrell Museum is the biggest attraction to spend many hours.
Other family-friendly activities include climbing up the World's largest dinosaur, walking on the sandy Hoodoos, hiking in the canyons and walking in downtown Drumheller finding cartoon dino statues.
Full blog post: 10 Things to do in Drumheller & tips for visiting
35. Johnston Canyon
Johnston Canyon in Banff National Park is a straightforward hike with plenty of waterfalls of different heights. Lower Falls are only 1.2 km from the start, and the final bridge takes you through a short rock cave to see the falls up close. Upper Falls is 2.7 km from the start.
The best thing is that you can visit year-round; Johnston Canyon Ice Walk through a winter wonderland and frozen waterfalls is incredible.
Full blog post: Johnston Canyon hike to Ink Pots
36. Bar U Ranch National Historic Site
Around 100 km south of Calgary lies Bar U Ranch, a National Historic Site. The ranch is 70 years old and used to be one of Canada's largest. You can learn about cowboys in the Old West while guides demonstrate ranching skills, bake homemade cookies and tell cowboy stories.
Full blog post: Road trip through Southern Alberta
37. Camping in Banff
There's no need for the attraction when you camp in a tent, walk around the forest and splash water in the river or lake. Outdoors is the best place for kids of any age, and camping is excellent to expose them to a new environment. You can read about different campgrounds in Banff below and choose based on pictures as well.
Full blog post: Complete guide to camping in Banff National Park
38. Quarry Lake in Canmore
Quarry Lake in Canmore is one of the few mountain lakes which are warm enough for swimming in the summer (the other one is Johnson Lake in Banff).
It's small and shallow and part of the shore is a sandy beach where kids like to play. There are outhouses an picnic tables right at the lake with hiking & biking trails around.
Full blog post: 47 Fun things to do in Canmore
39. Grotto Canyon Ice Walk
Grotto Canyon is a short drive from Canmore. While hikers visit year-round, it's most popular in winter as you walk on the frozen creek through a canyon with several frozen waterfalls in the end. It's about 4 km roundtrip, and I highly recommend wearing microspikes if you're visiting in winter.
Full blog post: Grotto Canyon Ice Walk near Canmore
40. Grassi Lakes Hike
Grassi Lakes is hands down the most popular hike in Canmore. There are two different routes, an easy and a hard one. The easy one is a family-friendly wide dirt trail with a gradual incline with two gorgeous lakes in different colours at the end. It's about 4 km roundtrip, and you can visit year-round but make sure to check trail conditions before as sometimes the trail is closed due to icy conditions.
Full blog post: Grassi Lakes Hike in Canmore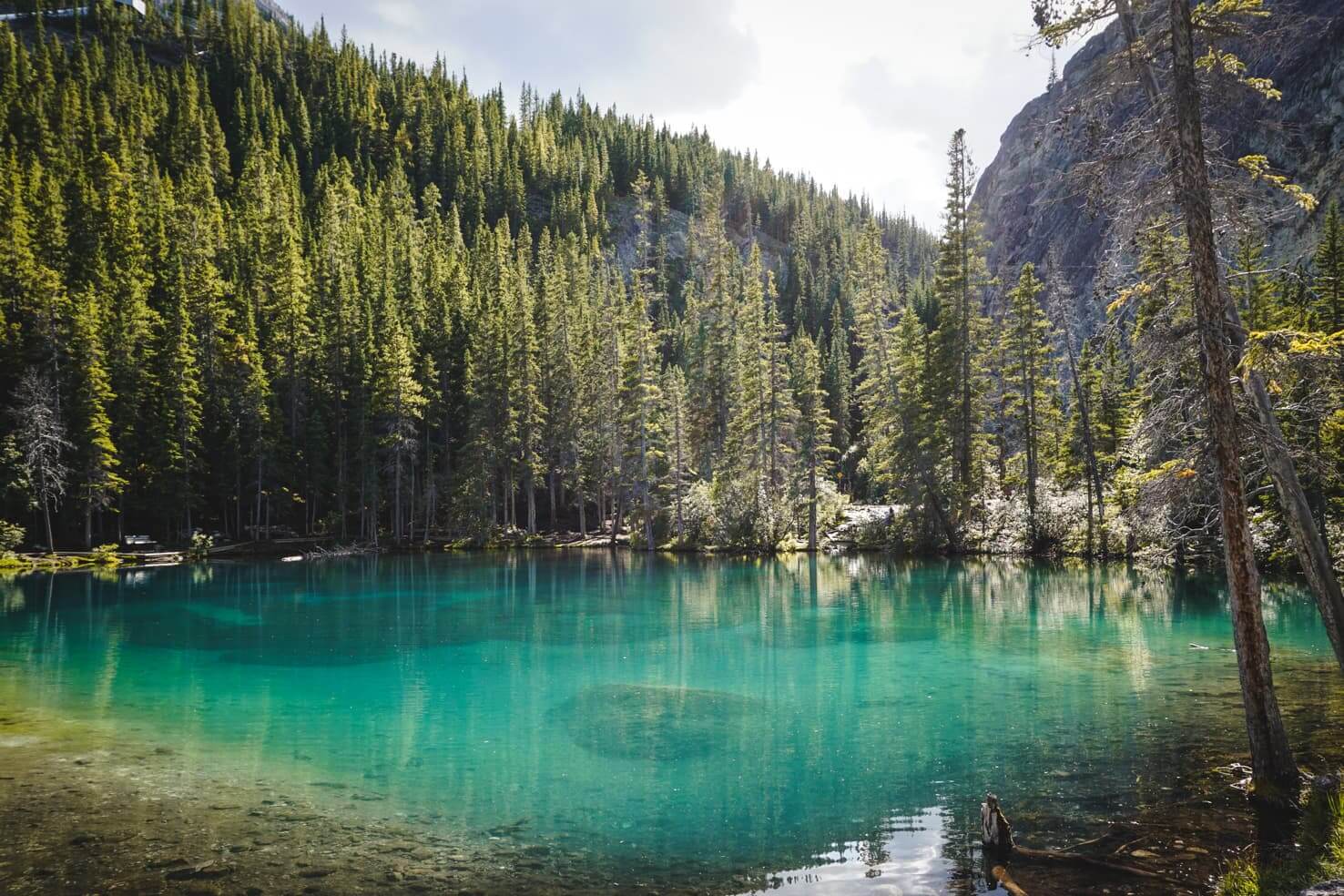 More fun activities in Calgary & beyond
---
What is one of your favourite things to do with kids in Calgary? Let us know in the comments.
---
Spread the word! PIN this to your Pinterest board.