Are you planning a trip to Banff and don't know where to start and what to do? This article gives you a lot of ideas about what to do in the beautiful Canadian Rockies.
Enjoy the ultimate Banff bucket list for your trip to the Canadian Rockies. We've gathered the best things to do in Banff National Park all year round, and also a few ideas to Banff's neighbour Canmore and less popular but equally stunning neighbours – Kootenay, Yoho and Jasper National Parks. When you visit Banff National Park, make sure to go explore just outside its border as well.
During 5 years of living near Banff National Park, we've done most of these activities ourselves and choosing a favourite would be really hard. Pick your favourites below and start planning a visit to one of the most beautiful national parks in the world.
We started our own campervan rental company with the most affordable prices in Western Canada. We're striving to provide you with everything you need for your Canadian road trip. See more details at Smile Campervans.
Planning to visit the Rockies? Read these:
Where to stay in Banff
Canadian Rockies have plenty of campgrounds, each equipped with (at least) drinking water and picnic tables. Read our tips, detailed breakdown of each campground and where to go when official campgrounds are full in our Banff National Park camping guide.
If you like more comfortable stays and prefer hotels, search through Booking below to find the best deal:
Best things to do in Banff National Park
1| Walk along Bow River
When you come to Banff, familiarize yourself with the area. Walk the path or trail on either side of the Bow River with fantastic views of Bow Valley and surrounding mountain peaks. This walk never disappoints with wildlife as well. Watch out for elk and deer, long-time residents of Banff. (year round)
2| Watch wildlife
It might be once in a lifetime opportunity that you will spot black or grizzly bear with cubs in nature. Banff wildlife includes elk, mountain goats, sheep, wolves, cougars, moose, and bears. And also the newest addition to Banff National park – bison. They have been reintroduced to Banff and now roam free. Enjoy watching them but keep a safe distance, never approach a wild animal or feed them. (some animals year round, best time May-September)
Read post: Wildlife in Canada
3| Hike to see the waterfalls of Johnston Canyon
Hike an easy/moderate trail in Banff National Park for a series of several waterfalls. At the beginning of summer waterfalls in Johnston Canyon are the strongest. Don't forget to continue to Ink Pots further up the canyon, the turquoise bubbling pools that will leave you speechless. (April-November)
Read post: Johnston Canyon Hike to Ink Pots
4| Watch northern lights
There is a chance of spotting northern lights on the night sky in Banff National Park a few times during winter. Check the news or space weather for recent solar activity and find a good spot (away from light pollution) to see the show and make awesome pictures. Great spots are Lake Minnewanka or Bow Lake. (November-May)
5| Bike & hike along Lake Minnewanka
Combine mountain biking and hiking to have a spectacular view of the famous Lake Minnewanka from above. Spring and fall is the only time you can bike along Lake Minnewanka. The trail is closed for biking in summer to prevent bear encounters, seasonal restriction is July 10 – September 15 when no bikes, dogs or camping are allowed and hiking only in a tight group of 4 or more. Leave your bike at Aylmer Pass Junction (8,5 km one way) and hike up to Aylmer lookout (4 km one way) for a scenic view of Lake Minnewanka and surrounding mountains. You can hike and stay in a campground in summer (hiking only allowed in a group of four, carrying a bear spray, check out this website for trail closures.  (hike April-November)
Read post: Aylmer Lookout Hike & Bike Trip
6| Cross country ski to Moraine Lake or Saskatchewan Glacier
Away from the popular tourist attraction, you can cross-country ski on an easy backcountry trail to see the enormous Saskatchewan Glacier.  Or go to the viewpoint of Moraine Lake. The tracks are maintained during winter and end just as you see the 10 peaks above the lake. (December-April)
Read post: Cross-country ski trails in Banff National Park area for all levels
7| Get a bird's eye view of Lake Louise
Hike the Little or Big Beehive, a moderate trail which starts behind the chateau and gives you an exceptional view of Lake Louise from above and surrounding snow-covered mountain peaks. Since these trails are moderately trafficked, you can get away from the crowds and hike Mount Piran instead. (May-November)
Read post: Mount St. Piran Hike
TIP
Read our recommendation: Hiking packing list for summer in the mountains
8| Drive Icefields Parkway
Do you have a car? If yes, this is the road trip you will want to take. It's on the list of many publications as one of the most beautiful scenic roads in the world. There are so many natural wonders along the Icefields Parkway that we have a separate article about them. National Geographic included Icefields Parkway in their book Drives of a Lifetime.
We recommend to have 2 days so you can stop along the way for viewpoints and hikes. Read our post below for the best recommendations and all our tips to have an unforgettable trip. (year round, best June-October)
Read post: Icefields Parkway itinerary: scenic drive from Lake Louise to Jasper
9| Visit the insanely blue Peyto Lake
When people see a picture of this lake, they don't believe the colour is real and think the pictures must have been edited in Photoshop.The lake is easily accessible from the parking lot along the Icefields Parkway. Watch for a sign for Bow Summit (100 km from Banff). You would want to see the colour yourself. A lookout point is a popular place and you can even hike to the lake itself! Read more about this natural phenomenon below. (June-October)
2020 UPDATE – the viewing platform including the parking lot and the trail will be inaccessible in 2020 for construction and maintenance. It will be only open for winter use. More info here.
Read post: Peyto Lake, Canada: photoshopped or real?
10| Hike up the Sulphur Mountain for a view of Banff
The best view of the Bow Valley is from the top of the Sulphur Mountain. Hike up for about two hours on the trail with many switchbacks and you will be rewarded with a view of Banff and surrounding peaks of Bow Valley. It is a lesser-known alternative to taking the overpriced gondola up the mountain. You can take the gondola down for free in winter (until Victoria Day in May).(year round)
Read post: Sulphur Mountain Hike vs. Banff Gondola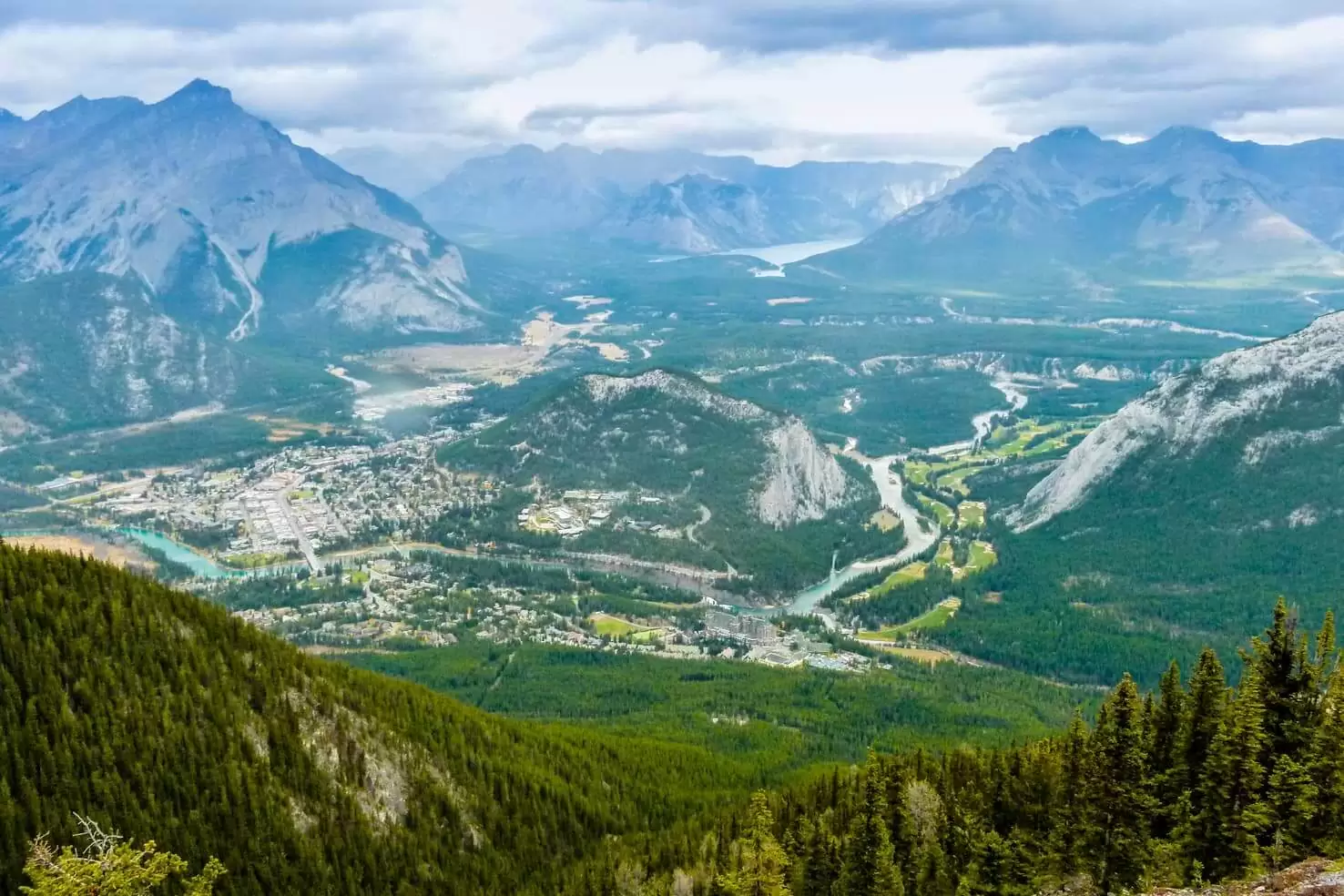 11| Learn about the history of Native tribes
The Buffalo Nations Luxton Museum shows artefacts, culture, and traditions of native tribes living in the Rocky Mountains and Prairies, and their trading partners from Europe. It's located on Birch Avenue and opened from 10 am – 7 pm daily. (year round)
12| Go for a cross-country run
Many hiking trails are ideal for trail running. Our favourite running trail is the Spray River Loop (12km). Since bears frequent the area, it's a good idea to shout every once in a while to let them know you're there and carry a bear spray. Read about reasons why to start trail running. (May-November)
13| Catch sunrise at Two Jack Lake
Wake up before sunrise, set up your camera to take early morning photos of Two Jack Lake with Mount Rundle in the background and you just sit back and watch the light appear above the Canadian Rockies. A great start to the day. You can stay at Two Jack Lakeside Campground. (year round)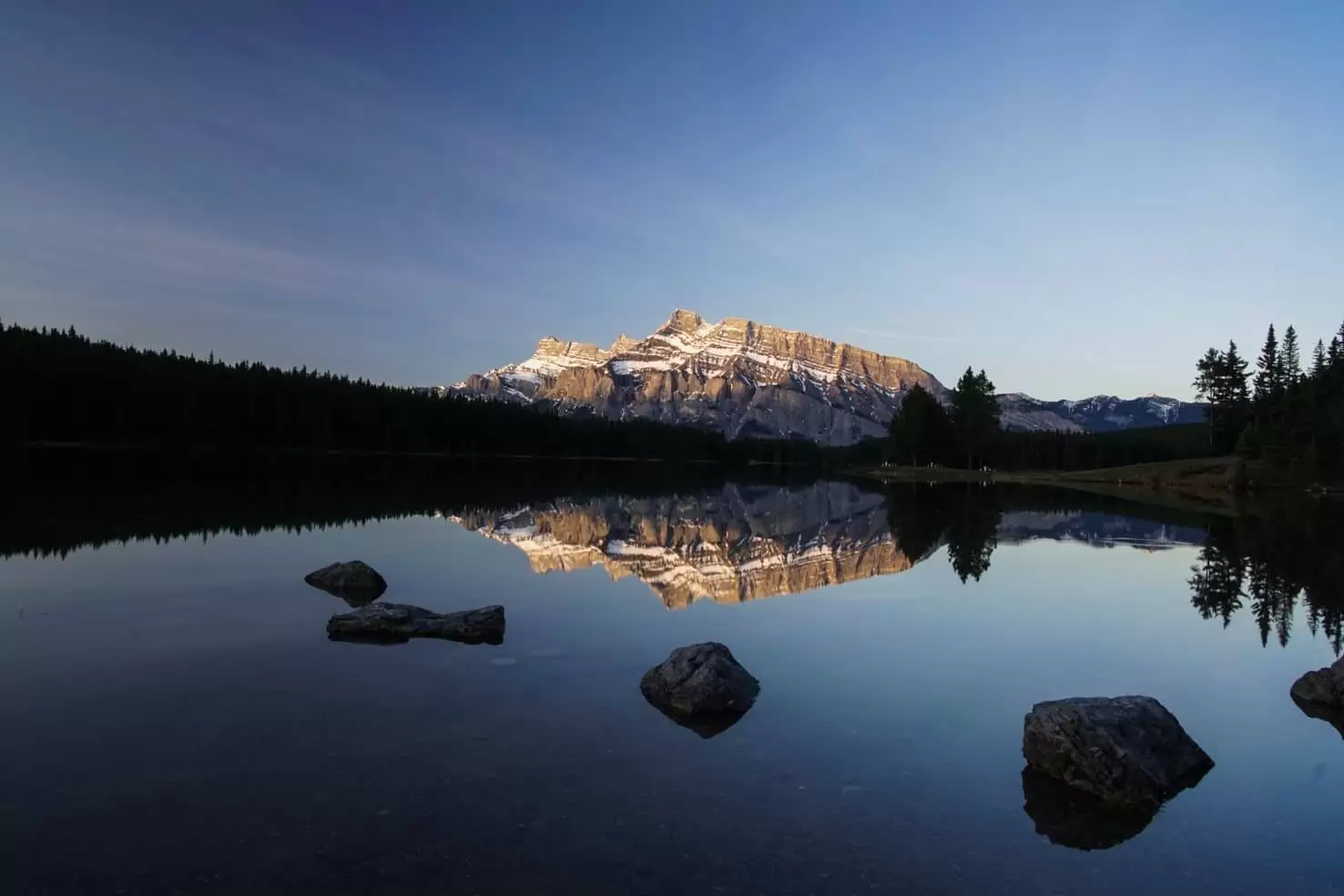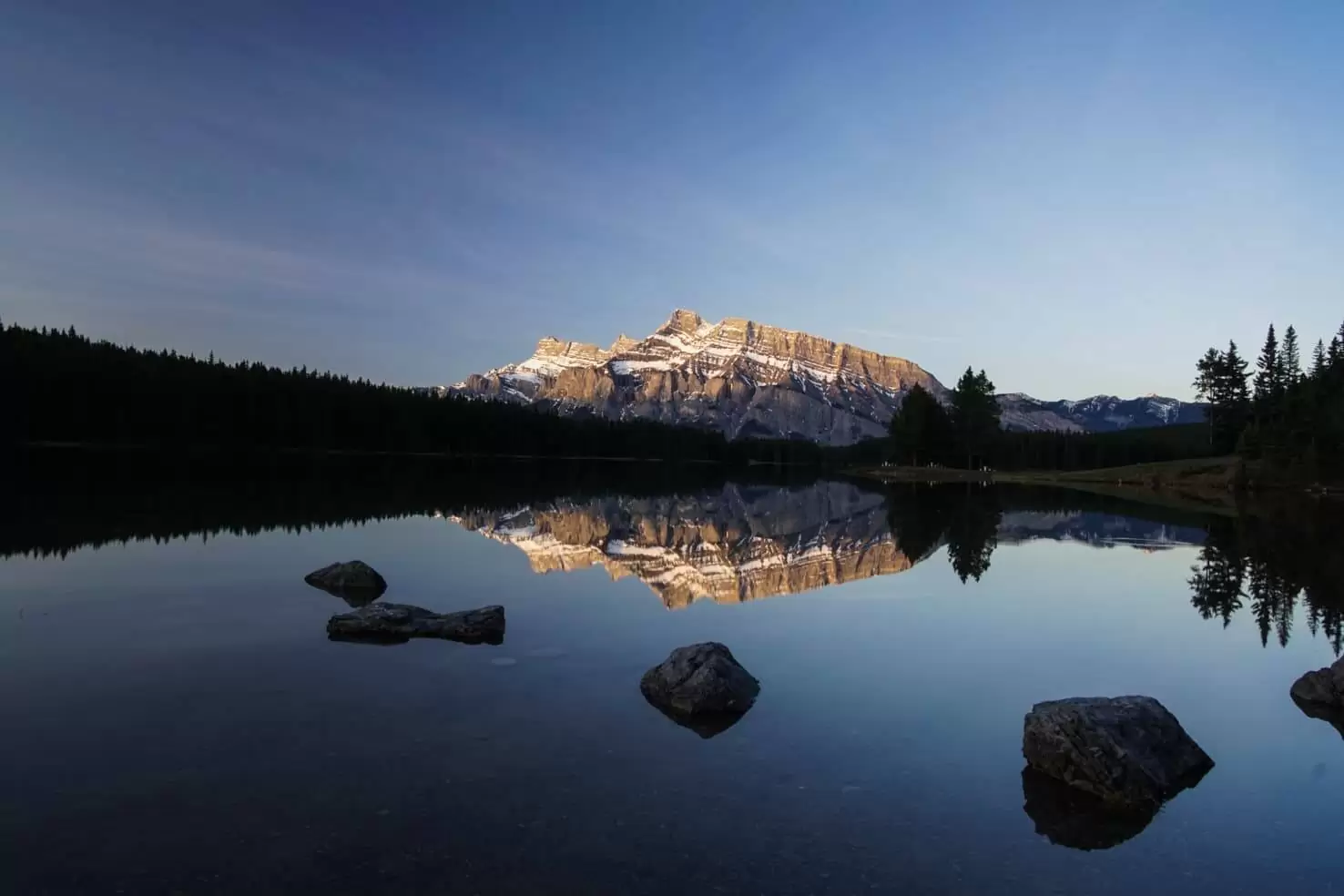 14| Paddle on iconic Lake Louise
Lake Louise, one of the most famous lakes in the world, thaws at the beginning of June. You can rent a canoe at the shore (it was 105 CAD + GST for a ½ hour in summer 2018) and paddle around the lake. Or a budget-friendly option – you can rent a canoe, kayak or SUP in Banff and go for a paddle, no permits or fees required. Come early in the morning or late evening and enjoy the beautiful turquoise coloured Lake Louise with Victoria glacier behind it in tranquillity. It's a very busy lake during the day when countless tour buses arrive. (year round, frozen in November-May)
15| Play golf with elk
Ok, maybe not literally but elk like to hang around the Banff's golf course quite often. They are enjoying their picnic while you enjoy your golf game. Banff golf course is right at the edge of the forest. It will quickly change the purpose of the sport once you have such observers. Your game might just get even more interesting in spring when bear cubs play on the golf course and you need to back off and wait until they get bored and leave (which often takes a few hours). (May-October)
16| Ski at world class Lake Louise resort
World class ski resort is just on the opposite ridge to Lake Louise. Canada's winter is long and makes a great ski destination. You can ski up to seven months. Lake Louise has well maintained tracks for all levels. (November-May)
17| Climb Via Ferrata at Mt. Norquay
If your passion is climbing or you're just curious beginner and adrenaline is your fuel, hanging bridges of tens of metres above ground are a great way to spend the day in the Canadian Rockies. Try the adventurous climb for spectacular views of the Bow Valley. (June-September)
18| Bike the Legacy Trail
The Legacy Trail from Banff to Canmore is great day trip for families and sport enthusiasts. You can ride it on bike or even roller blades. It is a 14km paved trail connecting Banff to Canmore mostly along the highway. It belongs to the Great Trail which connects the Canadian east coast with the west coast. (April-October)
Read post: Legacy Trail, biking from Banff to Canmore
19| Jump in the glacial lake
If you're brave enough, jump into any picturesque lake and enjoy the mountain fresh water feeling. Temperatures vary from 0 to 15°C depending on the season. Your pictures from Moraine Lake or Lake Louise might get even more interesting. (May-October)
20| Try horseback riding
Do you like old western movies? Riding a horse on trails brings up a feeling of a true explorer from the 19th century. You can choose from many trails around Banff. (May-September)
21| Get some fish for dinner
Fishing in the park is permitted on several lakes. Get your licence at the visitor centre and find out about rules for fishing in the park. Or try ice fishing in winter on the frozen lake. (year round)
22| See the Rocky Mountaineer train
Watch the train pull up to the Banff train station (or take the train across Canada). Trains are the reason Banff National Park was established in 1885. This is the only passenger train that comes to Banff from Vancouver through majestic Canadian Rocky Mountains. (April-November)
23| Listen to the stories of Nakoda People
In the eastern part of Banff every year tribe of Stoney Nakoda people set up their camp and welcome tourists to tell their stories from the past. Search 'Nakoda Banff Indian Days' on facebook for the next event or ask at the Banff's Visitor Centre. (August)
24| Climb walls of Canadian Rockies
Climb with ropes on the famous Cascade Mountain or Castle Mountain. There are lots of easy scrambles or tough blood sweating ascents around Banff. Outdoor rock climbing for all levels is offered by adventure companies. (June-October)
25| Stand up paddleboard on pristine lakes
Bring your stand up paddleboard or rent one in Banff and your options for stand up paddleboarding are almost endless. You have at least 10 different sceneries to choose from. Closest lakes to Banff are Two Jack Lake, Minnewanka and Johnson Lake but you can go to any lake you like.  (June-September)
26| Drive the Bow Valley Parkway
Drive from Banff to Lake Louise or vice versa in the morning or late evening and spot various wildlife looking for food around the road. Most common are mountain goats, elk, sheep, and bears. (May-October)
27| Skate on frozen Minnewanka or Johnson Lake
If weather permits, you can have mirror-like clean ice at the beginning of the winter. It's one of the best experiences in the Canadian Rockies. Keep in mind that the ice is not always thick enough to hold you. Use caution, always test it, look for tracks of others who skated before you and skate with a friend. (December-January)
Read post: Ice skating in Banff National Park
28| See ice castle & sculptures in Lake Louise
Visit Lake Louise Ice Magic Festival, the competition in creating sculptures from massive ice blocks. Piece of art that takes almost a week to create and a little bit of sun to destroy. Artists create them right on the frozen Lake Louise. (January)
29| Take Gondola in Lake Louise
Always dreamed about seeing a grizzly bear? The gondola in the ski resort operates for hikers during summer. There are almost daily sightings of the grizzly in its natural habitat from the safe distance of gondola seat. It is not guaranteed, but it is one of your best chances to spot the beast. (June-September)
30| Visit the most famous building
Banff Springs Hotel used to be the tallest building in Canada and now is the most famous man-made landmark in Banff National Park. You can visit even if you're not a guest. We've heard their spa is exceptional. (year round)
31| Relax in Upper Hot Springs
After a day of hiking or skiing there is no better activity than a dip in a hot pool. Outside pools with exceptional mountain views are in the Upper Hot Springs in Banff. You can even rent bathing suits and towels on-site. Since the pool is not very big, it gets very crowded during the winter. (year round)
32| Walk to the Mistaya Canyon
The magnificent Mistaya Canyon is on the Icefields Parkway just before Saskatchewan River Crossing. Short and easy trail leads to the bridge over Mistaya River where you can see how river can cut its way through the rocks in a deep canyon. (year round)
33| Visit first hot springs in Banff
Cave and Basin is a historic site in Banff considered a birthplace of Canada's national parks. Hot water pool inside the cave is almost the same as natives used to relax in. It is not allowed to swim here, but you will learn about the history of the mountains.  (year round)
34| Try canoeing & kayaking
Most of the lakes in Banff National Park are suitable for canoeing and kayaking. You can float down the Bow River, the rental company have canoes right next to the river or rent a kayak in town and drive to any lake to try kayaking on calm water. (June-September)
35| Visit famous Moraine Lake
This is one of the most beautiful lakes in the world. It is only 4 months of the year without ice and snow. You can rent a canoe on the shore or bring your own. Moraine Lake is such an iconic Canadian lake that it used to be on the reverse side of the Canadian 20 dollar bill. The parking is limited and gets full very fast in summer (visitors had to wait on the road at 6 am in summer 2019 to get in).
If you prefer not to drive, Parks Canada shuttle bus can drive you to Moraine Lake from Lake Louise overflow parking, Lake Louise village or Lake Louise lake shore. There are also hiking trails in the area which require hiking in a group of at least 4 people.(June-October)
36| Enjoy outdoor BBQ by Bow River
Town of Banff and some day-use areas around have outdoor grills for the public with firewood provided. All you need to do is bring some sausages or zucchinis and your friends.  Even if you're here for a day, make your own BBQ lunch surrounded by mountains. They are located near Birch Avenue in Banff. (year round)
37| Try Canadian beef
Every restaurant in Banff offers great and juicy steaks from the best quality Alberta beef. Stroll along Banff Avenue where most of the restaurants are located. Canadian beef might not be as well-known as Argentinian beef but the quality is very high. Your only task is to decide if you want it rare, medium or well done. Or try these other Canadian dishes. (year round)
38| Make a snow angel on the frozen lake
That untouched surface of white powder is waiting for you to leave your stamp on it.In the middle of the frozen lake or anywhere else.Let your inner child shine through and have fun! (November-March)
39| Celebrate at Canadian Legion
You can get Banff's cheapest beer (outside of liquor stores) in Canadian Legion. Get a pitcher or two and listen to the talks of vets or simply hang out with friends. They usually serve to older people so they close at 11pm. (year round)
40| Go boating across Lake Minnewanka
Take a cruise across the Lake Minnewanka. Giant mountain peaks around the lake provide beautiful scenery during the trip. You can go on a fishing trip or rent your own motorboat and go to the edge of Banff National Park. (May-October)
41| Join a running race
It's one of the best sceneries for running races in Canada. Banff hosts marathon race in June. If you don't feel for marathon you can participate in shorter versions 10k or half marathon. (June)
42| Experience ice walk in Johnston Canyon
During the coldest months, come to Johnston Canyon and walk on the frozen river. All waterfalls are frozen with a bustling water flow underneath. It's truly a winter wonderland. You can even spot ice climbers making their way up the waterfall. Don't forget to bring crampons or spikes so you don't hurt yourself. (January-March)
Read post: Ice walk in Johnston Canyon
43| Have a morning picnic at Vermilion Lakes
Some places are best to visit at certain times. Vermilion Lakes with the picnic basket at the sunrise is the place to be. (year round, best in summer)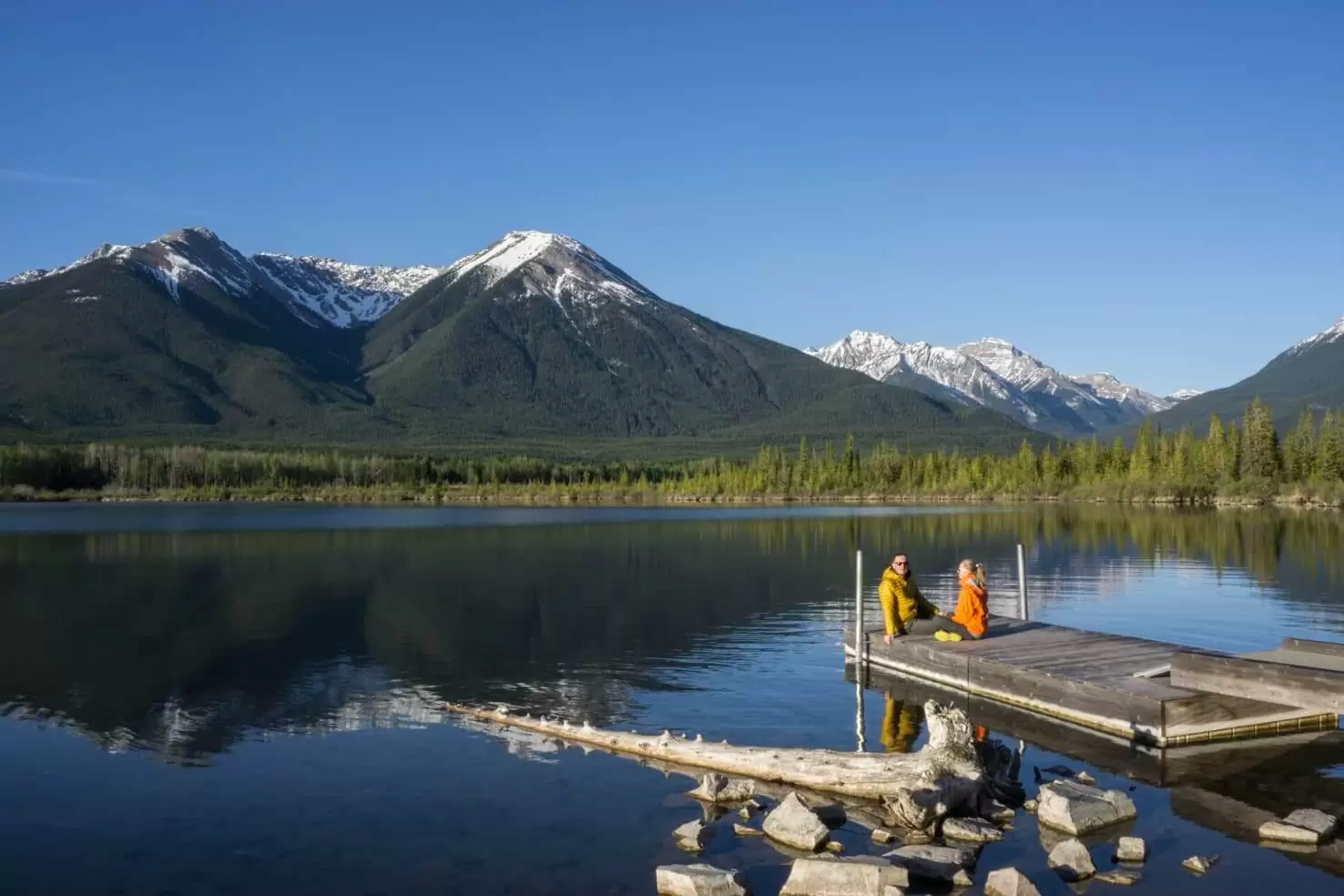 44| Try poutine
Quebec dish poutine (fries with cheese curds topped with gravy) can be found in most burger places, ski resorts and even McDonalds. Some Canadians consider it their national meal. (year round)
45| Ski the fresh powder at Sunshine Village
This ski resort relies on a natural snow. It is located near Banff town and the three mountains receive up to 9 meters (30feet) of light fluffy powdery snow. (December-April)
46| Drink locally brewed beers
At Banff Ave Brewing Co. right on the main street in Banff you can try beer from local beer makers straight from tanks. (year round)
47| Learn about the Rockies at Whyte Museum
Learn about the heritage and history of Canadian Rockies. Whyte Museum is the largest private museum in Canada with a lot of stories to tell. They also have a wonderful gift shop with Canadian Rockies souvenirs. (year round)
48| Photograph the stars and Milky Way
Staying in less populated and remote places gives you an opportunity for dark sky, great condition to make night sky/Milky way pictures. Go to Lake Minnewanka or Sunshine Village. (year round)
49| Visit Panther Falls
In spring and summer when ice is melting visit Panther Falls on the Icefields Parkway and get sprayed by mighty water mist under them. They freeze in winter when you can easily go up close. Come and see the thick icicles of the waterfall, and don't forget to wear spikes. (year round)
50| Sleep in the campground
Banff National Park and the Banff town itself have several campgrounds to choose from.  If you stay away from towns, you can hear wolves howling, owls or elk callings. You can find the list of all campgrounds and the reservation system here. (May-October)
51| Watch pro skiers at the World Cup
End of November and first week of December is time when Lake Louise hosts a world cup in skiing. There's no entry fee and lots of professional skiers you can watch as they rush down the slopes. (November-December)
52| Celebrate beginning of winter at WinterStart Festival
Starts in the beginning of November and lasts for 4 weeks. At the beginning there is Bon Appetit Banff, continues with Italian Kitchen festival and ends with craft beer festival. (November)
53| Try ice climbing
As a part of SnowDays festival in Banff MEC company builds an artificial wall in Banff's downtown. You can try ice climbing for free with professional instructors. (January-February)
54| Welcome bison in Banff National Park
Parks Canada reintroduced bison in Banff National Park after they were missing for over a century. Learn about their importance here. You can go for a multi-day hiking trip to be one of the first to see the herd before they spread in the park within a few years. (May-October)
55| Enjoy adventure & outdoor movies
During the slowest season in Banff you can get yourself pumped up with the world's best outdoor movies. Selection of the best is presented at the Banff Mountain Film and Book Festival. (10 days in October-November)
56| Relax at Johnson Lake or jump in for a swim
Johnson Lake is one of the few lakes in Banff where water temperature in summer gets above 10°C. It's a great place for rope jumping, a quick swim or stand up paddleboarding. (July-August)
57| Celebrate Canada's birthday
On July 1st on Banff Avenue celebrate with locals Canada Day. Celebration starts with breakfast consisting of pancakes with maple syrup and continues with lunchtime parade crossing through Banff Avenue and ends in the evening. (July 1st)
58| Enjoy Santa Claus Parade
Before Christmas, streets of Banff host Santa Claus Parade. It has everything that belongs to Christmas parade with lots of attendants, lights and of course Santa. (November or December)
59| Go snow tubing at Norquay
Some may say snow tubing is for kids. But going down the steep slopes in Norquay will give anybody adrenaline rush. It is a great activity for non-skiers, or for those tired from skiing. (November-May)
60| Play ice hockey on the frozen lake
Winter is the time for pond hockey enthusiasts to visit Banff. Lake Louise, Minnewanka, Johnson and Vermillion Lakes are all very popular. People play hockey before the snow covers the lakes, although Lake Louise has a maintained patch of ice.  (December-April)
61| Go scuba diving at Lake Minnewanka
You probably didn't know but Lake Minnewanka (in the Stoney Indian language means "Water of the Spirits) hides a ghost town that was flooded during the construction of the dam. Nowadays you can see it when scuba diving. (June-September)
62| Watch bear cubs
Every year when bears wake up they also find their newborn offspring in the den. Visiting Banff in spring gives you a perfect opportunity to see the tiniest bear cubs playing in the grass with their mama. Make sure to read how to stay safe in the bear country first. (April-June)
63| Experience dogsledding in Lake Louise
Dogsledding is a fantastic activity for all travellers during winter. Experience the speed of Alaskan huskies and try mushing the dogs yourself.  (January-April)
64| Hike & stay in cabins at Shadow Lake
Backcountry cabins close to Shadow Lake give you an opportunity to enjoy the quietness of Canadian wilderness. They are 10 km from the road accessible by foot or horse. If you're visiting for a day, you can bike 10 km to the junction, lock up your bike and have to continue few more km to the lake on foot. (February-March, June-September are cabins open)
65| Snowshoeing around Banff & Lake Louise
Walk on the snow like Indigenous people in Canada did throughout history. A popular snowshoes spot is going across the frozen and snow-covered Lake Louise. There are many options for snowshoeing ranging in length and difficulty around Banff & Lake Louise, find more winter trails here.  (December-April)
66| Photograph frozen lake bubbles
Many lakes in Banff National Park emit methane from the bottom. This can be visible through the bubbles trapped in the ice, a truly beautiful winter scene. Most popular lakes with bubbles are Lake Minnewanka and Vermilion Lakes, both very close to Banff. Another one is Abraham Lake which is off of the Icefields Parkway on the way to Jasper. (December-May)
67| Hike up the Tunnel Mountain
That tiny peak in the town of Banff is called Tunnel Mountain. There is actually no tunnel in the mountain but it is a nice and definitely the easiest hike in Banff with scenic views. (year round)
Read post: 20 best hikes in Banff National Park
68| Bike or cross country ski along Goat Creek
Goat Creek Trail / Spray River Trail gives you the possibility to get to Canmore through the back side of the Rundle Mountain. Enjoy the breathtaking views along the trail. Starting in Banff is better option as going back is downhill, the trail is 20 km one-way. (year round)
Read post: Biking trails around Banff
69| Visit Banff Centre
Banff Centre has pool, climbing wall and fitness facilities. You can come to create pieces of art or learn a new craft. See what they have to offer for you. (year round)
70| Hike to the Rockbound Lake
 This intermediate hike to the back side of the Castle Mountain hides one really special view of the Bow Valley and a pristine Rockbound Lake. Challenge yourself and take a dip. (June-October)
Read post: Rockbound Lake Hike
71| Walk to the Banff Hoodoos
Hoodoos at the end of the Hoodoos trail are sedimentary formation eroded to needle-like shape. They were exposed once glaciers started to melt. (year round)
72| Ride the waves of Bow River
Get in a raft or kayak right below Bow Falls in Banff and Bow River will bring you all the way to Canmore. It is an adventurous trip from Banff to Canmore and don't worry if you don't have the skills to go by yourself, you can go through a travel agency. (May-September)
73| Visit Banff Farmer's Market
Happening every Wednesday, Banff Market offers a great opportunity to support local artists and try locally baked goodies. I personally love the natural soap with colours of northern lights. (June 8th to October 5th)
74| Get off the beaten path
If you get tired of the insane crowds of Moraine Lake, Lake Louise and Emerald Lake, go for a hike and you'll have a beautiful Glacier Lake to yourself. You can stay overnight in a backcountry campground or just visit on a day trip. (May to October)
Read post: Glacier Lake
75| Hike through colourful alpine meadows
While most hikes in the Canadian Rockies are to the mountain top or end by the lake, Healy Pass Hike is a colourful treat for eyes when you hike through a huge alpine meadow filled with wildflowers. (July – August to see wildflowers)
Read post: Healy Pass Hike with Egypt Lake
76| Walk around the Bow Lake
Bow Lake is located along Icefields Parkway and provides a lot of stunning angles or photography. You can walk around, or hike further to the Bow Falls, or enjoy a cake in the Num-Ti-Jah Lodge. You can visit all year round, the lake is by the road. It usually thaws in the beginning of June. (year round)
77| Enjoy the solitude in the Rockies
Canadian Rockies have so many lakes that even after years of living here, we still don't know a lot of them and haven't visited yet. Then there are some that are favourites for several reasons. Pictured below is a Boom Lake. It's located on the border of Banff and Kootenay National Park, only a short hike from the parking lot. And yet, it's quiet, picturesque and one of our favourites all year round. In the summer for running and swimming. In winter for cross country skiing. (year round)
Best things to do in Canmore
For more options in Canmore, read our post: Fun outdoor things to do in Canmore
78| Fly over the Rockies in a helicopter
On the Prairies or in Canmore there are small airports where you can hire a helicopter from a few minutes to an hour and you can see the beauty of the Rockies from a bird's eye perspective. (May-October)
Read post: Canadian Rockies from above
79| Visit old mining town Canmore
A short drive from Banff you can visit old mining town Canmore. Now the mines are closed but the town overcame its past and became one of the nicest places to live in Canada. (year round)
80| Bike or cross-country ski in Canmore Nordic Centre
One of the best places to bike or cross-country ski in Alberta is the Nordic Centre in Canmore. It was built for Calgary '88 Olympic Games where athletes competed for Olympic medals. Cross-country ski tracks are maintained and lit at night during winter and as soon as the snow melts, it becomes a popular place for mountain bikers. It might feel strange at first but shout out random things to indicate bears you're there and carry a bear spray; it is their popular area to hang around. (bike May-October, cross country ski November-April)
81| White-water rafting on Kananaskis River
Rafting on Kananaskis River is a great half day adventure right at the edge of Canadian Rockies and Prairies. (June-August)
82| Bike around Canmore
Canmore is surrounded by high mountain peaks and you will have beautiful views wherever you go. You can start at Riverside Park, cross the bridge and head south along the river. You will see few old mining sites and wildlife, too.
83| Explore the Rat's Nest Cave
Great option to cool down in summer is caving in Rat's Nest Cave but only if you're not scared of small and dark places. The cave has pleasant 5°C temperature all year round. (year round)
84| Hike to Grassi Lakes
A family-friendly hike suitable for all fitness levels in Canmore is Grassi Lakes Trail. There are two options to get to the top with emerald coloured lakes and view of Canmore. (May-October)
85| Stay in Canmore to save money & avoid crowds
While both Banff and Canmore are very popular, staying in Canmore instead of Banff is considered to be cheaper to stay and also have fewer people on the streets. Canmore is right outside the national park and only 15 minutes away from Banff. They also introduced public buses between Banff and Canmore for easier commuting. (year round)
86| Hike up to the summit of Ha Ling Peak
Getting to the top of Ha Ling Peak is a quick 6km round trip hike. You will get fantastic mountain views of Bow Valley. Sometimes there are base jumpers at the top as it's their favourite place to start. (May-October)
Read post: Ha Ling Peak vs. Mount Lawrence Grassi – which one to choose?
87| Visit Kananaskis Country
This is one of the provincial parks bordering with Banff National Park on the south side. It has similar landscape but it is not so protected. Here you can come for downhill biking or rent an ATV for a spin. There are also endless hiking trails in Kananaskis. (year round)
Read post: Little Lougheed Hike in Kananaskis
Kootenay, Yoho & Jasper National Parks
88| Explore neighbouring Kootenay National Park
Kootenay National Park doesn't have any human residents as there is no town. On the other hand, it has plenty of wildlife, hiking and biking opportunities; and nature sightseeing. Most popular are Stanley Glacier and Paint Pots. (year round)
89| Warm up in Radium Hot Springs
On the western edge of the Kootenay National Park, you can find a great place to warm up in the outdoor pool. It makes a great day trip just 90 minutes of driving from Banff. (year round)
90| Visit Yoho National Park and its capital Field
It's the smallest national park on the borders of Alberta and British Columbia but probably most intense in beauty. Most of the landmarks are best to visit in summer. (some year round)
Read post: Hiking in Yoho National Park
91| Spot rainbow under Takakkaw Falls
Takakkaw Falls are 381m high and are the second tallest waterfall in Canada (after Della Falls in British Columbia). This magnificent waterfall is so tall that water falls down in a form of a spray, not the stream. It is accessible through a set of hairpin turns and an easy and short walk. (June-October)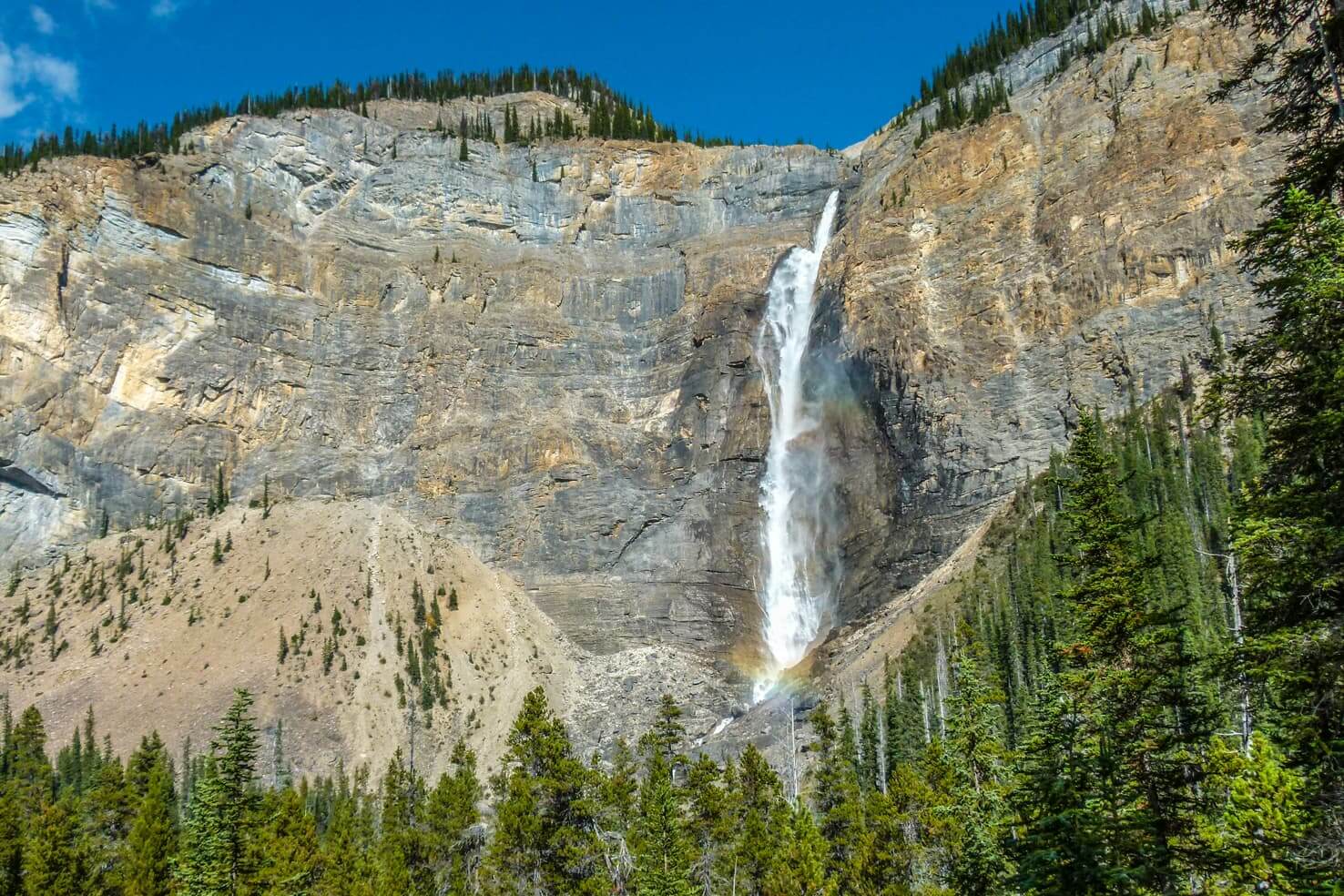 92| Stay overnight at magical Lake O'Hara
This remote lake is accessible only by dirt road closed for general traffic. If you want to stay overnight you have to book your stay three months in advance. It has one of the best sceneries in The Canadian Rockies. (year round, camping available only June-September)
93| Hike to Lake McArthur
It is an easy hike with a great reward. Start hiking at Lake O'Hara area and even if you can't get a spot at the camp, take a bus for a day tour. Due to its colour, Lake McArthur is one of a kind in Canadian Rockies Lake colour from indigo to sapphire changes with the seasons. (June-October)
Read post: Hiking & camping guide to Lake O'Hara in Yoho
94| Raft down the Kicking Horse River
Raft launch is just outside the western border of the national park (90 min. from Banff). Kicking Horse River is the only one with class 4 rapids close to Banff and surrounding national parks. (June-September)
95| Relax at Emerald Lake
Emerald Lake has been discovered only 135 years ago. It is one of the top spots within The Canadian Rockies and easily accessible by car. You can stay right on the shore at Emerald Lake Lodge, take a canoe to paddle on the lake in summer or snowshoe around the lake in winter. (year round)
96| Visit another outdoor heaven Jasper National Park
Jasper National Park is comparable and much less visited national park and offers more outdoor options than Banff National Park. There is more biking trails, lots of hiking, and swimming in the lakes in summer is more pleasant. It is more spread out than Banff National Park so you will see fewer people on the trails. (year round)
Read post: 65 adventurous things to do in Jasper National Park
97| Hike the Wilcox Pass
It is a lesser known hike in Jasper National Park. The trail starts near the Icefield Centre, right where you leave Banff National Park and enter Jasper National Park. Easy and well-trodden trail is 8 km long (roundtrip) and elevation gain only around 300m. Once you hike above the tree line, you'll be rewarded with stunning views of Athabasca Glacier and Columbia Icefield.
Read post: Wilcox Pass Hike
98| Walk on the Columbia Icefield
Columbia Icefield is a popular attraction along the scenic road Icefields Parkway on the edge of Jasper National Park. You can take a tour and walk on the Athabasca Glacier with a guide or you can walk at the edge of the glacier by yourself. (May-September)
99| Explore ice caves of Athabasca Glacier
If you're driving the Icefields Parkway in winter, stop at Columbia Icefield and go explore the ice caves at the toe of the glacier. Bear in mind that it's not always safe to enter the caves, you're responsible for your own safety.  Wear spikes to avoid injury. (October-April)
100| Hike to Mount Edith Cavell
This easy half-day hike is everything that the Rocky Mountains offer in one place. Glacier, lake, meadows and great views. During certain summer days it can be quite crowded, go as early in the morning as possible. (May-September)
For more hiking trails, read post: Hiking in Jasper National Park
*In the spirit of full disclosure: Some links in this post are affiliate links, which means that if you purchase through them, we receive a small commission at no extra costs to you. We appreciate your support!
---
Are you planning to visit Banff National Park? Which activity do you like the most?

---
Spread the word! PIN this to your Pinterest board.