Canadian wildlife is usually the number one reason people visit the magnificent nature. Watching wild animals in their element creates life-lasting memories.
Canada is the second largest country in the world, with a diverse nature and mostly uninhabited landscapes. Therefore, the variety of wildlife in Canada is huge.
In this post, I will show you 14 beautiful wild animals in Canada that you can spot in this vast country. From whales in the Pacific and bears in the Rockies to butterflies and puffins in the Atlantic, with a focus on the provinces of British Columbia and Alberta (where we live).
Furthermore, you'll learn about:
the best places to see them
our personal stories about wildlife in Canada
videos to watch if you'd like to know more about Canadian wildlife
what is the best time to see wildlife in the Rockies
things to know before wildlife watching
We've been living near the Canadian Rockies for more than a decade. If you know us or read our blog, you know that mountains are the centre of our universe, and we spend all our free time among the mountain peaks.
Needless to say, we had our share of wildlife encounters throughout the years. Luckily, none were scary, but all were humbling experiences.
Keep reading to get inspired and create your adventure by watching Canadian animals.
Wildlife in Canada
Shortly after we moved to the Canadian Rockies, Michal and I became slightly obsessed with Canadian wildlife. You can't blame us; they're everywhere.
For any animal lovers, the Canadian Rockies are a dream. Let me show you the most beautiful animals in Canada that you can see.
1. Black bear
Of all the Canadian animals, the black bear is the most iconic for the Rockies. For many people, seeing a black bear is a highlight of their trip to the Canadian Rockies. And it's more common than you think.
While you can see a black bear just about anywhere (sometimes even in the city), the best and safest place to see them is by the roadside. There is an abundance of buffalo berries they like to feed on in spring before the snow melts higher in the mountains. Driving the roads in the provincial or national parks is your best bet to see black bears.
According to the Government of Alberta, black bears can be found in 75% of the province.
Best wildlife-watching tours in the Canadian Rockies
Our experience with black bears
We saw our first black bear the week we moved to Banff National Park. We biked around town to get to know our new home better when I noticed a black bear walking on the biking path just a few hundred meters in front of us. It was a new and surreal experience.
He didn't notice us and casually walked on the bike path, sniffing the grass and looking for flowers to eat. We stopped biking and waited. Shortly after the bear moved into the forest, we continued with our bike ride when we saw him far enough.
Seeing a black bear so soon after our arrival to Canada was a real surprise, as I call it now – a warm welcome to Canada from its residents.
I stopped counting a long time ago how many bears we saw, or any other wildlife in Canada for that matter. But we always stop to watch them for a while. Watching mama bear with their cubs and how they play and behave in their natural habitat is a memory I will never forget.
TIP
Are you planning a trip to the Canadian Rockies? Check out our Banff itinerary and Jasper itinerary to make the most of your trip.
2. Grizzly Bear
Grizzly bears are less common to see than black bears. Mostly because there are fewer grizzlies than black bears, they tend to avoid noise and people and hunt in unoccupied areas.
How do you know you see a grizzly bear? The most common sign is their brown fur and a big hump between their shoulders (black bears don't have a shoulder hump). They must have both features; otherwise, you can quickly get mistaken.
We've recently seen a brown-furred bear without the shoulder hump, so we knew it was not a grizzly bear. It was a Cinnamon bear, a subspecies of a black bear. See below how gorgeous they are.
You can learn about the differences between black bears and grizzly bears here.
The largest amounts of grizzly bears in Alberta are located in Waterton Lakes National Park and Kananaskis, but you can also spot them in other national and provincial parks.
While Alberta has around 700 grizzly bears, approximately 15,000 live in the neighbouring province of British Columbia.
Our experience with grizzly bears
When I saw a grizzly bear, it looked dangerous, like an animal that can kill you, demanding a certain respect. Meanwhile, black bears I've seen always seemed to have an 'I don't care' attitude and look cute and cuddly (even though they're not!).
The best place to see grizzlies in the wild is on bear-watching tours in British Columbia, where they stuff themselves with fish on the annual salmon run.
WATCH
Stunningly shot documentary Bears by Disney Nature.
3. Moose
Moose are huge! I knew that from my research, but nothing prepares you for its huge size when you see moose live. They have long, skinny legs, massive bodies, funny-shaped heads and bulls have gigantic antlers. They make a whistle-like high-pitched noise, which you would never guess is from a moose.
They can be commonly seen on the side of the road in Banff and Jasper National Parks. They live in forests and munch on the bark of the trees, twigs, and water plants. We last saw a moose on Maligne Lake Road in Jasper National Park just before sunset.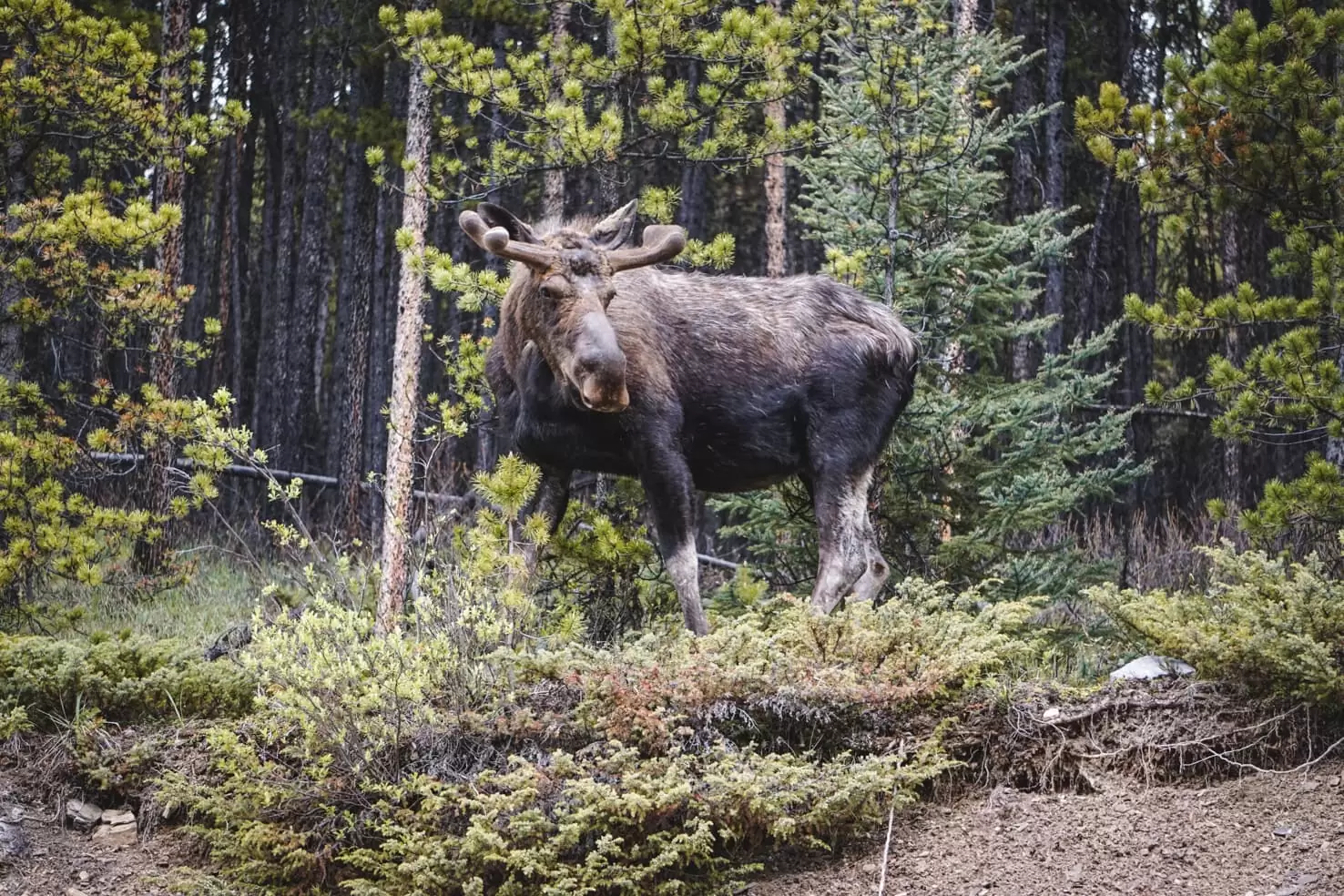 Our experience with moose
Our first encounter with a moose was in Fernie, British Columbia.
We went on a mountain biking trip to Island Lake, a beautiful mountain area for hiking and biking. Apparently, the moose is a resident of the Island Lake.
We sat by the lake, tired from the uphill ride, to enjoy the sun and quietness. As I looked around at the scenery, we saw a cow (female moose) on an island in the middle of the lake.
She started to cross the lake towards us and stopped to wait for her calf, who looked hesitant to go into the water. When the calf began to swim, the mom resumed her walk across the lake. So we did the only thing we could: stood up and left.
We observed them from afar with other hikers walking in the forest around the lake. As one of them was a hunter, he pointed out that an aggressive moose is the most dangerous wild animal in the Rockies. We gave them even more space. It's their home, after all.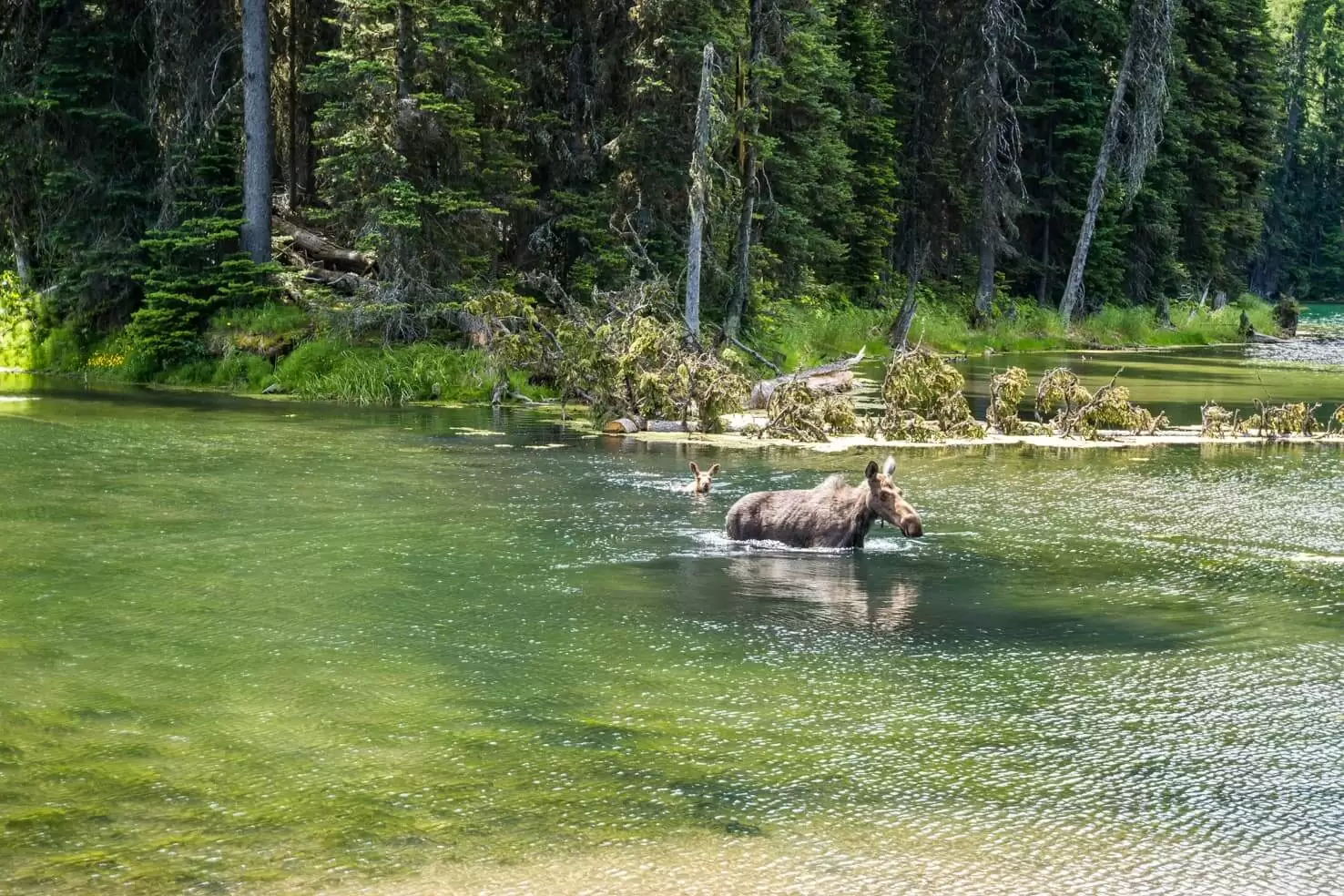 4. Elk & deer
These are the most commonly seen wild animals in Canada, especially in Banff and Jasper National Parks. During the elk rutting season, from late August to mid-October, you can often hear their high-pitched calls before seeing them.
You can often observe elk herds on the golf course in Banff or a barbeque area by the Bow River.
Elk and deer are often confused. While elk are large animals weighing around 350 kg, deer are smaller, with a maximum weight of 150 kilograms for mature males.
You can often see both animals right in town, accustomed to people walking around. While they often look like they mind their own business, be aware that they can charge without warning if they feel threatened.
Unfortunately, some unaware and ignorant tourists get too close to a wild animal for a selfie only to be surprised when the animal charges.
Our experience with elk & deer
The first day we arrived in Banff, our new home and the oldest national park in Canada, deer were having lunch just in front of our apartment door. We lived right by the forest and saw deer walking around daily.
When visiting Banff National Park in the autumn, we often see herds of female elk lounging around eating grass while the males walk around them anxiously and loudly. Elks tend to be particularly dangerous during this time.
This used to be a common occurrence in front of our apartment when we lived in Banff:
5. Bighorn sheep
Bighorn sheep are easily recognizable. They're bigger than domesticated sheep, and males (rams) have big spiral horns. They can be found in British Columbia and even larger numbers in Alberta.
They usually move on the rocky terrain of the mountains or lounge in family circles high in the alpine area, enjoying the sun.
Funnily enough, the best way to see them is right on the road, where they cause congestion or look up high on the rocky walls while driving through the mountains. They spend time on the road because bighorn sheep like to lick the salt.
Our experience with bighorn sheep
We see them whenever we drive the famous Icefields Parkway (between Lake Louise and Jasper) or while hiking the Wilcox Pass in Jasper National Park – they have the best view up there.
A prevalent spot is also Bow Valley Parkway, right past the exit off of Trans-Canada Highway when driving from Banff.
6. Bison
While Indigenous hunters hunted bison (or buffalo) in the past, they almost became extinct in the 19th century. It's the biggest animal in Canada living on land.
The world's most abundant free-roaming bison is in Wood Buffalo National Park, the largest national park in Canada.
In Alberta, you can visit Head Smashed in Buffalo Jump, a UNESCO World Heritage Site, to learn more. The buffalo jump was used for almost 6,000 years by native people to kill buffalo by guiding them off the 11m cliff. It's worth a stop on an Alberta road trip.
Most recently, Parks Canada successfully reintroduced bison to Banff National Park.
WATCH
I highly recommend watching a documentary from Parks Canada about Banff Bison Reintroduction.
Our experience with bison
We enjoyed the tour by a native Blackfoot guide at Head Smashed in Buffalo Jump to learn about bison.
Seeing these vast animals, though, was a real treat. An easy way to see bison is while driving to Waterton Lakes National Park. It's a small detour to Bison Paddock, where you drive through and watch the herd roam the grasslands.
Even easier is visiting Rocky Mountain Buffalo Ranch in Golden, British Columbia.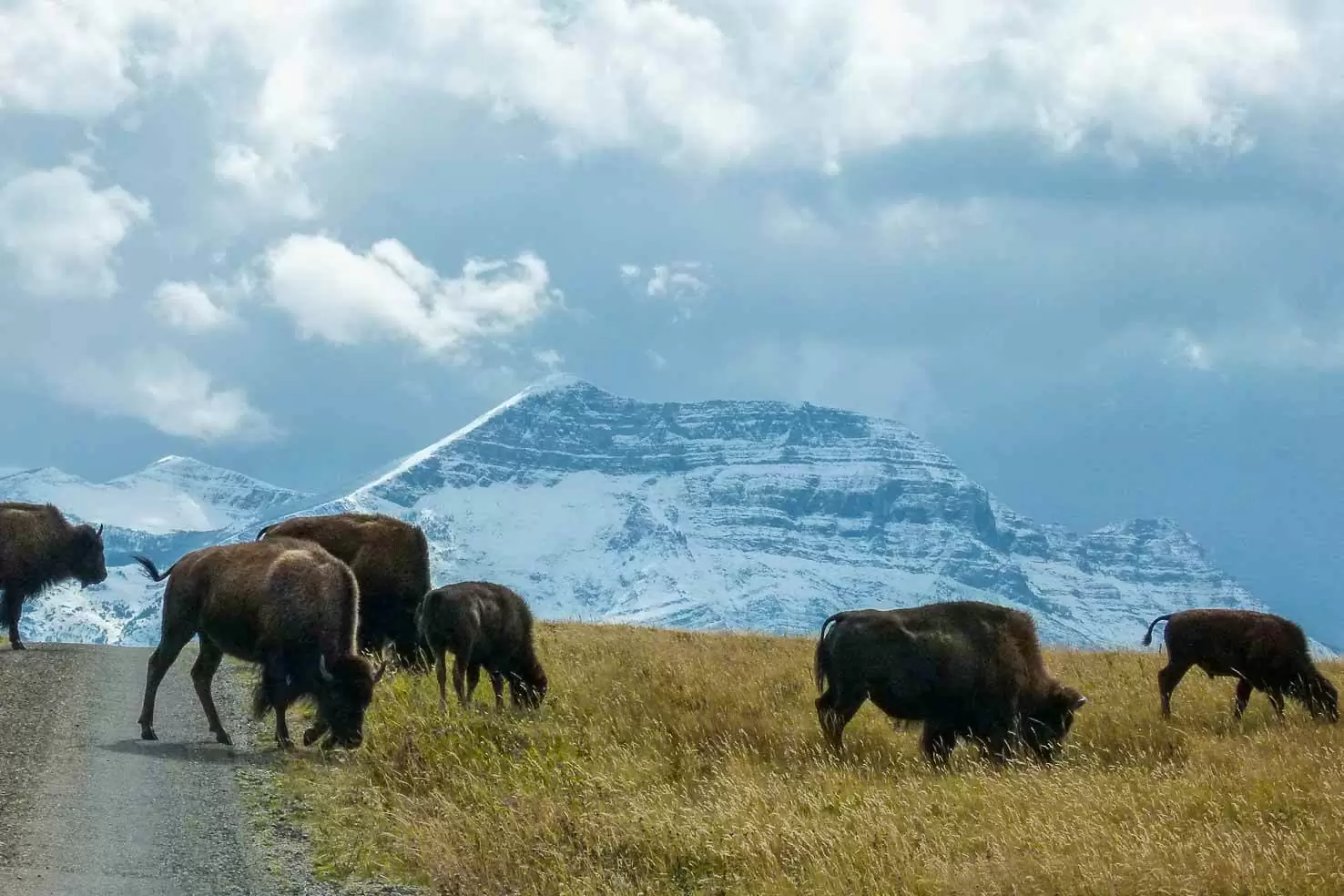 7. Whales
Humpback whales, killer whales, beluga whales, you can see them all when visiting Canada. A whale-watching tour from Vancouver or Vancouver Island in British Columbia is the most popular way to see them. Some tour companies even offer a whale spotting guarantee, or you get the next tour for free.
Our experience with whales
On a road trip on Vancouver Island, we saw whales swimming in the ocean while walking on the beach.
8. Wolves
Canada has the most significant grey wolf population after Russia, with about 4,000 animals in Alberta alone.
Wolves are excellent hunters in the wild and are rarely seen by humans. They live and hunt in packs, and I was amazed to learn how important they are to keep our ecosystem healthy in the documentary How wolves change river.
Our experience with wolves
We've visited a Wolf Centre in Golden, British Columbia, where you can see nine wolves during an interpretative tour or book a longer private Walk with wolves.
9. Beaver
The beaver is one of the most iconic Canadian animals and Canada's national animal, so I had to include it. Its long history with Canada is mostly due to the fur coat.
Beavers are the largest rodents in North America and are known for building dams and canals in the slow flow rivers. Fun fact – the largest beaver dam of 850 metres is in Wood Buffalo National Park, Alberta.
They spend half their lives in the water, but their skin is never wet, even if swimming for several minutes. Their secret weapon is the oil they produce to waterproof the fur.
Our experience with beavers
We live close to downtown Calgary, and Prince's Island Park is a favourite place for beavers. Bow River flows through downtown, and few beavers live in the park.
We usually see at least one beaver swimming around or building a dam when we go for an evening walk to the park. Last time, we met a local photographer who said that beavers had babies, and now there are seven. We were lucky and saw four of them at once.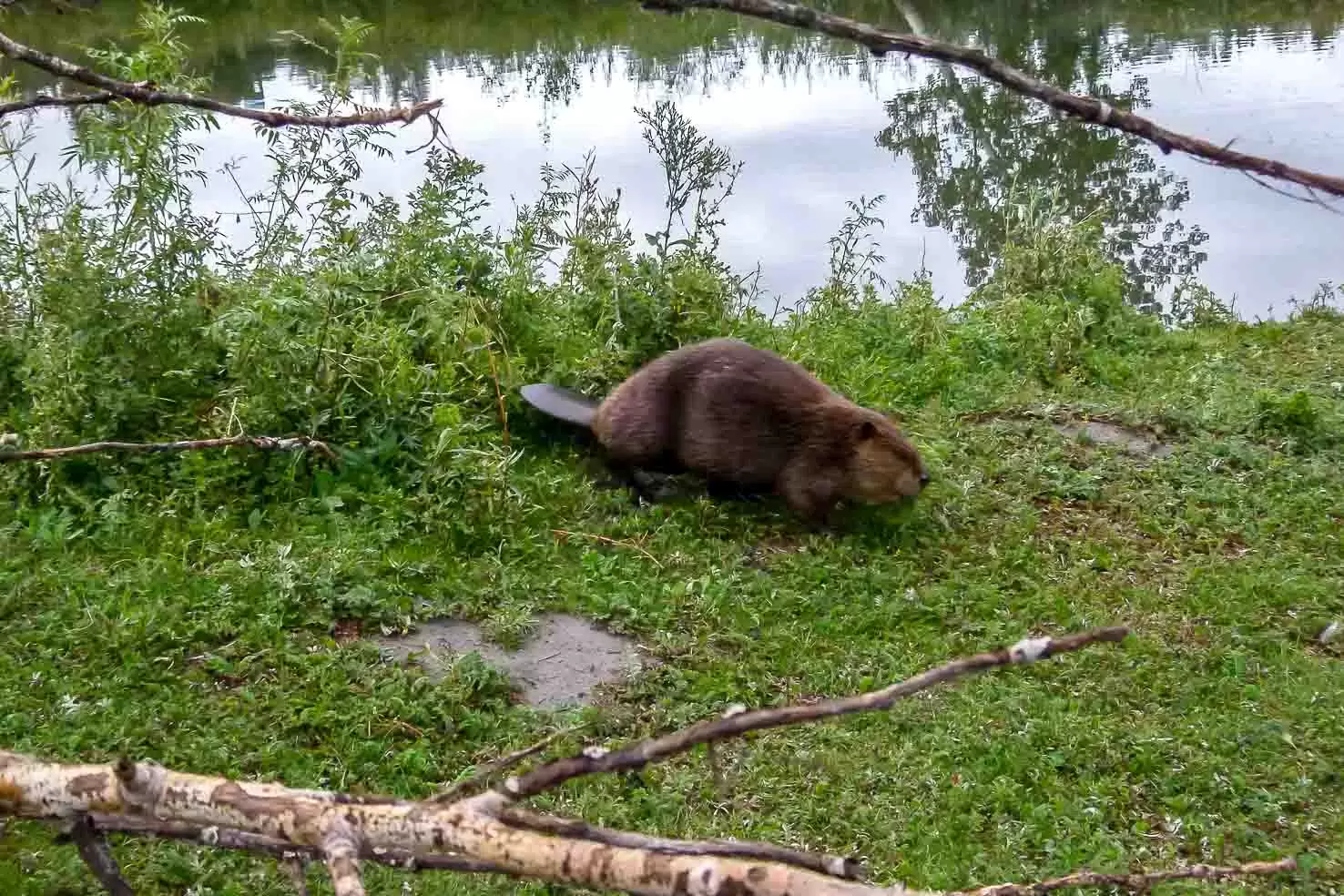 10. Turtles
If you're surprised to see turtles on the list of wildlife in Canada, imagine our surprise when we discovered wild turtles live in the Canadian Rockies.
Painted turtles live in southern Canada, usually in ponds, rivers, lakes or creeks. They can live up to 50 years old if they survive their childhood due to many predators.
Our experience with turtles
The biggest wildlife surprise so far was seeing a wild turtle. Yes, that's right – a turtle!
When we visited Fernie in British Columbia for the first time, we were having a picnic by Elk River and saw a turtle on the grass. I first thought it was a pet that someone got rid of. Thinking about possibilities on how to save the turtle, we asked our local friends.
As it turns out, painted turtles are very common. Can you believe that?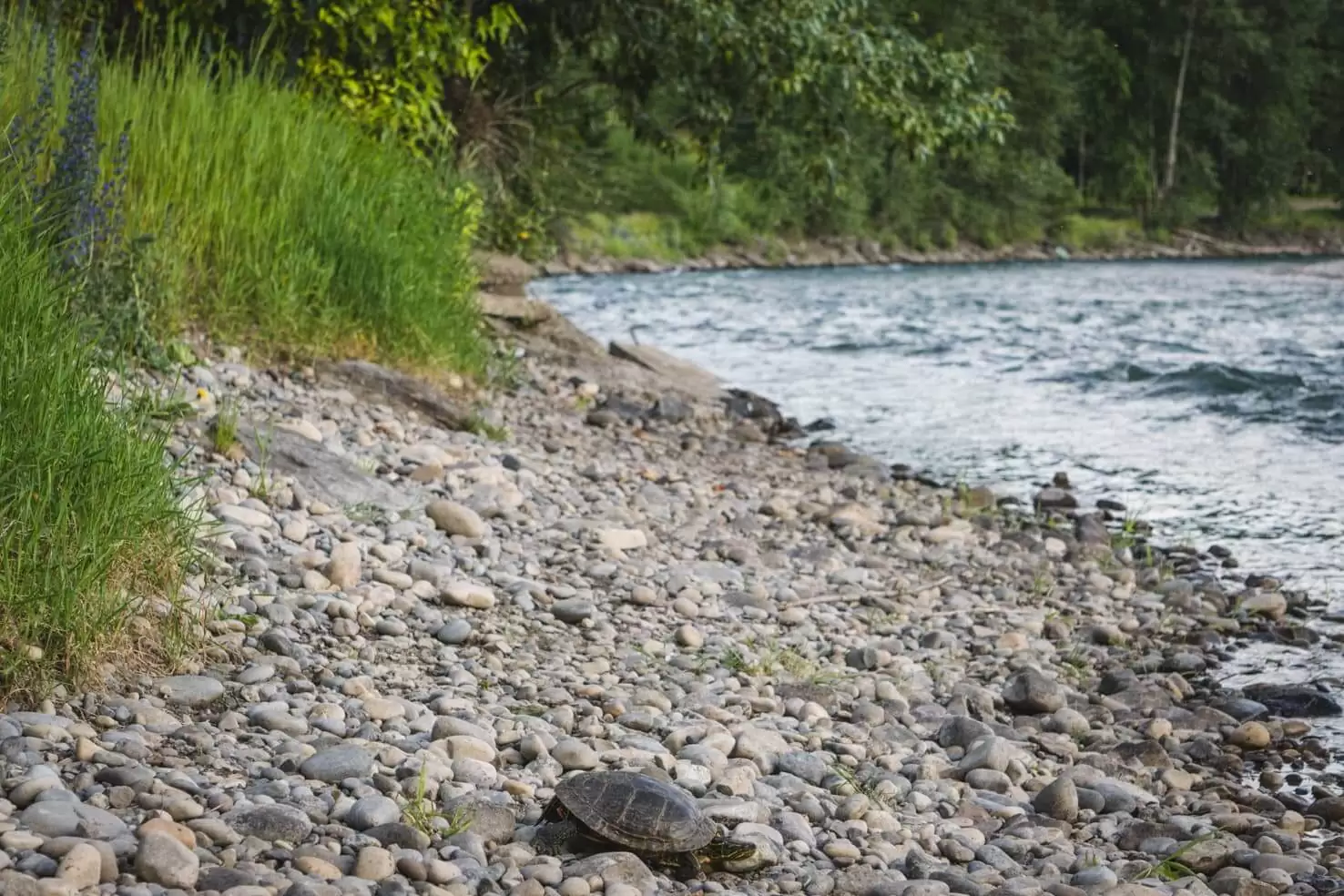 11. Polar bear
The Canadian province of Manitoba is best known for polar bear tours. More than two-thirds of the world's polar bear population lives in Canada. Churchill in Manitoba is the world's polar bear capital.
12. Caribou
Caribou are commonly mistaken for deer but mostly live in the Arctic. You can tell a caribou and a deer apart by seeing a white belly part on the caribou.
They've been providing food and clothing to Indigenous People for thousands of years. Sadly, the number of caribou herds shrank by 90%, and now it's rare to see a caribou in the wild.
The most common sightings of caribou I've heard about are from Jasper National Park.
13. Monarch butterfly
I bet you wouldn't consider butterflies to be among the iconic animals in Canada. Monarch butterflies are known for the world's longest insect migrations.
Have you heard about the famous butterfly migration people flock to watch in Mexico? It all starts in Canada. Monarch butterflies migrate from Ontario and Quebec to the mountainous part of Mexico every autumn.
14. Puffins
The Atlantic side of Canada, specifically Newfoundland province, is known by birds called puffins who spent their lives living by the ocean.
Best time to see wildlife in Canada – the Rockies edition
The best time for wildlife watching is usually early or late in the day when the traffic is at its lowest and animals are most active.
If you'd like to see most Canadian animals on the list in the shortest time, visit Banff or Jasper. Even though you can see them year-round (except for bears), I highly recommend coming to the Rockies in spring – late May to June.
Calves are born in spring, and let me tell you, there's nothing more precious than seeing bear cubs with their mom playing in the grass or munching on dandelions.
What to know before wildlife watching
It's important to remember that these are wild animals. Wildlife-watching rules are in place to protect them, and all visitors are expected to follow them.
Common rules include:
Never approach or surround a wild animal
Do not feed any animal
Be especially alert around mamas with their calves
The minimum distance from a bear is 100 meters
Unfortunately, there are several cases every year when a tourist approaches a wild animal, and it charges against him. Sometimes, when you provoke a bear, and it charges you, they must put him down. And you're the one responsible for its death.
In national parks, Parks Canada is on patrol and fining visitors who do not comply with the rules. It is highly recommended to carry a bear spray within arm's reach and make noise while doing any outdoor activity in the Canadian Rockies. Read more recommendations from Parks Canada here.
When you visit the Canadian Rockies, it's almost guaranteed that you will see a lot of wildlife. A road trip through Canadian national parks is an excellent place to start. See our suggestions below.
Resources for a great Canadian Rockies road trip
---
What do you think about wildlife in Canada? Which wild animal would you like to see the most?
---
Spread the word! PIN this to your Pinterest board.