Fernie is a charming little mountain town that lies on the southern end of the Canadian Rockies. It's a little known adventure playground and we want to show you all the amazing things you can do while visiting.
Located in the Canadian Rockies of British Columbia, the mountain ranges, forest-covered trails and surrounding lakes offer a lot for all four seasons.
The first time we've visited Fernie was in 2016. We were planning to visit Fernie anyway but after we became friends with a local couple on our Lake O'Hara backcountry adventure in Yoho National Park, we had one more reason. All it took was our new friends telling us of endless biking trails and we were sold. A week later we've visited Fernie.
We celebrated Canada Day in Fernie and the long weekend quickly flew by. Even though it's a 3-hour drive from Calgary where we live, we knew right then we will come back again. In fact, as soon as we returned from our trip around the world and the snow has melted, we were in Fernie.
And it was still amazing as we remembered it.
Despite the popularity of the world-class ski resort, we returned in summer to taste everything that Fernie has to offer. And I must say, it's quite a long list. Enjoy!
TIP
Get a geotourism map of 'The Crown of the continent' by National Geographic here which includes the Rocky Mountains for Alberta, British Columbia, and Montana.
Do you like small mountain towns? Check out our travel guides for:
25 amazing things to do in Fernie, BC
1| Visit Fairy Creek Falls
Just as you enter Fernie from the Crowsnest Highway, stop at Fernie Visitor Information. The short 4,5 km hike with little elevation through the forest and ending at a waterfall is a perfect place to stretch your legs after the drive and refresh under the falls.
2| Walk the ancient Cottonwood Trail
Hidden from the highway and only 10-minute drive south of Fernie is an ancient forest with 400-year-old black cottonwood trees. A 20-minute walk among these giants with birds singing along the way really makes you appreciate the conservative efforts of the forest.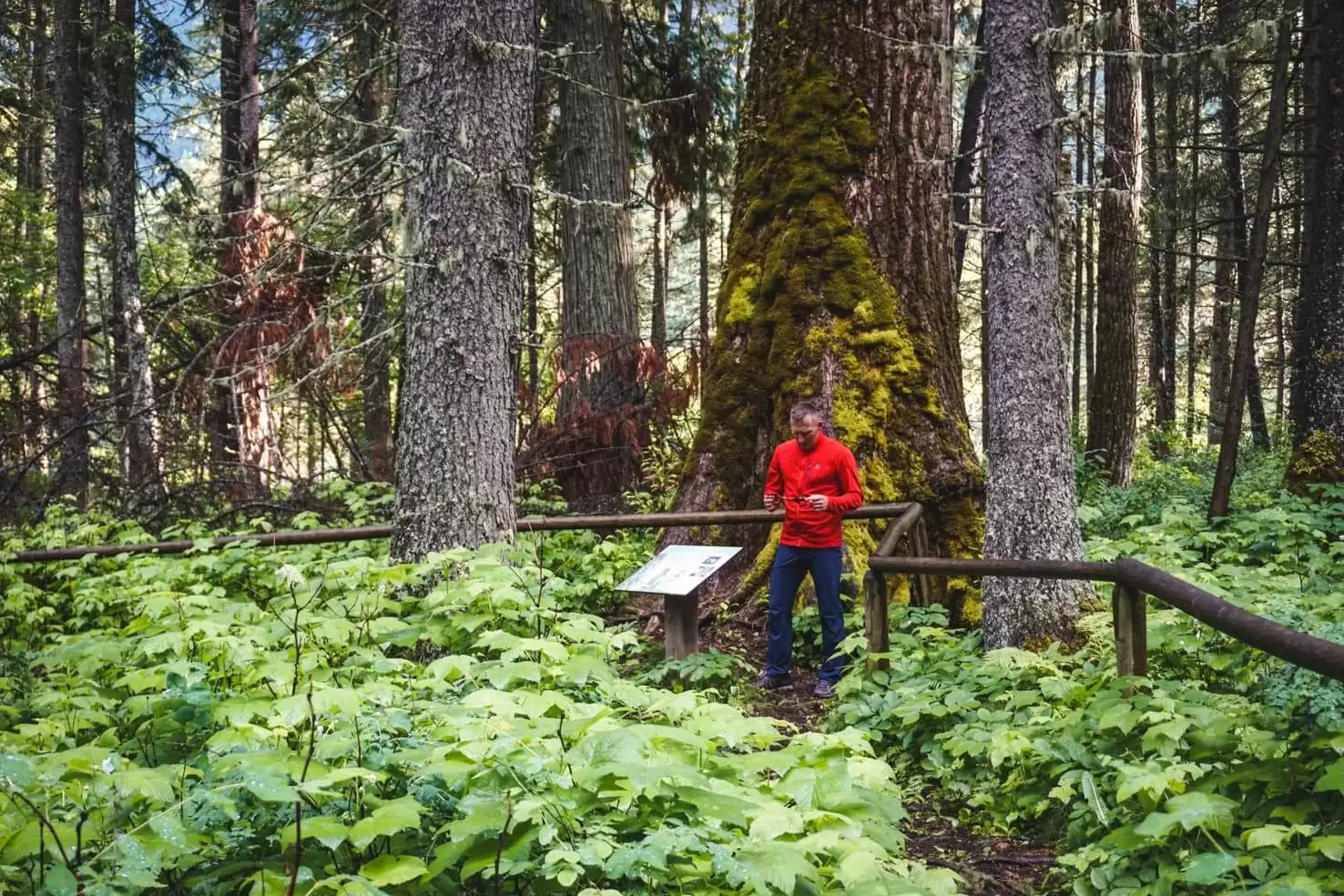 3| Refresh at Matheson Falls
This is what locals call a hidden gem. And hidden it is indeed. Drive east on the Coal Creek Road just past the marker #41 and park on the pullout on the left side of the road. The trail starts on the other side of the road through the forest upstream. It's only a 20-minute walk from the parking lot and you very quickly find yourself in a creek bed ending with a waterfall with cascading moss-covered rocky walls.
4| Relax at Island Lake Lodge
Island Lake Lodge is a popular spot for outdoor lovers all year long for activities: catskiing, cross country skiing, hiking, trail running and mountain biking. It's also a great spot to relax after an active day in a spa or outside hammock with a snack in hand. When we visited the last time, several artists were out early in the morning with canvas painting the towering peaks of Lizard Range behind the lodge.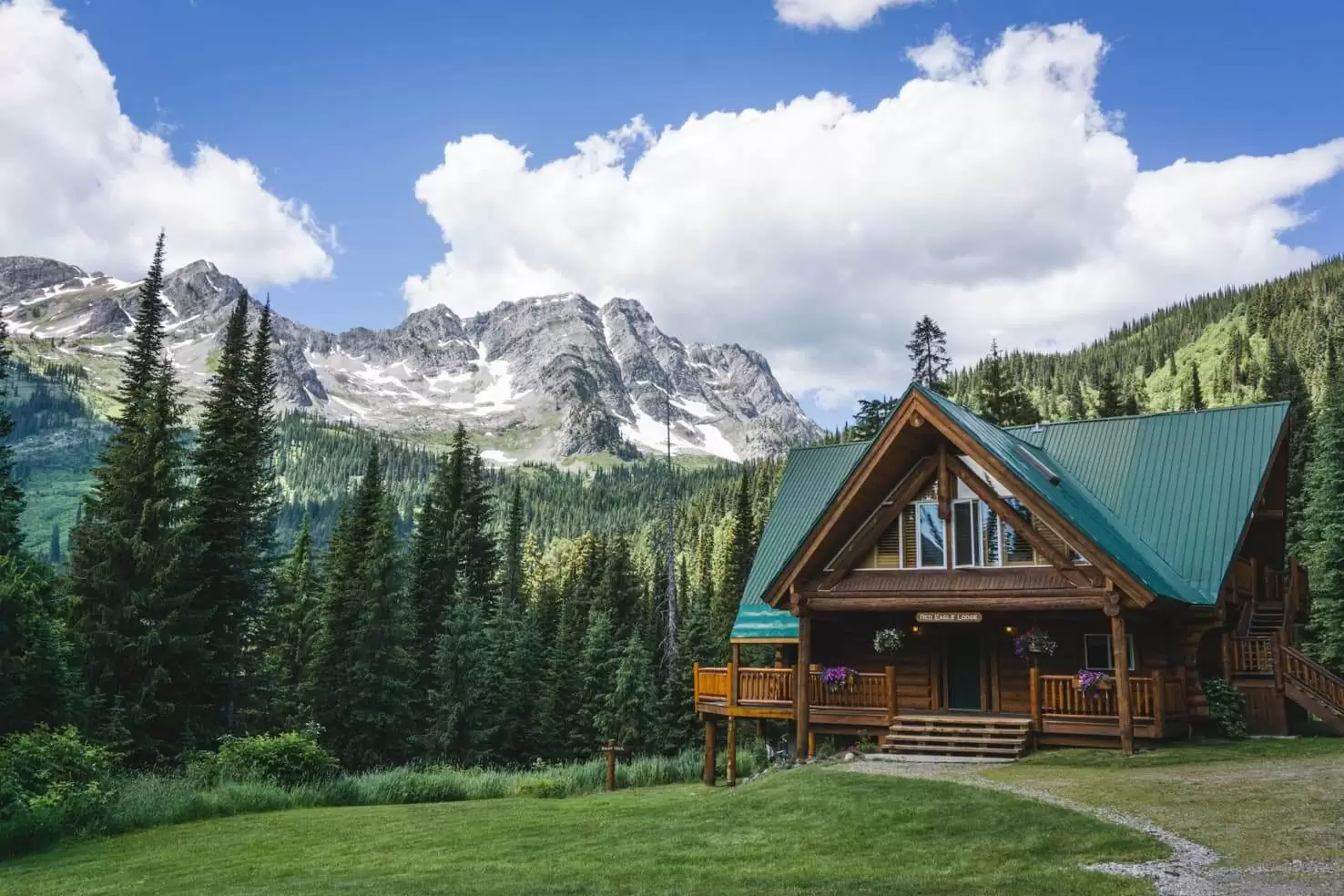 5| Look for moose at Island Lake
Island Lake Lodge area is not only popular for humans but also local moose. When we visited the first time a lovely sign greeted us at the beginning of the hiking trail: "Aggressive moose in the area!" Later on, when we relaxed by the lake, we spotted a moose with her calf across the lake making their way towards us. The calf was hesitant to follow mom through the lake but once it did, we retreated back to the Island Lake Lodge.
As a local hunter pointed out, moose is the most aggressive animal in the Rockies. Nonetheless, it was beautiful to observe these creatures for a little while. And they make an appearance here very often.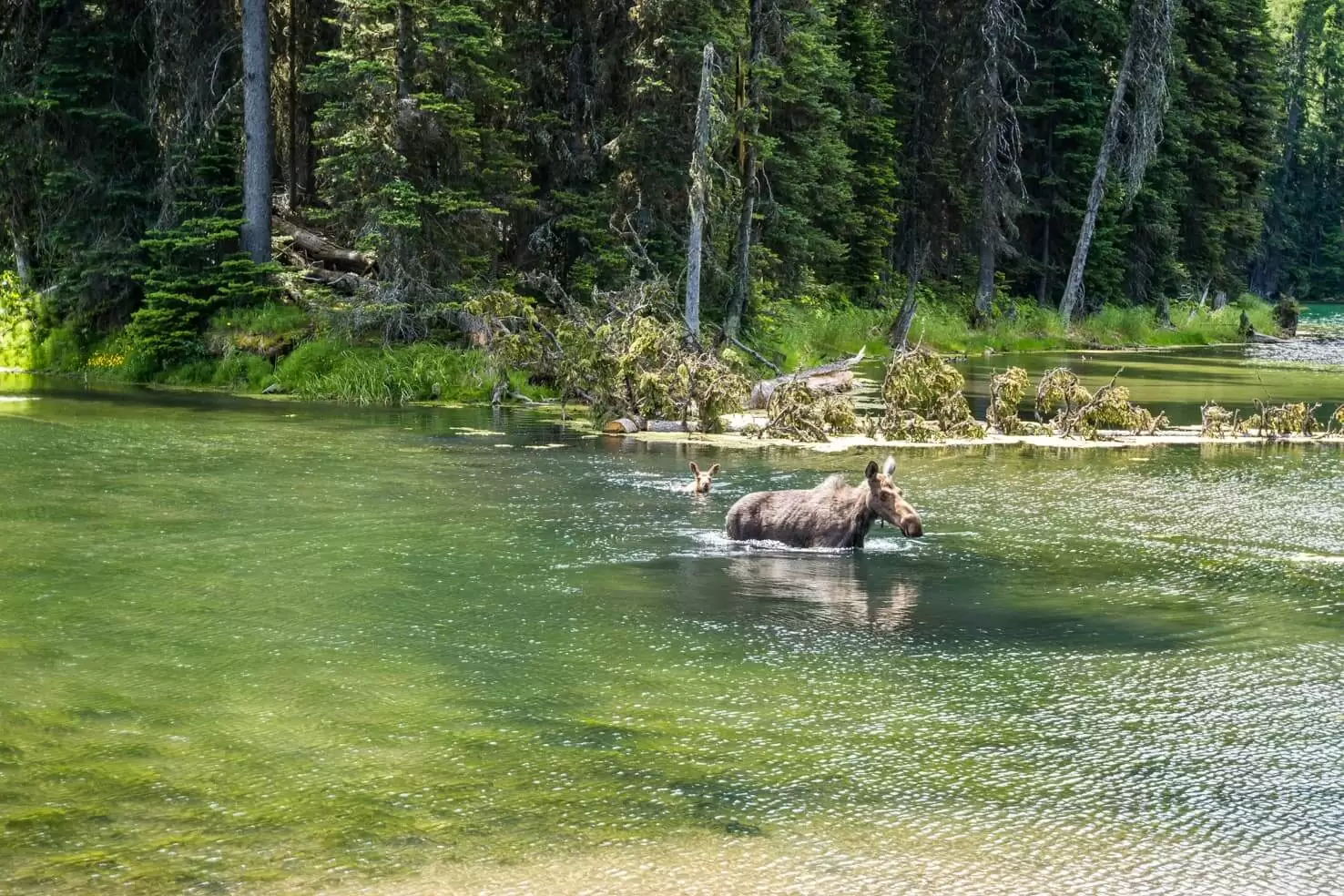 6| Hike the newly built Goldilocks Trail
Goldilocks is a new hiking extension to already established Spineback Trail starting at the Island Lake Lodge. Starting through the forest and prime moose area, it quickly climbs and offers scenic views. Once you arrive at the viewpoint marked with a bench, you will continue through the rock garden with colourful wildflowers.
Soon after a steep climb again up the scree (the trail was covered under snow in late June) until you reach the saddle between Baby Bear and Papa Bear peaks. We were greeted by mountain goats and enjoyed the panoramic views. A truly gorgeous hiking trail for advanced hikers (12 km return).
7| Downhill bike the iconic Lazy Lizard Trail
The fact that Fernie is a mountain biking paradise of the Canadian Rockies is undeniable. And we've biked a fair share of the trails in both Alberta and British Columbia. But our all-time favourite of all is Lazy Lizard. If you only have time for one trail, make it this one. It has such a beautiful flow over the 7 km and the downhill only has 350 meters elevation loss making it very enjoyable for all levels. You can either park your car at the southern end, then bike up the Lazy Lizard or Mount Fernie Park dirt road and downhill the Lazy Lizard.
Or as we did the last time because I couldn't bike, we parked at the Island Lake Lodge, went for a hike and then Michal biked down the Lazy Lizard by himself while I drove down to the parking lot.
8| Stay overnight at Mount Fernie Provincial Campground
Fernie has several campgrounds where you can stay. For example Fernie RV Resort is surrounded by mountain views but the sites are next to each other offering no privacy. Mount Fernie Provincial Park, on the other hand, is located in the forest away from the highway; it's a starting point for most of the biking trails and close to the Island Lake Lodge for hiking. The sites are separated by trees and they also have hot showers!
TIP
Rent a Smile Campervan from us for your road trip and you don't need to worry about any camping equipment or setting up a tent. You can comfortably sleep, cook and eat in the campervan.
9| Walk the historic downtown
In between your adventures, find time to get to know the town of Fernie and its coal mining history by walking around the historic downtown. You can either download a walking tour map and explore on your own or join a walking tour for 10 CAD including an admission fee to Fernie Museum (available every weekend during summer).
From all 12 historical buildings, our favourite was Fernie City Hall and the Imperial Bank (now used as a Brickhouse Bar & Grill).
10| Try local craft beer
This town doesn't stop to surprise me; they even have their own brewery. In summer, head to Fernie Brewing Company pub or one of the many patios in downtown. From fruit flavoured to different types of Ale and Ipa beers, you can try them all. My favourite is Huckleberry Ale called What the huck.
11| Find local art
Fernie has quite a big art scene. From common art galleries and pottery to chain saw carver. Start at the Arts Station for artisan fairs, art galleries, artist studios, movie screenings, and other events. And then walk around downtown in search of beautiful murals. We've found several murals that are worth a visit; download a Fernie Art Walk map to find them all. For unique handcrafted souvenirs made by Canadian designers, visit Coal Town Goods boutique store.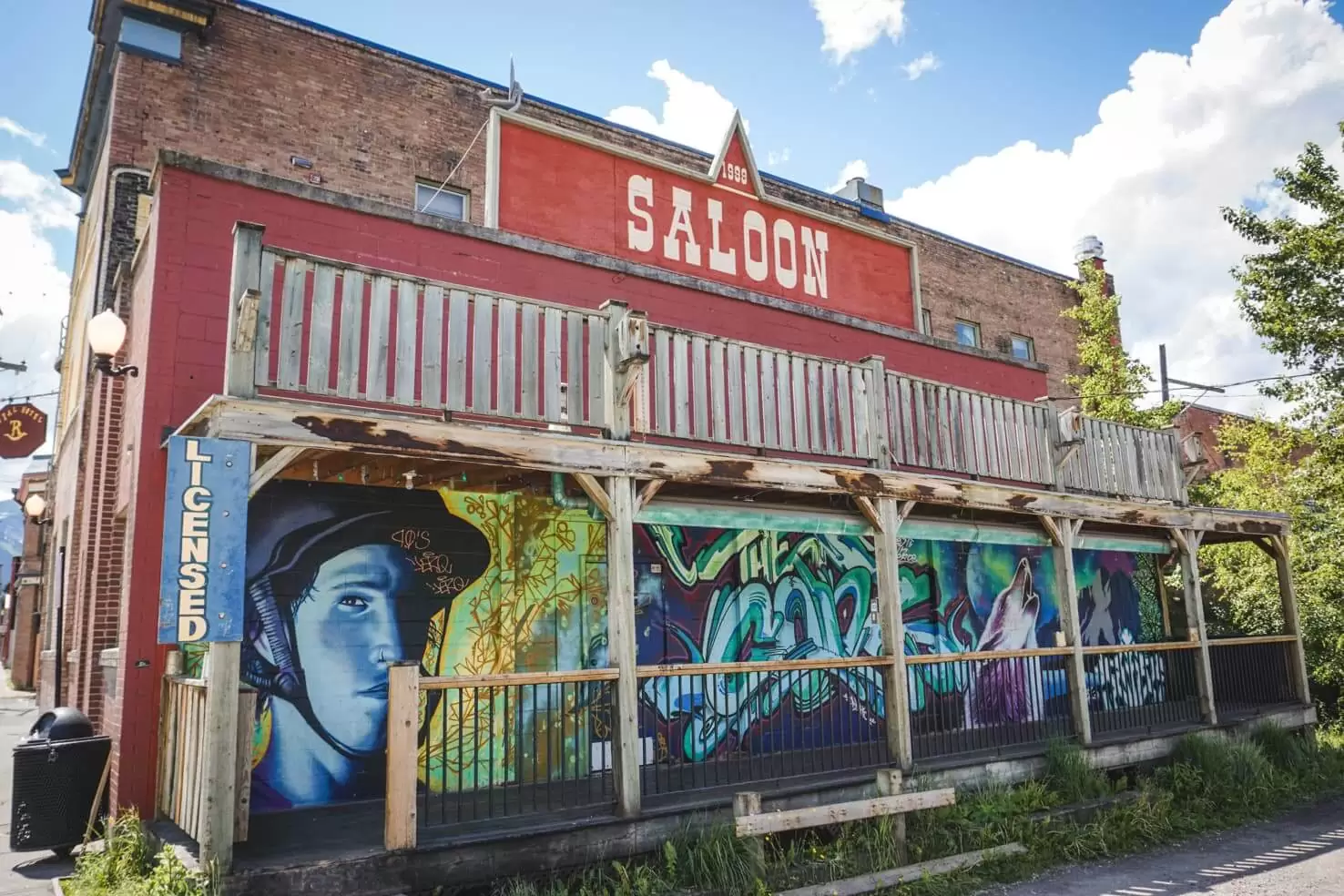 12| Ski in a powder paradise
The little town of Fernie receives a ridiculous amount (around 10 meters) of snow each year, hence the name powder paradise. Only minutes from downtown Fernie, you can ski in no time at Fernie Alpine Resort. Whether you like groomed slopes or deep powder runs, Fernie has it all. One thing it does not have that will make your heart sing is crowds. And when you feel like challenging yourself even more, try catskiing with Fernie Wilderness Adventures.
Watch the 'Ascent to Powder, tale of a ski town' movie that will surely spark the skiing flame inside you.
13| Mountain bike at Mount Fernie area
One of the best things to do in Fernie, if not number 1! A lot of fun mountain bike trails start at Mount Fernie Provincial Park. On one side is Mount Fernie and the other side leads to Fernie Alpine Resort. Our favourite trails are short and fun with possibilities to make them even longer, both around 8km with 250 m elevation gain:
Stove Trail, Mushroom Head & Dem Bones on Mount Fernie
Gorby, Megahurtz, Happy Gilmar and Woody Trails in Mt. Fernie Provincial Park (towards ski resort)
Download the Trailforks app and ride until the sun goes down (10pm in summer)!
Visit Fernie Mountain Bike Club for trails, events, volunteering, and winter fat biking.


14| Look for Painted Turtles
Turtles living in the Canadian Rockies were the biggest surprise for me. By the time we've visited Fernie, we've seen our share of wildlife – bears, elk, deer, moose and more. But when we've seen a turtle by the Elk River, we actually thought someone lost their pet. We saw a few of them by the river at James White Park.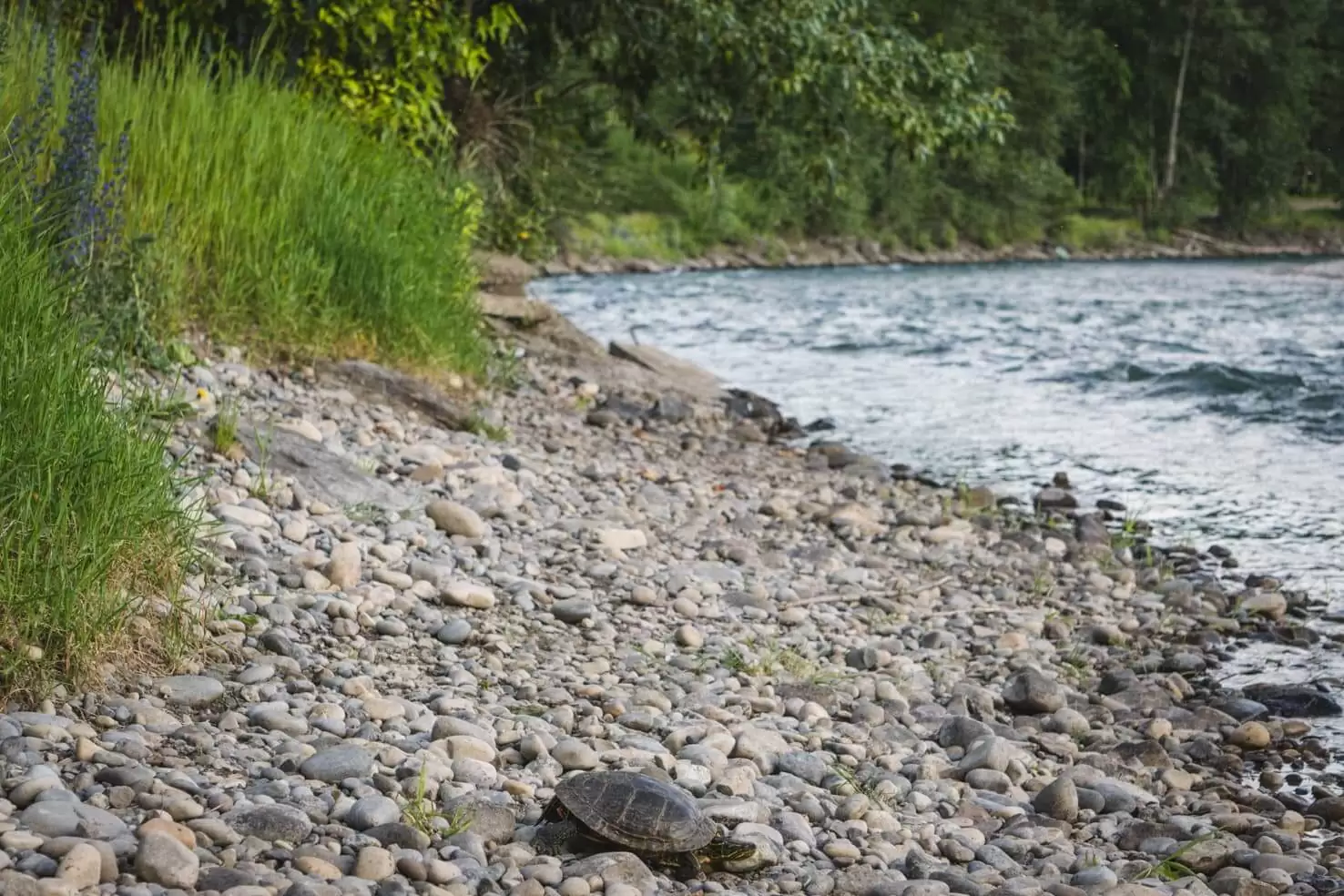 15| Swim at Surveyors Lake
Located a 30-minute drive south of Fernie in Kikomun Creek Provincial Park, Surveyors Lake is one of the most popular lakes in summer. The water gets warm enough for a swim, you can also walk in the shaded forest around the lake, rent a kayak or stand up paddleboard right on shore, jump from the deck or search for painted turtles which can be easily spotted on logs.
16| Take a plunge in Elk River
Even though lakes around Fernie are usually just a short drive away, you don't even have to leave Fernie if you're looking to cool off in summer. Look no further than Elk River passing through town. I recommend this during a really hot day, even in summer the Elk River is quite cold. When we bravely jump into the river, we were surprised by how many locals passed us floating down on a raft with great tunes playing. It sounds like great summer fun if you ask me.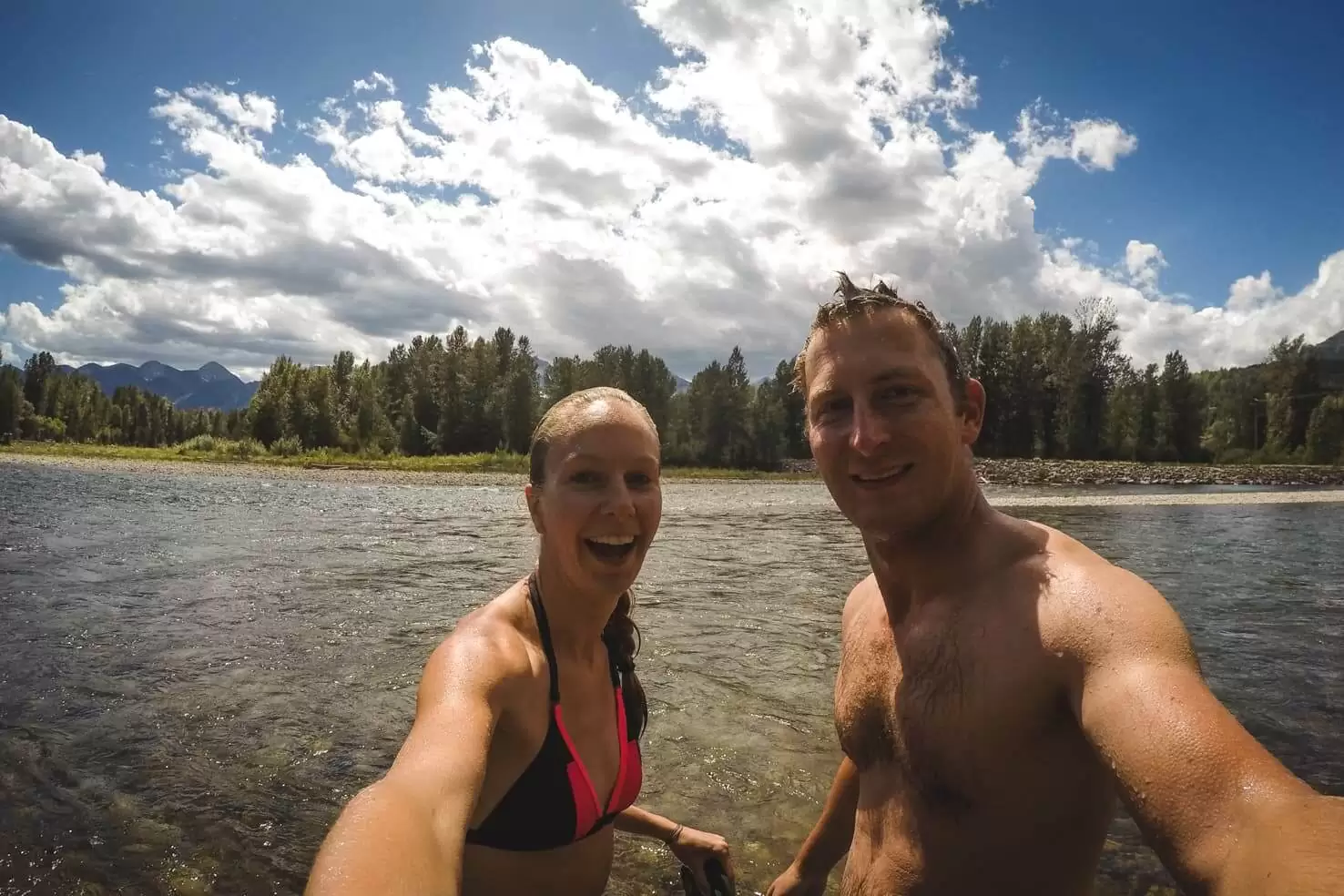 17| Get to the top of Mount Fernie
The short 4 km trail to the top of Mount Fernie provides stunning panoramic views of the mountain peaks and Elk Valley. Prepare for a steep trail with 900 meters of elevation gain, and a little bit of scrambling. Walking on the ridge is not for faint-hearted but his hike checks all the boxes for the best effort to views hike in Fernie.
TIP
Read our recommendation: Hiking packing list for summer in the mountains
18| Find Canada's largest ammonite fossil
Picture yourself as an explorer looking for a 150 million years old fossil because in case you want to find it, you will need to brave some rough conditions. Start by driving on Coal Creek Road east of Fernie. When you pass the gun range, the trailhead is located on the right hand side of the road once you cross the creek.
You need to locate the trail which might be covered by deadfall. The whole hike requires just a bit of scrambling over big boulders but otherwise, it's a trodden dirt trail about 2,5 km to the fossil from the road.
19| Go cross country skiing
Besides amazing ski trails, there are plenty of cross country ski tracks in Fernie as well. Visit Elk Valley Nordic Centre for 10 km of groomed tracks, Gold Course for 12 km of groomed tracks, Fernie Alpine Resort for 9 km of groomed tracks, trails at Island Lake Lodge are 25 km long with different elevation (road to the lodge is closed in winter and you need to ski in), and some trails at Montane.
For events, ski rentals, and maps visit Fernie Nordic Society.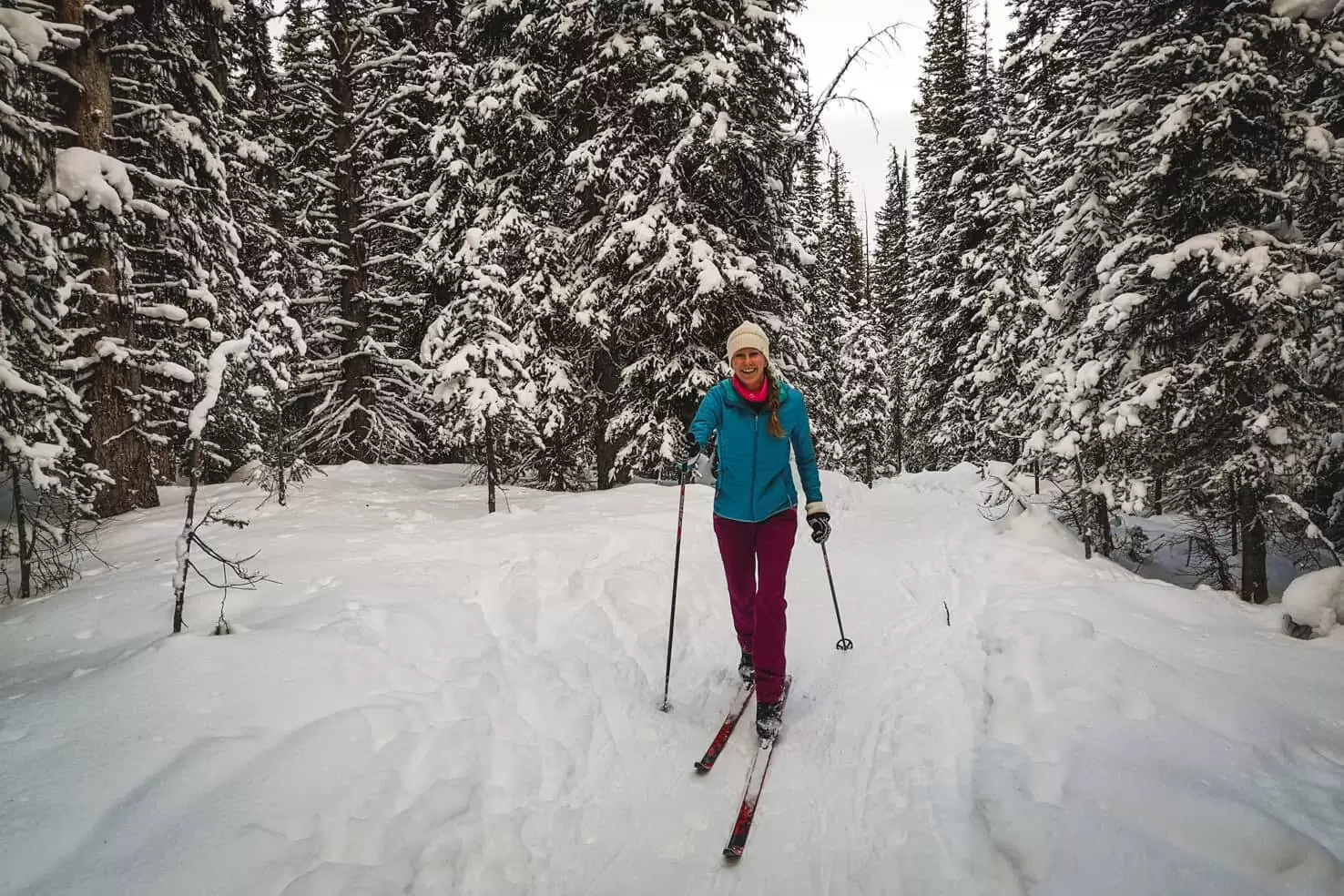 20| Enjoy the popular Fernie adventure at Heiko's Trail
The famous Mountain Lakes Trail, which was renamed after its founder to Heiko's Trail, is a 21 km long wilderness hike with 1,200 m of elevation. The trail starts 15 km west of Fernie and ends at Island Lake Lodge, therefore requiring a shuttle. While mostly done as a 2-day hike with no-trace backcountry camping, strong hikers can finish it in just one day. (Because we've visited in June, we couldn't hike this still snow-covered trail and cannot wait for next season.)
Heiko Socher, a Fernie legend who put Fernie on the map of worldwide ski community, built this trail which climbs over two mountain passes and features waterfalls, alpine meadows, breathtaking mountain top views, and also a cave.These photos will convince you to go.


21| Visit a giant Bisaro Cave
The recently found cave called Bisaro Anima is Canada's deepest cave, 670 metres deep (so far). While this one is accessible by helicopter only, the giant Bisaro Cave is at the beginning of the Heiko's Trail. To reach the trailhead, make sure you have a 4-wheel drive vehicle. The hike is about 1,5 km long with 300 m elevation gain to the entrance of Bisaro Cave. Watch this video if you'd like to know how the inside of the cave looks like.
22| Cliff jump at Silver Springs Lake
About 30-minute drive south of Fernie is a hidden cliff diving (and swimming) oasis. A short (and a bit steep) 10-minute hike leads to a crystal clear Silver Springs Lake surrounded by cliff walls, and further south are two more lakes. The trailhead to the lake is signed from the parking pullout, click here to download more info and directions.It's a beautiful spot for a relaxing afternoon sunbathing on the rocks away from the highway.
23| Have a morning picnic at Maiden Lake
When mornings in the campgrounds are cool, we like to find a sunny spot to enjoy breakfast before we start any adventure. Maiden Lake is located right in Fernie behind the Canadian Tire store. And for those who don't feel like preparing breakfast, Tim Horton's and Starbucks are conveniently located nearby. Then just enjoy the sun lying on the deck and witnessing all the mountains around waking up.
24| Enjoy an outdoor concert
Fernie hosts an annual Wapiti Music Festival featuring plenty of Canadian musicians over the weekend in August. Wednesday Concert Series runs all summer and presents live bands with great food and drinks at the Fernie Arts Station. Other options for live music are The Fernie Hotel and Pub, Infinitea and The Royal.
25| Join trail running race
Not only hiking and mountain biking but also trail running is a very popular activity in Fernie. You can choose from whichever trail you like on Trailforks App based on your fitness level. Trail system around town is almost all flat and kid-friendly. Trails with a nice flow and a bit of elevation are at Montane, Ridgemont, and Mount Fernie Provincial Park.
I was surprised how many trail running races are happening in this charming little town:
The Fernie Alpine Resort hosts The North Face Trail Race Series on a bi-weekly basis in summer with changing routes and lengths 5-10km
The Lone Wolf in June is a unique looped race with the aim to finish as many loops as possible
Elk Valley Ultra in July is a challenging 50km race with 2,800m of elevation gain
For more trail & race info, visit local trail running resource Stag Leap Running.
TIP
Pick up a copy of Fernie Fix magazine at the Visitor Centre or subscribe to their newsletter for tales from locals, full events calendar, and secret local tips.
Additional reading about the Canadian Rockies
Plan your trip to the Rockies:
---
Spread the word! PIN this to your Pinterest board.