Summer in Calgary might be short, but it's also (usually) very hot. Take advantage and explore the largest city of Alberta with our guide of 40 things to do in Calgary in summer, including many fun day trips at the end.
The greatest thing about summer is the possibility of being outside all day. Who wouldn't like that? Calgary offers a lot of outdoor activities during the summer for locals and visitors alike.
We've been living in Calgary for over a decade, and even though we head to the mountains whenever possible, we also like staying in the city to recharge and have fun. Hopefully, you will enjoy the below summer activities as much as we do.
In this post, you won't find ordinary things to do if you are looking for shopping or restaurant tips. Instead, this is an adventure guide for people who love the outdoors (with some rainy options), you know, our kind of people.
Enjoy the summer in Calgary!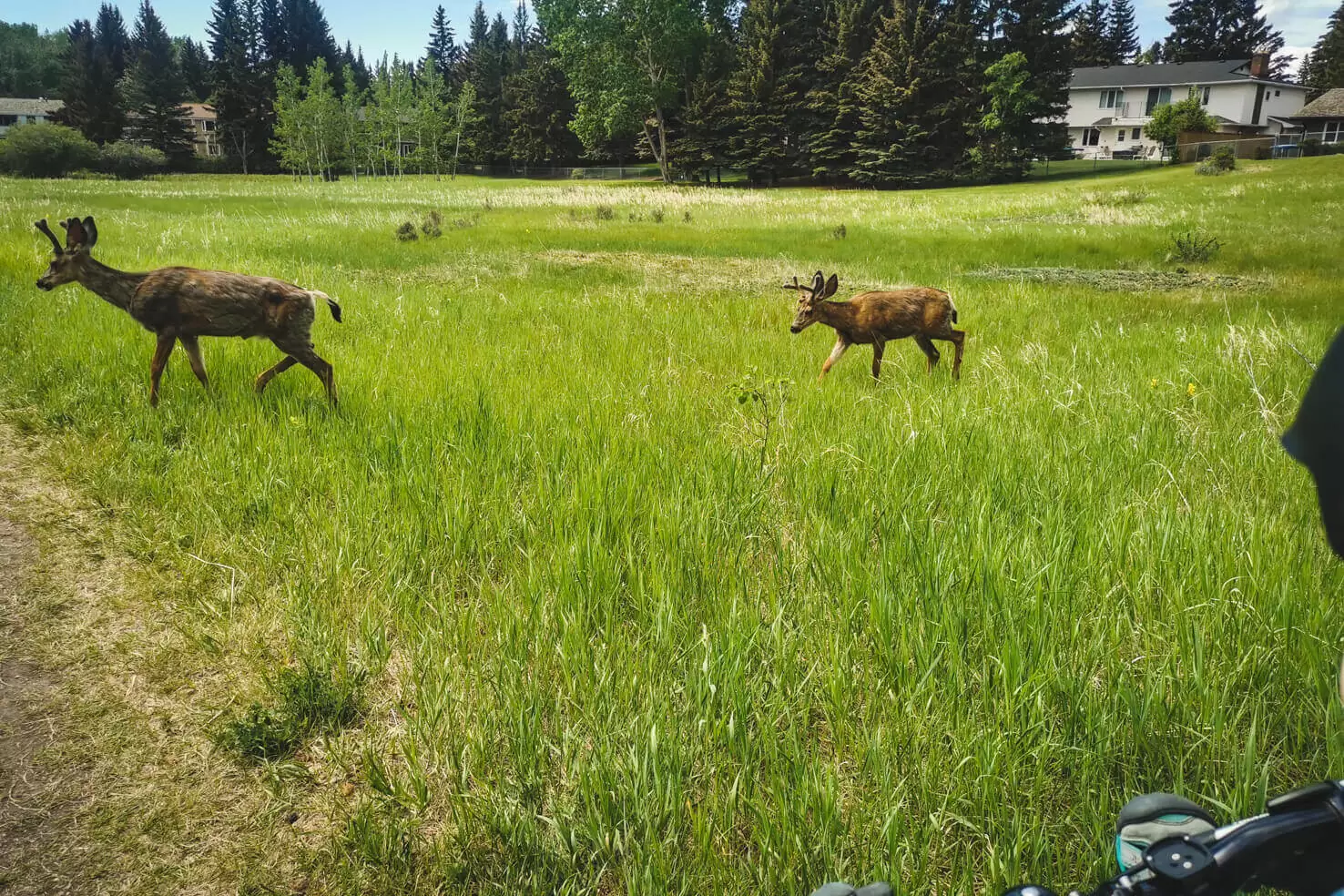 *In the spirit of full disclosure: This post may contain affiliate links, which means that if you purchase through them, we receive a small commission at no extra cost to you. See more details here. We appreciate your support!
40 Fun things to do in Calgary in summer
Did you know Calgary is Canada's sunniest city, averaging 333 sunny days yearly? So, even in colder temperatures, there are many amazing things to do in Calgary in winter.
In summer, plenty of music festivals, a rodeo, and countless parks around the city provide water activities, bike trails, or BBQ options.
However, Calgary has so much to offer for everyone, as you will see on our list of the best things to do in Calgary in summer. Before I share the list, here are the three top-rated tours in Calgary that you will love.
The 3 most popular tours in Calgary
1. Float down the Bow River
One of the most popular summer activities in Calgary is floating down the Bow River.
Starting at Bowness Park, you can choose where you want to end up, but Prince's Island in Calgary's downtown is the most common. The farthest point is Calgary Zoo, 20 km down the stream, which can take 2-4 hours.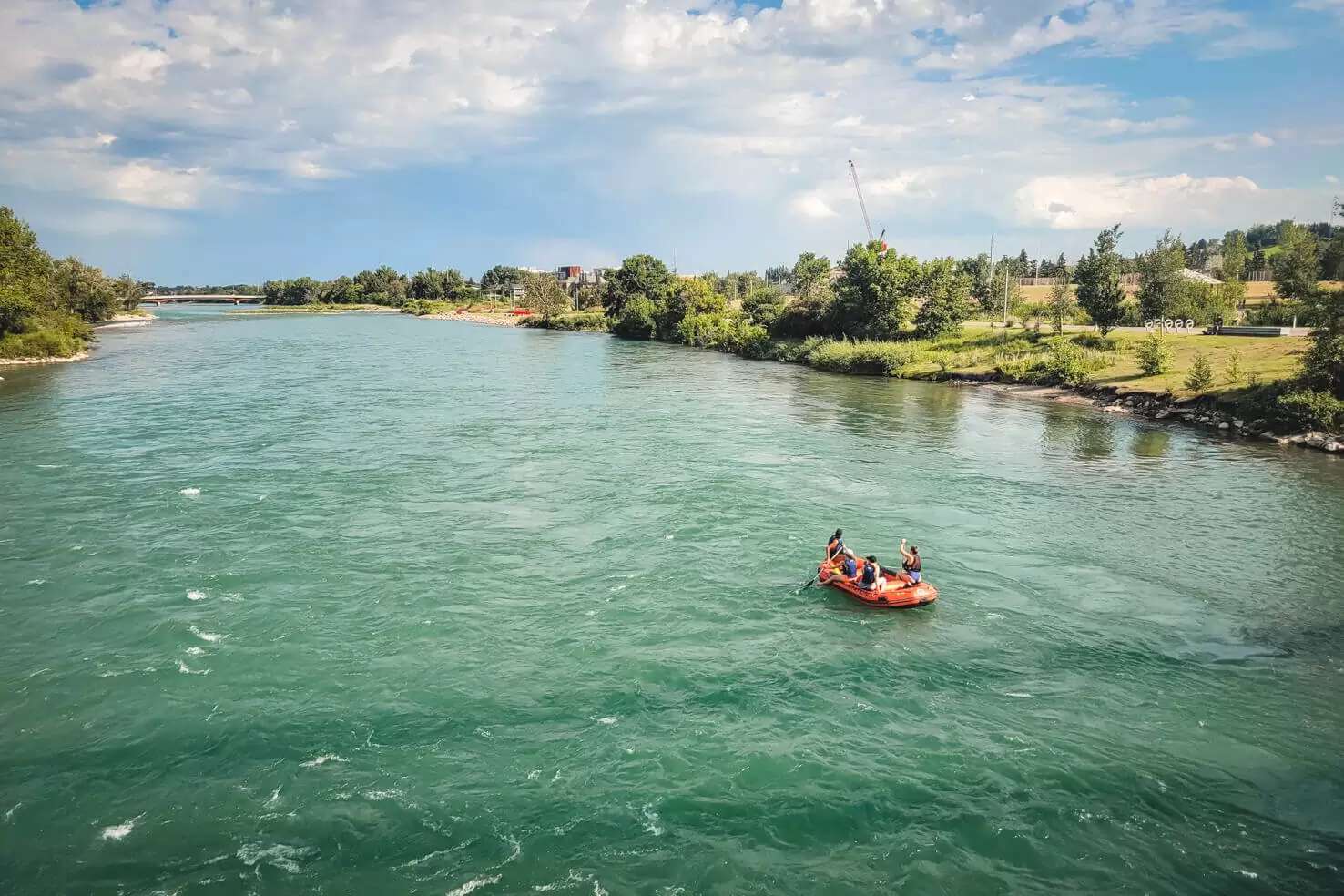 Sports Rent provides raft, kayak, and stand-up paddleboard rentals (but no shuttle), Lazy Day Raft Rental provides rafts and offers shuttle service, and The Paddle Station rents you a raft at Shouldice Park which you can then conveniently leave at their drop-off station at St. Patrick's Island.
Take the hassle-free option and book the rafting tour in advance with a shuttle.
2. Watch wildlife in the park
Even in the city, you can find plenty of wildlife. Head to any park after sunrise or before sunset to watch deer, beavers, porcupines, or coyotes.
We like Fish Creek Provincial Park, Nose Hill Park for deer, and Prince's Island Park to watch beavers.
Canadian wildlife won't disappoint, even more so when you visit the Rocky Mountains. You can see bears, moose, elk, and much more.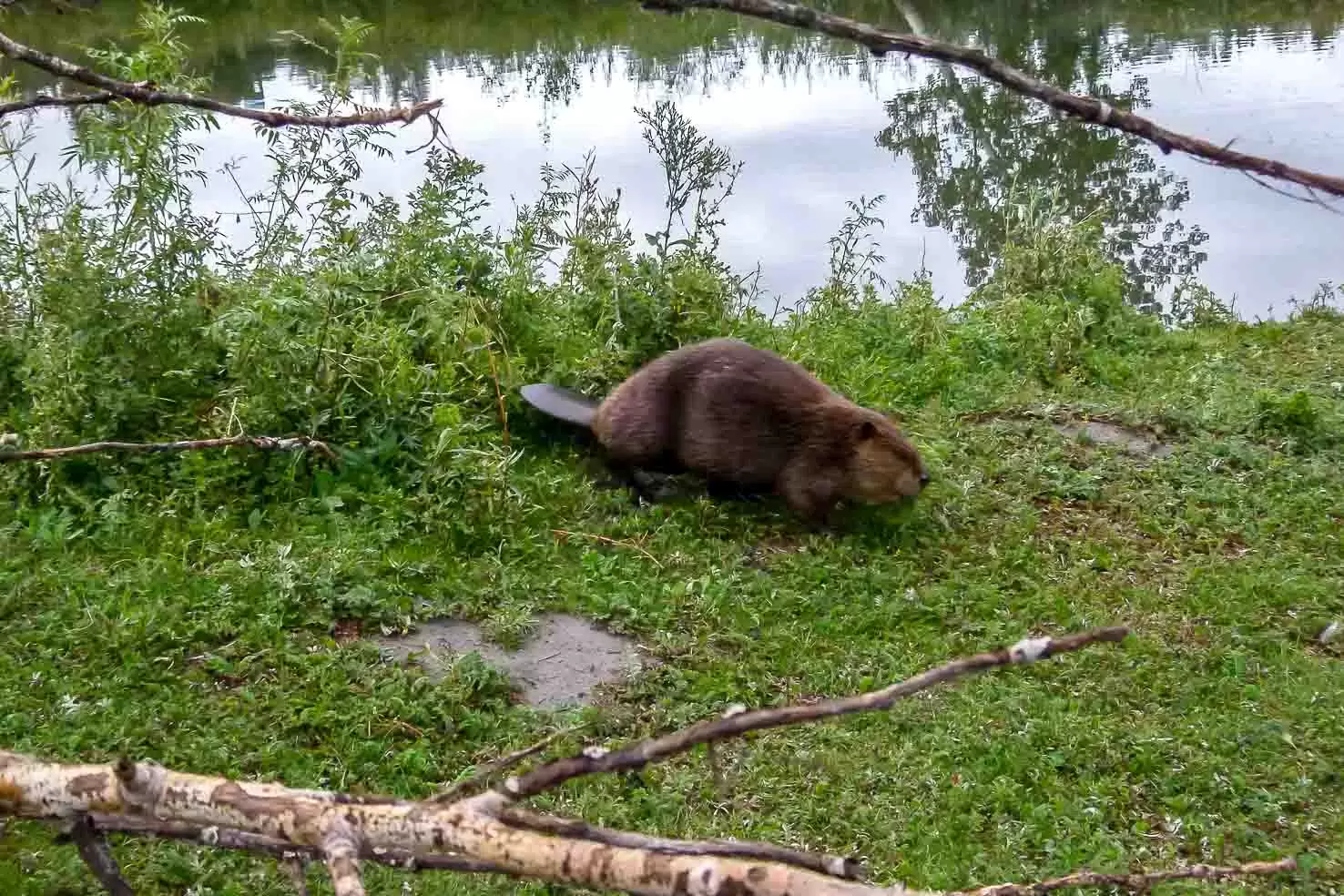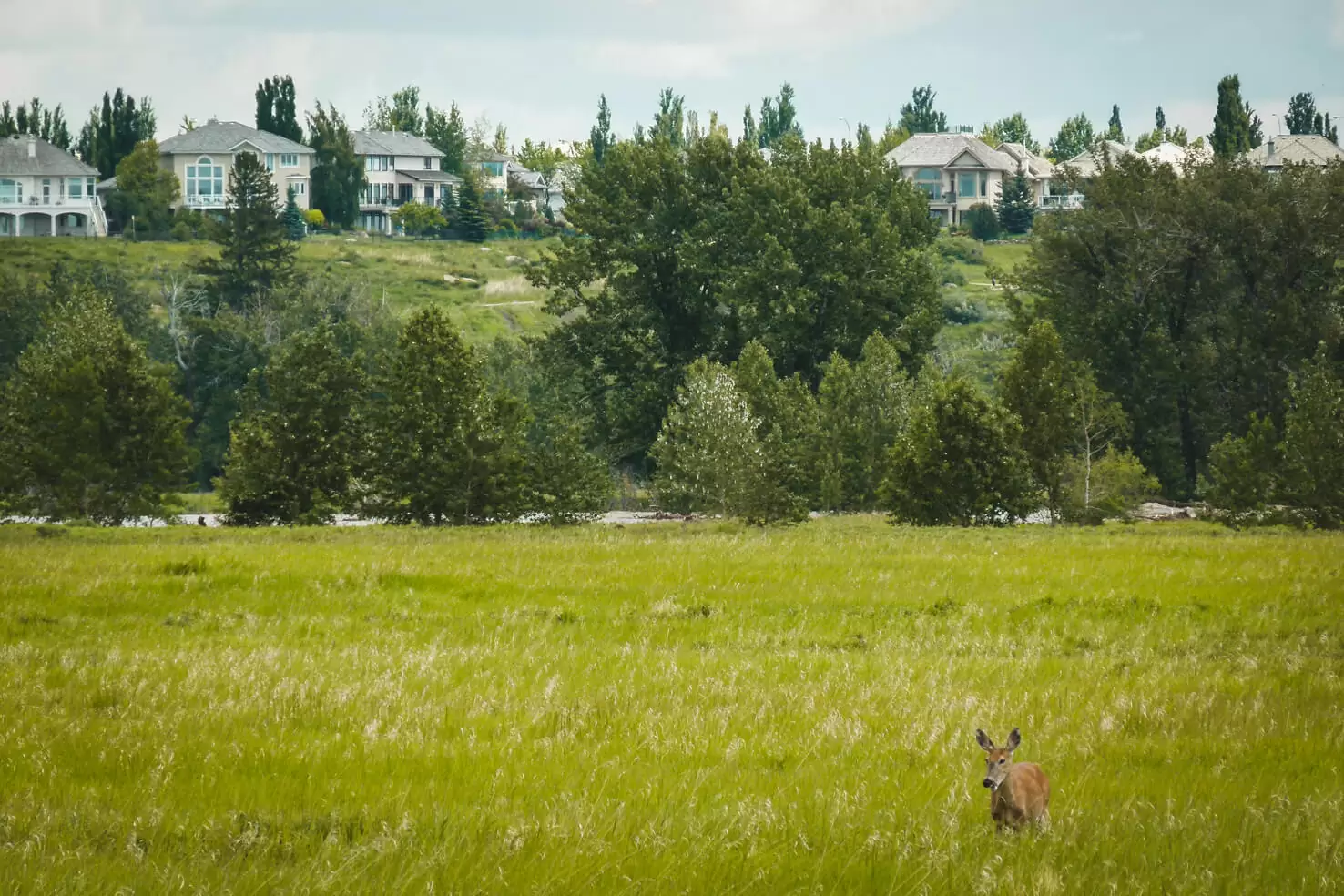 3. Kayak on Glenmore Reservoir
The Glenmore Reservoir is a large reservoir of drinking water on the Elbow River. Although swimming is forbidden, you can rent a kayak and enjoy the time on the water. Many rental companies in Calgary can set you up with kayaks and all the gear you might need. The Glenmore Sailing School offers canoe and kayak rentals from May to October.
TIP
For a unique kayaking experience, head to Carburn Park, where Calgary Kayaks rent glowing-in-the-dark kayaks.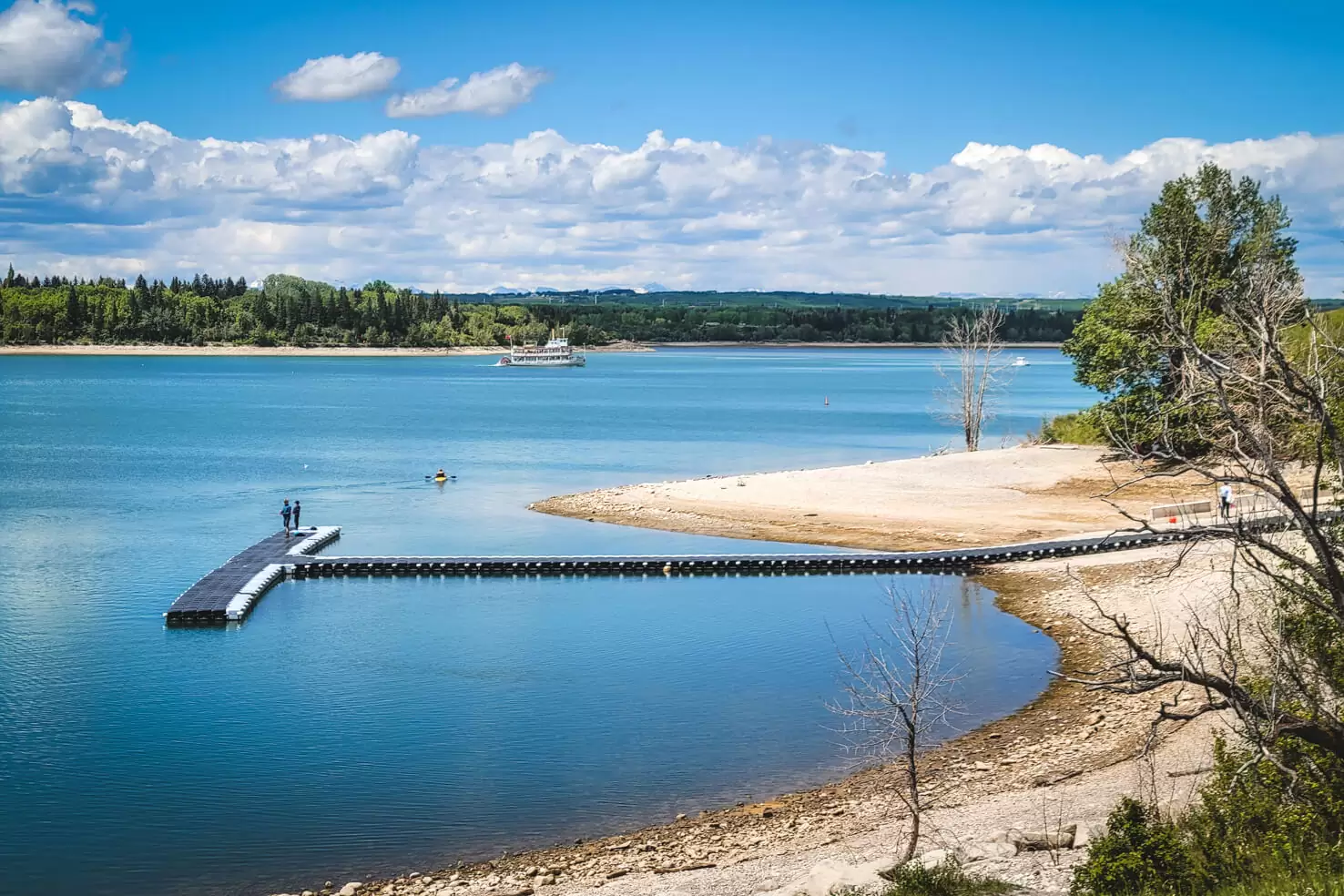 4. Have fun at music festivals
Enjoy outdoor music festivals in Prince's Island Park. Feel like dancing salsa? Or do you enjoy folk? Whichever culture you'd like to explore, Calgary got you covered.
Since we finished our 2-year trip around the world, we love to remind ourselves of all our adventures in South America by attending Latin festivals.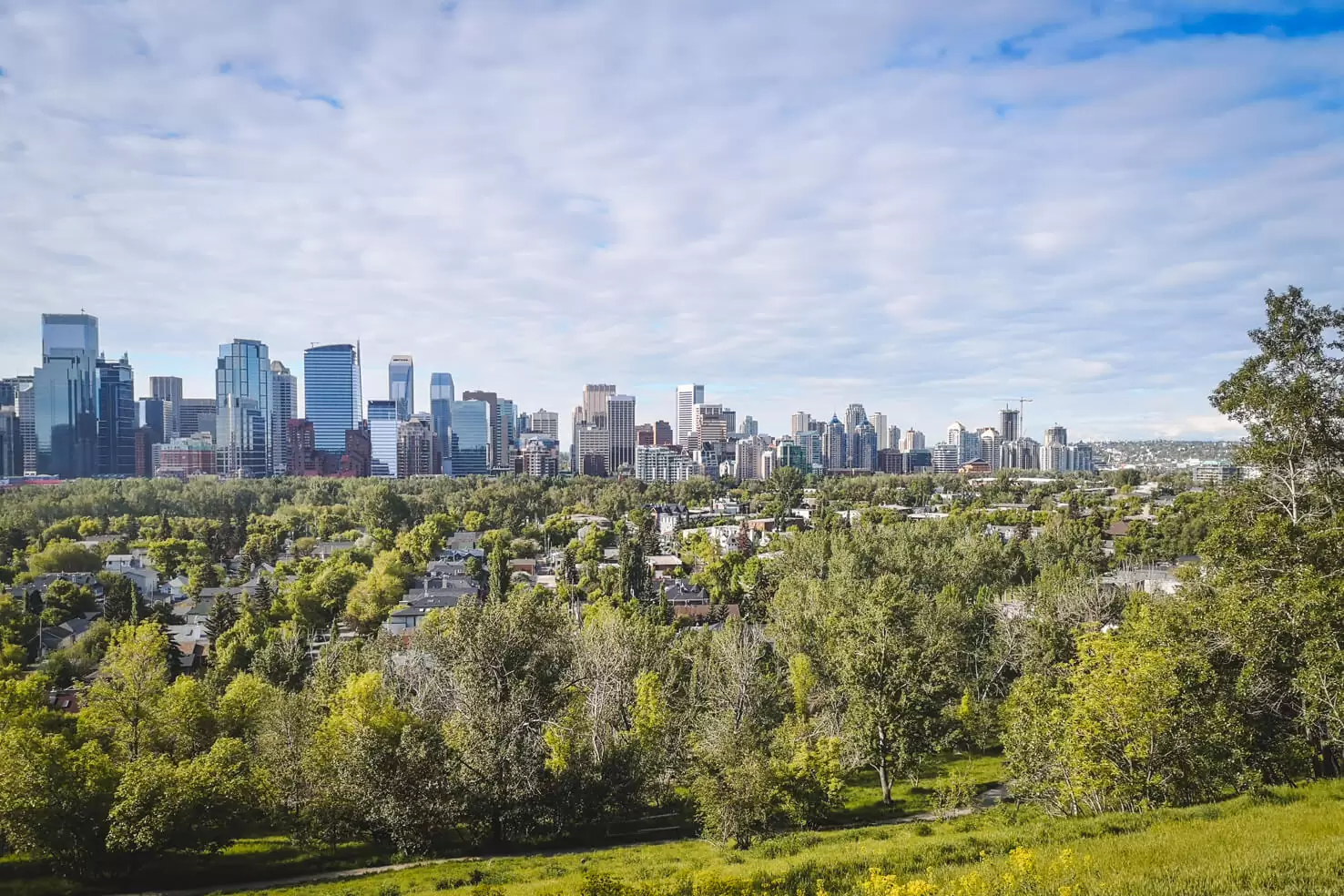 Festivals in June:
Calgary Ukrainian Festival in June – Try traditional Ukrainian cuisine and alcoholic drinks
4th Street Lilac Festival – a pedestrian-friendly venue with artists, music, and market
Festivals in July:
Mexifest – celebrating Mexican culture with live music and tasty eats
Folk Music Festival – featuring musicians from all over the world
Fiestaval Latin Festival – a free event with multicultural arts and dance performances from Latin American culture
Arab Festival – a free event featuring traditional music, customs and food
Festivals in August:
Tour de Bowness Street Festival – a free one-day event with artisans, food trucks, musicians and a bike race
Marda Grass Street Festival – a free, family-friendly event inspired by the New Orleans festival
Expo Latino – largest Latin festival in Western Canada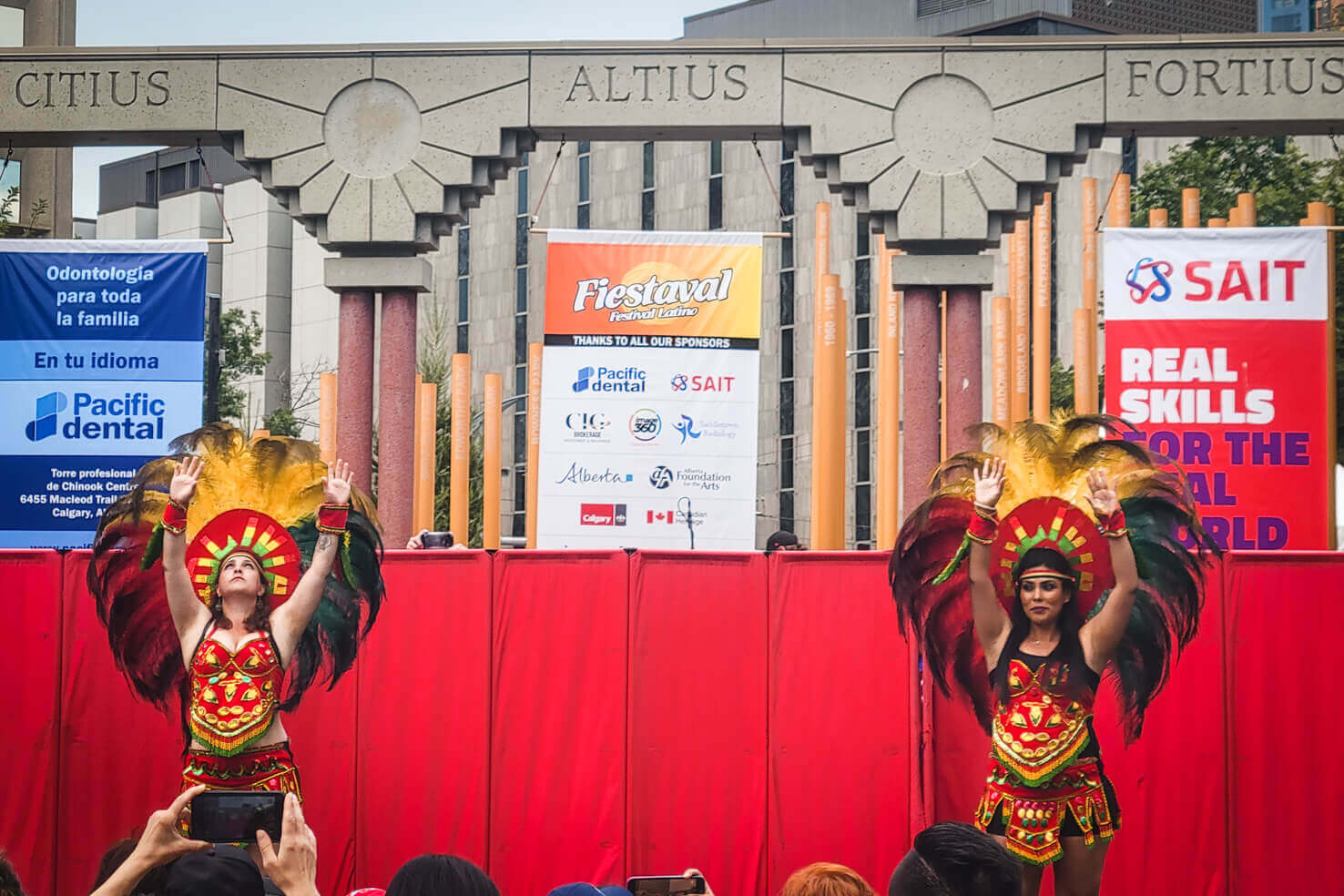 5. Global Fest
Global Fest is a unique festival that deserves its place on this list.
It's an annual family-friendly cultural & fireworks festival that lights up the sky and features a dance program, interactive games, and world-class fireworks by pyro artists.
Global Fest has entertained visitors for 20 years. The weeklong festival in Elliston Park celebrates Calgary's multicultural communities. Cultural pavilions showcase the beauty of more than 20 countries through dance performances and an international food scene, and at night, the festival ends with beautiful fireworks.
View the full blog post: Global Fest in Calgary: Tips for Visiting and My Honest Review

6. Go stand-up paddleboarding
The fastest-growing sport in the world arrived in Calgary. Stand-up paddleboarding is easy to learn, so that newbies will fall in love with this sport quickly. The closest is Lake Chestermere, only 20 minutes from Calgary, and a rental shop onsite. Another option is Bowness Lagoon at Bowness Park, our favourite park year-round.
If you're up for a challenge, try stand-up paddle boarding through Calgary on Bow River. It requires more skills and experience than paddling on a calm lake, so we got our advanced certificates at Bow Valley SUP and can't wait to try it.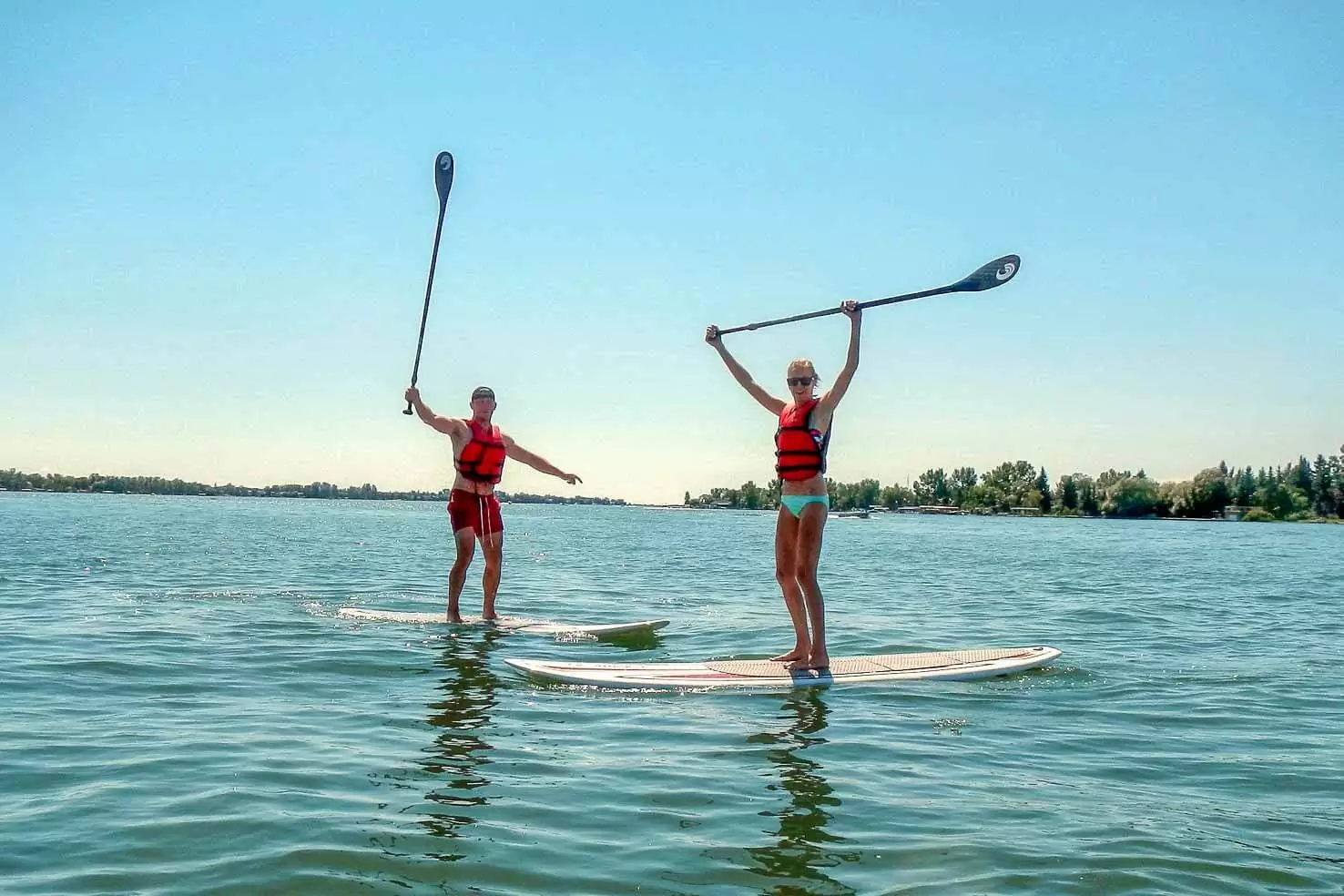 Of all the lakes I've paddled on, the most memorable and scenic experience was on Moraine Lake in Banff National Park. The blue water right underneath your feet is staggering.
If you don't mind driving, there are many beautiful places for SUP in Banff (& beyond).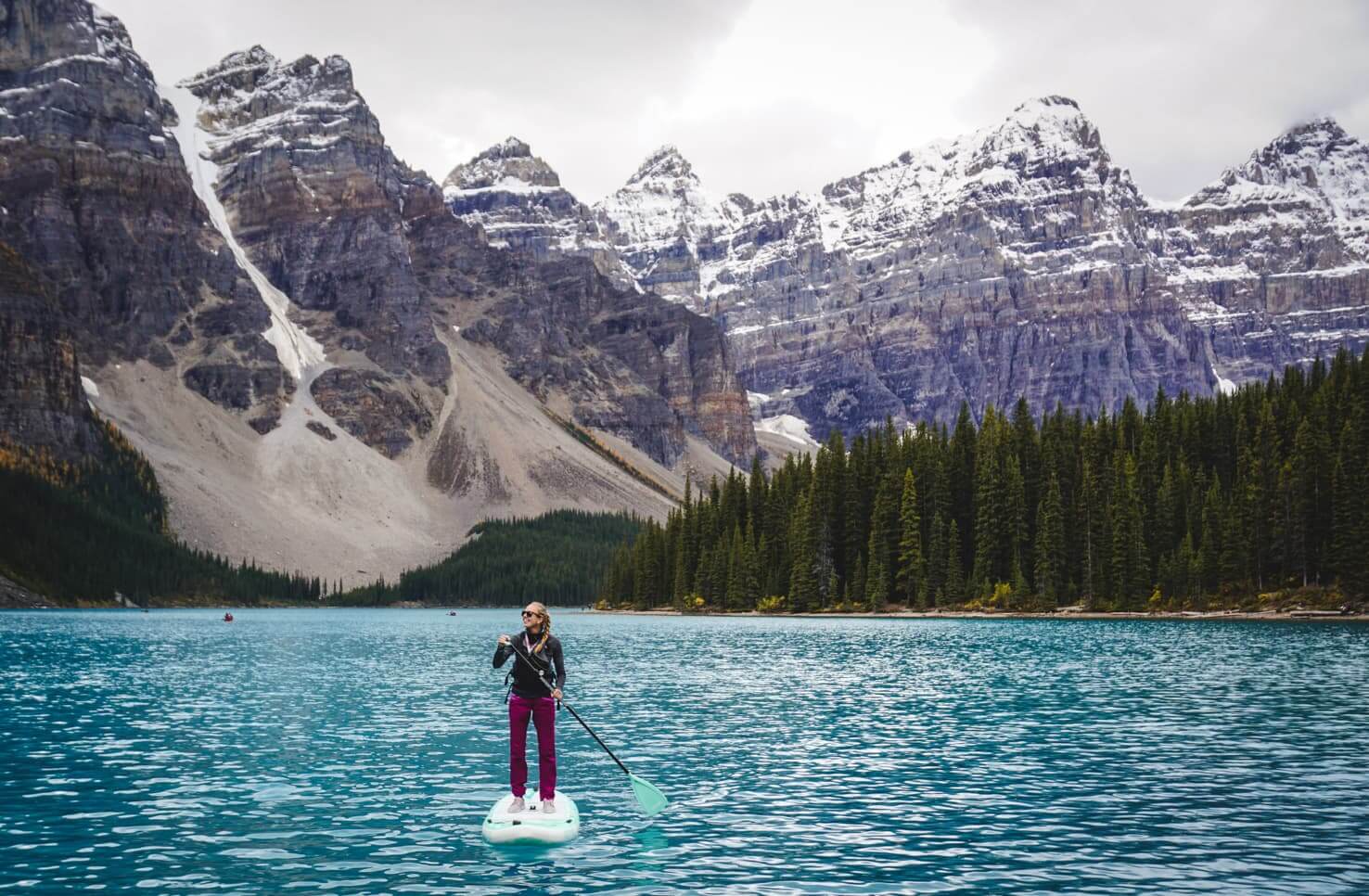 7. Have barbeque in North Glenmore Park
Pack your lunch and head to North Glenmore Park. Plenty of barbeque grills in the park are free to use. If you bring many friends, you can book the picnic site in advance to ensure you have a spot.
Other options we like for BBQ are:
Edworthy Park
Bowness Park
Stanley Park
Sandy Beach Park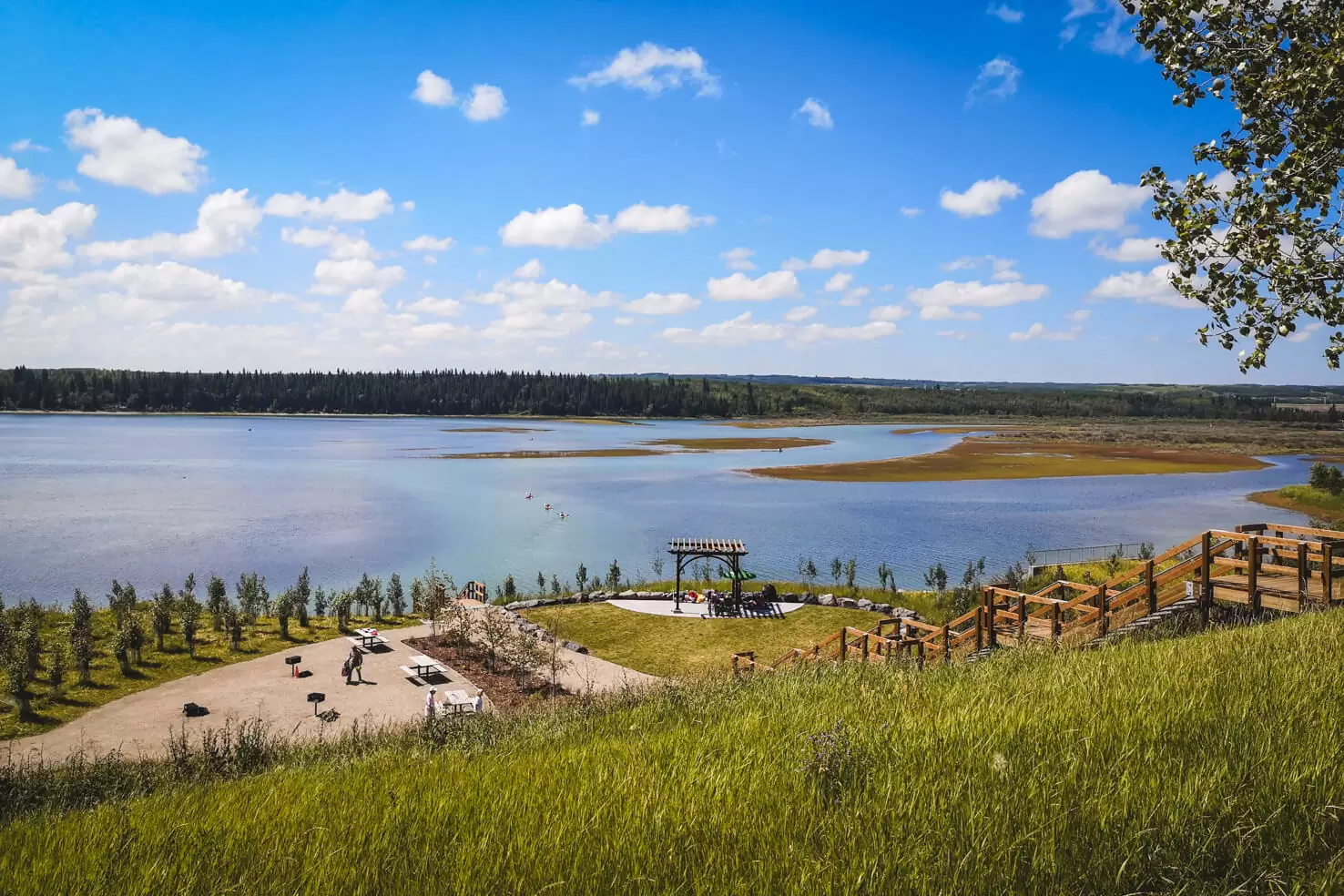 8. Watch the sunset in Nose Hill Park
Sunsets and sunrises are spectacular wherever you are. For the best view of the city from above, go to Nose Hill Park. After a short hike up the hill, you'll have a great view to enjoy nature's show. Another place we like is Tom Campbell's Hill with Calgary's skyline.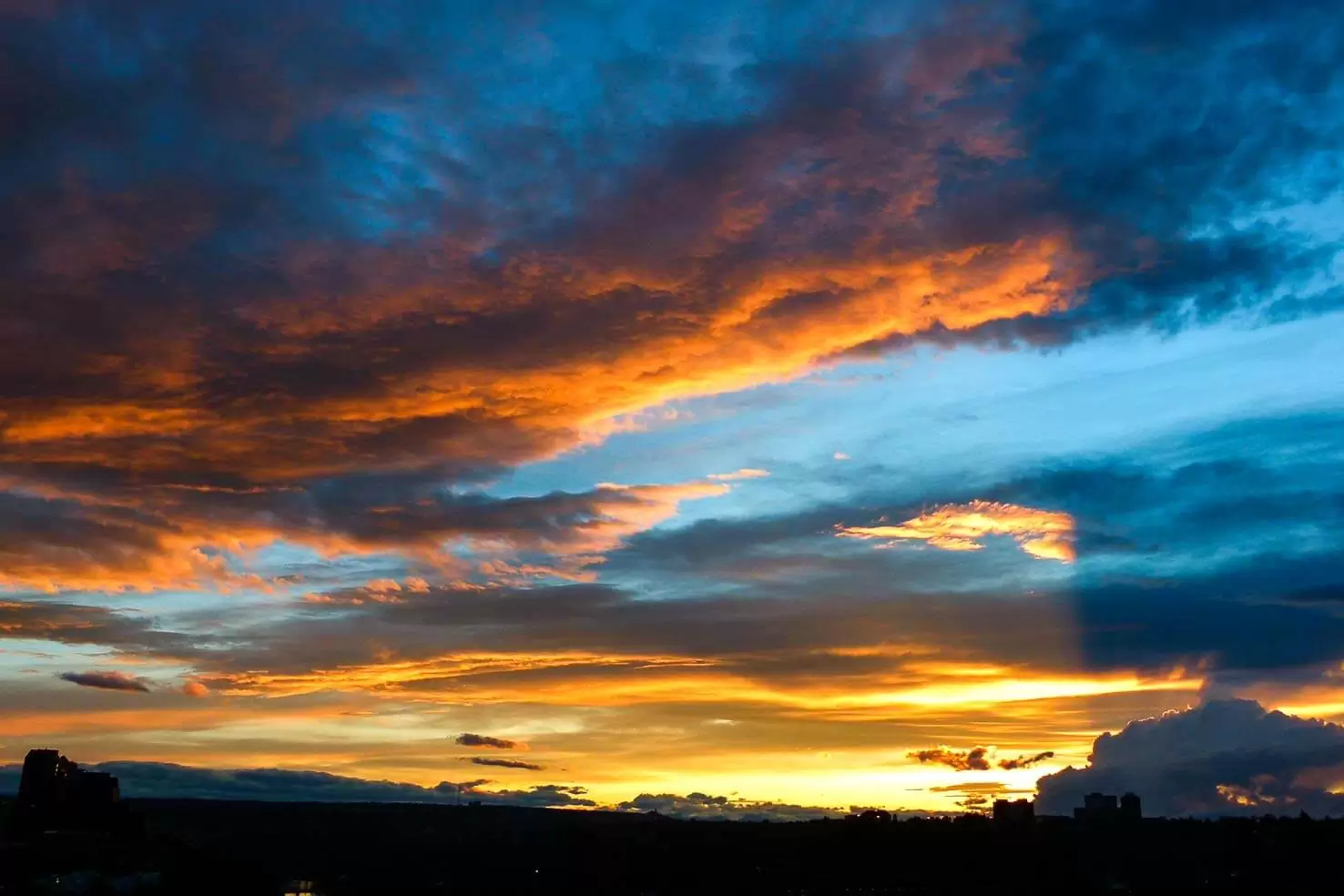 9. Go for a bike ride
Calgary has over 700 km of bike paths, and many of them are scenic along the Bow River or Elbow River. Our popular rides in the city are:
From Prince's Island to Edworthy Park with a stop for ice cream in Angel's café (20 km)
Nose Hill Park for mountain biking (you can choose any difficulty or distance)
Around Glenmore Reservoir (15 km/1 loop)
Fish Creek Park before sunset for watching wildlife (any distance you choose)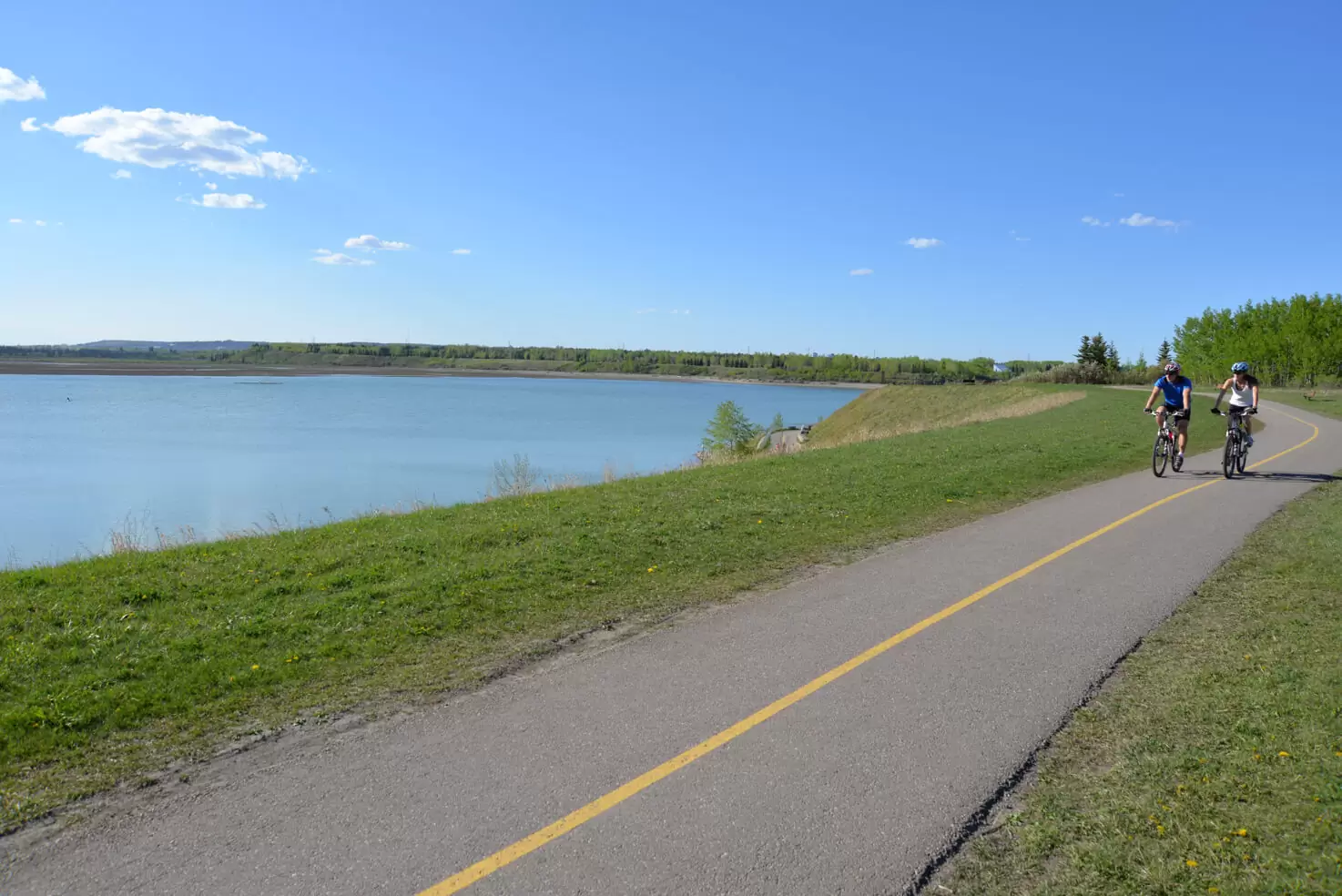 What's a better way of exploring Calgary than on a bike ride? Explore Calgary's iconic landmarks, such as Peace Bridge, Prince's Island Park, Fort Calgary, and more, on a 3-hour guided bike tour.
10. Sail in Glenmore Reservoir
Learn to sail or rent a boat and enjoy an afternoon with your friends. Glenmore Sailing Club offers sailing lessons for youth and adults.
I wish stand-up paddleboarding would be allowed on Glenmore Reservoir, but unfortunately, it isn't. You can only go on a kayak, canoe, or boat.
11. Try a yoga class in the park
This is one of my favourite summer activities in Calgary. You can practice yoga in the park or join other yogis in different parks throughout the city.
Many yoga studios run yoga classes in parks, usually free or for a donation to local charities: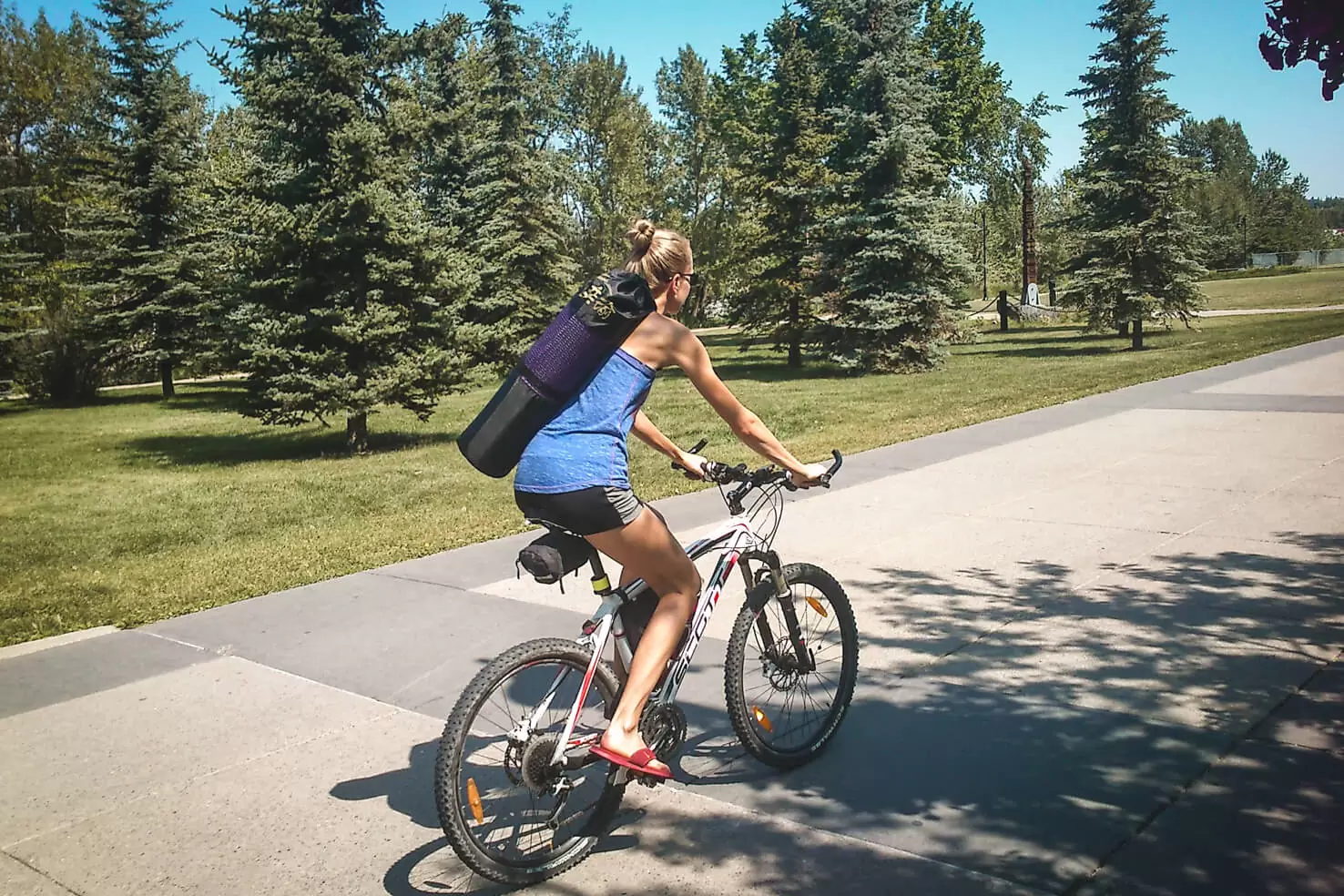 Read next
44 Adventure ideas for a fun weekend!
12. Play beach volleyball
Playing volleyball on the sand feels like being on a real beach. You can get a beach feeling right in downtown Calgary. There are three beach volleyball courts at 12 Street & 9 Avenue SW. All you need to bring is a ball and a few friends.
If you're new to Calgary, I highly recommend meet-ups from Couchsurfing or joining groups on Meetup.com. That's how we've met some fun people to play volleyball with.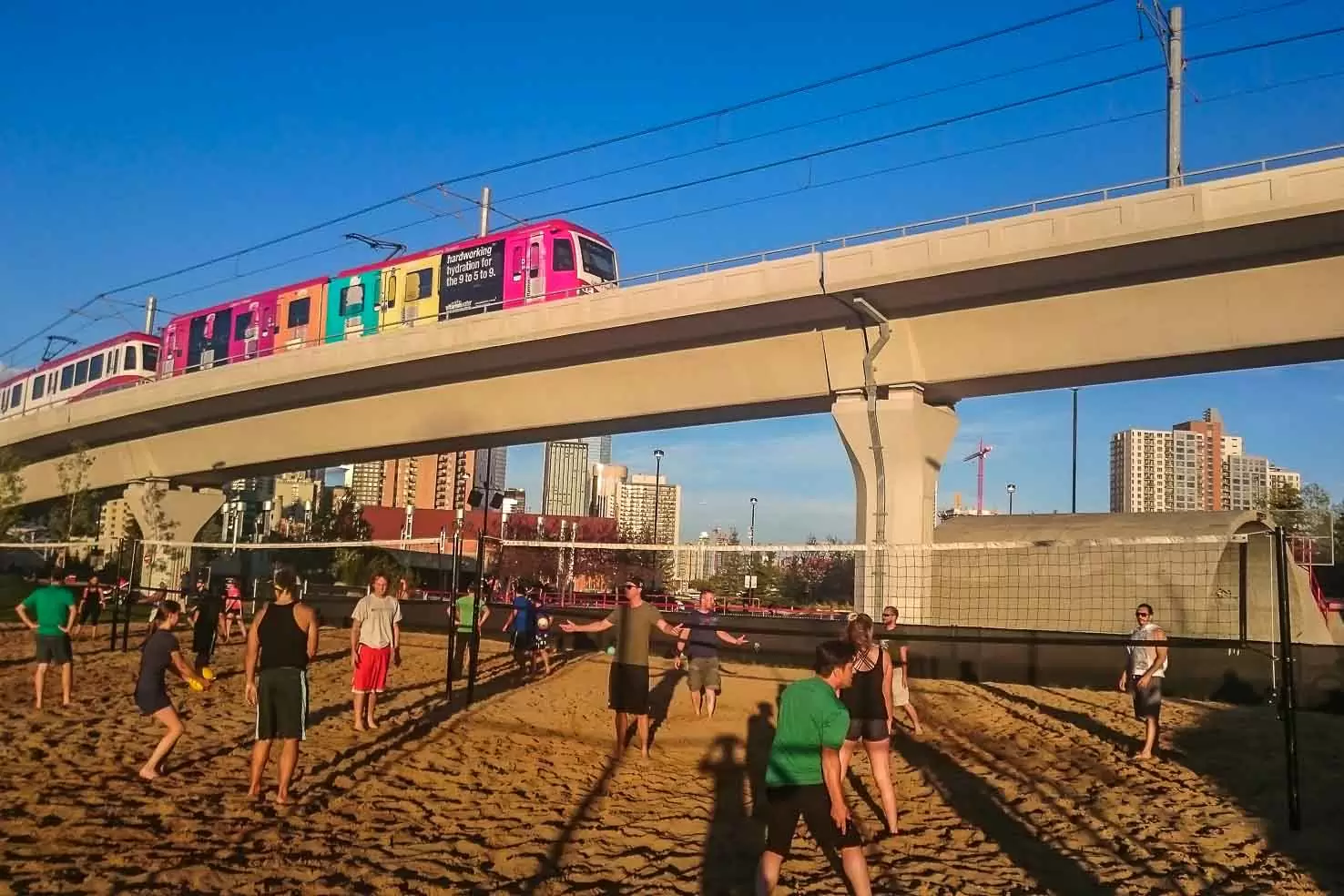 13. Try zip lining at Canada Olympic Park
North America's fastest zipline provides the biggest adrenaline. You will slide down from the largest ski jump at Canada Olympic Park, used during the 1988 Winter Olympic Games, with a bird's eye view of Calgary.
The zipline is 500 metres long and reaches a speed of 140km/h, and admission starts at 63 CAD + GST per person.
Watch the video of speeding down the zipline at 140km/h. It's thrilling!
14. Visit Calgary Tower
The most visited attraction in Calgary is the Calgary Tower. See the city from a 190-meter-high observation deck and get panoramic views of Calgary.
Are you brave enough to stand on the glass floor with the streets 190 meters below? Check the price and reviews here.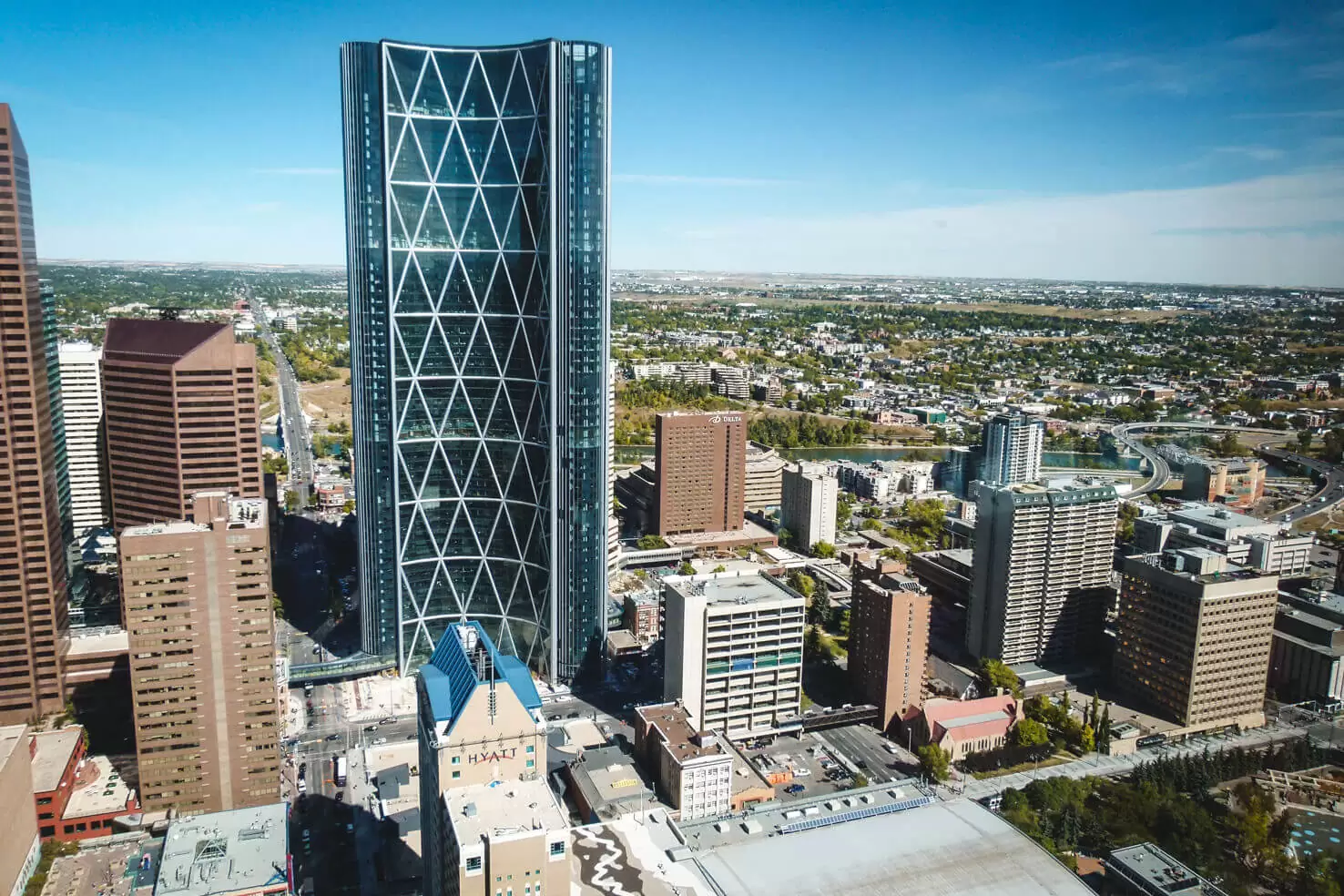 15. Have fun at Telus Spark Science Centre
While Telus Spark Science Centre is a favourite for kids with their Creative Kids Museum, there's plenty of fun for adults.
I love the Infinity Dome, which features 360-degree viewing of movies and planetarium shows. The most interesting shows playing in summer are Great Bear Rainforest, Ancient Caves, and Space Explorers: The ISS Experience.
The bi-monthly Spark after Dark event is a favourite among the adult audience for science excursions, music, themed cocktails, and courses.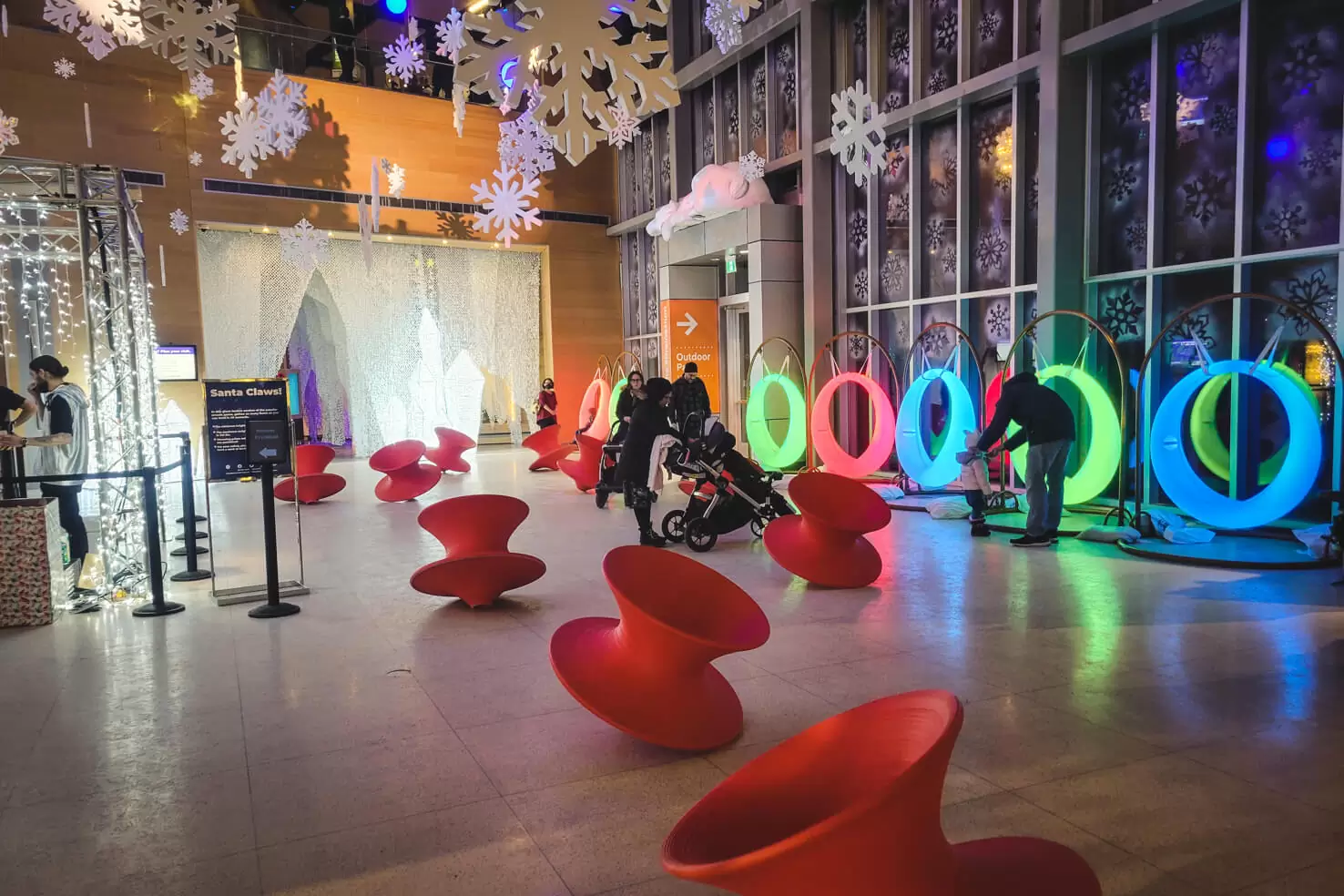 16. See exhibits at Calgary Zoo
Calgary Zoo has several indoor and outdoor pavilions with almost 1,000 animals across 110 species and offers several exciting events during the year.
After you visit the newly born gorilla baby and the popular black bears (white, brown, and black), head to Dorothy Harvey Gardens to see the newest summer garden experience, Wildscapes. Wildscapes features several outdoor sculptures made of plants, the tallest being a 6.4-meter-high giraffe.
Some cool events hosted by the Calgary Zoo are:
Gorilla Breakfast – an educational event with breakfast
Corks for Conservation – an evening of wine tasting, food stations, music, and activities
Focused – exclusive excursion for photographers during feedings
Locked Zoo – a thrilling escape game for adults only to find clues and solve the puzzle
View the full blog post: Tips for visiting the Calgary Zoo
17. Learn bike skills at the pump track or bike park
If you're interested in more than a leisure bike ride around the city, you can hit up one of the bike pump tracks in:
South Glenmore Park
Fairview
Inglewood
West Confederation Park
For bike lessons, different pump tracks, and jumps, visit B-Line Bike Park, a popular and huge indoor bike park open year-round.
View the full blog post: B-Line Indoor Bike Park
18. Watch Northern Lights
You won't believe it until you see it – the green light across the sky dancing above you. Sign up at Aurora Watch to get notifications when there's a high chance of seeing the Northern Lights.
Then head out of Calgary and look for a clear sky with low light pollution for the best view. I would suggest driving north of Airdrie or east towards Drumheller.
The FB group Calgary Aurora Chasers helps understand the aurora weather data, best places to go, and stunning pictures.
19. Attend the Stampede rodeo
The "greatest outdoor show on Earth", known as Calgary Stampede, is an annual rodeo and festival held in July. The 10-day event is popular among visitors from around the world, attracting more than one million per year.
It features the daily rodeo show, an evening light show, music concerts, and strange food to try, such as mealworm hot dogs, sushi donuts, deep-fried bubble gum, octopus on a stick, and many more crazy inventions.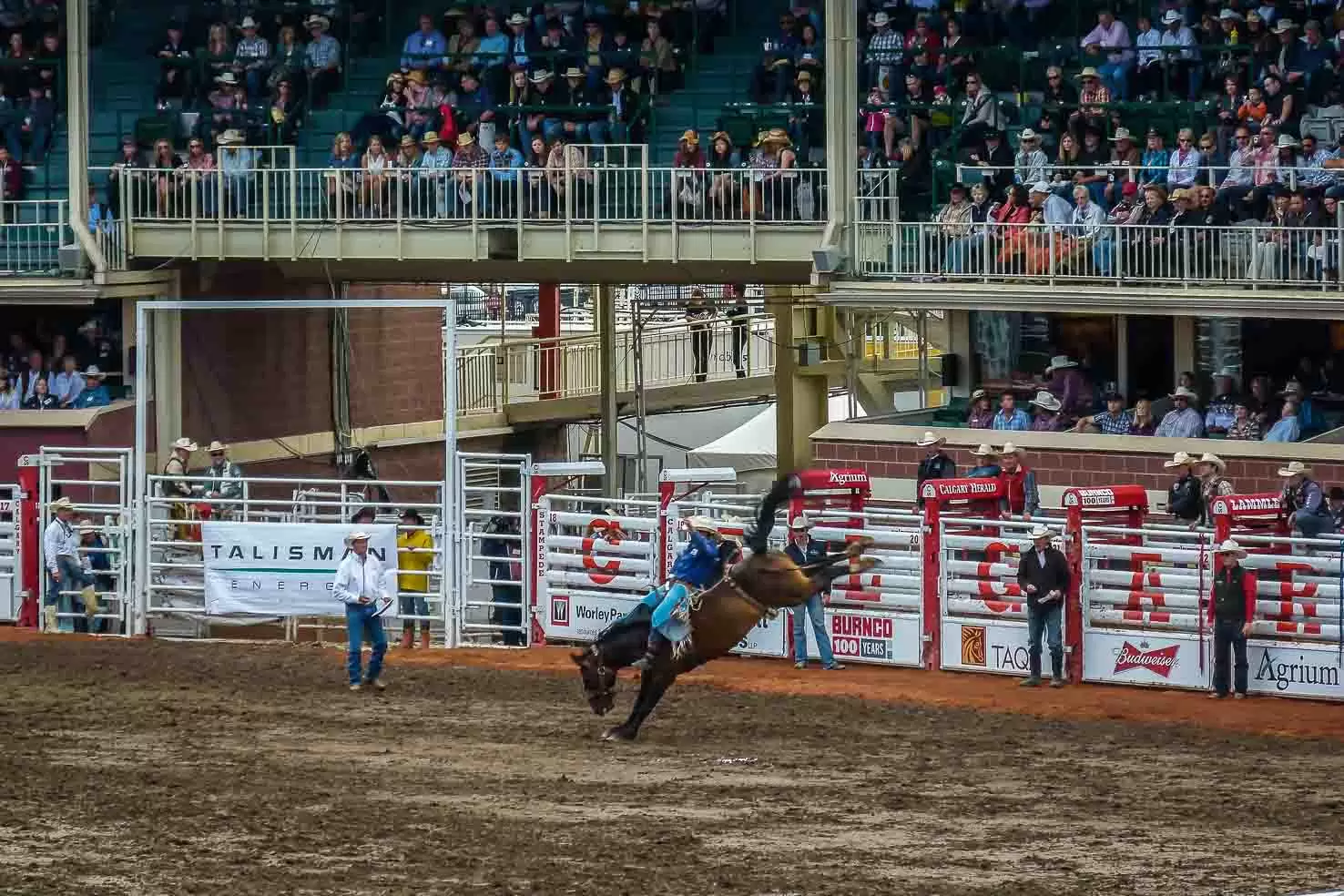 20. Watch Shakespeare On The Go
Recently graduated drama students meet up every summer at different locations around Calgary to perform a Shakespeare play. The performance runs five times a week in the evening on a pay-what-you-will basis.
21. Surf on the Bow River
This is the last activity anyone would expect in a city, but here it is. You can ride a standing wave close to the 10th Street Bridge on the Bow River. Outlier Surf offers surfing lessons with all the equipment included.
The Alberta River Surfing Association recently started developing a project to create an urban surf beach and river waves. Let's hope they succeed! How amazing it would be to enjoy a beach in downtown Calgary where you can swim, surf, stand-up paddleboard, or just lounge and enjoy a summer day.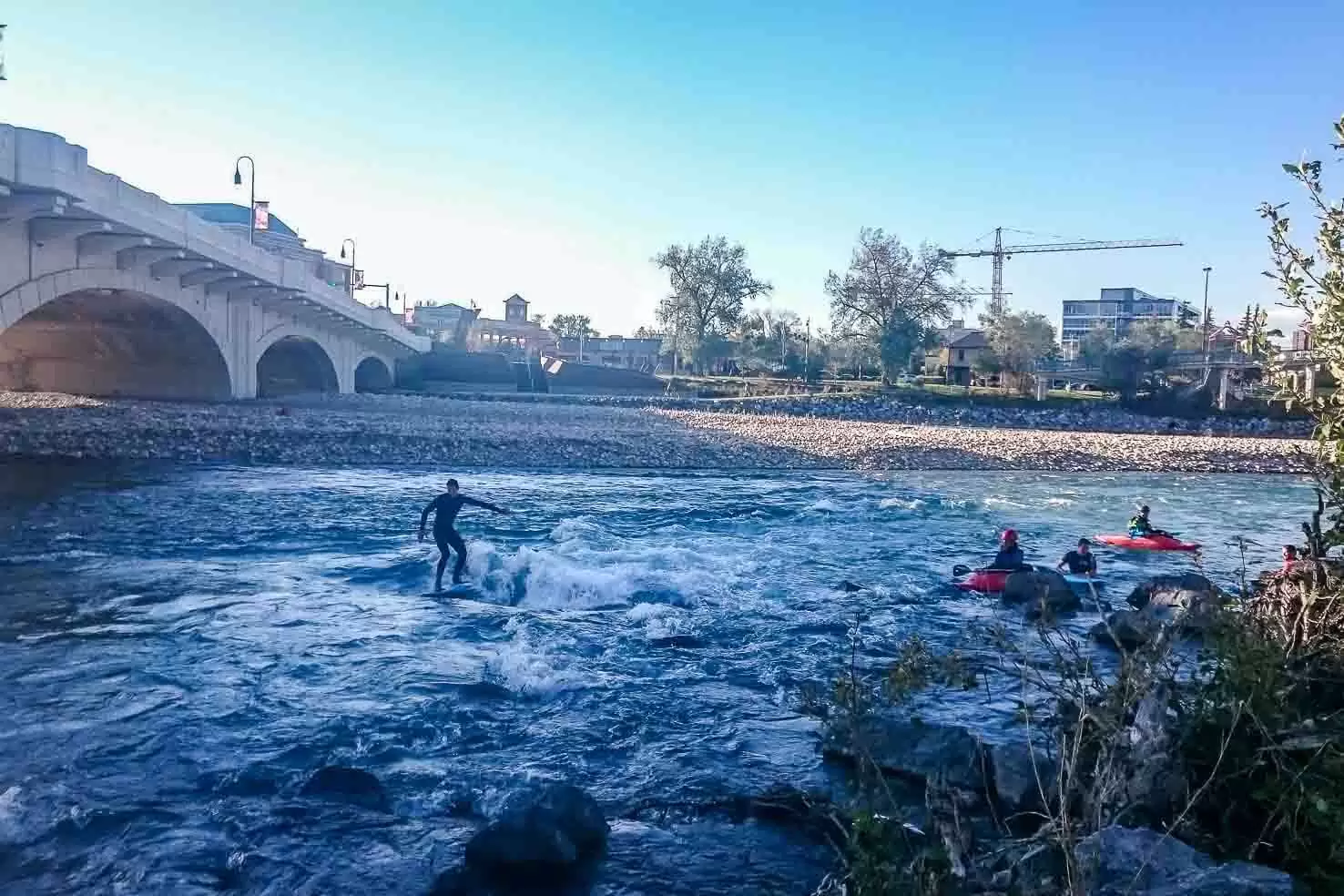 22. Ride the sled with Skyline Luge
The Calgary Luge is the world's longest luge track. Ride down the 1.8 km track on a sled in Winsport Olympic Park. It's a great, family-friendly activity to get an adrenaline rush. I loved that you can control the speed and go as fast (or slow) as you'd like.
It's one of the most fun things to do in Calgary in summer.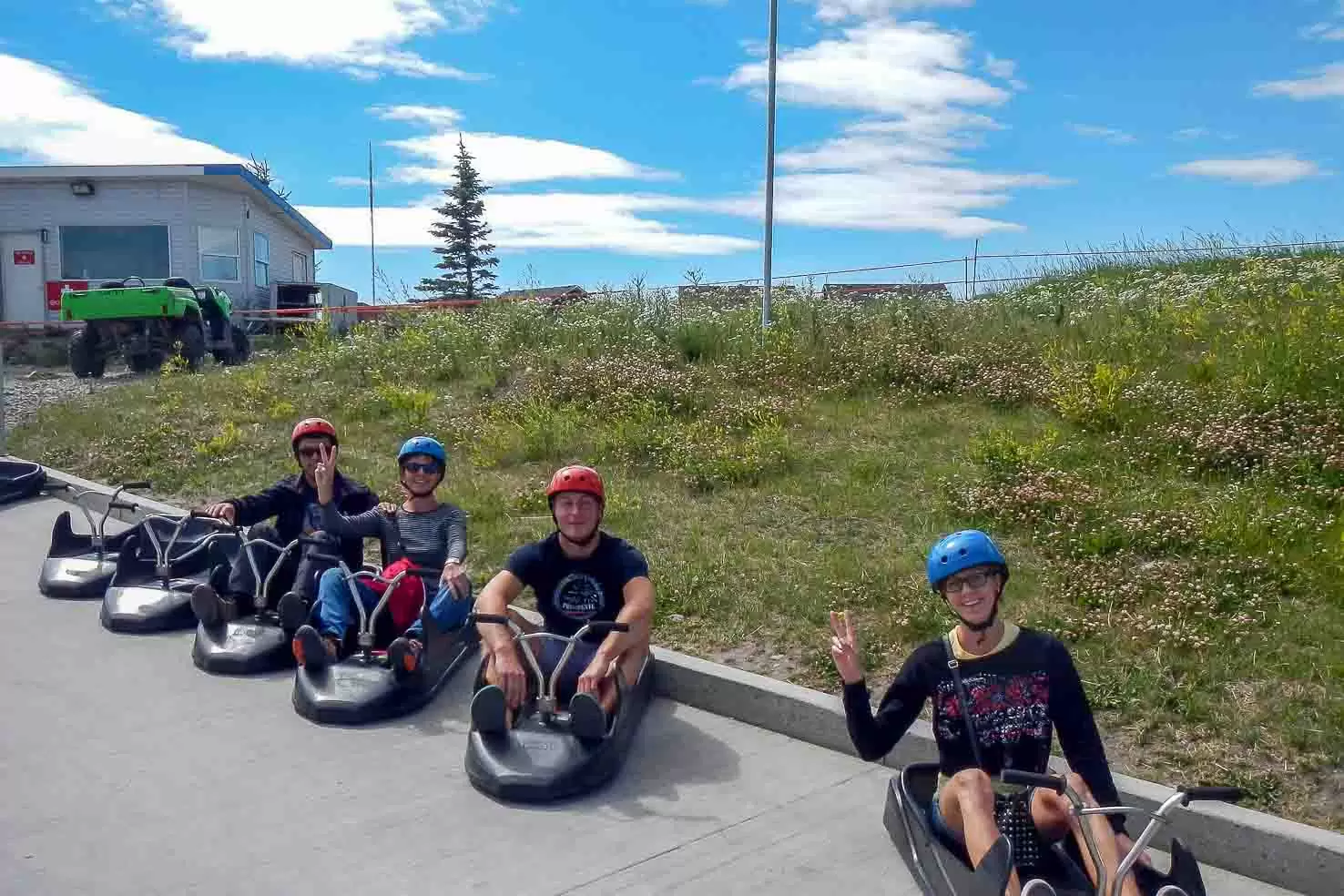 23. Visit T'suu Tina Nation's Powwow
A Powwow is a gathering of the First Nation's people from around the country. They come together every summer in Bragg Creek, filling grounds with tipis.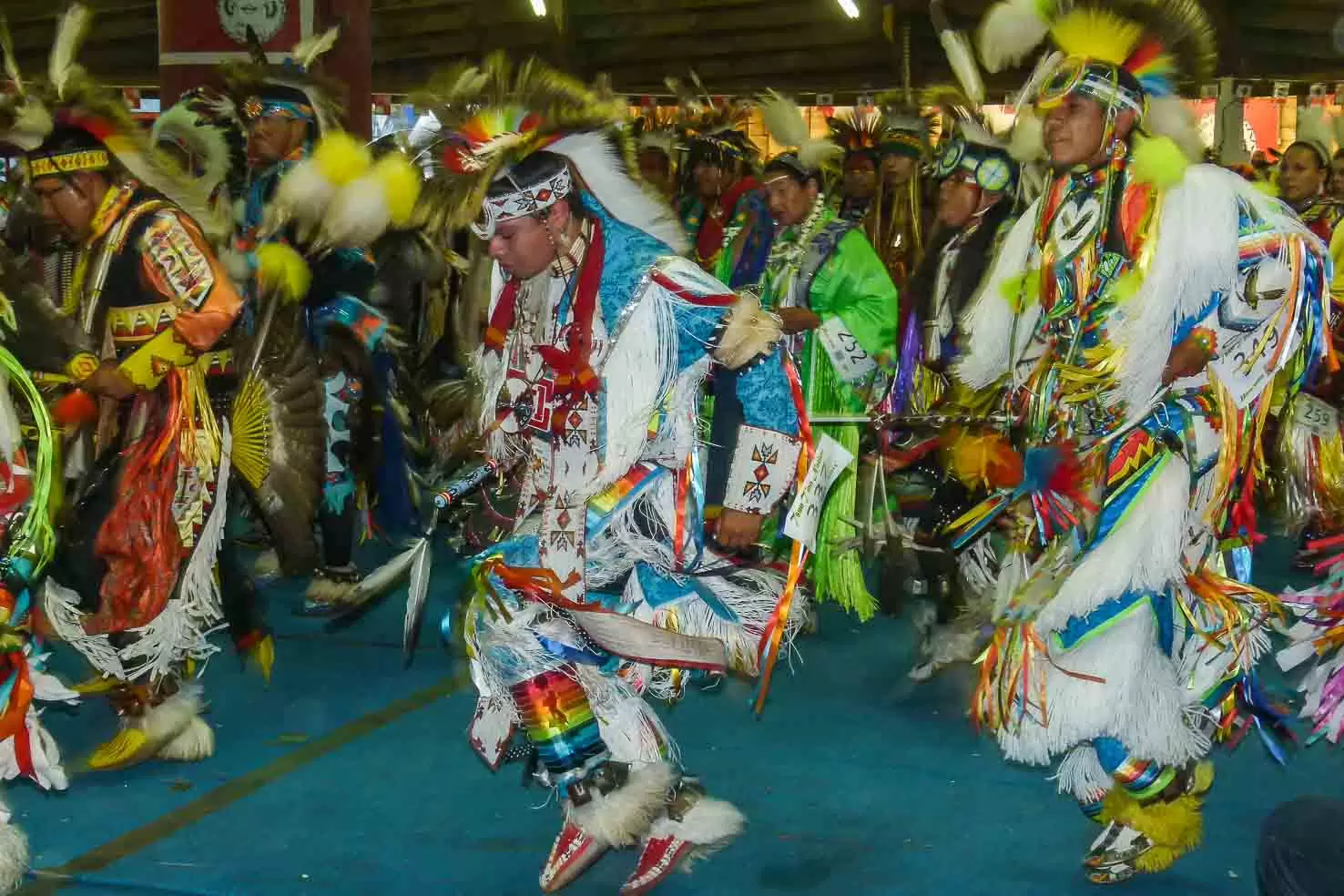 First Nation people are dressed in extraordinarily colourful outfits, dancing in circles to the rhythmic beat of the drums. We've been twice already and had a great time.
24. Have fun at outdoor Farmer's Markets
While plenty of farmer's markets are available year-round in Calgary, an outdoor market hits differently when paired with live music.
Many neighbourhoods in Calgary organize farmer's markets or night markets where you can support local artists and farmers. This is just a taste:
Bridgeland Riverside Community Association – offering local produce, baked goods, beer, lawn games, face painting and live music; open 3:30-7:30 pm every Thursday
Hillhurst Sunnyside Farmers' Market – a year-round market with outdoor season in summer every Wednesday from 3-7 pm
Bearspaw Lion's Farmers Market – open Sundays from 10 to 2 pm with more than 100 vendors with local produce, meat, home décor, and delicious pretzels
Inglewood Night Market – featuring local artisans and food trucks, open every month at 5 pm
Side note: Hopefully, there will be one day a giant market with fresh produce of fruits and vegetables as they have in Quebec.
25. Visit historic Heritage Park
Relive the Wild West history in Calgary's Heritage Park. The historic village beside the Glenmore Reservoir is a history lover's paradise. You can walk around the ranch, a 19th-century replica of a fur trading post, Gasoline Alley Museum, or take it up a notch and have fun by:
Cruising the Glenmore Reservoir on a boat
Taking a horse-drawn wagon
Riding on a steam locomotive
View the full blog post: Heritage Park: Tips for Visiting and My Honest Review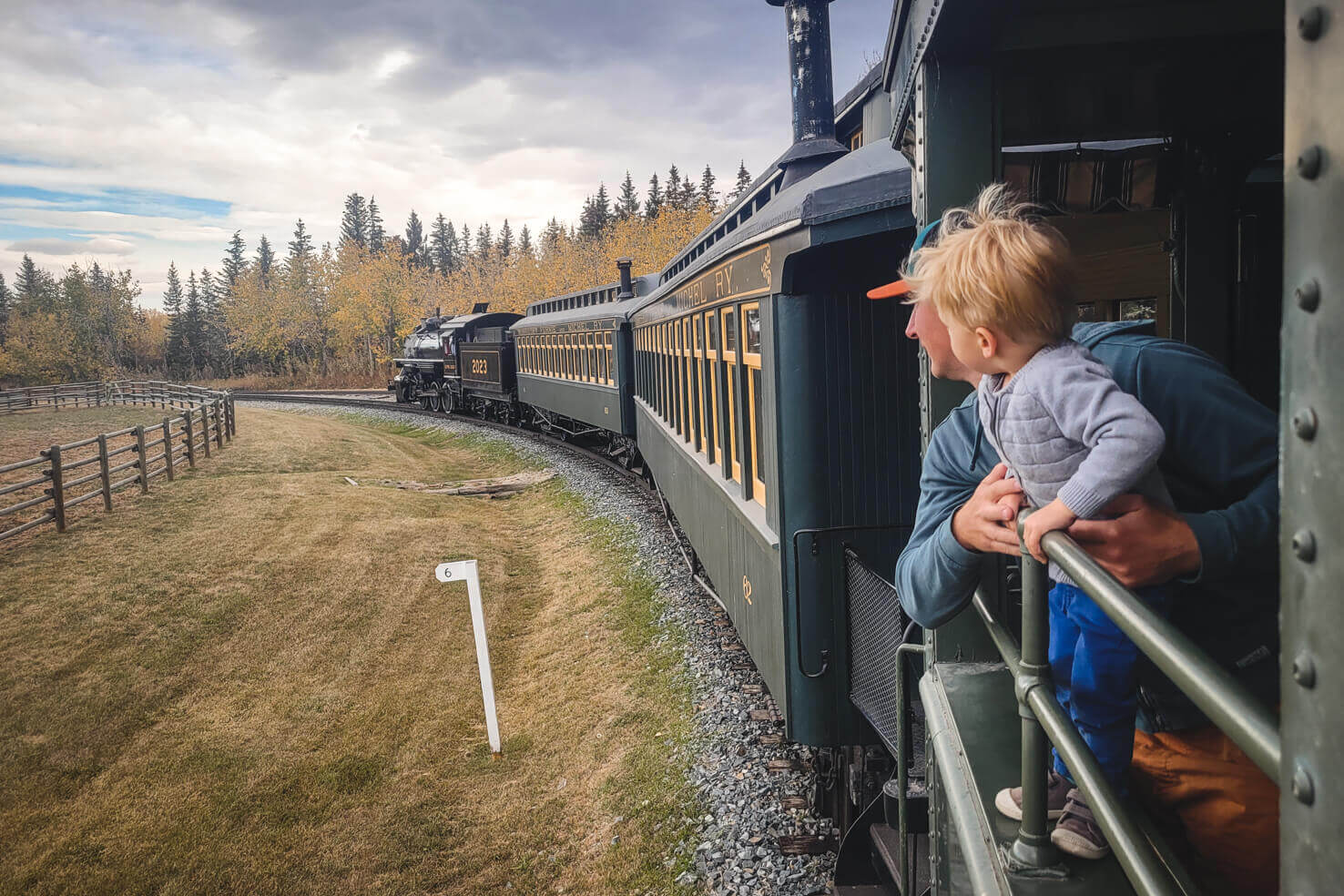 26. Explore street art and sculptures
Hop on a bike or rent one of the electric scooters scattered around the city and ride to explore Calgary's street art and its iconic sculptures.
One of the most iconic sculptures is the Wonderland Sculpture in front of the Bow building, the tallest building in Calgary at 236 m. You can find other sculptures at Olympic Plaza, Stampede Park, or in front of Calgary's Public Library and inside.
An increasing number of murals are painted yearly during the Beltline Bump Festival. This is a real treat if you're a fan of colours as much as I am. My favourites are:
Blackfoot singer at 1232 17th Avenue SW
Cowboy boots at 1126 17 Avenue SW
Bees at 10 Avenue & 12 Street SW
Cougar at 735 12 Avenue SW
Indigenous dancer at 340 10 Avenue SW
Cougar in the mountains at 1410, 11 Avenue SW
View the full blog post: Discover 26 Amazing Wall Murals in Calgary with Our Map
27. Celebrate Canada Day
Celebrate Canada's birthday on July 1st and join the year's biggest party. With celebrations happening all over the city, choosing where to go is hard.
The Prince's Island Park holds several venues easily reachable on foot – Indigenous Powwow, artisanal market, live concerts at Fort Calgary, and along Riverfront Avenue. At 11 pm, catch the fireworks above Centre Street Bridge.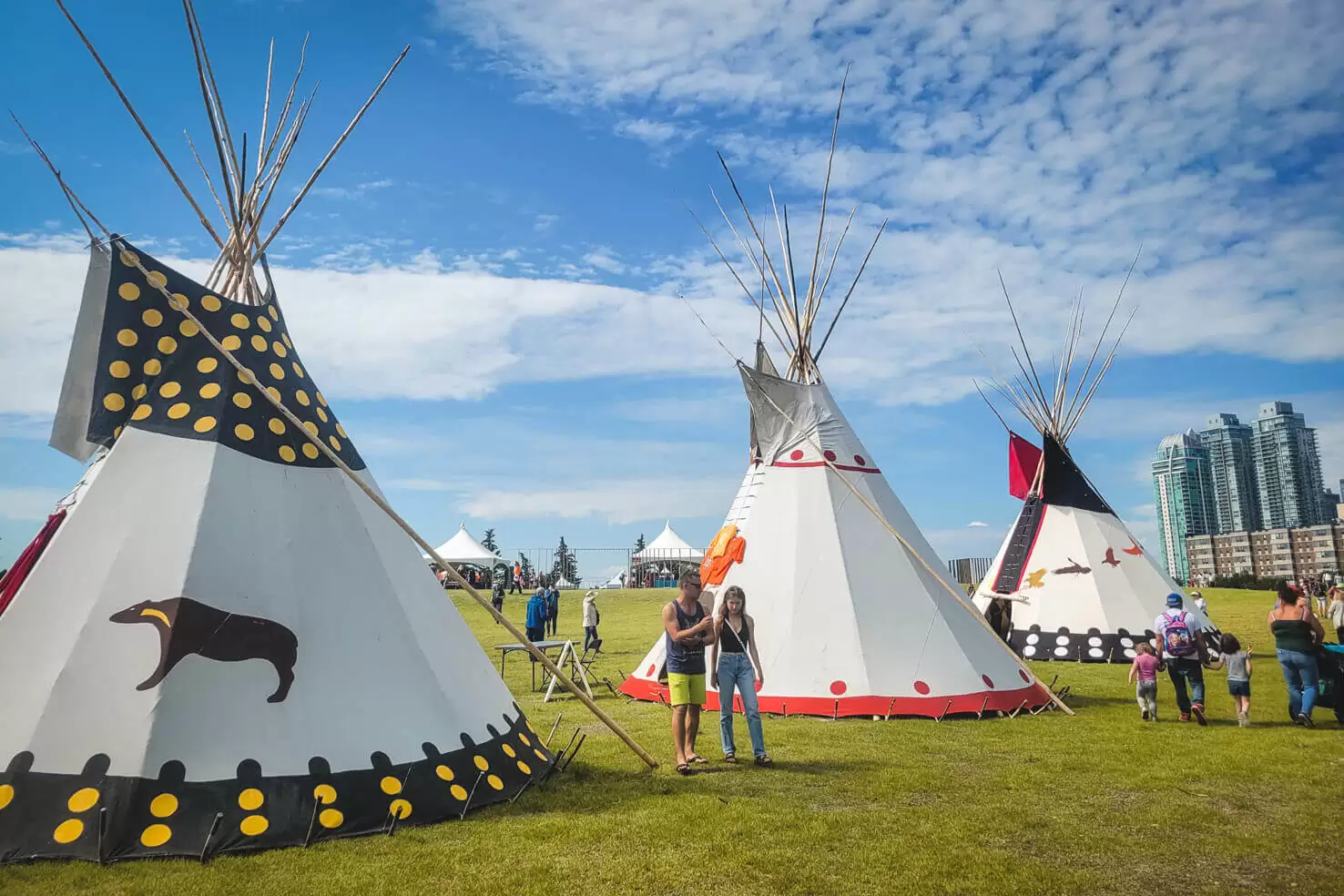 28. Swim in an outdoor pool or lake
Even though I like to take a quick dip in the cold Bow River in summer, especially after a bike ride, sometimes all you want to do is chill.
That's what Calgary's outdoor swimming pools are great for. You can sunbathe on the grass and refresh in the water in between. Choose any of the eight outdoor swimming pools. Another option is to refresh in the channel on St. Patrick's Island Park.
Try Chestermere Lake or Sikome Lake in Fish Creek Provincial Park for a calmer space with a swimming option.
View the full blog post: The Ultimate Guide for Visiting Sikome Lake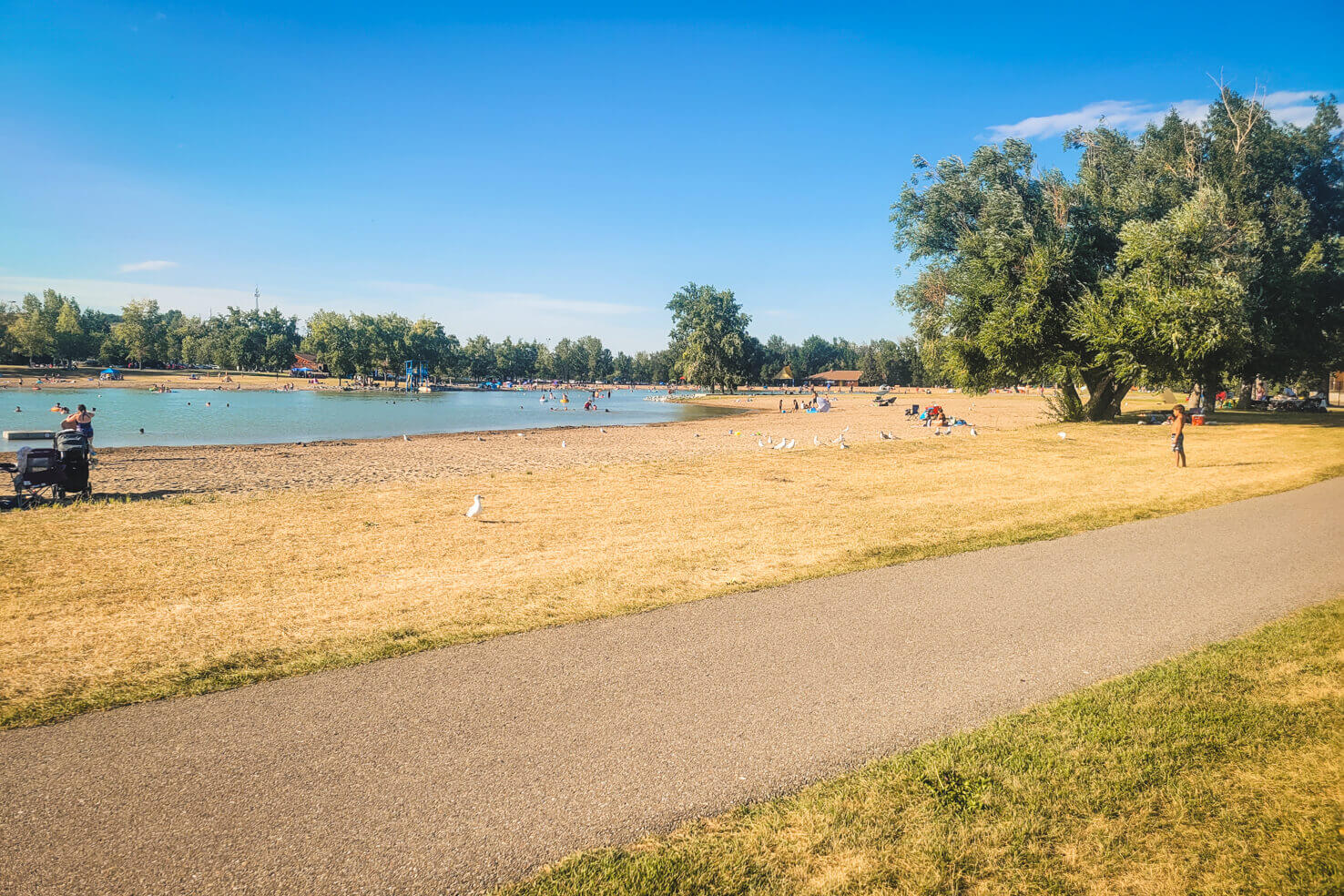 29. Visit the Hangar Flight Museum
Hangar Flight Museum in Calgary focuses on flight history in Western Canada. There are lots of military and commercial planes.
The most important question everyone has is: When can you see the inside of the planes? Open airplanes are available from Father's Day in June until Labour Day daily, after that during weekends in September, and on National Aviation Day in February
View the full blog post: Hangar Flight Museum – Tips for Visiting
30. Relax in St. Patrick's Island Park
One of Calgary's oldest parks (located downtown by the George C. King Bridge) was renovated in 2015. It's a beautiful place with an amphitheatre, a biking trail, a children's playground, benches, and rest areas across the park.
And, of course, events, live music, and markets. It's my favourite park for relaxing and enjoying the sun.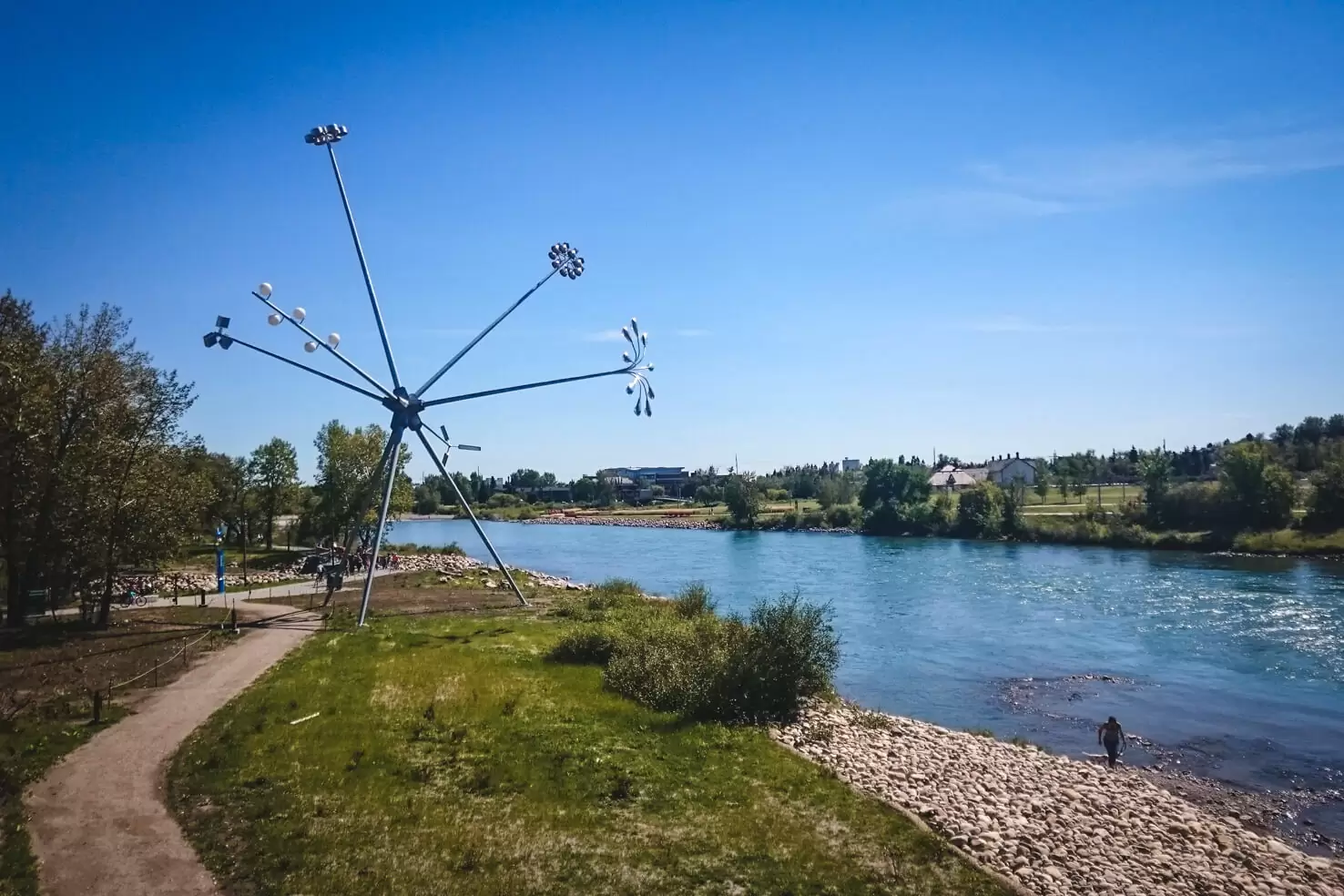 BONUS
Visiting Calgary in spring? Head to Prince's Island Park for cuteness overload. See our post Joys of spring in downtown Calgary to see what I mean!
31. Get moving at Active Learning Park
Head south of Calgary to an amazing Granary Road. They offer an active learning park for kids full of activities, trails, animal-inspired education stations, and games to learn about agriculture and farming.
Adults can have fun in the rooftop bar, at a local produce market, or try goat yoga!
View the full blog post: Granary Road: Honest Review & Tips for Visiting
32. Bike up the Moose Mountain
Located in West Bragg Creek, just 30 minutes from Calgary, Moose Mountain is a popular hiking and biking trail. Biking up the mountain is more fun; it's a 14.5 km return trip.
For the steepest last km at the end, you must lock up your bike at the sign and hike up the scree to the fire lookout. You'll be rewarded with a spectacular panoramic view and an amazing, well-deserved downhill ride.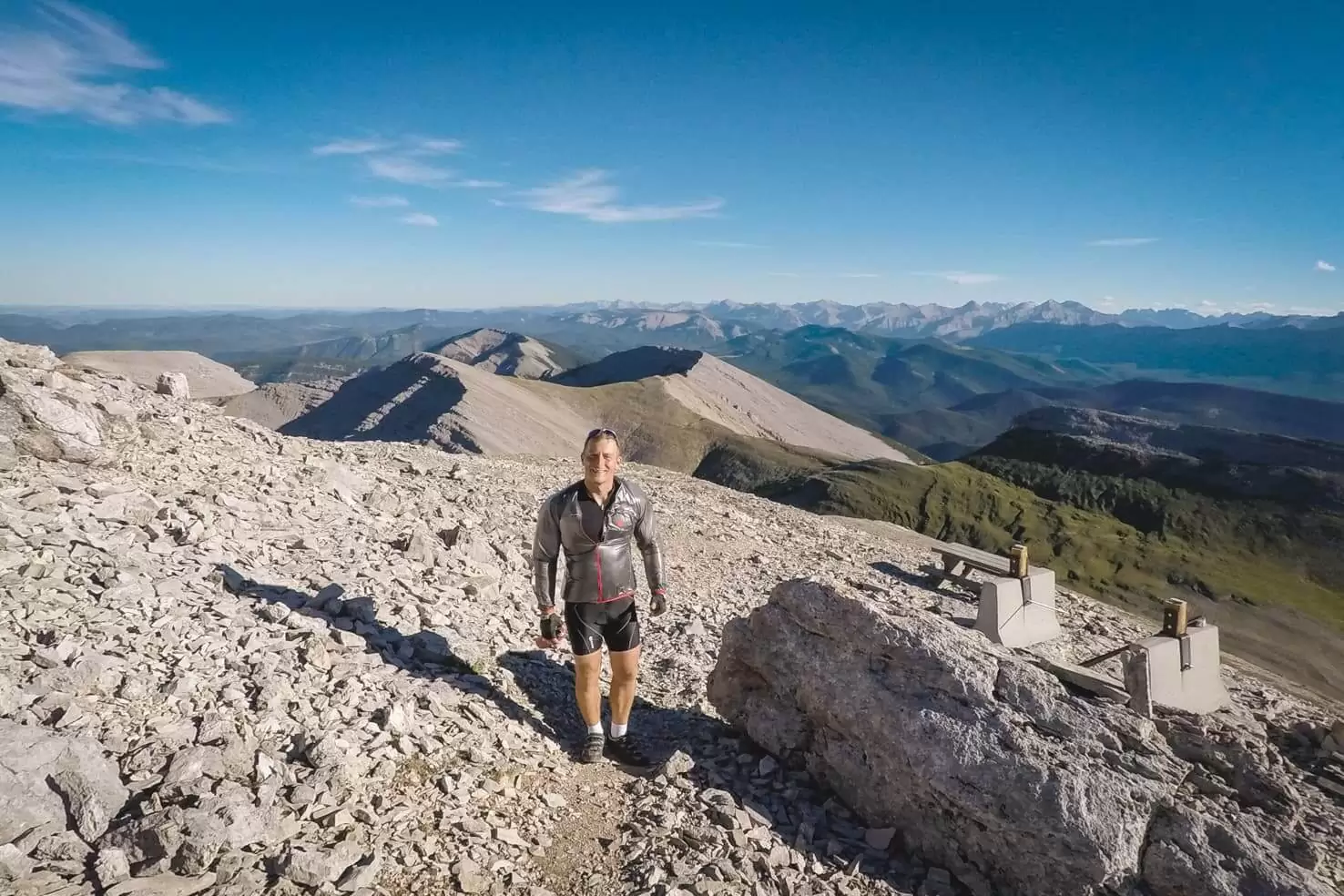 For the best bike ride in terms of effort and reward ratio, I highly recommend biking to Moraine Lake before the road opens to traffic.
TIP
For more amazing mountain biking trails, check out our post 14 bike trails around Banff or Highwood Pass, biking the highest paved pass in Canada.
33. Canyoning with waterfall slide
Canyoning is one of my favourite summer activities, and you don't even have to travel far from Calgary to enjoy this thrilling experience.
Heart Creek Canyon is about an hour from Calgary and a perfect place for beginners. You learn how to rappel down a waterfall with a rope and keep increasing the length as you go down the canyon. The (optional) slide at the end is a cherry on top!
34. Banff National Park
This highest-rated day trip from Calgary to Banff hits all the beautiful places!
You explore Canmore first, our favourite mountain town and a little gem of the Rockies. Then, the trip continues to Lake Minnewanka, the 2nd longest lake in the Rockies with stunning views.
The town of Banff is another stop where you can shop or dine. And, of course, no trip to Banff National Park is complete without the most popular Canadian lakes – Moraine Lake and Lake Louise.
35. Best lakes in the Rockies – Lake Louise, Moraine Lake & Emerald Lake
If you already saw Lake Minnewanka and Banff town, I highly recommend a day trip from Calgary to Banff & Yoho National Parks.
You visit the breathtaking Lake Louise and Moraine Lake, the lesser-known Emerald Lake, and the Natural Bridge.
Seeing all three lakes in one day is rare due to restrictions at Moraine Lake and requires lots of planning. This day tour takes care of everything while you can marvel at the views.
36. Horseback ride in the Rockies
Explore the Rockies from a saddle without the crowds enjoying the solitude.
Buffalo Loop 1-Hour Horseback Trail Ride in Kananaskis offers a beautiful ride suited for kids and beginners. Live your Western movie experience while riding in the mountains, looking for wildlife!
Ridge Ride 2-Hour Horseback Trail Ride in Kananaskis offers a longer ride with a view of the Kananaskis Valley, suitable for beginners and experienced riders. A cherry on top is seeing a teepee that appeared in The Revenant movie starring Leonardo DiCaprio.
37. River Rafting in the Rockies
On a thrilling river rafting adventure, you get to see places you otherwise wouldn't be able to without the raft. Add bouncing on wild waves and cliff jumps, and you'll have a fantastic day on the water!
These are the rafting options in the Rockies:
38. Hike Alberta badlands & discover dinosaurs
Due to the famous Rocky Mountains west of Calgary, other areas close to Calgary tend to get overlooked. I have a great tip: head east to Drumheller; it's like stepping into a Western movie.
You can hike the canyons that thieves used to hide in, walk through the sandy hoodoos, drink at a historic saloon with bullets from the pistol in the wall, or visit an enormous Royal Tyrrell Museum with dinosaur displays.
No worries if you don't have transportation; a guided day tour to Drumheller is available.
39. Get your mountain fix in Canmore
The first mountain town on the way to the Rocky Mountains is Canmore, a gorgeous little outdoor heaven.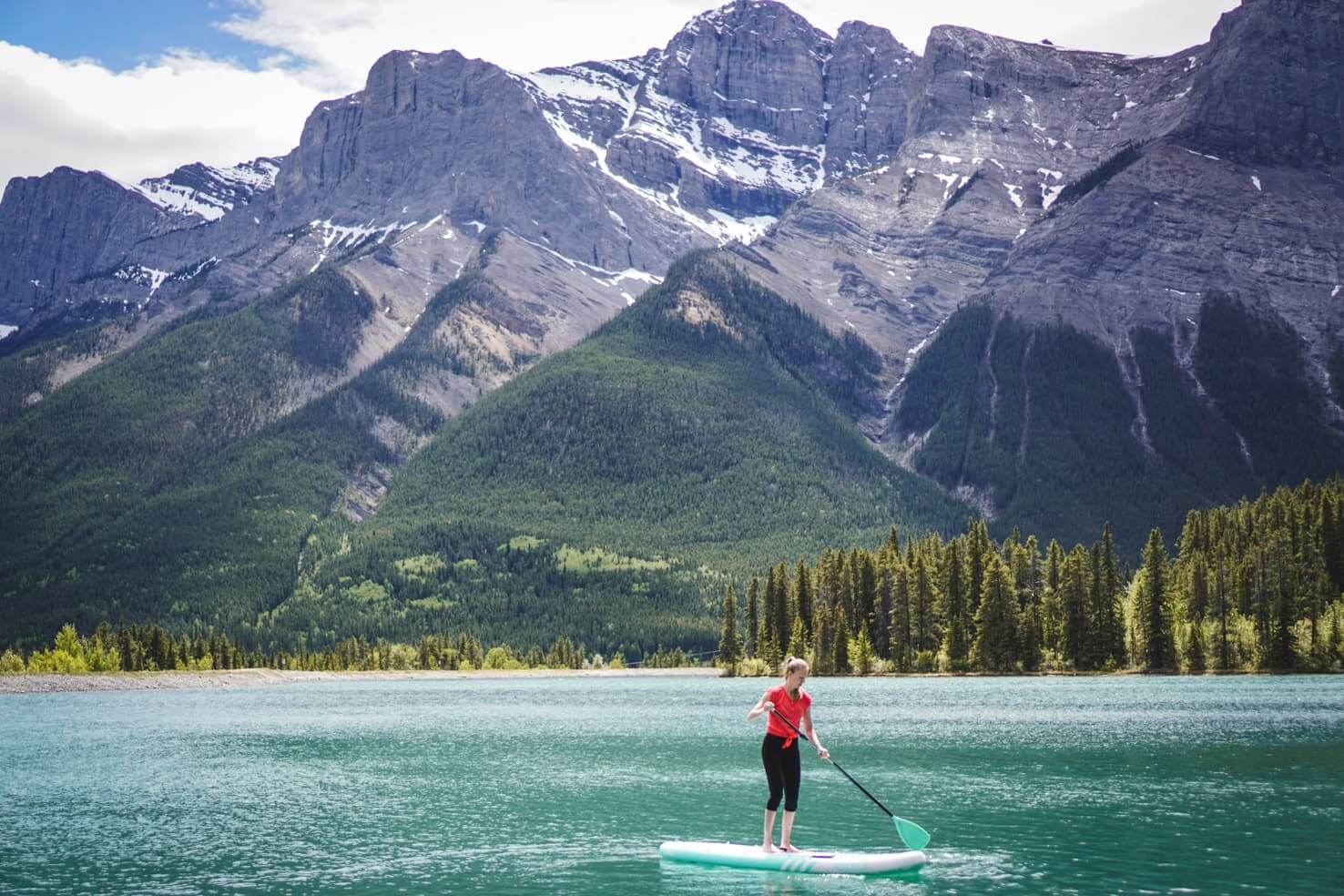 Surrounded by mountain peaks, go stand-up paddleboarding on Rundle Forebay, mountain biking to Canmore Nordic Centre, hiking to Grassi Lakes, or just for a stroll along Bow River in search of wildlife.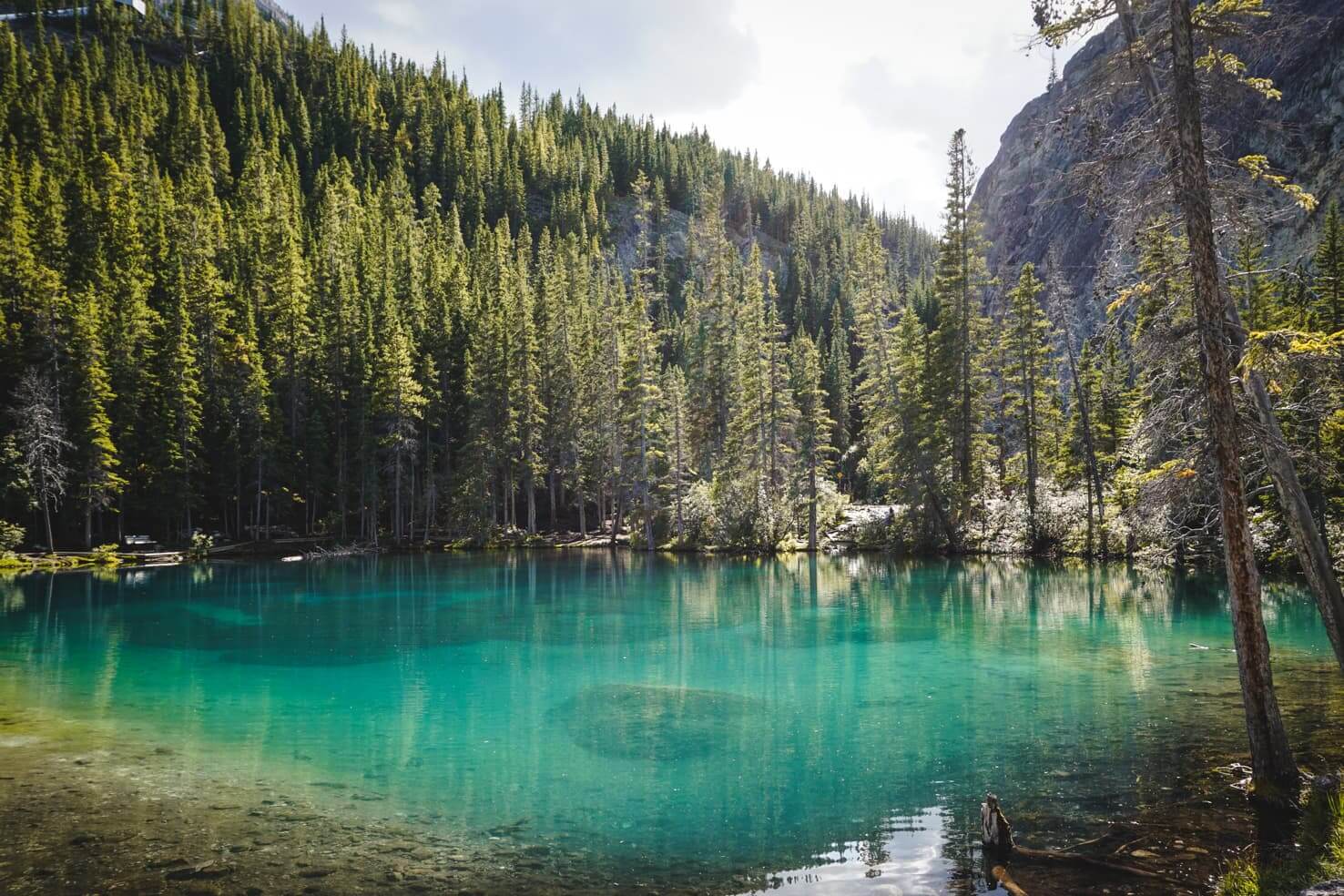 For unique experiences in Canmore, try:
40. Hike in the spectacular Rocky Mountains
We've compiled a list of 15 hikes near Calgary that are perfect for a day trip. A few of my favourites are:
TIP
If you're looking for an adventurous road trip while staying in campgrounds, book a Smile Campervan from us – a budget, family & pet-friendly option.
If you'd like to explore more Canadian cities, check out things to do in Winnipeg.
---
Are you ready to spend the summer in Calgary? Which activity is on your list?
---
Spread the word! PIN this to your Pinterest board.