Canmore, located in the Bow Valley of the Canadian Rockies, is Banff's little-known neighbour and has everything you might be looking for – mountain views, lakes, hikes, and plenty of areas to relax after an adventure-filled day. There's plenty to choose from from our extensive list of fun things to do in Canmore.
Living near Canmore, Alberta, I've visited this charming mountain town countless times every season for almost a decade.
In comparison to Banff (which is only 25 km away):
Canmore doesn't have substantial tourist crowds
it's just outside the national park, so you don't have to pay the entrance fee
overall, there are more things to do in Canmore without a tour or any entrance fee
accommodation is cheaper
the main street is charming with local shops selling homemade products
there are more hiking and biking options
What I love the most are the never-ending things to do in Canmore, and the fact that mountain peaks constantly surround you is an absolute cherry on top. The views are staggering wherever you go. Visiting Canmore is one of our favourite day trips from Calgary.
There are different ways to enjoy the outdoors in Canmore, whether you like active sports or slow leisure activities. Our travel guide includes mostly free things to do in Canmore; luckily, nature is free.
However, there are many great tours when the guide takes you beyond the beaten path on an adventure you otherwise wouldn't have, such as canyoning!
Before diving into our comprehensive list, let me share some important information that everyone visiting Canmore should know about.
*In the spirit of full disclosure: Some links in this post are affiliate links, which means that if you purchase through them, we receive a small commission at no extra cost to you. We appreciate your support!
Essential info for visiting Canmore
How to get to Canmore
Canmore is located in southern Alberta, 105 km west of Calgary. They're connected via the Trans-Canada Highway, a toll-free road maintained year-round.
In case you haven't heard of Canmore, I'm sure you heard about Banff. Banff National Park is Canmore's less famous but equally (if not more) stunning neighbour.
Depending on your preference and style of travel, there are several ways to get to Canmore:
Transport around Canmore
Walking – No need to worry if you don't have a rental car or campervan. Canmore is a very pedestrian-friendly town with lots of activities within walking distance. The main street, 8th Street, is closed off in summer and becomes a pedestrian-only zone.
Roam Transit – The public bus runs year-round within Canmore and also gets you to several popular attractions in Banff, such as Lake Minnewanka, Banff Gondola, Lake Louise, and Johnston Canyon. See their schedule here.
Biking – The most popular way to get around Canmore in summer is by bike. Several companies offer bike and e-bike rentals. Rebound Cycle is centrally located and close to bike paths along Bow River.
Rental car or campervan – the easiest way to enjoy your vacation. Parking in Canmore is paid, and finding a spot in summer is becoming a challenge. If you rent our Smile Campervan, ask us about free parking in Canmore.
Visitor Centre
For more information about the Canmore area, current trail conditions, maps or campgrounds in the Canadian Rockies, visit Travel Alberta Canmore Visitor Information Centre or call them at +1 800-252-3782. There are picnic tables, a restroom (open 7 am-10 pm daily), free WiFi and water for your campervan/RV.
Kananaskis Conservation Pass
All vehicles parking at the provincial park and on public land in Kananaskis Country and the Bow Valley must purchase a Kananaskis Conservation Pass. You can buy it online or in-person at Kananaskis Visitor Centers & Canmore Nordic Centre. The day pass costs 15 CAD for one vehicle, and the yearly pass costs 90 CAD for two vehicles.
From our list of things to do in Canmore, you need Kananaskis Conservation Pass for hiking Grassi Lakes, Ha Ling Peak, visiting Canmore Nordic Centre Provincial Park, and anything in Kananaskis.
It's free if you visit Wilderness Wednesdays, the first Wednesday of every month.
Trail Conditions
Before going hiking, check out current trail conditions and closures on this website. Some trails might be closed in spring due to avalanche danger or bears/construction in summer.
Webcam
To see current weather and conditions in Canmore, check out their webcams from different parts of town.
Where to stay in Canmore
Campgrounds are a popular option; see the list here. If you like adventurous trips, book a Smile Campervan from us. It gives you the most freedom while road-tripping the Canadian Rockies.
A budget-friendly option would be staying at Airbnb; we've compiled a list of the 12 best Airbnbs in Canmore with breathtaking views.
Another option is staying in a hotel or lodge; you can find great deals on Booking through this link. We loved our stay at Stoneridge Mountain Resort, which had a kitchen and outdoor tub.
What to pack
We cover a lot of essential gear for the Canadian Rockies for all four seasons in our packing list.
TIP
One of the best things to do in Canmore is starting a road trip! Check out our Canadian Rockies road trip itinerary to visit 5 national parks in 2 weeks.
Now, let's jump into our comprehensive list of the best things to do in Canmore.
The 3 most popular tours in Canmore
These are the three most popular activities for visitors to Canmore. My personal favourite is canyoning. The thrill of rappelling down a waterfall while it's splashing to your face is both exhilarating and fun!
60 Fun things to do in Canmore
Our comprehensive list of fun things to do in Canmore includes hiking, stand-up paddleboarding, mountain biking, running, walking trails, camping, parks, wildlife, caves, historical sites, food, festivals, events, shopping and winter activities.
While outdoor activities in Canmore are the most popular, we've included some options for indoor fun when the weather is too harsh.
1. Hike to Grassi Lakes
The most popular hike in the area is suitable for all levels. It's an easy uphill walk in the forest that rewards you with emerald green pools at the end and a bird's eye view of Canmore and Bow Valley peaks.
The trail is located just off of Three Sisters Parkway, around 5km from Canmore downtown. There are two different trails to get to the lakes – easy and difficult.
The easy trail is a gravel road with a gentle ascend, and the difficult trail takes you through the forest trail passing Grassi Lakes Waterfall before you reach the lakes. Most hikers can do the 4km round trip hike easily in 1,5 hours.
You can walk around the lakes, enjoy a picnic with the view or watch rock climbers; it's their favourite spot year-round. Grassi Lakes Hike is, in my opinion, one of the best family-friendly things to do in Canmore and an easy hike near Calgary.
Full blog post: Grassi Lakes Hike in Canmore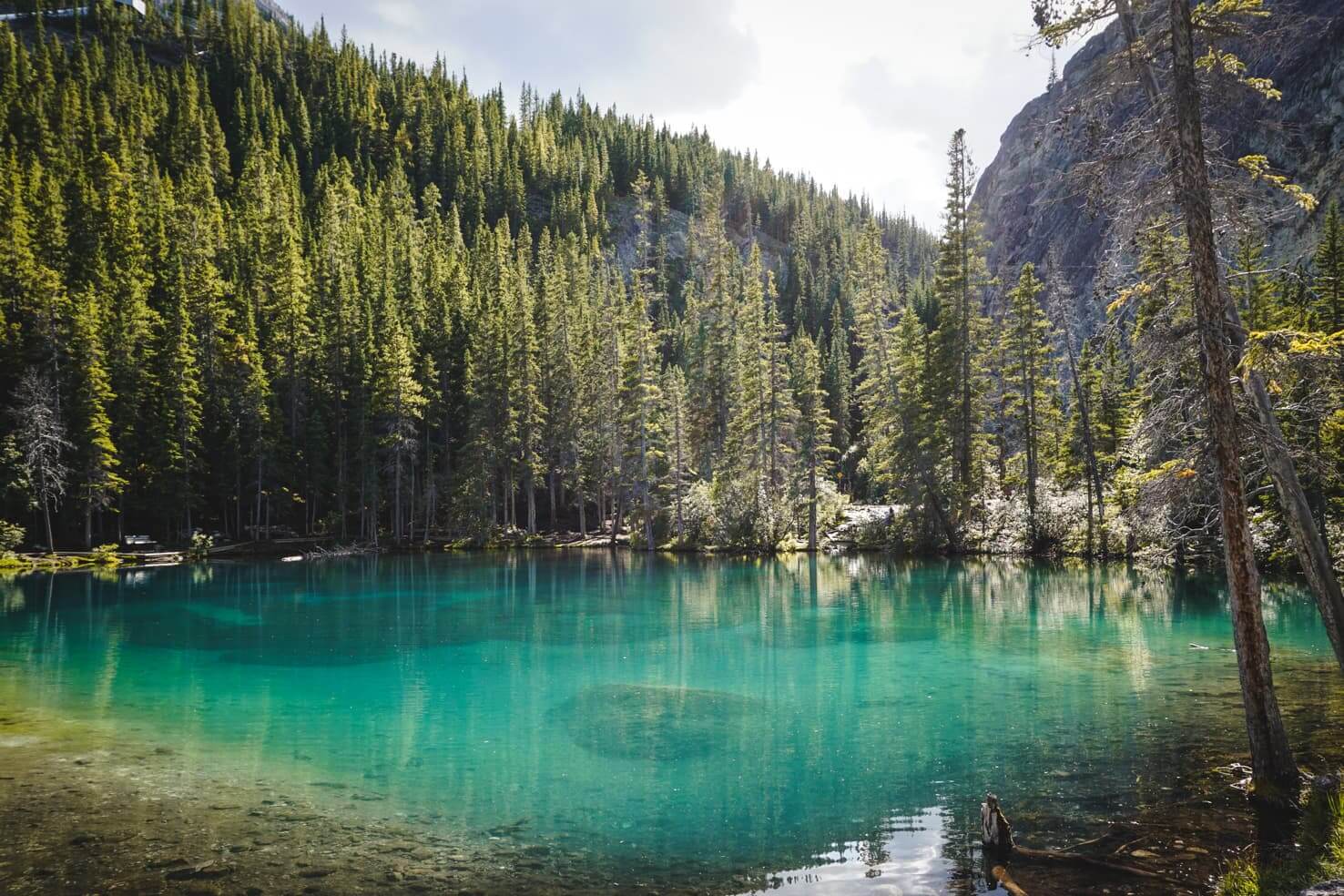 Similar scenic hikes in Banff National Park: Johnston Canyon Hike to Ink Pots or Sulphur Mountain Hike to view Banff and Bow Valley.
2. Stand up paddleboard, swim or kayak on Rundle Forebay Reservoir
Stand-up paddleboarding on Rundle Forebay is one of my favourite things to do in Canmore. You get close to the giant mountain peaks while paddling the clear water of the Rundle Forebay Reservoir.
The Rundle Forebay Reservoir is usually sheltered from the strong winds, making the surface smooth and excellent for favourite summer activities. You can rent kayaks or SUPs in Canmore and then drive up to Rundle Forebay. If you paddle along the shoreline to the power plant, it's around 5km.
Rundle Forebay is also an excellent place for swimming in summer. I find the water a bit cooler than at Quarry Lake, but it's also clearer with fewer people around.
Follow the signs to Canmore Nordic Centre, and you'll see the reservoir on your left just before you reach the Nordic Centre.
Full blog post: Tips for visiting Rundle Forebay/Canmore Reservoir
TIP
A fun, family-friendly bike ride starts at the Rundle Forebay Reservoir. There's a flat pathway right across the parking lot, which follows the reservoir to the end. Then you can continue riding under the power lines (below the forest, an important wildlife corridor) towards Three Sisters or can loop back through Quarry Lake.
3. Mountain biking at Canmore Nordic Centre
The Canmore Nordic Centre has over 100km of trails. There are a few dirt roads but mostly single tracks in the forest with a nice flow. You get an occasional mountain view once you reach the dirt road outside the forest, which provides a nice opportunity to enjoy the view.
The shop on-site offers bike rentals and the information centre trail map, or you can download it here. The trails are free to use.
Be aware that you're in a bear country (like anywhere else in the Canadian Rockies), so you should make noise while riding, especially before making sharp turns, and of course, carry a bear spray. We usually have a whistle and use it quite often while riding.
TIP
Bike from Canmore Nordic Centre to Banff through the mountains (and back on Legacy Trail or catch a bus). Start on Banff Trail in Canmore Nordic Centre, and then continue on Rundle Riverside Trail to Banff. The trail has lots of roots, so I only recommend it for experienced mountain bikers.
Read more: Mountain biking & fat biking in Canmore
4. Walk, bike & dip in the Bow River
Canmore has an extensive trail system all around. The gravel path along the Bow River is a popular spot for bikers, runners, hikers and all-around visitors. Michal and I like biking along the river with the occasional dip in the Bow River for our tired legs.
You can start from the bridge, cross the Bow River (on Bridge Road), and head south on the river path towards Three Sisters mountains. The trail is a paved path and gravel mix and offers endless mountain views through an open valley and some old mining sites.
The small sulphur pond in the picture below is about 6km from Riverside Park (where we usually park and ride). The black ground around the sulphur pond is evidence of Canmore's coal mining history.
Read more: 14 awesome bike trails around Banff (for all levels)
5. Enjoy a picnic in Riverside Park
Riverside Park is my all-time favourite spot in Canmore. It's a beautiful, quiet park right by the Bow River, has picnic tables, a newly built outhouse, and easy access to the river with a small sandy beach.
We like to come here after hiking or mountain biking to relax on the grass or picnic. If you feel like stretching your legs, the river path can take you along the river, making a loop.
6. Hike the Ha Ling Peak or Mt Lawrence Grassi
Ha Ling Peak is an incredibly popular hike near Canmore (2,407m). Due to its rewarding panoramic views and quite a short 3km trail up the mountain, it's heavily trafficked, and I recommend starting early in the morning during summer weekends to avoid crowds.
Ha Ling Peak trail went through construction in 2019 due to erosion. The trail is more gradual and smooth, with many chains and wooden stairs. If you're a beginner and don't want to hike alone, you can book a guided hike here.
Its neighbour, Mt Lawrence Grassi (2,685m), offers the same views and has no crowds. The trail is more complicated; a little scrambling is required on the loose rocks.
You see Canmore and Bow Valley, even Calgary, on a clear day. Behind you is the massive Spray Lakes Reservoir.
Full blog post: Ha Ling Peak vs. Mt Lawrence Grassi
7. Bike the paved Legacy Trail to Banff
A paved trail used by bikers of all ages connects Canmore and Banff. It's 27km long with almost no elevation gain and offers panoramic views of the Bow Valley.
The bike path follows the Trans-Canada Highway, so you sometimes ride next to the highway, or trees separate you – so that you know there might be noise.
The Rocky Mountain Legacy Trail in Canmore starts across the Travel Alberta Canmore Visitor Information Centre, where you can park your car.
This trail holds a special place for me. When we lived in Banff, we used to bike on the Legacy Trail and visit Canmore (the bus didn't exist). It's also where we saw our first black bear, right before us, walking on the bike path. It was only our 2nd day in Canada, so the shock was quite huge, as you can imagine!
You can either bike both ways on Legacy Trail, bike one and take the bus back or bike one on Legacy Trail and connect to Goat Creek trail through the mountains, making a loop (see below).
Full blog post: Legacy trail, biking from Banff to Canmore with an adventurous twist
8. Go camping
Sleep under the stars and wake up with a mountain view. Wapiti Campground is located just next to the Visitor Centre and Legacy Trail. While it gives you the view, it's slightly loud as it's right next to the highway. Spring Creek RV Campground is also in Canmore, with mostly RVs camped right next to each other.
Bow River Campground is a 6km drive from Canmore; it's a beautiful location for a campground by the river. Three Sisters Campground is at Dead Man's Flats, about an 11km drive from Canmore. You can book a campsite here.
For camping in Banff National Park, read our comprehensive guide.
9. Drive the Kananaskis Trail for wildlife
Kananaskis Trail starts at Trans-Canada Highway, where Stoney Nakoda Casino is about 30km from Canmore. The paved mountainous road leads through stunning landscapes with many wildlife-watching opportunities.
After about 50km, you can take the Smith Dorrien Trail, a dirt road leading to Canmore. Keep your eyes open for elk, bears, mountain sheep, and more.
10. Hike in Kananaskis
Kananaskis Country – Spray Valley Provincial Park is the local's favourite for outdoor adventures year-round. There are a lot of hiking trails to summit a mountain or see beautiful lakes.
My favourite is Little Lougheed Hike, only a 6.3km hike with 723m elevation to a mountain peak from which you have panoramic views of the mountains and Spray Lakes Reservoir.
Another great one is Galatea Lakes. It's not steep to a mountain peak, but you see three gorgeous lakes along the way. It's 6.2km to emerald-coloured Lilian Lake, where you can stay overnight at the campground. Then another 1.5km to Lower Galatea Lake and 1.6km more to Upper Galatea Lake. It's an incredible hike on a hot summer day with the cool off in the lake.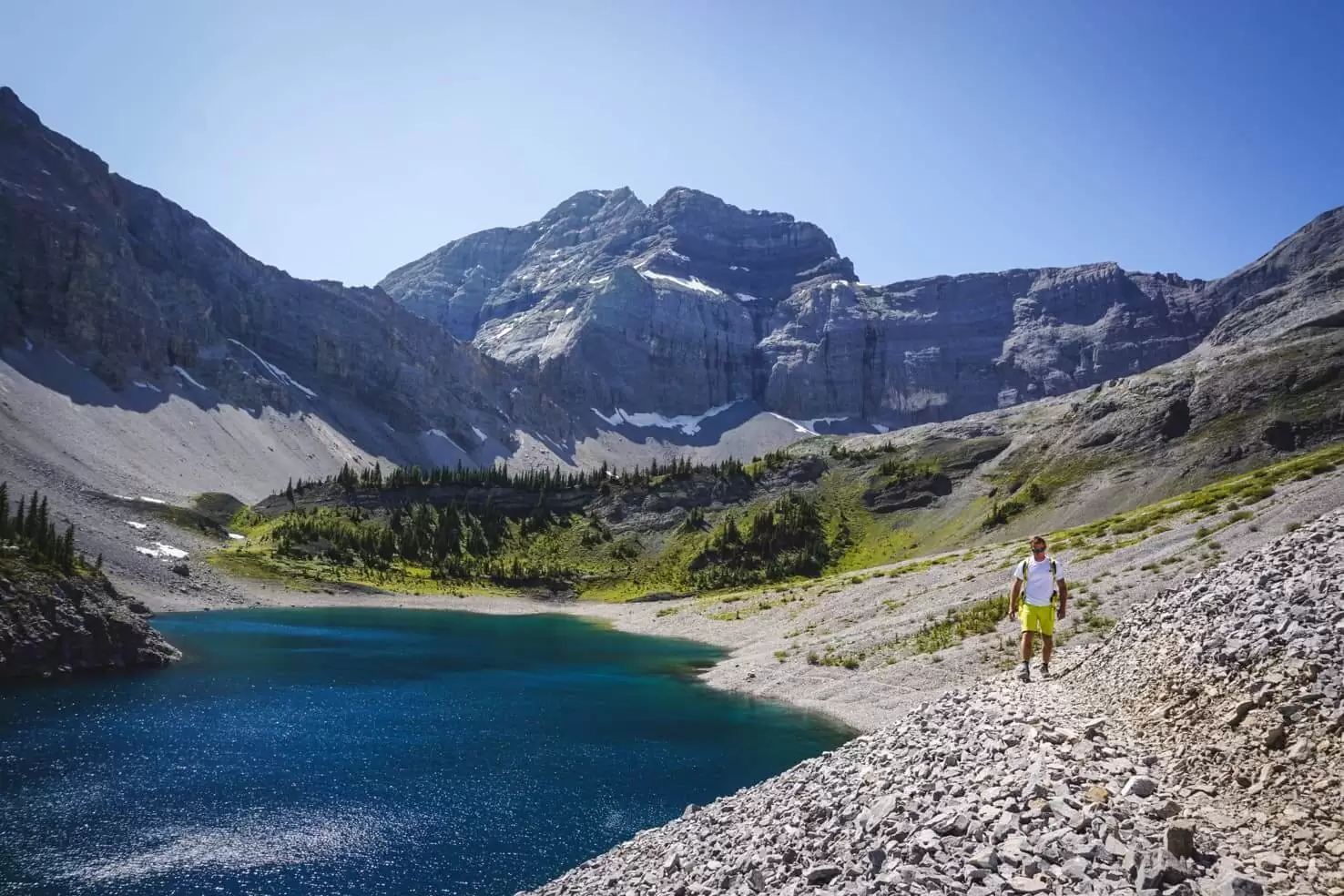 TIP
Read our hiking packing list if you'd like to see our favourite gear.
11. Go caving to Rat's Nest Cave
Visitors who've been caving in Canmore are raving about it. While many caves worldwide are strictly led through a man-made path, in Canmore, you can unleash your adventurous spirit: crawl through and climb in the cave with a guide. You can book the experience here.
12. Take a stroll on the boardwalk in Policeman's Creek
Boardwalk at Policeman's Creek offers walking through the forest with a rippling creek and swimming ducks. It's the best thing to do in Canmore early in the morning, walking through a quiet oasis downtown with panoramic mountain views.
The trail can be found at the end of Main Street (8th Street) near Spring Creek Drive, right by the Big Head sculpture. There is a short and easy trail accessible for all, even wheelchairs and strollers. It connects to a wooden boardwalk and is almost 4km long. The main highlights are uninterrupted mountain views, ducks and occasional deer.
13. Explore the historic Engine Bridge
The Engine Bridge was built in the early 1900s and used to connect the railway with coal mines.
Take a stroll or bike on the 2km Bow River Loop. You can park by Riverside Park and head north; the bridge is about 10 minutes of walking away.
There are several benches along the river to relax and enjoy the view. The last time I was at the bridge, I watched a herd of elk across the river.
14. Walk around or swim in the serene Quarry Lake
Quarry Lake is a favourite place for hikers, swimmers, and picnickers. It's about 3km from Canmore, and you can access it either by car (the sign is along Three Sisters Parkway) or walk from town.
It gets crowded with families enjoying barbeque, swimming, or paddle boarding on the lake during summer. The big parking lot gets full very quickly. There is a small sandy beach, an outhouse by the lake, picnic tables, and a few hiking trails to explore.
If you visit early in the morning, you might see an elk herd in the area; it's their favourite spot.
Full blog post: Everything you need to know about visiting Quarry Lake
15. Have breakfast at Beamer's Coffee Bar
There are many places for breakfast in Canmore, but I like Beamer's Coffee Bar the most. It's located at the Shops of Canmore and has a lovely patio with mountain views.
Most importantly, they have an extensive selection of food: pudding cups, fruit oats, yogurt parfait, vegetarian & vegan wraps, sausage buns, sandwiches, brownies, croissants, muffins, and much more.
16. Challenge yourself with a hike up Mt Lady MacDonald
Mount Lady MacDonald is a moderate and steep 3.2km hike straight up the mountain. Some scrambling is required near the summit, but the panoramic views of the Bow Valley are outstanding.
If you're uncomfortable hiking on the loose rocks, you can finish at the helipad below the summit. If you hiked Mt Lawrence Grassi, which I described earlier, this would be a piece of cake for you.
The trailhead is located on the other side of the valley from most activities described here. The parking lot is between Benchlands Trail and Elk Run Boulevard.
17. Stay at Coast Canmore Hotel with mountain views
We had the pleasure of staying at Coast Canmore Hotel & Conference Centre for two nights in the summer. Their location is hard to beat; it's walking distance to downtown, Policeman's Boardwalk, Elevation Place, Beamer's Coffee Bar, and even bike rental shop.
We enjoyed the Stay & Play package, including a $50 dining credit and a $50 credit for Chateau Mountain Sports, where I rented an e-bike. The mountain view room was spacious, and we all loved the swimming pool and hot tub. You can see the hotel's availability and price here.
18. Enjoy dinner at Table Food + Drink
Table Food + Drink Restaurant is located at the Coast Canmore Hotel. They are open daily for late lunch and dinner with weekly specials for a discounted rate.
I loved their Salmon with black lentil ragout, hazelnut asparagus sauce, blistered gem tomato and lava chocolate cake with ice cream. I was pleasantly surprised they also offer kids menu. See their full menu here.
Next time we'll visit on Tuesday for the half chicken special our whole family can enjoy.
19. Photograph the iconic peaks of Three Sisters
While you can see the iconic peaks from just about anywhere in Canmore, take the best photos from Policeman's Creek or Bow Flats Natural Area.
To get the best picture of Faith, Hope, and Charity, better known as Three Sisters, save this spot to your GPS and park right there or across the road on the gravel.
Head towards the bridge and follow the creek bed for about 5 minutes once you walk under it. The trail is usually well-trodden, so you should be able to find the photography spot easily. It's the absolute best thing to do in Canmore year-round.
Full blog post: How to find the best view of Three Sisters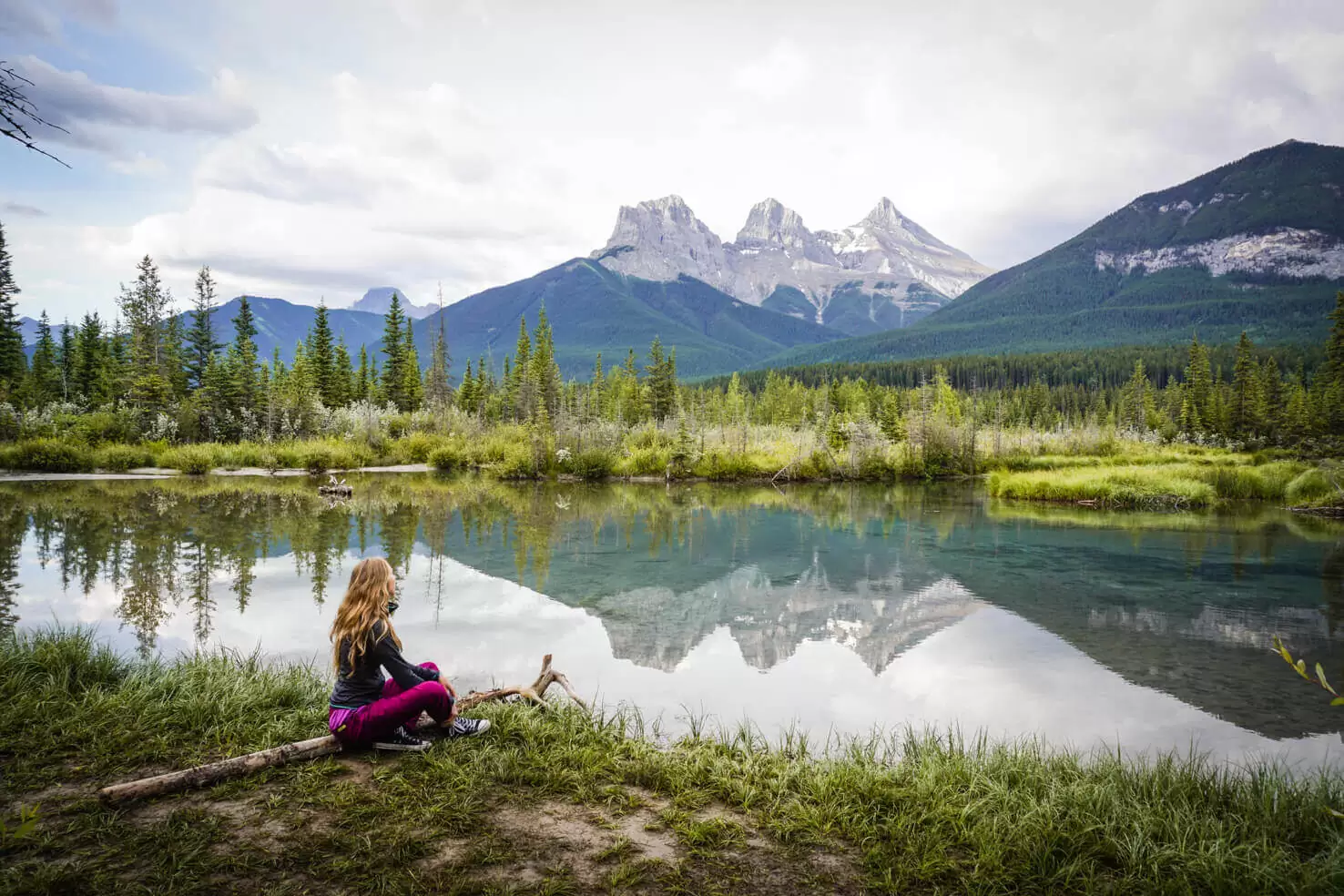 20. Attend Canmore's festivals
For a little town, Canmore packs quite a lot of festivals year-round. Some of the biggest and most popular events include National Indigenous Peoples Day (in June), Canada Day (in July), Canmore Highland Games (in September), Folk Music Festival (in September), Ski Cross World Cup at Nakiska (in January), Winter Carnival (in February), World Cup of Cross Country Skiing (in March).
See the full schedule of events and festivals here and community events here.
21. Do yoga at WildHeart Canmore
WildHeart studio in downtown Canmore offers various yoga and barre classes. You can now enjoy them in-studio or online. Don't forget to check out their WildHeart clothing and other local brands they support when you come for class.
22. Bike the mountainous Goat Creek Trail from Canmore to Banff
A more adventurous option of biking between Canmore and Banff is through the valley on the Goat Creek Trail. You will have Mount Rundle on your right and Sulphur Mountain (with Banff Gondola) on your left.
It's a scenic trail mainly going downhill, around 17 km. If you want to bike a loop, I recommend going from Canmore through Goat Creek Trail to Banff, connecting to Legacy Trail back to Canmore, and biking up to the parking lot.
The parking lot for the Goat Creek Trail is the same as for the Ha Ling Peak hike, around 9km from Canmore on the Three Sisters Parkway.
23. Get the thrill of whitewater rafting
No matter the level of your adventurous spirit, you can enjoy the mountains from the raft. A leisure float tour on Bow River takes 1-2 hours, and it's a fantastic family activity, see the raving reviews here.
For thrill-seekers, a 2-hour rafting adventure on the Kananaskis River awaits. You'll learn to navigate the rapids, read the river's flow, and even enjoy a river swim. See the details for the Kananaskis River rafting adventure here.
24. Take a SUP course
Bow Valley SUP is a stand-up paddleboarding company offering gear and courses in Canmore. Michal and I got our advanced certificates with Ryan and couldn't be happier with the service (trying a new turn Ryan taught me on the photo below).
They offer Intro to SUP, a flatwater experience for beginners that lasts 1.5 hours. Once you're familiar with SUP, you can take their Lake tour, which is less focused on the skills and more just paddling around with a local guide.
They also created an epic event called Log Jam SUP race + fiesta, the first downriver SUP race in Bow Valley with an after-party.
Read more: The best places for stand-up paddleboarding in Banff & around
25. Enjoy a walk at Larch Island
Larch Island is a little-known spot for travellers but a favourite local trail. The trail is located along Bow River, north of Engine Bridge, and takes about 30 minutes. It's a quiet oasis with mountain and river views walking through the forest.
26. Visit sandy Hoodoos
When you travel from Calgary to Canmore, you can see the Hoodoos on your right. You can also see them up close and learn how they were formed on the information board. The trailhead starts along Benchlands Trail, close to the Bike Skills Park. You can park in the gravel parking area by the huge boulders.
When you travel on Trans-Canada Highway, you can see the Hoodoos on your right. You can also hike to them and learn how they were formed on the information board. The trailhead starts along Benchlands Trail close to the Bike Skills Park. Park at the gravel parking area by the huge boulders.
27. Ski at the nearby ski resorts
Canmore is very well known for cross country skiing (since the Olympic Winter Games in 1988), but there are several ski resorts within a short drive from Canmore: Mt Norquay in Banff National Park 33km, Sunshine Village in Banff National Park 41km, Nakiska in Kananaskis 55 km, and Lake Louise Ski Resort in Banff National Park 82km.
Our favourite is Lake Louise, named Canada's best ski resort for several years in a row. Everything from chairs, gondola, hills, maintenance, day lodge and services is world-class (even compared to the Swiss Alps).
28. Learn about the Rockies at the Canadian Rockies Earth Science Resource Centre
If you're visiting the Canadian Rockies, you might as well learn how they were formed. A museum dedicated to geology and geoscience has many collections of fossils and rocks on display.
It's located on 10th Street, close to 8th Avenue, is open on Saturdays from 11 am to 5 pm, and costs 5 CAD/adult. If you're interested in visiting another time, email them at [email protected], and they might be able to accommodate you. The centre is open five days/week in the summer with geoscience presentations. Check out their events calendar for more info.
It's one of the best things to do in Canmore on a rainy day.
29. Visit Canmore's historic sites
Canmore is an old mining town. The first settlement dates back to 1883 when the railway was passing through needed the coal for locomotives.
There are several mining sites you can visit around Canmore and historic buildings. You can see the old Mounted police barracks built in 1893 near the Big Head sculpture or Ralph Connor Memorial United Church built in 1891 close to the barracks (both located on the main 8th Street).
For easier navigation, Canmore Museum put together a complete map of historic sites in Canmore.
30. Elevation Place
Elevation Place is a big sports centre with an aquatics centre, climbing wall, and fitness gym. The Aquatics Centre has a lazy river, water slide, play area, lap pool, leisure pool, steam room, and a hot tub. It's an all-around perfect place for outdoor activities. Parents will appreciate the childminding service as well.
Check out their schedule for all activities.
31. Play disc golf
Disc golf is gaining popularity by the day. While it looks like throwing a Frisbee at a pole, it's more similar to golf. You're just using a disc instead of balls and clubs. Canmore has two locations for disc golf – Three Sisters Disc Golf Course and Canmore Nordic Centre Disc Golf Course.
32. Run trails ending with a beer
Weekly trail run with an incredible group of people from the FB group Dirtbag Runners Bow Valley is great for finding new trails in Canmore, especially if you're an out-of-towner. The energy of running with the group is mesmerizing. And, of course, after a nice workout, we all meet at the brewery. Always a great place to find other outdoor-loving people.
33. Indulge at Canmore Mountain Market
Canmore Mountain Market takes place in front of the Elevation Place every Thursday from the end of May to the beginning of October. Over 65 farmers and artisans sell their fresh produce, baked goods, cooked meals, and handmade art.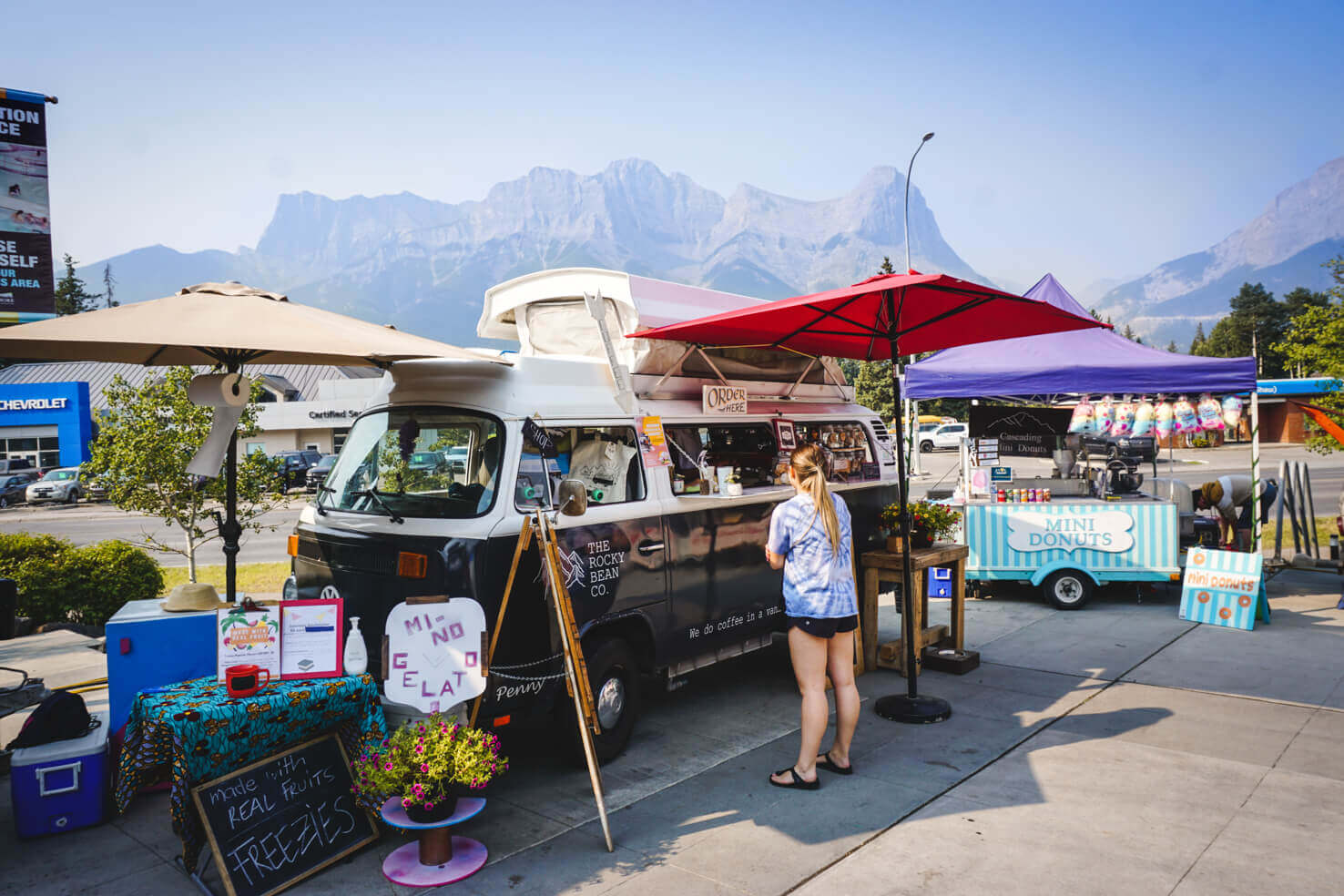 34. Learn history at Canmore Museum
Canmore Museum offers several exhibits and events throughout the year. You can learn about the hundred-year-old coal mining history or visit inside the mine through a virtual reality experience. My personal favourite is the Stoney Nakoda Tipi summer event, where you listen to Indigenous stories.
35. Play golf
Canmore has three golf courses: Silvertip Golf Course, Canmore Golf and Curling Club, and Stewart Creek Golf & Country Club, the top-rated and oldest, opened in 1926. Another close by and very popular is Banff Springs Golf Course. Golfers in the Canadian Rockies are often surprised by a herd of elk or bears roaming the course.
36. Visit Curbside Museum
Curbside Museum is so unique that I had to include it on the list. It's a small outdoor museum built into a fence. Truly one of a kind! You can find it along a public sidewalk at Railway Avenue & Pinewood Crescent.
37. Tackle the Triple Crown
The Triple Crown of Canmore is a hiking challenge to summit three mountains in three days! Mount Lady McDonald (8km, 800m), East End of Rundle (6km, 900m), and Ha Ling Peak (6km, 700m), all in all about 20 km of hiking and 2,400m elevation. While this challenge is very doable for many people, runners take it further and complete the Triple Crown in just one day!
38. Visit a candy shop for childhood memories
Olde Tyme Candy Shoppe, located on the main 8th Street, is a favourite not only with kids. You can find there retro and one-of-a-kind candies imported from around the world. On our recent visit, my favourite was After Eight with orange flavour, PEZ candies and lollipops I had as a kid.
39. Shop local artisan souvenirs
The main 8th Street in Canmore is lined with restaurants, shops, and art shops. One of my favourites is Rocky Mountain Soap Company—a local hand-made company making natural soap personal & beauty care products. If you're staying in a hotel in Canmore, chances are you can find their products in the bathroom.
Just walk on the main street and find something unique, whether local craft beer, jewelry, or clothing.
40. Boost your happiness at Scoopin Moose
The best ice cream in Canmore is, hands down, at Scoopin Moose. It's on 8th Street; you'll smell it before seeing it! The crispy, light, in-house-made waffle cone with so many flavours of regular ice cream and sorbet makes it hard to narrow it down. The 6 CAD scoop is very generous; my favourite is Belgian Chocolate.
41. See the Northern Lights
Northern Lights are a stunning natural phenomenon. They're much more powerful than you see in photos, which only show static images. Northern Lights are actually moving and dancing in waves while changing colours from green to yellow and purple. We use the Aurora Watch website to check the probability of seeing northern lights.
They're usually the strongest in winter and away from light pollution. But we saw the most beautiful show in May, so you never know. The best things to do in Canmore always involve nature, and it truly doesn't get any better than this.
42. Bike the pump track
Head to Millennium Park to improve your bike skills or have fun at the pump track. There are several narrow wooden boardwalks in the trees and a fun pump track in the park.
The easiest way to reach the pump track/bike skills park is by parking at Riverside Park and following the bike path along Bow River.
43. Walk through the Blackshale Creek Suspension Bridge
The Blackshale Creek Suspension Bridge takes you across a creek valley from one side of Mount Kent to the other.
It's located in the Peter Lougheed Provincial Park and part of the High Rockies Trail. Depending on your chosen trail, you can hike 6.8 km or just 1 km. The 6.8 km easy trail with 330m elevation starts across the Black Prince Day Use area. The shorter 1 km trail with 50m of elevation is a bit further south along the highway, but there are no signs, so look closely for the well-trodden trail.
44. Attend the Canmore Highland Games
Canmore Highland Games is the most visited festival in Canmore and, therefore, deserves its own place on our list of things to do in Canmore.
The festival celebrates Celtic culture and its traditions. There's a dance competition, motorcycle show, Highland sports contest, piping & drumming competitions, and more.
And why is it happening in Canmore? One of the very first Highland Games was organized by King Malcolm III Canmore in the 11th century. The event was used to test all the men in the kingdom to find the strongest and fittest to become King Malcolm's mail carrier. It runs the first week of September since 1991.
45. Take a scenic helicopter flight
Alpine Helicopters in Canmore offer scenic tours over the Rockies. The flights start at 200 CAD for 20 minutes, and while this is definitely a splurge activity, I'd highly recommend it. It's one of those once-in-a-lifetime experiences.
Seeing our beloved Rockies from above is one of my favourite experiences. You can get a taste of the scenery from our blog post Canadian Rockies from above.
46. Bike the Highwood Pass
Located in Peter Lougheed Provincial Park, Highwood Pass is Canada's highest paved pass and locals' favourite for biking.
You can start from King Creek and bike up the Highwood Pass from the north side. It's 17 km up the road, but the best part is, when you bike before June 15, you have complete freedom as the road is closed to vehicles.
The views are staggering and worth the climb up; the downhill is well-deserved!
Full blog post: Highwood Pass, biking the highest paved pass in Canada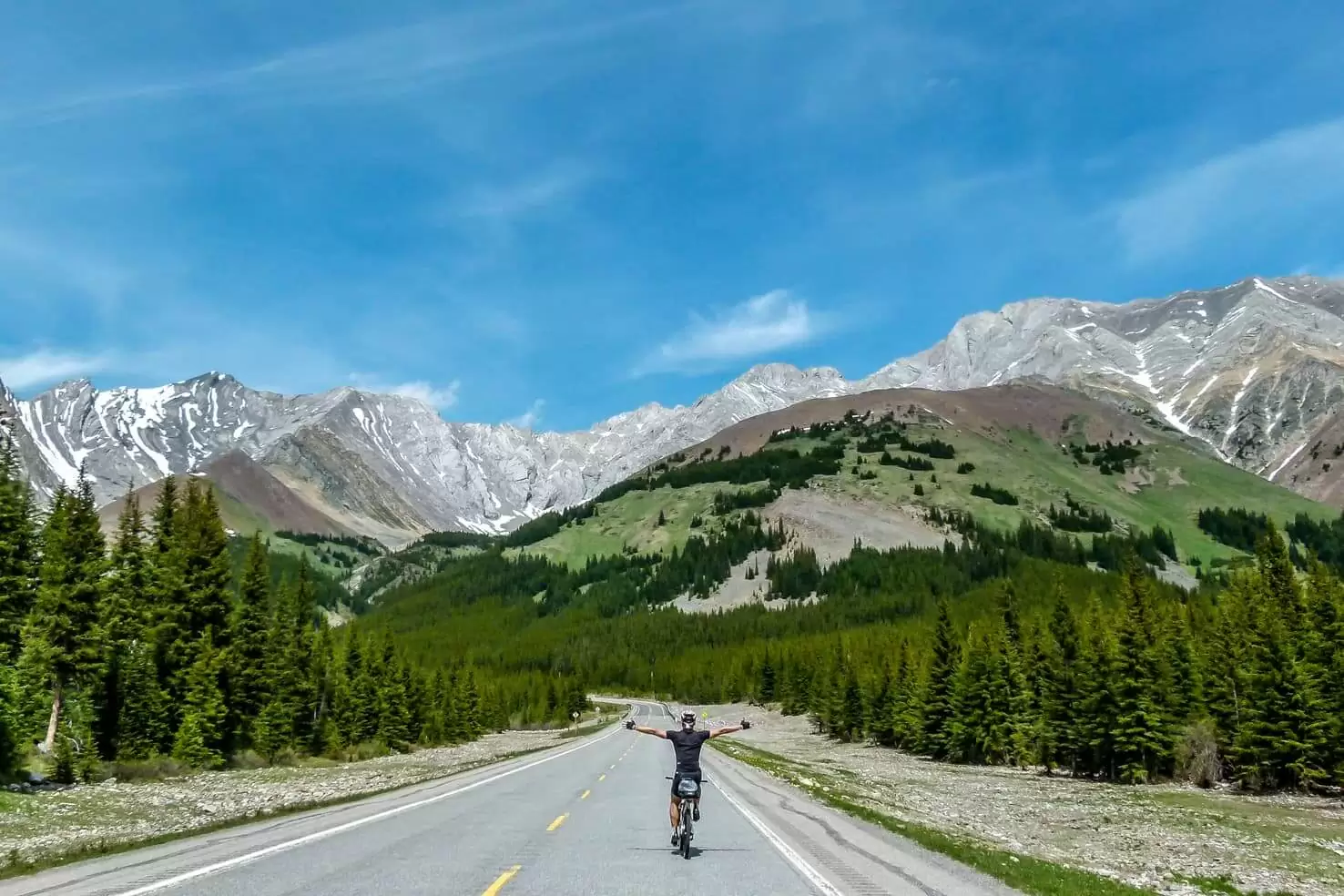 47. Go wildlife watching
Seeing wildlife is often the #1 reason visitors come to the Canadian Rockies. And while you can drive the Kananaskis Trail or Icefields Parkway, there's no need to spend hours in your vehicle.
If you go to Quarry Lake in Canmore at dawn or dusk, chances are you see lots of elk and maybe even a bear. Just ensure you're watching from a distance and always carry a bear spray.
Full blog post: Wildlife in Canada: 14 Canadian animals you can see (& best places to see them)
48. Visit art galleries
Main Street in Canmore features many art galleries. You can admire photos or paintings of the beautiful animals or Rocky Mountains and even pick up a souvenir to take home with you. Having a unique piece on your wall at home will remind you of the time spent in the Rockies.
Depending on the gallery and size, they might be able to ship directly to the address you provide, so you don't have to worry about ruining your art piece in the luggage.
49. Stay at Mount Engadine
While there are many campgrounds and even some hotels in Kananaskis Country, nothing compares to the uniqueness of Mount Engadine. They offer lodge rooms, cabins, glamping tents, and even yurts.
Moreover, this is an all-inclusive stay, including afternoon tea the day you arrive, an elaborate 3-course dining experience with specialty drinks, breakfast, and packed lunches for the day.
We stayed at their glamping tent and enjoyed the beautiful scenery and the coziness of the fireplace in the lodge and our tent.
Full blog post: Mount Engadine Lodge: Winter Glamping Review


50. Go canyoning
Heart Creek Canyon is near Banff and Canmore and is a perfect place for beginners. You learn how to rappel down a waterfall with a rope and keep increasing the length as you go down the canyon. The (optional) 18-meter slide at the end is a cherry on top!
See the reviews and prices here.
51. Day trip to Yoho National Park
Everybody knows Banff National Park, the closest neighbour to Canmore, but I highly recommend driving just a bit further and experiencing the insane beauty that Yoho National Park offers.
Since it's only an hour away from Canmore, you can have a full day in Yoho. These are my top recommendations :
Full blog post: Adventure travel guide to Yoho National Park
52. Day trip to Moraine Lake
No visit to the Rockies is complete without seeing Moraine Lake, the most beautiful lake in Canada. Because of its popularity, there are now restrictions, and you're no longer allowed to drive yourself. Parks Canada and several other companies offer shuttles that must be booked in advance. See more info in the link below.
And if you'd like to visit Moraine Lake without the crowds, there's one option – biking to Moraine Lake. Before the road opens to vehicles for the season, you can see the stunning Moraine Lake with just a few other cyclists around while enjoying vehicle-free cycling.
Full blog post: The Ultimate guide for visiting Moraine Lake (from a local)
53. Try Duathlon
One of the most fun sports events in Canmore is the Duathlon. It's taking place in Canmore Nordic Centre in October; believe it or not, it's already a winter duathlon.
It starts with a 3 km run, then a 3 km cross-country ski, followed by a pizza & beer afterwards. There are separate categories for pros and beginners so that everyone can join. It's a great place to find new outdoor-loving friends.
It was so fun to participate and experience the first snow of the season at this event (even though the snow was artificial, as it hadn't snowed much by the end of October).
Things to do in Canmore in winter
54. Cross-country ski at Canmore Nordic Centre
The Nordic Centre was built for the Winter Olympics in 1988 for biathlon and cross-country skiing disciplines.
While you can bike or hike the trails in summer (for free), you can cross-country ski in winter on more than 65km of groomed trails. The day pass costs 15 CAD/adult, and the season starts mid-October every year. A 6.5km trail is also illuminated for night skiing. You can rent skis on-site and use their showers after the skiing if necessary.
The Canmore Nordic Centre holds many events throughout the year, and the Biathlon World Cup is the most popular during winter.
Check out our post-cross-country skiing in Banff National Park for more options.
READ NEXT
15 best winter activities in Canmore (+insider tips)
55. Try fat biking
Fat biking is so much fun and a lot different than mountain biking. You're still using a mountain bike but with fat/wide tires. The snow is softer, and your tires are a bit deflated, so you don't sink. It's harder to bike uphill on the snow, so flat trails are the best. And in case you bike downhill, the accidental fall into the snow is much more bearable than falling on the ground.
You can rent a fat bike at Trail Sports in Canmore Nordic Centre or in town.
56. Ice skate on a frozen lake
Ice skating is one of the most popular sports in Canada. And since the lakes are frozen for several months a year, there are also some great options for wild skating.
One of my favourites near Canmore is Wedge Pond (pictured below). Banff offers many more options, including Johnson Lake, Two Jack Lake and Lake Minnewanka.
Remember that it's up to you to test the ice thickness (it should be at least 15 cm), and always skate with a friend.
Full blog post: Epic places for ice skating in Banff & Canmore (+video)
57. Snowshoeing at Chester Lake
Chester Lake is enjoyed by many people year-round. You can hike to the lake in summer and snowshoe or cross-country ski in winter. The 4,6km trail (one-way) has an elevation of about 300m, making it easy for all levels.
I prefer cross-country skis for Chester Lake as they make the return less dreadful and more fun with a slow downhill ski. If you'd like to learn some hill techniques in the backcountry, you can book a tour with an instructor.
Read more: 8 awesome winter hikes in Canmore
58. Ice walk to Grotto Canyon
Grotto Mountain hike is popular in summer, while an ice walk to Grotto Canyon in winter. The trail is only 1km long, and spikes/ice cleats are highly recommended as you walk on the frozen creek.
Grotto Canyon ice walk with a guide is also an option. They know where the cave paintings are; sadly, we missed them.
Full blog post: Grotto Canyon ice walk
If you enjoy ice walks, check out the famous Johnston Canyon Ice Walk in Banff National Park. Our post has plenty of pictures of frozen waterfalls and tips for an enjoyable trip.
59. Ice skate at the Pond
Not surprisingly, one of the best things to do in Canmore in winter ice skating. While you can go to Canmore Recreation Centre, which has two indoor skating rinks, you can also skate at the Skating Pond located between 7th Avenue and 11th Street.
60. Go dog sledding
A great way to see the Canadian Rockies in winter is from the dogsled. Several companies located in Canmore will take you to the Spray Lakes Reservoir, where mountain peaks surround you.
Do you like small mountain towns? Check out our travel guides for:
---
What are your favourite things to do in Canmore? Anything we missed?
---
Spread the word! PIN this to your Pinterest board.