Our Moraine Lake guide will help to plan your trip in all 4 seasons! Including local tips, you won't find elsewhere (believe me, I checked) about transport, camping, biking, hikes, and more.
Moraine Lake in Banff National Park often makes the list of the most beautiful lakes in the world. With its breathtaking turquoise colour, ten mountain peaks in the background, and easy access to the lake, it's easy to see why.
You can rent a canoe, walk around the lake, hike above Moraine Lake, have a picnic on the shore and soak up the beauty for hours, and do many more activities.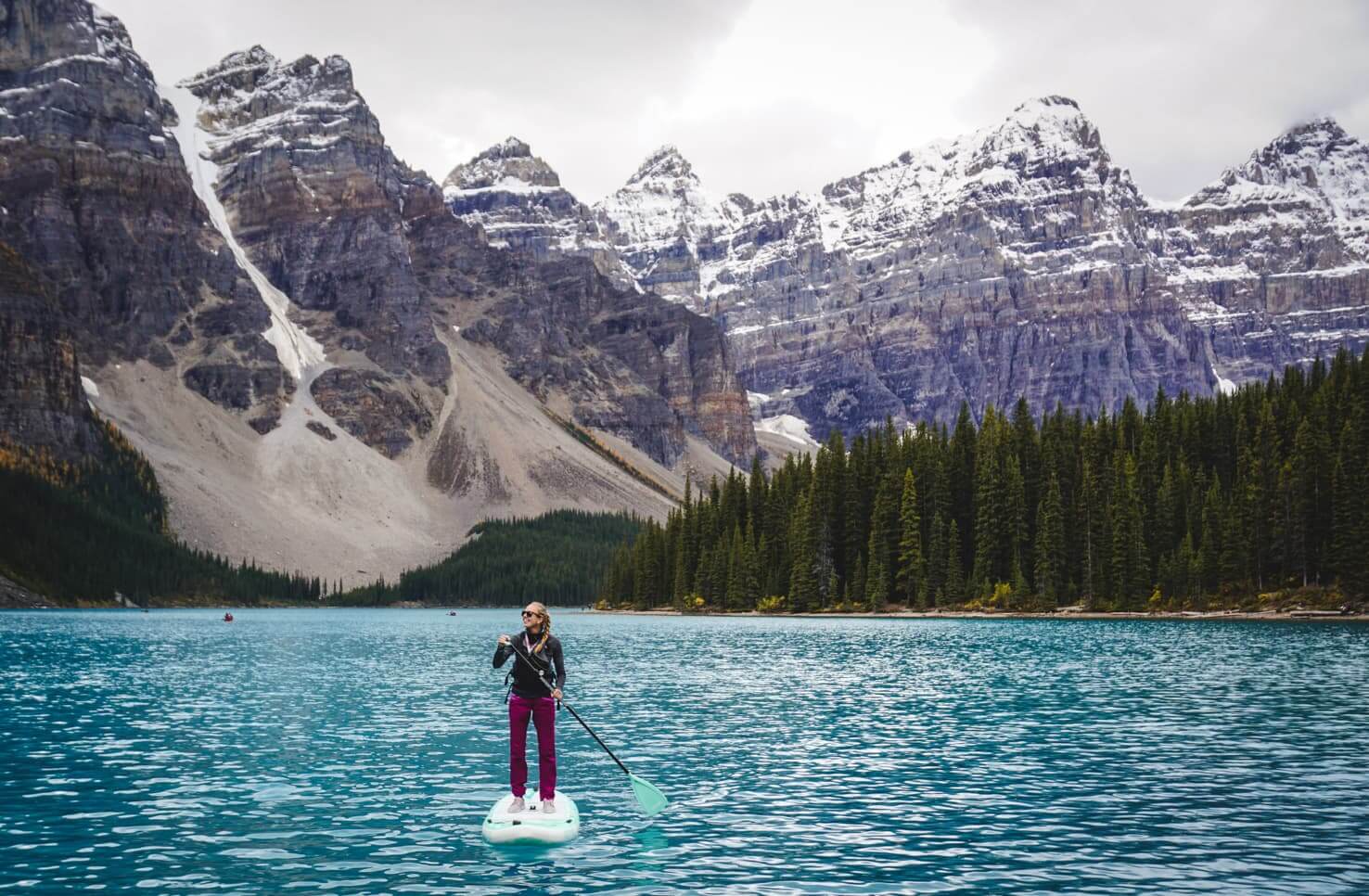 Even though you can drive right up to the lake, it's not as easy as it used to be just a few years ago. An insane amount of visitors and traffic, seasonal closure of the road, limited parking spots and rules implemented by Parks Canada are all important things to consider before visiting.
We've visited Moraine Lake many times over the years in all four seasons – even when the road was closed or a parking lot full.
Now it's time to show you all the tips for visiting Moraine Lake.
About Moraine Lake
Located in the heart of Banff National Park in the Valley of the Ten Peaks, the spectacular glacial-fed Moraine Lake sits at an elevation of 1,885 m.
It starts to thaw in late May (see photos below).


The narrow winding road from Lake Louise Village to Moraine Lake is only open mid-May to mid-October. Because it passes a hazardous avalanche path, it's closed and inaccessible during winter.
2022 Update: The Moraine Lake Road is scheduled to be opened on May 31, 2022 for the summer season.

Best time to visit Moraine Lake
Glaciers surrounding Moraine Lake are thawing slowly, and the lake fills up in June. Until then, the low water level is covered with huge ice blocks, and you can walk on a wide beach shore (which will be covered by the lake in June).
When glaciers are thawing, the meltwater flowing through the rocks into the lake creates the rock flour (also called glacial milk). Depending on the light reflecting off the rock flour, Moraine Lake can have different shades of blue colour. The same happens with stunning Peyto Lake and many other lakes in the Rockies.
This process takes time in late spring, so don't expect to see the gorgeous turquoise colour Moraine Lake is famous for until mid to late June.
Best time to visit Banff National Park is a separate topic, and it's based on your preferences but access to Moraine Lake is only available for a short period of time.
If you can, try to avoid holidays/long weekends in Canada when it's the busiest time to visit Moraine Lake – Canada Day on July 1, Heritage Day on August 3, and Labour Day on September 7.
TIP
Read our recommendation: A comprehensive Banff packing guide for Canadian Rockies.
Early morning
If you're driving your car and deciding what time of the day to visit Moraine Lake, keep in mind that Parks Canada wardens put up barricades to block off the access to Moraine Lake Road when the parking lot is full.
That usually happens first thing in the morning. You need to arrive very early.
How early?
Well, before the sunrise. The parking lot was full at 5:30 am last summer.
Don't worry; this is the only natural attraction in the Canadian Rockies that requires a very early start.
You will be rewarded with the most beautiful views and photos. You can watch the sun rays slowly shine from the mountain peaks until they lighten up the whole lake.
The best time to visit Moraine Lake is early in the morning, before sunrise, from late June to late September.
Evening
Getting to Moraine Lake mid-day is a lottery (if you're driving yourself). The barricades are constantly blocking road access, and Parks Canada opens them only when cars are leaving from Moraine Lake.
If you drive past them and the gate is open, you're in luck! Most of the time, you need to turn around. There's no option for parking before the gate or lining up at the beginning of Moraine Lake Road.
Another option is visiting at the end of your day after 7 pm. Even though sunrise is much better than sunset at Moraine Lake, it's still a better option than visiting mid-day.
How to get to Moraine Lake
Accessibility, which is the main reason for Moraine Lake's popularity, couldn't be any easier. When you're visiting Banff National Park and driving the Trans-Canada Highway, exit at Lake Louise onto Lake Louise Drive and follow the signs to Moraine Lake. It's 14 km and about a 20-minute drive from the exit to Moraine Lake parking lot.
Driving yourself
By far the easiest option is to drive to Moraine Lake yourself while keeping in mind all the restrictions in this guide. If you rent a Smile Campervan from us, you can camp close by to ensure an early start (more in section 'Staying overnight near Moraine Lake' below).
Shuttle bus
The shuttle service starts in May 2022.  Reservations for the shuttle bus will be required and will have to be made in advance. Walk-ins won't be permitted. Roundtrip ticket costs 8 CAD/adult + 3 CAD transaction fee per reservation.

The opening date for summer 2022 reservations will be released on this website.
Moraine Lake shuttle buses leave from Lake Louise Park and Ride parking lot along Trans-Canada Highway (around 6 km before reaching Lake Louise if you're driving from Banff).
TIP
Traveling on a budget? See our step by step Banff budget guide for local tips and secrets.
There are two options for how you can utilize the Parks Canada shuttle bus to Moraine Lake.
Car + shuttle option
Book Parks Canada shuttle to Moraine Lake in advance.
Drive to Lake Louise Park and Ride and leave your car.
Parks Canada shuttle takes you to Moraine Lake (and back).
Public bus from Banff + shuttle
Book Parks Canada shuttle to Moraine Lake in advance.
Take a Roam bus to Lake Louise Village (tickets are purchased onboard).
Use the free Park and Ride Connector shuttle from Lake Louise village to Lake Louise Park and Ride.
Parks Canada shuttle takes you to Moraine Lake (and back).
Hop-On Bus
The famous hop-on-hop-off bus arrived in Banff. It's a popular option for travelers in many countries all around the world.
This is how it works:
You pay for a day pass and hop on the bus in Banff in the morning.
The bus has scheduled stops at Johnston Canyon, Lake Louise gondola, Moraine Lake and Lake Louise. You are free to get off/hop off the bus at any of these stops.
Note the bus schedule and hop back on whenever you're ready to leave your destination.
Hop off at any other scheduled bus stops.
Hop back on anytime to get back to Banff and you're guaranteed to have a seat.
This seems to be a real stress-free option if you don't drive. You can read reviews of others and book your tickets here:
Staying overnight near Moraine Lake
The only option of staying directly at Moraine Lake is at Moraine Lake Lodge. It's a luxurious stay in a room or cabin with a hefty price tag.
For an early start to visit Moraine Lake, you can stay in several other lodges in the Lake Louise area. I highly recommend staying overnight as close as you can to Moraine Lake so you can get there early.
Hotel options near Moraine Lake:
Hostel & camping near Moraine Lake:
HI Lake Louise Alpine Centre hostel in Lake Louise Village – check their rates here
Lake Louise Campground – available for vehicles and tents starting at 29,25 CAD per night
Lake Louise Overflow – conveniently located right next to the Lake Louise Park and Ride, it's only available for vehicle camping (no tents) for a fee 11,50 CAD per night. We've stayed here several times before visiting Moraine Lake or Lake Louise and found it to be the best option on how to beat the crowds. Rent a Smile Campervan from us, and you can do the same.
For more camping options in Banff, read our comprehensive guide.
Rockpile Trail – the best view of Moraine Lake
From the Moraine Lake parking lot, it's a 2-minute walk to the shoreline. But it's not the best view you can get.
From the parking lot, head to the short Rockpile Trailhead located near the outhouses. It's a very easy 15-minute hike up the moraine until the viewpoint.
Photos you've seen all over the internet and Banff souvenir shops are taken from this exact spot.
How to get to Moraine Lake when the road is closed
The Moraine Lake Road closes for the season mid-October every year, right after Thanksgiving.
Sadly, based on our experience, the road closes on the scheduled date no matter the conditions. Even if it's sunny and dry with no snowfall, Parks Canada closes the road on schedule, not at a later date. We've been disappointed to find out a few times already. But if there was a heavy snowfall, they close the road earlier.
The important thing to note is that Moraine Lake Road closes for vehicle traffic only.
When the barricade is indicating closed road, there's a parking area with an outhouse right at the beginning of Moraine Lake Road, where you can leave your car. From there, you can either walk, hike or bike to Moraine Lake.
TIP
Check for latest weather conditions at Lake Louise Visitor's Centre before you go. It might not be safe to visit if it has snowed.


Walking/hiking
You're free to walk the road to Moraine Lake, it's 12 km one-way. It's a paved road through the forest area, so there's not much to see along the way.
More enjoyable might be hiking through the forest on Moraine Lake Highline Trail which follows the Moraine Lake Road.
The hiking trail starts about 2.5 km from the parking lot, signed as Paradise Valley Trailhead. After 1 km on the Paradise Valley Trail, you will turn left and follow Moraine Lake Highline Trail to Moraine Lake.
In autumn, Parks Canada provides a shuttle to Moraine Lake for hikers during the very popular larch season, check here for current schedule.
Biking
Moraine Lake Highline Trail is also a biking trail, which means getting to Moraine Lake can be less tedious than walking.
Another option is to bike the Moraine Lake Road. You can bike when the road is open during summer as well, but nothing beats the silence and freedom of having the road to yourself.
Biking the road in May before it opens might only be possible until the Ten Peaks viewpoint. That's the first part they plow, and after that, the last 3 km can have waist-deep snow.
We've biked this stretch last year and had a great time. It was so hot we could bike in shorts and t-shirts while the road was semi-dry with huge snowbanks around. We were able to ride until the Ten Peaks viewpoint where we've met the plow making its way further and preparing the road for opening
Biking the Moraine Lake Road in October after it closes for vehicle traffic is a better idea, and it's one of the best biking trails in the Banff area. You should check weather conditions beforehand, and if it hasn't snowed heavily, you can bike all the way to Moraine Lake and have it all to yourself. What a treat!
This option worked better for us as well. We biked the road shortly after it closed with no snow in sight. It's an easy uphill ride to a pristine and quiet Moraine Lake with well-deserved downhill afterwards.
Hikes in Moraine Lake area
I highly recommend spending a whole day in the Moraine Lake area, escaping the crowds and hiking around for different viewpoints.
For many, visiting Moraine Lake is once in a lifetime opportunity, and it would be a shame to spend here only an hour taking photos from the Rockpile viewpoint.
TIP
If you're hiking in the Moraine Lake area, or any other trail in the Rockies for that matter, make sure you're carrying a bear spray. It's highly recommended by Parks Canada to carry it within arm's reach while hiking.
Moraine Lakeshore Trail
If you're short on time, make sure to at least walk around the lake on the lakeshore trail. It's short and flat with spectacular views. From the Moraine Lake Lodge, take a stroll along the shore for 1.5 km, find a bench and soak up the views.
TIP
Grizzly bears are known to frequent trails around Moraine Lake. Parks Canada puts group restrictions for safety and below trails might have a mandatory minimum group of 4 requirement. Don't worry if you don't have enough people, there are usually other hikers waiting at the trailhead.
If you'd like to see Canadian wildlife, read our post 10 beautiful animals you can see in Canada and where to see them.
Consolation Lakes
Even though this hike takes you away from Moraine Lake, you're bound to have great views. In just 3 km and very little elevation, you reach meadows and stunning Consolation Lakes.
Larch Valley & Sentinel Pass
This is one of the most scenic trails in Banff National Park. It's rated as difficult due to the elevation gain of 750m. You can hike in summer for wildflowers or in autumn for golden-yellow larch trees. 3 km one-way to Larch Valley + 2.7 km more to Sentinel Pass
Paradise Valley/Giant Steps
The hike starts after about a 2.5 km drive on Moraine Lake Road where you park your car. In 6 km, you reach Lake Annette, and in another 4 km hiking under the Mount Temple, you arrive at Giant Steps, a quiet and incredibly scenic spot.
TIP
Love hiking? Check out our post for the best hikes in Banff National Park
Tower of Babel
Past the trail to Consolation Lakes, the scramble above takes you to a very unique viewpoint of Moraine Lake. It's a short scramble and not an easy hike. Wearing a helmet and sturdy footwear is recommended as you'll be going up the scree and lose rocks.
Moraine Lake canoe rentals
Canoe rentals are available right on Moraine Lake's shore daily from 9 am to 5 pm, mid-June to mid-September.
They operate on a first come first serve basis for 120 CAD + GST per canoe for 1-hour rental. They provide everything you need – life jackets, paddles and basic instructions.
Given the price and the number of canoes on the lake during the lake, I suggest the next option.
Bring your own kayak/stand up paddleboard to Moraine Lake
Lake Louise has similarly priced canoes, and canoe rental on Emerald Lake in Yoho National Park costs 70 CAD per canoe for 1-hour rental.
A budget-friendly option would be to bring your own canoe, kayak, or stand-up paddleboard. That's what gear rental companies are for!
You can bring your equipment and paddle on any lake in the Rockies. But unfortunately, it is no longer possible to use the same paddleboard in several lakes in one day (see below).

IMPORTANT
From June 2021, new measures have been put in place in order to protect the spread of aquatic invasive species. It is mandatory to complete a free self-certification with a date and name of the waterbody on the permit, either online or at the stand located at most lakes. You must wait for 48 hours for your watercraft to clean, drain, and dry after each location/lake you visit, and carry the permit with you. For online self-certification, self-certification stations, and more info, visit the Parks Canada website.
I've seen Moraine Lake plenty of times over the years and let me tell you, nothing compares to seeing it from a different perspective when the unreal turquoise water is underneath your feet.
Bringing our stand-up paddleboards to Moraine Lake was one of the most memorable experiences in the Rockies.
We paddled leisurely around the lake without any time restrictions, stopped for a picnic on the shore halfway through the lake, and for the first time ever, explored the backside of Moraine Lake from which you can see the famous Ten Peaks.
TIP
Read our comprehensive guide to the best places for stand-up paddleboarding in Banff & beyond
Visiting Moraine Lake in winter
The Moraine Lake Road becomes a ski trail in winter, and tracks are maintained throughout the winter for cross country skiers. This is one of our favourite trails for cross country skiing in Banff area.
On a clear day, you have a view of the Lake Louise ski resort on the opposite side of the valley, otherwise the trail is not scenic – until the end. Tracks are maintained for 11 km to the viewpoint of Ten Peaks.
Winter 2021/2022 update: As of January 3rd, 2022, tracks are set in excellent condition and the road is ready for cross country skiing. You can walk, snowshoe or fat bike as well but not on tracks. Please respect skiers and don't ruin the tracks.
Continuing further is not recommended if you don't have the proper equipment and avalanche training. The road passes a dangerous avalanche path. You can even hear several avalanches coming down the mountains when you visit in spring.
Frequently asked questions
Can you swim in Moraine Lake?
You can, it's not forbidden. But unless you wear a wetsuit or you're a practitioner of Wim Hof method, I would advise against swimming in Moraine Lake. The year-round temperature hovers around 5 C, so it's a matter of seconds until you get hypothermia. The same goes for Lake Louise as well.
What amenities are available at Moraine Lake?
Moraine Lake Lodge provides accommodation, a gift shop and a café. They have limited selection of snacks; you're better off bringing your food and having a picnic by the lake.
There is no cell reception or Wifi at Moraine Lake.
Can you camp in the Moraine Lake area?
Wild camping is not allowed in Banff National Park and there's no campground at Moraine Lake. The closest campground is in Lake Louise Village.
How far is Lake Louise from Moraine Lake?
They're 14 km apart so you can visit both on the same day. My suggestion would be to plan your visits on different days as getting to either lake is a logistical nightmare during the day.
Which is better Moraine Lake or Lake Louise?
Moraine Lake is half the size of its neighbour Lake Louise and by far more popular and beautiful than Lake Louise. That's what we keep hearing from locals and visitors alike.
Tips for visiting Banff National Park
How to get to Banff
Banff is a small town tucked in the Canadian Rockies, with the closest airport being Calgary. While there are some shuttles from Calgary to Banff, it's a less convenient option if you're short on time. You can see a breakdown of options in our post on how to get from Calgary to Banff.
For exploring the national park, you will need to rent a car. Calgary airport has many car rental companies although you will get a better price renting from downtown.
National park fees
When you enter any national park in Canada, you're required to pay an entrance fee. You have a choice of either a daily pass or a yearly pass.
10.50 CAD per person for a daily pass, 21 CAD for a group/family
72.25 CAD per person for a yearly pass, 145.25 CAD for a group/family
The yearly Discovery Pass is valid for all National parks in Canada. You can purchase it at the gate when you enter the national park, in the Visitor's Centre or online here.
Road closure
For trail closures due to wildlife presence or avalanche dangers in Banff National Park, check out the report from Parks Canada.
Accurate road conditions can be checked here.
Trail report
Before you go hiking, check current trail conditions on Trail Report from Parks Canada.
Bear country
As always in the Canadian Rockies, you are in a bear habitat. You should always carry a bear spray (can be purchased at Visitor's Centre or outdoor stores), know when and how to use it and make noise while hiking and running (so you don' surprise any bears)! Carefully read these instructions on how to behave around them.
Visitor Centres
Banff's Visitor Centre is located at 224 Banff Avenue. They sell hiking maps, backcountry permits, souvenirs, bear sprays and provide invaluable information about Banff and other parks. You can ask the rangers about trail reports before hiking for possible closures or to help you book a campground.
It's open daily from 8 am to 8 pm from May 18 to October 8, and 9 am to 5 pm outside those dates. You can also reach them at +1 403-762-1550 or [email protected]
Lake Louise Visitor Centre is also open year-round. You will see it along the main road Lake Louise Drive when you come to Lake Louise village. You can reach them at +1 403-522-3833 or [email protected]
*In the spirit of full disclosure: Some links in this post are affiliate links, which means that if you purchase through them, we receive a small commission at no extra costs to you. We appreciate your support!
---
Spread the word! PIN this to your Pinterest board.