Located between the Canadian Rockies and the Columbia Mountains, Golden is a quiet mountain town in British Columbia with plenty of outdoor adventures, wildlife and stunning scenery. There are so many cool things to do in Golden, BC, in both summer and winter.
We've been to Golden several times, and it's our go-to destination during summer if we want to escape the crowds in other parts of the Canadian Rockies. Even though this town is tiny with around 4,000 people, its cozy charm always gets me and we always find new things to do in Golden whenever we visit.
A relatively short drive away (at least to Canadian standards), Golden is close to 6 national parks:
Glacier National Park
Mount Revelstoke National Park
Yoho National Park
Banff National Park
Jasper National Park
Kootenay National Park
Given the constantly increasing prices for accommodation and masses of tourists in Banff and Jasper, Golden's popularity is increasing among travelers looking to have a peaceful stay while surrounded by mountains.
Town of Golden offers a lot of fun outdoor activities and if you want more, the closest national park is Yoho (with others nearby). But don't worry, we've included some day trips from Golden to Yoho as well.
READ NEXT
3 Day itinerary for Golden, BC
Our blog post includes the most fun things to do in Golden – mountain biking, hiking, wildlife, water activities, waterfalls and a few thrilling adventures. Enjoy!
Do you like small mountain towns? Check out our travel guides for: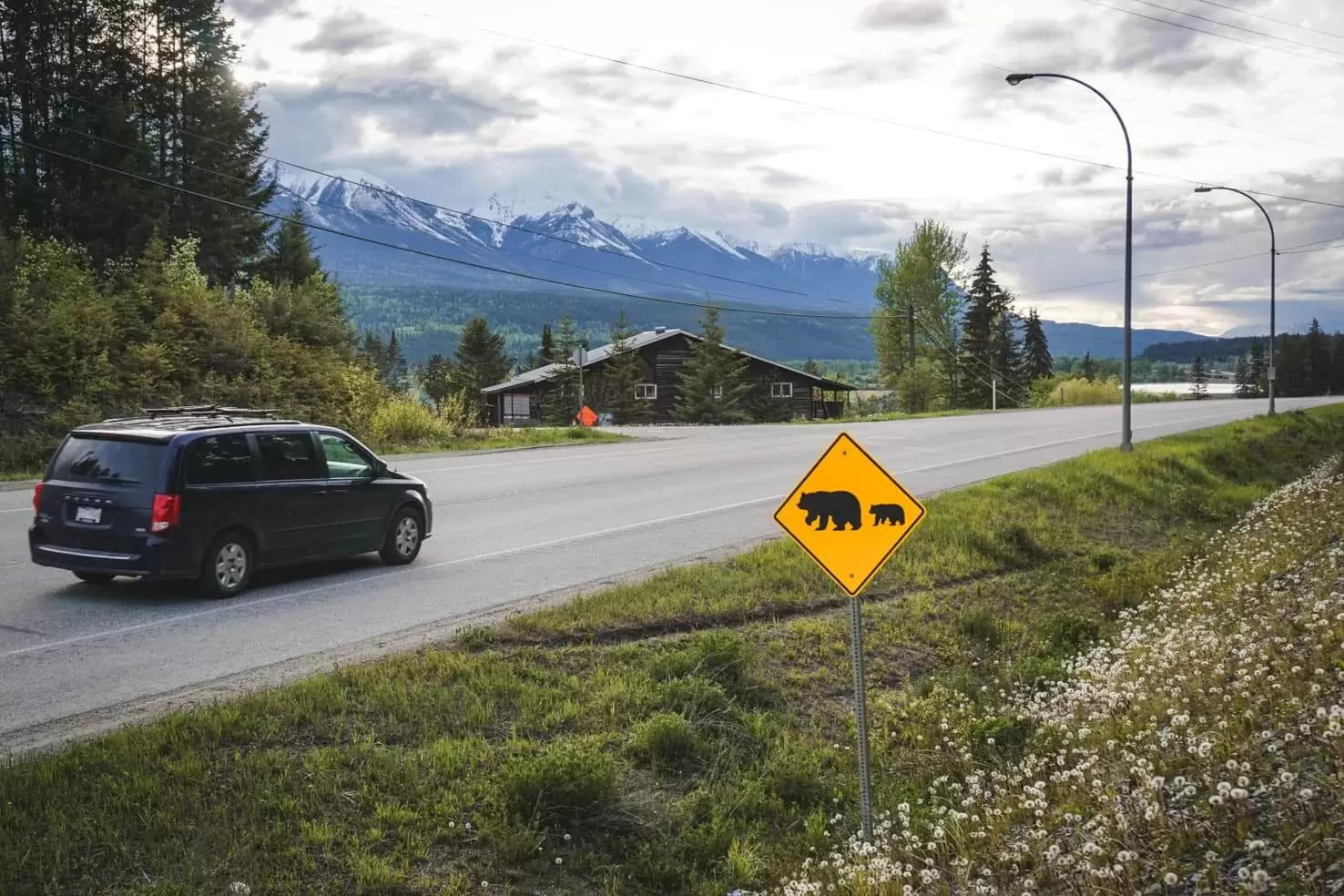 30 Fun things to do in Golden, BC
1. Bike up Mount 7
The most popular mountain biking destination in Golden is Mount 7. If you enjoy cross-country biking like us, this is the place to go. Start at Reflection Lake parking area and take the dirt road up the hill. Several trails start from different sections of the road.
While there are a lot of downhill bikers who shuttle themselves up and ride down the black trails, there are also plenty of blue trails for intermediate riders.
Our favourite is biking up the mountain (14 km) and then taking blue trails down. The beautiful flow of the trails is amazing and highly earned. We were definitely a minority biking up the road as most bikers just used their shuttle up and then rode down. But I believe a view from the top and awesome downhill has to be earned so we always bike up, and then down.
Trails are well signed so you don't have to look at the map all the time; you can also check them out on Trailforks website.


2. Visit Wolf Centre
Northern Lights Wolf Centre is located 18 km north of Golden. The facility was set up to raise awareness about wolves and their important roles in our ecosystem. The wolf centre is open daily year-round and it's one of the best things to do in Golden even if it's raining.
They offer a 25-minute educational tour of their nine wolves for 12 CAD/adult or you can book a longer private walk with a wolf. It's 1,5 hour long in the Blaeberry Valley where the wolf will be your guide walking freely.
We chose the short tour and learned a lot about wolves living on the property and wolves in the Canadian wilderness. Watching them enjoying their dinner without getting distracted by the outside world was fascinating.


3. Adventure around Cedar Lake
The best destination for a multi-sport day is without a doubt Cedar Lake. The lovely forest campground sits right by the lake, there are several trails around for mountain biking or hiking, and then there's the lake.
People enjoy swimming and the braver ones swing from the rope on the highest rope swing I've seen. We enjoyed biking the trails, picnicking by the lake and afterwards stand up paddleboarding on the calm water.
I can definitely see myself spending the weekend by Cedar Lake. It was unbelievably peaceful, water warm, and the views are hard to beat. Also, the swing is calling my name.
4. Visit Golden Skybridge
The newest addition to Golden's activities is the Golden Skybridge built in summer 2021 in Canyon Creek. Golden Skybridge is the highest suspension bridge in Canada. You'll be walking 130 meters above the river enjoying the views of the Rocky and Purcell mountains.
And that's not all. Golden Skybridge offers a treetop village play park, canyon ridge walking trails, and canyon edge challenge course on the ropes high in the trees.
They are open from May to October and will introduce a new attraction in summer 2022 (see below).
5. Try zipline & canyon swing
Zipline and a canyon swing deserve their own spot on the list even though they are both located at Golden Skybrdige. For adventure seekers, these are awesome thrilling activities.
While you can try the zipline over the canyon now, the canyon swing is opening in summer 2023, and I'm thrilled to try it! It's not a small swing for the faint-hearted but rather a giant swing where you need to be tied up to it as you swing above the deep canyon.
This is going to be one of the best things to do in Golden from summer 2023.
TIP
Read our comprehensive Adventure travel guide to Yoho National Park for more activities and tips for visiting.
6. Downhill bike at Kicking Horse Resort
Like most ski resorts outside the national parks, they offer gondola rides for hikers and downhill bikers during summer.
At Kicking Horse Resort in Golden, the gondola takes you to the top of a mountain from which you can ride down many of their 50+ km of very well-maintained biking trails. You can rent all the gear or take lessons at the resort and bike down through the alpine meadows with confidence.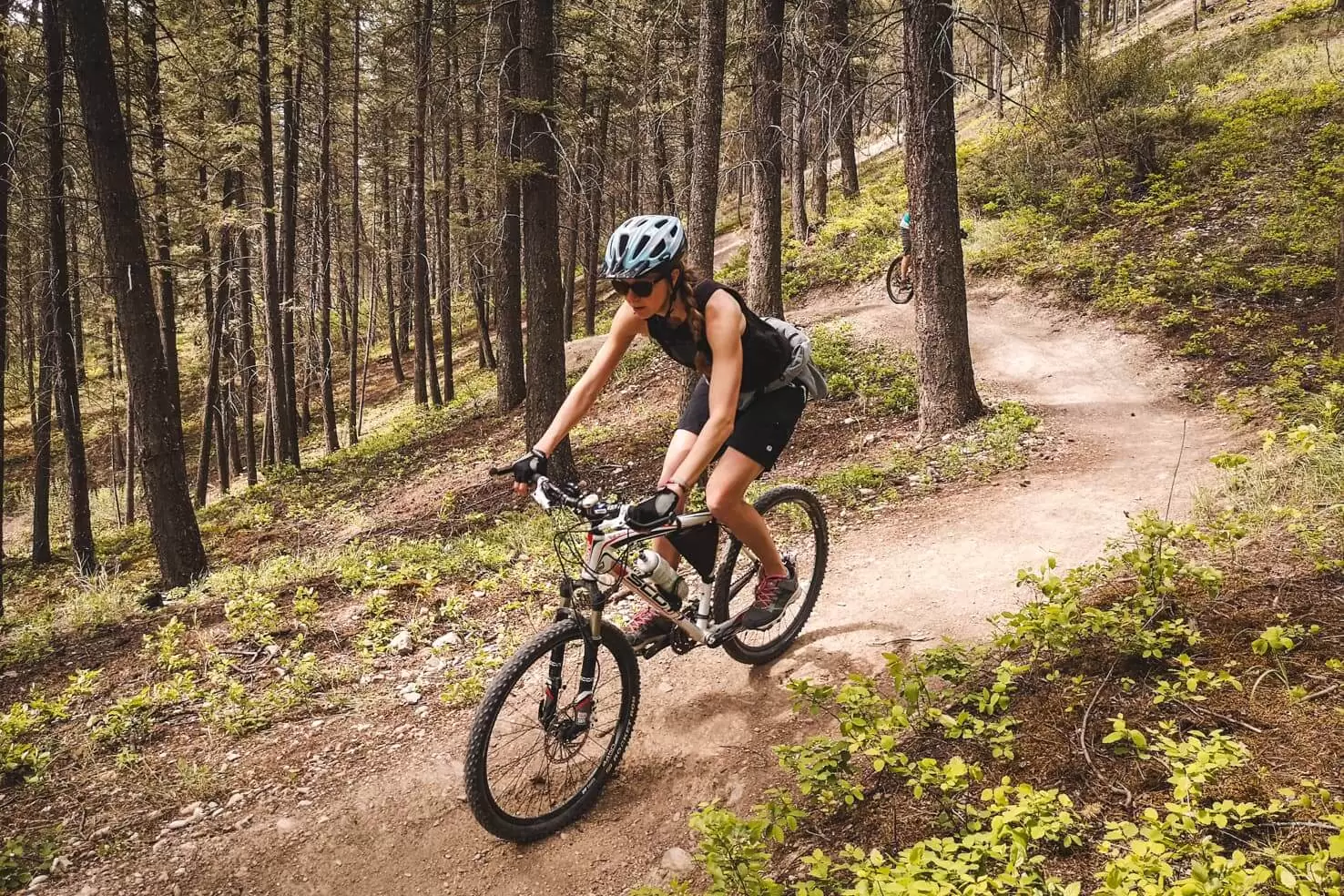 7. See the rescued grizzly bear
If you feel like taking it easy, you can take the gondola up and hike down away from the bikers. The bonus is that you can see a rescued grizzly bear Boo living on the mountain. If you time your visit right, you'll be able to watch him having a snack.
It's an exciting experience and the closest you can ever get to a bear. Another perk is that the resort guarantees you'll see Boo; otherwise, your next visit is free.
8. Hike or bike Canyon Creek
A mix of singletracks and old roads create an awesome 15 km loop through the forest with occasional mountain views. You ride or hike next to a deep rocky canyon and end at Cedar Lake.
I like the mix of the nice dirt trees among the trees and viewpoints to stop and enjoy for a bit. What do you think of the view below?


TIP
If you're returning to Golden from Canyon Creek, drive your bike and let your travel buddy drive to Golden. It's a long and fun downhill.


9. Go whitewater rafting
If you'd like to go whitewater rafting in Canada, Golden is undoubtedly the best place. Kicking Horse River is one of the wildest and fun with 3-4 class rapids. Nearby Columbia and Blaeberry Rivers offer whitewater rafting for all ages and levels.
10. Stand-up paddleboarding
With so many accessible lakes in the Rockies and the Columbia Mountains, it's no wonder stand-up paddleboarding is becoming a new obsession for many, including us. Golden offers several places where you can rent an inflatable paddleboard and explore the mountains from a different perspective.
Our favourites are Cedar Lake near Golden and Emerald Lake in Yoho National Park. Our next SUP trip will be on the giant Kinbasket Lake. And since our skills are improving, stand-up paddleboarding on the river sounds more and more fun.
Stand-up paddleboarding is the best thing to do in Golden in summer (together with biking, of course). You can have a workout on the board, a yoga session, or just beer and chill.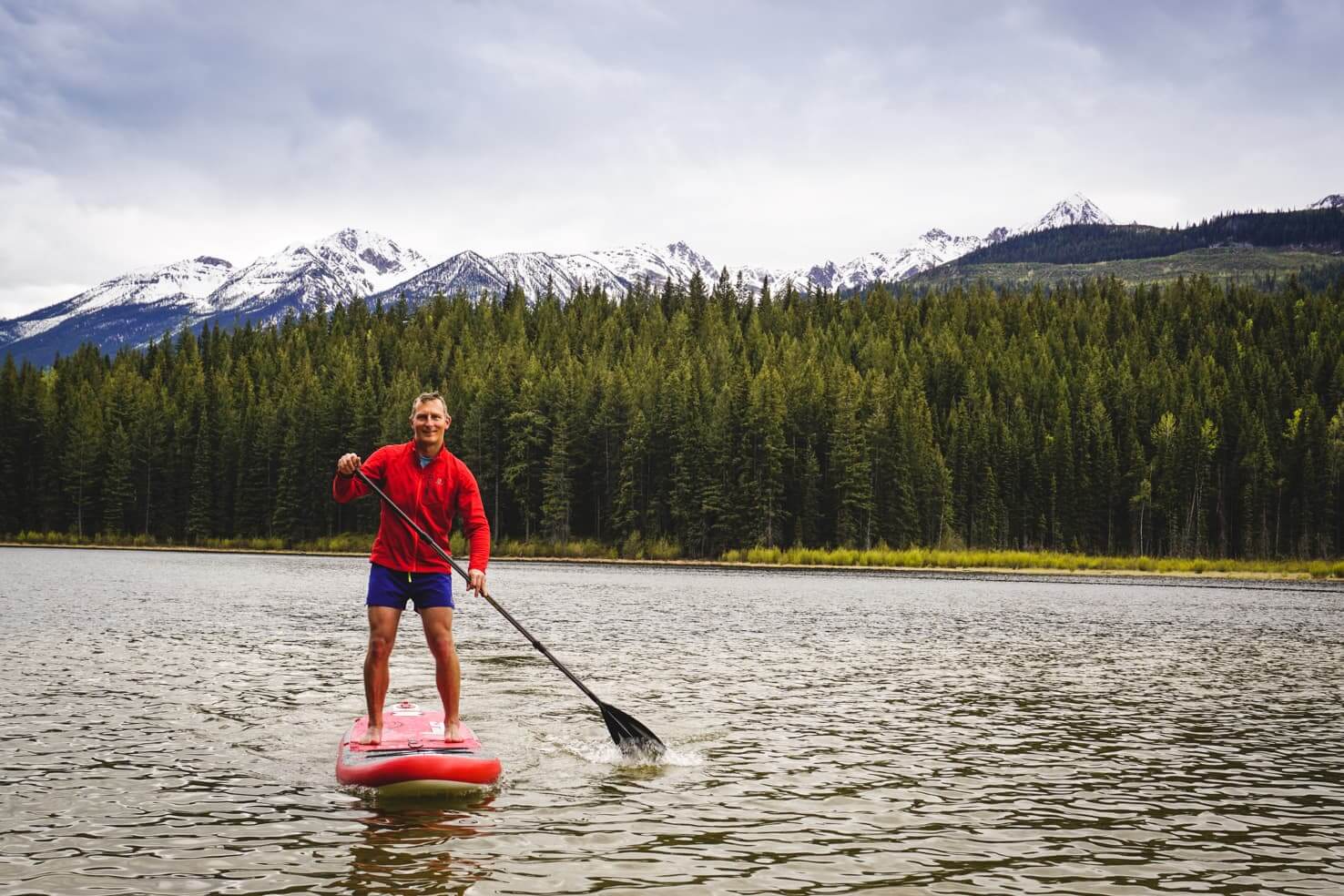 11. Visit secret waterfalls
25 km north of Golden is the trailhead to Thompson Falls. The 12 km hike (round trip) follows the Bleaberry River until it disappears when the river enters a gorge. The falls were named after David Thompson, a European explorer and surveyor travelling on this route to Columbia River.
12. Kayak on Blaeberry River
Just like whitewater rafting, kayaking is popular among adrenaline seekers. For newbies and occasional enthusiasts, book a kayaking trip with one of the companies in Golden. Waters of stunning turquoise Blaeberry River are suitable for beginners as well.
13. Try paragliding
The photo you see above from Mount 7 when we biked up the mountain was taken at the paragliding launch pad. I didn't even know this existed when we went biking in Golden the 1st time until we saw paragliders taking off and flying in the valley above Golden.
14. Mountain climb thrilling via ferrata
Now, this is my idea of a fun mountain adventure. Climbing via ferrata (which means 'iron road' in Italian) is mountain climbing with permanently fixed cables and ladders while you're constantly secured with rope.
Three different routes are available starting at Kicking Horse Mountain Resort. Unlike in the Italian Dolomites, where you can find ferratas all over and climb yourself, you need to be accompanied by a guide in Golden.
15. Eat at Red Tomato Pies
Everyone needs the right fuel on an adventure-filled day. From the food we've tried in Golden (not counting the supermarket), our favourite place is Red Tomato Pies and their pizza. Just make sure to order a thin crust!
Just so you're aware, Red Tomato Pies and many other restaurants in downtown Golden are closed during lunch and open in the afternoon, usually at 3 pm.
16. Wild camp or camp by the river
What we like both about British Columbia, unlike Alberta, where we live, are the possibilities of wild camping.
Wild camping is not allowed in any National Park, only in campgrounds. You can, however, wild camp for free on crown land. British Columbia also has many options for free camping in Provincial Parks and Recreational Sites. You can use this website to find them.


TIP
Rent a Smile Campervan from us for your road trip, and you don't need to worry about any camping equipment or setting up a tent. You can comfortably sleep, cook and eat in the campervan.
17. Join trail runners at Moonraker
With nice and flowy trails all around Golden, it's a trail runners' paradise. Popular trails are in the Canyon Creek area and Moonraker south of town. The extensive loop system of Moonraker allows you to mix and match different levels of trails.
The best part of trail running in summer is jumping in the lake, which Moonraker has plenty of. If you're up to the challenge, sign up for the trail running race Golden Ultra, an annual autumn staple.
18. Visit the signature Kicking Horse Bridge
The Kicking Horses Pedestrian Bridge is easily accessible from downtown (8th Avenue). It's a beautiful timber bridge advertised on every photo from Golden.
The walkways on both sides of the river provide a scenic stroll and are the perfect place for a sunset bike ride, ending with crossing the Kicking Horse Bridge and finishing the day with a craft beer from Golden in one of the bars in downtown.
19. Have fun at Spirit Square
A beautiful square in downtown Golden features a cafe with a mountain view and hosts several festivals during the year. The flower garden, fountain, farmers market and an outdoor pub make it a beautiful place to enjoy a summer afternoon.
20. Horseback ride at Blaeberry River
Explore the historical Kootenay Indian trading route by horse. Available in Blaeberry and Columbia Valley, horseback riding can take you places you wouldn't otherwise get to by yourself. Both valleys are incredibly scenic and offer lots of wildlife viewing opportunities.
21. Visit Golden Museum
Located near Main Street in Golden, the Golden Museum offers exhibits about the history of CPR (Canada Pacific Railway), the Swiss guides, how the town of Golden was founded, and who arrived in the Columbia Valley first and why. Even though the museum is small, it provided excellent displays with lots of information about Golden and the surrounding area.
22. Hike to Wapta Falls
An easy 5 km (round trip) hike to massive Wapta Falls is located in Yoho National Park. Wapta Falls Trailhead is 34 km east of Golden. The trail through the forest is mostly flat until you reach the upper viewpoint, then you hike down to the base. The spray from the falls is amazing once you get close!
For the ultimate soak on a hot day, climb the small hill just below the falls as you see on the photo below. The powerful waterfall and the cooling effect will surely brighten up your day.
23. Visit Buffalo Ranch
See the amazing buffalo grazing from a safe distance. Educational buffalo tours are available daily from May to September and it includes a demonstration of native fire-making. The ranch is in a nice setting by the Blaeberry River (close to Wolf Centre) and offers rustic accommodation as well.
24. Canoe or SUP on Emerald Lake
The main attraction of Yoho National Park, the closest national park to Golden, is Emerald Lake. Unlike most lakes in the Rockies which have turquoise colour, the Emerald Lake is very different and breathtaking.
You can rent a canoe right on the lakeshore for 60CAD/hour for 3 person canoe. It's undoubtedly the most budget-friendly canoe rental in the Rockies. If you'd like to go stand-up paddleboarding, you would need to rent SUP in Golden but this little effort will be well worth it.
25. Visit Takakkaw Falls
Takakkaw Falls is the 2nd highest waterfall in Canada, and it's also located in Yoho National Park. The turn to Takakkaw Falls via Yoho Valley Road is just off of the  Trans-Canada Highway close to Field.
There's a short window to visit Takakkaw Falls because the Yoho Valley Road is closed from mid-October to mid-June every year due to avalanche risk.
If you'd like to spend more time in this gorgeous location, you can camp at Takakkaw Falls Campground with a view of the falls and hike the Iceline Trail, one of the most beautiful hikes in the Rockies with never-ending glacier views, alpine lakes, and a view of Takakkaw Falls from above.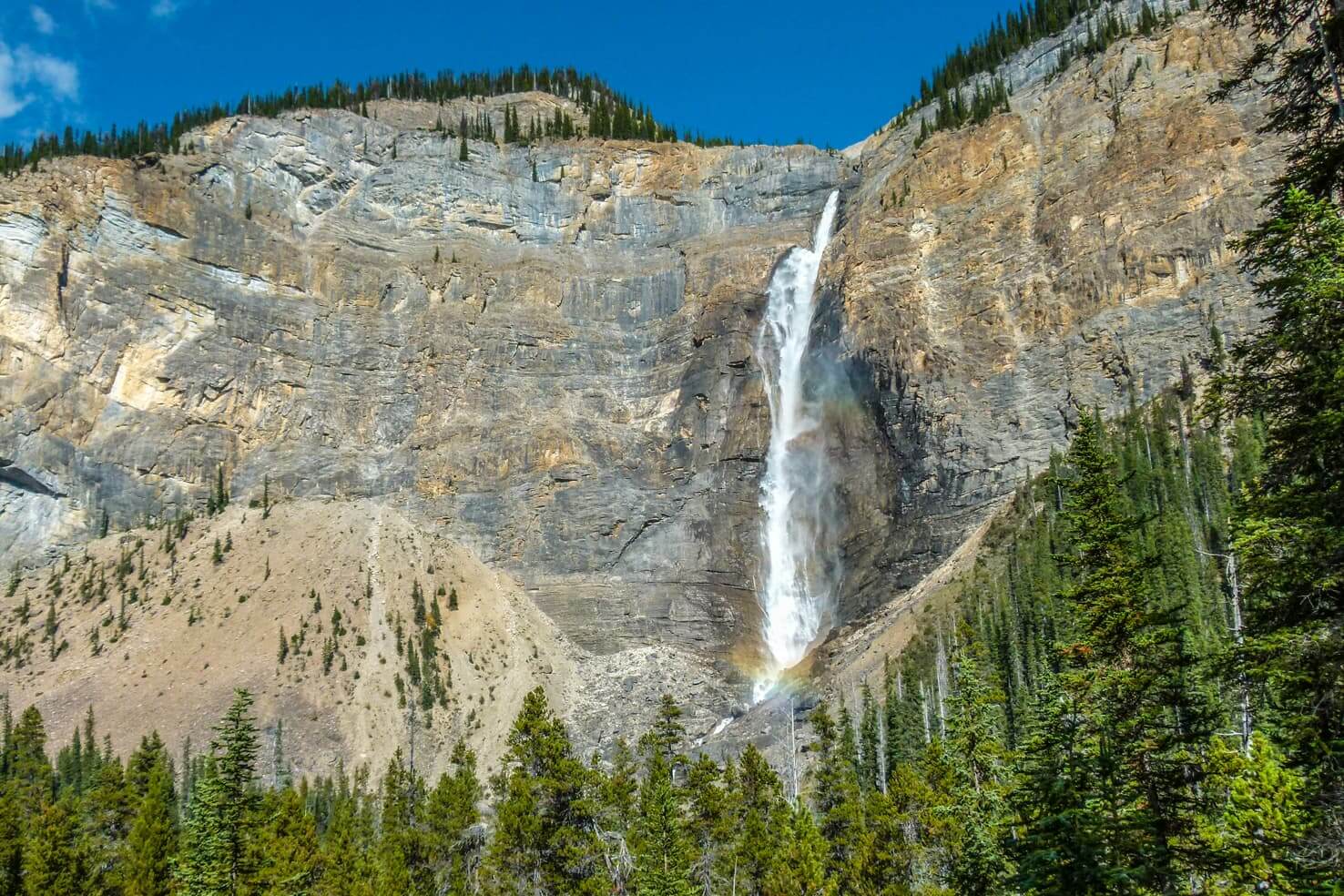 26. Hike in Glacier National Park
The closest national park west of Golden is Glacier National Park. Despite the high alpine terrain, which is mostly inaccessible, it offers some hikes that are worth a visit. The best part is, no matter when you go, you won't find crowds here as you can expect in other national parks.
We recommend Balu Pass and Hermit Trail. You can access the trail to Balu Pass from Parks Canada Discovery Centre at Rogers Pass which takes you up and over the pass to Cougar Brook Valley. For a shorter trip, hike up to Balu Pass and down the same way (14 km return), the glacier view is well worth the effort.
Hermit Trail is short and steep, over 3 km you gain 870 meters of elevation. Your leg burn will be highly rewarded with a view of Mount Tupper and the valley through the national park.
27. Ski at Kicking Horse Resort
Kicking Horse Mountain Resort advertises itself as "The Champagne Powder Capital of Canada". Nowhere else you'll find a better ski resort for powder rides, but they also have plenty of groomed runs.
You can choose from more than 120 runs, take a gondola right to the mountain summit, and experience the highest dining in Canada at Eagle's Eye Restaurant at 2,350 meters above sea level.
28. Go dog sledding
Dog sledding is one of the most popular things to do in winter in the Rockies. Because the dog sledding company in Golden permanently closed their doors, the closest tour is in Revelstoke with Revelstoke Dogsled Adventures.
Their winter dogsled tour is usually 3-4 hours long and costs 389 CAD for two people. You can try mushing the dogs yourself or just sit back on the sled and enjoy the ride.
29. Visit Bugaboos
The Bugaboo Provincial Park is the best-kept secret of the local hikers. The glaciers and alpine lakes are out of this world and you can choose from many hikes with different distances and difficulties.
The one I would recommend is a hike to Lake of Hanging Glaciers. It's as epic as it sounds. This 16 km hike (roundtrip) features rivers, waterfalls, massive glaciers, and the biggest beauty at the end, an epic turquoise lake with several glaciers above.
30. Go cross country skiing
Cross country skiing is a popular sport in the Rockies with groomed trails on every corner, and Golden is no exception. You can go ski to Cedar Lake, Golden golf course, or Dawn Mountain Nordic Centre at the base of the Kicking Horse Resort with 33 km of groomed trails and a heated day lodge. Nearby Yoho National Park offers plenty of cross-country ski trails as well.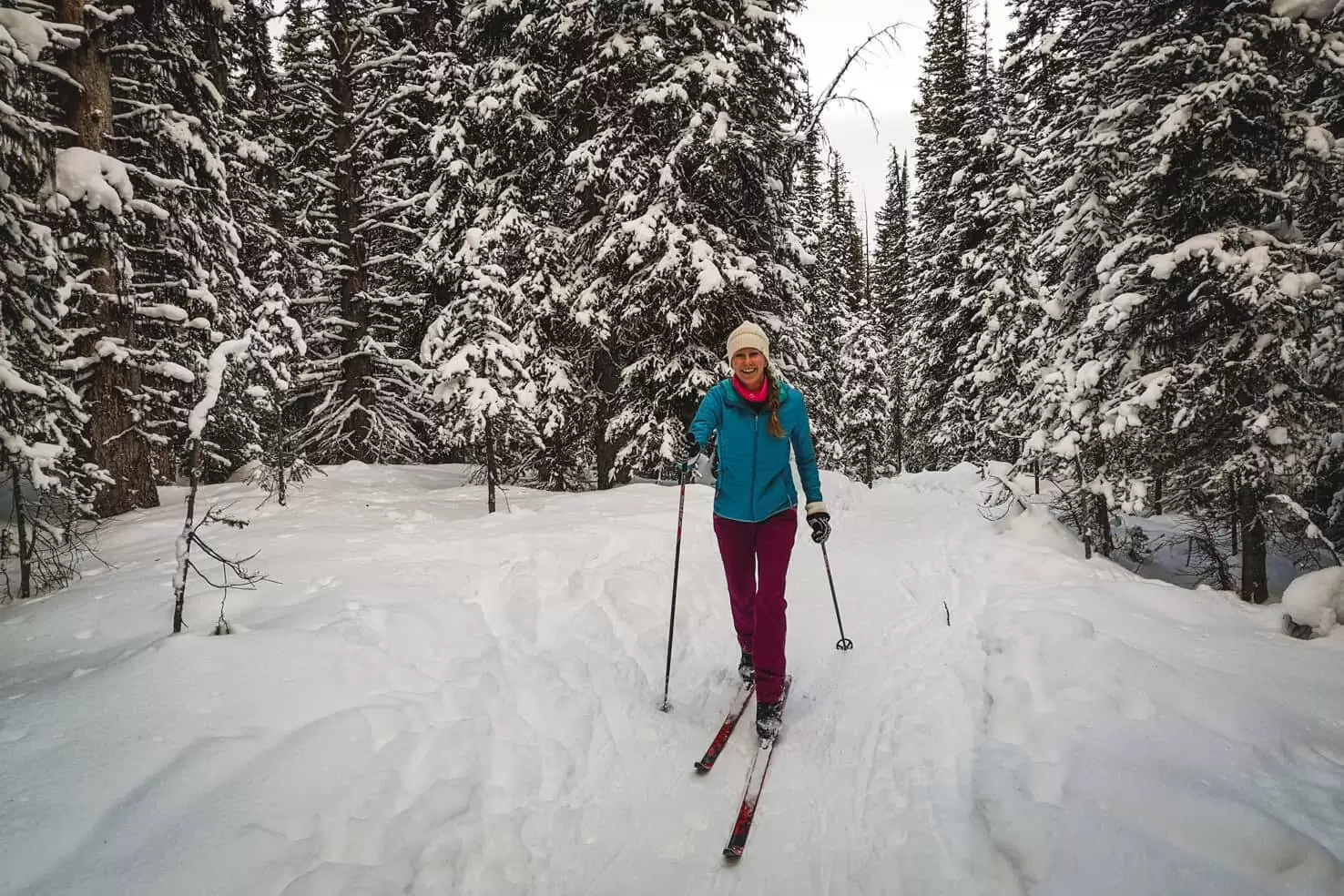 Tips for visiting Golden
Packing list for summer in Golden
Our summer adventure essentials include:
Paper map of the area and downloaded map of the area
External battery for the phone (especially for using GPS on the phone)
Lifestraw water bottle with a filter so we can drink from anywhere
Windproof & waterproof jacket (yes, in summer as well)
Fleece or down jacket as unexpected snowstorms happen in summer
My absolute favourite trail running shoes
Bear Spray
And a few other items as well. For a full list of our gear, check out our hiking packing list for summer in the mountains. You can see the full list with links to purchase our favourite gear on our Amazon page.
Visitor Centre
The Golden Visitor Centre is open only in summer from 9 am to 5 pm. Outside summer, you can reach them at 250-439-1111 or by email at [email protected]
For a Golden travel guide and maps, visit Tourism Golden.
Bear safety
If you're hiking in the Canadian Rockies, you're hiking in a bear country. You should always carry a bear spray (can be purchased at Visitor's Centre or outdoor stores), know when and how to use it and make noise while hiking (to let bears and other wildlife know that you're there, so you don't scare them)! Carefully read these instructions on how to behave around bears.
*In the spirit of full disclosure: Some links in this post are affiliate links, which means that if you purchase through them, we receive a small commission at no extra cost to you. We appreciate your support!
Heading to the Rockies? Read our comprehensive travel guides:
---
Which activity from our list of the things to do in Golden would you like to try first?
---
Spread the word! PIN this to your Pinterest board.