Walking on a glacier in the morning, hiking to the mountain top in the afternoon and watching bears at sunset. How does that sound? It's just a small taste of the best things to do in Jasper National Park. Read our Jasper bucket list and plan your dream trip to the largest national park in the Canadian Rockies.
Attention all adventurers and nature lovers! If you're searching for a perfect getaway in the Canadian Rockies, look no further than Jasper National Park. Belonging to UNESCO's World Heritage Sites with endless glaciers, bustling waterfalls, incredible hikes, wildlife watching, and stunning glacier lakes, Jasper has it all. In this ultimate Jasper travel guide, I'm sharing awesome and adventurous things to do in Jasper.
With so many visits to Jasper during the past decade, I made it my mission to create the largest-ever Jasper Travel Guide. Because we like to get off the beaten path and come up with new and unusual adventures, you will read about things you haven't seen elsewhere. I put countless hours into documenting our adventures and creating this guide, and I'm proud to say this is the most comprehensive list of things to do in Jasper you can find.
If you like adventurous trips, book a Smile Campervan from us. It's a budget-friendly option to see the Canadian Rockies without worrying about any camping equipment or setting up a tent. You can comfortably sleep, cook and eat in the campervan.
The 3 most popular tours in Jasper National Park
These are the three most popular activities for visitors of Jasper National Park. My personal favourite is the SkyTram, the bird's eye view is out of this world!
70 Awesome things to do in Jasper National Park: The bucket list
Not only is the drive from Banff to Jasper remarkably picturesque and adventurous, but it also offers infinite outdoor possibilities. It lacks the intense crowds of Banff and maintains a cozy mountain town charm.
This blog post about the top things to do in Jasper features activities around the national park, including Icefields Parkway (the road between Lake Louise and Jasper), around town, and directly in town. Moreover, it has activities for all four seasons!
The first ten things are from the Icefields Parkway, and the rest are closer to the town of Jasper.
1. Hike Wilcox Pass for a giant glacier view
Hike one of the most scenic trails in Jasper National Park to Wilcox Pass. If you're driving from Banff to Jasper, this is the first hike right after the national park's boundary.
It's an 8km roundtrip to the pass or just a 5 km roundtrip to the first viewpoint. The first kilometre is a bit steep through the forest but gets much easier when you get above the treeline. You will have stunning views of the Athabasca Glacier across the valley, meet the resident mountain goats, and enjoy it all without crowds.
INSIDER TIP
Wilcox Creek Campground is right at the start of the trail and a great place to stay overnight when traveling from Banff to Jasper; it's open from mid-June to mid-September and operates on a first-come, first-serve basis. It costs 26.25 CAD per night per campsite (fire pit included).
View the full blog post: Wilcox Pass Hike
Directions:
If driving from Banff, look for a road sign just after you cross to Jasper National Park, 47 km from Saskatchewan River Crossing
If driving from Jasper, it's 107 km from town or 3 km past the Columbia Icefield Centre
The trail starts at the kiosk
TIP
If you like hiking, look at our list of the best hikes in Jasper & best hikes in Banff.
2. Drive the scenic Icefields Parkway
The Icefields Parkway is an enormously scenic road from Lake Louise in Banff National Park to Jasper. Along its 230 km, you will find endless glacier views, roaring waterfalls, turquoise lakes, hiking trails for all levels, and wildlife.
Whether you're looking for adventurous activities or just scenic pull-off stops along the way, it has it all. No matter which park you visit – Banff or Jasper – set aside at least a day, or ideally 2 days, to make the most of it and drive along one of the world's most scenic roads.
If you're visiting without a car, you can book a one-way day tour from Banff or Lake Louise to Jasper and enjoy the beauty and all the scenic spots along the Icefields Parkway.
Book your tour: Banff or Lake Louise to Jasper: One-way Sightseeing Tour
INSIDER TIP
The road might close for a few hours during a snowstorm or even days due to avalanches in winter. Visitors were stuck for several hours in June 2019 (yes, in summer!) – come prepared with food and warm clothing, and don't forget to check road conditions here before you go.
View the full blog post: Icefields Parkway itinerary
3. Visit Columbia Icefield, the largest icefield in the Rockies of North America
Columbia Icefield Discovery Centre is located on the Icefields Parkway. From there, a giant ice truck will take you to the Athabasca Glacier, where you can walk around the designated space and take pictures of the Columbia Icefield above. Take your water bottle and taste the fresh water from the glacier. For this experience, you need to book a tour.
Book your tour: Columbia Icefield Skywalk
INSIDER TIP
Book the tour a few days in advance to guarantee a spot, as they might not be available for your preferred time when you come as a walk-in.
Directions:
Columbia Icefield Discovery Centre is 103 south of Jasper or 130 km north of Lake Louise
Top 3 places to stay in Jasper
Ultimate luxury
Fairmont Jasper Park Lodge on the shores of Beauvert Lake with golf, restaurants, spa, and a big outdoor pool
My favourite
Mount Robson Inn – great central location with mountain views and outdoor hot tubs
Best value stay
HI Maligne Canyon Hostel – the only budget-friendly accommodation in a beautiful location
4. Walk on glacier
Unlike the Columbia Icefield Tour above (which is suitable for all and doesn't require any equipment), if you want to make your trip more adventurous, try an Ice Walk on Athabasca Glacier. A mountain guide leads you on the surface of a glacier for several km, where you walk on the ice waves and jump over the streams of glacier water.
Book your tour: Guided Glacier Hike on The Athabasca
A word of caution: If you're not experienced, walking on the glacier without a guide is highly dangerous and not recommended, as you can fall into crevasses covered with snow.
5. Explore ice caves along Icefields Parkway
This requires a bit of research as the ice caves are usually a secret guarded by the locals. As a local myself, we found ice caves on the Athabasca Glacier a few years back. The trail started at the Toe of the Athabasca Glacier, and ice caves were visible to the right. I've heard these caves have collapsed, but there might be new ones next winter.
Another option would be to hike or snowshoe to Stutfield Glacier. You can see the ice caves without climbing on the glacier. This might only be a good idea in winter as otherwise the ice caves and glaciers are melting and are not safe to visit.
A word of caution: You should not walk into the ice caves without proper training and equipment, but they're also stunning from the outside.
6. Go beyond the beaten path & have a glacier to yourself
Athabasca Glacier is the most popular along the Icefield Parkway, and you can only visit it in summer. If you'd like to see an amazing glacier in winter, you can cross-country ski to Saskatchewan Glacier.
Even though this spot is located in Banff National Park, it's in the next valley from the Athabasca Glacier in Jasper. The parking lot or trail is not marked, and it's located on the bottom of the hairpin just before you reach the famous Icefields Parkway lookout spot or Parker Ridge Trailhead.
Another option is to visit Stutfield Glacier. The viewpoint is marked along the Icefields Parkway, and you can either hike to the glacier in summer or cross-country ski in winter. I can guarantee you that you will be there enjoying the beauty by yourself.
7. Hike to pristine Stanley Falls
A little-known hike along the Icefields Parkway is Stanley Falls. The trail is 4.5 km roundtrip, easy enough for all levels, and fun for kids discovering the streams. It leads through a forest and into the canyon with several cascading waterfalls. This quiet trail is an ideal place to picnic during the day.
TIP
Read our recommendation: Hiking packing list for summer in the mountains
Directions:
The trailhead is located 89 km from Jasper
If you're driving from Lake Louise, the small unmarked parking lot will be on your right, about 6 km from Stutfield Glacier viewpoint.
8. Admire Sunwapta Falls
Sunwapta Falls is a popular picnic spot along the Icefields Parkway. A short trail leads to a powerful 18-meter-high waterfall with mountain peaks in the background. If you take another route, about 1 km long, you will arrive at the lower falls. You can use the picnic tables or visit Sunwapta Falls Lodge for lunch.
Directions:
55 km south of Jasper, the sign along the road is hard to miss
9. Walk around Athabasca Falls
Another gorgeous waterfall, together with Sunwapta Falls, is Athabasca Falls. It's about a 1 km walk to the falls with a mountainous background. It's accessible all year round, and the water flow and water colour are different throughout the year.
Directions:
Look for a sign 32 km south of Jasper on the Icefields Parkway
10. Stay overnight with an Icefield view
A lot of accommodations in Jasper National Park provide an exceptional mountain view. But very few have a view of the glacier and an icefield. There are two options: budget-friendly and luxury.
The budget-friendly option is staying at Wilcox Campground or the Icefields Centre RV (trailers, RVs, and campervans only). Icefields Centre RV is the absolute winner! It's just a parking lot but with a view of Athabasca Glacier and Columbia Icefield. The 16.75 CAD per night per vehicle fee can't be beat either.
The luxury option is staying at Glacier View Lodge, across from Athabasca Glacier. The highly rated Glacier View Lodge offers all-day dining at the Columbia Icefield Restaurant, a wide range of stunning rooms, and the iconic view of Athabasca Glacier.
Book your stay: Glacier View Lodge
Directions:
Icefields Centre overnight camping is located right by the Columbia Icefield Centre at the far end of the huge parking lot
11. Cliff jump at Horseshoe Lake
One of our favourite places in Jasper National Park is a little hidden gem, Horseshoe Lake. The emerald water is crystal clear, usually cold, and the lake is scenic and quiet.
The rock walls around the lake have different heights, so it's easy to cliff jump, even for beginners. If you don't feel like cliff jumping, walk around and enjoy a picnic. Or bring a stand-up paddleboard and enjoy seeing the depth of the lake. This is my personal best thing to do in Jasper.
A word of caution: Be aware that cliff jumping is an activity you need to learn gradually. Don't jump from the highest point just because you see others doing it. Start from small cliffs and work your way up. Sadly, we've seen several accidents here.
Directions:
28 km south of Jasper
Due to the incidents, the sign along the road doesn't say "Horseshoe Lake" but features icons for a picnic spot
12. Hike around emerald lakes at Valley of the Five Lakes
Valley of the Five Lakes is another hike available for all levels. From the parking lot, you will walk around five lakes, each in a different shade of blue or green. You can see the amazing colours even if it's raining. The loop is less than 5 km long and takes around 1.5 hours. Even though the trail is very easy and well-trodden, you will want to stop and take pictures of the colour-changing lakes.
Part of the trail can also be done on a mountain bike. And with Jasper close by, it makes a great half-day trip. As this is a popular area for people and bears, make sure you carry a bear spray and make noise while hiking.
View the full blog post: Valley of the Five Lakes Hike
Directions:
10 km south of Jasper, look for the sign along the Icefields Parkway
13. Visit the picturesque Pyramid Island
The most iconic spot in Jasper is Pyramid Lake, with a colourful and symmetrical Pyramid Mountain in the background. It's easily accessible by car or a short ride on the biking trail. From Jasper, you pass Patricia Lake and then reach Pyramid Lake with Pyramid Island.
The boardwalk leading to the island, equipped with picnic shelters, is a beautiful spot to relax, but you must arrive early in the day or before sunset to enjoy it with fewer people.
Directions:
7,5 km north of Jasper
From Visitor's Centre, head west. At the end of the road, go north on Pyramid Lake Road
14. Stay in chalets with an iconic Pyramid Lake view
Jasper offers lots of accommodation options. And while many of them are located in downtown Jasper, there are also gorgeous chalets in beautiful hidden corners.
One of the gems is the chalets at Pyramid Lake Lodge, with a lake view and an iconic Pyramid Mountain behind it. And the best thing? You're away from the crowds but still only 6 km from the town of Jasper. You wake up with a beautiful mountain view and can go canoeing, ice skating or fat biking.
Book your stay: Pyramid Lake Lodge
View the full blog post: Pyramid Lake Resort Review
15. Watch Northern Lights
Watching the Northern Lights, also called the Aurora Borealis, is a once-in-a-lifetime experience. Even if you see the green lights dancing above you more than once, it still feels magical and out of this world. Check this website for the Aurora forecast, and if there's a high possibility, head out of town, away from light pollution, to see it without distractions.
16. Join events at Jasper Dark Sky Festival
Jasper, the 2nd largest dark sky preserve in the world, is a great place to see the Northern Lights, Milky Way, and star formations. Every year in October, Jasper hosts the Dark Sky Festival with stargazing events, space talks, photography workshops, and concerts. Check more details here.
17. Take Jasper SkyTram
Jasper's SkyTram is an iconic attraction and the best way to see Jasper and the surrounding mountains from above. The SkyTram operates from the end of March until the end of October, and in about 8 minutes, it takes you up Whistlers Mountain to 2,263 meters above sea level.
The panoramic views from the top are breathtaking, including Mount Robson (3,954m), the highest mountain in the Canadian Rockies.
Book your activity: Jasper SkyTram: Roundtrip Flight Ticket
INSIDER TIP
Book SkyTram only a few days in advance due to the ever-changing mountain weather forecast.
18. See Jasper from above at Whistlers Peak
Whistlers Peak is one of the most accessible summits in Jasper National Park, thanks to the SkyTram I described above. There are two options you can choose from to reach the summit:
Take the SkyTram, and then hike a 1.4 km trail up to the Whistlers Mountain Summit (2,463m) or another 1 km further on the ridge for even more scenic panoramic views. Book your SkyTram tickets here.
Hike up the trail from the bottom of the mountain. It's an 18 km round trip to the Whistlers Mountain Summit with an elevation gain of 1,200 meters. Check at the Visitor's Centre for trail conditions, as this trail passes an avalanche zone and is usually safe from June.
Directions:
6 km south-west of Jasper
Take Highway 93 (Icefields Parkway) south and then turn right to Whistler's Road
19. Ride the train through little-known landscapes
While there is a luxury Rocky Mountaineer train through the Canadian Rockies, there's no need to spend thousands of dollars. You can take a train tour from Jasper to Dunster, British Columbia, with transport back to Jasper included.
Another option is to buy train tickets yourself. We recently purchased tickets from Jasper to Hinton and had an amazing time riding the train through the landscapes we otherwise wouldn't see.


20. Enjoy a swim at Lake Annette
Most of the lakes in the Canadian Rockies are cold all year round. Lake Annette, however, is quite shallow, so it warms up from spring throughout the summer. The lake has a diving platform, and the beach has picnic tables and a playground. You can sunbathe on the beach while being surrounded by beautiful mountain peaks.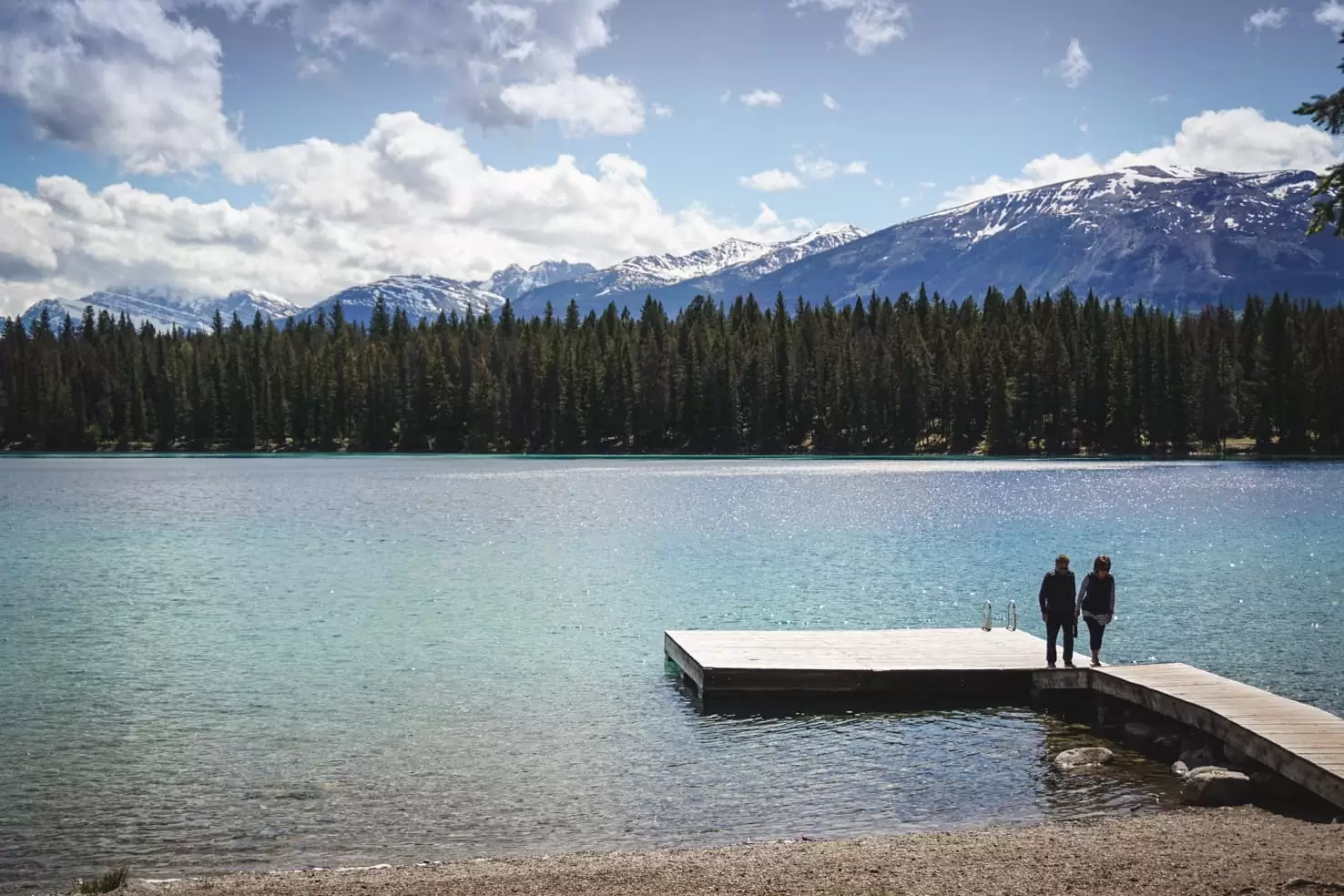 Directions:
7,5 km north of Jasper, the sign is located along Yellowhead Highway
READ NEXT
Jasper itinerary for 4 days
21. Stand-up paddleboarding on Lake Edith
Lake Edith is the neighbour of Lake Annette. The water is calmer because Lake Edith is smaller and more sheltered, with trees all around. It's an ideal place for stand-up paddleboarding. You can rent an inflatable board in town or one on the shore during the summer.
Directions:
7,5 km north-east of Jasper, the sign is located along Yellowhead Highway
22. Walk through all bridges at Maligne Canyon
Maligne Canyon is the deepest canyon in the Canadian Rockies. Although similar to Johnston Canyon in Banff National Park, Maligne Canyon features more waterfalls. The whole loop across all six bridges is around 6 km long with very little elevation. It's a great family-friendly hike, even on a rainy day.
Book your tour: Maligne Canyon Hiking Tour
Directions:
11 km north of Jasper, take Yellowhead Highway, then turn right and follow Maligne Lake Road
23. Hike to the hanging glacier at Edith Cavell Meadows
Spectacular hanging Angel Glacier with a pool underneath and chunks of glacier swimming in it is an absolute highlight of Jasper National Park. You can make the Mount Edith Cavell hike as easy or hard as you'd like. The trail to the viewpoint of the Angel Glacier is easy and paved. Then, you can make your way up the hill for even more panoramic views and make an 8 km loop.
Directions:
25 km south of Jasper
Take Highway 93 (Icefields Parkway), then take 93A at the nearest exit and follow sign for Edith Cavell Trail
24. Watch a family of marmots
Wherever you go, listen closely to your surroundings. You can usually hear marmots first before you can see them. They make a very high-pitched noise, and due to their colour, it's hard to spot them. We've had great luck seeing several marmots, including a young family, on our hike to Edith Cavell and many random meadows in Jasper.
25. Relax at Miette Hot Springs
The hottest hot springs in the Canadian Rockies with mineral water between 37-40 Celsius. I like to be surrounded by mountain peaks even while relaxing, and it's the exact experience that Miette Hot Springs offers.
They are open daily from May 1 to October 14 (the long Thanksgiving weekend when many businesses in the Rockies close for the season). The daily entrance fee is 16.50 CAD, and you can also rent a towel and swimsuit. For a hot pool in the winter season, see below.
Directions:
60 km north-east of Jasper
From Jasper, head north on Yellowhead Highway and follow signs for Miette Hot Springs
26. Relax under the stars in outdoor heated pool
If you're visiting Jasper in winter when the Miette Hot Springs is closed, you can visit Hotel Fairmont and swim in the outdoor heated pool. It's a great idea, especially if you are skiing, ice skating, cross-country skiing or doing anything active during the day.
Directions:
The pool is at Fairmont Jasper Park Lodge, a 7 km ride from Jasper
27. Multi-day trek through Skyline Trail
Jasper National Park has plenty of backcountry trails that usually take several days. The Skyline Trail is the most popular, as the backcountry campgrounds are all booked months in advance. You cross three mountain passes and hike above the treeline most of the time. The ideal time for this 44,5 km long trek is 2-3 days for most.
You can download detailed info and descriptions of the trail and campgrounds through this link. If you cannot book campgrounds, you can try Tonquin Valley, another stunning multi-day trek.
Directions:
Recommended direction from Parks Canada is starting at Maligne Lake and finishing at Maligne Canyon
28. Mountain bike to the remote Snake Indian Falls
Avoid the crowds and visit Snake Indian Falls, another hidden gem in Jasper. Unlike some attractions you can easily visit by car, you must work for this one. It's truly off the beaten path. The trail is 27 km one-way and worth the effort. All the info, timed dirt road access details, and more are covered in our post, Biking to Snake Indian Falls.
Directions:
North of Jasper, take Yellowhead Highway and then Snaring Road (more info is in the post linked above)
29. Canoe around Maligne Lake
Canoeing on Maligne Lake is one of the best things to do in Jasper and is often at the top of visitors' bucket list. Rent a canoe, kayak or rowboat and paddle around Maligne Lake at your own pace. The panoramic views of the mountain peaks are spectacular. I'd recommend arriving early in the morning or late afternoon for calmer water conditions and better lighting for your photos.
You can either rent by the hour or by day; there are several campgrounds along the far end of the lake, only accessible by water on a multi-day canoeing/kayaking adventure.
Directions:
48 km from Jasper
Head north on Yellowhead Highway, then turn right and follow Maligne Lake Road
30. Take a boat cruise to Spirit Island
Another way to explore glacier-fed Maligne Lake is by taking an interpretative boat cruise across the lake, where you can see the famous Spirit Island. The price for the cruise starts at 72 CAD (when booked in advance) and takes about 1.5 hours.
Book your tour: Maligne Lake Cruise With a Guide
Directions:
48 km from Jasper
Head north on Yellowhead Highway, then turn right and follow Maligne Lake Road
31. Look for bighorn sheep
Same with all the wildlife in Jasper National Park and beyond – you can find them anywhere. But, there are certain places where bighorn sheep like to hang out. One of them is Wilcox Pass Hike, described in #1 above, located along Icefields Parkway close to the border with Banff National Park.
Another spot is along Athabasca River/Yellowhead Highway north of Jasper, where you can easily spot them by the road, licking the salt or causing a traffic jam.
32. Camp under the stars
The best way to truly immerse yourself in nature is camping. With constantly increasing prices of hotels in Canada's national parks, camping is a favourite choice for many travelers.
You can rent our Smile Campervan and comfortably camp along the way. Jasper National Park has 11 official campgrounds, most opening seasonally from mid-May to mid-October. You can often camp by the lake or river with stunning views for as little as 26 CAD per night.
TIP
Due to the complexity of camping in Jasper, we cover all the rules and campgrounds and feature detailed photos in our comprehensive guide.
33. Hike above the Maligne Lake to Bald Hills
Maligne Lake is a very popular destination. While most people stick to the lake or cruise, only a few venture beyond. If you want to see the longest lake in the Canadian Rockies from above, hike to the Bald Hills. The moderate trail is 10 km roundtrip. You reach the top at 2,300 meters and get rewarded with views of the whole valley.
Check trail conditions before you go, especially in spring, and carry a bear spray. Another option is Opal Hills Hike, on the other side of the lake, with similar views and trail difficulty.
View the full blog post: Bald Hills Hike
Directions:
48 km from Jasper, head north on Yellowhead Highway, then turn right and follow Maligne Lake Road
Once you arrive at Maligne Lake, pass the lodge and big parking lot across the bridge. There's another parking area, and the trailhead starts on the fire road by the kiosk
34. Test your braveness in ice-cold lakes
This belongs to the 'unusual things to do in Jasper' list. I'm sure some of you reading this are as crazy as I am, like a good challenge, and seek not-so-common outdoor adventures. While most people are scared (I don't know what exactly), be the one who breaks through the crowd and takes home a truly memorable Canadian experience.
Believe it or not, jumping in an ice-cold lake will suddenly feel much warmer outdoors, boosting your immunity and confidence! Any lake in spring is a challenge, Maligne Lake being the coldest most of the year.
35. Hike the beautiful Sulphur Skyline
Sulphur Skyline Trail is one of the most popular hikes in Jasper National Park due to its great effort-to-view ratio. If you start hiking in the morning, you can reach the summit and return to your car by lunch.
The 10 km roundtrip trail only takes around 4 hours to complete. Plan your hike for July if you'd like to see wildflowers-filled meadows. In any case, the views from the 2,050-meter-high summit are out of this world.
Directions:
60 km north-east of Jasper
From Jasper, head north on Yellowhead Highway and follow signs for Miette Hot Springs
Trailhead is located past the kiosk near the entrance to Miette Hot Springs
36. Watch mama bear play with cubs
Wildlife watching is probably the top reason why people visit the Canadian Rockies. From the experience, I can tell you nothing compares to seeing a mama bear playing with her cubs. Plan your visit to May or June to have the biggest chance of seeing them (even by the road).
Even though the bears move around and can be spotted anywhere, I recommend you drive the road to Maligne Lake in the morning or before sunset. Please keep in mind they are wild animals and must be treated with respect, meaning no approaching or feeding, and carrying a bear spray (and learning how to use it) at all times. Visit the Parks Canada website for details on safe travel in bear country.
Book your summer tour: Jasper National Park: Evening or Morning Wildlife Search
Book your winter tour: Jasper National Park Winter Wildlife Discovery Tour
View the full blog post: Wildlife in Canada: 10 Beautiful Animals You Can See (& Best Places to See Them)
37. Get an adrenaline rush at white-water rapids
White water rafting, not surprisingly, is a very popular summer activity. It's suitable for all levels as a river guide will explain everything you need to know and provide all the equipment. You can choose from several difficulty grades, from a 2-hour family-friendly trip on the Athabasca River to a 5-hour adrenaline-inducing adventure on Sunwapta or Fraser River.
38. Stay in a rustic log cabin
While I recommend staying in the campgrounds, there are times when sleeping in a log cabin is a better idea, for example, in winter. A small rustic cabin always delivers a more authentic experience than hotels.
The obvious benefit is using a fireplace, getting right outside from your door, and, in some cases, having an outdoor hot tub and sauna. Below are our recommendations with links to directly check the availability and reviews.
Best cabins to stay in Jasper
39. Mountain bike around Jasper
Mountain biking options in Jasper are the reason we love this park so much. You can come for a week and still bike a new trail every day. The best and easiest trails are east of Jasper/Yellowhead Highway for beginners or families.
I recommend driving to the Lake Annette parking lot and exploring trails around the lakes. For more technical rides, head west of town. You can book a tour if you're worried about biking in a bear country.
Book your tour: 3hr Private Mountain Bike Tour in Jasper National Park
40. Observe bald eagles
The Maligne Lake Road hides yet another surprise. With all the other wildlife you can see here, don't forget to stop on a small pull-out halfway around Medicine Lake. You can observe a bald eagle right in the nest in front of you or male eagles flying above you. It helps if you have binoculars or a zoom lens on your camera.
Directions:
Around 26 km from Jasper
Head north on Yellowhead Highway, then turn right and follow Maligne Lake Road; the pullout is along the Medicine Lake
41. Learn about the history of the Two Brothers Totem Pole
When you walk downtown Jasper, stop by the train station to admire the totem pole carved by the Haida Nation. You learn about the connection between the islands of Haida Gwaii in Northern British Columbia and the Rocky Mountains. Watch this short movie to learn more.
42. Look for gorgeous Calypso orchids
Summer is the time when wildflowers come alive. Choose any of the hikes described here to see colourful meadows. You can spot pretty purple Calypso orchids or very common red Indian Paintbrush. I especially recommend Parker Ridge, Edith Cavell Meadows, Sulphur Skyline and Valley of the Five Lakes for wildflower hikes.
43. Visit Planetarium Dome Theatre
Learn about the dark sky reserve and star constellations from the experts, and then look through a large telescope to the moon or different galaxies. It all depends on what time of the day you visit the planetarium. Visit their website to learn more and book your spot.
Book your activity: Jasper Planetarium and Telescope Tour Tickets
Directions:
Dome Theatre is located at Fairmont Jasper Park Lodge, a 7 km ride from Jasper (outside the town's light pollution for the best views)
44. Enjoy the sunset at Medicine Lake
Stop at Medicine Lake for sunset when you drive from the popular Maligne Lake back to town. The light glowing on the lake and surrounding mountain peaks is a great spot for a break. There's a parking lot right by the lake, and even though it looks tempting, I wouldn't recommend having a picnic by the lake as bears often frequent it.
Three bears were walking by the lake the last time we visited in June. They weren't friends with each other and kept a distance as they were munching on dandelions.
45. Play ice hockey on a frozen lake
Is there a more Canadian winter experience than wild ice skating? Visit one of the outdoor stores in Jasper to rent skates and head to Lake Mildred, Lac Beauvert or Pyramid Lake to enjoy the lakes from a different perspective. You can play ice hockey, warm up by the campfire or go snowshoeing instead. Carefully read these safety rules before you go.
TIP
If you're heading to Banff, check out these lakes for ice skating.
46. Rappel over waterfalls on a canyoning tour
Canyoning is one of my favourite summer adventure activities. Canyoning refers to rappelling down the waterfalls while being tied by climbing rope to a guide (and you're wearing a wetsuit, boots and helmet, of course). Even more fun is all the free jumps and slides from the waterfalls.
47. Watch out for moose
Seeing moose is not as common as seeing elk or bears in Jasper. But if you drive the road to Maligne Lake, there's a higher chance of spotting than elsewhere, especially later in the day before sunset. Parks Canada strongly recommends staying in your vehicle when you see a moose and not approaching it. You will understand when you see one, they are huge.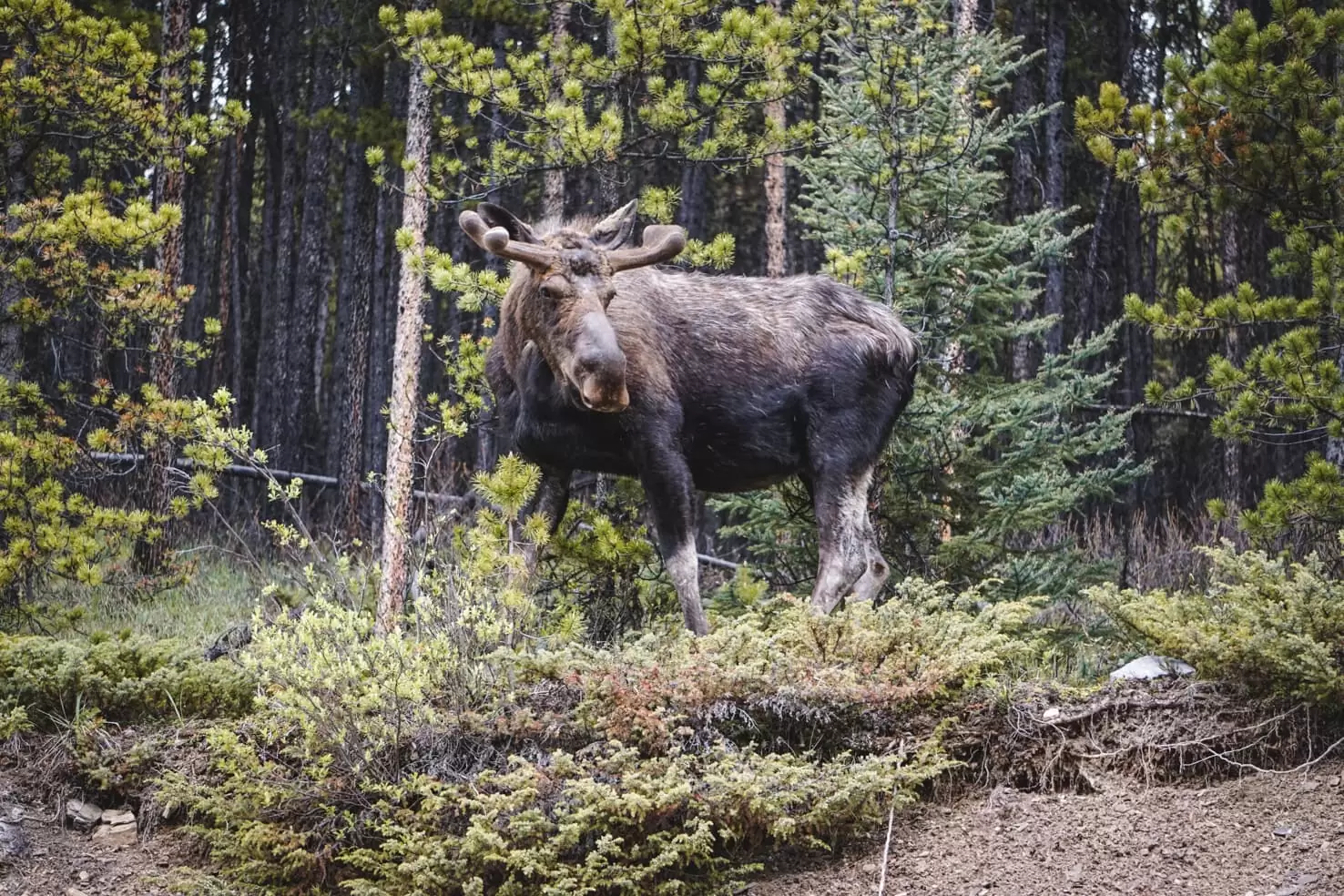 48. Mountain bike to the backcountry
One off-the-beaten-path trail in Jasper National Park leads to Jacques Lakes. It's ideal for backpackers and mountain bikers, especially beginners. The trail is 24 km long (roundtrip) with almost no elevation. It features four lakes and a backcountry campground for overnight hikers/bikers.
Directions:
32 km east of Jasper, go north on Yellowhead Highway and then turn right onto Maligne Lake Road
The parking lot is marked at the end of Medicine Lake, and the trailhead is located by the kiosk
49. Take a helicopter into a winter wonderland
While this activity is not in Jasper National Park, it's on the way to Jasper when you drive from Banff (along Icefields Parkway) and see Jasper's mountainous peaks from above.
Seeing the Rockies from the air is a wonderful experience, and when you join a helicopter tour with a guide, you will be dropped off mid-way for a hike or snowshoe tour. If that's not off the beaten path, I don't know what. You can choose from several heli tours – scenic ride, hiking, mountain-top yoga or snowshoe tour.
50. Take an ice walk through Maligne Canyon
Looking into the canyon on the bustling water is one thing, but walking on ice while deep in the canyon is a very different experience. There are plenty of frozen waterfalls and ice caves to admire and photograph. Ask about the ice conditions before booking; the whole canyon must be cold for a while to freeze.
Book your tour: Maligne Canyon Icewalk Discovery Tour
TIP
A similar activity is also in Banff National Park in Johnston Canyon.
51. Walk up the Tangle Creek Falls
One of the stops along the scenic Icefields Parkway is Tangle Creek Falls. While it may look like a quick pit stop, you can hike up to the base of the falls. The trail is steep but well-trodden and visible.
Directions:
When driving on Icefields Parkway (Highway 93), it's 96 km from Jasper or 137 km from Lake Louise
There's a big marked parking lot along the highway
52. Play darts at Jasper Legion
A great evening activity all year is visiting Legion, having a beer and enjoying a game of darts with friends. Check out their drop-in calendar for games and more events. Or play table football instead. Even if it's raining or dark outside too soon in winter, you can have much fun here.
Directions:
The STAND EASY, Jasper Royal Canadian Legion is located in downtown Jasper at 400 Geikie Street
53. Go horseback riding
How early settlers traveled through Jasper National Park is now an experience available for travelers with no previous horseback riding experience. Choose from different trails around Jasper and enjoy with your family, or go on a special heli & horseback ride tour.
54. Shred some powder at Marmot Basin
The ski resort at Marmot Basin is usually open from mid-November to the end of April, with conditions being the best December-March. You can choose from daily or multi-day ski passes and even rent all the gear for skiing or snowboarding.
Directions:
21 km south of Jasper, take Icefields Parkway (Highway 93), exit to 93A and follow signs
55. Watch mountain goats at Goat Lick
You can usually spot mountain goats high on the cliffs along the Icefields Parkway. But there's one spot where they hang out closer to the road, and it's (almost) guaranteed to see them. Mountain goats are attracted by the mineral-rich deposits, which they like to lick because of the sulphur and calcium particles.
Directions:
A small parking lot (on the right side when driving from Jasper) is located along Icefields Parkway, about 54 km south of Jasper (before you reach Sunwapta Falls). Watch for signs with mountain goats.
56. Go fat biking
This is the activity I'm most excited about to try this winter. Did you know you can mountain bike on snow? That's called fat biking due to the wider and bigger tires than a regular mountain bike. Hit the outdoor stores in Jasper to rent a fat bike and try four different trails in length and difficulty around Jasper.
Book your tour: 1-Hour Guided Group Fat Bike Tour
57. Learn to take breathtaking photos
Photography opportunities in the Canadian Rockies are endless. And honestly, you'll have amazing photos from your trip even when using a phone camera. But if you'd like to go further and have the best lighting possible in Jasper's iconic spots, consider a workshop with a professional photographer.
58. Take a ride on a dogsled
If you're not up to shredding the powder, leave it to the pros. Alaskan Huskies and their musher (guide) will take you on a dog sled ride around the snowy Canadian Rockies, and you can even try to lead the team by yourself. Choose from different tours on this website.
Directions:
The tour starts 120 km west of Jasper; you can find directions on their website linked above
59. Paddle in a canoe on Pyramid Lake
A unique way to explore the surroundings of Pyramid Island on Pyramid Lake is on a canoe. Don't forget to look for wildlife around you – in the forest, the sky, and even the water. You can rent a canoe on the shore at Pyramid Lake Resort or take a guided small tour.
Book your tour: Pyramid Lake Canoe Adventure
60. Learn ice climbing on a frozen waterfall
Experience frozen waterfalls from a different perspective – with an ice axe and crampons. You'll be tied to a guide who will teach you how to climb ice. This is a full-day adventure with a local Jasper company available daily from December to March.
Book your tour: Jasper Ice Climbing Experience
61. Learn about the Rockies on a guided hike
Not ready to venture out on your own or want some hiking buddies? You can take a day hike or backcountry trip with a guide who will handle the camping permits, food and equipment. You learn about the fauna and flora of the Rockies, the importance of leave-no-trace principles, and common rules of the backcountry from experts.
62. Relax in downtown with delicious pastry
After all your activities, find some time to relax in between. The best spot in downtown Jasper is right in front of the Visitor's Centre on the big lawn or one of the benches. Grab some pastry at Bear's Paw Bakery (5 minutes walking from the Visitor Centre), pick up a map at the Visitor's Centre and plan your next adventure.
Directions:
When entering the town from Icefields Parkway, you will see the Visitor's Centre on the left side of Connaught Drive (the main street)
If you drive a bit further and take the next left onto Pyramid Lake Road, you will see Bear's Paw Bakery
63. Enjoy a scenic picnic from the mountaintop
A new activity in Jasper is called Peak Nic. It involves a hike to Old Fort Point with a backcountry cooking lesson. You learn to cook a delicious dish for your next backcountry trip while enjoying views on the Pyramid Mountain and surrounding peaks.
Book your tour: Peak Nic – A hike and an outdoor cooking lesson
Another option is joining a Foodie Tour, where you visit the best four restaurants in Jasper and enjoy a meal and drink at each while learning about the history of Jasper.
Book your tour: Downtown Jasper Foodie Tour
64. Hike in the Maligne Lake area to get away from the crowds
While Maligne Lake is a beautiful location you should definitely experience from the water, it can also become overwhelming quickly. The crowds in the summer are insane.
To get away from them, hike one of the easy trails in the area with almost no elevation but beautiful views of mountains or small lakes – Mary Schaffer Loop, Moose Lake Loop, Mona Lake & Lorraine Lake. Grab a day hiking map from the Visitor's Centre for the details, or follow the signs at Maligne Lake.
Directions:
48 km from Jasper
Head north on Yellowhead Highway, then turn right and follow Maligne Lake Road
The trailhead for Mary Schaffer is at the first parking lot for Maligne Lake, and those other two start at a parking lot at the end of the road (same parking lot as for Bald Hills described above)
65. Take a photo in the iconic red chairs
Have you seen the iconic red chairs at different viewpoints? They're popular photo spots located in Banff and Jasper National Parks.
None of the Jasper maps I've seen feature all of them. Luckily, I'm here to save you some research and list them all here; all you have to do is go there yourself and find the special view:
Wilcox Pass
Whistlers Peak
Valley of the Five Lakes (pictured below)
Overlook Loop
Old Fort Point
Lake Edith
Maligne River picnic area (along the road to Medicine/Maligne Lake)
66. Hike off the beaten path to Geraldine Lakes
One of the most underrated hikes in Jasper National Park is Geraldine Lakes. A moderate trail leads up to the first lake (3.5 km roundtrip) and continues hiking along the lake to a waterfall. The next part towards the second lake is more difficult, and another waterfall keeps the trail interesting (download the map here).
The second lake at the end will leave you speechless (12,5 km roundtrip). You can stay at a backcountry camp at the second lake and enjoy the solitude.
Directions:
30 km south of Jasper, take Icefields Parkway (Highway 93) and exit to Athabasca Falls
Follow the 93A and down the Geraldine Fire Road for 5,5 km to the trailhead
67. Climb to the iconic peak of Pyramid Mountain
This is the most adventurous way to enjoy the iconic peak of Jasper and #1 on my Jasper bucket list. You can bike the first 12 km of the trail and then hike up the last 3 km with a little scrambling involved. For photos and trail description, visit this website.
68. See the highest mountain of the Canadian Rockies
Just outside Jasper's boundary is Mount Robson Provincial Park, with the highest mountain in the Canadian Rockies – Mount Robson (3,954m). While driving from Jasper towards Mount Robson Visitor Centre, you can see it, but it can be easily missed, so watch for the signs.
From the Visitor Centre, you can hike to Berg Lake, a widely popular multi-day backpacking trip. If you're short on time, try the stunning day hike to Kinney Lake.
Directions:
Head west on Yellowhead Highway and look for signs
The Visitor Centre from where hikes start is 87 km from Jasper
69. Climb above the Athabasca River
Challenge yourself with a climb above the gorgeous turquoise Athabasca River. A professional guide provides the necessary guidance, as well as all equipment. This tour is suitable for all ages and levels, including beginners.
Book your tour: Jasper Rock Climbing Experience
70. Explore ice bubbles on a heli tour
Located outside Jasper National Park near Abraham Lake, Rockies Heli takes you on an epic tour where you see ice bubbles – a winter bucket list in the Canadian Rockies.
The tour starts with a helicopter ride above Abraham Lake and a view of six glaciers. Following the flight is a snowshoe tour with a hot chocolate break and a walk on Abraham Lake to see the ice bubbles.
Book your tour: Abraham Lake Ice Bubbles Helicopter Tour
Know before you go
National park entrance
When you enter any national park in Canada, you must pay an entrance fee. You have a choice of either a daily pass or a yearly pass.
10.50 CAD per person for a daily pass, 21 CAD for a group/family
72.25 CAD per person for a yearly pass, 145.25 CAD for a group/family
The yearly Discovery Pass is valid for all National Parks in Canada. You can purchase it at the gate when you enter the national park, in the Visitor's Centre or online here.
Bear Country
As always, you are in a bear habitat in the Canadian Rockies. You should always carry a bear spray (can be purchased at the Visitor's Centre or outdoor stores), know when and how to use it and make noise while hiking and running (so you don't surprise any bears)! Carefully read these instructions on how to behave around them.
More posts about Jasper & Canadian Rockies
Do you like small mountain towns? Check out our travel guides for:
---
Spread the word! PIN this to your Pinterest board.