The oldest and also the most popular national park in Canada is undoubtedly Banff due to its stunning turquoise lakes, endless glaciers, plenty of hiking trails and wildlife watching. Our Banff itinerary includes the main highlights for first-time visitors with our secret local tips you won't find elsewhere.
With the overwhelming options that Banff National Park has to offer, it's hard to create an itinerary for first-time visitors. I know that feeling well – you want to see it all but know there won't be enough time.
That's where my local knowledge comes in handy. Since we live close to Banff and regularly visit for over five years, I might know a few tricks to help you get the most out of your time.
In our Banff itinerary, I will show you:
how to visit the most beautiful places
how long does it take to get there
what to know before visiting
family-friendly options
adventure trips
Let's dive right in (and read till the end for important tips).
TIP
If you're looking for an adventurous trip and have freedom over your day while staying in campgrounds, book a Smile Campervan from us – a budget, family & pet-friendly option.
Visiting Banff National Park? Read these:
Adventure travel guide to Banff National Park
100 things to do in Banff National Park.
Best time to visit Banff National Park
Road trip from Calgary to Vancouver
2-week Canadian Rockies itinerary
Banff itinerary for 3 days
Day 1: Banff town and surrounding lakes
Head out of town to explore before the masses of tourists wake up, and it will become harder to enjoy the beauty of the mountains (or find a parking spot).
There's nothing better than starting a day with a sunrise by the lake and waiting for the sun rays peek over the mountain and warm your face.
Vermilion Lakes
The easiest accessible lakes from town are Vermilion Lakes. From downtown Banff, they are 3 km away or 30 minute walk. The wooden deck with a view of the mountains is a great place for a morning picnic.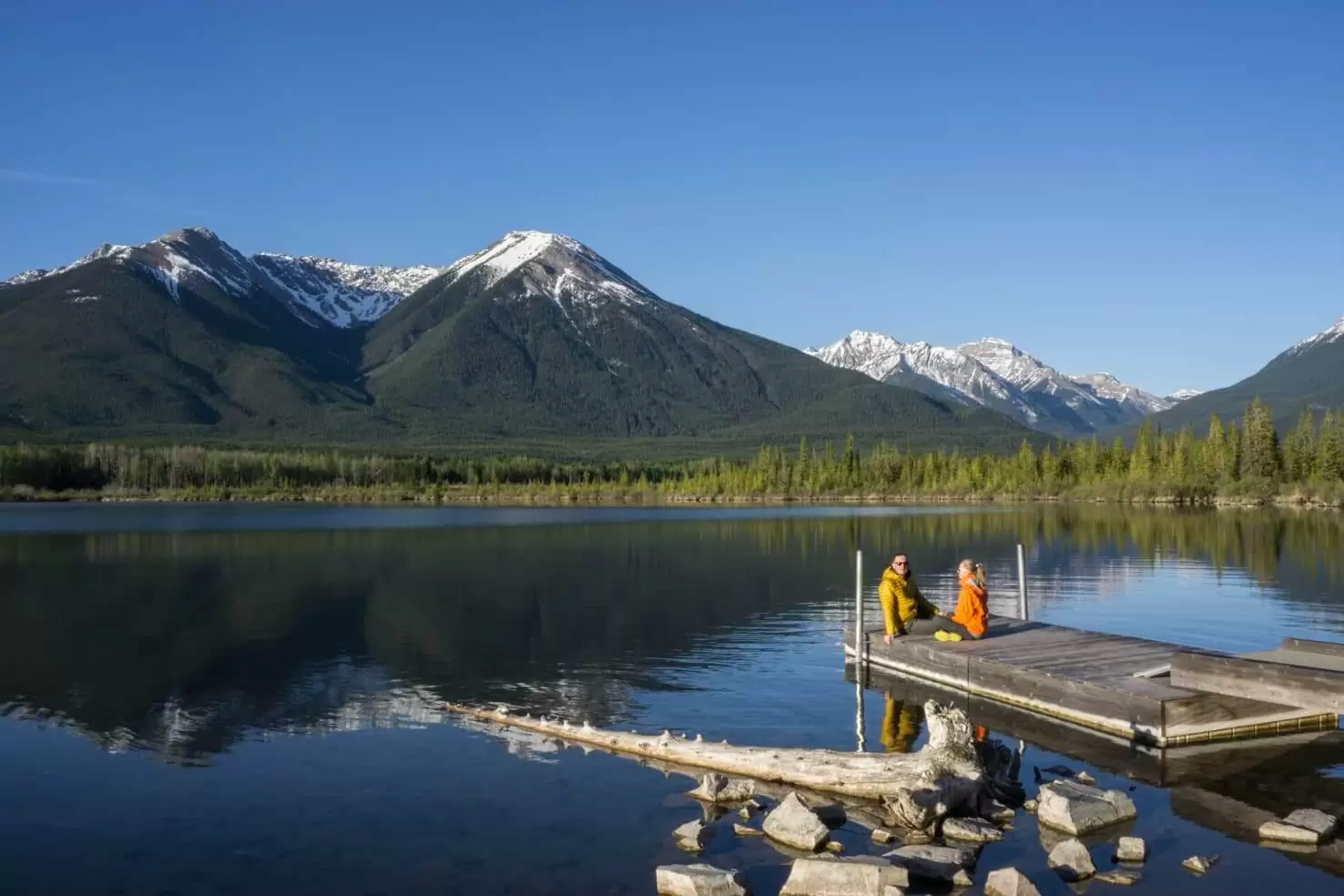 Two Jack Lake
Either for sunrise or right after your breakfast in Banff, head to Two Jack Lake. Only 11 km from Banff, you can drive to the day-use parking lot by the lake or take a shuttle bus from Banff. Minnewanka shuttle/Route 6 starts at 8 am daily and runs mid-May to mid-September. Check the bus schedule here.
The morning sun illuminates the Rundle Mountain in the background, and it creates the most beautiful mirror reflection in Two Jack Lake.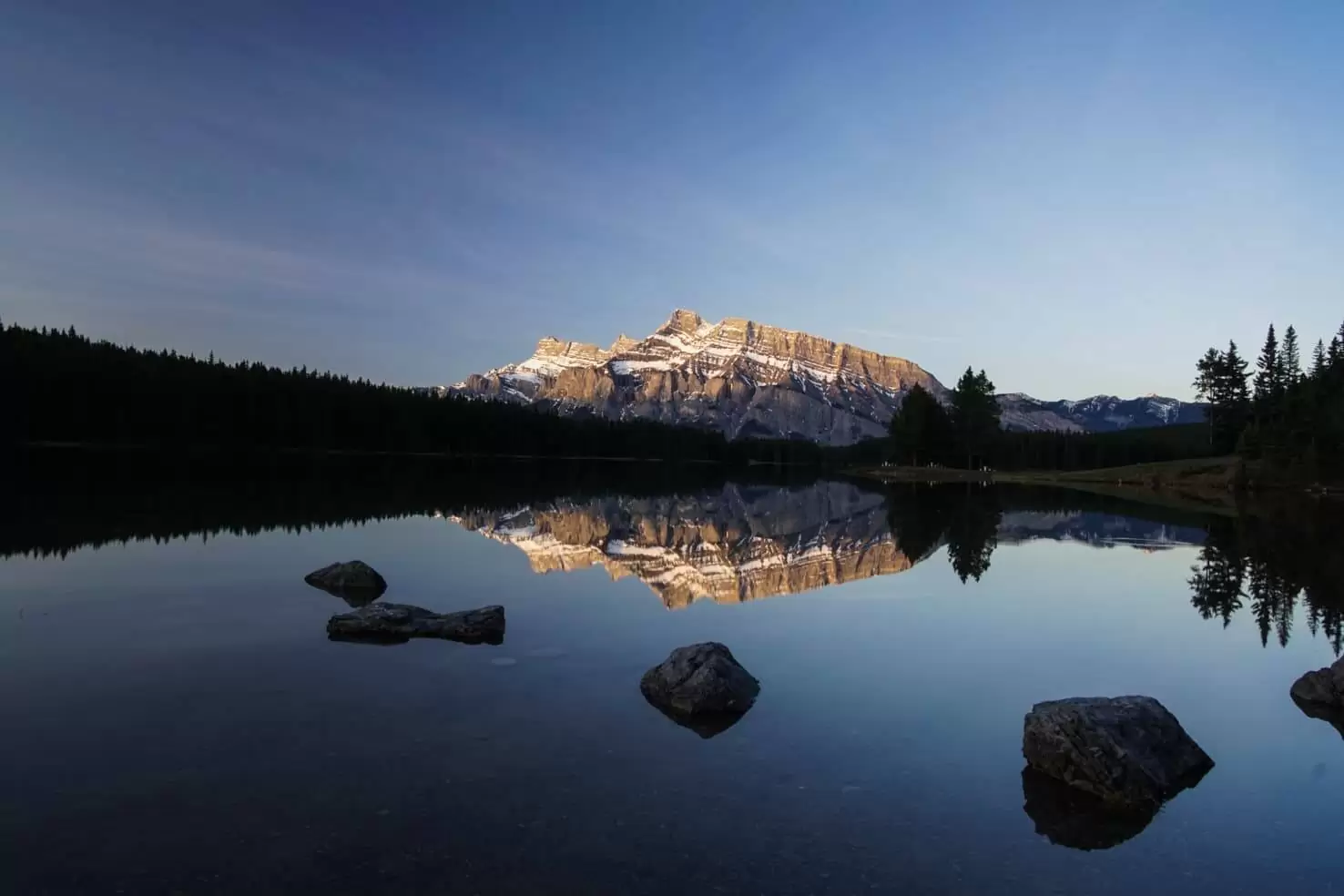 ADVENTUROUS TIP
Rent a kayak or stand up paddleboard in Banff and go for a paddle on the calm morning water. Two Jack Lake is the most popular lake for any paddling around Banff due to its size and still water (mostly in the mornings).
Lake Minnewanka
From Two Jack Lake head to Lake Minnewanka, the largest lake in Banff. Lake Minnewanka is a popular picnic spot where you can also take a boat cruise across the lake.
Cruises start at 59 CAD (take about 1 hour) and operate from mid-May to mid-October with departures every hour. It's a great way to learn about the Rockies from a guide, see the mountains and maybe even some wildlife if you watch closely.
TIPS FOR LAKE MINNEWANKA
If you take a bus to Two Jack Lake, you can continue and take a 30-minute walk to the Lake Minnewanka. If you drive, there's another parking lot by Lake Minnewanka.
Lake Minnewanka is a prime grizzly bear area. If you hike or bike around the lake, make sure you carry a bear spray and make noise.
Bear in mind the seasonal trail restriction from July 10 to September 15 when no bikes or camping is allowed, and hiking only in a tight group of 4 and more.
Both lakes are extremely popular, and they get very busy during the day. I recommend visiting in the morning by car or bus and if you're visiting later in the day, take a bus from Banff to save you a headache from looking for parking.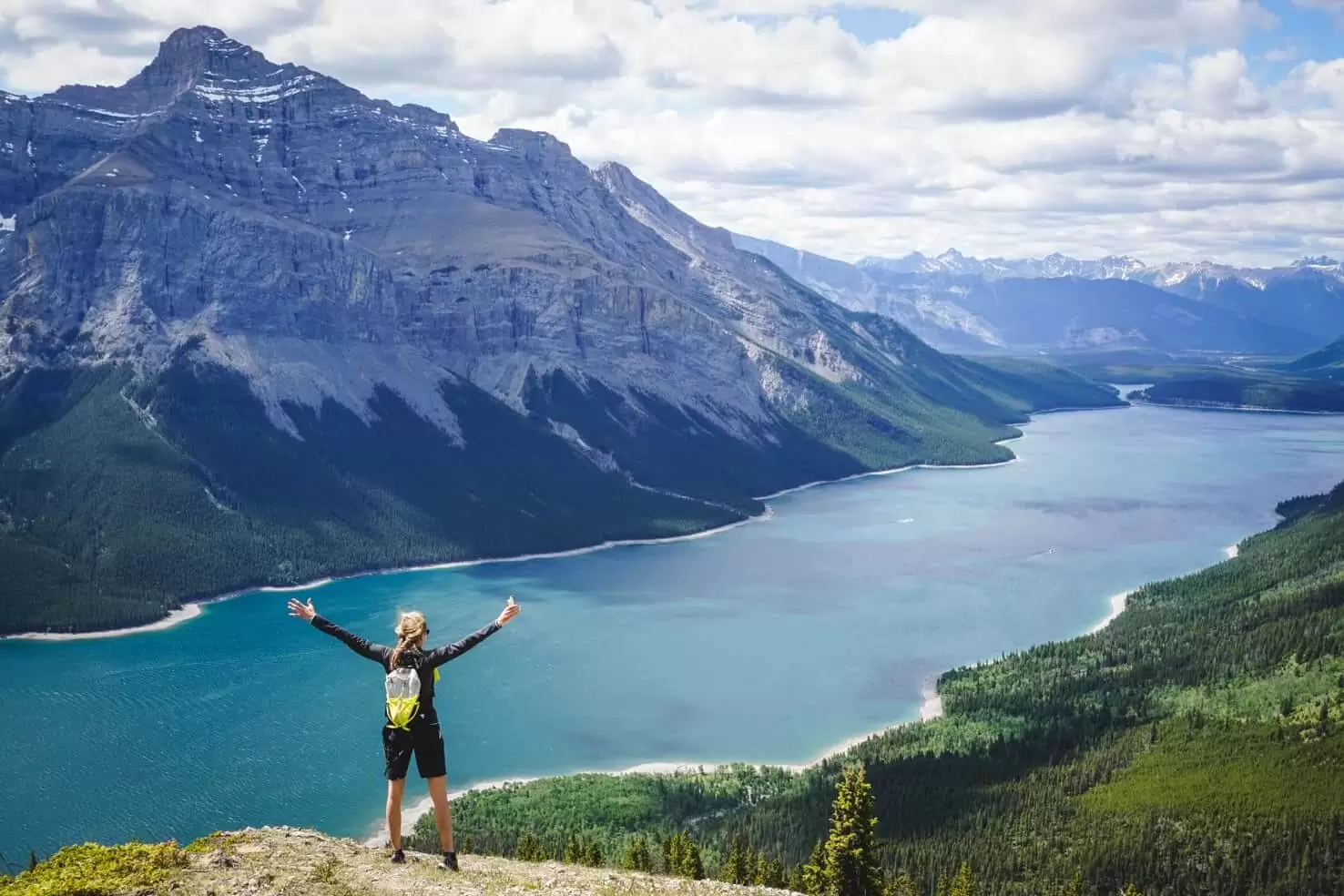 ADVENTUROUS TIP
To experience the lake fully and get off the path, you can rent a mountain bike and venture to Aylmer Lookout above Lake Minnewanka on a hike & bike trip. It's a 25 km total round trip and took us 5 hours; you can read about our experience.
If you packed lunch, Lake Minnewanka has plenty of picnic tables to enjoy it. Otherwise, head back to Banff (20-minute drive). I recommend Old Spaghetti Factory in downtown for a delicious and affordable menu.
Sulphur Mountain
In the afternoon, when the sun is up, go to the top of the Sulphur Mountain to get a bird's eye view of Banff, Bow Valley and even Lake Minnewanka on a clear day.
You have two options on how to get there:
Banff gondola
Tickets start at 54 CAD per person (with a small discount if purchased in advance). I highly suggest not to book tickets more than two days in advance and check the weather forecast before. I used to work at the gondola and have seen many tourists disappointed by the views due to a fire, snowstorm or rain. You will not get a refund if this happens.
Hike up the Sulphur Mountain
You can take a shuttle from Banff (Route 1, schedule here) or drive to Upper Hot Springs parking lot (right next to Banff Gondola). The trail through the forest is 4,5 km long and climbs on a series of switchbacks gradually gaining elevation. I've seen people of all ages on the trail.
When you get to the top, continue 1 km on the boardwalk to Cosmic Ray Station, warm up by the campfire in winter or visit the interpretative center, restaurant and gift shop.
TIPS FOR SULPHUR MOUNTAIN
For a detailed description, read our comparison Sulphur Mountain hike versus gondola ride.
This is a year-round activity, both for the gondola and hiking.
In summer, hike up the mountain in the afternoon, and you can ride the gondola down for free after 7 pm.
In winter, the gondola down is free all day.
If you're hiking up in winter, rent microspikes for your shoes, the trail is popular year-round and gets icy.
If you hiked up the mountain, you might be ready for dinner – see below 'Cascade Ponds'. If you took the gondola and feel like you have time and energy for more, I highly recommend renting a canoe by the Bow River and paddle to Vermilion Lakes.
Cascade Ponds
Another scenic place for a picnic and our favourite spot at sunset are Cascade Ponds. Only 5 km from downtown Banff, you can drive or take the same bus that goes to Lake Minnewanka/Two Jack Lake.
Picnic tables and fire pits are nicely set up around the pond with a view of Rundle Mountain in the background.
Day 2: Moraine Lake, Lake Louise and Bow Valley Parkway
Plan your breakfasts and lunches in advance as this will be a long day, and meal/restaurant options are very limited. The only place I can recommend to eat is Laggan's in Lake Louise village. It's a small bakery where they offer soups and other meals; prices are higher than in Banff.
Moraine Lake
This is the lake that you see on every picture of Banff National Park. It's the most picturesque and often the highlight of the trip for first-time visitors.
You can take a stroll around the lake, walk up the Rockpile for the best picture, rent a canoe on the lake (105 CAD +GST for ½ hour) or bring your own (affordable rentals are in Banff) and paddle around.
Several stunning hikes are in the area, such as Sentinel Pass, Consolation Lakes and Paradise Valley. Check the conditions on the Parks Canada website before you go for seasonal closures or group hiking restrictions.
Due to Moraine Lake's popularity and a very small parking lot, getting to the lake is getting harder each year. It takes an hour of driving from Banff to Moraine Lake, and the parking lot is full by 6 am in summer.
Once the parking lot is full, Parks Canada closes the gate and only occasionally opens it throughout the day for more cars. There's no place where you can wait in line, though; you must be lucky to drive by when they open the gate.
Even though Parks Canada finally realized it's the 21st century and are offering a shuttle service, I've heard nothing but complains about it. Tickets for shuttles were sold at Lake Louise overflow (Park and Ride) and were sold out in the morning. Because the tickets weren't time-specific and you can get on any bus, tourists spent hours waiting in line to get to the lake and then get back.
NEW
In 2020, Parks Canada is introducing a new "improved" system when all shuttle tickets will need to be booked in advance. Reservations will be required, and no walk-ins will be accepted. Shuttle reservations open on April 1, 2020 (with a reservation fee of 6 CAD + shuttle fare).
TIPS FOR MORAINE LAKE
If you're driving a campervan or RV, I recommend staying overnight at Lake Louise overflow (Park and Ride) along Trans-Canada Highway. Then it's only 20 km to Moraine Lake.
For a complete breakdown of camping options in Banff National Park, read our comprehensive camping guide.
If you're renting Smile Campervan from us, contact us, as we know of one more secret option how to get to Moraine Lake without hassle.
Moraine Lake Road is open mid-May to mid-October each year.
In winter, visiting Moraine Lake is not possible due to an avalanche zone that the road passes, you can only cross country ski up until the viewpoint of Ten Peaks.
The lake is usually not fully thawed until June and it does not have enough water nor it is picturesque blue (if that's what you're looking for – see below a photo from end of May).
ADVENTUROUS TIP
In October, when they close the road, you can hike or bike to Moraine Lake and have it to yourself (11 km one-way). We biked to the lake a few times and it's an easy ride with a stunning lake at the end, no tourists around and a nice downhill back. Bike rentals (and e-bike rentals) are available in Lake Louise village. We also tried biking to Moraine Lake in May before they open the road but the snow height towards the lake was waist-high.
Lake Louise
After you spend a couple of hours at Moraine Lake, it's time to see the 2nd most popular lake in Canada with Victoria Glacier in the background. I suggest spending here a few hours as there are great hikes in the area for all levels. If you'd like to visit a teahouse, hike to Plain of Six Glaciers or Lake Agnes.
For a bird's eye view of Lake Louise, popular hikes are Big Beehive, Devil's Thumb, Fairview Mountain. Our favourite (and also the least crowded) hike is Mount Saint Piran (pictured below).
TIP
Do you like hiking? Read our post 20 best hikes in Banff National Park for even more options.
Even though the parking lot by Lake Louise is much bigger, the parking situation is not better. The parking lot usually gets full by 8 am.
TIPS FOR LAKE LOUISE
Fairmont Hotel by Lake Louise offers several restaurants and a small buffet with hot meals.
If you don't find a parking spot, you can leave your vehicle at Overflow parking/Park and Ride and take a shuttle. If you're visiting Moraine Lake first, the shuttle will then take you to Lake Louise. Or you can leave your vehicle at Lake Louise ski resort and take their free shuttle to Lake Louise.
Another hassle-free option is to take a Hop-on bus from Banff. It can take you to Moraine Lake, Lake Louise and Johnston Canyon in one day and you can get on and off the bus anytime you like.
If you're renting Smile Campervan from us, contact us, as we know of one more secret parking option close to Lake Louise.
If you're visiting in winter, you won't have any problems with parking, and you can skate on the frozen lake. Check out our blog post for pictures and more ice skating options.
Bow Valley Parkway
After you spend the majority of your day at Moraine Lake and Lake Louise, take the Bow Valley Parkway/1A back to Banff.
On the way back, you can visit the popular Johnston Canyon. Depending on how tired you are, you can choose to walk on the paved and almost flat path to Lower Falls (1,2 km one-way), or further on the dirt trail to Upper Falls (2,5 km one-way), or to Ink Pots (6 km one-way), a series of five blue-green bubbling pools. These cold mineral springs are nestled in a quiet valley surround by mountains.
The main reason I suggest taking Bow Valley Parkway instead of Trans-Canada Highway is wildlife. Bow Valley Parkway is one of the best places for wildlife watching, especially early in the morning or late evening. Driving speed is limited to 60km/h, so take it slow and keep your eyes open.
TIPS FOR BOW VALLEY PARKWAY
Johnston Canyon is a free attraction and accessible year-round. Read our post for more info about hiking in Johnston Canyon.
In winter, I suggest wearing microspikes on your shoes. See our photos of the winter wonderland and frozen waterfalls.
You can stay at Johnston Canyon Lodge & Bungalows or Johnston Canyon Campground. If you're continuing on our itinerary and driving Icefields Parkway the next day, I suggest one of these options or accommodation/camping in Lake Louise. Icefields Parkway is north of Lake Louise, and there's no need to drive back to Banff (it will save you a 45-minute drive from Banff to Lake Louise the next day).
Again, the parking situation can be frustrating in the morning or during the day so arriving in the evening is best.
Bow Valley Parkway has several picnic areas along the road; most of them are very scenic with a view of the railway and mountains.
Day 3: Icefields Parkway towards Jasper National Park
Icefields Parkway (Highway 93) between Lake Louise and Jasper is 230 km scenic road connecting Banff and Jasper National Parks. National Geographic, among many other publications, named it one of the most beautiful drives in the world.
As the name suggests, it's full of glaciers and icefields. And of course, waterfalls, lakes, hiking trails and stunning viewpoints.
If you come for a longer visit, I suggest driving Icefields Parkway over two days so you can take full advantage of all the stops and hikes. Then continuing to Jasper National Park, where you can spend another few days or a week adventuring around.
For a full list of stops along the Icefields Parkway with all accommodation options, read our comprehensive Icefields Parkway itinerary.
Here on Banff itinerary, I write about the most beautiful places along Icefields Parkway, which you can visit within a day.
Bow Lake
39 km from Lake Louise (94 km, 1-hour drive if you're coming from Banff)
Bow Lake is most stunning early in the morning when you can see the mountain reflection on the calm water. It's visible right from the highway. While there are no canoe rentals at the lake, you're welcome to bring your own kayak, canoe or stand up paddleboard and paddle around.
You can take a stroll around the lake or hike to Bow Falls, a 10 km round trip.
Peyto Lake
Peyto Lake is signed along the highway as Bow Summit, and it's the highest point on the Icefields Parkway at 2,088 meters above sea level. From the parking lot, it's a short 1 km walk to the Peyto Lake wooden viewing platform.
For another viewpoint and hiking trail, read our post about Peyto Lake.
2020 UPDATE: Peyto Lake is closed this year, and the viewpoint is inaccessible due to construction. See this website for more info.
Mistaya Canyon
Mistaya Canyon is a short and scenic photo stop. A short trail through the forest leads to a strangely formed canyon with a waterfall and mountains in the background.
Icefields Parkway lookout & Panther Falls
Most of the Icefields Parkway is fairly flat or gradually going uphill. Once you reach a steep part with switchbacks called 'Big Bend', watch out for a small pull-over parking lot on your right side. It's an amazing photo stop to see Icefields Parkway from above.
Then drive a few hundred meters further to another parking lot and hike down to Panther Falls, they are beautiful in summer and winter.
Parker Ridge Hike
If you only have one day for Icefields Parkway and time for only one hike, definitely make it Parker Ridge. It's short and steep and has the best effort to views ratio (5 km round-trip, 210 m elevation).
The view from the top on Saskatchewan Glacier with a turquoise pool underneath is stunning.
Columbia Icefield, Athabasca Glacier, Toe of the Athabasca Glacier
If you drive further north from Parker Ridge, you will shortly leave Banff National Park and enter Jasper National Park.
One of the best stops on Icefields Parkway is at Columbia Icefield with Athabasca Glacier below. Columbia Icefields is the largest icefield in the Rockies of North America and feeds eight glaciers.
You can take a bus tour to the glacier or walk to the Toe of the Athabasca Glacier by yourself.
If you've never been on a glacier, it might be a good tour for you. However, if you've experienced a glacier before, I suggest you spend your money elsewhere. It's a tourist attraction where they drop you off on a small patch of snow to walk around.
From Columbia Icefield, it's a 2-hour drive back to Banff. You can either drive back to catch a sunset by the lake, enjoy a nice dinner on the patio or drive the road around Banff's golf course, another good spot for wildlife watching.
If you're continuing to Jasper, see below for more info.
TIPS FOR ICEFIELDS PARKWAY
There's no cell coverage on Icefields Parkway. The only place with Wi-Fi is at the Columbia Icefield Discovery Centre (you need to go into the building to have a signal).
Fuel and snacks are only available at Saskatchewan River Crossing and come with a hefty price tag. Fill up your tank and stock up on food in Banff or Lake Louise before.
TIP
If you're continuing to Jasper National Park, you will find these posts helpful:
Banff itinerary for 4 days
Extra day 4: Canmore or Yoho National Park
Three days is the minimum I recommend for visiting Banff even though you can easily spend here a week or two. Nevertheless, if you have one more day to spend, I suggest exploring Canmore, the neighbouring mountain town to Banff or driving to Yoho National Park.
Canmore
While most tourists know Banff because of its huge marketing campaign, Canmore is lesser-known and less crowded. It's located outside the national park right before you reach Banff when you're driving from Calgary.
Canmore's atmosphere is filled with outdoor and adventurous activities, such as rock climbing, mountain biking, hiking, and stand up paddleboarding.
Take a walk through the  Policeman's Creek and photograph the famous Three Sisters, hike to Grassi Lakes or Ha Ling Peak, enjoy a stand-up paddleboarding session at Rundle Forebay or ride a mountain bike at Canmore Nordic Centre.
If you'd like more suggestions, read our post 20 fun things to do in Canmore.
Yoho National Park
Yoho National Park is much smaller than its neighbours, but it's packed with stunning landscapes and mountain scenery. It's about 1 hour from Banff and a 25-minute drive from Lake Louise.
You can visit Takakkaw Falls, the 2nd highest waterfall in Canada and hike the Iceline Trail for stunning glacier and waterfall views. Then drive to Emerald Lake and rent a canoe. If you want to rent a canoe right on the lake, this is the most affordable option in the Rockies (1 hour for 70 CAD).
For more info, read our adventure guide to Yoho and hiking trails in Yoho.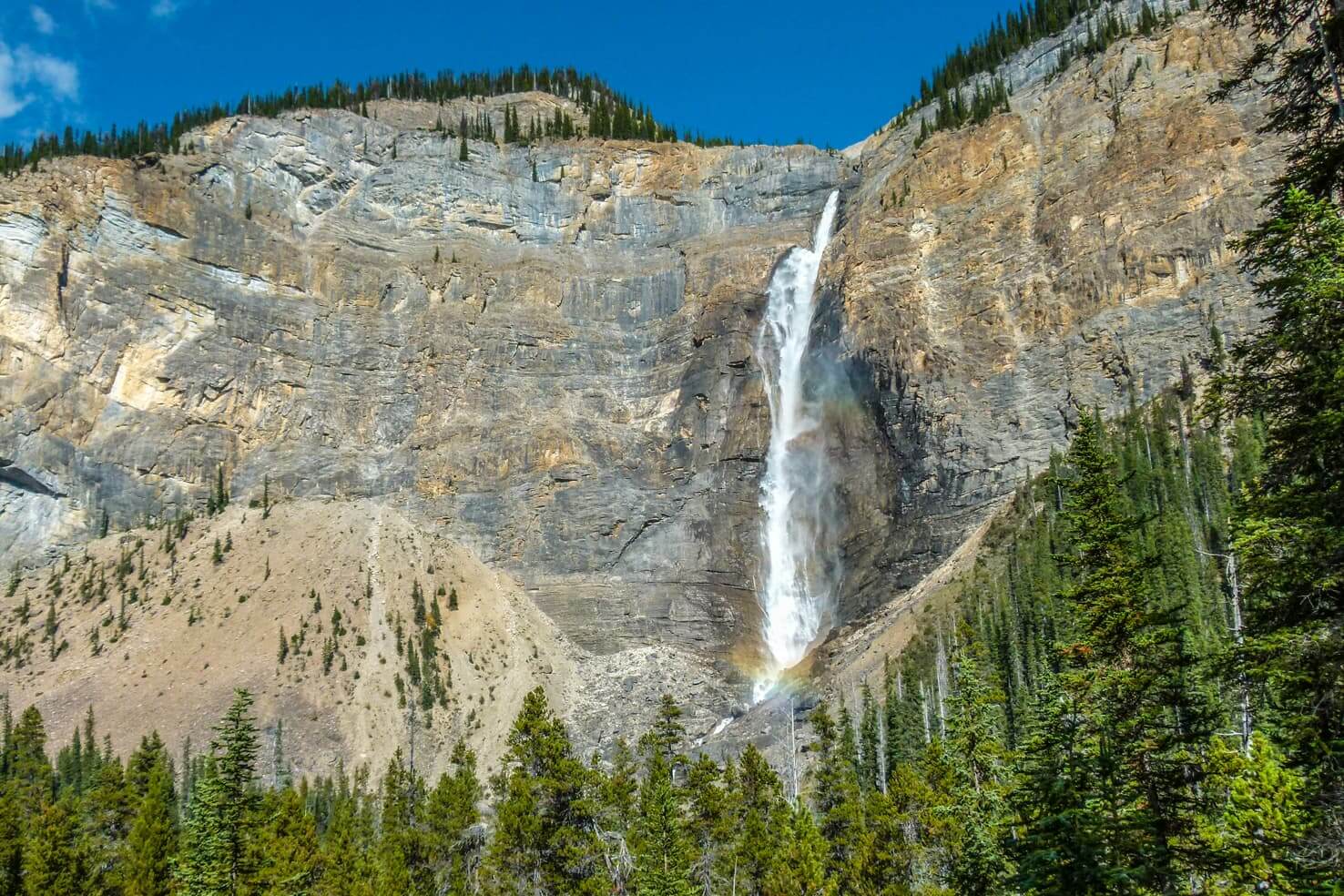 Tips for visiting Banff
How to get to Banff
Banff is a small town tucked in the Canadian Rockies, with the closest airport being Calgary. While there are some shuttles from Calgary to Banff, it's a less convenient option if you're short on time. You can see a breakdown of options in our post on how to get from Calgary to Banff.
For exploring the national park, you will need to rent a car. Calgary airport has many car rental companies although you will get a better price renting from downtown.
No matter what time you arrive in Calgary, I recommend driving to Banff right away. It's only a 1,5-hour drive on a well-maintained highway.
National park fees
When you enter Banff National Park, you're required to pay an entrance fee. You have a choice of either a daily pass or a yearly pass.
10 CAD per person for a daily pass, 20 CAD for a group/family
69.19 CAD per person for a yearly pass, 139.40 CAD for a group/family
The yearly Discovery Pass is valid for all National Parks in Canada. You can purchase it at the gate when you enter the national park, in the Visitor's Centre or online here.
TIP
If you haven't ordered your park pass online in advance, when driving from Calgary, stop at the visitor centre in Canmore along Trans-Canada Highway. It will save you a lot of time at Banff National Park gates where you can spend hours in summer.
Road closure
For trail closures due to wildlife presence or avalanche dangers in Banff National Park, check out the report from Parks Canada.
Accurate road conditions can be checked here.
Trail report
Before you go hiking, check current trail conditions on Trail Report from Parks Canada.
Bear country
As always in the Canadian Rockies, you are in bear habitat. You should always carry a bear spray (can be purchased at Visitor's Centre or outdoor stores), know when and how to use it and make noise while hiking and running (so you don' surprise any bears)! Carefully read these instructions on how to behave around them.
Visitor Centre
Banff's Visitor Centre is located at 224 Banff Avenue. They sell hiking maps, backcountry permits, souvenirs, bear sprays and provide invaluable information about Banff and other parks. You can ask the rangers about trail reports before hiking for possible closures or to help you book a campground.
It's open daily from 8 am to 8 pm from May 18 to October 8, and 9 am to 5 pm outside those dates. You can also reach them at +1 403-762-1550.
Lake Louise Visitor Centre is also open year-round. You will see it along the main road Lake Louise Drive when you come to Lake Louise village.
*In the spirit of full disclosure: Some links in this post are affiliate links, which means that if you purchase through them, we receive a small commission at no extra costs to you. We appreciate your support!
---
Spread the word! PIN this to your Pinterest board.