Jasper is the largest, most versatile and our favourite national park. Full of glaciers, astonishing mountain views, wildlife, and even ice caves, Jasper has it all. Enjoy the best places with our Jasper itinerary with local tips on how to make the most out of your trip to the majestic Canadian Rockies.
Located in the province of Alberta, Jasper is a small town slightly over 200 hundred years old, with a population of around 5,000.
While neighbouring Banff can have the highest number of visitors, Jasper is just as stunning with a big advantage over Banff. You guessed it – no crowds. Jasper National Park is spread out across several valleys with different access roads, and unless you go to the most popular spots in the middle of the day, you might have some places all to yourself.
Just imagine standing on a mountain or by a pristine lake feeling the fresh mountain air on your face, having a gorgeous view in front of you, and maybe even seeing wildlife in the distance. We cover essential timing tips to make this happen for you.
Our itinerary covers the most iconic places you should see during your first visit. Four days is an ideal time to explore Jasper National Park, and of course, if you have more time, we'll give you enough ideas for a month.
This Jasper itinerary includes:
How & when to visit the most beautiful places
Estimated driving and hiking times (so you can plan better)
Essential tips for visiting Jasper
Family-friendly/easy activities
Adventurous options
TIP
If you're looking for an adventurous trip and want to have freedom over your day while staying in campgrounds, book a Smile Campervan from us – a budget, family & pet-friendly option.
Visiting Jasper National Park? Read these:

Jasper itinerary for 4 days
While the closest airport to Jasper is in Edmonton (4-hour drive), most visitors fly into Calgary, spend some time in Banff and then drive the scenic Icefields Parkway to Jasper. Calgary/Banff to Jasper is the direction that our itinerary follows. If you're visiting from Edmonton, follow this itinerary backwards, from day 4 to day 1. For more options on how to get to Jasper, check out this post.
To get around Jasper National Park, you will need to rent a car as there is no public transport. Both Edmonton and Calgary airports have many car rental companies although you will get a better price renting from downtown. To find the best deal, check out Rentalcars, a huge search engine that compares prices of different car rental companies.
An ideal time to visit Jasper is June to September when hiking trails are free of snow and there's a ow chance of a snowstorm, although that can happen in summer as well. Weather in the Rockies is unpredictable and has many challenges, make sure to read our post when is the best time to visit the Rockies.
Day 1: Hiking and waterfalls on Icefields Parkway
If you've been following our Banff itinerary, you end up on the Icefields Parkway, a road connecting Lake Louise in Banff National Park and Jasper in Jasper National Park. And once you leave Banff, you enter Jasper right away.
I recommend staying a night along the Icefields Parkway and not trying to drive it in just one day. You would miss out on a lot of fun stops and scenic hikes.
Icefields Parkway has 11 seasonal campgrounds. The closest campground to the first stop on this Jasper itinerary is Wilcox Creek Campground or Columbia Icefield Campground. Alternatively, you can stay in a hostel or lodge, but options are very limited along this road.
TIP
Stock up on food in Banff before you leave for the road trip. Food options along the Icefields Parkway are very limited and expensive. Make sure to have food for two days.
Wilcox Pass Hike
Start your first day in Jasper hiking the Wilcox Pass. It's 8 km hike from one point to another via a mountain pass. But the best thing is, you don't have to hike the whole trail to enjoy the best views. If you hike the first 2-3 km, you'll end up with gorgeous views of Athabasca Glacier.
You can enjoy the view from the famous red chairs and even spot bighorn sheep which like to hang out in the area.
Read the full blog post, including a lot of pictures: Wilcox Pass Hike
Columbia Icefield, Athabasca Glacier, Toe of the Athabasca Glacier
FUN FACT
Did you know that Columbia Icefield is the only place in the world from which the water flows into three oceans? Pacific, Atlantic, and the Arctic.
Continuing on Icefields Parkway, the next stop is Columbia Icefield. There's a bus tour to Athabasca Glacier, which is lying below the Columbia Icefield, but in my opinion, it is not worth the cost. I've done this tour when I worked for the company providing the tour and I was glad I didn't have to pay for it.
If you've never stepped foot on a glacier, it might be a good option. Otherwise, rather book an adventurous glacier walk with a guide or walk to the Toe of the Athabasca Glacier on your own to see it up close.
TIP
Have lunch or picnic by the Columbia Icefield Centre with a glacier view.
Sunwapta Falls
Located just off of the Icefields Parkway, Sunwapta Falls are stunningly strong waterfalls with 18 meters drop. It's signed along the road and easily accessible with a short walk.
Athabasca Falls
Athabasca Falls is another stunning waterfall with a drop of 24 meters. Make sure you carry your bear spray even on short walks. Assumption of new travelers that you don't have to carry it in busy places is not supported or recommended by Parks Canada. We've seen a bear here walking close to the parking lot at Athabasca Falls.
Valley of the Five Lakes
223 km from Lake Louise & 10,5 km from Jasper
End the day with a stunning and easy hike around five emerald lakes. The trailhead is signed along the road, and apart from a few small steep sections, it's flat. The short loop around the lakes is 5,5 km.
The reason I recommend hiking Valley of the Five Lakes towards the end of the day is that it's very popular and usually very crowded during the day with hikers and mountain bikers.
Read the full blog post, including a lot of pictures: Valley of the Five Lakes Hike
The closest campground you can stay at is Wapiti Campground (only 6 km south of Jasper). It's one of the few with hot showers. Alternatively, you can stay in a cabin, hotel or lodge in Jasper and take advantage of their plentiful dining options.
Day 2: Bird's eye views and pristine lakes in Jasper
From the many travelers in the Rockies and our guests of Smile Campervans, we usually hear they enjoyed Jasper more than Banff. Jasper is smaller, with fewer tourists and kept its charm of being a small mountain town. You'll see it on your own.
Edith Cavell Meadows
Start the day with a scenic hike to Edith Cavell Meadows. The sooner you start, the better. It is usually very crowded with a very busy parking lot during the day.
Edith Cavell is a very popular hike with a view of Angel Glacier and marmots. Yes, you read that right, have your eyes wide open and be aware of your surroundings while hiking in the Rockies, you never know what wildlife you might see.
The whole loop is 8 km long. You start on a paved path to a lookout of the Angel Glacier, continue through the meadow filled with wildflowers in summer and up the small hill for a bird's eye view of the breathtaking landscape.
TIP
For more hiking options in Jasper, read our post 17 best hikes in Jasper National Park.
Pyramid Lake
After the hike, drive to Jasper for lunch or head straight to Pyramid Lake. There are plenty of picnic tables if you bring lunch with you. The drive from Jasper to Pyramid Lake is a very short one during which you'll also pass Patricia Lake.
Both lakes have scenic mountain views, offer an easy stroll along its shore or a boat trip on the lake. Pyramid Island, with iconic Pyramid Mountain in the background, is one of the most photographed spots in Jasper. The mountain has a red hue and a shape very different from the mountains you've seen along the Icefields Parkway.
Sky Tram to Whistlers Mountain
7,5 km southwest of Jasper
Get a bird's eye view of Jasper town from Whistlers Mountain. There's a 9 km hiking trail to the top, but most travelers choose to ride the Sky Tram instead. It's very scenic with views across the valleys and ends on the observation deck.
If you'd like to hike to the summit of Whistlers Mountain at 2,470 m above sea level, continue on the well-trodden path for another 2 km. On a clear day, you can see Mount Robson, the highest peak of the Canadian Rockies at 3,954 m.
While you can book tickets for the Sky Tram in advance, and I suggest you do so if you're short on time, try to do it last minute. 2-3 days before your visit is the best time to book tickets and make sure you check the weather forecast. It changes very quickly in the Rockies, and a snowstorm (which can also happen in summer) will completely ruin your views.
Annette & Edith Lake
7,5 km northeast of Jasper
Is there a better way to end the day than relaxing by the lake and watching deer or elk?
Both Annette and Edith Lakes are surrounded by forest and mountains, away from the highway, making it an ideal place to wind down. There are plenty of picnic tables and a playground.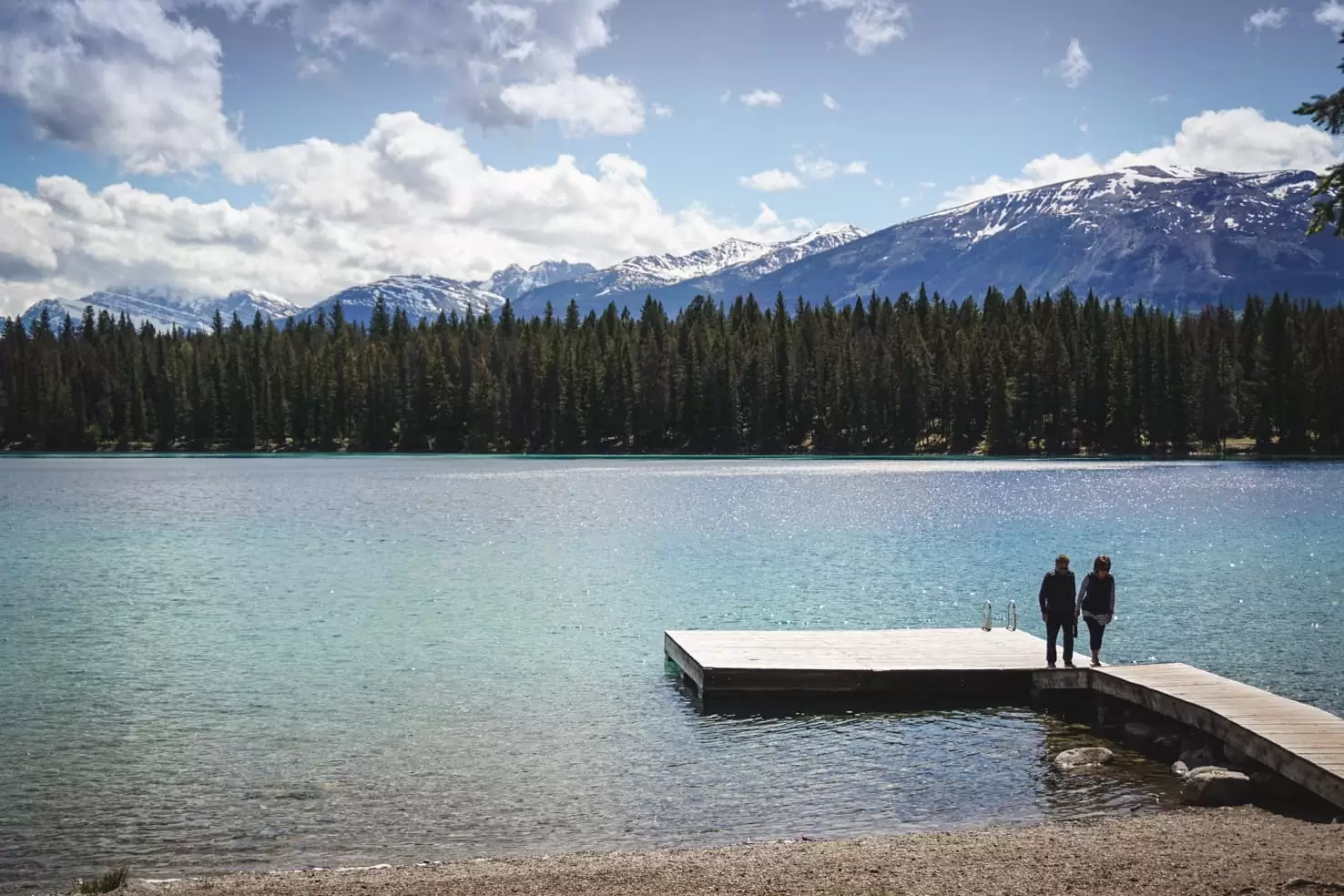 ADVENTUROUS TIP
Rent a bike in Jasper and ride to the lakes. If you still have energy, you can rent a stand-up paddleboard right on the shore and enjoy the landscape from a different perspective.
While traveling in the Canadian Rockies, I always recommend staying in the campground. Whether you rent a campervan or RV, you spend most of your time in nature and save a lot of money.
Jasper National Park has 11 campgrounds, many of them by the lake or river, providing a great connection with the outdoors. For more info, read our comprehensive Jasper camping guide.
Day 3: Natural wonders of Jasper
For your third day, I have two options based on your level of energy and strength.
Family-friendly option – start with an easy walk in the Maligne Canyon, then rent a bike in Jasper and explore the many trails around town.
Adventurous option – get an early start and hike one of the most epic hikes in Jasper, Sulphur Skyline. If you have energy left, rent a bike in Jasper and pedal around town looking for wildlife. If you're tired, explore Maligne Canyon in the afternoon.
Both of these options end at Miette Hot Springs for relaxation, the hottest mineral springs of the Rockies 40°C (104°F).
Maligne Canyon
11 km northeast of Jasper
You can visit Maligne canyon year-round. It's an easy walk through a series of bridges over a deep canyon and waterfalls underneath. In winter, you can walk directly in the canyon on ice. I highly suggest visiting as soon as possible in the morning due to crowds.
You can have lunch in their Wilderness Kitchen or head back to Jasper.
Mountain biking around Jasper
Mountain biking is our favourite activity in Jasper. They have an extensive trail network for all levels, and plenty of outdoor rental stores in Jasper can rent you a mountain bike.
An easy ride is south of Jasper along Athabasca River to Wapiti Campground, or you can continue to Valley of the Five Lakes.
Another scenic option is heading north of Jasper on the bike path and towards Edith and Annette Lakes.
If you'd like to get away from people completely, a day trip to Snake Indian Falls is an amazing bike trip.
Sulphur Skyline Hike
61 km northeast of Jasper
Sulphur Skyline is a short and steep hike ending on top of a mountain with panoramic views of surrounding mountain peaks and wildflowers in summer. It's 4 km one-way and should take around 3-4 hours start to finish.
Make sure to check in Visitor's Centre or online for trail conditions, the early spring conditions with big portions of the trail covered in the snow sometimes last till early summer. As expected on a mountain top, it's very windy so don't forget your wind-stopper jacket.
Miette Hot Springs
61 km northeast of Jasper
If you're like me and bike & hike a lot, you might enjoy a dip in the lake with Edith and Annette Lakes being the warmest in Jasper.
Many people enjoy relaxing in hot springs, especially in chilly weather. Miette Hot Springs offer a big outdoor pool with a view of the mountains and are open May to mid-October.
Day 4: Maligne Lake area & wildlife watching
The last day has one destination in mind. Maligne Lake, the largest natural lake in the Rockies, and area around it can keep you busy the whole day. And the road leading up to it is commonly known to be the best for watching wildlife.
Maligne Lake
48 km southeast of Jasper
Maligne Lake is a very popular destination for all travelers – day-trippers, hikers, and kayakers. You can choose from many options on how to enjoy the lake.
Boat cruise – a scenic 2-hour cruise across the lake to the famous Spirit Island starts at 75 CAD and operates June to mid-October.
Rent a canoe or kayak – hourly rental fees start at 75 CAD with the boathouse being open June to mid-September. It is recommended to kayak in the morning when the water conditions tend to be calmer.
For easy hikes around the Maligne Lake area, check out Mona Lake and Lorraine Lake or Moose Lake Loop.
At lunchtime, you can visit Maligne Lake Chalet, Lake House Café or Waffle Hut right by the lake or bring your picnic to enjoy at one of the many outdoor picnic tables.
Bald Hills Hike
After seeing the mountain peaks from the lake, now it's time to see the lake from above. Bald Hills Hike is one of the easiest in Jasper National Park to get a bird's eye view of a lake. It's accessible for all levels as the elevation gain is low.
This 12 km return hike reaches an elevation of 2,300 meters above sea level and offers stunning views of almost the whole lake.
If you'd like to escape the craziness that usually surrounds the Maligne Lake, this hike is an excellent option.
Read the full blog post, including a lot of pictures: Bald Hills Hike
Drive to Jasper for wildlife at Medicine Lake
The only road leading to the Maligne Lake is the prime area for wildlife watching. Early mornings and late evenings are the best time to spot wildlife. The last time we were in Jasper returning from Bald Hills Hike in the evening, we saw a moose and six bears.
You really want to drive the Maligne Lake Road during this time. We were completely mesmerized watching the sunset at Medicine Lake and seeing bears feeding on dandelions. This drive back to Jasper can easily take 2 hours.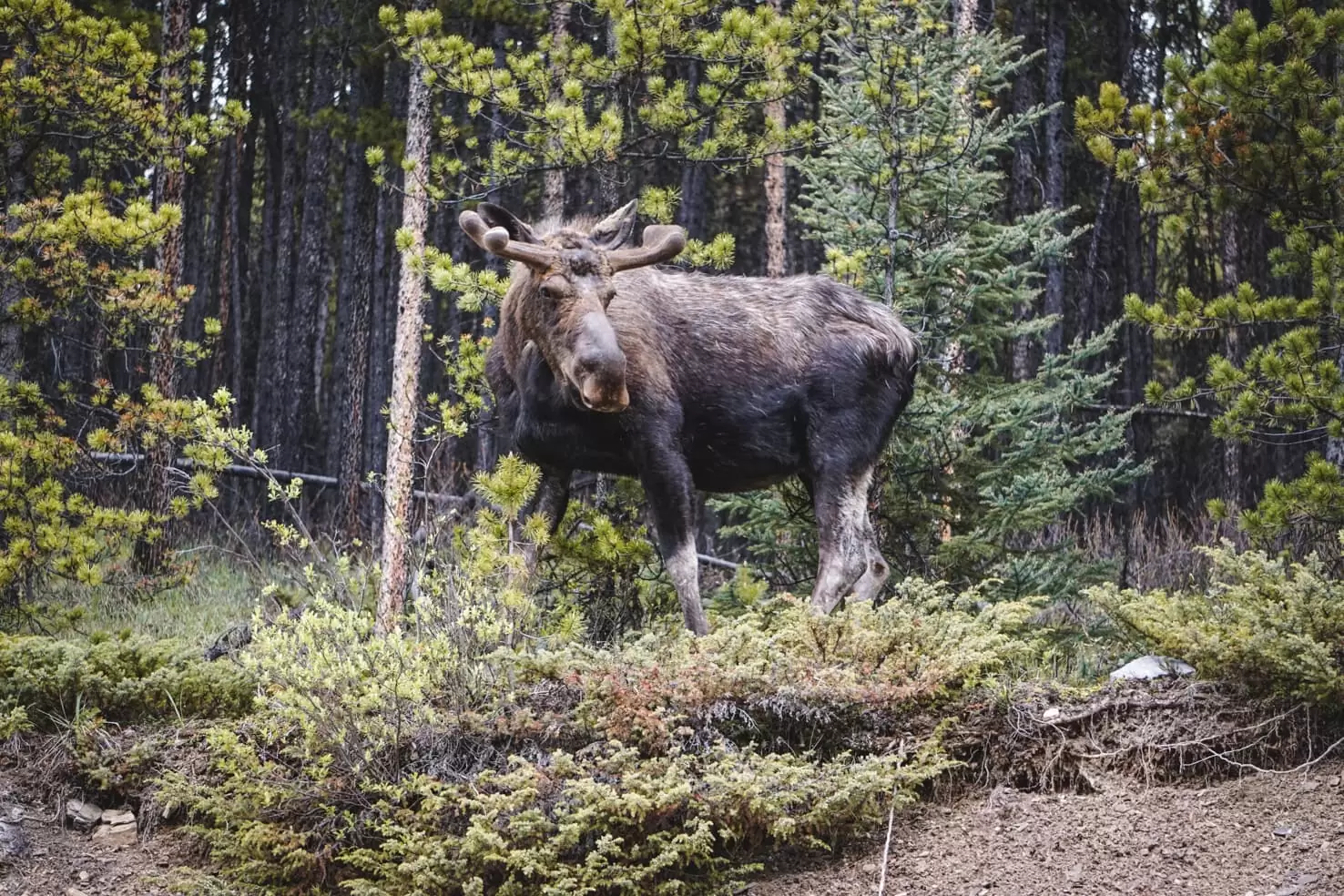 As you can see, there's no shortage of adventures in Jasper National Park. If you're driving back to Calgary, you can enjoy many more beautiful spots along the Icefields Parkway because let's be honest, 4 days in Jasper is not enough, but it's a good start!
TIP
If you were driving to Jasper from Edmonton and continuing to Banff National Park, you would find these posts helpful:
Banff adventure guide
100 things to do in Banff National Park
Camping guide to Banff National Park
Adventure travel guide to Yoho National Park
Tips for visiting Jasper
National park fees
When you enter any national park in Canada, you're required to pay an entrance fee. You have a choice of either a daily pass or a yearly pass.
As of 2020, the fees are:
10 CAD per person for a daily pass, 20 CAD for a group/family
69.19 CAD per person for a yearly pass, 139.40 CAD for a group/family
The yearly Discovery Pass is valid for all National Parks in Canada. You can purchase it at the gate when you enter the national park, in the Visitor's Centre or online here.
TIP
If you haven't ordered your park pass online in advance, when driving from Calgary, stop at the visitor centre in Canmore along Trans-Canada Highway. It will save you a lot of time at Banff National Park gates where you can spend hours in summer.
Road closure
For trail closures due to wildlife presence or avalanche dangers in Jasper National Park, check out the report from Parks Canada.
Accurate road conditions can be checked here.
Trail report
Before you go hiking, check current trail conditions on Trail Report from Parks Canada.
TIP
Read our recommendation: A comprehensive packing list for Canadian Rockies.
Bear country
As always in the Canadian Rockies, you are in bear habitat. You should always carry a bear spray (can be purchased at Visitor's Centre or outdoor stores), know when and how to use it and make noise while hiking and running (so you don' surprise any bears)! Carefully read these instructions on how to behave around them.
Visitor Centre
Jasper's Information Centre is located at 500 Connaught Drive. The helpful staff can answer any questions you have about the area, current trail closures or reports, and provide basic maps. You can also purchase hiking maps, backcountry permits, souvenirs, and bear spray.
It's open daily 9 am to 7 pm from May 16 to October 9, and 9 am to 5 pm outside those dates, you can also reach them at +1 780-852-6236.
*In the spirit of full disclosure: Some links in this post are affiliate links, which means that if you purchase through them, we receive a small commission at no extra costs to you. We appreciate your support!
---
Spread the word! PIN this to your Pinterest board.