Snake Indian Falls in Jasper National Park is an incredible off the beaten path trip on a mountain bike or on foot. The ending is breathtaking, watch the video below!
Let me tell you a secret. Maybe not so much for everyone. The more you do your research, the more beautiful places you discover. The more we've visited Jasper National Park, the more we craved to get off the beaten path and searched for new places.
This is exactly how we found so many new places in the Canadian Rockies that not many people knew about. Even my colleagues from work, born and raised not far from Jasper National Park didn't know about this place.
This, literally hidden gorgeous spot is called Snake Indian Falls.
TIP
Visiting Jasper? Read our comprehensive Jasper travel guide for all essential info about the national park and local travel tips.
How to get to Snake Indian Falls
As it usually is with these places, they're not easy to reach. Google couldn't find directions, so here they are:
from the town of Jasper, take Yellowhead Hwy towards Hinton,
after 12 km turn left onto Snaring Road, you'll pass Snaring River Campground & Overflow campground
then it becomes Celestine Lake Road (closed Nov-May), drive for another 30 km or so to the parking area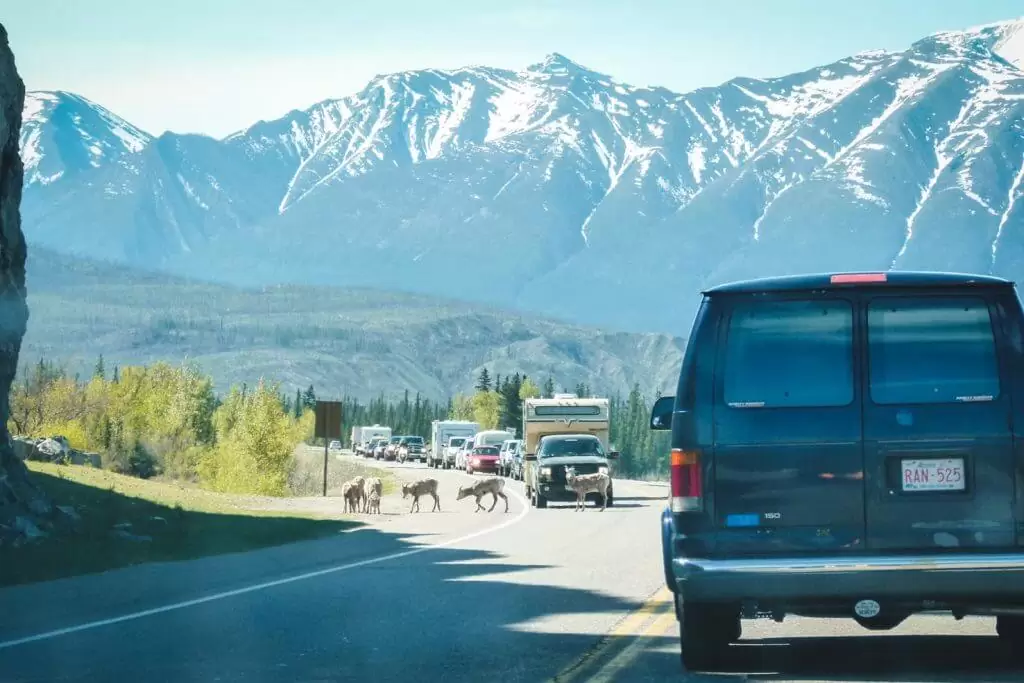 The next part of about 13 km is tricky, it's a narrow one-way gravel road with many blind corners. Times for inbound and outbound traffic are restricted as the big sign tells you when you arrive.
The problem we encountered was that the times on board were different from the times on the trail map we bought at the Visitor Centre in Jasper. We drove according to our map and were lucky that no car was going the opposite way. Even though we drove Dodge Grand Caravan, it would be much easier in an off-road car.
There are very few places where you can pass ongoing traffic. If you'd like to confirm the current times, you can call the Visitor Centre 780-852-6176 or stop by at 500 Connaught Drive in Jasper's downtown and ask about the schedule for Celestine Lake Road.
Our current Jasper map has a schedule for Celestine Lake Road as follows:
In (north)-bound: 9-10, 11-12, 14-15, 17-18
Out (south)-bound: 10:30-11:30, 12:30-13:30, 15:30-16:30, 8:30-19:30
Snake Indian Falls in Jasper National Park
Distance: 54 km round-trip (around 5 hours on the bike)
Elevation gain: 1,055 m
Maximum elevation: 1,368 m
Difficulty: moderate for biking (the trail is not technical or rocky)
Best time to go: late June to late September (the road was flooded beginning of June the last time we've visited and couldn't go there – bummer)
Gear: windproof jacket, snacks, bear spray (you can fill up your water bottle along the way if you have a filter, we love using LifeStraw water filter bottle)
Now all the fun can begin. This is a nice overnight backpacking route, mountain biking trail or even trail running day trip. Since we love Jasper mainly for their extensive mountain biking trail, we chose to explore on bikes.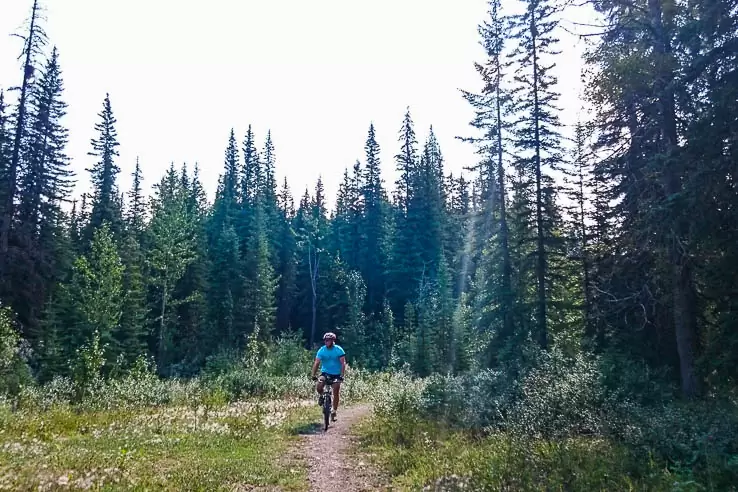 Whichever mode of transport you decide on, it depends on your fitness level and the time you have available. Trail to the falls is 27 km one way.
Mountain biking to Snake Indian Falls is the fastest and the most enjoyable option. It took us under 5 hours both ways. Hikers usually do this trail in a few days and sleeping overnight in backcountry campgrounds.
The trail starts as a single track, then changes into an old fire road. It has a few hills and most of it goes through a forest with absolutely no views. The occasional trail along the Snaring River was a very welcomed change of scenery.
We were carrying a bear spray and made noise along the way to let the bears know we're coming. The forest is quite thick and we didn't want to surprise any wildlife.
We biked at an easy pace and also used a whistle often so any wildlife around could hear us. Wild animals are scared and usually disappear before you see them. Even though the bear might still keep an eye on you from the bush or a tree.
We've met only two hikers along the way and they probably found the best spot to set up a camp – at the top of the waterfalls.
You can hear the waterfalls as you approach them. All of a sudden, the view opens up wide in front of you with a view of Snake Indian Falls.
Surprisingly, I haven't found a mention about the height but comparing the falls with me standing at the edge, I guess they are about 25 m tall.
Can you see me standing at the edge?
They are loud, refreshing and nobody is spoiling the beauty around you. Great place to chill out and rest after the ride.
We were sitting at the edge for a while, let the sunshine on our faces and drops from waterfall cool off our legs.
This is what I call a great reward after a long bike ride.
Know before you go
What to pack
National park fees
When you enter any national park in Canada, you're required to pay an entrance fee. You have a choice of either a daily pass or a yearly pass.
As of 2020, the fees are:
10 CAD per person for a daily pass, 20 CAD for a group/family
69.19 CAD per person for a yearly pass, 139.40 CAD for a group/family
The yearly Discovery Pass is valid for all National Parks in Canada. You can purchase it at the gate when you enter the national park, in the Visitor's Centre or online here.
TIP
If you haven't ordered your park pass online in advance, when driving from Calgary, stop at the visitor centre in Canmore along Trans-Canada Highway. It will save you a lot of time at Banff National Park gates where you can spend hours in summer.
Staying in Jasper National Park
To have the most freedom and enjoy nature to the fullest while staying on a budget, we always recommend staying in the campgrounds. Jasper National Park has many of them with picturesque scenery (glacier view anyone?). Read our comprehensive guide about Camping in Jasper National Park for all camping info and lots of pictures of the campgrounds.
TIP
If you're looking for an adventurous trip and want to have freedom over your day while staying in campgrounds, book a Smile Campervan from us – a budget, family & pet-friendly option.
Road closure
For trail closures due to wildlife presence or avalanche dangers in Jasper National Park, check out the report from Parks Canada.
Accurate road conditions can be checked here.
Trail report
Before you go hiking, check current trail conditions on Trail Report from Parks Canada.
Bear country
As always in the Canadian Rockies, you are in bear habitat. You should always carry a bear spray (can be purchased at Visitor's Centre or outdoor stores), know when and how to use it and make noise while hiking and running (so you don' surprise any bears)! Carefully read these instructions on how to behave around them.
Read more about the Canadian Rockies
Biking in the Rockies
Planning resources for Jasper
*In the spirit of full disclosure: Some links in this post are affiliate links, which means that if you purchase through them, we receive a small commission at no extra costs to you. We appreciate your support!
---
Have you backpacked or mountain biked to Snake Indian Falls? Share your experience below.
---
Spread the word! PIN this to your Pinterest board.