Beat the crowds and explore the mountains on a bike. From easy lake rides to intermediate lookout rides, you'll be amazed by all the bike trails in Banff.
Exploring biking trails around Banff was our everyday pleasure when we moved from Slovakia to Banff in Canada. It is our favourite activity in any new place. That's why we moved our mountain bikes across the world with us.
I remember waking up the first day in Banff, tired and jetlagged, while Michal was already assembling our bikes. As a side tip – biking is excellent for beating the jetlag.
Living in the mountains gave us lots of options, although not all of them for biking. Not all trails allow biking in the national park. Fortunately, there are also bike paths and roads, which lead to many lakes and scenic lookouts around Banff.
We've personally tried all Banff's bike trails mentioned below and hope that, with our guide, you will enjoy them as much as we did.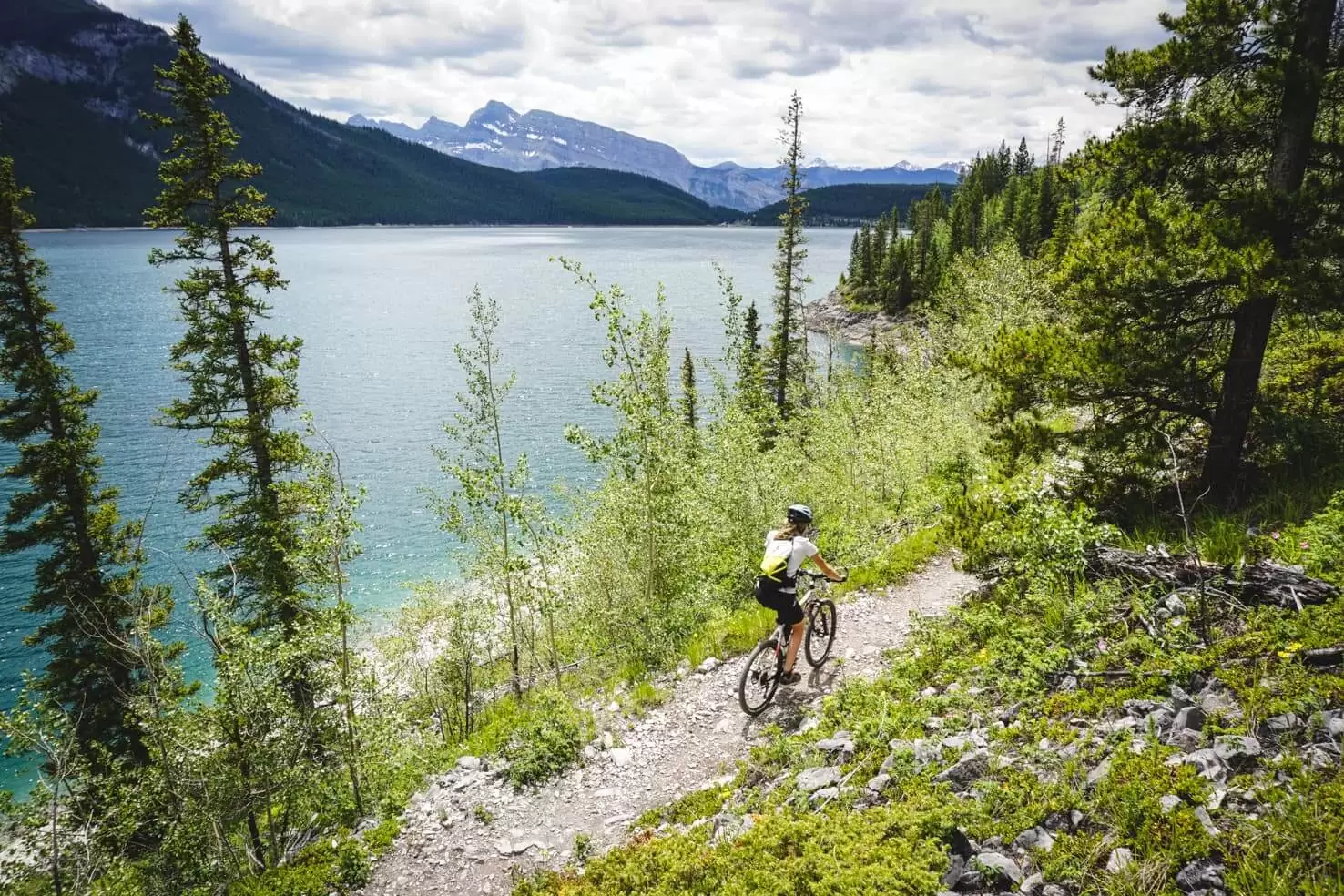 How to get to the bike trails in Banff
If you're visiting from Calgary, I've written about all the transport options on how to get from Calgary to Banff.
In Banff National Park, Parks Canada and the Town of Banff finally stepped up their game in public transport over the last few years.
The public bus now has routes to Lake Minnewanka, Johnston Canyon, Lake Louise, Moraine Lake, and Canmore. Check their schedule here. All buses are bike-friendly and have outdoor bike racks.
All easy biking trails, some intermediate, and all challenging trails listed below start right from Banff town. Aylmer Lookout Trail, Moraine Lake, and Lake Ross can be accessed by taking a public bus from Banff. The only trail for which you would need your own car is Redearth Creek to Shadow Lake.
Best time for biking in the Rockies
For paved biking trails, the biking season is from the end of May to beginning of October. Biking trails located in the valleys are usually wet and muddy until the end of June.
Because Banff's elevation is over 1,300 meters above sea level, the biking season is short. You can expect dry bike trails from June to September.
When is the best time to visit Banff is one of the most asked questions, and we believe you can find plenty of enjoyable activities year-round. Fatbiking on snow is very popular in the Rockies as well.
A quick overview of Banff bike trails
Easy biking trails in Banff
Tunnel Mountain
Cascade Ponds
Johnson Lake
Spray River Loop
Vermilion Lakes
Intermediate biking trails in Banff
Lake Minnewanka Trail
Lake Minnewanka to Aylmer Lookout
Mount Norquay
Johnston Canyon
Redearth Creek to Shadow Lake
Moraine Lake
Ross Lake & Great Divide Trail loop
Challenging biking trails in Banff
Rundle Riverside Trail
Legacy Trail with Goat Creek
Best biking trails around Banff
Although you need to purchase a park pass for entering Banff National Park, all trails are free to use.
1. Tunnel Mountain
Only mountain biking trails right in town.
Distance: 10 km loop
Elevation gain: minimal elevation gain
Difficulty: easy
Trail type: dirt
Where to start: Tunnel Mountain Campground or Hoodoos parking lot
There are several loops and short bike tracks in the Tunnel Mountain area. An easy one is called Tunnel Bench Loop.
The trail is easily accessible from town and is making a loop around Tunnel Mountain. It is a rolling dirt/gravel single track enjoyable for all ages. You ride mostly in the forest, with occasional views of Mount Rundle, Bow River, Hoodoos and Bow Valley.
You can combine the loop with a more advanced trail – The Toe. Few other short trails are all connected and marked, so the difficulty and length of your bike ride are up to you.
You will most likely bike the first time very slowly as there are just too many stops to enjoy the view. For the most enjoyable ride, I recommend going early in the morning as there tend to be lots of hikers during the day.
2. Cascade Ponds
An excellent barbeque spot near Banff.
Distance: 12 km roundtrip
Elevation gain: none
Difficulty: easy
Trail type: paved bike path + road
Where to start: Banff Avenue heading north-east
When starting from town and biking around Tunnel Mountain, you can get off the trail halfway and connect onto the biking path. Then just a short ride on the road and you are at Cascade ponds.
Another option is starting on the biking path at the end of town; this will make a 12 km round trip.
It's a beautiful picturesque picnic spot with plenty of barbeques and picnic tables. Just bring your lunch!
3. Johnson Lake
Relaxing and quiet spot at the lake.
Distance: 24 km roundtrip
Elevation gain: minimal elevation gain
Difficulty: easy
Trail type: paved bike path + road
Where to start: Banff Avenue heading north-east
If you're up to a longer ride, following the Lake Minnewanka scenic drive (which also brings you to Cascade ponds) even further for 6 km and you'll arrive at Johnson Lake.
Starting from Banff on the biking path, the round trip is 24 km.
It's a popular spot for stand up paddleboarding and swimming in summer and ice skating in winter. Being able to cool off my legs in a refreshing lake is my favourite part. Johnson Lake is the warmest lake in Banff so don't forget to bring your swimsuit in summer.
4. Lake Minnewanka Trail
One of the most scenic rides in Banff.
Distance: 20 km roundtrip to Lake Minnewanka (30 km more to warden's cabin)
Elevation gain: minimal elevation gain (115 m for option #1, 200m for option #3)
Difficulty: intermediate
Trail type: paved bike path + road
Where to start: Banff Avenue heading north-east
There are 3 different ways for Lake Minnewanka:
1. Bike from Banff to Lake Minnewanka – ride directly from Banff following the signs. From Cascade ponds, you can bike Lake Minnewanka Loop.
2. Drive, take a bus or bike to Lake Minnewanka – and then bike along the lake to the warden's cabin. Lake Minnewanka bike trail along the lake is gravel/rocks single track for mountain biking. It's usually jam-packed with hikers so you will run into A LOT of people on the trail. There is a campground at Aylmer Pass junction, about halfway. You can lock up your bike here and hike the trail up to Aylmer lookout (see the next biking trail Lake Minnewanka to Aylmer Lookout).
3. Combination of the above, biking to Lake Minnewanka, then to warden's cabin and back to Banff, which totals to 50 km roundtrip. The views when riding along the lake's shoreline are breathtaking. Pack some food, and you can have a barbeque afterwards at Lake Minnewanka, Cascade ponds on the way back to Banff or by the Bow River in Banff.
Seasonal restrictions: July 10 – September 15, no bikes, dogs or camping are allowed and hiking only in a tight group of 4 or more as this is a prime grizzly bear area.
Carrying a bear spray and making noise while riding along the lake (or on any other trail in the Rockies) is strongly recommended.
5. Lake Minnewanka to Aylmer Lookout
The best bike & hike trip in Banff National Park.
Distance: 16 km on bike + 9 km hiking
Elevation gain: 880 m
Difficulty: intermediate
Trail type: gravel & rocks on a singletrack
Where to start: Lake Minnewanka parking lot
Start early in the morning as this is one of the most popular areas in Banff and visiting tourists don't tend to care about other visitors, especially the trail from the parking lot to Stewart Canyon.
The trail follows Lake Minnewanka shoreline and slightly goes up and down, gaining minimal elevation. Bring a water bottle with filter (we love using this one), and you'll have plenty of opportunities to fill it up in the creeks along the way.
Riding a bike is allowed until Aylmer Pass Junction. You can continue biking further along the lake or lock up your bike and hike up to the Aylmer Lookout. The view from the top is stunning, as you can see almost the full length of Lake Minnewanka.
Read the full blog post: Aylmer Lookout Hike & Bike Trip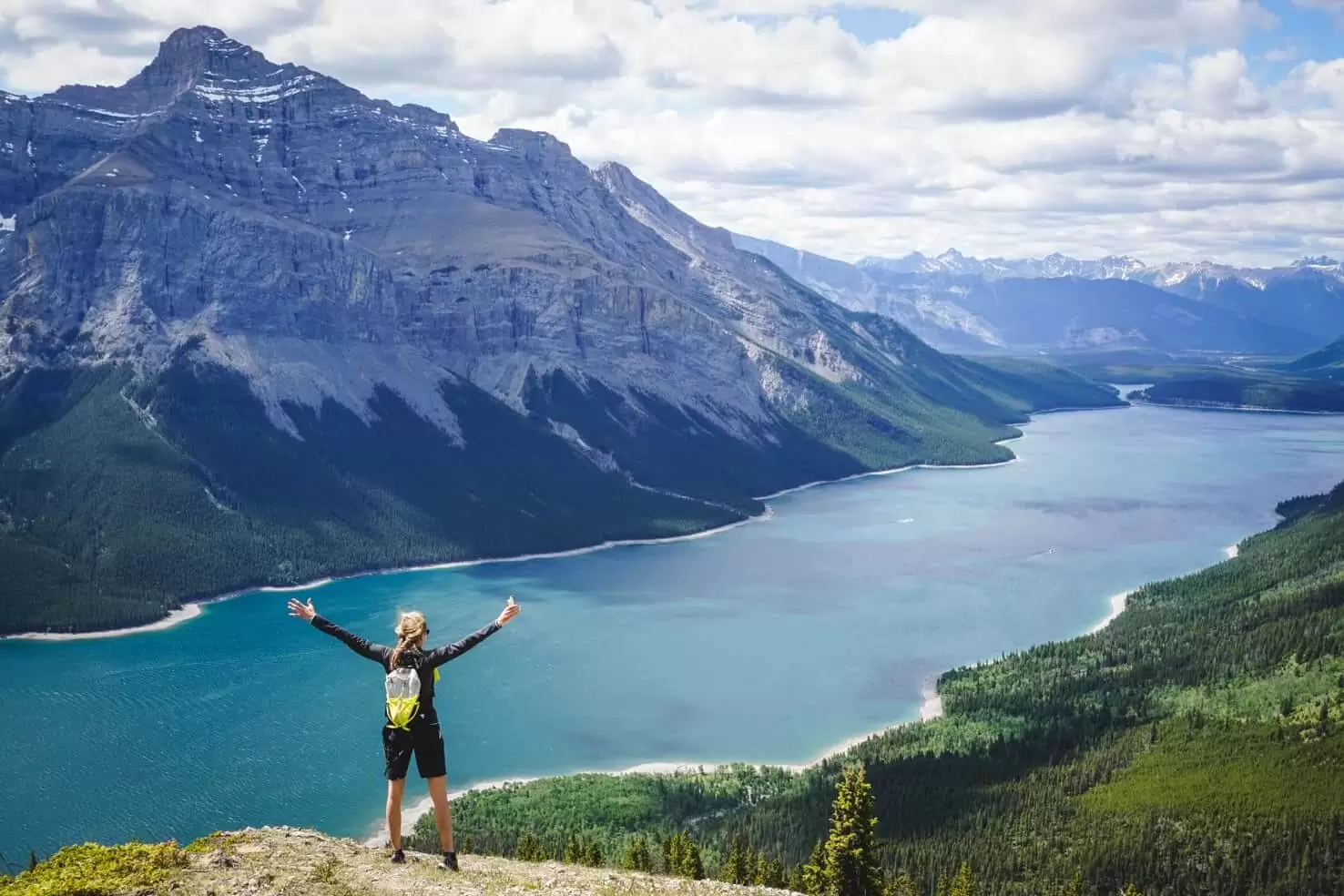 6. Spray River Loop
A popular and easy trail for year-round sports.
Distance: 11 km loop
Elevation gain: 140 m
Difficulty: easy
Trail type: wide dirt trail
Where to start: parking lot behind the Fairmont Banff Springs Hotel
Spray River Loop is a popular trail accessible right from town. It's a wide dirt trail with minimal elevation gain, and therefore it's perfect for all levels. Halfway through the loop, there's a picnic shelter where you can fill up your water bottle if you're using a filter (we love using this one). If you're up for a longer ride, continue to Goat Creek (finishing at Ha Ling Peak parking lot in Canmore) or High Rockies Trail.
When continuing on a Spray Loop, you will get occasional views of the Sulphur Mountain, Mount Rundle, and Spray River, but otherwise, the trail goes mostly through the forest.
If you start by the Fairmont Hotel, you will end the ride at the golf course. The hotel is visible, so it's easy to get back to the parking lot where you started.
We love using this trail for trail running and biking in summer and cross country skiing in winter.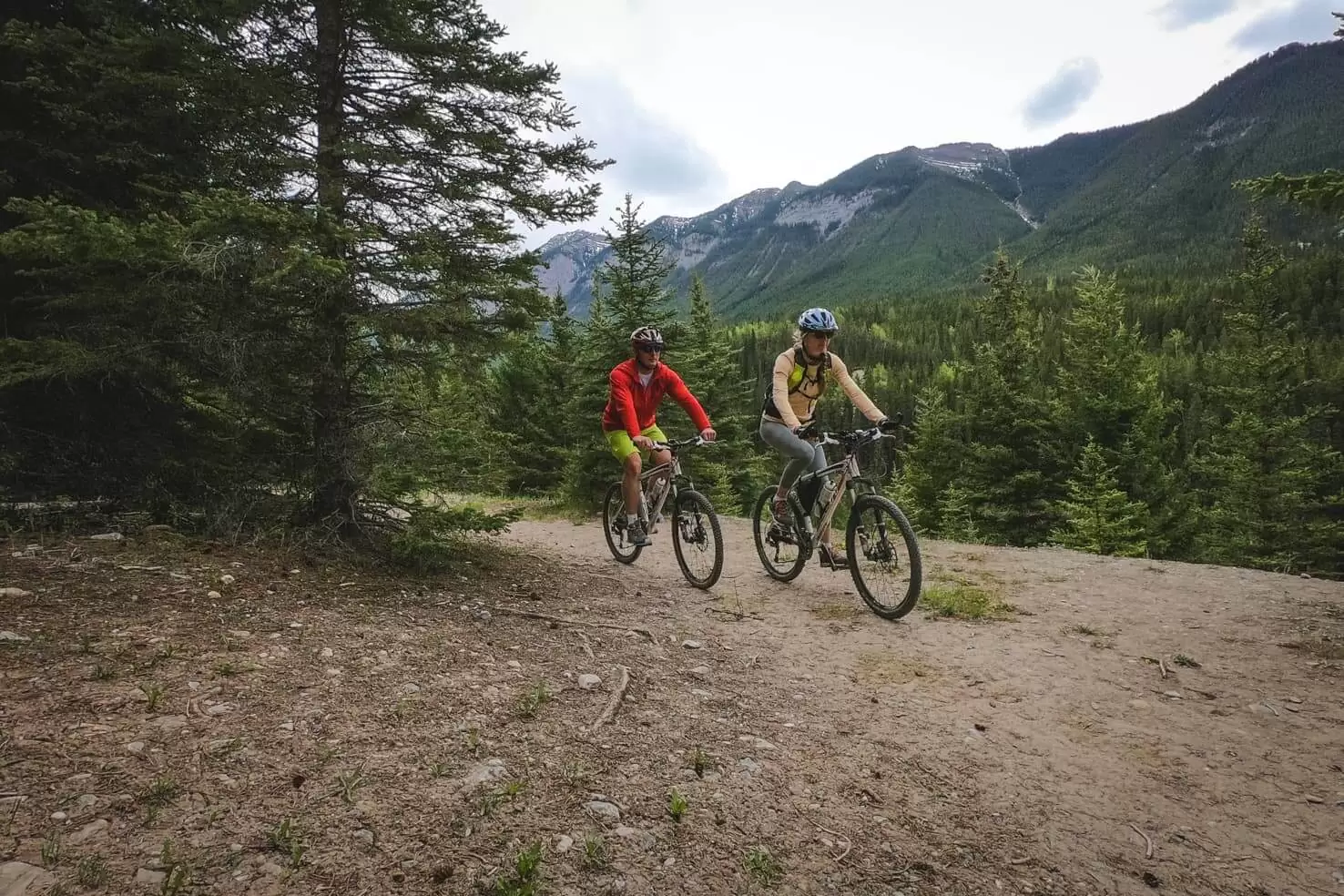 7. Mount Norquay
Ride to see the town of Banff from above.
Distance: 11 km
Elevation gain: 300 m
Difficulty: intermediate
Trail type: paved road
Where to start: Fenland Trailhead
Mount Norquay is a small ski resort, just a few minutes outside the town. The road with many switchbacks can be ridden at any time of the year. As it leads to a ski resort, it's constantly going uphill.
You can start biking up Mount Norquay from anywhere in town or drive to Fenland Trailhead for a closer start. Mount Norquay Scenic Drive takes you to the ski resort, but I recommend biking up until the Banff Viewpoint only – the most scenic spot during the ride.
Soak up the view of Banff and Vermilion Lakes from above, bring a picnic, relax in the signature red chairs and then enjoy the downhill.
We found this ride to be an excellent training ride at the beginning of the season when there still might be snow or mud on dirt trails like Spray Loop.
8. Vermilion Lakes
Scenic lake ride with frequent wildlife watching opportunities.
Distance:4 km roundtrip
Elevation gain: no elevation
Difficulty: easy
Trail type: paved road
Where to start: Fenland Trailhead
Vermilion Lakes are walking distance from Banff. If you'd like to drive closer, park at Fenland Trailhead or Fenlands Recreation Centre.
You will start biking on a bike path along the road leading to Banff before exiting to the Vermilion Lakes Road. It's a nice family outing with a view of three Vermilion Lakes, Sulphur Mountain and Mount Rundle in the background.
If you're lucky, you might even spot elk in the distance or bald eagle, a local resident by the first Vermilion Lake.
It's a 4.2 km ride from Fenland to the third Vermilion Lake. Shortly after the third lake, the road gives way to the bike path, and you can continue by merging onto a road Bow Valley Parkway to Johnston Canyon (see the Johnston Canyon bike trip below).
9. Johnston Canyon
Biking the scenic road and hiking to the waterfalls.
Distance: 48 km roundtrip + hiking to Johnston Canyon
Elevation gain: 150 m
Difficulty: intermediate
Trail type: paved road
Where to start: Fenland Trailhead
Johnston Canyon is west from Banff, towards Lake Louise. Biking on the road/bike path along the Vermilion Lakes, as described above, gets you out of town. You then merge onto the Bow Valley Parkway, a very popular road among road cyclists.
With the craziness around parking at Johnston Canyon, this might be a good option. You bike and then hike and bike back to Banff.  It's a beautiful day trip that will test your stamina.
On Bow Valley Parkway, cars passing by are usually going slowly as people are looking outside for wildlife. Every time we drove or rode this road, we saw elks or goats.
Read the full blog post: Johnston Canyon hike to Ink Pots


10. Redearth Creek to Shadow Lake
Get away from the crowds by a pristine alpine lake.
Distance:5 km round
Elevation gain: 520 m
Difficulty: intermediate
Trail type: wide dirt trail
Where to start: Redearth Creek Trailhead
From Banff, take Trans-Canada Highway heading west for about 20 km and park at the Redearth Creek Trailhead.
The bike ride starts through the forest, gaining some elevation and offers distant mountain views. The rest of the trail is slowly rolling hill up and down up until the 'no biking' sign at about 10 km.
From here, lock up your bike and continue uphill on foot. It's about 3 km to the Shadow Lake. You will pass the Shadow Lake Lodge on the way and continue just a little bit further.
We've visited mid-summer and had the pristine lake and the best picnic spot all to ourselves.
11. Moraine Lake
Bike to the iconic lake without any parking issues.
Distance: 26 km roundtrip
Elevation gain: 370 m
Difficulty: intermediate
Trail type: paved road
Where to start: at the Moraine Lake road gate or Great Divide Trailhead (or Lake Louise village)
Biking to the iconic Moraine Lake is most enjoyable either before the road opens to vehicle traffic or after it closes – that means before mid-May or after mid-October. Only during these times you can park and start your ride at the Moraine Lake road gate.
Starting at the gate, you bike on a 2-lane road, slowly uphill to Moraine Lake. Before the road opens in May, there's a chance of snow on the road with the last 3 km covered in waist-deep snow due to avalanches. That's precisely what happened to us on our previous ride.
We biked on almost a clear road to Ten Peaks viewpoint with the last section completely covered in deep snow. Just as we were leaving, the plow showed up to clear the road. Conditions in October when the road closes tend to be much better.
You can bike the road during summer as well, even though it's harder to find a parking spot (but it's much easier than trying to get to Moraine Lake by car). When the road opens to traffic, you can park at the Great Divide Trailhead or in Lake Louise village. Both options would add a few more km and elevation into your ride.
The stunning Moraine Lake will leave you speechless and adds a bit more appreciation after you ride a bike to see it. Because the amount of vehicle traffic on the Moraine Lake Road is controlled, meaning there are only a few cars at a time, I don't even have to tell you how much pleasure the downhill gives you.
Read the full blog post: The ultimate guide for visiting Moraine Lake
12. Ross Lake & Great Divide Trail
Little known biking trail in Lake Louise area.
Distance: 17.5 km loop
Elevation gain: minimal elevation
Difficulty: intermediate
Trail type: dirt
Where to start: Lake Louise parking lot or Great Divide Trailhead
Ross Lake and Great Divide Trail are both separate trails that you can ride out and back or connect them and bike a loop.
Starting at Lake Louise parking lot, follow the signs to Ross Lake Trail. It's singletrack leading to a rock wall with a pristine little Ross Lake underneath, which belongs to Yoho National Park. Through the connector, you will reach the Great Divide Trail making a loop.
This part is a wide trail, commonly used in winter for cross country skiing or dog sledding. It goes through the forest, but impressive Canadian Rockies are still visible above the trees.
13. Rundle Riverside Trail
A technical ride that will test your mountain biking skills.
Distance: 20 km
Elevation gain: 230 m
Difficulty: challenging
Trail type: dirt & lots of roots
Where to start: Canmore Nordic Centre
When biking from Canmore to Banff (or vice-versa), most people choose the Legacy Trail described below. Only hardcore mountain bikers and adventure seekers know about Rundle Riverside Trail.
It starts in Canmore Nordic Centre through the forest on a wide dirt trail. As you leave the boundaries of the Nordic Centre, the trail is not maintained and consists of singletrack and an endless amount of roots. It doesn't gain a lot of elevation but requires technical mountain biking skills.
From Banff, you can combine it with Spray River Loop and Goat Creek Trail back to Canmore. An easier option would be to bike back on paved Legacy Trail.
In the case of exhaustion, there's always an option to take a public bus back to Canmore.
We've finished this trail twice – on a mountain bike and running. I prefer the enjoyable flow of the trail running rather than getting frustrated over the roots on a mountain bike.
14. Legacy Trail with Goat Creek
An insanely scenic bike ride – where road biking meets mountain biking. 
Distance:5 km loop
Elevation gain: 670 m
Difficulty: challenging
Trail type: paved path and dirt trail
Where to start: anywhere in Banff
Legacy Trail, combined with Goat Creek, is hands down the best bike trail in Banff. It connects two beautiful mountain towns – Banff and Canmore.
You can ride it in either direction, but I recommend starting in Banff on Legacy Trail towards Canmore. This direction offers fewer uphills to ride already long.
The biking path Legacy Trail starts at the end of Banff Avenue and follows the Trans-Canada Highway. Even though it can be quite loud, the fantastic scenery makes up for it. And as a bonus, it goes downhill.
Once you reach Canmore, you need to bike up the dusty Three Sisters Parkway to Ha Ling Peak parking lot where the Goat Creek Trail back to Banff starts. Once again, it's mostly downhill, and this time, it's only dirt and rocks, and very few people.
If you're looking for a fun, adventurous twist to the traditional touristy Legacy Trail, this is it!
In case you're looking for a family-friendly ride, Legacy Trail alone is an excellent option. It's 25 km long (one-way), and if you get tired, hop on a public bus back to Banff.
Read the full blog post: Biking Legacy Trail with an adventurous twist
Banff is a little town and can get very busy, especially during the summer. Biking any trail mentioned above is a quick getaway if you get tired of the full streets or attractions. Just remember to be careful when you encounter any wildlife and give them some time and space to move off the trail or road.
Enjoy the ride!
Great biking trails outside of Banff National Park
Highwood Pass in Peter Lougheed Provincial Park – the highest paved pass in Canada
High Rockies Trail in Kananaskis – the newest addition to longer rides in the Canadian Rockies
Snake Indian Falls in Jasper National Park – off the beaten path ending at a massive waterfall
Canmore Nordic Centre – lots of trails to choose from, great for practising mountain biking skills
 More day trips from Calgary
Exciting biking trips from around the world
*In the spirit of full disclosure: Some links in this post are affiliate links, which means that if you purchase through them, we receive a small commission at no extra costs to you. We appreciate your support!
---
Are you ready for a bike ride around Banff? Let s know which trail have you ridden.
---
Spread the word! PIN this to your Pinterest board.