Biking the Highwood Pass with endless mountain views and no cars allowed on the road is a yearly treat for cyclists. Let me tell you more about biking the highest paved pass in Canada.
The first time we've heard about Highwood Pass was from our friend, who was on a biking trip around the world. He biked through the Highwood Pass at the end of May but had to walk through the actual pass due to too much snow.
I quickly jumped on the internet and found out that the road is opened for cyclists only, no cars allowed until June 15. Great timing!
It's a rare situation, and many cyclists took advantage of it.
We usually prefer biking in the mountains on dirt roads, but after so many times being almost pushed off the road, biking the highest paved pass in Canada without cars seemed like an excellent idea.
From June 15th, cars are allowed on the road, so there is a gap of only a few weeks a year when you can do this ride without traffic (although you can bike in summer on the side of the road as well).
How to get to Highwood Pass
Highwood Pass is located in Kananaskis Country, Alberta, only 140 km southwest from Calgary. It belongs to Peter Lougheed Provincial Park, and it's directly on Highway #40.
The pass can be accessed from the north side at King Creek or from the south from Longview.
We decided to start from King Creek (it's shorter and more challenging) in Peter Lougheed Provincial Park.
The spot where we started our ride is shown below:
Biking the Highwood Pass
Our summary
Distance: 60 km round-trip
Elevation gain: 1,043 m
Maximum elevation: 2,206 m
Difficulty: moderate
Best time to go: before June 15 (without cars) or during summer (with traffic)
Extra gear: tire repair kit, windproof jacket, water, snacks, bear spray
Summary of Highwood Pass climb
Highwood Pass North Climb
– 17 km distance
– 3% average grade
– 1,678 m lowest elevation
– 2,206 m highest elevation
Highwood Pass South Climb
– 37,5 km distance
– 2% average grade
– 1,543 m lowest elevation
– 2,206 m highest elevation
When we arrived at the gate, there were already plenty of cars parking along the road and cyclists preparing for the ride.
Starting at elevation 1678 m, the road begins to ascend very slowly.
Distance from the gate to the top is 17 km. I would rate the climb as moderate with an average grade of 2% but with sections 10% to 14%. One part of the road is considered Category 1, which is the steepest grade for cyclists on the Tour de France.
With the beautiful scenery around us, we haven't even noticed how long or how far we've already biked.
Once we reached the pass, we were treated with a gentle cold breeze during a hot day. We had a little break eating granola bars and headed down the other side. After 14 km of cooling off during the downhill, we turned around for another uphill ride.
NOTE
Road cyclists do this ride as an out-and-back. They start at King Creek, climb 17 km up to the Highwood Pass, and then down the other side to Longview, another 37 km. That's 54 km one-way that you would need to bike back to your car, making it 108 km ride (unfortunately, there's no way to make a loop as you can see from the map above when you zoom in).
The climb from the other side was equally spectacular. We felt more energized than before and enjoyed the scenery around us.
It seems the climb from the north side is more popular. We hardly saw any cyclists climbing up from the south.
Once we reached the Highwood Pass from the other side, we had a short water break on top and hooray to enjoy another downhill to the starting point.
I must admit, having the road to yourself is a real treat. You can do whatever you want without always turning around looking for passing cars. And seeing mountain goats and other wildlife during the day is a cherry on top of an already fantastic day.
Biking the Highwood Pass is an excellent trip for people who like to go to the mountains but don't feel like hiking (which was our case exactly). It's also an excellent training before the short biking season in the Canadian Rockies.
Know before you go
Information
Nearby Peter Lougheed Park Information Centre is closed during summer and operating only seasonally, more info here.
Map of Peter Lougheed Provincial Park (including hiking & biking tri ideas) can be downloaded here.
Staying at Highwood Pass in Peter Lougheed Park
To have the most freedom and enjoy nature to the fullest while staying on a budget, we always recommend staying in the campgrounds.
The closest ones are:
Canyon Creek Campground (first come first served)
Elkwood Campground
Kananaskis Country Campgrounds
Boulton Creek Campground
Mount Sarrail Campground
Kananaskis Interlakes Campground
You can find more info about booking fees and reservations on the Alberta Parks website.
TIP
If you're looking for an adventurous trip and want to have freedom over your day while staying in campgrounds, book a Smile Campervan from us – a budget, family & pet-friendly option.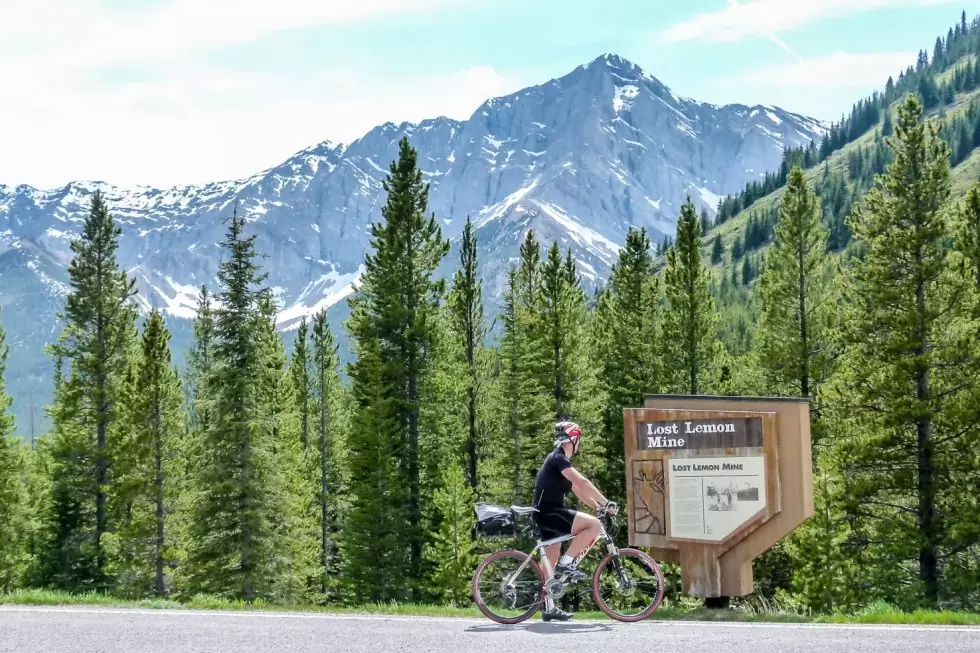 Road closure
Highwood Pass (Highway #40) is closed for cars annually from December 1 to June 14
Accurate road conditions can be checked here.
Trail report for Peter Lougheed Provincial Park
Before you go hiking or biking, check current conditions on Trail Report from Alberta Parks.
Bear country
As always in the Canadian Rockies, you are in bear habitat. You should always carry a bear spray (can be purchased at Visitor's Centre or outdoor stores), know when and how to use it and make noise. Even though you bike on the road to Highwood Pass, bears have been seen in the area. Carefully read these instructions on how to behave around them.
More biking trips in the Canadian Rockies & beyond
Biking in the Rockies
For day trips from Calgary, there are several great biking routes to choose from:
Exciting biking trips from around the world
---
Now we would like to hear from you. Have you ever biked Highwood pass? Or any other mountain passes in the world? Which one took your breath away with beautiful scenery?
---
Spread the word! PIN this to your Pinterest board.