The Aylmer Lookout is the only hike in the famous Lake Minnewanka area to see the lake from above. A 25 km trail will reward you with spectacular panoramic views on top.
I've wanted to do this bike & hike combo for years. Ever since we lived in Banff, almost. While living in Banff when we moved to Canada, we visited Lake Minnewanka a few times on our bikes. The giant lake surrounded by mountain peaks was our reward at the end of a bike ride.
And then a bit later I found out there's a trail along the shore leading either to the end of the lake or to another trail up the mountain to the lookout point (which starts about half way). We were extremely excited to discover a new long mountain biking trail because there aren't many in Banff. But somehow we always missed the window when it's allowed to bike in the area.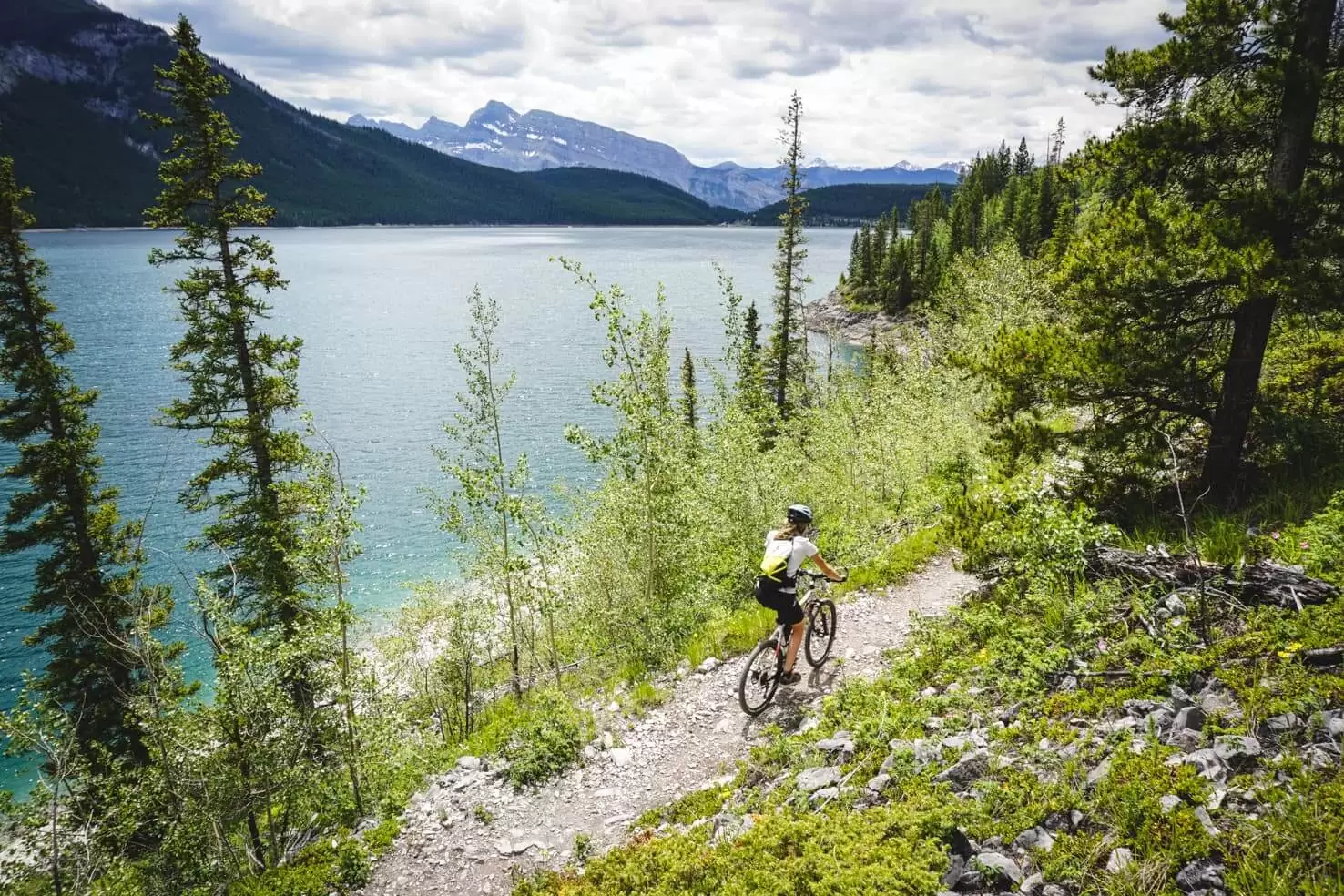 Until Canada Day in 2019. The stars finally aligned for us and we had an amazing day, and given it was a long weekend, with surprisingly only a few other people.
I highly recommend this day trip if you're looking for an epic lake views.
Love hiking? Read our post 20 best hikes in Banff National Park and 15 day hikes near Calgary with jaw-dropping views.
For more amazing bike trips in the Rockies, read these:
Pros & Cons of the Aylmer Lookout
Pros:
Scenic and panoramic views at the lookout
Easily accessible from Banff
Option to do a bike & hike combo
Optional picnic by the lake after the hike
Cons:
Long daunting trail if you're only hiking
Need to be extra vigilant for bears
Seasonal trail restriction
Where is Aylmer Lookout
Aylmer Lookout is above Lake Minnewanka. It's located in Banff National Park, about 10 km from Banff. From Lake Minnewanka parking lot, it's about 12,5 km to the lookout.
How to get to Aylmer Lookout Trail
First, you need to get to Lake Minnewanka. You can either go by car or by bus. It's only a short drive from Banff and you can drive it as a loop and see Two Jack Lake as well.
Local bus company Roam also provides a shuttle from Banff to Lake Minnewanka, you can find their schedule here.
Once you park or get off the bus, you will walk on the paved road along the lake all the way to the end where the trail starts, around 300 meters.
Aylmer Lookout Hike
Distance: 25 km (from the parking lot)
Elevation gain: 880 m
Maximum elevation: 2042 m
Difficulty: moderate if you're biking; difficult if you're hiking only due to its length
Best time to go: May to October (seasonal restriction: July 10 – September 15 no bikes, dogs or camping are allowed and hiking only in a tight group of 4 or more)
Gear: bear spray (the most important), water bottle with filter, windproof jacket, running shoes (trail is easy and soft)
We've decided to do this as a bike & hike trip, and I'm glad we did. The trail along the lake is quite boring and offers only occasional views.
As usual, we like to avoid big crowds at popular places such as Lake Minnewanka. Therefore we started biking at 8 am when the parking lot was still almost empty. Even though the sun was out, it was quite chilly.
The first 8,5 km of the trail along the lake is possible to mountain bike. After you park your car and continue on the paved road along the lake, you will leave the usual crowds behind and enter the forest. There is a map and signage of the trail. It's a wide forest trail frequented by a lot of hikers.
About 2 km into the ride, you will reach Stewart Canyon and a wooden bridge to cross it. The trail goes slightly up and down and it's a very pleasant (and most of the time flat) ride on soft dirt. Shortly after the bridge is a warning sign from Parks Canada notifying all users of the seasonal closure.
The trail changes into singletrack and continues to follow the shore. It's mostly in the forest so you won't have many opportunities to admire the views. Every once in a while the trees clear and you get a glimpse of Lake Minnewanka and surrounding peaks.
I would personally rate the trail easy to moderate as there are some technical sections and riding over roots but these can be easily avoided by walking the bike. Sketchy and rocky parts are very short and I see them as an opportunity to improve my mountain biking skills.
When you reach the second (and much narrower) wooden bridge, that is your last chance to fill up your water bottle, but use a filter. About 100 metres from the creek is a sign for Aylmer Pass Junction. There is a backcountry campground to the right, the trail continues straight to the end of the lake, and the trail for the Aylmer Lookout is on the left and clearly signed.


This was the end of the biking portion and the hike to the lookout began. The trail goes through a thick forest and because of the switchbacks you often can't see it. It's safe to say we were talking loud and shouted very often so we don't surprise any bears.
From the Aylmer Pass Junction, it's about 4 km to the lookout. In the beginning, it's a steep hike with no views at all and later as you make switchbacks, it feels almost flat. 1,5 km from the lookout, you will reach the last sign to turn right. The left trail continues to the Aylmer Pass.


The final section of about 100 meters is steep again. That's why I rated this hike as moderate and not difficult. There are no dangerous parts on the trail, no exposure, cliffs or scrambling necessary.
Top of the lookout in front of us
Last section of the trail
The top of the hill offers scenic views of both sides of Lake Minnewanka. We've seen the east side of the lake for the first time because you can't see it when visiting Lake Minnewanka and stick close to the parking lot. Mount Girouard is proudly standing across the lake, a signature mountain you see on every picture.
It was incredibly windy on top but we found a good sheltered spot behind the trees to relax and enjoy the views, and of course, celebrate Canada's birthday with maple leaf cookies. Another dream came true and we even had perfect sunny weather.
Top of the lookout
It seems there used to be a hut..
As we hiked down, I was looking forward to sitting on the bike again. The idea of having to hike all the way back wasn't very appealing, after all, it's a long (and boring) trip back. This time I knew what to expect and even biked through harder sections.
In the end, our trip looked like this: 8,5 km bike / 8,5 km hike / 8,5 km bike. It took us 6 hours, including a lunch break and sun tanning at the lookout.
Know before you go
When you enter Banff National Park, you're required to pay an entrance fee. You have a choice of either a daily pass or a yearly pass.
As of 2020, the fees are:
10 CAD per person for a daily pass, 20 CAD for a group/family
69.19 CAD per person for a yearly pass, 139.40 CAD for a group/family
The yearly Discovery Pass is valid for all National Parks in Canada. You can purchase it at the gate when you enter the national park, in the Visitor's Centre or online here.
TIP
Read our recommendation: Hiking packing list for summer in the mountains
Staying in Banff National Park
To have the most freedom and enjoy nature to the fullest while staying on a budget, we always recommend staying in the campgrounds. Banff National Park has many with picturesque scenery. Read our comprehensive guide about camping in Banff National Park for all camping info and lots of pictures of the campgrounds.
For seasonal road closures due to wildlife presence or avalanche dangers in Banff National Park, check out the report from Parks Canada.
Accurate road conditions can be checked here.
Before you head out, check current trail conditions on Trail Report from Parks Canada.
Lake Minnewanka area has a season trail restriction in place: July 10 to September 15 no bikes, dogs or camping are allowed and hiking only in a tight group of 4 or more. This is to ensure the safety of hikers during a period of time when grizzly bears frequent the lower elevations in search of food.
The area around Lake Minnewanka is important grizzly bear habitat. Encounters are often and therefore you should always carry a bear spray (can be purchased at Visitor's Centre or outdoor stores), know when and how to use it and make noise while hiking (so you don' surprise any bears)! Carefully read these instructions on how to behave around them.
Additional reading about the Canadian Rockies
Day hikes in Banff National Park:
Day hikes in the Canadian Rockies
Canmore & Kananaskis Country:
Kootenay National Park:
Yoho National Park:
Jasper National Park:
Plan your trip to the Rockies:
---
Spread the word! PIN this to your Pinterest board.