While Kananaskis Country in the Canadian Rockies is popular for scrambling or hiking to the mountain tops, a few other hikes are offering different scenery. Galatea Lakes and Lillian Lake Hike is one of the most popular featuring three breathtaking lakes with changing colours and many options for a refreshing dip.
Short drive west of Calgary is the gate to the Canadian Rockies called Kananaskis Country. With only an hour's drive from the city, it's a favourite hiking spot for locals looking for a scenic day trip.
You can make the hike as easy or challenging as you'd like. The trail to Lillian Lake is easy following a Galatea Creek with very little elevation and reaching Galatea Lakes requires some uphill hiking with a stunning reward at the end.
For longer enjoyment of the area, you can book a backcountry campsite at Lillian Lake and stay overnight.
I'm going to share with you all the info about the Galatea hike, and of course, a lot of pictures so you can plan your trip to Galatea Lakes.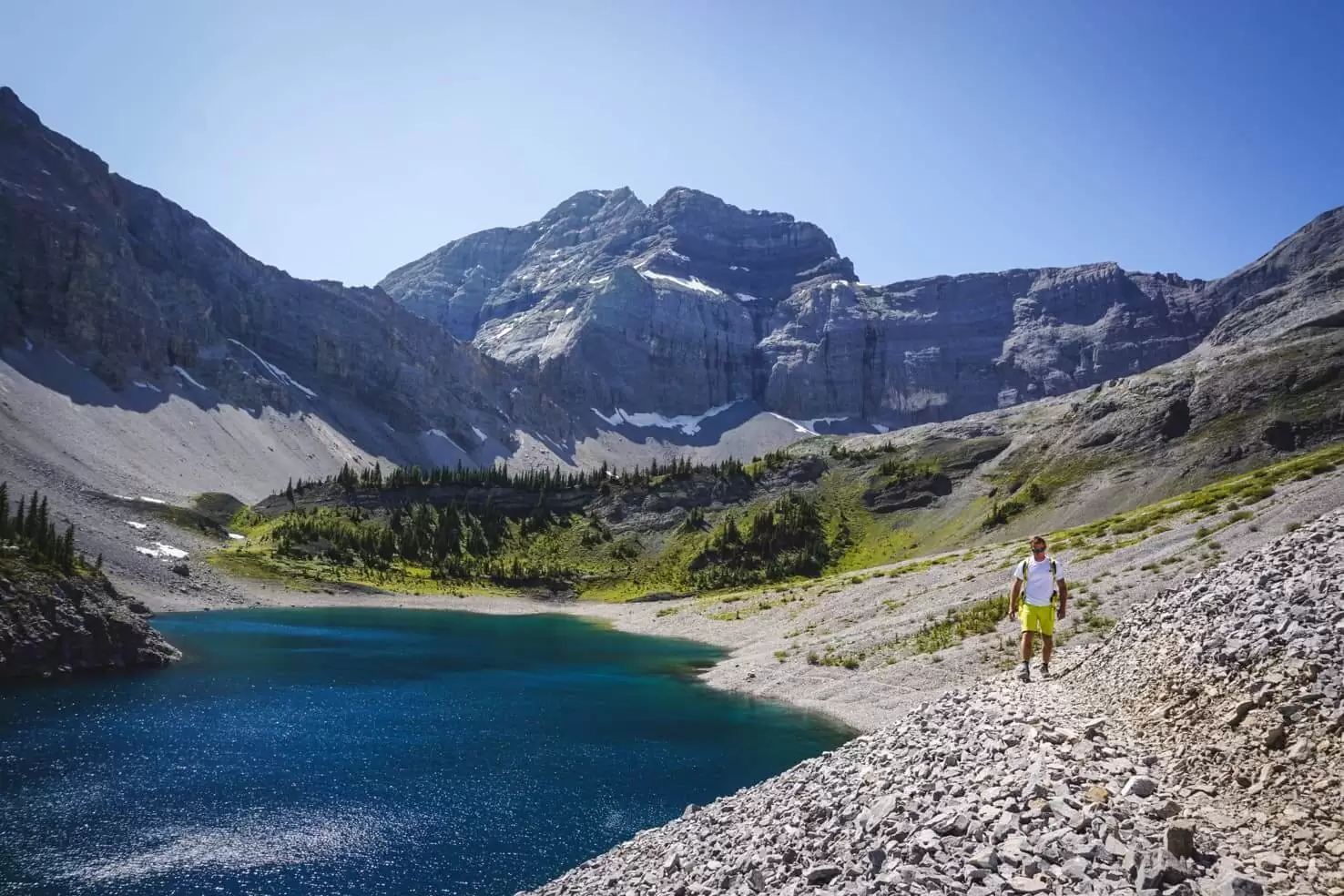 TIP
For more activities, read our post 47 fun outdoor things to do in Canmore
More hiking ideas in the Canadian Rockies:
Pros & Cons of the Galatea Lakes & Lillian Lake Hike
Pros:
Easy elevation gain to Lilian Lake
Well trodden and marked trail
No cliffs or dangerous parts all the way to Galatea Lakes
Three lakes, and two of them great for swimming
Option to stay in the backcountry campground
Cons:
Galatea Lakes hike is a very popular trail with lots of hikers
Most of the hiking trail is tedious through the forest
Where are Galatea Lakes & Lillian Lake
Lillian Lake and Galatea Lakes are located in the Spray Valley Provincial Park in Kananaskis.
The trailhead is accessible from the Kananaskis Trail, 107 km from Calgary or 65 km from Canmore. After you pass Kananaskis village on the right and Wedge Pond on the left (great for ice skating in winter, by the way), look for the Galatea Lakes sign on the right side of the road.
I suggest arriving before 10 am in the summer. The parking lot for the Galatea Lakes hike is big but fills up very quickly. There's an outhouse at the parking lot.
Galatea Lakes & Lillian Lake Hike info
Distance: 6.2 km to Lillian Lake; 1.5 km more to Lower Galatea Lake; and 1.6 km more to the end of Upper Galatea Lake;
TOTAL 9.3 km one-way (  ̴ 5 hours, it took us 7 hours including lunch and swimming breaks)
Elevation gain: 806 m
Maximum elevation: 2,230 m
Difficulty: moderate (most of the trail is easy, but it's long with a few steep sections)
Best time to go: late June to October (annual trail closure is May 1 to late June)
Gear: running/hiking shoes, swimming suit, water bottle with filter (several creek crossings along the way)
Galatea Lakes Hike & Lilian Lake
On a hot August day, we've decided to take our special guests visiting us from Slovakia to a new hike and chose Galatea Lakes hike in Kananaskis.
The drive from Calgary to the parking lot for Galatea Lakes was quick and easy, and we parked before 10 am at the trailhead. The parking lot was filling up by the minute and by the time we left the car, it was almost full.
It was freaking hot already and I refreshed in the first creek just a few minutes into our hike. I think choosing a waterfall or lake hike is smart during summer, so the sun doesn't bake you alive like it would on a mountain top hike.
The good news is, the trail to Galatea Lakes goes through several wooden bridges across the Galatea Creek. It provided us with a quick cool off as well as drinking water (through a filter, of course). Most of the trail goes through the forest following the creek. We were glad to be sheltered from the scorching sun.
Shortly into our hike to Galatea Lakes, we started to meet hikers going in the opposite direction. They were returning from an overnight trip at Lilian Lake Campground back to the parking lot and shared important info. A black mama bear with cubs is grazing along the trail. Everyone we've met in the next half an hour reported the same.
Hikers said that when they announced their presence, bears moved away a bit from the trail. But because the bear was moving around and sticking close to the trail, some hikers returned back saying they were scared to continue.
We were determined to continue all the way to Galatea Lakes and hoped the bear family would choose a different path than ours.
At this point Michal and I had our bear sprays in hand and most importantly, we kept speaking very loudly and shouting every now and then so the bears could hear us approaching. We were very observant and kept scanning our surroundings.
There were quite a lot of hikers on the trail, and everyone was speaking loudly and shouting. It was kind of funny walking through the forest hearing random shouts in the distance, but we all were vigilant.
The bears must have heard us cause they retreated further to the forest and we haven't seen them the whole day.
After an hour and a half of walking through the forest and 500 meters of almost non-noticeable elevation gain, we've arrived at Lillian Lake. A pristine green lake surrounded by mountains and benches. We had a quick break and contemplated jumping into the lake but the bottom of the lake was too muddy.
I could imagine staying at the Lilian Lake Campground, enjoying the quietness of nature with a side trip to Ribbon Creek, visiting Galatea Lakes early in the morning before the crowds, and then going back. It truly seemed like a perfectly spent weekend.
After our snack break, we followed the trail around the lake, continued through the Lillian Lake backcountry campground and onwards to Galatea Lakes.
This is where the trail steepened significantly. Two hundred meters of elevation gain in one kilometre of distance. After the single-track through the switchbacks, we arrived at a hill of rocks. The trail showed us that we really needed to earn that dip in Galatea Lakes.
We had the levelled horizon in sight and continued straight up. While huffing and puffing trying to slowly catch my breath and putting one foot in front of the other, I tried to appreciate beautiful Indian paintbrush flowers along the way.
The Lillian Lake was way down below us as we climbed higher and higher on the mix of rocks and traces of the trail. Once we got to the top, the trail become more visible with hikers and was almost flat. There's a visible sign for the Galatea Lakes trail and another trail up the mountain to Buller Pass or Mount Kidd.


After 8 km and through the sea of wildflowers, we arrived at the Lower Galatea Lake. The lake kept changing its colour based on the angle of sun rays but remained absolutely stunning.
However, we haven't reached our final destination yet. Following the trail along the lake for around 700 meters, we reached Upper Galatea Lake. We left the hiking crowds behind and enjoyed the lake having it for ourselves.
Another 500 meters to the end of the Upper Galatea Lake and we set up a lunch picnic by the lake. The rocky beach, light mountain breeze and the beating sun made a perfect scene. But it was the lake changing its colours with each stronger wind gust that stole the show.
After lunch, we headed back to Lower Galatea Lake, which was better sheltered from the wind for a quick dip. We noticed another trail that goes around another side of the Lower Galatea Lake as you see in the photo below. Because we wanted to go down to the lake, we went back the same way.
With hikers along the shore, I quickly changed into my swimming suit and jumped into the lake. It felt like my whole body froze right at that moment. It was unbelievably cold and refreshing. Galatea Lakes truly delivered what I was craving.
After the long hike on a hot day, it was a great reward. And while many people looked exhausted from the heat, I was feeling fresh for the next two hours.


On the way back from Galatea Lakes, we had another small break by Lillian Lake for a quick snack. I always wish for the return trip to be fast. When the fun is behind us and we reached our objective, all it is left is get back to the car.


My body was overheating again so when we reached the last creek crossing before the parking lot, all of us jumped into the creek with a big sigh of relief.
And that's why my conclusion about Galatea Lakes Hike is this:
Galatea Lakes Hike and Lillian Lake is the best hike in Kananaskis for a hot summer day, thanks to the mesmerizing crystal clear water and many options for a refreshing dip!
Tips for Galatea Lakes Hike
Road closure
For accurate road conditions (or seasonal road closures due to wildlife presence or avalanche dangers) in Kananaskis, check out this website.
Trail report
Check trail report for Kananaskis Country before hiking for possible closures. Sometimes, the trailhead to Galatea Lakes is closed due to the presence of bears. You can download a basic hiking map for Kananaskis Country here.
Packing list for Galatea Lakes Hike
Our hiking essentials include:
Paper map of the area and downloaded map of the hike on the phone
External battery for the phone (especially for using GPS on the phone)
Lifestraw water bottle with a filter so we can drink from anywhere
Extra snacks
Windproof & waterproof jacket (yes, in summer as well)
Fleece or down jacket as unexpected snowstorms happen in summer
My absolute favourite trail running shoes
Bear Spray
And a few other items as well. For a full list of our gear, check out our hiking packing list for summer in the mountains. You can see the full list with links to purchase our favourite gear on our Amazon page.
Kananaskis Conservation Pass
For hiking to Galatea Lakes, you need to purchase a pass. All vehicles parking at the provincial park and on public land in Kananaskis Country and the Bow Valley must purchase a Kananaskis Conservation Pass.
You can buy it online or in person at Kananaskis Visitor Centers & Canmore Nordic Centre. The day pass costs 15 CAD for one vehicle, and the yearly pass costs 90 CAD for two vehicles.
It's free if you visit on Wilderness Wednesdays, the first Wednesday of every month.
Bear safety
If you're hiking in the Canadian Rockies, you're hiking in a bear country. You should always carry a bear spray (can be purchased at Visitor's Centre or outdoor stores), know when and how to use it and make noise while hiking (to let bears and other wildlife know that you're there, so you don't scare them)! Carefully read these instructions on how to behave around bears.
As you could see in this post, bears like to hang out at Galatea Lakes and it was important we knew what to do if we saw a bear.
*In the spirit of full disclosure: Some links in this post are affiliate links, which means that if you purchase through them, we receive a small commission at no extra cost to you. We appreciate your support!
Our favourite hikes in the Canadian Rockies
Canmore & Kananaskis:
Banff National Park:
Jasper National Park:
Yoho National Park:
Kootenay National Park
---
Did you hike to Galatea Lakes? Let us know about your experience in the comments below.
---
Spread the word! PIN this to your Pinterest board.