Calgary is a great place to start if you'd like to see the Rocky Mountains, the badlands, or the prairies. Here's a list of 17 fun day trips from Calgary for outdoor lovers that you can't miss.
You can enjoy mountaintop views, scenic bike rides, glacial lakes and waterfalls, world-class hiking trails, UNESCO sites, and stunning canyons within just 2 hours drive from Calgary. This travel guide featuring 17 day trips from Calgary offers a fun adventure for everyone.
I've been living in Calgary for over a decade and have personally done all of these day trips from Calgary many times. I'm sharing all my recommendations and insider tips to help you plan an amazing getaway with your friends or family.
Let's dive right into it!
17 best day trips from Calgary
This blog post includes the best day trips from Calgary – west, east and south.
West of Calgary offers the biggest variety because of the stunning Rockies and many outdoor experiences you can have, from provincial to national parks.
South of Calgary offers a look into the history of Alberta, driving through the Cowboy Trail and historic experiences.
And east of Calgary has an amazing animal farm that's become a favourite for all ages and a western movie landscape called Badlands of Alberta.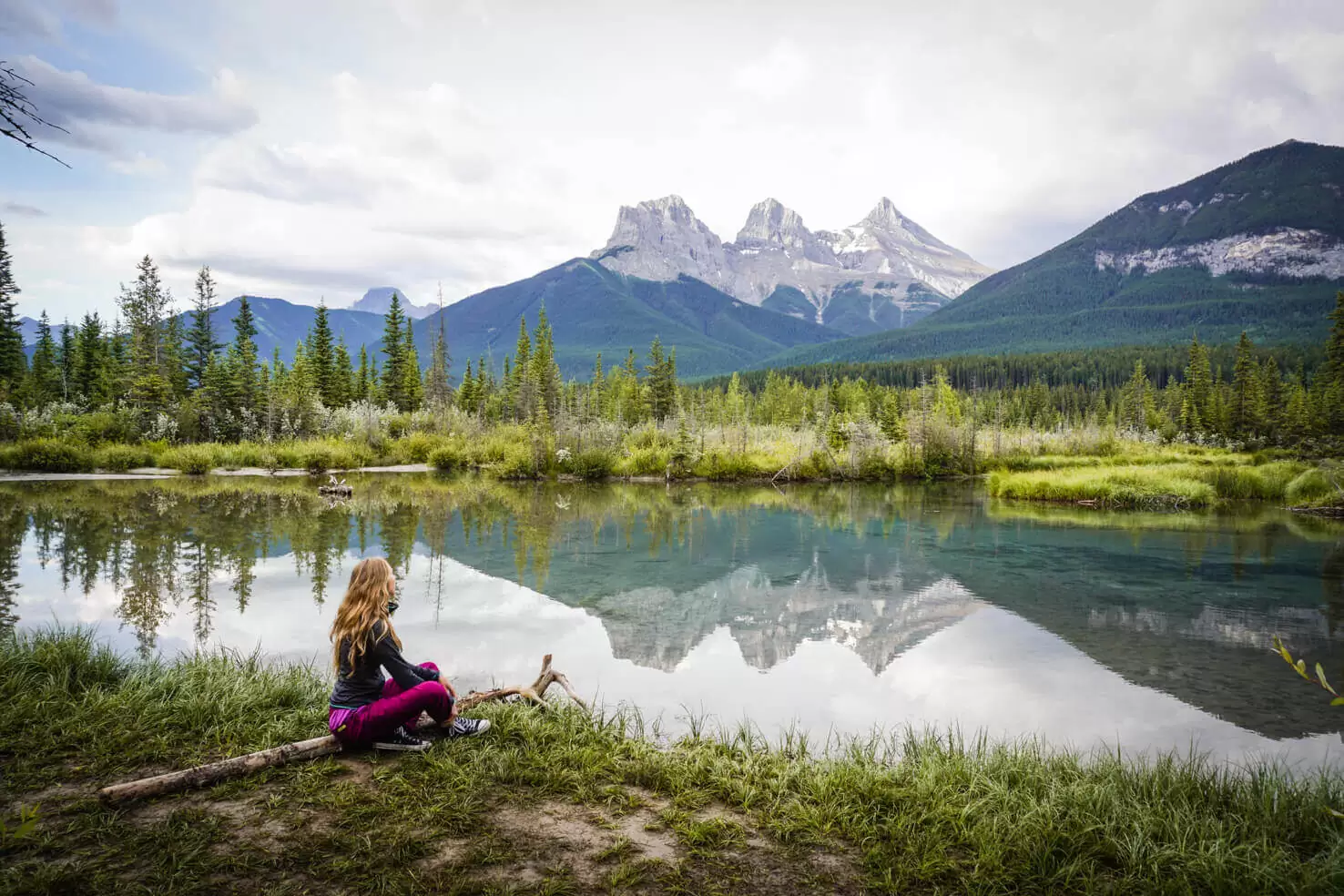 The 3 most popular day trips from Calgary
These are the most popular day tours when you don't feel like driving or want to have a local guide and learn something new.
Best day trips west of Calgary
1. Cochrane
Distance from Calgary: 37 km (35 min)
Highlights: Provincial parks, epic ice cream shop, biggest paintball
Where to stay: Bow River Inn
When you want to get out of the city but not too far away, Cochrane is a beautiful place for nature lovers.
Glenbow Ranch Provincial Park offers hiking and biking trails for the whole family. You can have a picnic overlooking canola fields with Rockies in the background. Another favourite is Big Hill Springs Provincial Park, with family-friendly hiking trails, small waterfalls and views.
Try Capture the Flag Paintball & Airsoft, the biggest paintball facility, for a year-round fun activity. Then head for MacKay's Ice Cream. The family business has been running since 1948 with unique flavours, such as maple bacon. For a relaxing afternoon, go to Cochrane Ranche, a gorgeous shaded park with trees, Bighill Creek, and the Cochrane Historical Museum.
2. Bragg Creek
Distance from Calgary: 46 km (40 min)
Highlights: hiking and mountain biking trails with amazing views
Where to stay: Kruger's Guest House
The getaway to the Kananaskis Country, Bragg Creek, has the closest mountains to Calgary. The small village with under 1,000 residents has a few amazing restaurants, the best being The Italian Farmhouse Restaurant and The Tav at The Bavarian Inn.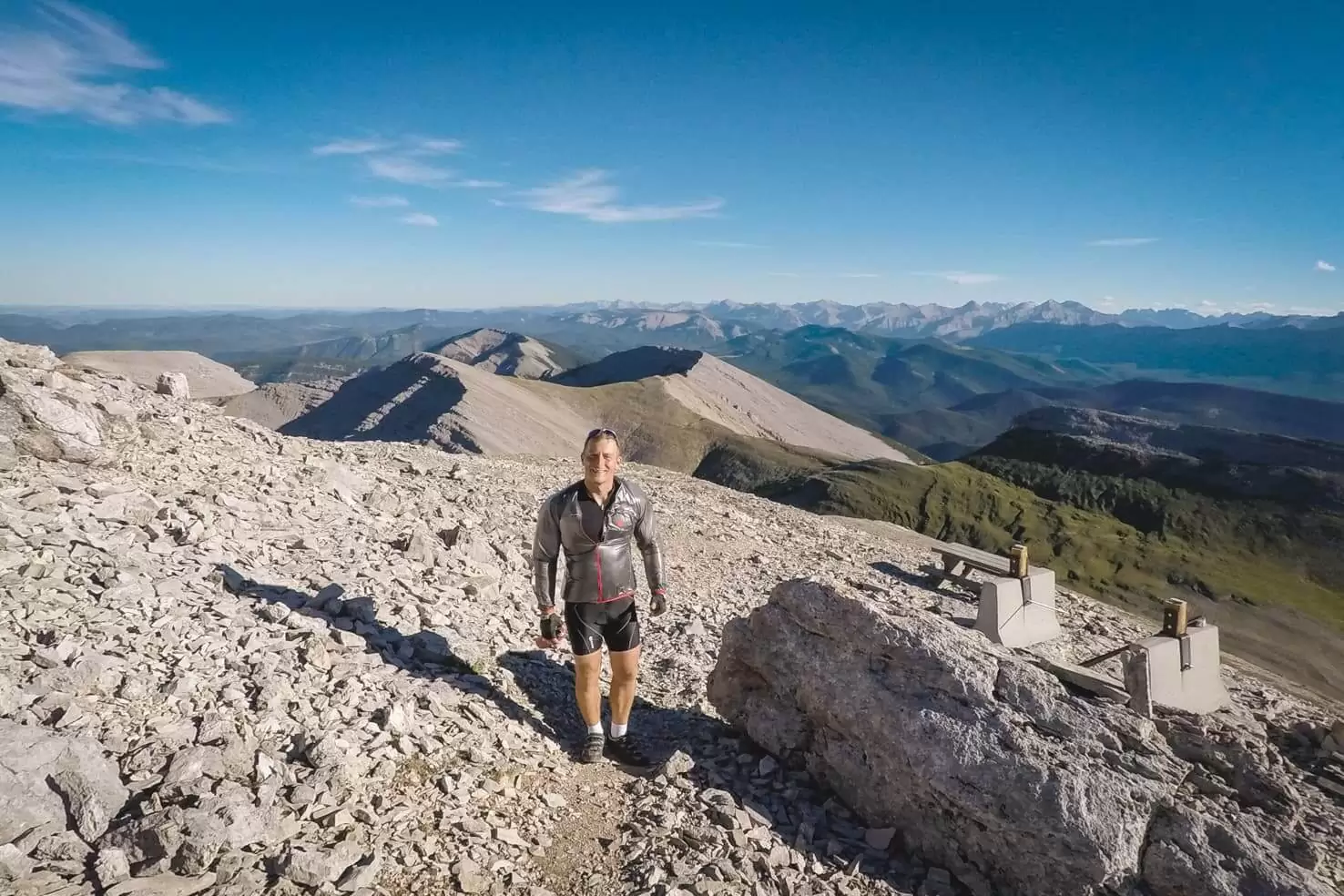 What most visitors come to Bragg Creek is hiking and mountain biking. Elbow Falls is a popular area for family picnics and hiking; there's much to choose from. These are my favourite hikes in Bragg Creek:
Fullerton Loop Hike, 6.8 km & 210 m elevation
Prairie Mountain Hike, 7 km & 725 m elevation
Moose Mountain, 14.6 km & 470 m elevation
I like visiting Moose Mountain on a bike & hike trip. It's a slog going up the gravel road, which you can bike, then hike to the top of Moose Mountain, and then enjoy the downhill ride.
For more mountain biking, I recommend West Bragg Creek, with many flowy trails, singletracks, and beautiful rides through the forests.
3. Canmore
Distance from Calgary: 104 km (1h 20 min)
Highlights: emerald lakes, biking & hiking trails, views, views, and more views!
Where to stay: MTN House by Basecamp
Canmore, located in the Bow Valley of the Canadian Rockies, is Banff's little-known neighbour and has everything you might be looking for – mountain views, lakes, hikes, and plenty of areas to relax after an adventure-filled day. There's plenty to choose from an extensive list of fun things to do in Canmore.
What I love the most about Canmore is that mountain peaks constantly surround you. The views are staggering wherever you go.
Best things to do in Canmore:
Hike to Grassi Lakes (pictured below) – the most popular hike in the area is suitable for all levels. An easy uphill walk in the forest rewards you with emerald green pools at the end and a bird's eye view of Canmore and Bow Valley peaks.
Stand up paddleboard, swim or kayak on Rundle Forebay Reservoir – you get close to the giant mountain peaks while paddling the clear waters. You can rent kayaks or SUPs in Canmore and then drive to Rundle Forebay.
Mountain biking at Canmore Nordic Centre – with over 100km of trails, there's something for everyone. There are a few dirt roads but mostly single tracks in the forest with a nice flow. The shop on-site offers bike rentals and the information centre trail map.
Walk, bike & dip in the Bow River –the gravel path along the Bow River is a popular spot for bikers, runners, hikers and all-around visitors. Michal and I like biking along the river with the occasional dip in the Bow River for our tired legs.
View the full blog post: 47 Fun Things to Do in Canmore (With Insider Tips)
4. Highwood Pass
Distance from Calgary: 124 km (1h 30min) to King Creek Ridge Trailhead
Highlights: biking without traffic, mountain views, wildlife
Where to stay: Kananaskis Mountain Lodge
One of the most unique activities in Alberta is biking to Highwood Pass (2,206m), the highest paved pass in Canada. Without a doubt one of the most popular day trips from Calgary for cyclists. The bike ride has endless mountain views and no cars allowed on the road, and it is a yearly treat for cyclists.
From June 15th, cars are allowed on the road, so there is a gap of only a few weeks a year when you can ride without traffic (although you can bike in summer on the side of the road).
You can bike from King Creek (17 km to the top) or Longview (37 km to the top). We chose the first and enjoyed the mesmerizing mountain views the whole way up. Seeing mountain goats and other wildlife during the day is a cherry on top of an already fantastic day.
View the full blog post: Highwood Pass, Biking the Highest Paved Pass in Canada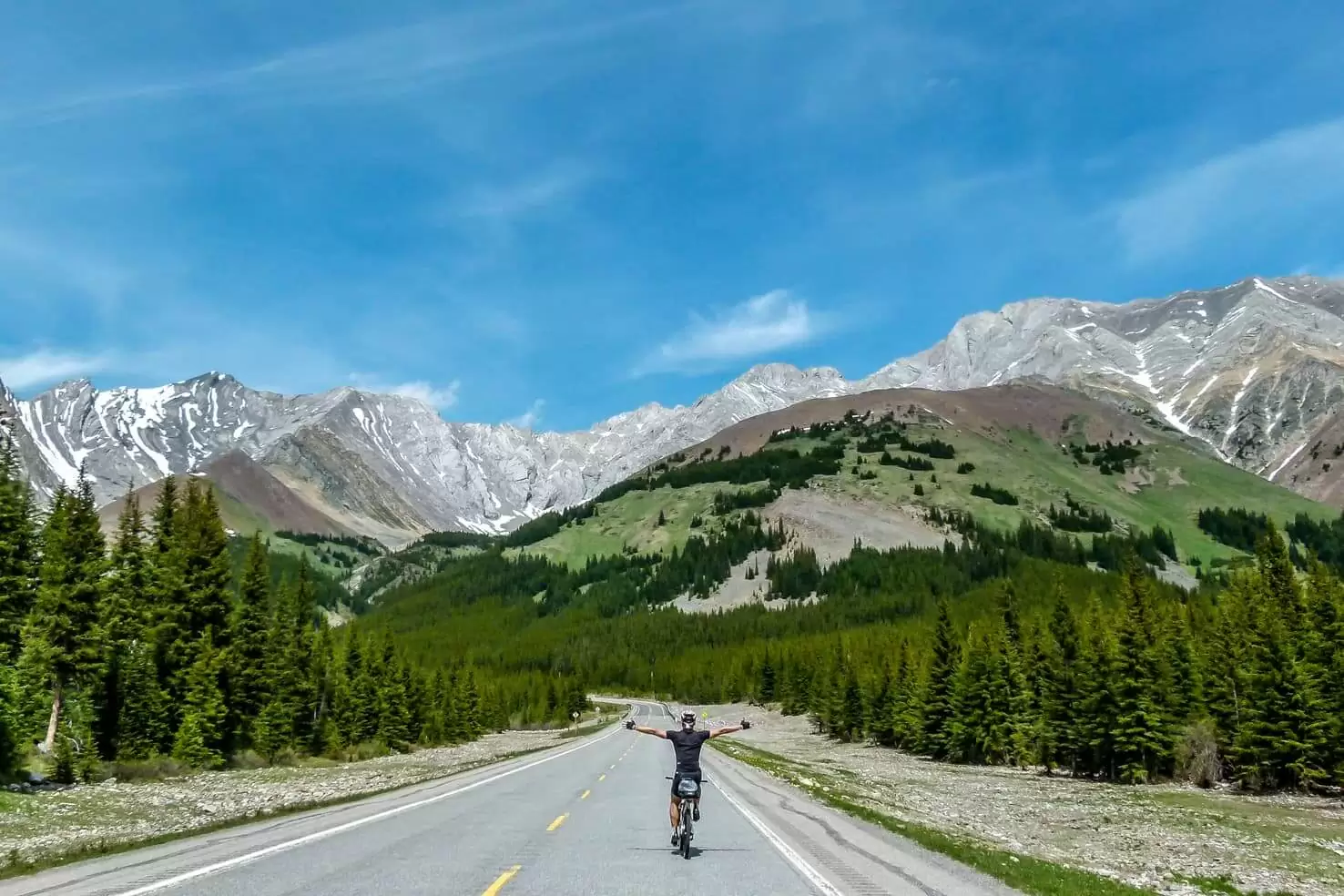 5. Banff
Distance from Calgary: 126 km
Highlights: river walks, mountain lakes, wildlife, canoeing, history
Where to stay: Brewster Mountain Lodge
Banff is the oldest national park in Canada, where you can see wildlife, go on epic road trips, visit the famous lakes surrounded by mountains, hike to the mountain peaks, visit three neighbouring national parks, and much more. For many Calgarians, this is often the #1 day trip from Calgary, and it's easy to see why.
While the national park is huge with lots of activities, which I will focus on later in the post, here are the best things you can do in town:
Walk along Bow River – familiarize yourself with the area when you come to Banff. Walk the path or trail on either side of the Bow River with fantastic views of Bow Valley and surrounding mountain peaks, and watch out for wildlife, especially deer and elk.
Visit Vermilion Lakes – within walking distance from Banff are three lakes where you can relax, picnic, and observe wildlife. I recommend getting there early in the morning and watching the mountains wake up with the sun rays from the dock.
Canoe on Bow River (picture below) – Paddle on Bow River on a big canoe tour with a guide. Book your tour here.
Visit Cave and Basin National Historic Site with natural thermal mineral springs that have been a special place for Indigenous People for thousands of years.
Walk to Hoodoos Viewpoint – Hoodoos are sedimentary formations eroded to a needle-like shape. They were exposed once glaciers started to melt.
View the full blog post: 100 BEST Things to Do in Banff National Park
6. Lake Minnewanka & Johnson Lake
Distance from Calgary: 128 km (1h 35 min)
Highlights: boat tour, kayaking, swimming, Northern Lights
Where to stay: The most scenic campground in Banff National Park is Two Jack Lakeside
Because you can easily spend a whole day in Banff, the neighbouring areas are worth a visit on a separate day trip from Calgary.
Lake Minnewanka and Johnson Lake are close to Banff and very popular destinations, although for different reasons. Lake Minnewanka is popular for kayaking, picnicking, hiking to Stewart Canyon, ice skating, and a boat cruise across the lake. It's also a great spot to photograph the stars and watch the Northern Lights.
On the other hand, Johnson Lake is the only lake in Banff that is warm enough to swim. The shore provides a sandy beach for kids and an easy entrance to the lake for swimmers, kayakers, and stand-up paddleboarders.
7. Sulphur Mountain & Mount Norquay
Distance from Calgary: 133 km (1h 45 min)
Highlights: Panoramic mountaintop views of Banff and Bow Valley
Where to stay: Rimrock Resort Hotel
Mountain peaks of Canadian Rockies as far as you can see, view of Spray & Bow Valleys, Lake Minnewanka and the Town of Banff. While the gondola is the most popular attraction in Banff, there's a more active and budget option for how to get to the top – the Sulphur Mountain Hike. The Sulphur Mountain overlooks Banff National Park and offers jaw-dropping views.
The hike is 5.5 km one-way with an optional 1 km boardwalk hike once on top that leads to an old weather station. The best thing is that you can hike up year-round, and if you get tired, purchase a gondola ticket for the way down.
On your way back to Calgary, you can stop at the Mount Norquay Lookout for another gorgeous view of Banff with much fewer people than at Sulphur Mountain.
View the full blog post: Sulphur Mountain Hike vs. Banff Gondola
8. Kananaskis
Distance from Calgary: 127 km (to Little Lougheed trailhead), 107 km (to Galatea Lakes trailhead)
Highlights: world-class rafting, panoramic mountaintop views, refreshing mountain lakes
Where to stay: Kananaskis Mountain Lodge
Kananaskis Country is a provincial park bordering Banff National Park on the south side. It has a similar landscape, but it is not so protected. The most popular activities in Kananaskis are hiking, biking, camping, and white-water rafting.
Book your tour: Kananaskis River White Water Rafting Tour
While there are many hikes in Kananaskis, my favourites are Little Lougheed Hike and Galatea Lakes Hike.
Little Lougheed Hike is only 6,3 km return with 723 meters of elevation. It's short and steep with very little traffic, Easy scramble at the top for beginners and offers panoramic views of surrounding summit peaks and Spray Lakes Reservoir.
Galatea Lakes Hike (pictured below) offers three beautiful lakes to cool off in summer. It's 9.3 km one-way if you want to see all the lakes on a trodden and marked trail with an option to stay in the backcountry campground at Lilian Lake.
View the full blog post: Little Lougheed Hike in Kananaskis or Galatea Lakes Hike
9. Johnston Canyon
Johnston Canyon to Ink Pots in Banff National Park is a moderate 12 km hike through the most beautiful landscapes of the Canadian Rockies you can do all year round. A deep canyon filled with countless waterfalls and magical turquoise bubble pools at the end makes for a great day trip from Calgary.
You can make it as short or as long as you like. Lower Falls are only 1.2 km one way from the lodge. Most of the trail is flat, paved, and follows Johnston Creek to the falls. The final bridge at the Lower Falls will take you through a short rock tunnel to see the falls up close.
The main trail continues uphill along the creek with views of more waterfalls. Just 1.5 km further, you will arrive at Upper Falls with two viewpoints. The last 2 km leads to the Ink Pots, the five blue-green pools of cold mineral springs.
There are several guided options to see Johnston Canyon; see below:
View the full blog post: Johnston Canyon Hike to Ink Pots or winter option Johnston Canyon Ice Walk
10. Aylmer Lookout
Distance from Calgary: 128 km (1h 35 min)
Highlights: hiking and biking without the crowds, panoramic views of Lake Minnewanka
Where to stay: The most scenic campground in Banff National Park is Two Jack Lakeside
While the trailhead starts at Lake Minnewanka, this is a separate day trip from Calgary, as it's a long day whether you're just hiking or doing the bike/hike/bike combo. Trip to Aylmer Lookout offers an option to combine mountain biking and hiking to have a spectacular view of the famous Lake Minnewanka from above.
Spring and fall is the only time you can bike along Lake Minnewanka. The trail is closed for biking in summer to prevent bear encounters. You can bike until the Aylmer Pass Junction (8.5 km one way), then hike up to Aylmer lookout (4 km one way) for a scenic view of Lake Minnewanka and surrounding mountains, and then bike to the parking lot. It's an epic trip that saves you lots of walking since you can bike most of the trail.
View the full blog post: Aylmer Lookout Hike & Bike Trip
11. Lake Louise
Distance from Calgary: 183 km (2h)
Highlights: Seeing the most popular lake in Canada from canoe, from above, and from gondola
Where to stay: Mountaineer Lodge, read our review here
Lake Louise is the most popular lake in Canada and an extremely heavily visited spot year-round. If you're visiting with your car, arrive early to catch a parking spot.
Here are the best ways to enjoy the famous Lake Louise:
Paddle on Lake Louise – Lake Louise thaws at the beginning of June, when you can rent a canoe at the shore and paddle around the lake. Come early in the morning or late evening and enjoy the beautiful turquoise Lake Louise with Victoria Glacier behind it in tranquillity.
Get a bird's eye view of Lake Louise – hike the Little or Big Beehive, a moderate trail that starts behind the chateau and gives you an exceptional view of Lake Louise from above and surrounding snow-covered mountain peaks. Since these trails are moderately trafficked, you can escape crowds and hike Mount Piran
Take a Lake Louise Gondola – always dreamed about seeing a grizzly bear? The gondola in the ski resort operates for hikers during summer. There are almost daily sightings of the grizzly in its natural habitat from the safe distance of the gondola seat. It is not guaranteed, but it is one of your best chances to spot the beast. There's an observation deck on top with a view of Lake Louise across the valley and a restaurant with epic mountain views.
12. Moraine Lake
Distance from Calgary: 185 km (2h) to Park & Ride shuttle buses for Moraine Lake
Highlights: Seeing an epic turquoise lake surrounded by ten mountain peaks and an optional canoe ride
Where to stay: Lake Louise Inn
Moraine Lake is one of the most beautiful lakes in the world, which you can visit only four months of the year when it's thawed. You can rent a canoe on the shore or bring your own. Moraine Lake is such an iconic Canadian lake that it used to be on the reverse side of the Canadian 20-dollar bill. There are also hiking trails in the area, which often require hiking in a group of at least four people.
Since 2023, Moraine Lake Road has been closed to all private vehicles, so the only way to visit is either hike, bike, or book a shuttle bus. One of my all time favourite day trip from Calgary is biking to Moraine Lake before the road opens and enjoying the beauty without the crowds.
Parks Canada runs a shuttle bus and also several private companies. The most popular shuttle buses to see both Lake Louise and Moraine Lake on the same day are:
View the full blog post: Moraine Lake Guide (including local tips!)
13. Yoho National Park
Distance from Calgary: 208 km (2h 15 min)
Highlights: the 2nd highest waterfall in Canada, epic emerald lakes, glaciers, and hikes
Where to stay: Emerald Lake Lodge
Yoho National Park is a lesser-known gem in the Canadian Rockies. The word 'Yoho' comes from an indigenous Cree expression of 'awe', and in awe, you'll be—massive waterfalls, colourful lakes and rivers, and mountain peaks as far as you can see. Most of the landmarks are best to visit in summer.
These are the highlights of Yoho National Park:
Emerald Lake – Emerald Lake has been discovered only 135 years ago. It is one of the top spots within The Canadian Rockies and is easily accessible by car. You can stay right on the shore at Emerald Lake Lodge, take a canoe to paddle on the lake in summer or snowshoe around the lake in winter.
Takakkaw Falls – Takakkaw Falls is the 2nd highest waterfall in Canada at 373 meters. The partly paved path to the falls is wheelchair and stroller-friendly. I recommend getting as close as possible to Takakkaw Falls for a refreshing spray.
Iceline Trail (pictured below) – 18 km challenging trail featuring views of Takakkaw Falls from above, up-close and distant glaciers, several other waterfalls and pristine lakes. It is the most epic hike in the Canadian Rockies.
View the full blog post: Adventure Travel Guide to Yoho National Park
Best day trips south of Calgary
14. Cowboy Trail
Distance from Calgary: The whole mentioned road trip is 490 km, and it is best as a weekend trip or two (or more) separate day trips from Calgary
Highlights: Learning the history of Alberta and Indigenous People
Where to stay: Travelodge by Wyndham Pincher Creek
The Alberta Highway 22, also named the Cowboy Trail, passes through the prairies and the eastern slopes of the Rockies and takes you back in time when ranchers and cowboys occupied Alberta.
Let's follow the cowboys of the old west through the ranch country on the Cowboy Trail; these are the most popular stops:
Big Rock – about 40 minutes south of Calgary, you arrive at "The Rock That Ran". Enormous rock in the middle of the flat prairies was part of a massive landslide thousands of years ago.
Black Diamond – popular for its wild west looking streets. If you forget the cars, you feel like you're in a western movie. Stop at Marv's Classic Soda Shop, a typical diner from the 50s with a jukebox.
Bar U Ranch – it's a National Historic Site; a 70-year-old ranch was once one of Canada's largest.
Head Smashed in Buffalo Jump – one of the oldest and largest buffalo jumps located "where the Rocky Mountains meet the Prairies" and considered a UNESCO World Heritage Site.
Pincher Creek is another picture town with many historical buildings and cowboy-styled drawings.
Lundbreck Falls – a beautiful spot for a picnic or to spend the night in the campground.
Waterton Lakes National Park (pictured below) – it forms Waterton-Glacier International Peace Park with its neighbour Glacier National Park in Montana, US. The highlight of the national park is the Waterton Lake, the deepest in the Canadian Rockies, and surrounding hiking trails.
View the full blog post: Road Trip through Southern Alberta
15. Crowsnest Pass
Distance from Calgary: 212 km to Bellevue, the first town in the Crowsnest Pass; this trip would be easier as a weekend trip as opposed to a day trip from Calgary
Highlights:
Where to stay: The Kanata by BCMInns Blairmore
The Crowsnest Pass consists of five small towns united by its coal mining history, unique sites, and vistas.
Bellevue – named after the French who, upon discovery of the views, said: "Quelle belle vue!" ("What a beautiful view").
Blairmore – is popular for its Pass Powderkeg Ski Area and outdoor activities, especially hiking to Turtle Mountain.
Coleman – Hike the Miner's Path, the heritage trail that coal mine workers once used.
Frank – Due to a massive rockslide in 1903, the mining town of Frank was buried under the rocks. 90 million tons of limestone rock slid down from Turtle Mountain within 2 minutes. It reached the opposite hills, and even though most of the town survived, it is considered one of Canada's largest and deadliest rock slides, estimated burrying 80 people. It is now a popular tourist attraction with an interpretive centre providing stories and presentations of the tragedy.
Hillcrest – together with its neighbour Bellevue, they offer picturesque century-old streets and coal mining tours.
Best day trips east of Calgary
16. Kirk's Alpaca Farm
Distance from Calgary: 116 km (1h 15min)
Highlights: walking and feeding cute alpacas
Where to stay: Continue to Drumheller for a weekend trip
Kirk's Alpaca Farm is an amazing experience visiting alpacas grazing in the field where you can feed them, pet them, and take funny pictures.
Kirk's Alpaca Farm delivers fun for all ages. When we visited Kirk's Alpaca Farm in autumn, there were many families, friends and couples. Just seeing the beautiful, funny faces of alpacas will surely brighten your day!
There are about 90 alpacas on the farm. Online bookings through their website are required, and the fee covers the alpaca food you get in a bag to feed them. You book a 2-hour time slot to see the alpacas, and after that, you can visit the farm shop the playground or have a picnic.
View the full blog post: Kirk's Alpaca Farm
17. Drumheller
The small town of Drumheller, lying in the Red River Valley, has a unique charm. Step into a Western movie, hike in the canyons, discover the dinosaurs and explore awesome and quirky things to do in Drumheller and its remarkable landscape. Visiting Drumheller is one of the most popular day trips from Calgary on long weekends where it's crowded in Banff and Canmore.
The most popular activities in Drumheller are:
Visiting the Royal Tyrrell Museum
Hiding from bandits in the Horsethief Canyon
Climbing up the World's Largest Dinosaur
Hiking in the Horseshoe Canyon
Walking the Hoodoos Trail
Visiting the historic Last Chance Saloon in Wayne
View the full blog post: 10 Things to Do in Drumheller & Local Tips for Visiting
These are some of the best day trips from Calgary. I hope this travel guide helps you plan a fun trip with your friends or family.
Have you checked out our other Calgary travel guides