Rundle Forebay, also called Canmore Reservoir, is a popular spot in Canmore for kayakers and stand-up paddle boarders. Here is all the info you need for visiting.
Rundle Forebay is our favourite and one of the best places for stand-up paddleboarding in the Rockies. Why? Because it's the first that thaws! While all the scenic lakes in Banff and beyond are still under snow and ice, Rundle Forebay already shows its gorgeous emerald colour.
Many people come to Canmore Reservoir every spring to paddle and enjoy the water after a long winter. Most people stick to the first huge part. I like to paddle through the channel to the end, where you can hear the waterfall.
The constant mountain views are mesmerizing, and I often look up in awe.
Rundle Forebay/Canmore Reservoir
Where is Rundle Forebay?
Rundle Forebay (Canmore Reservoir) is shown on Google Maps as Rundle Forebay Reservoir. It's located west of Canmore and easily accessible by car. From Canmore, take Three Sisters Drive, then turn right onto Three Sisters Parkway/Smith Dorrien Spray Trail. It's only 4 km from downtown Canmore, about a 7-minute drive.
For a nice walk to Rundle Forebay, you can start at Riverside Park, continue across Canmore Engine Bridge, and up the narrow walking trails towards Canmore Nordic Centre.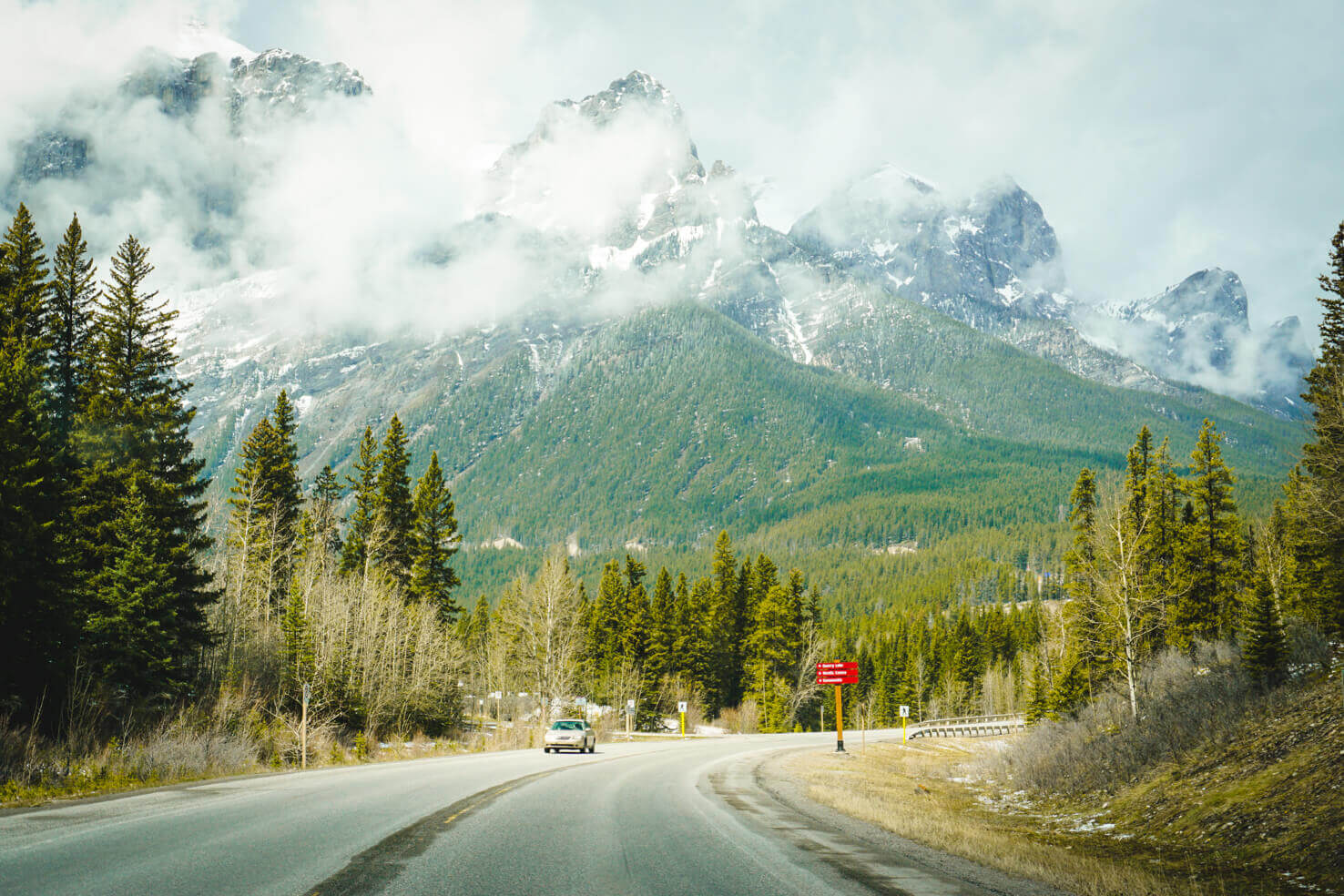 Parking at Rundle Forebay
Parking at Rundle Forebay is limited to about 30 cars, and it's only allowed facing the forest.
There was a heated discussion in a stand-up paddleboarding Facebook group about people getting tickets. Some thought it was because they didn't purchase the Kananaskis Conservation Pass.
From my experience and countless visits to Rundle Forebay, I'm sure people were ticketed because they were parking along the road. Rundle Forebay DOES NOT belong to any provincial park, so you don't need a pass. Parking at Rundle Forebay is free.
How long is Rundle Forebay?
If you'd like to paddle from the beginning of the Canmore Reservoir almost to the end and back, it's 5 km.


READ NEXT
47 Fun Things to Do in Canmore (With Insider Tips)
Can you swim in the Canmore Reservoir?
Yes, Canmore's Visitor Centre confirmed that you're allowed to swim in Canmore Reservoir. The water is quite refreshing and has a similar temperature to the nearby Quarry Lake.
Amenities at Rundle Forebay
The closest amenities are at the Daylodge of Canmore Nordic Centre. There are showers and toilets, an indoor seating area with a small buffet, delicious hot meals and snacks, and an info centre.
There are no washrooms at Rundle Forebay.
To park at Canmore Nordic Centre, you must purchase a Kananaskis Conservation Pass since it's in the provincial park.
Activities at Rundle Forebay
Kayaking and stand-up paddleboarding are the most popular sports at Rundle Forebay. If you don't have your own, you can rent a stand-up paddleboard at Bow Valley SUP and even join one of their group trips.
Across the water from the rocky beach, you can see a flat pathway usually enjoyed by bikers and runners. It's one of the easiest and prettiest mountain biking trails in Canmore.
What next?
We love biking and cross-country skiing at Canmore Nordic Centre. They have a rental shop onsite with fat bikes and skis, and you can warm up by the fireplace at the Daylodge in winter. In summer, mountain biking trails have a nice flow and range from easy to difficult.
If you like challenges, start biking the paved path at Canmore Nordic Centre, and then continue on the Rundle Riverside Trail to Banff. It's a challenging but scenic route.
An easy and gorgeous hike leads to a turquoise and emerald lake above Rundle Forebay. There's an easy and difficult trail to the Grassi Lakes. The easy one is great for off-trail strollers and kids, and the difficult one has several rocky steps and even a waterfall.
The trail is a 4 km roundtrip with 220 meters of elevation. While the best time to hike is from May to October, when the lakes are thawed, it's also often open in winter.
A popular lake for families is Quarry Lake. Since they introduced (steep) paid parking, many people choose Rundle Forebay instead of Quarry Lake. But Quarry Lake has a nice sandy beach, ideal for kids.