Grassi Lakes is a little uphill hike to emerald and turquoise lakes with a few benches waiting for you to chill out and enjoy a breathtaking view of the mountain town Canmore in the Canadian Rockies.
There are several walks and small hikes in Canmore and all of them have stunning views. Canmore is located in a narrow Bow Valley with giant mountain peaks wherever you look. Combine that with an ever-changing colour of Bow River and you can easily spend a nice day outside just wandering around town.
When you're ready to go just a little bit further, pack a picnic and head to Grassi Lakes above Canmore.
In this blog post, you'll see lots of photos to show you what is this hike about, safety rules (you're in a bear country), and also a non-hiking option to see the Grassi Lakes. Enjoy!
TIP
For more activities, read our post 20 fun outdoor things to do in Canmore
More hiking ideas:
Pros & cons of the Grassi Lakes Hike
Pros:
Close to Canmore
Possible to visit without a car
Great effort to views ratio
Bird's eye view of Canmore
Refreshing picturesque lakes as a reward
Benches for a picnic
Cons:
Extremely busy trail, go early in the morning and try to avoid weekends
Where are Grassi Lakes & how to get there
Grass Lakes consist of Upper and Lower Lake located at 1,525 meters above sea level. They are just outside of Canmore in Kananaskis Country (about 1 hour from Calgary, the nearest major city).
From downtown Canmore, it's just 5.5 km drive up the Smith Dorrien Spray Trail (Three Sisters Parkway). Once you pass the Canmore Nordic Centre on your right, continue further until you see a sign for Grassi Lakes Trail. The short dirt road on the left leads to a big parking lot with picnic tables and an outhouse.
Another option would be to walk up to the trail. If you take several shorter trails along the Bow River and up to Canmore Nordic Centre, it's only a 3.7 km walk or a bike ride.
There is no public transport available.
Grassi Lakes Hike in Canmore
Distance: 4 km roundtrip
Elevation gain: 220 m
Difficulty: easy
Best time to go: May to October (a great winter hike as well)
Gear: water bottle with filter (you can fill up from the waterfall or lakes), windproof jacket, running shoes (the trail is easy), bear spray
I cannot even count how many times we've been up to Grassi Lakes. It's a beautiful short hike (although I would consider it a walk) if you're short on time or as in our case, have family and friends over visiting Canada.
The last time we've visited Grassi Lakes in winter 2020, I was surprised the lakes weren't frozen and showed us its breathtaking colours.
The sign with a trail map at the beginning of the hike explains two different routes:
Difficult trail – Lower Grassi Lakes Trail through the forest is a narrow path with a few rocky stairs, a waterfall, and occasional view of Canmore and Bow Valley. It's a moderate trail even when for some reason it's called difficult.


Easy trail – Upper Grassi Lakes Trail is almost flat and quite boring with no views
The combination or the option of going out-n-back the same trail is up to you. We've decided to take the Lower Trail up to the Grassi Lakes and then down on the Upper Trail.
Few minutes into the hike, the first views open up as you see the Rundle Forebay and Canmore below. The beauty of this hike is for the little picturesque rewards until you reach the lakes. The next one is a small waterfall, a great place to cool off and fill up your water bottle (if you have a filter).
Before you know it, the emerald Lower Grassi Lake is in front of you. Picnic benches are scattered around the lake and due to the trail's heavy use, even the path around has been repaired. The rocky mountain peak you see on your left is another popular hike Ha Ling Peak (link to Ha Ling Peak hike is at the end of this post).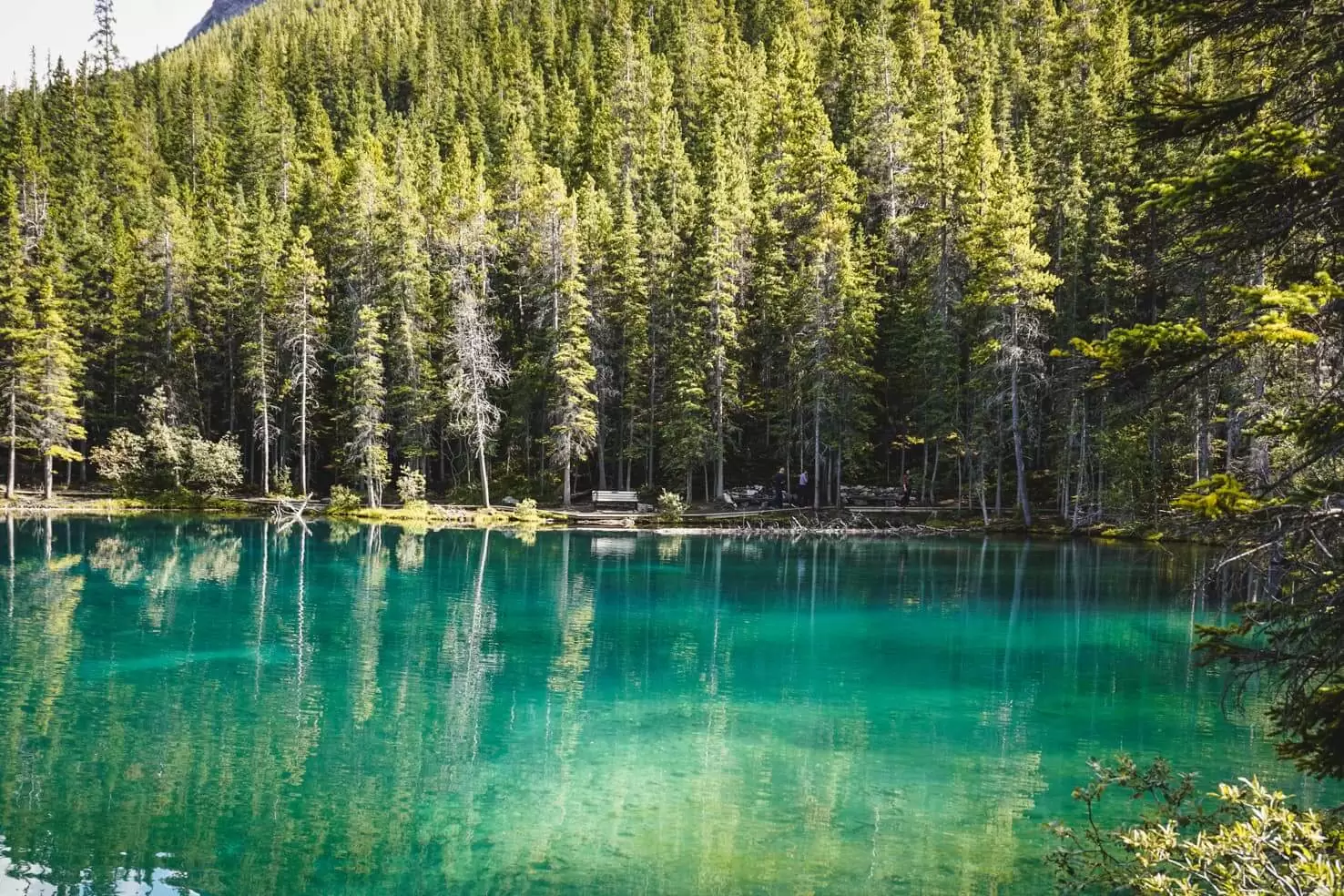 TIP
Ha Ling Peak is another very popular and scenic hike but if you're craving solitude, choose the nearby moderate option Mount Lawrence Grassi hike for the same views.
Further up is a turquoise Upper Grassi Lake. The warning you'll see on the trail up is due to the hazards from the cliffside frequented by rock climbers. As I understood the story, a group of climbers were on the wrong side of the cliff when a girl fell to her death followed by a big boulder. This is the first incident I've heard of in 7 years. Suffice to say, you're entering at your own risk. Keep an eye on the rock climbers and hike up the trail as fast as you can.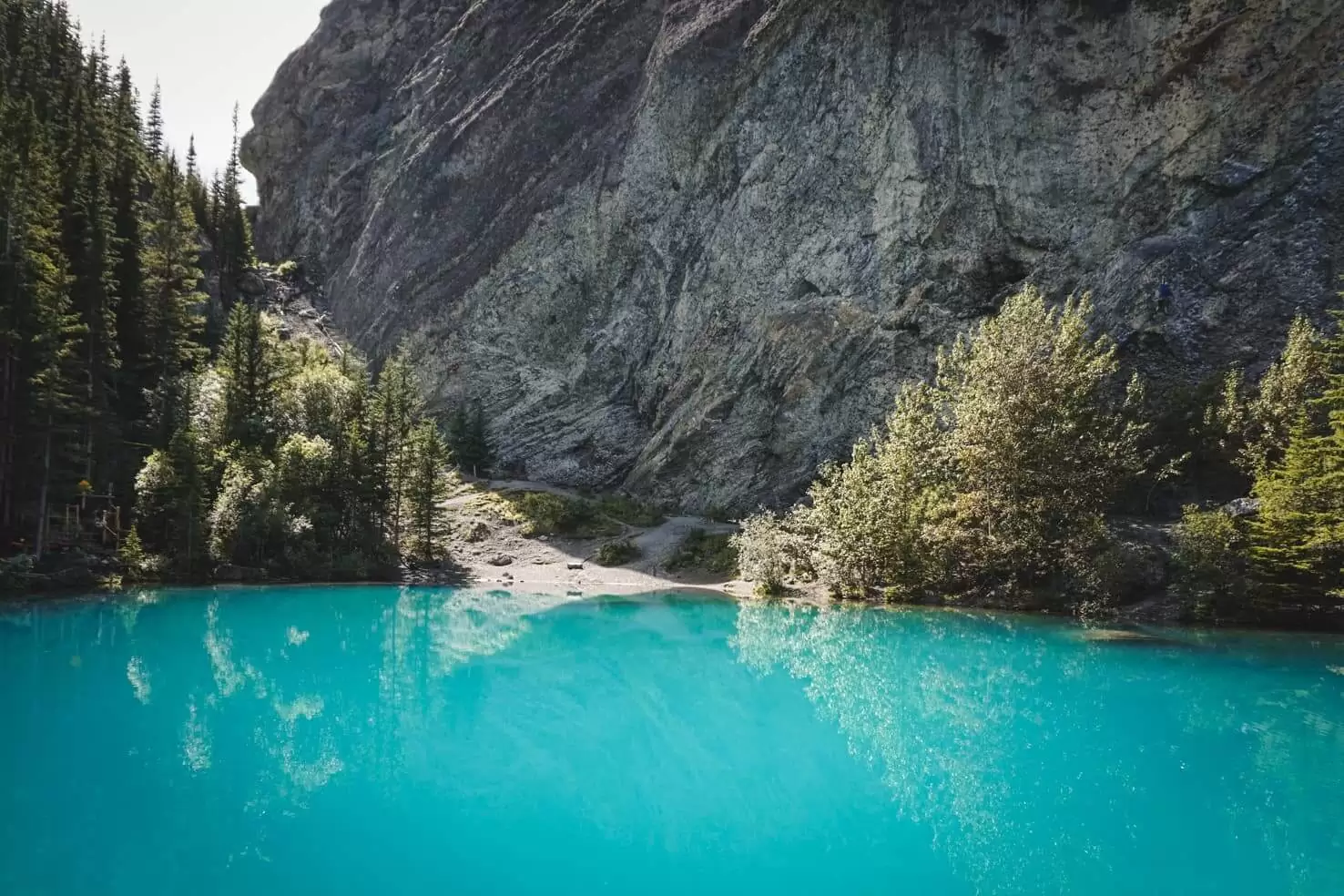 You can turn around wherever you want even though the trail continues through the canyon up all the way to the dirt road Smith Dorrien Spray Trail. It's this canyon trail that rock climbers use to get down to the cliff. If you go all the way up to the road, you can often spot bighorn sheep by the road and also a very nice Whitemans Pond.
The non-hiking option to see Grassi Lakes, I mentioned in the beginning, is exactly this trail. If you drive up the road and continue beyond the sign for Grassi Lakes, you can park by the Whitemans Pond and walk down the stairs to Grassi Lakes.
We turned around after we soaked up all the views via the Upper Trail back to the Grassi Lakes parking lot.
Grassi Lakes in winter
I was surprised to see gorgeous emerald colour in winter. So it's official now – Grassi Lakes is the best hike in Canmore year-round.
Usually only the easy trail is open in winter, the difficult trail is very icy and often closed. Either way I recommend wearing microspikes, and check the trail conditions before you go.


Know before you go
Before you head out, check current trail conditions on the Alberta Parks website.  If the conditions are hazardous, often due to ice, the trail is closed.
TIP
Read our recommendation: Hiking packing list for summer in the mountains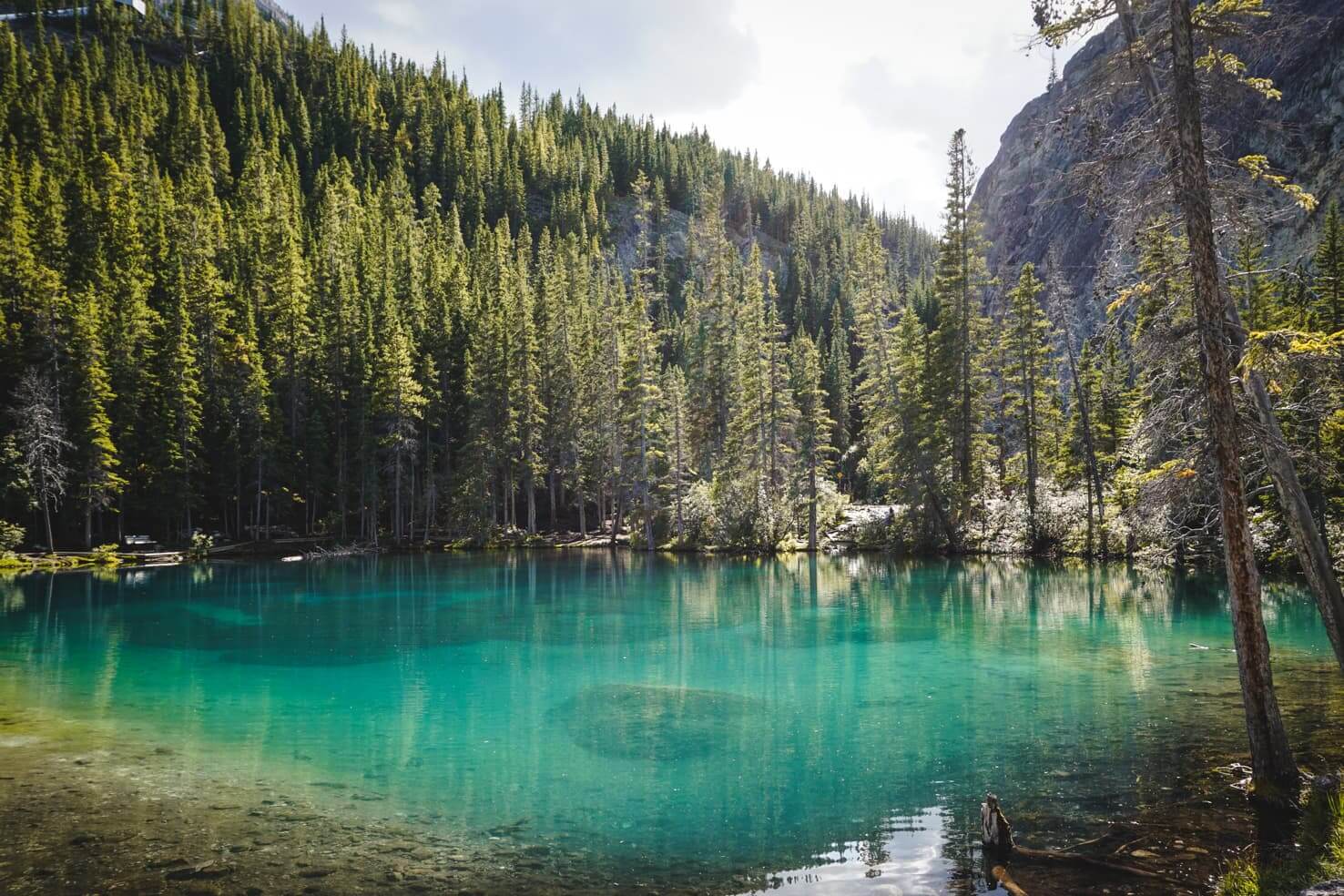 There's a misconception among newbies in the Canadian Rockies that if you're hiking an extremely busy trail, such as Grassi Lakes, you don't have to carry a bear spray. This decision is not supported by Alberta Parks or Parks Canada.
In the Canadian Rockies, you're in bear habitat. That means you should always carry a bear spray, know when and how to use it and make noise while hiking and running (so you don' surprise any bears)! On busy trails, bears might be used to hearing human sounds so you need to be aware of your surroundings at all times. Just because you're talking loudly, it doesn't mean the bear will get scared and run away. Carefully read these instructions on how to behave around them.
There have been several encounters with bears on Grassi Lakes Trail and it was closed for a short period of time in summer due to bears frequenting this area. You can either purchase a bear spray at Visitor's Centre, in Canmore's outdoor stores or rent one just for a day.
Our favourite hikes in the Rockies:
Canmore& Kananaskis:
Banff National Park:
Jasper National Park:
Yoho National Park:
Kootenay National Park
---
Spread the word! PIN this to your Pinterest board.