Grab your microspikes, and let's hike for amazing emerald lakes, icefalls, and Canmore's views.
Hiking in cold temperatures through fluffy snow is wonderful and a very different experience from summer.
You (probably) won't meet any bears or see wildflowers, but you'll see emerald-coloured lakes, frozen waterfalls and a winter wonderland that will leave you in awe!
All of our winter hikes in Canmore are family-friendly and range from walks to a bit of a challenge. You can also grab snowshoes or cross-country skis and complete most of these with another winter gear.
Let me show you the best winter hikes in Canmore, along with tips on how to enjoy your day to the fullest.
TIP
For more activities, read our post 15 Best winter activities in Canmore (+tips from a local).
Our favourite winter hikes in the Canadian Rockies:
8 best winter hikes in Canmore
1. Grassi Lakes
Distance: 4 km roundtrip
Elevation gain: 220 m
Difficulty: easy
Best time to go: year-round
Where to start: Grassi Lakes Trailhead (above Canmore Nordic Centre)
Read the full blog post: Grassi Lakes Hike
UPDATE 2023: Grassi Lakes Trail is closed until spring 2023 for construction.
Considered to be one of the easiest and most beautiful winter hikes in Canmore, the Grassi Lakes hike is suitable for all levels. You can choose the Easy trail, a wide dirt path, great for kids and families with strollers.
A difficult path takes you along a waterfall, some rocky stairs, and a bird' eye view of Canmore. The trail tends to be often closed due to hazardous icy conditions.  Always check trail report before heading out.
Even though the parking lot tends to be full in the morning during summer days, you will most likely be alone on the trail in winter.
Once you reach the Lower Grassi Lake, continue further up to the Upper Grassi Lake, the astounding emerald colour won't disappoint.
2. Grotto Canyon
Distance: 4 km roundtrip
Elevation gain: 100 m
Difficulty: easy
Best time to go: year-round but November to March for ice walk and icefalls
Where to start: Grotto Canyon Trail parking lot (or a better starting point mentioned in the linked post below)
Read the full blog post: Grotto Canyon ice walk
Grotto Canyon is especially popular in winter. After a short walk through the trees and over boulders, you'll arrive at the frozen creek bed. Make sure to wear microspikes as it is extremely slippery.
Walking in the canyon on the frozen trail already feels magical but wait until you arrive at the end. It's where two impressive icefalls welcome you.
Check out the trail report before going and dress warm; the canyon is very cold.
3. Bow River Loop
Distance: 2 km
Elevation gain: none
Difficulty: easy
Best time to go: year-round
Where to start: Riverside Park
Bow River Loop is a classic walk with fantastic panoramic mountain views. Due to no elevation gain, it's a great family place and popular for biking and running.
We like to park by Riverside Park on the River Road and start upstream towards Canmore Engine Bridge. Follow the pathway along the Bow River and enjoy the serene landscape.
Once you come back to Riverside Park, take out your snacks or lunch and enjoy the sun at picnic tables.
4. Policeman's Creek Boardwalk
Distance: 4 km
Elevation gain: no elevation
Difficulty: easy
Best time to go: year-round
Where to start: 8 Street by the Big Head Sculpture
You can either start beside the sculpture on a dirt trail through the forest and along the ponds. Or you can start across the road from on a wooden boardwalk, which is about 600 m long.
I especially like the reflection of the mountains and trees in the creek and the ducks swimming around.
If you're looking to take the iconic photo of Three Sisters, it's a little bit further and not on this trail. You can park at this spot, or across the road where the path under the bridge and the creek bed leads to the famous photography spot.
5. Three Sisters Pathway
Distance: 6,7 km one-way
Elevation gain: 35 m
Difficulty: easy
Best time to go: year-round
Where to start: Boat launch parking lot
Another scenic walk along the Bow River is the Three Sisters Pathway, which starts at the bridge on Bridge Road and leads to Three Sisters mountain village.
Head downstream through a forest and a big meadow. You will also pass an old mining site. Because it's a mix of gravel and a paved path, it's a favourite for bikers, runners and families year-round.


6. Ha Ling Peak
 Ha Ling Peak is one of the most beautiful and rewarding hikes in the Rockies. Due to its great effort to view ratio, the trail is busy year-round (but in summer especially).
The trail has been recently rebuilt and improved because of the high traffic, including some chains and wooden stairs. Check the trail conditions before you go.
The first part, 3,5 km to the saddle, is maintained and offers a fantastic view of Canmore and Bow Valley. The last 0,4 km to the summit of Ha Ling Peak is on loose rocks.
7. Troll Falls
Troll Falls in the Kananaskis Country are located along highway 40/Kananaskis Trail, 40 minutes from Canmore and 70 minutes from Calgary.
It's a very popular hike year-round and most beautiful in winter. The trail leading to the falls has recently gone through construction where handrails, staircases, and barricades were added. Check trail conditions before you go.
The rock wall with icefalls is very impressive in winter, and due to the easy trail, a great family-friendly hike.
8. Chester Lake
Distance: 4,6 km one-way
Elevation gain: 300 m
Difficulty: easy
Best time to go: year-round
Where to start: Chester Lake trailhead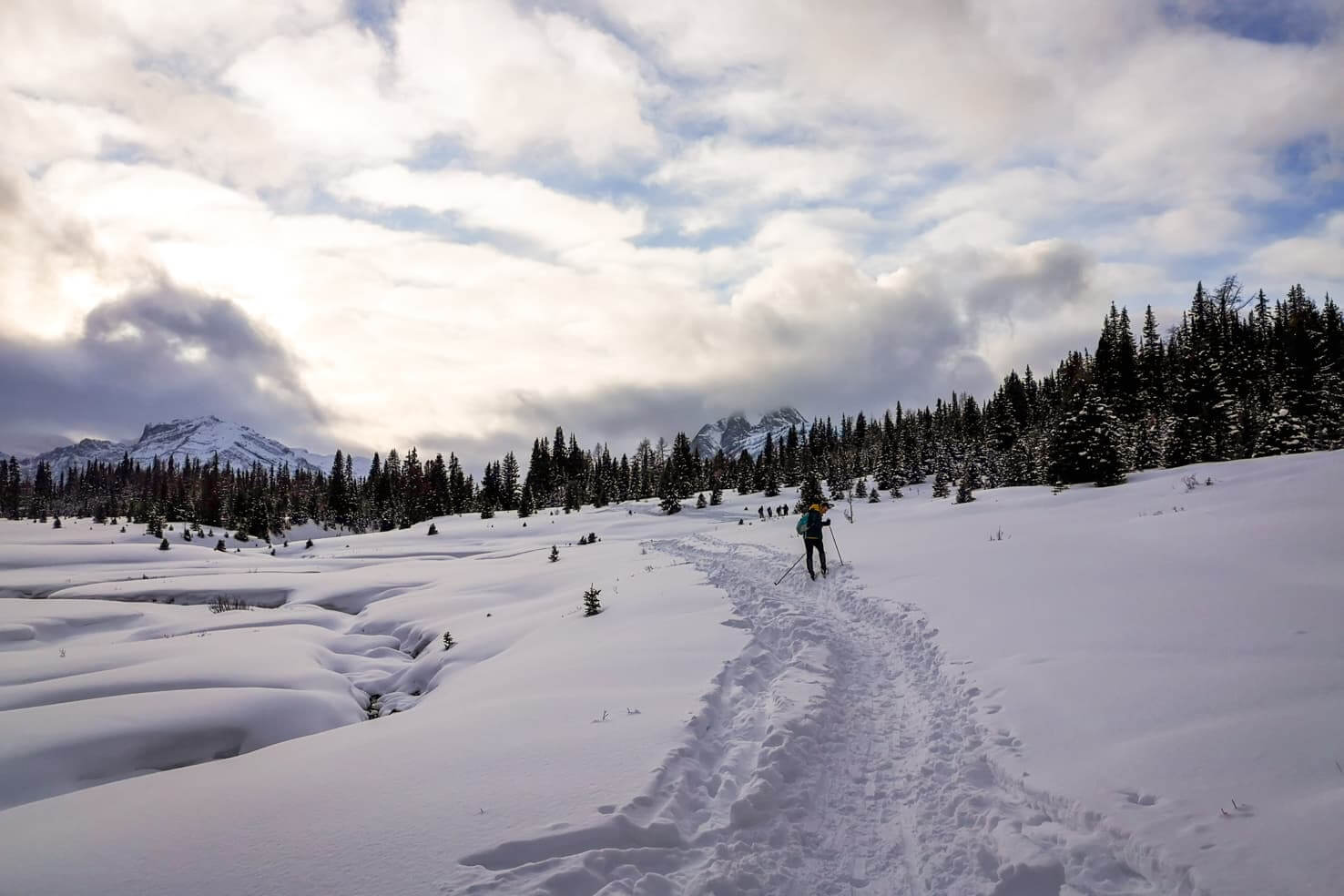 A gradually inclining trail through the forest and opening up in a meadow leads to Chester Lake under Mount Chester. It's a winter favourite in the Kananaskis Country.
You might hike in winter boots, but I've seen most people using either snowshoes or cross-country skis. Visiting in December, we had our cross-country skis. It would be quite a dreadful return, but the skis and subsequent falls made it more fun.
Check trail conditions before you head out, and prepare to run into several groups of people as this is a popular snowshoeing spot.
Tips for winter hiking in Canmore
Trail conditions
Before you head out, check current trail conditions on the Alberta Parks website.  If the conditions are hazardous, often due to ice, the trail is closed.
Packing list for winter hikes in Canmore
Our winter hiking essentials include:
Paper map of the area and downloaded map of the hike on the phone
External battery for the phone (especially for using GPS on the phone)
Thermos
Extra snacks
Windproof & waterproof jacket
Fleece or down jacket
My absolute favourite trail running shoes
Bear Spray (yes, even in winter)
Microspikes
Hand warmers
If you'd like to see our recommendation, check out our packing list for all seasons.
My personal tips
Wear sunscreen and sunglasses; the sun reflecting on the snow is harsh for the skin and eyes
Stay hydrated and bring your thermos
Bring your favourite snacks (I bring more than I think I need)
Have your phone or camera on you to prevent the battery from dying
Kananaskis Conservation Pass
For hiking in Kananaskis Country, you need to purchase a pass. All vehicles parking at the provincial park and on public land in Kananaskis Country and the Bow Valley must purchase a Kananaskis Conservation Pass.
You can buy it online or in person at Kananaskis Visitor Centers & Canmore Nordic Centre day lodge. The day pass costs 15 CAD for one vehicle, and the yearly pass costs 90 CAD for two vehicles.
It's free if you visit Wilderness Wednesdays, the first Wednesday of every month.
Webcam
To see current weather and conditions in Canmore, check out their webcams from different parts of town.
Where to stay in Canmore
A budget-friendly option would be staying at Airbnb; we've compiled a list of the 12 best Airbnbs in Canmore with breathtaking views.
Another option is staying in a hotel or lodge; you can find great deals on Booking through this link.
*In the spirit of full disclosure: Some links in this post are affiliate links, which means that if you purchase through them, we receive a small commission at no extra cost to you. We appreciate your support!
Bundle up and have fun!
Fun winter activities in Canmore & beyond
---
Which one of our winter hikes in Canmore would you like to try first?
---
Spread the word! PIN this to your Pinterest board.