Driving from Calgary to Golden can only take 3 hours, but why would you rush when you can see the most beautiful places of the Canadian Rockies on the way? We've gathered the best road trip stops for your drive from Calgary to Golden.
Golden's popularity is increasing rapidly, and I can see why. While Banff & Jasper National Parks are beautiful, they're also very busy in the summer months. And Golden provides the solitude of the mountains that many visitors are coming for.
Trans-Canada Highway takes you from Calgary to Golden. The 279 km road stretch takes about 3 hours. But it can also take three days.
In this blog post, we're sharing the best road trip stops from Calgary to Golden, all personally visited by us during the many trips we did, including viewpoints, waterfalls & lakes, and hikes in Canmore, Banff, Lake Louise, and Yoho National Park.
It's up to you how much time you want to dedicate to the drive from Calgary to Golden, but I suggest taking a full day each way – that way, you can hit most of the stops we recommend in this guide.
Let's get right to it!
*In the spirit of full disclosure: This post may contain affiliate links, which means that if you purchase through them, we receive a small commission at no extra cost to you. See more details here. We appreciate your support!
17 BEST Road Trip Stops from Calgary to Golden
TIP
If you like adventurous trips, book our Smile Campervans, your home on wheels in the Canadian Rockies.
1. Calgary
We've been living in Calgary for over a decade and have many recommendations for fun places to see.
While you can visit Calgary year-round and experience many amazing things, such as ice skating, cross-country skiing downtown, or seeing Northern Lights, I'm assuming you're coming during warmer months to get the most out of your road trip and stay in Golden. However, if winter is your favourite, these are our favourite winter activities in Calgary.
For summer visitors, I recommend spending a day in Calgary or taking advantage of your stay in Calgary before your flight home.
One of the most beautiful parts of Calgary in summer is Prince's Island Park, located downtown. Stroll along Bow River, watch for geese and beavers in the lagoon or grab a bite at the picturesque River Café.
To get to know the city better, try one of the most popular tours in Calgary:
If you'd like to spend more time in Calgary, we have a comprehensive travel guide for the best summer activities in Calgary.
However, I'm sure you can't wait to explore the stunning Canadian Rockies, so let's go to the mountains!
2. Grassi Lakes in Canmore
Just an hour from Calgary lies a small mountain town Canmore. Since it's located just before the gate to Banff National Park, it's worth a short stop.
Grassi Lakes is the most popular hike in the Canmore area. It's the best hike in terms of effort to views ratio in this guide.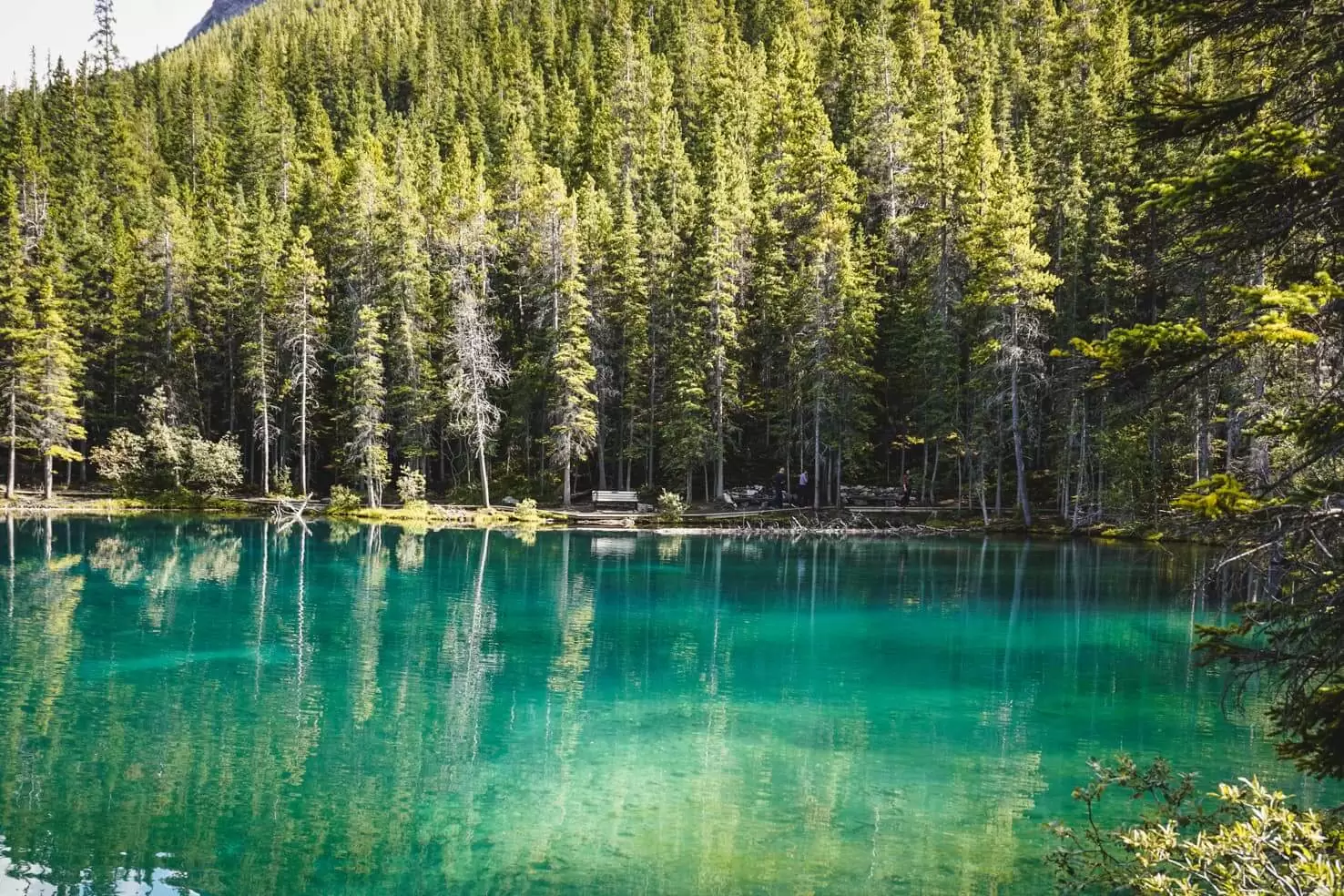 Grassi Lakes Hike is a little uphill trail to emerald and turquoise lakes with a few benches waiting for you to chill out and enjoy a breathtaking view of the mountain town of Canmore and the surrounding mountain peaks.
From downtown Canmore, it's just a 7.5 km drive past the Canmore Nordic Centre Provincial Park to the parking lot for Grassi Lakes Trail. The trail is only 4 km long (roundtrip), and you can choose between an easy and difficult trail. The easy trail has a gradual incline that's easy to hike for kids, while the difficult trail features rocky stairs and a waterfall.
NOTE
For hiking to Grassi Lakes, you need to purchase Kananaskis Conservation Pass because the hike is located in a provincial park. The day pass costs 15 CAD for one vehicle, or it's free if you visit on Wilderness Wednesdays, the first Wednesday of every month.
3. Quarry Lake or Rundle Forebay in Canmore
Quarry Lake and Rundle Forebay (also called Canmore Reservoir) are the most popular bodies of water in Canmore but for different reasons.
Quarry Lake it's a small and shallow lake that's warm enough to swim in during summer, which is quite rare in the Canadian Rockies. It's mostly frequented by families and requires purchasing parking.
On the other hand, Rundle Forebay is a popular hangout for stand-up paddleboarders and kayakers. Parking is free and fills out fast on the weekends. If you don't have your gear, rent a kayak or SUP at Bow Valley SUP in Canmore.
INSIDER TIP
Rundle Forebay is the first body of water in the Rockies that thaws in spring!
4. Iconic Three Sisters
Just before reaching Canmore, or anywhere in Canmore, you see the iconic mountain trio Faith, Hope, and Charity, better known as Three Sisters.
And we also know where to take the best photo of Three Sisters with a reflection in the water. Save this spot!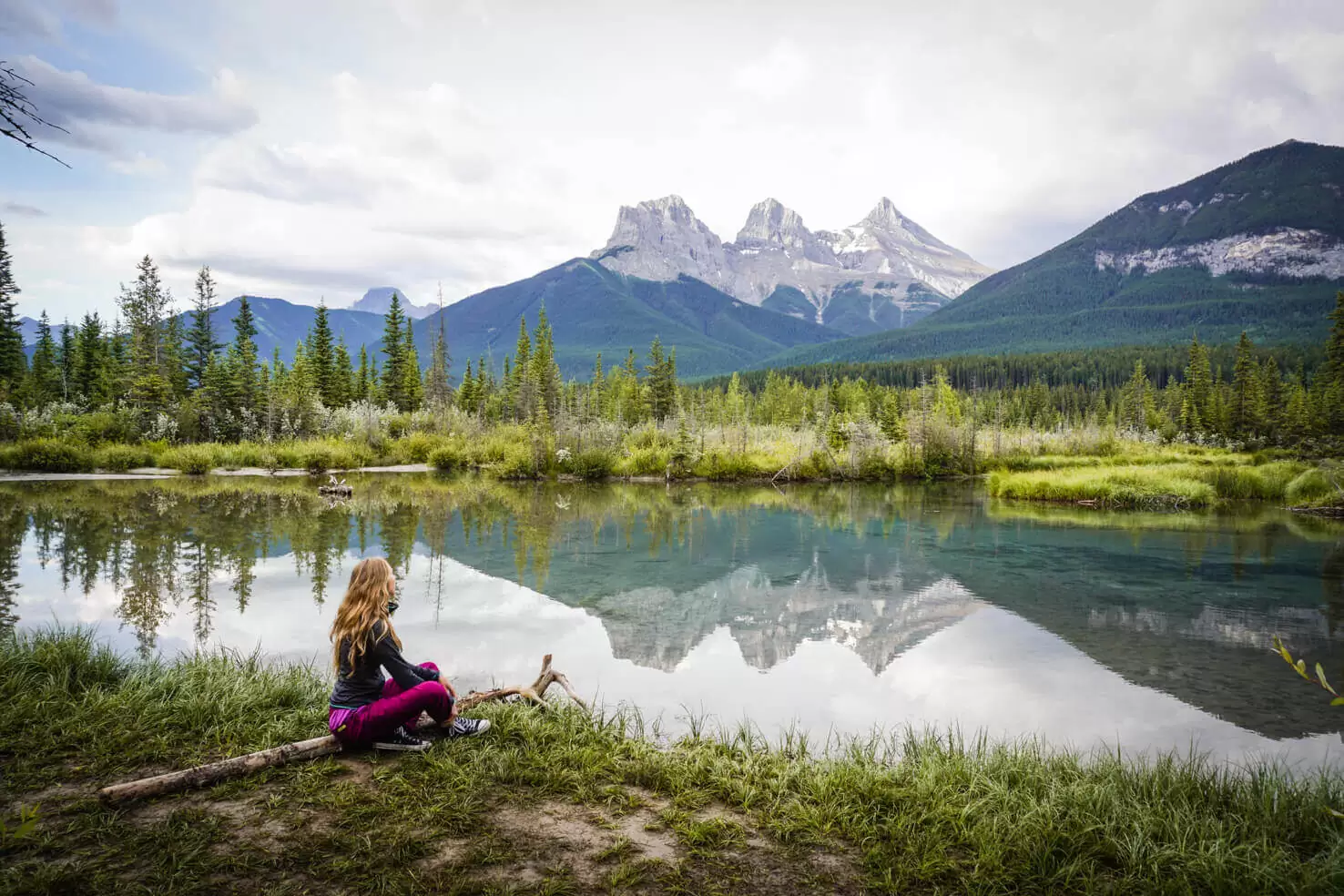 READ NEXT
47 Fun things to do in Canmore
5. Lake Minnewanka in Banff National Park
Lake Minnewanka in Banff National Park is the 2nd longest lake in the Canadian Rockies. And it's popular for kayaking, hiking, biking, ice skating, and boat tours.
From Banff, head east and after about 5 km, you arrive at Lake Minnewanka. If you're short on time, you can drive the Lake Minnewanka Scenic Drive and see Lake Minnewanka and Two Jack Lake on your drive (with a small detour for Johnson Lake).
To enjoy the incredible views around Lake Minnewanka, I recommend bringing a picnic and enjoying your meal at the picnic tables with a mountain view.
You can rent a kayak or take Lake Minnewanka Cruise on the lakeshore. For adventurous travellers, I recommend a hike & bike trip or a long hiking trip to Aylmer Lookout. The trail is 25 km long with an elevation gain of 880 meters, but the breathtaking reward is seeing almost the whole length of Lake Minnewanka from above.
6. Sunshine Meadows Gondola in Banff National Park
While many hikes in Banff National Park feature a glacial lake, Sunshine Meadows is popular for the endless sights of wildflowers.
You have two options when visiting Sunshine Meadows. You take a gondola that takes you up to the base of the ski resort and then a chairlift that takes you to hiking trails, or you can do a different hike from the parking lot to Healy Pass.
7. Johnson Lake in Banff National Park
Johnson Lake is a small lake close to Lake Minnewanka and Two Jack Lake. What's special about Johnson Lake is that it's the warmest lake in Banff, meaning it's warm enough for a swim in summer.
Families from near and far like to spend a full day picnicking, swimming, stand-up paddleboarding or rope swinging at Johnson Lake.
8. Sulphur Mountain in Banff National Park
Mountain peaks of Canadian Rockies as far as you can see, view of Spray & Bow Valleys, Lake Minnewanka and the Town of Banff – that's what Sulphur Mountain offers.
While the gondola is the most popular attraction in Banff, there's a more active and budget option for how to get to the top – Sulphur Mountain Hike. The Sulphur Mountain overlooks Banff National Park and offers jaw-dropping panoramic views.
The Banff Gondola takes 8 minutes to the top, and the hiking trail to the top of Sulphur Mountain is just 5.5 km one-way.
After exploring the mountain top, taking the 1 km long boardwalk to an old weather station, checking out the interpretative center, or grabbing a bite at one of the restaurants, you can either hike back down or purchase a one-way ticket to take the gondola down.
Both the gondola and hiking trail are open year-round.
9. Johnston Canyon in Banff National Park
Johnston Canyon Hike to Ink Pots in Banff National Park is a moderate 12km hike through the most beautiful landscapes of the Canadian Rockies you can do all year round. A deep canyon filled with countless waterfalls and magical turquoise bubble pools at the end makes for a great hike.
Johnston Canyon consists of three parts, and you can choose which parts you'd like to visit.
The Lower Falls are only 1.2 km from the parking lot, and the trail is suitable for all levels and even for strollers. The final bridge at the Lower Falls will take you through a short rock tunnel to see the falls up close.
Upper Falls are 1.5 km from the Lower Falls and are the most impressive feature of this hike. You see a wide waterfall falling down the deep canyon from above.
If you'd like to venture further, it's 4.5 km from Upper Falls to Ink Pots, five blue-green pools that are cold mineral springs.
10. Moraine Lake in Banff National Park
Moraine Lake in Banff National Park often makes the list of the most beautiful lakes in the world. With its breathtaking turquoise colour, ten mountain peaks in the background, and (somewhat) easy access to the lake, it's easy to see why.
You can rent a canoe, walk around the lake, hike above Moraine Lake, picnic on the shore, soak up the beauty for hours, and do many more activities.
Moraine is a must-do stop on your drive from Calgary to Golden or on any road trip through the Rockies!
Even though you could drive right up to the lake, it's not as easy as it used to be. An enormous amount of visitors and traffic, seasonal closure of the road, and rules implemented by Parks Canada are all important things to consider before visiting. To see all options for how to visit Moraine Lake, read our comprehensive Moraine Lake Guide.
The narrow winding road from Lake Louise Village to Moraine Lake is open from mid-May/June to mid-October. It's closed and inaccessible during winter because it passes a hazardous avalanche path.
INSIDER TIP
If you'd like to visit Moraine Lake without the crowds, you can bike up Moraine Lake Road before it opens to traffic.
11. Lake Louise in Banff National Park
Lake Louise is the most visited lake in Canada not only because of the breathtaking turquoise colour, mountains around and glacier background but also for its accessibility.
There's a huge parking lot close to the lakeshore, and if you arrive early morning during summer, you should have no problems getting a spot.
You can take your SUP or kayak to the lake or rent a canoe for 145 CAD/30 minutes. If this price seems over the roof for you, you're not alone – you can find a more budget-friendly option below at Emerald Lake.
There are several hikes around the lake. The shortest one is Fairview Lookout, and the most popular ones are Lake Agnes Teahouse or Six Glaciers Teahouse.
One hike in particular that is stunning and not commonly seen on tourist maps (although the trail is well-trodden) is Mount St Piran. You see Lake Louise and Victoria Glacier from above and part of Icefields Parkway with more lakes in the valley.
12. Lake Louise Gondola in Banff National Park
Lake Louise gondola offers breathtaking views of Lake Louise and Victoria Glacier from across the valley, wildlife watching, hiking trails, and more.
It takes around 15 minutes to arrive at the top of the gondola; then, go to the viewing platform (see our video here), hike to viewpoints and enjoy a meal at a restaurant with a stunning view.
Banff National Park offers several sightseeing gondolas – Mount Norquay, Sunshine Meadows, Banff Gondola to Sulphur Mountain and Lake Louise.
Hands down, the best ratio of views/activities/price has the Lake Louise summer gondola.
You can ride in an enclosed gondola or open chairlift, see Lake Louise and Victoria Glacier, hike among wildflowers, and even see grizzly bears, black bears, mountain goats, and other wildlife.
13. Sherbrooke Lake Hike in Yoho National Park
Once you leave Banff National Park, there's no shortage of breathtaking places to see when you enter Yoho National Park. One of our favourite stops from Calgary to Golden is hiking to Sherbrooke Lake.
Sherbrooke Lake is a true hidden gem and one of the best hikes in Yoho National Park. After a short hike through the wood, you're greeted with a stunning green lake and no crowds! It's the hike I recommend the most when visiting Yoho National Park.
The trail is off Trans-Canada Highway, yet many visitors pass by. It's an easy hike, but not a flat one. The first part, about 1.5 km, goes uphill through the wood, then the trail levels out. 3 km later, you arrive at Sherbrooke Lake, a gorgeous glacial lake with no crowds, just a breathtaking view. You can continue along the lake for about 1.5 km to reach the end.
We stayed at the lake with a small rocky beach, had a picnic, and dipped in the water. If you read any of our day hikes, you know that dipping in the lake is our favourite and a great reward for the muscles.
14. Takakkaw Falls in Yoho National Park
Takakkaw Falls in Yoho National Park is the most beautiful waterfall in Western Canada; it's easily accessible and should be on everyone's Canadian Rockies itinerary.
Takakkaw Falls is the 2nd highest waterfall in Canada and couldn't be easier to visit. You drive the scenic road to a parking lot and take a short walk.
We've visited Takakkaw Falls many times, still keeping me in awe. It's incredible how such an easy walk gives you a great reward. And you can even get close enough for a refreshing spray.
INSIDER TIP
The most beautiful hike in the Canadian Rockies is Iceline Trail. It starts at Takakkaw Falls and offers waterfall views from above and countless glaciers.
15. Emerald Lake in Yoho National Park
Emerald Lake is a popular year-round destination in British Columbia (close to the Alberta border).
Summer offers breathtaking views of the teal-coloured lake with panoramic views of the mountains, several hikes, and a canoe rental onshore. You can go snowshoeing or cross-country skiing around the frozen lake in winter.
Emerald Lake is much less busy than its popular neighbours in Moraine Lake and Lake Louise in Banff National Park. It's a short drive from Lake Louise Village, with a paved road off the Trans-Canada Highway.
Whether hiking or just visiting for the views, I highly recommend renting a canoe. Emerald Sports Boathouse rents canoes for up to 3 people for 90 Cad/hour, the most budget-friendly option in the Rockies.
16. Wapta Falls in Yoho National Park
Wapta Falls Hike is a great hike in Yoho National Park, where you can get close for a refreshing spray. You get a huge reward for a small effort.
The trail through the forest is mostly shaded. Once you emerge onto the clearing, a giant waterfall is before you. You can cool down in the river or hike up the pile in front of the waterfall to get a refreshing spray or, I should say, a nice soak.
Although you can hike to Wapta Falls year-round, we only visited in summer.
The 4.8 km hike to Wapta Falls is easy enough for kids and a nice way to stretch your legs when driving from Calgary to Golden.
17. Golden
After all the stunning stops you already made driving from Calgary to Golden, this little town will still take your breath away.
Located between the Canadian Rockies and the Columbia Mountains, Golden is a quiet mountain town in British Columbia with plenty of outdoor adventures, wildlife and stunning scenery. There are so many cool things to do in Golden, BC, both summer and winter.
A relatively short drive away (at least to Canadian standards), Golden is close to 6 national parks:
Glacier National Park
Mount Revelstoke National Park
Yoho National Park
Banff National Park
Jasper National Park
Kootenay National Park
TIP
Check out our 3-day itinerary for Golden that includes hiking, via ferrata, zipline, Canadian animals, and suspension bridges.
We've been to Golden several times, and it's our go-to destination during summer if we want to escape the crowds in other parts of the Canadian Rockies. Even though this town is tiny, with around 4,000 people, its cozy charm always gets me, and we always find new things to do in Golden whenever we visit.
In summer, one of the most popular places in Golden is Cedar Lake, where you can camp, bike, hike, and swim in the warm lake. You can start below Cedar Lake campground for a longer bike trip and bike along Canyon Creek.
Great family-friendly activities are meeting a herd of buffalos at Rocky Mountain Buffalo Ranch or seeing wolves at Northern Lights Wildlife Wolf Center.
INSIDER TIP
The most unique stay in Golden is Camp Moose Trail, an amazing glamping in the woods of British Columbia.
My favourite activities in Golden are:
Do you like small mountain towns? Check out our travel guides for:
---
Have fun on your drive from Calgary to Golden and let me know if you have any questions in the comments below!