Our 3-day itinerary for Golden, British Columbia, covers outdoor activities for all adventure seekers that visit this wonderful town.
Nestled in British Columbia, between Columbia and the Rocky Mountains, lies Golden, a small mountain town known for amazing year-round outdoor activities.
We visited Golden many times over the years and kept coming back. The thrilling mountain adventures and the town's laid-back vibe are perfect for a fantastic weekend.
I previously shared over 33 activities in Golden, including mountain biking, hiking, wildlife, water activities, waterfalls, and more. And now, I created a 3-day itinerary for Golden to make your planning even easier.
While you can easily spend more time in Golden and explore more, most of us have limited time. With that in mind and the fact that there are also six national parks surrounding Golden – Glacier, Mount Revelstoke, Yoho, Banff, Jasper, and Kootenay National Parks that are worth a visit – let's make the most of the three days in Golden.
This blog post covers adventure activities for all ages, including hiking, climbing, via ferrata, zipline, Canadian animals, and suspension bridges, and all are within a 15-minute drive from downtown Golden.
3-day itinerary for Golden, British Columbia
Day 1 in Golden
Morning
If you're coming from Calgary, you'll drive through Banff and Yoho National Parks and reach Golden in three hours. Or you can spend a whole day driving from Calgary to Golden and explore a few of the amazing stops along the way. Get your camera ready; Trans Canada Highway to Golden is full of epic mountain views.
When you arrive at Golden, grab a bite at Big Bend Café for their delicious all-day breakfast and then head straight to Kicking Horse Resort.
Afternoon
Kicking Horse Resort is a world-class ski resort in winter and a popular place in summer for alpine hiking, downhill biking, via ferrata (an assisted rock climb), and watching Boo, the grizzly bear orphan.
To kick off your adventure weekend, why not try the via ferrata? The gondola takes you from 1,190 meters to 2,450 meters, where via ferrata experience starts.


Via Ferrata is a thrilling adventure without the fear of falling. While wearing a securely attached harness to the cable, you're climbing up the mountain using ladders.
View the full blog post: Via Ferrata Climb at Kicking Horse Mountain
You can choose from three different levels of difficulty. I've tried the Discovery Route as my first via ferrata experience and couldn't be happier with this choice. It took us two hours to climb up Terminator Peak, and the panoramic views from the top our out of this world.
If you're afraid of heights, you can hike Terminator Peak. The trail starts on the top of the gondola and takes around two hours.
When you finish and take the gondola down, look below as you might be able to spot Boo, the grizzly bear orphan. Either way, take the chairlift from the bottom that takes you to see Boo in North America's biggest grizzly bear refuge.
Evening
After an adventure-filled day, it's time to fuel up. Stop by Reposados in downtown Golden for fresh handmade tacos and other Mexican meals.
Check in to your accommodation at Basecamp Lodge and relax by the fire or on the patio. (Use code: TRAVELWITHTHESMILE when booking the Basecamp Lodge for 10% off your stay.)
Day 2 in Golden
Morning
Start your day at Bluebird Café with freshly baked muffins and a cup of tea or coffee.
After seeing a grizzly bear, it's time to see a buffalo, another iconic Canadian animal. Take the Trans-Canada Highway heading north, and after about 10 minutes, you will arrive at Rocky Mountain Buffalo Ranch.
View the full blog post: Meeting Buffalos at Rocky Mountain Buffalo Ranch
The owner, Leo, runs Buffalo Tours daily at 10:15 am from May till mid-October. Leo talks about his life with buffalos, how they live, communicate, and how they're able to accept a human as part of the herd (it's very hard to accomplish).
You meet the buffalo herd with Chester Junior, the Chief Bull, up close, which is truly a once-in-a-lifetime opportunity.


Afternoon
Another adventure-filled day, this time at Golden's newest attraction, the Golden Skybridge. Buy an adventure pass that gives you access to the highest suspension bridges in Canada and all attractions. Once you're in, you can grab a quick bite at the Village Grill.
The entrance area features a beautiful natural playground with climbers, slides, swings, and ziplines for kids of all ages. The access to the 1st suspension bridge is past the play area, where you walk 130 meters high above the canyon with waterfalls.
TIP
If you only want to experience the suspension bridges, the playground, and the fixed swing (without zipline etc.), you can buy your ticket right here.
The first attraction is the rope course. If you're unsure about the zipline, you can work up to that at the rope course, which has several small zip lines. The next is the zipline, where you fly 150 meters above the canyon with epic mountain views.
If you go on the zipline, make a loop to come back through the 1st suspension bridge again, as there's more. Shortly after the zipline station, the trail leads to a fixed swing with a 'Touch the Sky' sign, making a perfect photo opportunity and the 2nd suspension bridge.
The newest additions to Golden Skybridge are the roller coaster and a canyon swing!
After the 2nd bridge, you arrive at the entrance area where you can try axe throwing and the climbing wall.
Evening
We visited the cozy space at Eleven22 Restaurant and were delighted. The chef creates widely International meals, and I loved reminiscing about our time spent in Indonesia while eating the flavourful Nasi Goreng.
And last but not least, to celebrate your amazing trip to Golden, head to the Whitetooth Brewing Company. Enjoy the mountain views while sipping one of their locally-made beers. I enjoyed drinking Asulkan Triple Berry Sour, which tastes like sour berries with a tiny hint of beer.
Day 3 in Golden
Morning
No trip to Golden would be complete without a walk across the iconic Kicking Horse Pedestrian Bridge. Canada's longest timber frame bridge connects to walkways along the Kicking Horse River.


You can find some beautiful murals on your walk, grab breakfast at Golden Bakery & Deli or visit Golden Dollar Store for unique mountain-themed souvenirs. Spirit Square hosts several summer concerts and a Farmer's Market from mid-June to October.


We picked up some pretzels, bacon pastry, plum cakes, and dried herbs for tea at the Farmer's Market. It's a family-friendly event with face painting, music, chalk drawing, and wildlife awareness with stickers and colouring books from Wildsafe BC.
Afternoon
If you want to squeeze in one more thing to do in Golden, I highly recommend driving up the road to Mount 7 for amazing views of Golden and Columbia Valley.
When driving back to Calgary, stop at Yoho National Park to stretch your legs and choose one of the hikes in Yoho or walk around Emerald Lake.
These are my recommendations: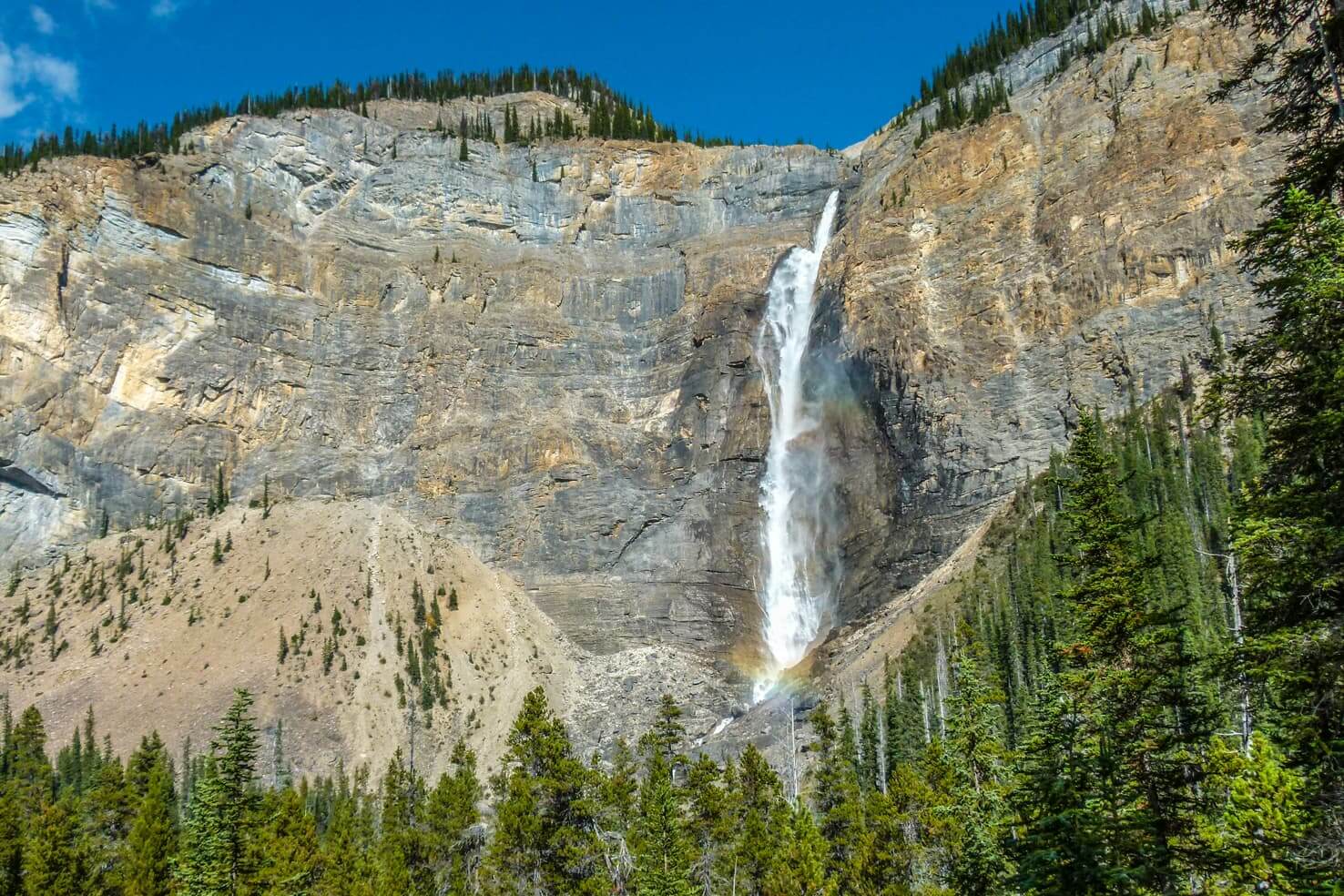 Golden really deserves its name, a true mountain gem of the Canadian Rockies.
I hope you enjoyed our itinerary for Golden and will have the best time. I'm sure you'll want to come back the second you leave Golden, as it's always our case.
More fun things to do in Golden
Thank you, Tourism Golden, for hosting our stay. As always, the opinions expressed above are our own.