Bike or hike along the canyon's rim with beautiful mountain vistas. Canyon Creek in Golden can be done as a short trail or a long ride with lots of connecting mountain biking trails.
If you spent any time researching activities in Golden, BC, you already know that Golden is heaven for mountain bikers.
Many epic mountain biking trails are at Mount 7 or around Cedar Lake. When you visit Cedar Lake for swimming or camping, you can bike or hike the 7 km trail along the shores of all 4 Cedar Lakes.
Another alternative, starting at a parking lot a bit below Cedar Lake campground (crossroad of Canyon Creek Road & Dogtooth-Canyon Forest Service Road), is biking through Canyon Creek. Or better yet, you can start at Canyon Creek and then connect to a trail that ends with a bike ride along Cedar Lakes, making a nice challenging loop.
Canyon Creek is a bit of a technical ride with roots, singletracks, and biking along the 200-meter-deep canyon. Luckily the trail along the canyon is not a single track, but it's not for the faint-hearted either.
There's also a family of mountain goats living in the area. To protect their habitat, there's a sign for mountain bikers to either walk or use a detour.


Canyon Creek is popular with mountain bikers, hikers, and dog walkers. Make sure to make noise to avoid an incident.
For the current conditions, check out the trail report on Trailforks before you head out.
Biking the Canyon Creek & Cedar Lake Loop
When you start from the parking lot mentioned above, bike on the Dogtooth-Canyon Forest Service Road until you reach the end where the Canyon Creek Trail begins.
If you'd like to make a loop as we did, bike on the Dogtooth-Canyon Forest Service Road for about 3.7 km, then turn right onto the Little Sir Donald Forest Service Road for another kilometre.
The turnoff towards Canyon Creek is signed by the side of the road with a pole and green plates (see below).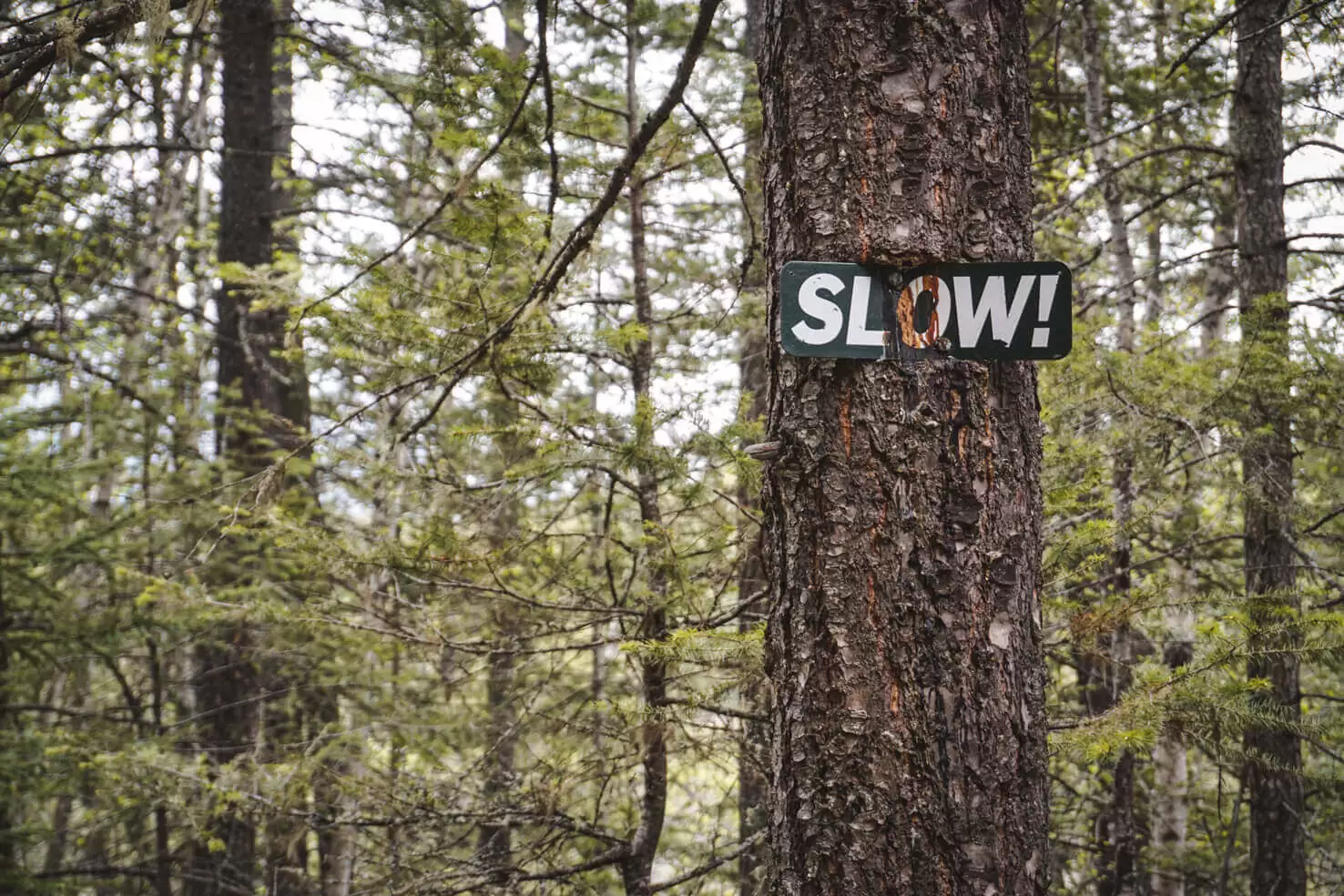 After about 1.3 km, you connect to the Canyon Creek Trail. After biking another 3 km on the Canyon Creek Trail, turn left and connect to Moonraker, Bear Claw, and Better than Boston. Another 4 km later, and you see Cedar Lake 2.


1 km further is Cedar Lake, where you can cool off or have a picnic, and then head to the parking lot down the dirt road where you started. This 15.5 km & 430 m elevation Canyon Creek & Cedar Lake Loop makes a great afternoon.
Don't forget to pick up a mountain biking map from the Visitor's Centre, from one of the outdoor stores, or download one here.
More fun activities in Golden