What to do in Calgary in winter? Bundle up and get ready to have fun with our list of the best things to do in Calgary in winter, including winter sports, events, and sprinkles of indoor fun for the coldest days.
With dropping temperatures usually starting in November (and ending in March), there's a common feeling to cozy up on the couch at home. And while that's sometimes a good idea, outdoor winter activities in Calgary with the fresh air and soft touch of sun rays on the cheeks are much better.
If you agree, you're in the right place.
Calgary has been named the sunniest city in Canada, with an average of 333 sunny days yearly. Holy smokes, that's a lot!
Pair this information with the good old saying – there's no bad weather, just bad clothing – and you'll be excited to get outside.
*In the spirit of full disclosure: This post may contain affiliate links, which means that if you purchase through them, we receive a small commission at no extra cost to you. See more details here. We appreciate your support!
Get ready to have fun with our list of fun things to do in Calgary in winter (+winter day trips from Calgary featuring at the end)!
44 things to do in Calgary in winter
1. Go ice skating
I'm starting with our favourite winter activity in Calgary. Depending on cold temperatures, you can ice skate in Calgary from November to March.
Did you know there are over 70 outdoor skating rinks in Calgary? Here's a map of all outdoor skating rinks in Calgary.
Many communities have ice skating rinks maintained by volunteers or community associations. These are smaller rinks, and while all are for pleasure skating, some also allow hockey sticks and pucks (usually those with boards and nets). They're regularly flooded, cleared of snow, and lit at night, and some of them also have fire pits so that you can warm up.
You can also visit one of the nine bigger rinks the City of Calgary maintains. Our usual pick is Bowness Park (see our video here), as the lagoon and channels create many skating paths; there are fire pits, a café, a restaurant, and even an ice path along Bow River.
Ice skating is one of the best winter activities in Calgary because of the abundance of ice rinks.
TIP: The first skating rink that usually opens for the winter season is Olympic Plaza in downtown Calgary, pictured below (check out our video here). Even if it's warm outside, the rink at Olympic Plaza is refrigerated and great for skating.
Read the full blog post for more photos and details: Outdoor ice skating in Calgary: A breakdown of all options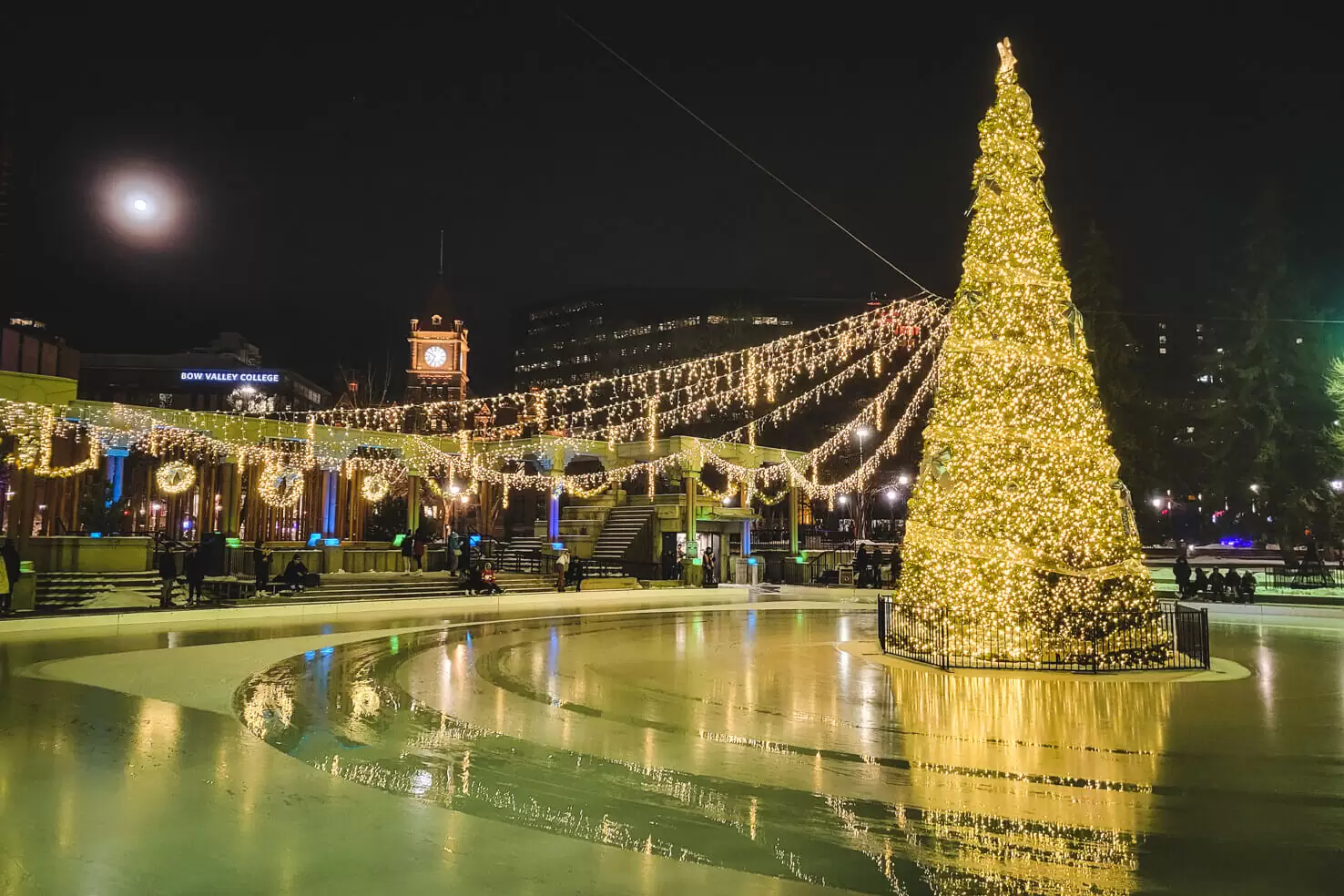 2. Cross-country ski
Cross-country skiing is a fantastic activity and very easy to learn. Rent a pair of skis and head to the new Nordic Loop in East Village (pictured below & video here) to cross-country ski right in Calgary's downtown! You can cross-country ski or snowshoe along Fort Calgary, with views of Bow River and Calgary's skyscrapers.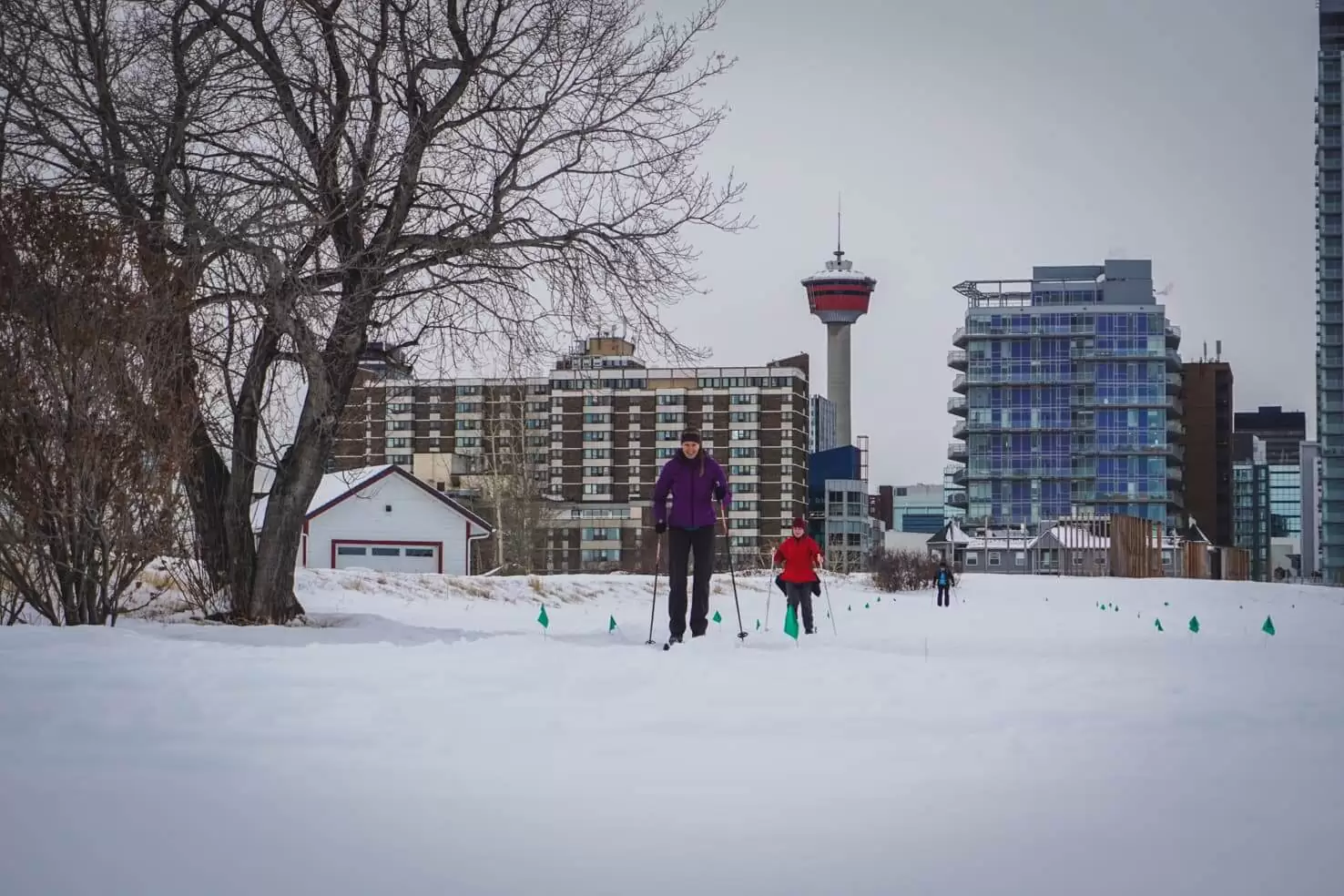 The closest ski rental to the Nordic Loop is at MEC at 830 10 Ave SW, but many other outdoor shops in Calgary offer cross-country ski rentals.
We like Fish Creek Provincial Park right after a big snowfall so we can make fresh new tracks. There's also never a shortage of wildlife. The most commonly seen are deer and coyotes.
Some golf courses and parks around Calgary have regularly maintained tracks. One of them deserves special mention: Confederation Park Golf Course. If you visit between the end of November and the beginning of January, you can ski along the beautiful and massive display of lights as part of the Lions Festival of Lights (see more below).
Read the full blog post for more photos and details: 10 Best trails for cross country skiing in Calgary & beyond
3. Visit the Festival of lights
Sparkly colourful Christmas lights can be seen all over Calgary during the holiday season. A couple of displays stand out: Lions Festival of Lights and Zoolights (outdoors), Sparkle sparkle (indoors).
Lions Festival of Lights (Nov 26, 2022 – Jan 7, 2023) is a free yearly event in Confederation Park that has been running for over 35 years. You can see the lights along 14 St & 24 Ave NW from a distance, but it's best to visit the park to see them up close.
The biggest free light show in Calgary features 500,000 lights on display daily from 5:30 pm to midnight. Lots of fun new displays are added each season.
You can see a lot of Christmas figures, Merry Christmas in different languages, a lit-up teepee, and a giant lit-up bear on the hill.
The best thing about the Lions Festival of Lights is that you can walk along the displays and sledding on the hill while surrounded by the lights – see our video here. Part of the cross-country ski trail also goes along the light display.
Zoolights in Calgary's Zoo (Nov 18, 2022 – Jan 8, 2023) features more than 2 million lights, 200 displays, fire pits and holiday drinks to keep the whole family warm. The Zoolights run from 5 pm to 9 pm, and you need to purchase a ticket even if you have the membership (21.95 CAD (16+), 14.95 CAD (child 3-15), free under 3 years).
You can enjoy light displays across the Calgary Zoo, including Polar Wonderland, Nutcracker, Tunnel of Light, a skating rink, fire pits, and axe throwing. While walking through the zoo, you can warm up with a mulled wine, beer, spiced rum with eggnog, baileys hot chocolate, or a regular hot chocolate for kids.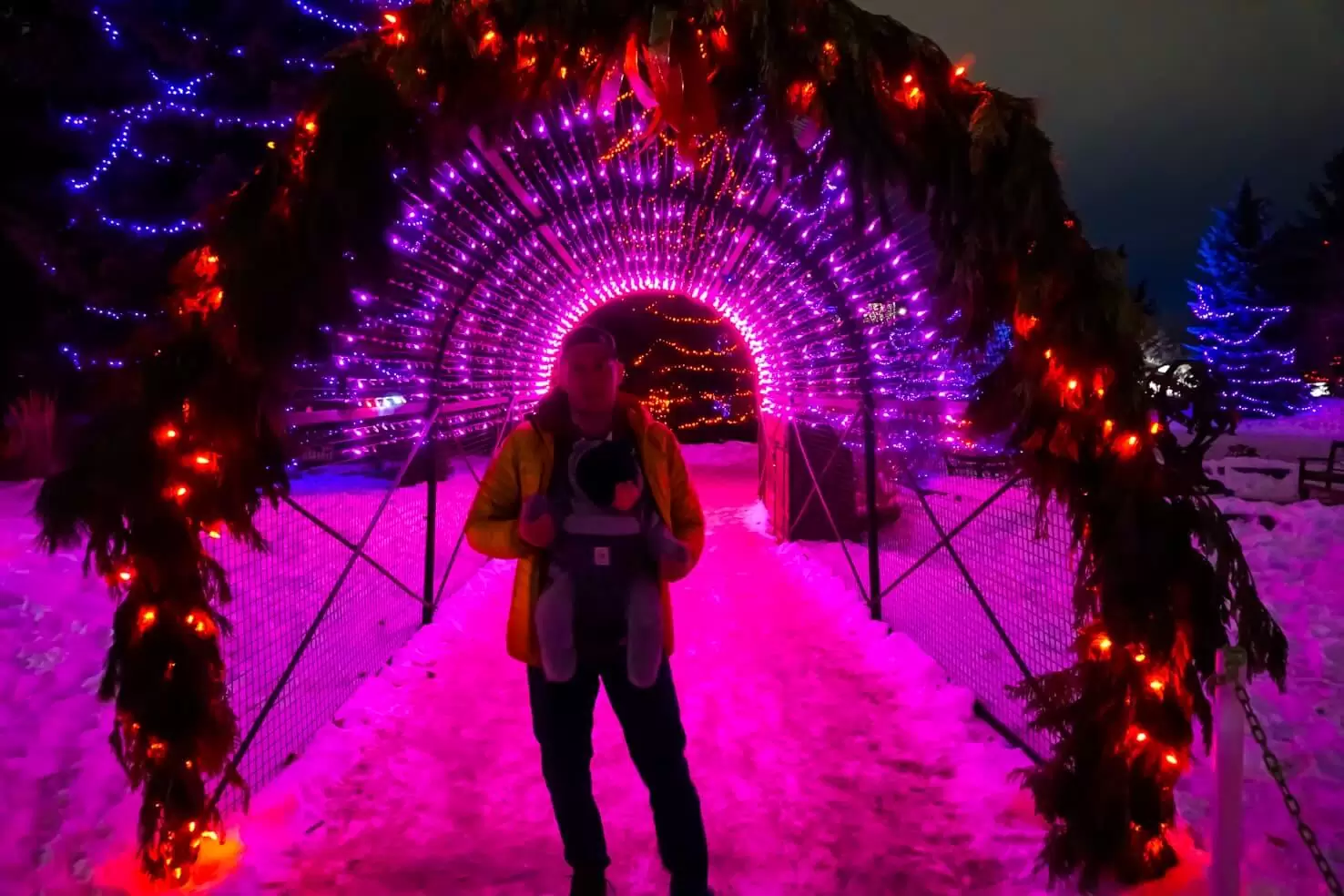 Sparkle Sparkle event at Telus Spark Science Centre is a festive indoor event with many light installations, Santa, Christmas movies, and activities (see our video here). While the science centre is usually open till 5 pm, December is a special month when it's open till 9 pm to see all the lights when it's dark outside.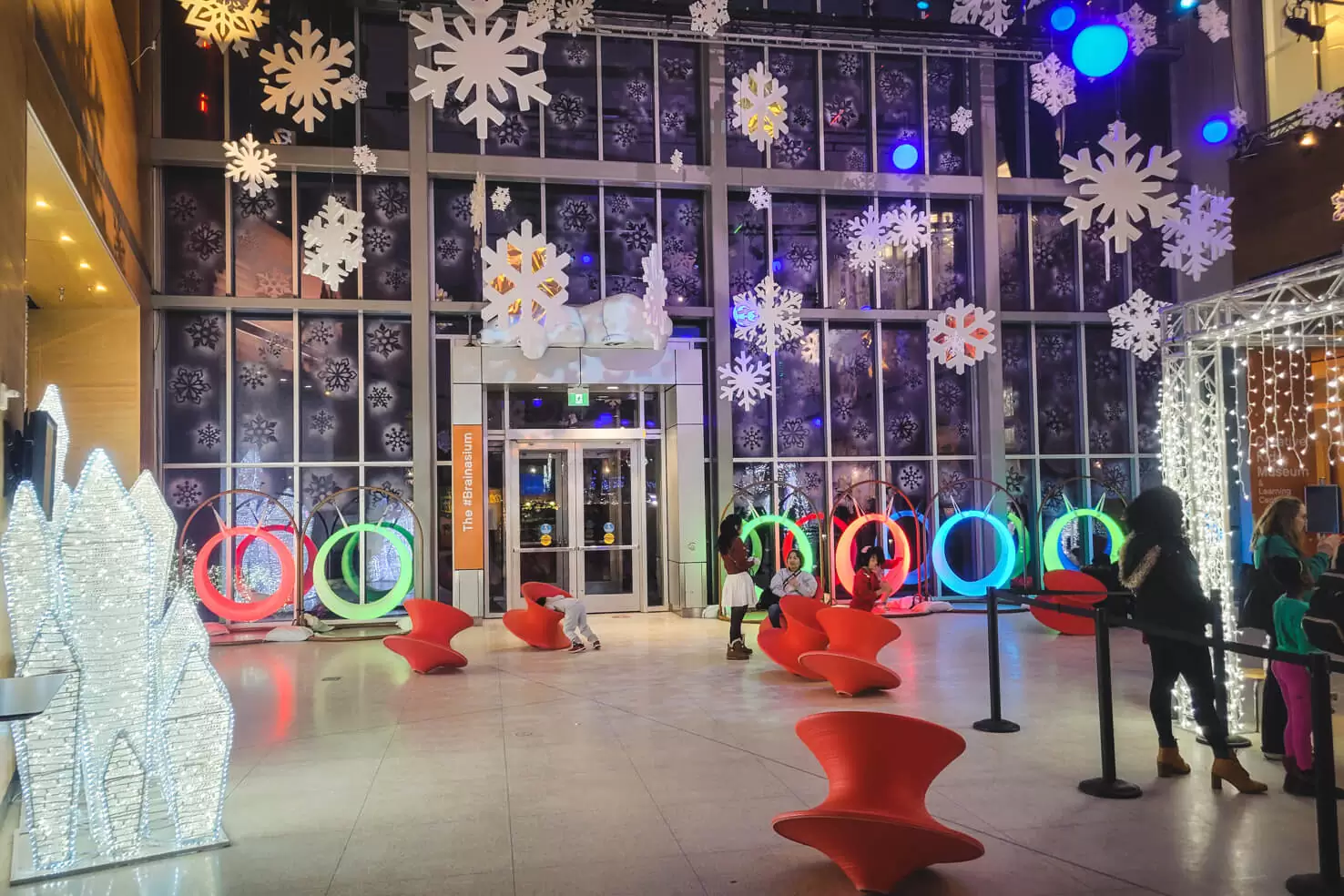 You can watch Christmas movies at the Infinity Dome – the largest 360-degree theatre in Calgary, enjoy festive cocktails, Abominable Snowman Mocha or a peppermint latté, and kids can get a delicious hot chocolate or a soft drink in a flashing ball cup.
Visiting Christmas lights is one of the best things to do in Calgary during winter, especially if you have kids.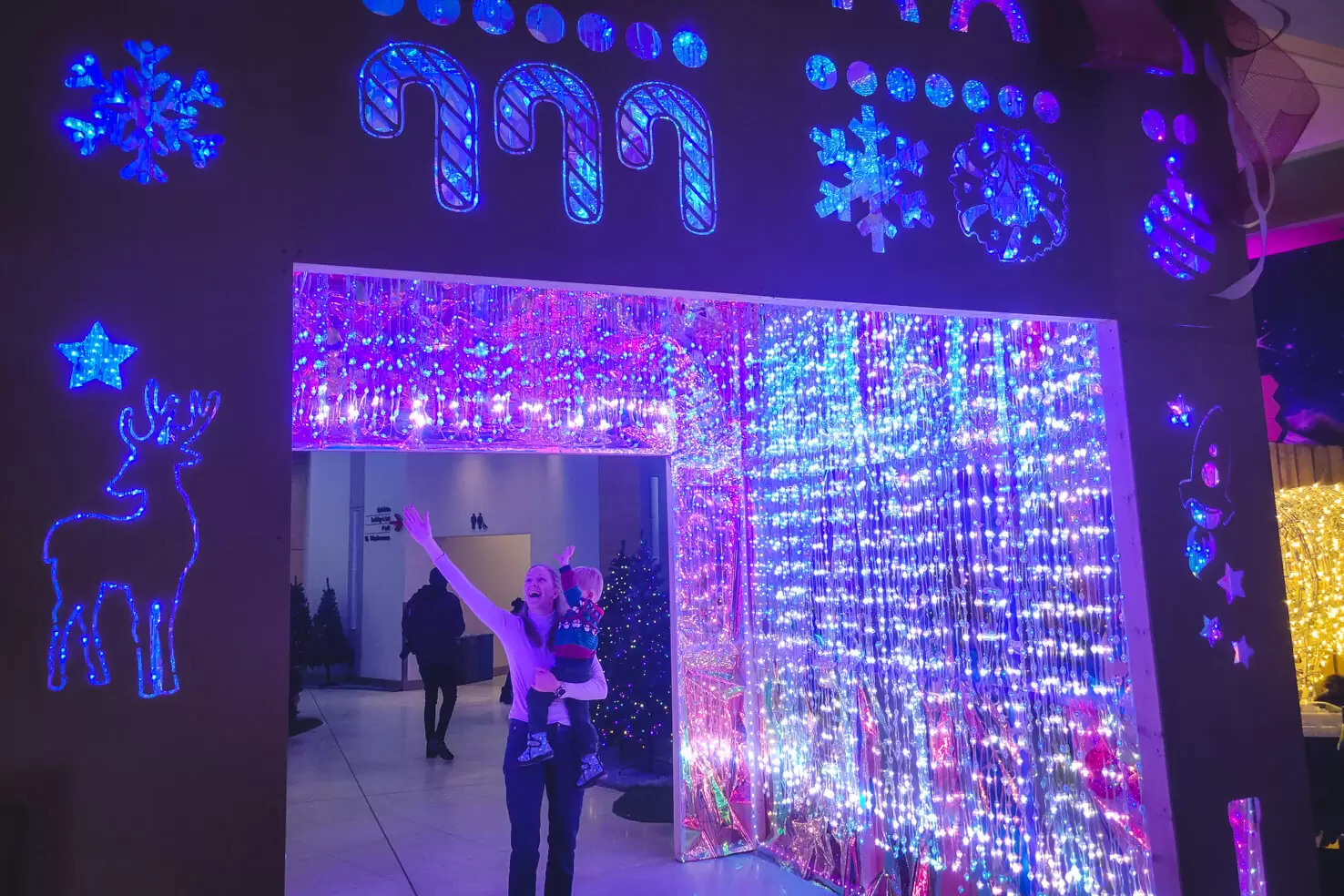 4. Discover Calgary murals
Bring your camera along if you feel like going for a walk around the city. Calgary's Beltline area hosts a yearly Bump Festival where artists all over Canada paint building walls.
In the last year, more than 40 local and international artists created beautiful murals in 11 Calgary communities. Just from this event, there are more than 80 murals. Most of them are downtown between 10 & 12 Ave SW or along 17 Ave SW, the hub for many cool cafés, bars and restaurants.
My favourites are:
Blackfoot singer at 1232 17th Avenue SW
Indigenous dancer at 340 10 Avenue SW
Cougar in the mountains at 1410 11 Avenue SW
I've found the newest beautiful mural in Bridgeland (pictured below). See the linked post below for the map of 26 murals we found.
If you'd like to make it even more fun, go on a Street art & Craft beer walking tour with tasting. You visit two craft breweries with taste beers, and a pint included, check out murals in Beltline and make new friends. You can check the availability and book the tour by clicking here.
Read the full blog post for more photos and details: Discover 26 amazing murals in Calgary with our map
5. See king penguins
The Penguin walk is a unique event that deserves mention; it's one of the best things to do in Calgary in winter (see our video here). Every year, from January to mid-March, the Calgary Zoo staff takes king penguins on walks around the zoo.
The Penguin walk is a very sought-after experience. It starts at 10:30 daily and looks different every time, as it's up to the penguins if they decide to go for a walk or not.
We visited twice already, and they seemed to always look forward to their walk. They come out of the penguin plunge, where they usually hang out with the rest of the penguins and wait outside in the snow.
The daily walks encourage exercise for penguins and offer them a change of scenery. We all had a blast at Penguin walk and will go again.
With regular admission, you can see the Penguin walk and walk through the rest of the zoo. I highly recommend going to see the gorilla baby playing with her mama.
Read the full blog post for more photos and details: Penguin walk at Calgary Zoo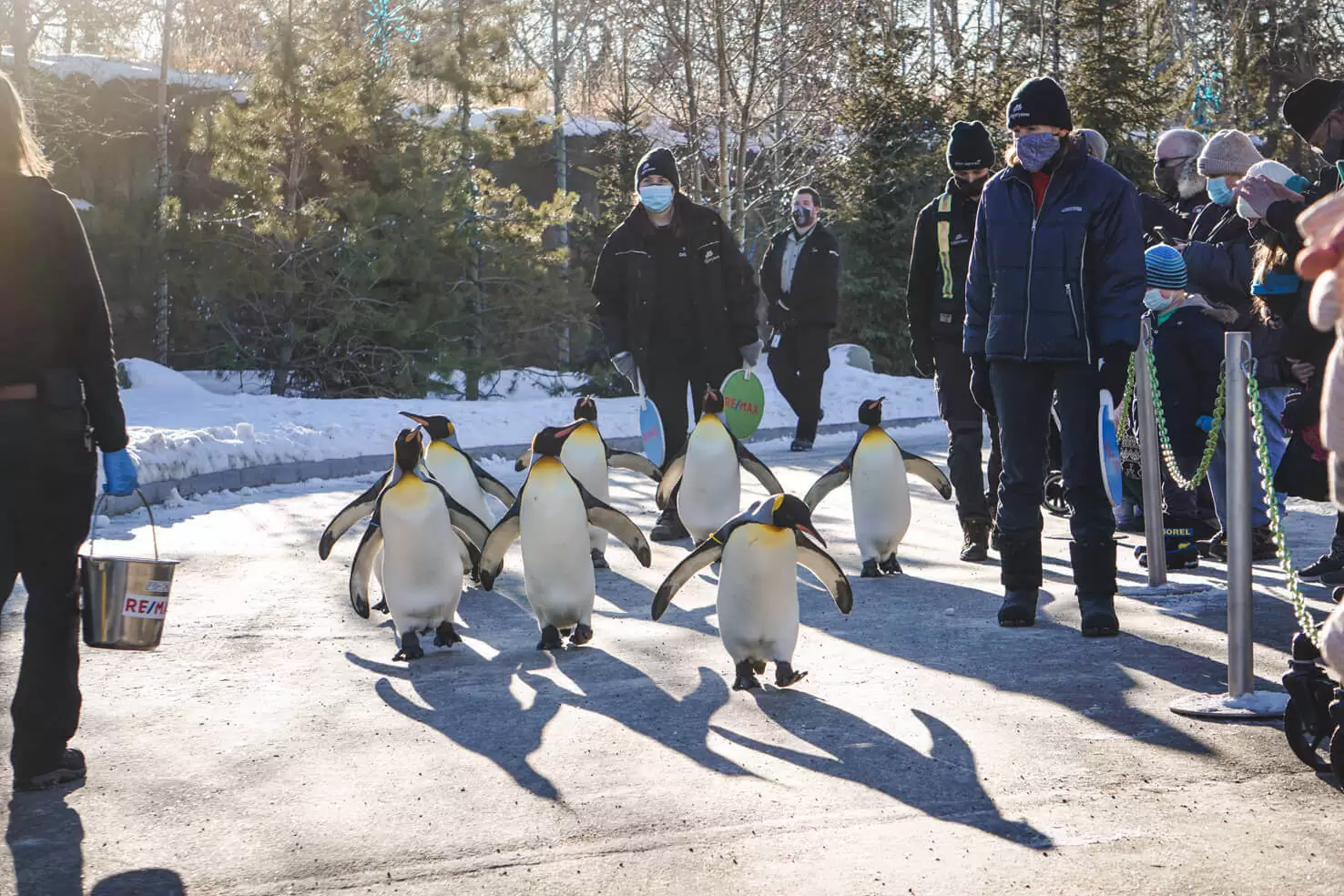 6. Enjoy adventure & outdoor movies
What's better for cold nights than watching a movie? While Banff hosts a yearly Banff Mountain Film Festival in November, you can see the best movies when the World Tour starts. You can watch new adventure and outdoor movies:
January 12-14, 2023, at the University of Calgary
January 19-22, 2023, at Mount Royal University
Two different programs usually have about 6-8 documentaries and movies ranging from 4 minutes to 45 minutes. The wide range of sports and stories will inspire and motivate you to get out there.
Last year there were movies about mountain biking down the Mexican volcanoes, bike & ski in the Balkans, a Sherpa family cleaning up Mount Everest, setting a world record by high lining above the clouds in Brazil,  polar bears in Manitoba, climbing in Mexican cenotes, running for women in Afghanistan, and more.
Click here for the current program. And if you don't make it to the Mountain Film Festival World Tour, we have many great suggestions for you linked below (including where exactly you can watch each movie).
Our favourites: 30 Best outdoor movies and adventure documentaries
7. Join YYC Hot Chocolate Fest
I'm sure I'm not the only one who loves hot chocolate, especially in winter. Well, good news! February is chocolate time. Visit participating Hot Chocolate Fest cafes and restaurants for a drink during the whole month of February. This is my favourite winter event in Calgary.
I started at last year's winners – Best Hot Chocolate was awarded to Flower & Wolf, and Best Spirited Hot Chocolate to Cravings Market Restaurant. One of my favourites was Hot Chocolate Nutella with mini Bomboloni at Amato Gelato Café.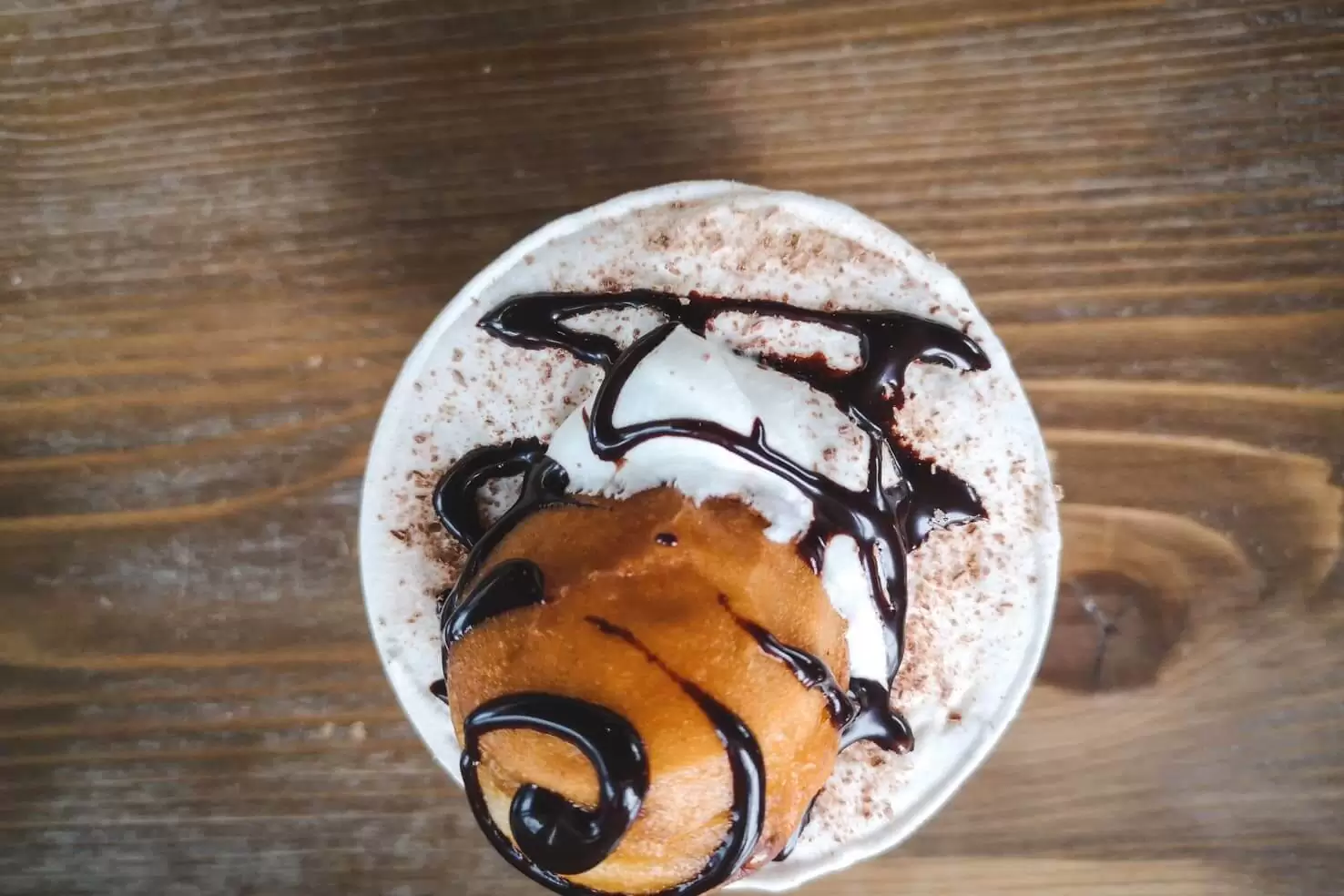 There are over 110 participating locations with almost 100 drinks. This fantastic event also raises money to help battle food insecurities, so with every hot chocolate drink you buy, you're donating $1-$3 to a good cause.
If you're unsure where to start, read about my experience with different drinks below, which I update and add new drinks yearly, or check out past winners. Their interactive map of all locations makes planning errands around the cafes you'd like to visit easier.
Read the full blog post for more photos and details: Honest review of 15 drinks at Hot Chocolate Festival
8. Visit the science centre
The Spark Science Center offers galleries, and educational programs, including planetarium shows, dome movies, special adults-only events, and a new digital immersion gallery. While small kids would enjoy the Creative Kids Museum, where they can play splashing water freely, throw balls, or play games, older kids and adults can get hands-on experience with science experiments upstairs.
There are lots of shows and events for adults; here are a few examples:
The interactive exhibit 'Hockey: Faster Than Ever' offers to learn about the origins and culture of the game, try the rink replica or see the gear from the biggest stars
The new exhibit Wonderspaces is a mix of interactive and immersive art & science
Regular events featuring Indigenous artists and activities
Beakerhead event, a blend of science, technology, engineering & art
Sparkle sparkle event at Christmas time featuring Christmas movies, light displays & swings, Santa's workshop, adults & kids festive drinks
Spark after Dark – adult-only events with a different theme each time
The Infinity Dome – the largest 360-degree theatre in Calgary playing shows several times a day
Check out their current events, and purchase tickets or membership at Telus Spark Science Center.
9. Try ice biking
Have you heard of ice biking before? It's a new winter activity in Calgary you can try in Bowness Park. You ride a bike on a platform constructed for a new form of ice skating. It's not as easy as it looks to pedal on the heavy structure, so prepare for a good workout.
Ice bikes are available for rent daily from December 23 to January 2 and then on weekends till mid-March.
After ice biking, you can play crokicurl with your friends (an outdoor game combining crokinol and curling), grab a hot chocolate in the café, have lunch at the restaurant, walk around the park, or skate on the lagoon or ice trail along Bow River (skate rentals on-site with same opening dates as for ice bikes).
I enjoy visiting Bowness Park in the winter because of the huge lagoon that is getting flooded daily for ice skating, and the views of Bow River while skating on the ice trail are unbeatable.
Read the full blog post for more photos and details: Skating at Bowness Park: everything you need to know
10. Visit a museum
Calgary has no shortage of fantastic museums. When it gets too cold and dark in Calgary in winter, it's the best time to learn something new. Here are the most popular museums in Calgary:
Glenbow Museum features the art of Indigenous People with a collection of over 33,000 artworks. They also feature shows, tours, and talks, such as An Ode to Hockey in the Off Season, Chinese Art, Indigenous tours, and virtual art talks.
Heritage Park is Canada's largest living heritage museum. While the Heritage Park Historical Village is open in the summer, you can visit Gasoline Alley Museum and Heritage Town Square in winter from 10 am to 4 pm.
Gasoline Alley Museum, open year-round, showcases antique vehicles and oil and gas-related artifacts. The Heritage Town Square has gift shops, a restaurant, and our favourite, Harvey's, where they serve old-fashioned sodas and ice cream.
You can check the availability and buy tickets to the museum by clicking here.
Explore exhibitions about Canadian musicians and musical instruments. Catch a weekend concert, mix music or learn how to play a new instrument. The National Music Centre offers performances, education programs, and more.
Studio Bell is open Wednesday to Sunday from 10 am to 5 pm. Admission is: 21.50 Cad/adult, 13.50 Cad/youth, and kids under 3 are free (or 'pay what you can'). Check out the bottom of the admission page for special discounts.
Hangar Flight Museum in Calgary focuses on flight history in Western Canada. There are lots of military and commercial planes.
You can even explore some of them from the inside during special events – from Father's Day in June to Labour Day daily, during weekends in September, and National Aviation Day in February.
Hangar Museum is open Tuesday to Sunday from 10 am to 4 pm with 15 Cad/adult admission, 8 Cad/3-11 years, and free for kids under 3.
Read the full blog post for more photos and details: Hangar Flight Museum in Calgary
11. Have fun on trampolines
Who says indoor playgrounds are just for kids? Flying Squirrel Trampoline Park has two locations in Calgary. It's suitable for kids of all ages and adults. They have a lot of giant trampolines and also kid-friendly ones.
You can find here lots of attractions to have fun for hours. Here are a few: climbing walls, aerial silks, airbags, battle beams, dunk hoops, foam pits, freestyle courts, inflatable parks, kiddie courts, kiddie inflatable parks, laser maze, ninja course, rope swings, slackline, zipline, many more.
Both locations are open daily with admission:
6 years & under: 14 Cad/60 min, 19 Cad/90 min, 25 Cad/120 min
General admission: 23 Cad/60 min, 30 Cad/90 min, 40 Cad/120 min
It's one of the best indoor playgrounds in Calgary for family fun.
12. Enjoy views from Calgary Tower
Calgary Tower is hard to miss and visible from almost anywhere. Enjoy a bird's eye view of Calgary from the 190 meters high tower; the observation deck is open year-round, and challenge yourself and step onto the glass floor.
You can eat at the Sky 360 Restaurant and Lounge on top while enjoying the views while the restaurant rotates fully in 45 minutes.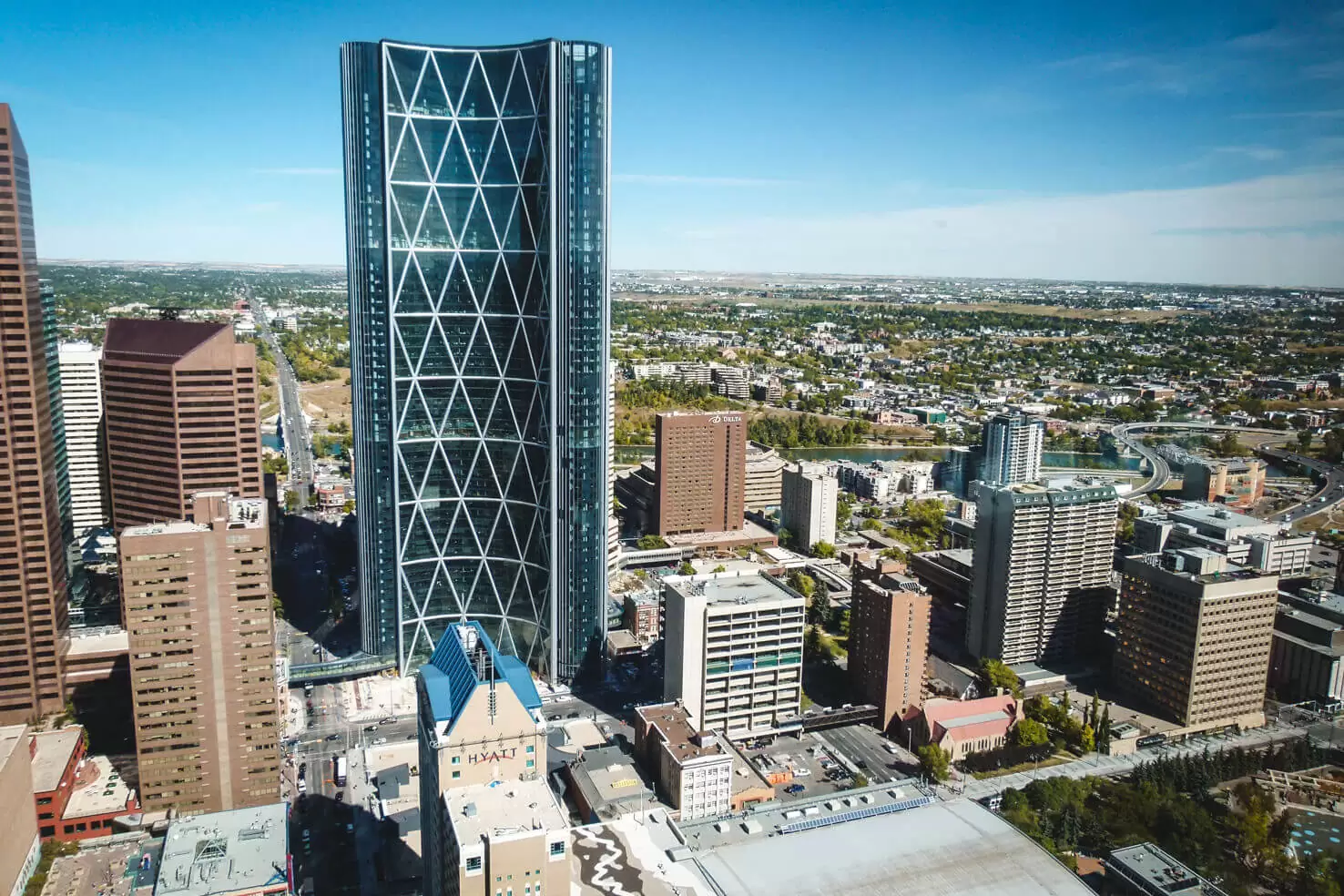 Look at their lighting schedule to know what the colourful tower lights represent each time you see them change.
Located downtown at 101 9 Ave SW and open daily, admission is cheaper when booked online: 19 Cad/adult, 9 Cad/4-12 years, and kids under 3 are free.
You can get Calgary Tower tickets here.
In March, you can join a unique challenge.  Every Tuesday from 4 pm to 7 pm, you can climb all 802 stairs to the top for a discounted rate of 10 Cad.
13. Have fun at a winter festival
Bowness Winterfest is a yearly family-friendly event in carnival style with zorb bowling, carnival games, crafts, and many more games (this festival seems to be on hold for the time being).
Glow Downtown Winter Light Festival, or Glow Fest, was an annual festival with music, dance shows, fire pits, and interactive light installations in February. While 2022 was the last year of Glow Fest, it seems that it is now merged with Chinook Blast.
From January 27 – February 12, 2023, the Chinook Blast festival lights up Olympic Plaza and Stephen Avenue in downtown Calgary. There are art & light installations, music & cultural performances, laser projection shows, balloon displays, street performers and DJs.
Join the fun and bring your whole family. Children were particularly mesmerized by all the lights.
14. Go skiing or snowboarding
How lucky we are that Calgary has a ski hill. That's what visitors are most shocked about when I tell them you can surf and ski right in the city.
WinSport Canada Olympic Park was built in 1988 for the winter Olympics. It's now locals' favourite for beginner skiing and snowboarding. With two chairlifts, several runs including a terrain park halfpipe & slopestyle, and a magic carpet for the little ones, it's an excellent place for the whole family.
Their regular season tickets can be purchased for 4 hours or a full day. Prices for 4 hours are 24 Cad/6 & under, 34 Cad/6-17 years, 59 Cad/adult, and full-day tickets cost 26 Cad/6 & under, 44 Cad/6-17 years, 69 Cad/adult.
If you're an intermediate skier, head to Nakiska ski resort in Kananaskis Country. Just an hour west of Calgary, it's the closest ski resort to the city. Nakiska offers four chairlifts, two magic carpets, and 79 marked trails, the longest being 3.3 km. That's quite a leg burner!
Nakiska offers half-day and full-day tickets. Half-day tickets are valid in the afternoon and start at 95 Cad/adult Monday to Thursday, 107 Cad Friday to Sunday, and 115 Cad on holidays. You can purchase full-day tickets online and get a discount of up to 20% if you buy them more than 14 days ahead.
TIP: If you're looking for a ski getaway, check out Fairmont Hot Springs Resort in British Columbia, with its own ski hill and several hot pools at the resort.
15. Tube at Canada Olympic Park
Tubing down the Bow River is a popular summer activity in Calgary, while tubing down the hill at WinSport Tube Park is for winter. It's almost like sledding, but it's faster and more fun for adults.
The Servus Tube Park is open Friday evenings with a discounted rate of 16 Cad/2 hours. Regular hours of operation are Saturdays, Sundays, and holidays at 12:30 & 3 pm. The 2-hour tickets cost 27 Cad/per person. Helmets are strongly encouraged; you can bring your own or rent one for 10 Cad.
16. Sled down the hill
Is there a better winter activity that is budget-friendly and available for all? Sledding, or tobogganing, as they usually call it, even though most people don't use toboggans for sliding down the hill, is so much fun and can get your adrenaline going pretty fast. It's my favourite winter activity in Calgary.
Believe it or not, sledding on any hill you see is illegal and can get you a fine. There are 22 designated hills across the city. Here's a list of designated and maintained sledding hills in Calgary.
A very nice one is in Confederation Park, beside the skating rink. At night, the prettiest sledding hill is at the Lions Festival of Lights in Confederation Park.
One of Calgary's biggest and most popular hills is Prairie Winds Park Toboggan Hill, 223 Castleridge Boulevard. This is where everyone can find a great slope, from little kids to adventurous adults.
While Walmart and Canadian Tire always have sleds or toboggans, we found the best sled in Decathlon. It has brakes, and the seat is slightly raised under your bum, so any bumps on the hill won't leave you bruised.
17. Try fat biking
While bike paths are usually plowed and cleared of snow in winter, there are many trails in Calgary's parks where you can find deep and packed snow that is ideal for fat biking.
Trails that are great for fat biking in Calgary are:
Shaganappi Golf Course (8 km)
around Glenmore Reservoir (24 km loop with mostly cleared paths and the option to go in the deep snow, mainly at South Glenmore)
Prince's Island Park
Nose Hill Park
Fish Creek Provincial Park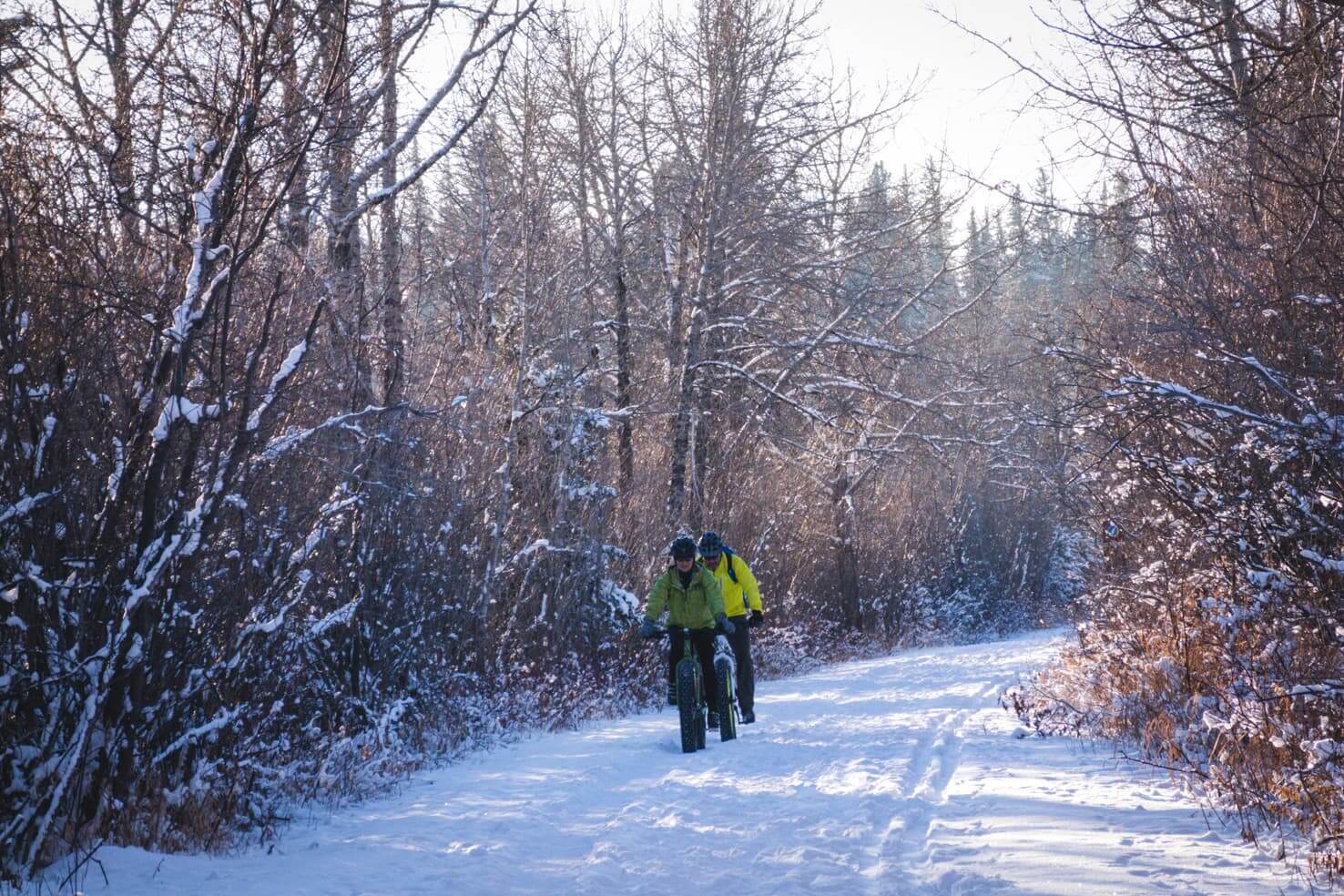 We've tried fat biking in Canmore Nordic Centre and enjoyed it a lot since we're mountain bikers.
You can rent a fat bike, a standard mountain bike with wide (fat) tires. Get ready for a workout; biking on the snow is much harder than mountain biking but so much fun. The downhills are slower than on a mountain bike. But falling in the snow is much better than into the dirt.
18. Enjoy a theatre performance
While the theatre has shows year-round, you can watch Christmas-themed performances in December. Check their schedule for more shows. We went to see The Nutcracker ballet a few years ago, which I highly recommend.
There's also a new show in the city, The Immersive Nutcracker: A Winter Miracle, featuring special effects, photo ops, gigantic projections, and more. More info here.
For year-round theatre performances, check out this comprehensive list.
19. Watch the Northern Lights
Have you seen the dancing beauty called Aurora or Northern Lights before? It's the most magical natural wonder and one of the most beautiful things I've ever seen.
Calgary Aurora Chasers is a great place to start, where members share current conditions and aurora pictures.
While you must drive out of the city away from light pollution most of the time, sometimes we're lucky to see Aurora right in the city. Either way, you can see Aurora every winter; how amazing is that!
20. Join a running race
When we moved to Calgary, a running race with Calgary Road Runners Club was the first event we attended, and we got to know some locals.
They run a racing series during winter, where every race is in a different park around the city, followed by hot food in the community center. The short kids' race starts first, and then the 4k and 8k start at noon.
It's been our favourite winter event for years, and I highly recommend it.
21. Read at the new Calgary Central Library
The new Central Library is considered to be an architectural gem. And not only is it a beautiful big building, but it's also hosting many events and even small concerts. It's also a great and quiet place to read with a café on site.
One of the unique events I attended was Yoga in the library before it opened to the public.
Our son enjoys the Early Learning Centre with reading nooks, drawing tables, climbing structures, and many fun toys and games.
22. Hike in Bowmont Park
In winter, you can hike in several parks in Calgary. One of the prettiest is Nose Hill Park at sunset or Edworthy Park with Angel's Café nearby for a coffee & cake break.
Bowmont Park has several paths along the Bow River and a small waterfall. Just look at the lovely river view in the below picture. If it's a bluebird day, you can see the Rockies.
23. Walk along the Bow River
Calgary's downtown RiverWalk always surprises us with new cool things. For example, we've found new murals and a new cross-country trail in the East Village while on a walk.
There are so many great options where you can walk:
head to the café in the Simmons Building for a snack or hot chocolate
visit Fort Calgary in East Village
check out the cool shops in Inglewood
walk around St. Patrick's Island
continue to Prince's Island Park to see ducks and beavers
walk up the stairs to Crescent Heights lookout point for a view of Calgary's skyline
24. Sip a coffee by a fireplace
When you get tired of sitting on the couch at home, consider going to the award-winning Higher Ground Café in Kensington. It's a nice place with a chilled atmosphere, a fireplace, and delicious hot drinks.
Then walk along Bow River to Peace Bridge and Prince's Island Park.
25. Help fellow Calgarians
We buy presents for our loved ones during Christmas and enjoy days or weeks filled with food. But what about fellow Calgarians who can't afford this luxury?
You can donate food to the fridge at 902 Centre Street, Crescent Heights, send monetary donations to the Calgary community fridge or take any food with no questions asked if you're in need.
Other community fridges that welcome food donations are:
The Hatch, Rosscarrock Fridge 4411 10 Ave SW
YYC street fridge at 634 Marsh Road NE in Bridgeland
Common Cupboard in Bowness – 6508 Bowwood Drive NW
26. Relax in a spa
While you can visit outdoor hot springs in Banff, you can also relax indoors in Calgary. The first and only thermal spa SKA is located in Beltline and offers hydrotherapy – dry sauna, infrared sauna, steam room, and hot and cool pools for only 65Cad/2 hours. Massages, couples massages and facials are offered at an additional cost.
27. Go swimming
If you'd like more than just a dip, swim in one of the 13 indoor swimming pools in Calgary, including leisure centres with wave pools, slides, and aqua play structures for kids.
Lots of these pools also offer a steam room and a hot tub.
My favourite pool is Vecova, the warmest pool in Calgary. They also offer drop-in sessions for deep water workouts, shallow water aquafit, swim lessons, rehab swim, and public swim times. Check out their schedule here.
For a family-friendly fun day, our favourite thing to do in Calgary in winter is visit Southland Leisure Centre, where they have a wave pool, hot tub, steam room, water slides, safari splash park, and kiddie pool. They're usually open for swimming during the weekends in winter.
28. Pick up a new sport
Fat biking, backcountry skiing, cross-country skiing, snowshoeing, ice climbing, and more are available at the Outdoor Centre (University of Calgary). Check out their courses to learn something new this winter.
29. Climb a frozen waterfall
Climbing a frozen wall is one of the most incredible activities we've tried in Canada. You can take a beginner or advanced course and climb waterfalls in Johnston Canyon, Lake Louise, and many more in the Rockies.
30. Play or watch ice hockey
Community ice skating rinks around Calgary often have shinny hockey. It's a random group of people who play a game together, and you can find several groups on Facebook and join them. We enjoyed several shinny games with our Couchsurfing friends. Alternatively, browse the City of Calgary's website for shinny options in indoor rinks.
If you'd like to see an NHL hockey game, it's fun to attend just for the crazy atmosphere. The iconic Saddledome, shaped like the horse's saddle, hosts NHL Flames games in winter. You can get tickets here.
31. Watch the sunset over Calgary's skyline
Both sunset and sunrise in Calgary are unbelievably colourful and pretty to look at. I recommend North Glenmore Park (the picture below is from the Weaselhead area), Nose Hill Park, or McHugh Bluff Park for the best views.
32. Learn to paint with a professional
The concept of painting while drinking with a friend is amazing. The Paint Nite event is usually hosted in different pubs around Calgary.
You buy a ticket which gets you all the painting supplies and a teacher. And you make a painting while ordering and drinking whatever you want from the bar.
33. Shop at local Christmas markets
For unique Christmas gifts and to support local artists, visit a Christmas market. There are many to choose from running November-December. Here's a comprehensive list of available markets in and around Calgary.
Suppose you prefer getting into a Christmas mood, rather than just shopping. In that case, I highly recommend the European Christmas Market in Bearspaw, with many activities for kids, a dance & music program, and fireworks.
READ NEXT
Merry Christmas in 100 of the world's most spoken languages
34. Volunteer
Lend a helping hand in your free time and volunteer in one of many of Calgary's organizations. Here's a list of volunteering organizations that can use your help.
35. Make a snow angel
Remember how it was when you were a kid? You had fun all day, every day. Recreate the memory and make a snow angel the next time you see untouched snow.
36. Build a snowman
When you're done making a snow angel, why not take it further to recreate childhood memories and build a snowman? I've heard snowmen in Canada don't hold a broom but a hockey stick. Is it true?
37. Boost your immunity
This activity supplements making a snow angel and building a snowman. Try walking or running in the fresh snow to build up your immunity. How long will you last? I lasted about a minute last winter.
Recently, as part of the Wim Hof workshop, I went for an ice dip at Elbow River. It was -15C outside, and let me tell you, nothing tests your physical and mental resilience more than lying in ice-cold water.
38. Play curling
If you're not into skating and playing hockey, try another popular Canadian activity – curling. Whether or not curling belongs to the Olympics is for another debate, but you can try playing this Canadian game indoors or outdoors in Bowness Park.
You can play curling indoors in Calgary in:
Calgary Curling Club (also offers curling lessons for kids & adults)
North Hill Community Curling Club
Garrison Curling Club Calgary
39. Day trip to Drumheller
Drumheller is located 1.5-hour drive east of Calgary and is called the "Badlands of Alberta". The erosion of sedimentary rocks forms several canyons.
Drumheller is also called a dinosaur valley and the Dinosaur capital of the World.
There are lots of fun things you can do in Drumheller:
Walk through Horsethief or Horseshoe Canyon
Walk through the downtown filled with dinosaurs
Hike the iconic Hoodoos Trail
Visit the historic Last Chance Saloon with bullets from the pistol in the wall
Visit the Royal Tyrrell Museum, the only museum in Canada dedicated to paleontology
Read the full blog post for more photos and details: 10 Fun things to do in Drumheller
40. Day trip to Alpaca Farm
Kirk's Alpaca Farm is located an hour east of Calgary, on the way to Drumheller.
The family-run farm takes care of 90 alpacas, and you're welcome to visit! During your booked 2-hour slot, you can walk through the field with alpacas, feed them with the provided food, and take pictures with them.
The farm shop offers local products, alpaca souvenirs, and a huge playground for kids.
Read the full blog post for more photos and details: Kirk's Alpaca Farm
41. Have a themed evening
Whether planning a trip abroad or not, why not have fun immersing in a different culture? Luckily, Calgary is a multicultural city with many options to make it happen. You can plan a Mexico-themed day, Greek-themed day or any other culture you're interested in.
We did a Latino-themed day with movies, South American drink recipes, Latino playlist, and we picked up fantastic food from Fresh & Local Market + Kitchens in Avenida Village.
Read the full blog post for more ideas: 12 Things for an exciting journey through South America from your home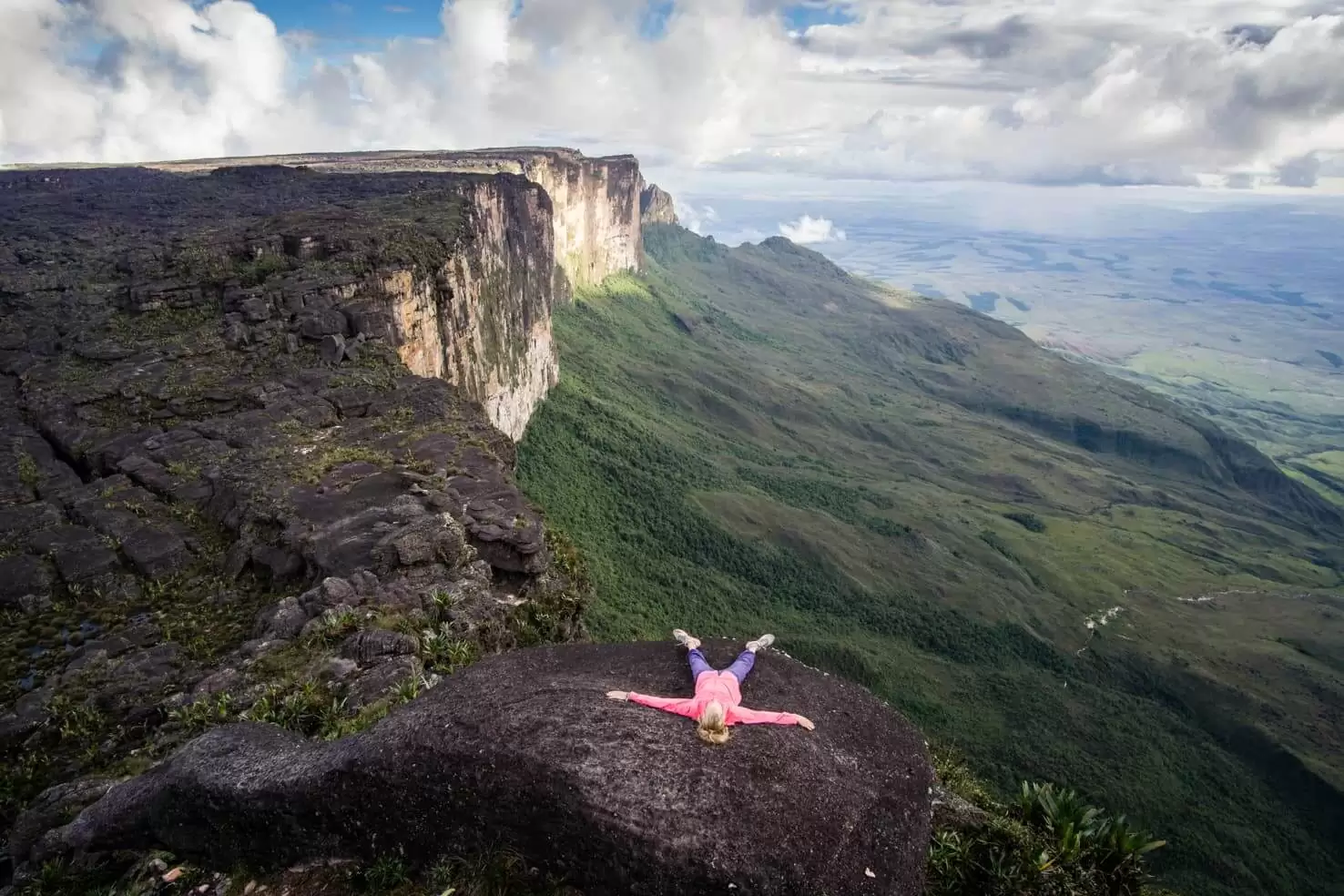 42. Day trip to Canmore
Canmore is a getaway to the Rockies and just one hour west of Calgary.
The mountain views are staggering, and a welcome change of scenery from the city. There are lots of activities you can do in winter with friends or family.
One of the most popular places is Canmore Nordic Centre. You can cross-country skiing, sledding, fat biking, or ice skating. The Day Lodge offers great meals, drinks, and a warm place to recharge by the fireplace. Other options include frozen waterfalls, hikes, dog sledding, and more.
Read the full blog post for more photos and details: 15 Best winter activities in Canmore
43. Hike in the nearby mountains
Hiking in the parks of Calgary is great, but nothing beats the mountain views.
A fantastic hike near Canmore is Grotto Canyon Ice Walk, with stunning waterfalls at the end. If you're visiting Canmore, don't miss Grassi Lakes and their stunningly coloured lakes.
In Banff National Park, check out the frozen winter wonderland in Johnston Canyon for more frozen waterfalls. Our favourite is hiking up Sulphur Mountain and then you can take the gondola down.
Pack microspikes for your winter boots, a bear spray and have fun!
Read the full blog post for more photos and details: 8 Awesome winter hikes in Canmore
44. Day trip to Banff
Banff is always a good idea, no matter the season. While summer offers many hiking options and lake trips, you can skate on frozen mountain lakes in winter, visit Banff Hot Springs, cross-country ski from Canmore to Banff, or visit during their winter festival.
Read the full blog post for more photos and details: 100 things to do in Banff National Park
Calgary in winter: how cold is it?
Calgary in winter is cold, really cold. While it can get -25C sometimes, there's still lots of sunshine. Calgary is the sunniest city in Canada, so even when it's cold, it's not depressingly cold.
The winter in Calgary can last anywhere from 4 to 6 months, but I focus on the coldest months.
Calgary in November
The average daily temperature is 3C and -8C at night.
While October sees some snowfall that can still melt, November snowfall is more likely to stay until March/April.
The good news is lots of festive & Christmas events start in November. What are some of the best things to do in Calgary in November? You can ice skate at Olympic Plaza in November and visit Zoolights, Lions Festival of Lights or Christmas markets at the end of the month. Some ski resorts also start their winter season.
Calgary in December
The average daily temperature is -2C and -12C at night.
We usually get the most snow in December, and the sledding season starts. The morning walks become crisp, so I enjoy the sunshine and get outside mid-day.
December is also very heavy on Christmas events, whether they're outdoors or indoors.
Calgary in January
January is the coldest month in Calgary.
The average daily temperature is -3C and -14C at night. Several weeks every year, we get the bitter cold of -20C and below, and it usually starts in January.
No need to worry, though; this insanely cold period usually lasts a few days or a week. Luckily, we also get Chinook winds (pictured below) which means it can get from -15C to +15C in hours.
Chinook winds are always very welcome, and locals usually wear spring clothes even though it might only be +10C.
Calgary in February
The average daily temperature is -1C and -11C at night.
We usually get another freezing spell in February at least once. But since there are so many fun things to do in Calgary in winter, you can hide indoors.
As I write this in March, the temperature is -10C, spring feels far away, and it usually arrives way later than the on March 20, the 1st day of spring anywhere else.
Where to stay in Calgary
Calgary caters to all visitors in terms of accommodation. There are hostels, hotels, and Airbnbs. If you have a car, the city is well connected with highways, so it almost doesn't matter where you stay. But even then, I recommend staying downtown for visitors without a car.
Many things to do in Calgary in winter are located within walking distance downtown or with an easy public transport option via C-train.
These are my recommendations:
Budget picks: Wicked Hostels is a favourite of budget travellers. They offer complimentary breakfast, Wi-Fi, laundry service, towels, lounges, a library, and a cinema room. Their location is close to 17th Avenue, with bars, restaurants, and the best nightlife in Calgary.
A bit more expensive but with a better location is HI Calgary City Centre Hostel. They're downtown, have modern facilities, complimentary breakfast, a big grocery store and a Calgary airport shuttle nearby.
Value picks: Coast Calgary Downtown Hotel & Suites is a fantastic choice downtown. It is a great value pick because all suites include a full kitchen. While you can pay for hotel breakfast, you can easily cook your meals.
One of the best-rated is Alt Hotel Calgary East Village. They have a very unique and modern interior with a few restaurants on-site.
Luxury picks: Hotel Le Germain is a boutique hotel across from Calgary Tower. They offer continental breakfast, on-site dining at Charcut Roast House Restaurant, and a spa and wellness centre with luxury treatments.
The Fairmont Palliser is an iconic Calgary hotel offering several on-site restaurants, a day spa, a fitness centre, a steam room, an indoor pool, and a hot tub.
Travel essentials for Calgary in winter
Calgary in winter is beautiful, and as you can see, there are many ways to enjoy it. All you need is to come prepared with the proper winter gear.
I recommend packing the below items when you're visiting Calgary from October to April. If you need to buy any gear after arriving in Calgary, MEC is the go-to place, or try Canadian Tire for budget-friendly gear.
The good news is that you don't need Goretex clothing since it rarely rains in Calgary, but you need layers and warm clothing. The secret here is – layers and Merino wool.
Recommended gear for Calgary in winter
Thermos is a winter essential for keeping your water unfrozen or filling up with tea/coffee at a café. I like the creative designs from Hydroflask, which are insulated and can be used in summer or winter.
Some hiking trails are covered with ice in winter. You can rent microspikes for your shoes in outdoor stores or buy your own (which is more cost-effective).
Heat packets are always nice to have, trust me, as someone who went cross-country skiing in -20C. I always have a couple of these in my backpack, and they saved my freezing feet and hands several times.
I love this sunscreen. Calgary's elevation is 1,100m, so getting sunburnt is easy with so many sunny days. The sun is even stronger in Calgary in winter since it's reflecting from the snow. The dry and cold air can damage your skin, so I recommend packing a heavier moisturizer than you usually wear.
Pack a jacket that has a comfort level of -20C. You will appreciate it immensely if you visit icy places like Johnston Canyon in Banff.
Mid-layer: Sweater, fleece or down jacket
All options are great as long as they keep you warm. With wearing so many layers in winter, I find that wearing a down jacket keeps me warm but doesn't make me feel bulky.
A long-sleeve shirt and bottoms made of Merino wool are the best choice. Merino wool is warming in colder conditions, quick-drying and odourless so that you can wear them for a few days before washing.
I usually wear a base layer and hiking pants on top for cross-country skiing or ice skating in winter. However, if it's around -15C or lower, the base layer with thick snow pants is much more suitable.
I find that wearing one layer of sweat-wicking socks provides enough warmth during winter activities, and these winter socks have very fun prints, too.
I usually wear a double-layered hat and either thin liner gloves for activities like cross-country skiing or warm mittens for hikes and walks.
Whether planning to spend lots of time outdoors or just walking around the city, winter hiking boots or snow boots are necessary. Make sure you're buying a waterproof and insulated pair. These are my favourite snow boots.
Have you thought about travel insurance yet? I always include it in our posts as it's not on top of our minds when planning an itinerary, but it's essential for every smart traveller. We use and recommend World Nomads; you can get a custom quote here.
And there you have it! Our comprehensive guide of awesome things to do in Calgary in winter. I hope you enjoyed it and will have a blast visiting Calgary.
If you're visiting the Rockies on your trip, you will find these posts helpful:
---
What winter things to do in Calgary caught your eye? Share with us what you enjoyed the most.
---
Spread the word! PIN this to your Pinterest board.