With dropping temperatures usually starting in November (and ending in March), there's a common feeling to cozy up on the couch at home. And while that's sometimes a good idea, outdoor winter activities with the fresh air and soft touch of sun rays on the cheeks is much better.
If you agree, you're in the right place.
Calgary has been named the sunniest city in Canada, with an average of 333 sunny days per year. Holy smokes, that's a lot!
Pair this information with the good old saying – there's no bad weather, just bad clothing – and you'll be excited to get outside.
Get ready to have some fun with our list of fun things to do in Calgary in winter!
33 things to do in Calgary in winter
1. Go ice skating
I'm starting with our favourite winter activity. You can ice skate in Calgary from November to March, depending on cold temperatures.
While many communities have their ice skating rinks, you can also visit one of the nine bigger rinks. Our usual pick is Prince's Island Park or Bowness Park.
Read full blog post: Outdoor ice skating in Calgary: A breakdown of all options
2. Cross country ski
Cross country skiing is a fantastic activity and very easy to learn. Rent a pair of skis and head to the new Nordic Loop in East Village (pictured below) to cross country ski right in Calgary's downtown!
Some golf courses and parks around Calgary have regularly maintained tracks. We like Fish Creek Provincial Park right after a big snowfall so we can make fresh new tracks.
Read full blog post: 10 Best trails for cross country skiing in Calgary & beyond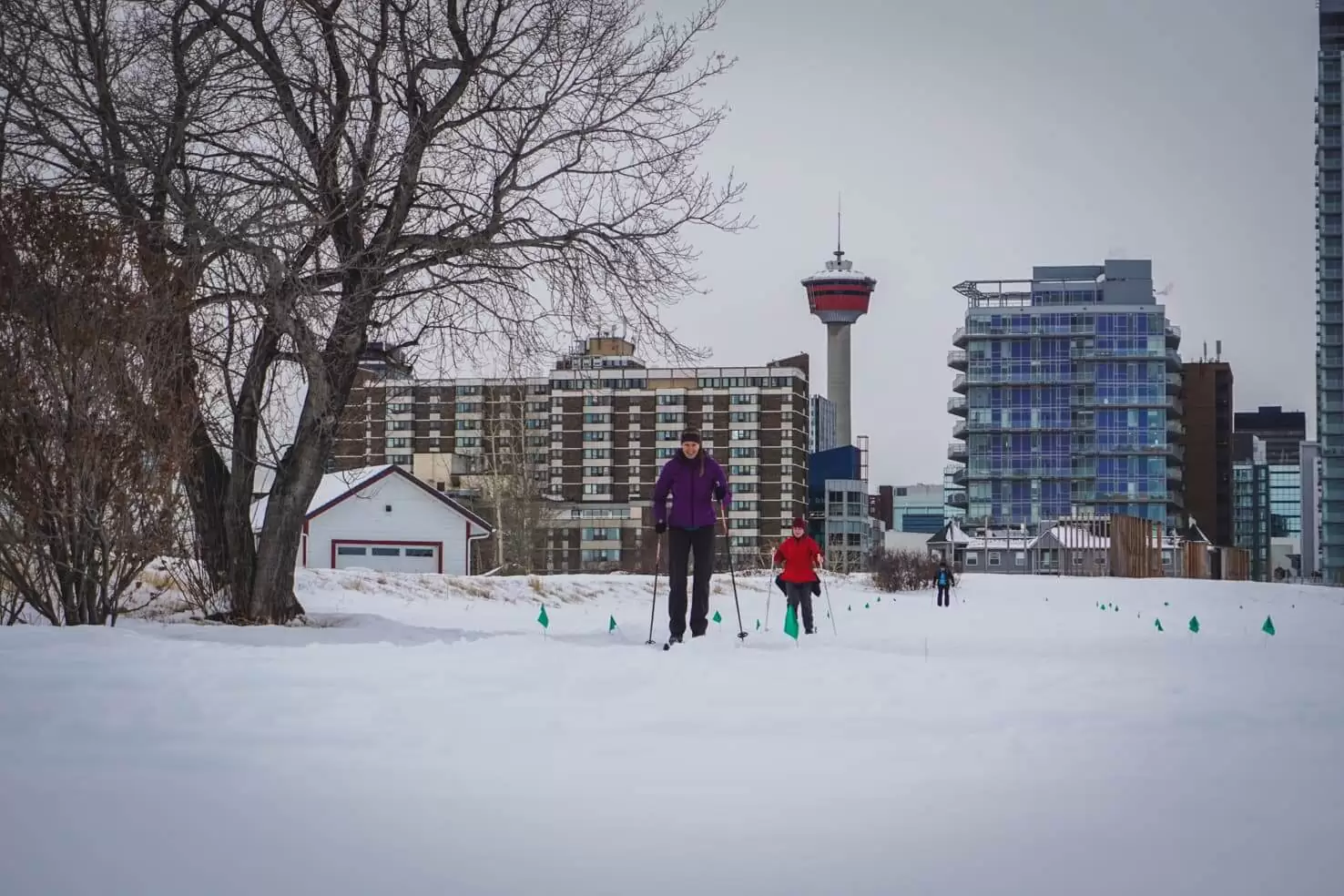 3. Visit the Festival of lights
Sparkly colourful Christmas lights can be seen all over Calgary during the holiday season. A couple of displays stand out: Lions Festival of Lights and Zoolights.
Lions Festival of Lights (Nov 26, 2020 – Jan 8, 2021) is a free yearly event in Confederation Park, which you can see along 14 St & 24 Ave NW.
Zoolights in Calgary's Zoo (Nov 20, 2020 – Jan 10, 2021) feature more than 2 million lights, 200 displays, fire pits and holiday drinks to keep the whole family warm.
Read full blog post: Zoolights in Calgary: 18 best displays and tips for visiting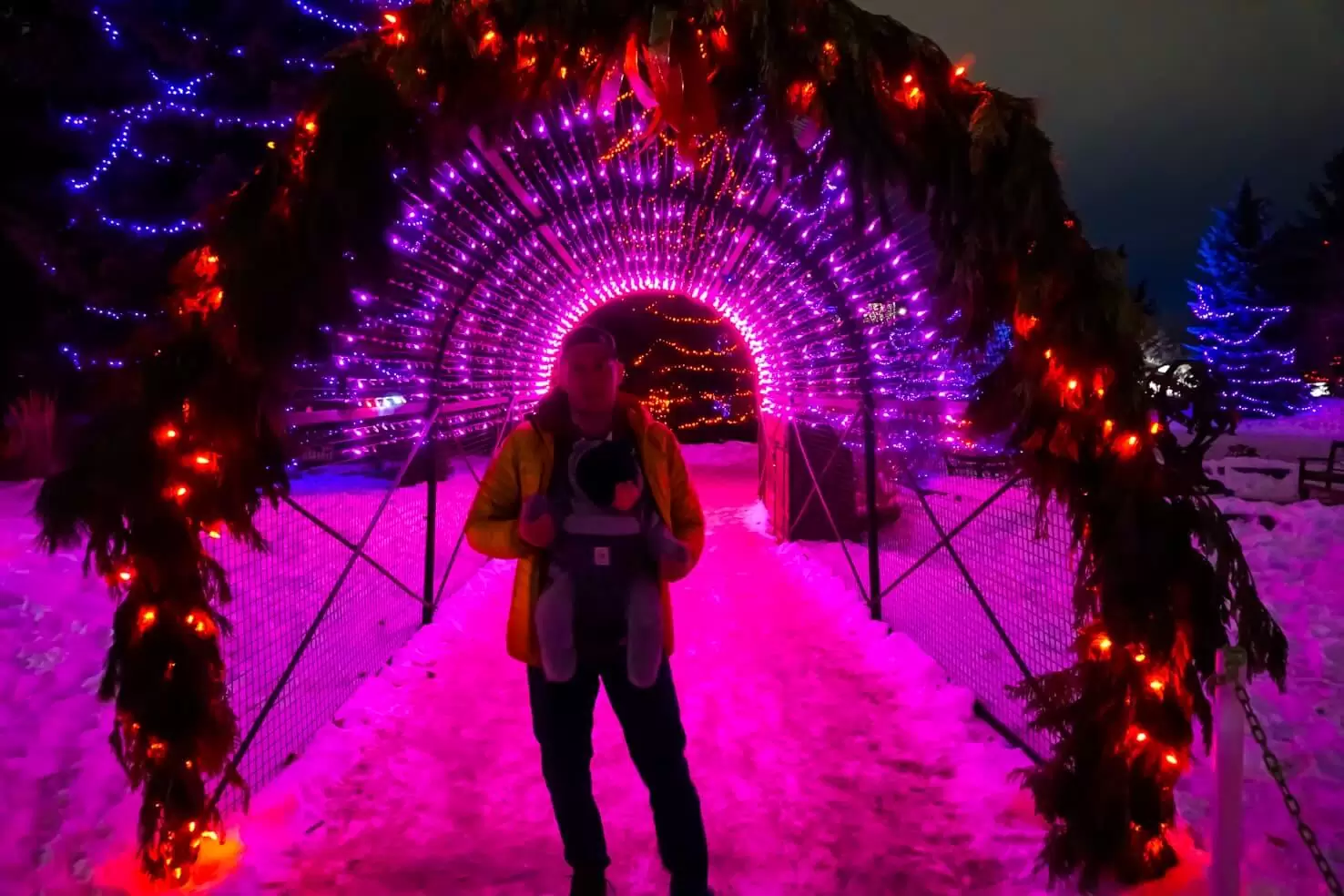 4. Discover Calgary murals
If you feel like going for a walk around the city, make sure to bring your camera along. Calgary's Beltline area hosts a yearly Bump Festival where artists from all over Canada paint building's walls. Just from this event, there are more than 50 murals.
The newest beautiful mural I've found is in Bridgeland (pictured below).
Read full blog post: Discover 26 amazing wall murals in Calgary with our map
5. Sled down the hill
Believe it or not, sledding on any hill you see is illegal and can get you a fine. Here's a list of designated and maintained sledding hills in Calgary. A very nice one is in Confederation Park, right next to a skating rink.
6. Tube at Canada Olympic Park
Tubing down the Bow River is a popular summer activity in Calgary, while tubing down the hill at WinSport Tube Park is for winter. It's almost like sledding, but faster and more fun, for adults especially.
7. See king penguins
Every year, the Calgary Zoo staff takes king penguins on walks through the zoo. It's a very sought after experience. The zoo said that the daily walks encourage exercise for penguins and offer them a change of scenery. What a nice experience it must be.
As of February 12, 2021, the Penguin Plunge is closed, check here for current info.
8. Try fat biking
While bike paths are usually plowed and cleared of snow in winter, there are many trails in Calgary's parks where you can find deep snow, ideal for fat biking. We've tried fat biking in Canmore Nordic Centre and enjoyed it a lot since we're mountain bikers.
You can rent a fat bike, a standard mountain bike with wide (fat) tires. The downhills are slower than on a mountain bike but falling in the snow is much better than dirt.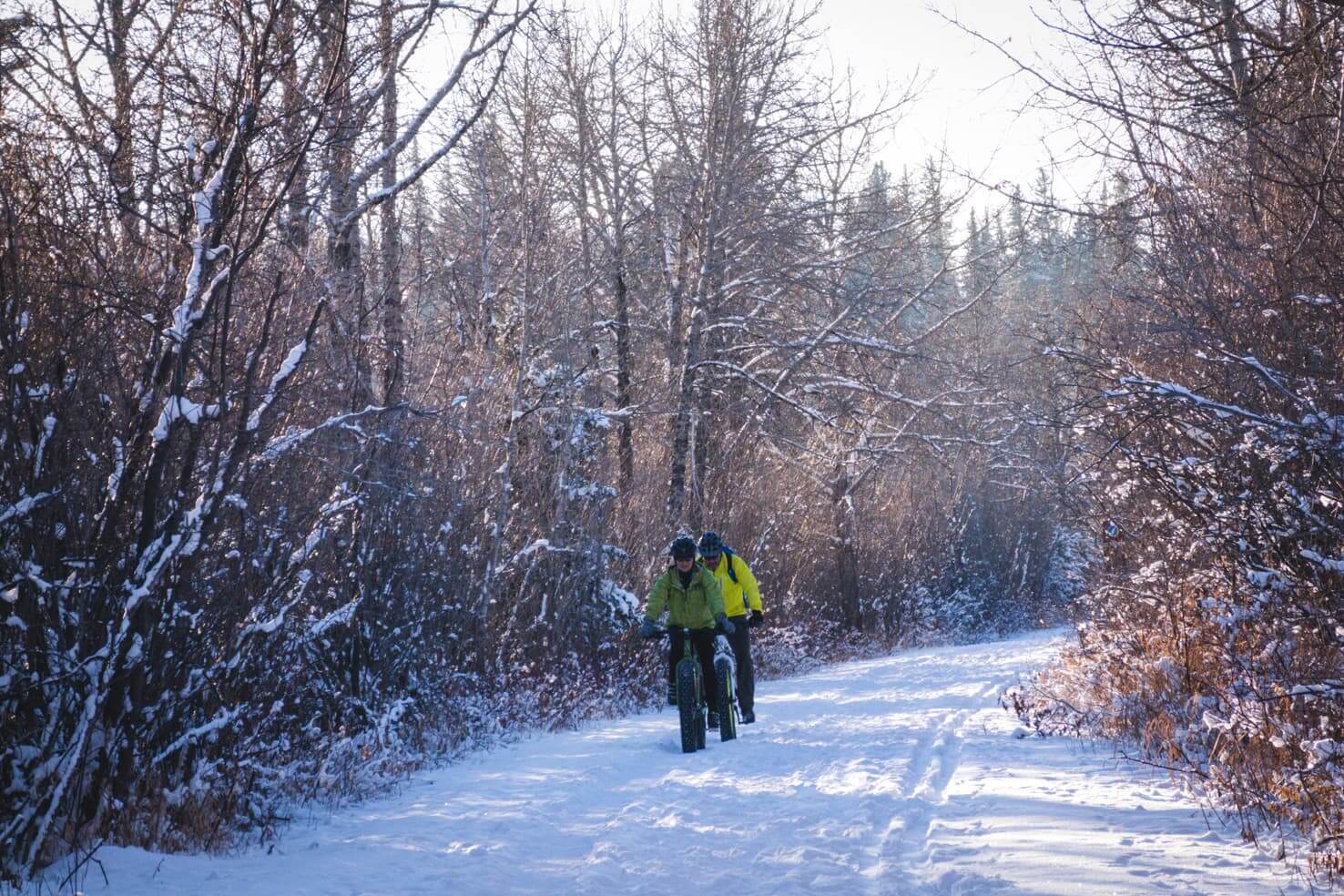 9. Enjoy adventure & outdoor movies
When the Banff Mountain Film Festival ends in Banff, it departs for a World Tour. You can watch the best selection of adventure and outdoor movies in January in Calgary. In 2021, a virtual program is available.
10. Have fun at a winter festival
Bowness Winterfest is a yearly family-friendly event in carnival style with zorb bowling, carnival games, crafts, and many more games (cancelled in 2021).
In Feb 13-28, 2021, check out a winter festival Chinook Blast. Local artists will be illuminating the streets with many art and light installations, ice sculptures will be sprinkled around Chinatown, and many more virtual events and activities.
11. Join YYC Hot Chocolate Fest
I'm sure I'm not the only one who loves hot chocolate, especially in winter. Well, good news! February is chocolate time. Visit participating Hot Chocolate Fest cafes and restaurants for a drink during the full month of February.
I'll start at last year' winners – Best Hot Chocolate was awarded to Odyssey Café near SAIT, and Best Spirited Hot Chocolate to Flower & Wolf.
12. Enjoy theatre performance
In December 2020, you were able to enjoy a theatre performance or A Christmas Carol from the comfort of your home. Check their schedule for more shows. I highly recommend seeing the ballet The Nutcracker, here's a preview.
13. Visit Calgary Tower
Enjoy a bird's eye view of Calgary from the 190 meters high tower. If you're up for the challenge, visit the Calgary Tower on any Tuesday in March to climb the 802 stairs to the observation deck.
While the observation deck remains closed as of Feb 12, 2021, take a look at their lighting schedule to know what the colourful tower lights represent each time you see them change.
14. Help fellow Calgarians
During Christmas, we buy presents for our loved ones and enjoy days or weeks filled with food. But what about fellow Calgarians who can't afford this luxury?
You can donate food to the fridge at 902 Centre Street, Crescent Heights, send monetary donations to the Calgary community fridge or take any food with no questions asked if you're in need.
15. Make a snow angel
Remember how it was when you were a kid? You had fun all day, every day. Recreate the memory and make a snow angel next time you see untouched snow.
16. Watch Northern Lights
Have you seen the dancing beauty called Aurora or Northern Lights before? It's the most magical nature's wonder, and one of the most beautiful things I've ever seen.
Calgary Aurora Chasers is a great place to start, where members share current conditions and aurora pictures.
17.   Pick up a new sport
Fat biking, backcountry skiing, cross country skiing, snowshoeing, ice climbing, and more are available at the Outdoor Centre (University of Calgary). Check out their courses to learn something new this winter.
18. Climb a frozen waterfall
Climbing a frozen wall is one of the coolest activities we've tried in Canada. You can take a beginner or advanced course and climb waterfalls in Johnston Canyon, Lake Louise, and many more in the Rockies.
19. Join a running race
When we moved to Calgary, a running race with Calgary Road Runners Club was the first event we've attended, and we got to know some locals.
They run a racing series during winter where every race is in a different park around the city following by hot food in the community center.
It's been our favourite winter event for years, and I highly recommend it.
20. Play or watch ice hockey
Community ice skating rinks around Calgary often have shinny hockey. It's a random group of people who play a game together. We enjoyed several shinny games with our Couchsurfing friends.
If you'd like to see a hockey game, it's fun to attend just for the crazy atmosphere.
21. Watch the sunset over Calgary's skyline
Both sunset and sunrise are unbelievably colourful and pretty to look at. I recommend North Glenmore Park (the picture below is from the Weaselhead area), Nose Hill Park, or McHugh Bluff Park.
22. Learn to paint with a professional
The concept of painting while drinking with a friend is amazing. The Paint Nite event is usually hosted in different pubs around Calgary.
You buy a ticket which gets you all the painting supplies and a teacher. And you make a painting while ordering and drinking whatever you want from the bar.
As of February 2021, their events are virtual.
23. Walk along the Bow River
Calgary's RiverWalk always surprises us with new cool things. As an example, we've found new murals and a new cross country trail in the East Village while on a walk. Then you can head to the café in the Simmons Building for a snack or hot chocolate.
24. Read at the new Calgary Central Library
The new Central Library is considered to be an architectural gem. And not only it's a beautiful big building, but it's also hosting a lot of events and even small concerts. It's also a great and quiet place to read with a café on site.
As of February 12, 2021, the library is closed, you can take advantage of curbside pick up.
25. Hike in Bowmont Park
In winter, you can hike in Nose Hill Park or Edworthy Park, but I recommend Bowmont Park. Just look at the lovely river view in the below picture. If it's a bluebird day, you can see the Rockies.
26. Sip a coffee by a fireplace
When you get tired of sitting on the couch at home, consider going to the award-winning Higher Ground Café in Kensington (open as of February 12, 2021). It's a nice place with a chilled atmosphere, fireplace, and delicious hot chocolate.
I'm looking forward to try their new Black Forest Hot Chocolate as a part of Hot Chocolate Fest.
27. Visit the science centre
The Spark Science Center offers many educational programs, including planetarium shows, dome movies, and special adults-only events. They offer many virtual tours and events as well in 2021.
28. Shop at local Christmas markets
Whether you're Christmas shopping or not, you can visit virtual Christmas markets and support local artists. Here's a great list of available markets where you can shop even after Christmas.
29. Volunteer
Lend a helping hand in your free time and volunteer in one of many of Calgary's organizations. Here's a list of volunteering organizations that can use your help.
30. Build a snowman
When you're done making a snow angel, why not take it a step further to recreate childhood memories and build a snowman? I've heard snowmen in Canada don't hold a broom but a hockey stick. Is it true?
31. Play curling
Whether or not curling belongs to the Olympics is for another debate. Still, you can try playing this Canadian game indoors at Calgary Curling Club or outdoors in Bowness Park or St. Patrick Island.
32. Try ice biking
Have you heard of ice biking before? It's a new winter activity which you can now try in Bowness Park. You'll ride a bike on a platform constructed for a new form of ice skating.
Read next: Skating at Bowness Park: everything you need to know
33. Boost your immunity
This activity supplements making a snow angel and building a snowman. For building up your immunity, try walking or running in the fresh snow. How long will you last? I lasted about a minute this winter.
BONUS
Outdoor Indigenous walking tours in Calgary by Many Chief Tours, a 100% Indigenous owned & operated business. They offer free audio walking tours as part of Chinook Blast Festival.
Winter day trips from Calgary