February is a horrible month in Calgary. It's usually the coldest month, and even though I love going outdoors in all conditions, -20C is not ideal and hardly enjoyable.
It's the right time to slow down and make some plans for spring while enjoying a hot chocolate in your hand.
Guess what, the Hot chocolate festival in Calgary couldn't come at a better time! Every February, over 50 cafés and restaurants participate and compete over the title of YYC's Best Hot Chocolate & Best Spirited Hot Chocolate.
The year 2021 marked the 10th anniversary of the Hot chocolate festival in Calgary, and surprisingly (and maybe embarrassingly), I just found out about it.
So as a true chocolate addict, I set out to try as many hot chocolates around Calgary as possible.
*Note: Due to the pandemic situation and having a baby, I chose to have takeouts. Hot chocolates may look prettier in a mug than a paper cup, but the taste is the same.
More winter activities in Calgary & beyond
This is my very honest review of different venues and 9 hot chocolate drinks.
Hot chocolate festival in Calgary
My observations to fill you in:
Every café offers two different drinks, either unique hot chocolates or a spirited hot chocolate
You can vote for your favourite on the YYC Hot Chocolate Fest website or download the app
I recommend starting at last years' winners for the best introduction
I've visited the Higher Ground Café at the Kensington location because I love the neighbourhood.
While there's no better place to sit and enjoy a hot chocolate than by the fireplace, that's the only thing I liked about this café.
In these years of companies avoiding plastic whenever possible, Higher Ground Café makes no effort in using recyclable anything – not cup or the lid.
Pros:
Cozy café with a fireplace
Cons:
Insanely sweet drink with a hint of chocolate
Supposed to be with sweet cherry syrup, but I didn't taste it
Plastic cup with plastic lid
No whip cream with a cherry on top for takeout
My rating 4/10
I don't know many cafés in Canmore, but I won't be returning to Cacao 70, the atmosphere and pricelist didn't sit with me well.
The hot chocolate was average in taste, and I'm not a fan of Oreo cookies, especially when they're soaked.
Pros:
compostable/recyclable cup and lid
Cons:
7,50 CAD – not worth the price
My rating 2/10
This café is a hidden gem, I'm telling you. It's farther in Kensington than the favourite pedestrian zone, but you have so much to choose from – 72 kinds of ice cream, bombolinis, cakes, pastry, gelato bombolini, hot chocolate floats.
I'll be back for an Italian-style doughnut called Bombolini filled with ice cream, pastry and tiramisu.




Pros:
the chocolate was average, but the Nutella filled doughnut (bombolini) was delicious
the café is very cozy and nicely decorated
Cons:
My rating 8/10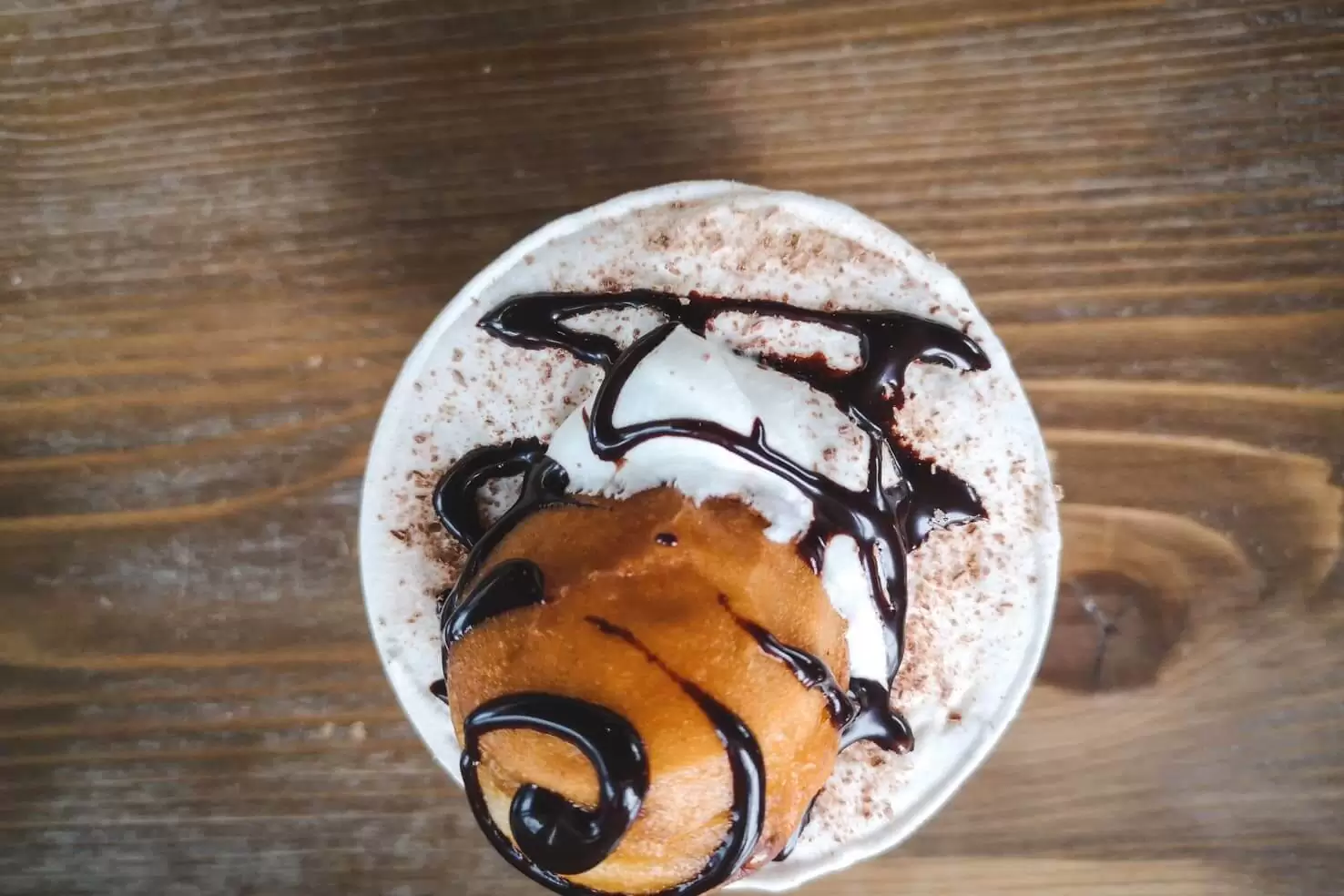 4. Cherry blossom bliss at Rosso Coffee Roasters (Ramsay location)
The following three locations are all for Rosso Coffee Roasters; the only one I haven't visited is 17 Ave.
I found the deep-fried cherry ice cream dipped in hot chocolate a very creative and delicious idea. The ice cream is neither too cold nor warm from the hot chocolate but rather gently bathed in it. Genius!
 Pros:
Deep-fried cherry ice cream dipped in hot chocolate
Spirited hot chocolate with gin is available here (even though the website doesn't mention it)
The café is inside a restaurant so you can have lunch and then desert
Cons:
Location is not in a pedestrian-friendly zone
My rating 7/10
5. Hot chocolate at Rosso Coffee Roasters (Tuxedo location)
I went here to try the spirited hot chocolate with gin because it's close to our house, but they don't offer it. It would be nice to mention it on the festival's website.
Also, I don't remember the exact name of the hot chocolate I bought instead – again; the website doesn't list all.
Pros:
The cozy atmosphere of a tiny café
Cons:
no spirited hot chocolate is available
My rating 5/10
Location is in Inglewood neighbourhood with a pleasant atmosphere, yummy food, and the couch overlooking the street through huge windows is amazingly relaxing.
 Pros:
Hot chocolate tasted wonderful, probably because of the Toblerone
spirited hot chocolate is only available in Inglewood & Ramsay
5,50 CAD – worth it
Cons:
My rating 8/10
I love going to Lina's Italian Market (Centre Street location) ever since we've moved to Calgary. It has been our go-to store for all the European deliciousness, especially the pastry.
My hot chocolate was very different from the one they advertised. It wasn't thick; I didn't get raspberries or rose petals on top. Instead, I got three unrecyclable cups and a paper straw that dissolved very quickly.
Pros:
Cons:
Rose flavoured whipped cream is not the best, especially when it mixes with chocolate
6,99 CAD – not worth it
My rating 4/10
It was my first time trying a hot chocolate bomb, and I'm a big fan of the concept. You put the big coloured ball into hot milk and let it slowly melt, open up and surprise you with hot lava, yay!
Pros:
Chocolate bomb with marshmallows
Cons:
Apparently strawberry flavoured, but I didn't taste strawberries, only some kind of artificial flavour
Overpriced for 7,50 CAD
My rating 5/10


Same location as above in downtown. Both names were intriguing, but both disappointed.
Pros:
Freshly roasted marshmallows was a nice touch
Cons:
The hot chocolate was "infused with smoke" – it left a horrible aftertaste
6,50 CAD – not worth it
My rating 3/10
Final thoughts
Based on my rating, the best hot chocolate from the ones I've tried are:
1.       Hot Chocolate Nutella with mini Bomboloni at Amato Gelato Café 8/10
2.       The Swiss Mountaineer at Rosso Coffee Roasters (Inglewood) 8/10
3.       Cherry blossom bliss at Rosso Coffee Roasters (Ramsay location) 7/10
No hot chocolate I've tasted had a 10/10 rating because they were very watery. I know North America offers different drinks than the thick pudding consistency of European hot chocolates, but hot chocolate shouldn't look like hot cocoa, in my opinion.
Nevertheless, I can't wait to try hot chocolate from Flower & Wolf next year, the winner of the Best Hot Chocolate 2021.
As for spirited hot chocolate, the first one I'll try will be from Cravings Market Restaurant who won Best Spirited Hot Chocolate 2021, 3rd time in 4 years, so they must be doing something right!
Let's enjoy the hot chocolate and forget about the weather, shall we?