Zoolights in Calgary is a special yearly event when the Zoo transforms into a magical sparkly place for six weeks.
The year 2021 marks 25 years of this Calgary holiday tradition. More than 2 million lights decorate the alleys of the Zoo while you can drink hot chocolate or special holiday drinks by the fire when kids are ice skating. Try to throw axes, beat on the African drums, take a photo in Lover's Lane, and buy a handmade gift at the new outdoor market. Zoolights are one of the best things to do in Calgary in winter.
We've visited Zoolights in Calgary for the first time when our little Martin was just six months old. We were excited to show him glowing colourful lights. He loved anything sparkly; it didn't matter if it was a Christmas tree or a street lamp. He still loves all the lights, so I think this will become our yearly winter tradition.
Read next
Merry Christmas in 100 of the World's Most Spoken Languages


Bundle up and prepare to see one of the most beautiful Christmas lights in Calgary (plus more winter activities in Calgary at the end).
Here is everything you need to know about Zoolights in Calgary:
Zoolights run from November 19, 2021, to January 2, 2022
Starting at 5 pm and ending at 9 pm with the last entry at 8:30 pm.
You can purchase tickets online or in person.
Tickets cost 21.95 CAD (16+), 14.95 CAD (child 3-15), free under 3 years
The Calgary Zoo is accessible by car, transit (route #202 of C-train), and foot or bike from the Bow River Pathway.
You can enter from the North entrance only at 210 St. George's Drive NE.
Parking is 12 CAD per day; no hourly option is available.
Free parking is available at the Renfrew Off-Leash Dog Park, but you have to walk 1 km to the zoo entrance.
The Skating rink is very tiny, and skate rentals are free.
You can warm up by the fire pits and buy mulled wine, beer, spiced rum with eggnog, baileys hot chocolate, food or frozen treats.
It's a family-friendly venue and easily accessible with a stroller.
It takes about 1,5 hours to walk around and enjoy Zoolights to the fullest.
Sensory-sensitive guests can rent free Sensory bags to improve their experience. New signs are posted in front of flashing lights, and you can download a Sensory Experience map to plan ahead.
During Zoolights, you won't be able to see any animals. If you arrive earlier, I highly recommend taking a stroll on the Bow River Pathway from which you can see bears.
During Zoolights, you can access Zoo by 2:30 pm, members by 3 pm, and you need to leave by 4:30 pm.
Zoolights are a special event, so they must be purchased separately even if you have a Zoo membership.
Special for members: 5 pm-6 pm on Mondays, kids can meet Santa in Santa's Cabin.
READ NEXT
Lions Festival of Lights, Calgary
18 Best Displays at Zoolights in Calgary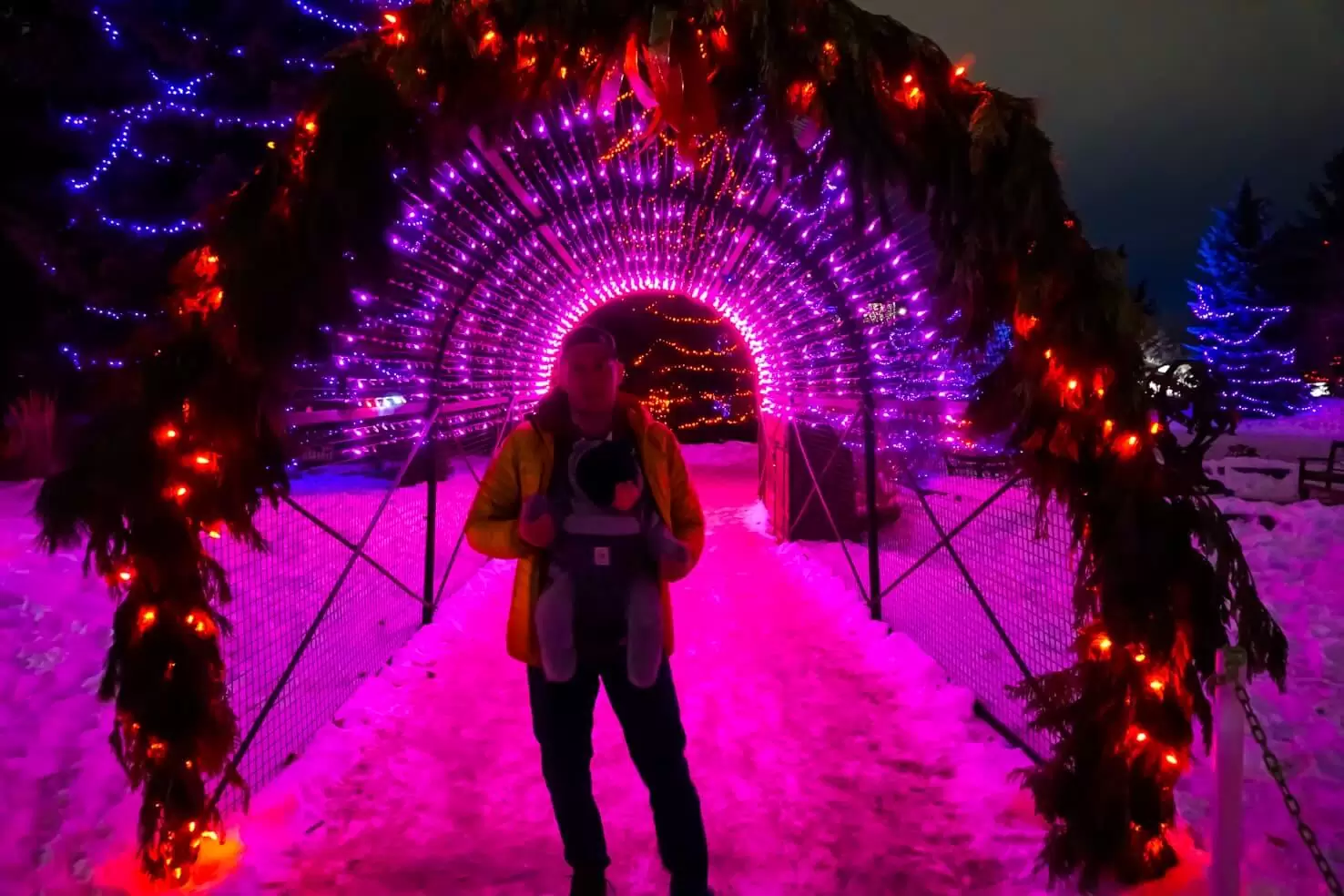 Winter activities in Calgary