When we moved to Calgary in 2012, I remember asking a Canadian girl what Calgarians do during long and cold winters. She told me: "We stay inside."
I'm happy to report that I don't find it to be true.
Calgary has many parks where you can cross country ski, snowshoe or ice skate. Outdoor skating in Calgary is our favourite city activity during winter.
We've tried a fair amount of ice rinks, smaller in communities or bigger ones in city parks. Over the years, we also became huge fans of shinny hockey (if you're unaware of the term as we once were – it's a random group of people who meet on ice and play an ice hockey game).
In this post, I will share with you all the options for outdoor ice skating in Calgary.
Options for outdoor ice skating in Calgary
While it differs year by year, outdoor ice skating in Calgary is usually possible from mid-December to February.
Outdoor community rinks
Calgary has more than 50 outdoor skating rinks run by volunteers through the Adopt-a-rink volunteer program, and outdoor rinks run by communities themselves. Adopted rinks are for pleasure skating only; no pucks or hockey sticks are allowed.
Plenty of communities have two different rinks: one for pleasure skating (without boards) and one for ice hockey (with boards and sometimes nets). They are free to use, but some rinks are only accessible by members of the community.
A big bonus is an indoor changing room and night lights available in some communities.
If you're using a rink in your community, consider buying a membership or volunteering to help with flooding and maintaining.
When we lived in Acadia in Calgary's southeast, we used their ice rink and joined volunteers to help with flooding. It was -20C that night, and let me tell you; the flooding takes a while. Kudos to all volunteers who come out no matter what.
Outdoor city maintained ice rinks
Apart from the outdoor community rinks, the City of Calgary maintains nine outdoor rinks:
All rinks are free to use and regularly maintained
Pleasure skating only, no hockey sticks or sleds allowed
Check The City of Calgary website if your preferred rink is open
1. Big Marlborough Park
Skating rink at 6033 Madigan Dr. N.E.; skating hours 5 am to 11 pm.
2. Bowness Park
Lagoon with fire pit, and a new 1.6 km ice trail along the Bow River at 8900 48 Ave. N.W.; skating hours 5 am to 11 pm; skates, helmets and ice bike rentals available; picnic sites and washrooms available.
Read the full blog post: Skating at Bowness Park – everything you need to know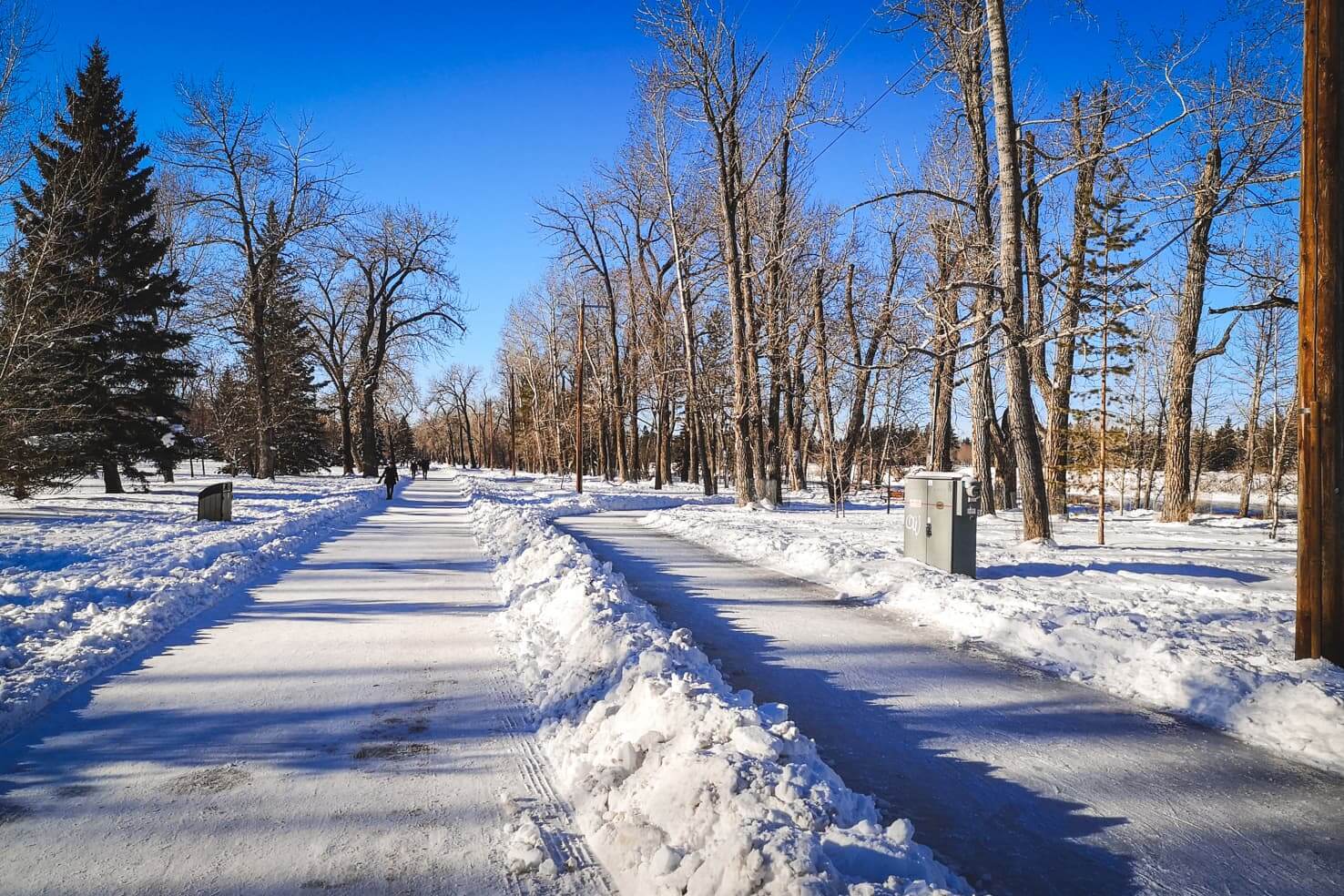 3. Carburn Park
Pond rink with a fire pit at 67 Riverview Dr. S.E.; skating hours 11 am to 11 pm; picnic benches and washrooms available.




4. North Glenmore Park
Skating rink and new 730 m ice trail (lit at night) at 7305 Crowchild Tr. S.W.; skating hours 11 am to 10 pm; picnic sites and washrooms available.


5. Olympic Plaza
The only refrigerated skating rink in Calgary at 228 8 Ave. S.E. opened the longest from late November to mid-March; skating hours 10 am to 9 pm; skate rentals available; washrooms available.
6. Prairie Winds Park
Two rinks (pleasure skating and ice hockey) at 223 Castleridge Blvd. N.E.; skating hours 5 am to 11 pm.
7. Thomson Family Park
Downtown skating rink at 1236 16 Ave. S.W.


8. Prince's Island Park
The lagoon at 4 St. and 1 Ave. S.W.; closed in 2020/2021 season.
9. Barb Scott Park
Downtown skating rink in a new park 12 Avenue and 9 Street SW; skating hours 5 am to 11 pm.


Winter day trips from Calgary