December 2020 was a month full of new outdoor venues opening up. Ice bikes in Bowness Park, and new ice trails in Bowness & North Glenmore Parks.
And of course, the center of this post, a new cross country ski trail in Calgary.
I've written extensively about cross country skiing as we continue to explore more trails. Cross country skiing in Banff National Park with mountainous views is my favourite. But when you don't feel like driving for a few hours, there's plenty of cross country ski trails in Calgary.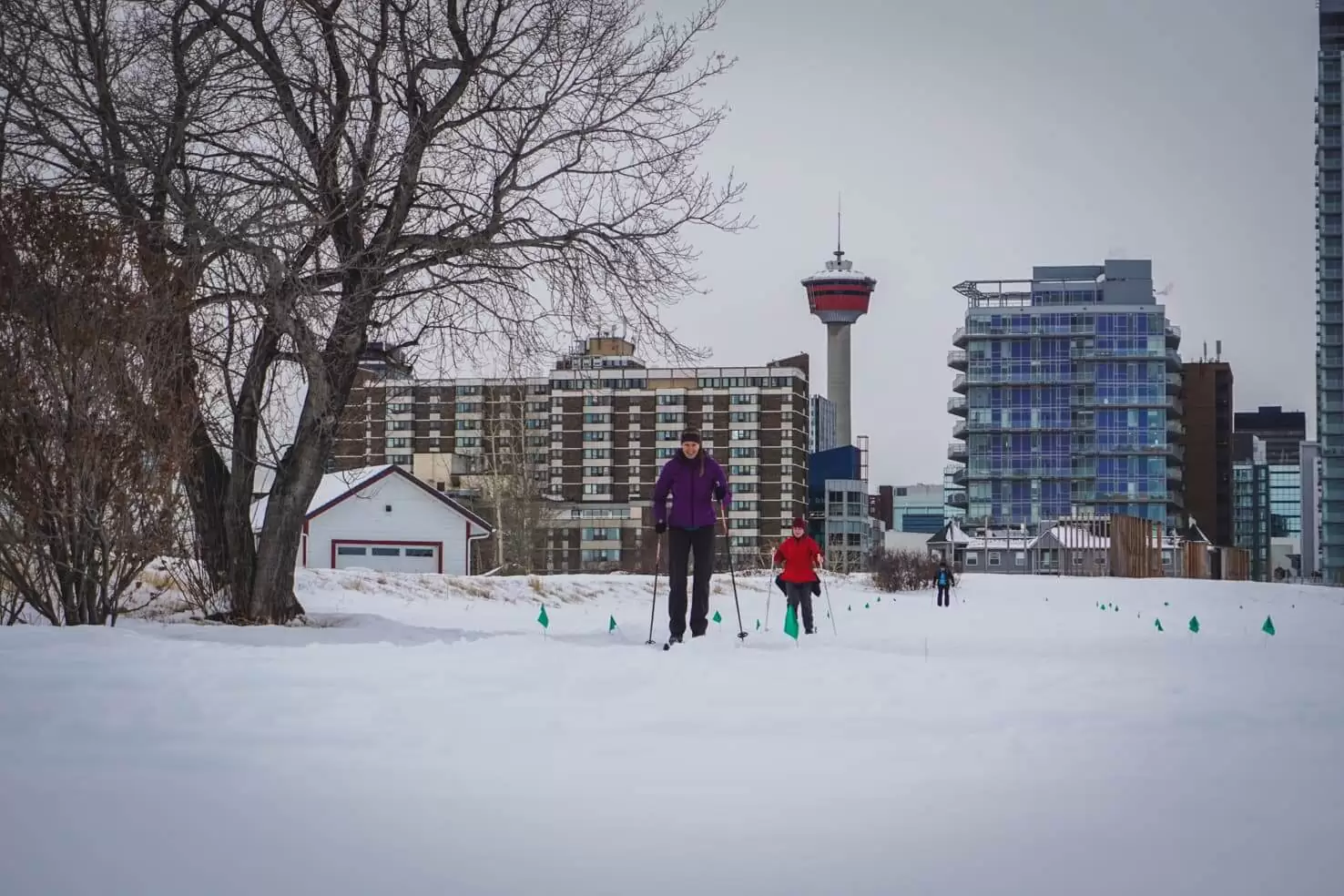 The newest addition is Nordic Loop in East Village. You can now cross country ski right in downtown!
I love when wide open spaces get used for different activities year-round. The area beside Fort Calgary now has a maintained 1 km loop with two sets of tracks and a groomed area between them for snowshoeing.
River views and skyscrapers at the same time.
Here is everything you need to know about cross country skiing the Nordic Loop in East Village.
Cross country skiing the Nordic Loop in East Village
The loop is accessible by foot, bike, transit (bus stops around Fort Calgary) or car.
While you can access the loop from anywhere, the seating areas are at the Fort Calgary parking lot, 8 Avenue & 6 Street SE, and Elbow River Traverse Bridge (RiverWalk).
If driving, you can park at the Fort Calgary parking lot for 3 CAD/2 hours or take advantage of 2-hour free street parking at 8 Street SE between 8th & 9th Avenue SE
No ski rental is available. The closest rental would be MEC at 830 10th Avenue SW.
The loop is open from 7 am to 10 pm daily.
Grooming is done weekly. Please respect skiers and don't walk over the tracks.
The closest washrooms are along River Walk (close to Simmons Building) and open seasonally Mon-Fri 7 am – 9 am and 3 pm to 7 pm; Sat, Sun & holidays 9 am – 5 pm.
It is free of charge for all users.
The loop is not lit at night so plan to bring a headlamp if you plan to cross country ski under the stars.
The loop is flat with one very tiny incline, which is great for beginners.