Ice skating at Olympic Plaza is an iconic Calgary holiday experience. With a giant Christmas tree in the middle, lights all around the rink, and a view of Calgary Tower, it's the prettiest rink in Calgary. Here's our review so you know what to expect when visiting (+ lots of winter ideas at the end).
Olympic Plaza is a beautiful place year-round. It was built in 1988 for the Olympic Winter Games, and you can see the names of participants all around the plaza.
While you can relax at the terraces, cool off under sprinklers, or admire sculptures in summer, there are also lots of events happening. Our favourite in summer is Fiestaval, a free event in July showcasing Latin American culture.
In winter, the plaza becomes a beautiful lit-up ice skating rink. With all the lights near and far, it's the prettiest rink in Calgary. And even though the Christmas tree is removed after Christmas, there's a live DJ and colourful lights at the rink for Chinook Blast (Glow Festival) in February.
Olympic Plaza opens as the first outdoor rink in Calgary every season, and it's opened the longest from late November to mid-March. It's one of the few rinks in Calgary that are refrigerated, so you can visit even when it gets warm. So if you're craving ice skating in November, this is the place to go.
READ MORE
Outdoor skating rinks in Calgary: a breakdown of all options
Here's everything you need to know about Ice skating at Olympic Plaza in Calgary.
Useful info about Ice skating at Olympic Plaza:
Location: Olympic Plaza, 228 8 Ave SE (downtown Calgary), Map
Skating hours are 10 am – 9 pm daily
Skating is free of charge
Washrooms are available
Regular flooding several times a day
Check out this website for exact opening/closing dates
Pleasure skating only – hockey sticks, strollers or sleds are not allowed
Parking can be tricky, but if you visit after 6 pm or during the weekend, there are lots of free parking spaces in the nearby streets (where parking is forbidden during business hours). We had no problem finding a parking spot on 6 Ave SE, about 5 minutes away.
Here's a video of our experience
Treat yourself afterwards and get the most amazing ice cream waffle with Belgian chocolate at Chocoland.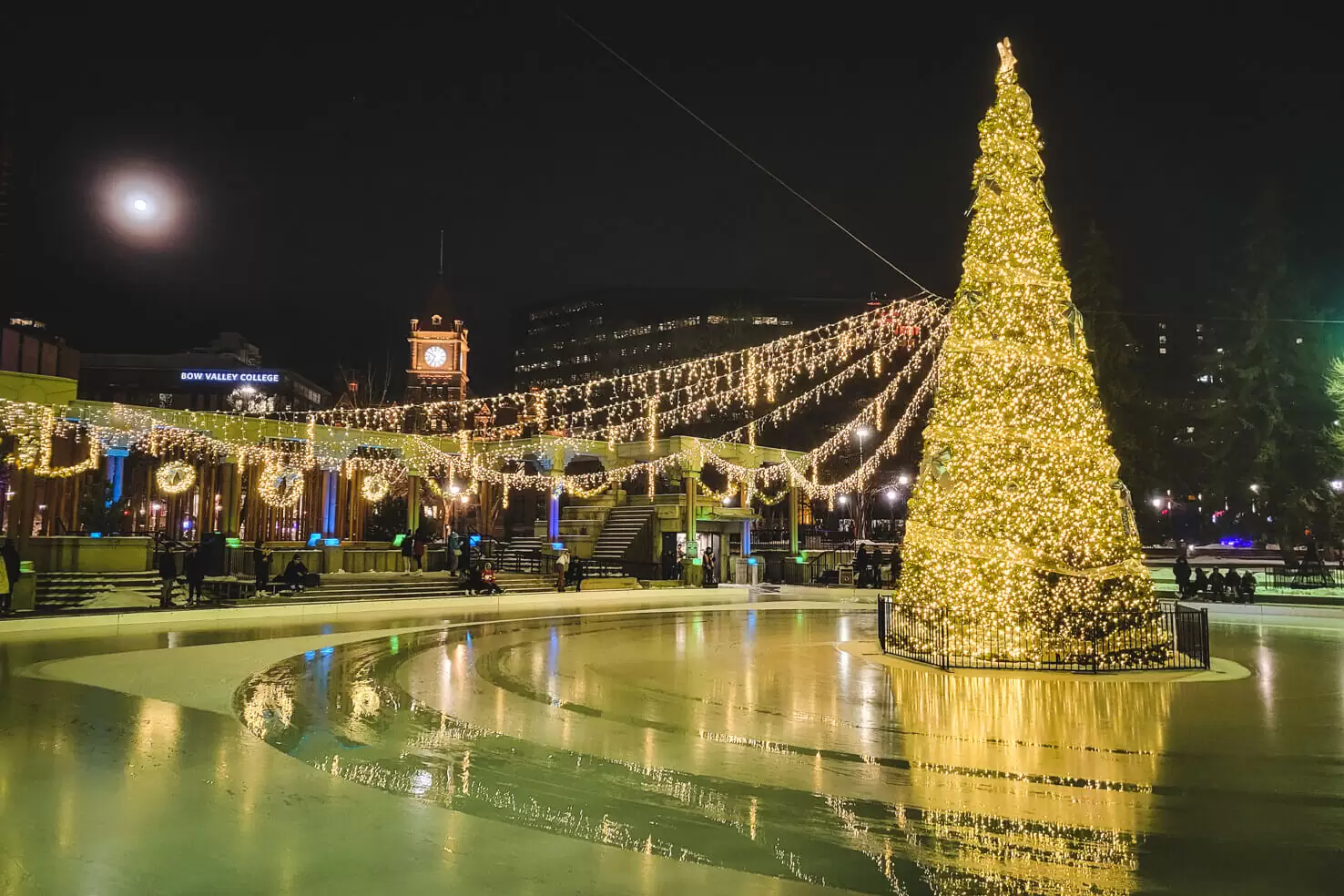 Skate rentals are available at Skate Hut (8 Ave SE, by the theatre building), and prices are:
Skates (13 years and older): $15/2 hours
Skates (12 years and under): $10/2 hours
Helmets $5
Skating aids $10 (available for kids & adults)
Skate sharpening $10
They're open Wednesday to Sunday and during holidays; check out their website for more info.
I hope this guide gave you all info you need, so you can experience ice skating at Olympic Plaza and have a great time. And if you'd like to skate during the day, I highly recommend Bowness Park.
Winter activities in Calgary
Winter day trips from Calgary