The Penguin walk at Calgary Zoo is a highly anticipated winter event for people of all ages. You can see the penguins waddle right in front of you; how cool is that? I share our experience with plenty of tips for your enjoyable visit.
Since our son was born, we've visited Calgary Zoo countless times. The first time we went to the Penguin Plunge, he saw penguins just a foot away; he was mesmerized by the playful little creatures.
Even though there are a lot of animals, the Penguin Plunge is always our first and last stop. And there's also a unique opportunity to see the penguins waddle outside (see our video here).
From all the penguins you can see – Gentoo penguins, Humboldt penguins, King penguins, and Northern rockhopper penguins – only King penguins go for an outside walk. Calgary's temperatures are too cold for Humboldt and Northern rockhopper penguins. Gentoo penguins go outside during winter, just not on a walk for safety reasons, as they're too curious and wouldn't follow other penguins.


From January till mid-March, the penguins go for a daily walk around the Calgary Zoo. I was so excited to finally see the Penguin walk that I checked the Zoo's website daily to see what day it started.
Our first experience didn't disappoint.
Our first Penguin walk
As soon as we pulled into the Zoo's parking lot, there were lots of cars parked, and families with little kids headed towards the entrance.
Some visitors were buying a daily admission, and some already purchased membership so they could walk past the line.
At 10:15, we were inside the Zoo. Although we could have visited the penguins at Penguin Plunge, we decided to find a good spot along the chains to watch the Penguin walk. Kids and strollers were already occupying a big part of the viewing portion.
January 13 was the first official day of the Penguin walk (Zoo members can experience the Penguin walk the day before the public), and it was sunny and gorgeous outside.
A few minutes before the start, penguins gathered outside the Penguin Plunge, getting close to the gate. They knew very well what was going on. All visitors were asked to stay at their chosen spot, not move around or raise their voices, so we didn't scare the penguins.
Precisely at 10:30, a few zookeepers and eight king penguins started the walk. The penguins slowly waddle on the path, looking around, curious as little kids. They were enjoying the sunshine and all the attention.
If one curious fluffy stayed behind the group, the zookeeper motioned them to keep moving with the group.
When they passed the Canadian Wilds entrance, they went towards the Discovery bridge and on the island. At this point, if we wanted to see them further, we couldn't follow them, but there was a detour pathway by the entrance to the Prehistoric Park.
The whole Penguin walk took about 15 minutes, so we decided to wait for their return. They were even happier on their way back, waddling back to their home.
After the walk, the penguins either return to the Penguin Plunge or hang outside at their outdoor pool to get some fish snacks.
We then walked around the Zoo to other areas and said hello to African animals – giraffes, hippos, and monkeys.
We had a blast and will be returning for the Penguin walk regularly!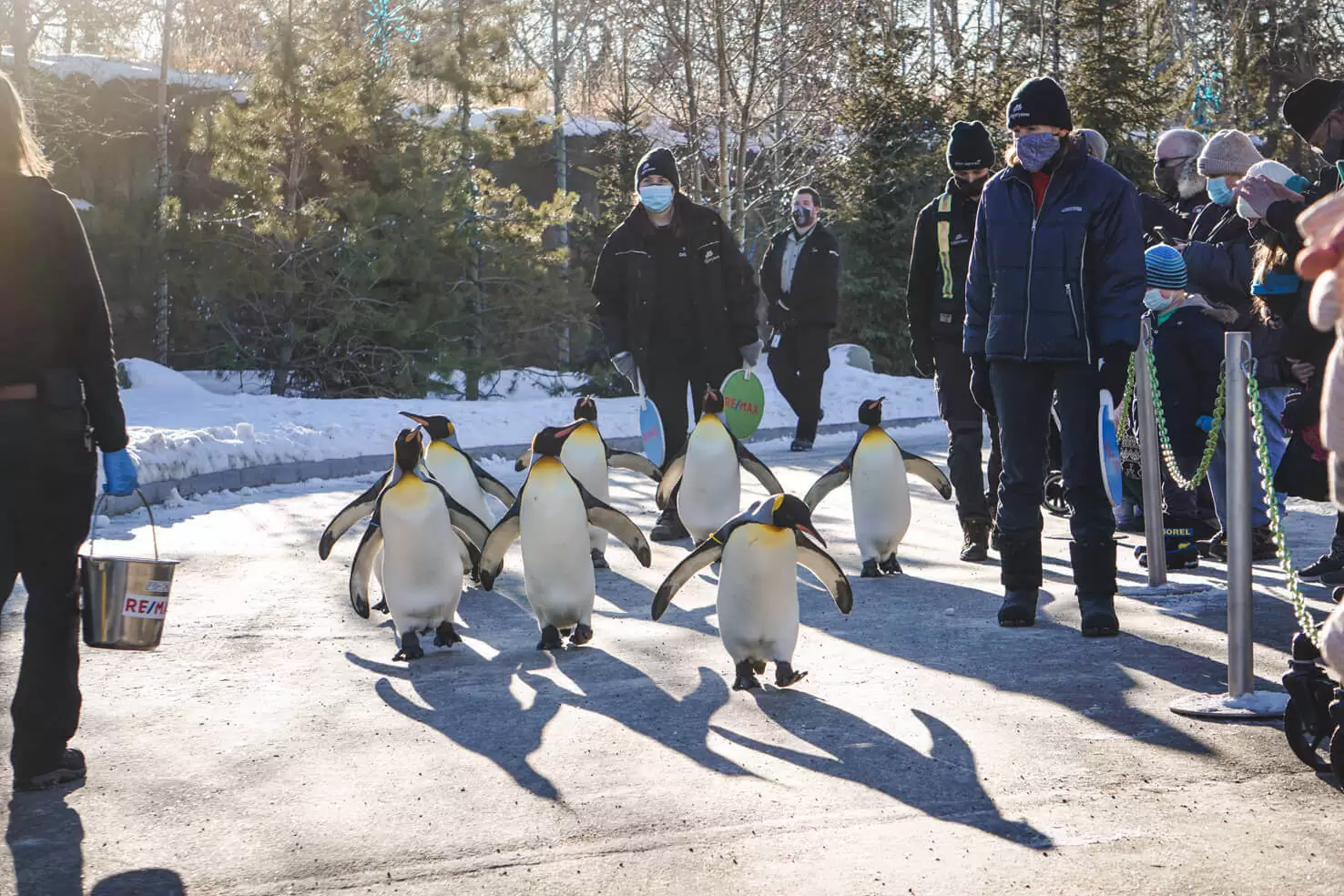 Interesting things about Penguin Walk
Why is the Penguin Walk happening? Think about it this way – why is being outdoors good for your kid? Because of the exercise, fresh air, and enrichment of the senses. It's the same for penguins! It's a new, fun experience for them.
Every Penguin walk is different because you never know how many penguins decide to go for a walk; it's totally up to them.
The oldest king penguin is Josephine, who turned 30 years old in 2022. King penguins usually live up to 25 years.
In 2023, you can also see Prince Alfred going for a walk and easily spot him, as he's the only brown fluff among the black & white friends.
Tips for the Penguin walk
Penguin walk dates & hours
Dates depend on the weather and are different each year. In 2023, the Penguin walk started on January 13 and lasts until mid-March. The Penguin Walk in 2023 is also a bit shorter since the penguins only walk to the Discovery Bridge and back.
The walk is happening daily at 10:30 am. Check their Instagram page before visiting, where they update whether the walk has been cancelled due to bad weather.
Special event
Calgary Zoo offers a Sunday Brunch, which you can pair with the Penguin Walk. The Sunday Brunch tickets include the Zoo admission (with the Penguin Walk) and the brunch. You can enjoy a chocolate fountain with fruits, omelettes, waffles, and more.
Dates: Sundays from January 15, 2023 – November 12, 2023
Location: Safari Lodge
Seating times: 9:00 am – 10:30 am, 11:00 am – 12:30 pm, 1:00 pm – 2:30 pm
Admission
FREE under 3 years old
19.95 CAD children 3-15 years
29.95 CAD general admission 16-59 years
27.95 CAD seniors
12 CAD daily parking
Admission to the Penguin walk is the same as admission to the zoo. Your ticket includes a Penguin walk and a Zoo visit. I highly recommend going to see the gorilla baby playing with her mama.
As you can see, the daily admission for a family with kids can be pretty steep; that's why we recommend the next option.
Calgary Zoo membership
Calgary Zoo offers three different tiers for membership with various perks: Connect, Engage, and Inspire.
They all have unlimited admission and free parking. The last two have discounts for the gift shop, camp discounts, Zoolights discounts, and guest admission discounts.
We bought the Connect membership for 69.95 CAD/year for adults, and our son is under three years old, so he goes for free. It's a cost-effective solution because the membership pays for itself in just two visits.
Parking at Calgary Zoo
Only the main North parking lot is open during winter, located at 210 St. George's Drive NE (between Zoo's entrance & Telus Spark Science Center).
The daily parking fee is 12 CAD; there's no option for hourly parking. Parking is free with a Calgary Zoo membership.
Opening hours
Winter hours are 9 am – 4:30 pm because of the Zoolights afterwards.
When Zoolights end in January, the opening hours change to 9 am – 5 pm (with the last entry at 4 pm).
Check out their website for the current schedule.
Amenities at Calgary Zoo
Calgary Zoo has several small outdoor buffets and indoor restaurants
You can also bring your own lunch or snacks
You can rent a pull wagon for kids, located just before the Penguin Plunge
Calgary Zoo has two outdoor playgrounds suitable for kids of all ages
There are outhouses located at the big playground in the Canadian Wilds
There's no free Wi-Fi at Calgary Zoo
Hope you'll have a great time at Penguin Walk!
Family-friendly winter fun in Calgary & beyond