Heritage Park is a historical village in Calgary with hundreds of exhibits and attractions in a beautiful park by Glenmore Reservoir. But is it worth the visit? This is my review of one of the most popular attractions in Calgary.
I've been meaning to visit Heritage Park for years. As I rode my bike around Glenmore Reservoir countless times, I always wondered what was behind the fence with the puffing sound of the steam train.
I always thought of Heritage Park being an attraction for kids. So when our son was two years old, we decided to finally visit.
Let me put this out first – if you or your kids love trains, visiting Heritage Park should be very high on your bucket list.
Apart from the steam train, Heritage Park features more than 180 exhibits showcasing the history of Western Canada from the 1860s to the 1950s.
Here's everything you need to know about Heritage Park in Calgary.
Info about Heritage Park in Calgary
Dates: historical village opens May 20, 2023, and closes before Thanksgiving
Location: 1900 Heritage Drive SW, Calgary, AB T2V 2X3, Map
Time: open from 10 am to 5 pm
Admission:

29.95 CAD general admission
19.95 CAD for kids 3-15
22.95 CAD for seniors 65+
Click here to buy tickets

For more info, see the Heritage Park website
Tips about Heritage Park in Calgary
Parking is paid unless you have a yearly membership, or you can park for free in the parking lot by The Big "H" statue (location here). From there, either walk or take the streetcar to the entrance.
If you're visiting with kids, I recommend taking a stroller or wagon to get around the park
Take a picnic with you and have lunch with a great view of the amusement park and the steam train on the big grassy area across from the ice cream shop
The excitement starts the moment you park your car and can use (free of charge) the streetcar to take you to the Canadian Pacific Railway Station, next to the Heritage Park's entrance.
For easier navigation of the whole park, you can download the Park Map. Throughout this post, I'm referring to Heritage Park's areas as seen on the park map (which are a bit different than the names on their website).
The Heritage Park consists of 7 areas (explained below in counter-clockwise order as pictured on the map):
Heritage Square
Innovation Crossing
The Settlement
The Ranch
Village Centre
Antique Midway
Prospect Ridge
Heritage Square
When you arrive, you first see Heritage Square with gift shops, a restaurant, Gasoline Alley Museum, and a Railway Café. I highly recommend visiting Harvey's, where they sell ice cream, ice cream floats, shakes, and old-fashioned soda.
This area is free to enter, and once you pay your entrance fee, you enter the main part of Heritage Park.
Innovation Crossing
After a short walk on the gravel Promenade to the historical village, we saw the beautiful windmill from 1920.
From 2022, a newly built museum, Innovation Crossing, overlooks Glenmore Reservoir and features an interactive exhibit and displays about energy.
This is also where you see the first train station, the Midnapore Station. We timed our visit with the train's schedule, and it arrived just in time for our first ride. The steam train was the primary goal of our visit, so we hopped on, and the train took us all around the park, doing two laps that lasted about half an hour.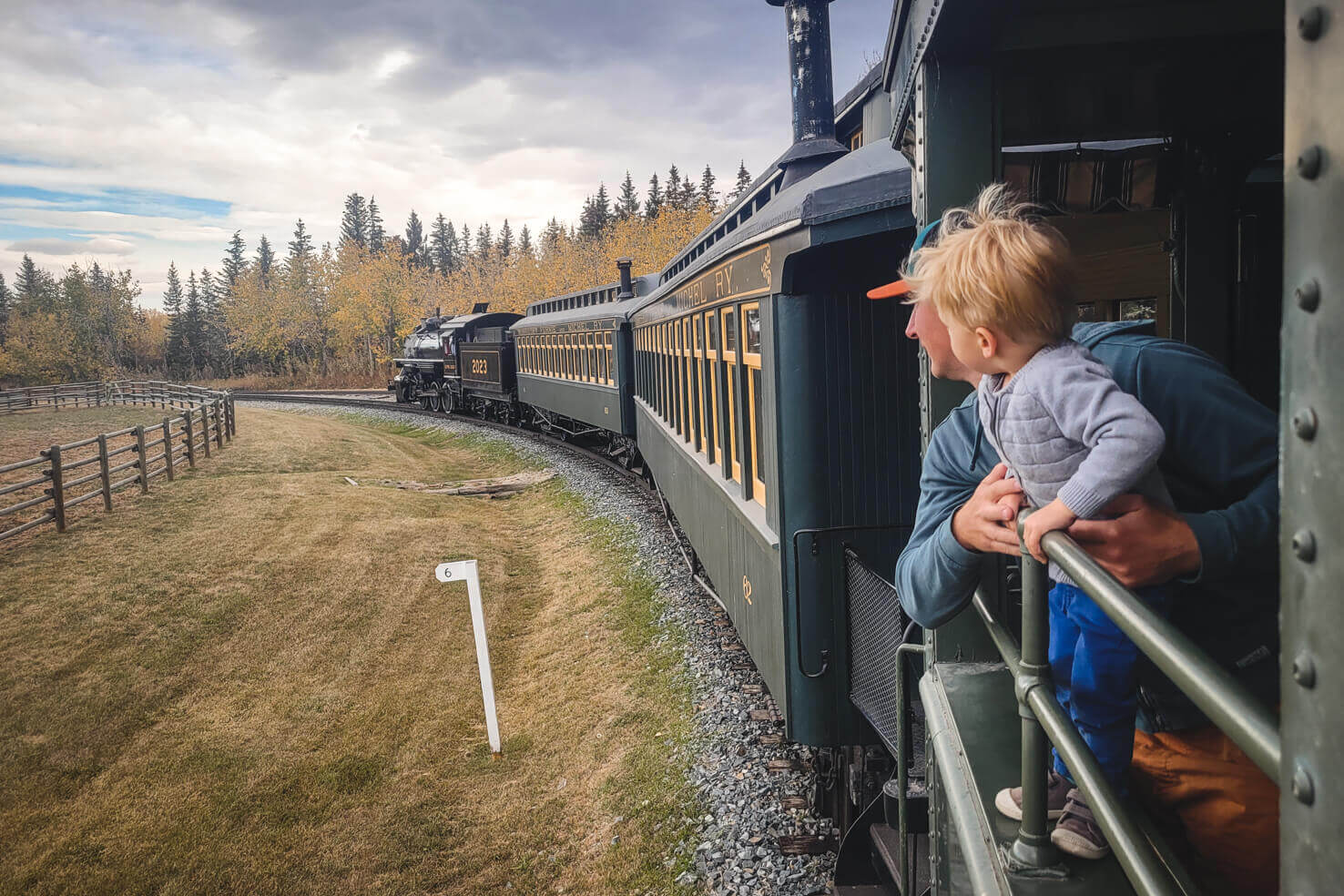 The Settlement (1860s – 1880s)
Located by the Laggan train station, the Settlement features a homestead, a saloon, a Fur Trading Fort from the 1860s and First Nations Encampment with teepees.
The Ranch
If you visit during a rodeo performance, the Rodeo Grounds are located near the Laggan Station, on the way from The Settlement.
Village Centre (1910)
Village Centre (also called 1910 Prairie Railway Town) is Heritage Park's main and largest area. Several streets feature old buildings, many of which you can walk in and explore, such as a post office, bakery, hospital, school, opera house, town hall, laundry, bank, and more.


There are also several places where you can eat – Vulcan Ice Cream Parlour 1910, Alberta Bakery 1912, or Wainwright Hotel & Bar Room 1907. We visited the restaurant in the Wainwright Hotel, where the servers wore clothing from the beginning of the 20th century and ordered a burger and a Thanksgiving dinner.
The food was ok, but next time, I'd prefer to buy some pastries or bring our picnic, set up a blanket on the grass by Front Street, and watch the steam train pass by.
In the far end corner of the Village Centre is a Railway House where you can walk through the old train and see what train travel looked like in the 1900s.


Village Centre also has a 3rd train station – Shepard Station, where you can get on and off the steam train.
Antique Midway
Also part of the 1910 Prairie Railway Town is Antique Midway featuring an amusement park and a train-themed playground. All the rides are included in your admission fee, so you can take as many rides as you like.


Our son's favourites were the boat swings and the carousel. Some other rides require an older age, so that we might try them in the future.
The train-themed playground is beautiful and reminded of the Prince's Island Park Playground downtown.
Prospect Ridge
The last part of Heritage Park is Prospect Ridge which you can see when riding the steam train. It features a Miner's Cabin, Discovery Well, Road Construction Shed, and a Waterwheel.
Special events at Heritage Park:
Stories from Early Chinatown (Jan 14 – Apr 30, 2023)
Day Out with Thomas (6 & 7, and 12 & 13 of May 2023)
Once upon a Christmas (10-4 pm on weekends starting end of November till mid-December 2023)
Christmas Light Festival (5-8 pm on various days beginning end of November till December 31, 2023)
As we visited at the end of the summer season, there weren't any activities or events, and even the park's staff was rare to see. If you'd like a more fun full-day experience, I recommend visiting during summer when the Steamboat also operates.
Family-friendly summer activities in Calgary
Summer day trips from Calgary