An honest review of Cobb's Adventure Park and Petting Zoo in Calgary with tips for your next visit.
We've visited Cobb's Adventure Park and Petting Zoo in October when our son was almost 1,5 years old. I was searching for a petting zoo to introduce some farm animals, but most of them were sold out in advance.
Then I found Cobb's Adventure Park and couldn't be happier we've visited. It's located along the Trans-Canada Highway just east of Calgary, and I was pleasantly surprised by what this park offers.
Since it opened in 2013 with a corn maze, tractor and a few attractions, it went through a huge change, and now they offer a lot of fun games for kids of all ages.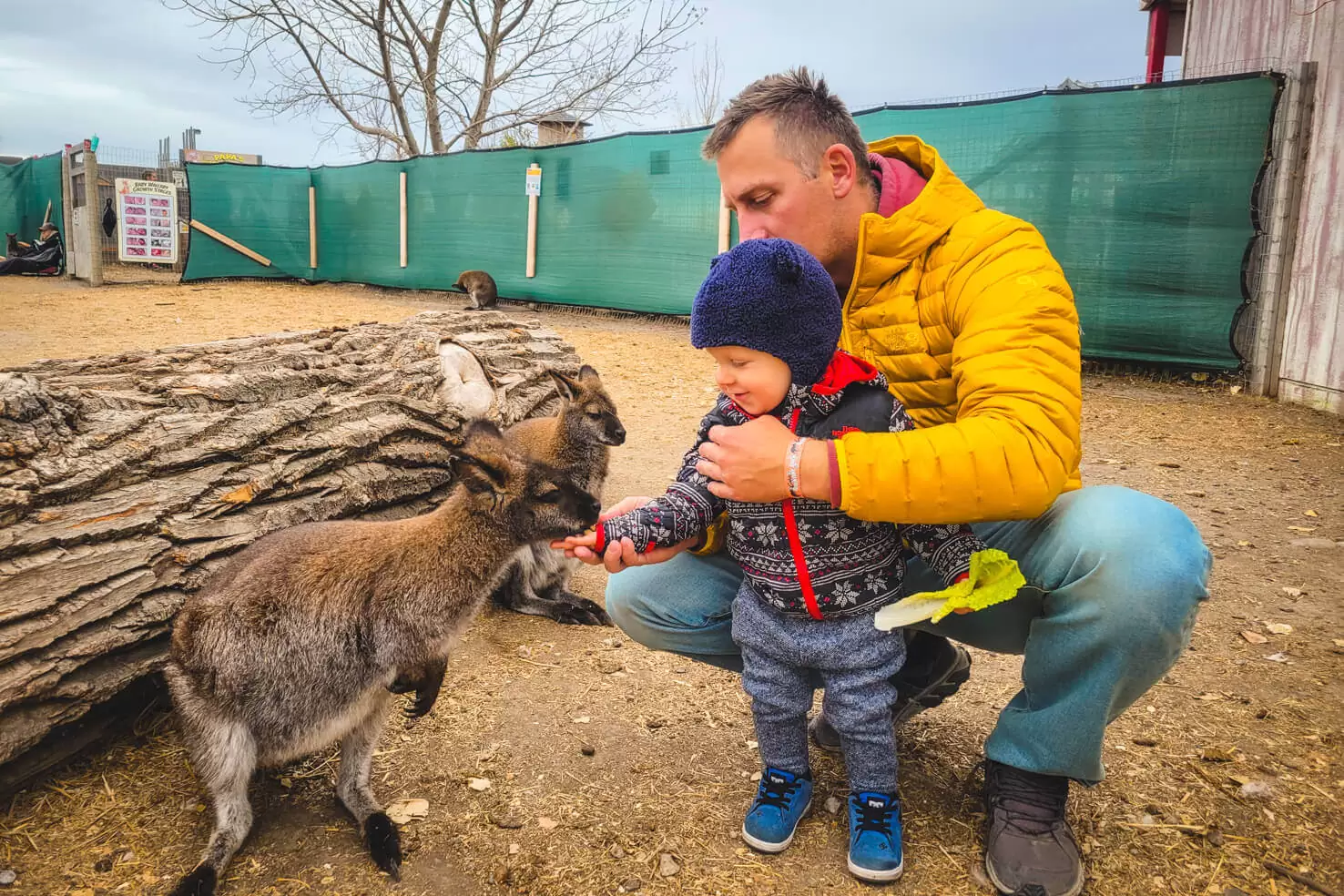 You can expect this when you visit Cobb's Adventure Park and Petting Zoo in Calgary.
Cobb's Adventure Park & Petting Zoo
Finding Cobb's Adventure Park was very easy, and it's conveniently located. They have a free and big gravel parking lot. We paid admission for us as kids under two are free and noticed that if we buy them online, they're a bit cheaper. Well, we know for next time.
Kangaroo Petting Zoo
The main reason why we've visited was the petting zoo. Near the entrance, there is an enclosure with about 60 wallabies and kangaroos and plenty of ducks. They seem to live very happily, and all the kids were over the moon to feed the kangaroos.
You get food from the staff and can feed as many animals as you like. Some wallabies and kangaroos were sleeping, and some were happily munching on the lettuce leaves our son fed them.
There are also tiny animals called sugar gliders who like to hang out on kids' shoulders.
Another enclosure in the middle of the park features alpacas, emus, goats, sheep, pigs, and tortoises. Little alpacas were the cutest with their curious look and long fur almost covering their eyes.


Playground
The big playground has several wooden houses, trucks, a train, slides, and a giant sandpit with toys. We spent here a long time, and so did many other small kids.


Tractor ride & carts
At the end of the adventure park, there's an antique tractor that kids can climb on and a modern tractor that can pull several wagons. Each family had their wagon, and the tractor drove us around the adventure park, through the alley of big flowers from which you can see the whole park.


The ride lasts about 20 minutes, and the tractor departs:
On weekdays: 11:30, 12:30, 13:30, 14:30, 15:30, 16:30
On weekends & holidays: 11:30, 12:00, 12:30, 13:00, 13:30, 14:30, 15:30, 16:30
Right next to the tractors, there's a small race track made for pedal carts.
Giant Hill Slides
Fun for all visitors, there are three giant slides divided by bales of hay. Even our little boy didn't hesitate to slide down with daddy, and I think this will become one of his favourite attractions at the park.
Games
Cobb's Adventure Park provides lots of games for kids to practise different skills. For small kids, there're Bouncing Balls or Hop Dots when you jump from one colour to the next, and for older kids, they have Axe throwing or a Climbing tower.
Other attractions include Pyramid Puzzler, a 3D maze, hooping horses, bean bag toss, fun outdoor puzzles, and many more.
Maze
Cobb's Adventure Park has so many different mazes I was surprised – corn maze, rope maze, and fence maze. The latter is the most fun for adults.
The best of all is that everything I mentioned above is included in the general admission!
Info for visiting Cobb's Adventure Park
Address: 1500 84th Street NE, Calgary T2A 7X4
Contact: Cobb's Adventure Park; [email protected]; (403) 210-2676
Open:

Spring hours (from May 21): Saturdays & Sundays from 11 am to 5 pm
Summer hours (from June 29 to September 5): Wednesday to Sunday, 11 am to 5 pm
Fall hours (from September 9 to October 30): Friday, Saturday & Sunday, 11 am to 5 pm

Admission: children 2 & under are FREE, 23 Cad/person at the door, 19.75 Cad/person when you buy online, 69 Cad/person for a season's pass
When designing Cobb's Adventure Park and Petting Zoo, they thought of fun for kids of all ages.
I can see kids easily spending here a whole day and then wanting to come back again.
We can't wait to revisit the park when it opens in May!
More family-friendly activities in Calgary
---
What is your favourite petting zoo or adventure park in Calgary? Let us know in the comments.
---
Spread the word! PIN this to your Pinterest board.