Sikome Lake in Fish Creek Provincial Park is Calgary's ultimate summer destination for families. With warm shallow water, plenty of playgrounds and shade, it's an amazing beach spot.
We visit Fish Creek Provincial Park often, whether for biking in summer or cross-country skiing in winter.
This year we finally had a chance to check out Sikome Lake, a man-made lake with sandy beaches and warm water. If you have kids especially, these are essential features.
We have already visited a fair share of water facilities in Calgary, including many outdoor swimming pools, the popular Prairie Winds spray park & wading pool, and even a beach at Chestermere Lake. While outdoor swimming pools also have warm water, they're small and get crazy busy in summer. Sandy beach at Chestermere is also lovely, but the water is cooler.
Sikome Lake is a definite winner for water fun in Calgary.
We're bringing you a guide to Sikome Lake so you can plan your visit. It's divided into several sections:
Sikome Lake essential info
Location & parking at Sikome Lake
Entrance fees & opening hours
Swimming & beach at Sikome Lake
Playgrounds
Amenities
What is & isn't allowed at Sikome Lake
What's close by
Alternate plans in an unexpected rain
Here's everything you need to know about Sikome Lake in Fish Creek Provincial Park.
Sikome Lake in Fish Creek Provincial Park
Sikome Lake essential info
Location & parking at Sikome Lake
Sikome Lake is located in Fish Creek Provincial Park in south Calgary. You can access it from Bow Bottom Trail SE.
There are three entrance gates with free parking lots around the lake:
The main gate on the west side is open from 10 am to 6:30 pm daily
North gate is open 10 am to 5 pm daily
South gate is open 11 am to 5 pm on weekends and holidays only
As you can imagine, it gets very busy during hot summer days, and you might have to circle to find parking. If you can, arrive at 10 am, and you won't have an issue.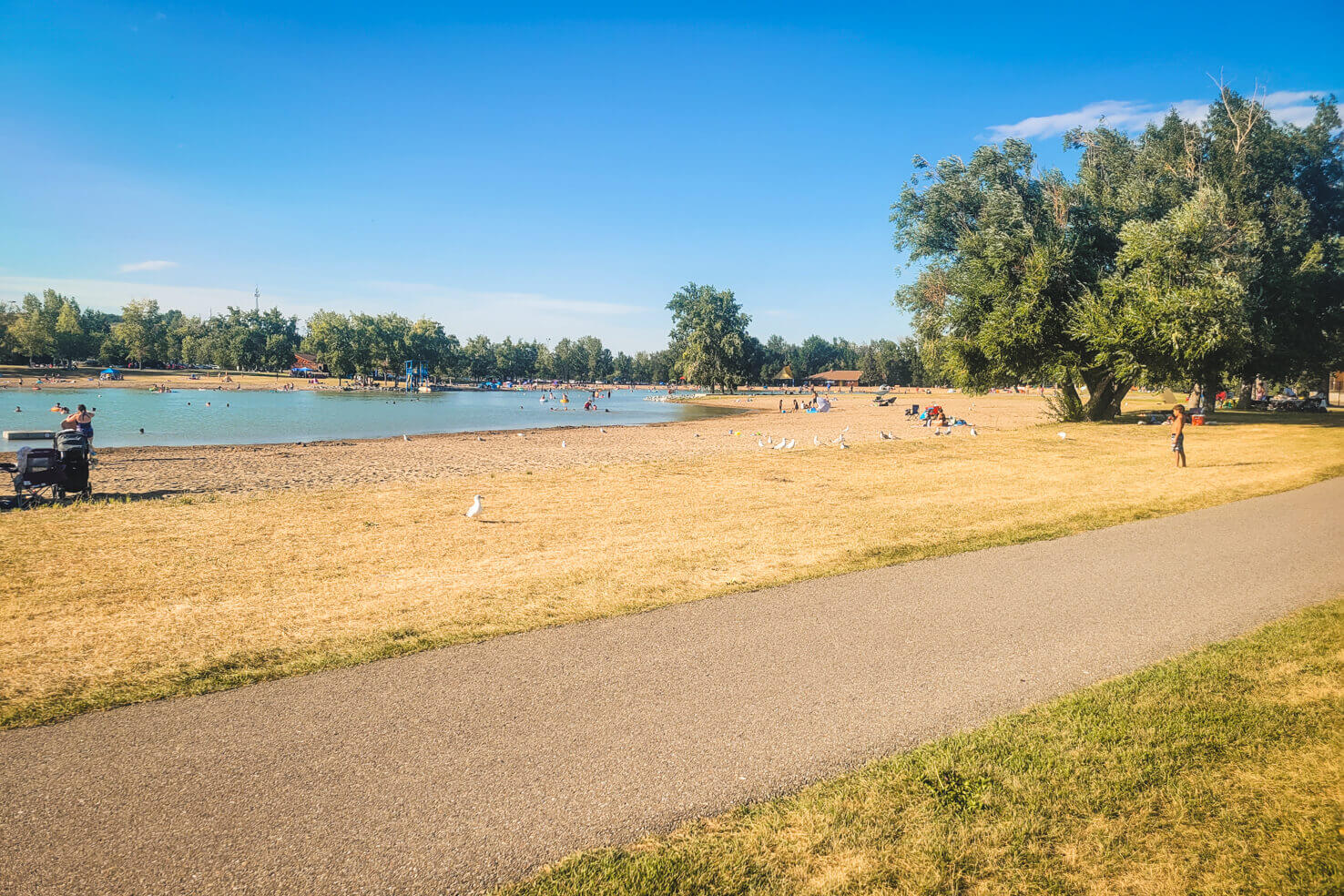 Entrance fees & opening hours
Sikome Lake used to be a different place a few years ago, and I wouldn't go there for a swim. However, it changed dramatically recently – the water is tested, and the area is regularly cleaned. Therefore there's now an entrance fee to access Sikome Lake.
$10 for a family pass (2 adults + 4 kids)
$5/adult
$3/child (6-17 years)
Free for kids under 5
$4/senior
$2/disabled person (water-friendly wheelchair available at no cost)
Day pass rates are applicable no matter what time of the day you enter, as there's no hourly fee.
As of summer 2023, there's no possibility of paying in advance online. You need to join the line at the gate and wait your turn.  You can ask for a stamp on your hand for re-entry. You can pay by debit, credit or cash.
Sikome Lake is usually open from late June to the long weekend in September, 10 am to 7:30 pm daily.
2023 UPDATE: Sikome Lake is open from June 24 to September 4, 2023.
Admission booths are open till 6:30 pm, and the lake closes at 7:00 pm.
Swimming & beach at Sikome Lake
Sikome Lake has a very gradual entry to the lake and is only 2 meters deep in the middle. Since it's pretty shallow, it's warm and great for swimming (unlike at Chestermere Lake, where you have a tiny space and boats on the lake).
The water is regularly tested and treated, and the whole lake is refreshed every eight days through the water treatment plant.
In winter, the water is drained and filled up again in spring.
Sandy beach is all around the lake, where you can set up a camp for the day with kids. A bit further from the shore is the grassy area with many trees providing shade, and two giant yellow canopies above the benches, one on the north shore and the other on the south shore.
Also, there are two Lifejacket loaner stations where you can borrow a lifejacket for your kid. I found very cool wooden boxes for kids' toys – take a toy, leave a toy.
The East side of the beach area has two beach volleyball courts.
There are Safety Ambassadors to patrol the beach and provide assistance or first aid, but there are no lifeguards on duty.
Playgrounds
There are three playgrounds around Sikome Lake:
Located near the North gate for kids 2-5 years old with a climber, slides, and an animal sway swing.
Located northeast of the lake for kids 5-12 years old with a large and high climbing structure with activity panels, many slides, and monkey bars. Our two-year-old son was able to climb up on his own and enjoyed the wavy slide.
Located south of the lake is a climber with a slide and a few pull-up bars.
Amenities
The wooden building on the north shore has change rooms/washrooms with showers, a water fountain, and a small beach shop with floaties, diapers and sunscreen.
The snack shop is open from 11 am to 6 pm and offers hot dogs, sandwiches, veggie trays, nachos & cheese, pop, juice, fruit snacks, apple sauce, chips, sundae cups, ice cream and popsicles.
The patio in front has lots of shaded picnic tables where you can enjoy bought or your own food. Sikome Lake also allows propane barbeques on the grass, and I saw many families enjoying the day at the lake with their food.
If you'd like to pick up some food on the way to Sikome Lake, there are several options along the Bow Bottom Trail just before you enter Fish Creek Park. Apart from the junk food at KFC or Mcdonald's, there's a COOP where they have delicious soups, sandwiches, fruit, and veggie salads.
What is & isn't allowed at Sikome Lake
This is a family-friendly space, so there are several rules:
No alcohol, cannabis or smoking
No pets (except assistance dogs)
No glass or ceramic containers (they might search your bags)
Propane gas barbeques only and can be used on grass areas
Canopies and tents are allowed on the grassy area (even though we saw plenty of them on the sand, just don't use the pegs)
No bikes, skateboards, scooters, paddleboards, kayaks, or canoes
Only small floaties are allowed (hard to tell what they mean or if it's enforced since we saw a giant 4-person unicorn in the lake)
What's close by
I highly recommend checking out Fish Creek Provincial Park. There is more than 100 km of paved and unpaved trails for walking or biking (some along the Bow River), day-use areas with barbeque, Fish Creek Visitor Centre, and Annie's Café, where you can stop for cakes, soups, sandwiches or ice cream.
Alternate plans in an unexpected rain
If the rainy weather disrupts your plans at the lake and you need a backup plan, visit the Seton Library (a 10-minute drive away), featuring a real-life helicopter which is always a hit among kids.
Another option is an indoor playground, the closest, Treehouse indoor playground, is just 13 minutes away. You can read more about indoor playgrounds in Calgary here.
Final thoughts
We found the water and the beach very clean and enjoyable. Since the beach is so big, there's plenty of room for everyone, and it doesn't feel crowded on a hot summer day. Looks like it will become our regular chill-out summer spot in Calgary.
More family-friendly fun activities in Calgary
---
Have you visited Sikome Lake? What do you think?
---