Calgary public libraries are more than just for reading. With 12 locations across the city, kids can learn through play in activity centres with different themes.
Calgary public libraries provide unique play spaces for kids encouraging movement and learning through play. There are reading nooks, drawing tables, blocks to play with, busy boards, and sometimes a climbing structure. The times when you go to the library only to read or borrow books are long gone.
Each Early learning centre is built with a different theme in mind, whether dinosaurs, jungle, or forest. the reading nooks, drawing tables, and the climbing structure
Calgary Public Libraries are free to enter. If you'd like to borrow books, you can get a free library card.
13 Early Learning Centres in Calgary Public Libraries
1. Full-Body Play at Central Library
We visit the Early Learning Centre in the Central Library the most often. It's a huge and beautiful building inside out. The play area isn't close to the entrance, but there's a stroller-friendly path around the perimeter of the building on the right side.
There are several small reading nooks, soft mats and blocks for kids to play with. The climbing structure with small tunnels is my son's favourite. Drawing tables have colouring books and crayons to keep. All books are nicely displayed in the child's height. A carpeted reading area with board books is ideal for the smallest children.
TIP
The closest and cheapest (limited) parking is on the 8th Avenue SE, on the backside of the building with an elevator.
Address: 800 3 Street SE, Calgary
2. Rainbow Jungle at Village Square Library
Village Square Library is located at the Village Square Leisure Centre with a big free parking lot. The rainbow theme features a beautiful wooden rainbow structure with benches for reading, a wooden fire truck, busy boards for babies and small toddlers, and a giant wooden elephant in the reading area.
Address: 2623 56 Street NE, Calgary




READ MORE
15 Best indoor playgrounds in Calgary
3. Co-Op Community Early Learning Centre at Nose Hill Library
Nose Hill Library has a colourful Early Learning Centre with reading nooks, a wooden fire truck, drawing tables, and busy boards.
Address: 1530 Northmount Drive NW, Calgary




4. Alouette III helicopter in the Hopewell ELC at Seton Library
Even though the Seton Library is far from our house, we drove there to see the big helicopter, courtesy of the Hangar Flight Museum. Most kids wanted to play inside, push all the buttons or sit and enjoy. The library staff covers the helicopter 15 minutes before closing, so make sure you visit early as it's very popular with kids taking turns.
There are also reading nooks, busy boards, and a huge display of children's books.
Address: 4995 Market St SE, Calgary


5. Discover Dinosaurs at Country Hills Library
Discover Dinosaurs centre was a huge hit for our son. There were lots of toys and games to play with, and even an almost real looking rock where he could play. Favourites were little plastic dinos and cars.
Address: 11950 Country Village Link NE, Calgary




6. Bird's Eye View at Crowfoot Library's Calgary Foundation ELC
Bird's Eye View centre features a wooden structure where kids can see the library from above. There are several tables with games, includig illuminated table with magnenetic blocks. A cute reading corner for babies has several busy boards, and toys.
The new feature I haven't seen elsewhere are puppets with a tent for a puppet show. And another bonus is at the adult section of the library, there's a comfy seating around a fireplace.
Address: 8665 Nose Hill Drive NW, Calgary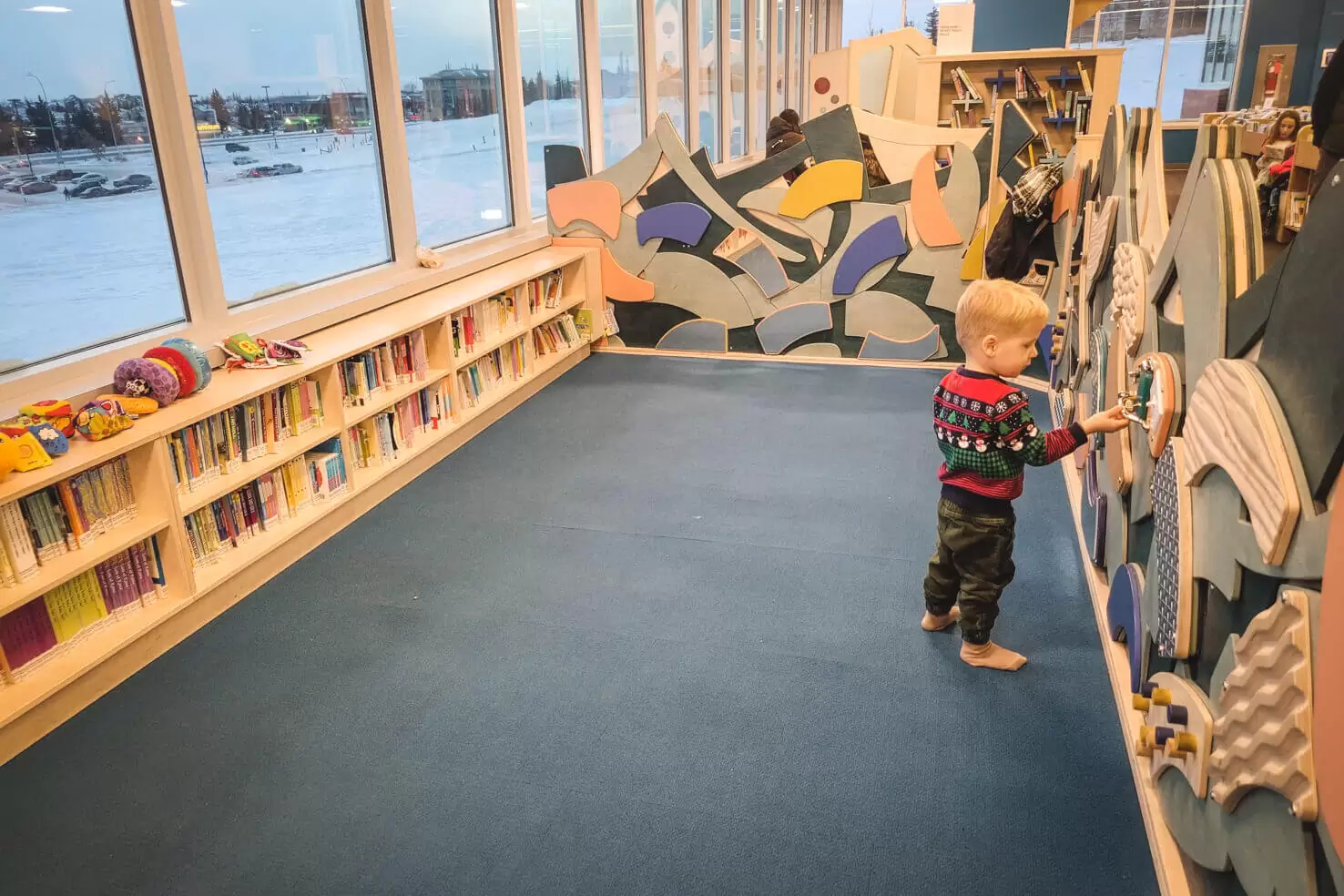 7.  Up, Up, and Away at Saddletowne Library's Calgary Foundation ELC
The boat structure at Up, Up, and Away centre is beautiful. Kids loved playing around it, and also sit in a rocketship, a plane, and a firetruck.
Address: 150 7555 Falconridge Boulevard NE, Calgary


8.  Explore Energy at Forest Lawn Library's Calgary Foundation ELC
There is a big magnetic wall with lots of creative pieces such as tubes, wheels, letters, and little tracks for cars. This open ended play area entertained kids for a long time.
We have to come back when winter ends to explore their outdoor nature playground as well.
Address: 4807 8 Avenue SE, Calgary


We've visited the above Early Learning Centres at Calgary libraries so far, and I will add more details and photos as we visit the rest over time.
9. Read and Play at Quarry Park Library
Address: 108 Quarry Park Road SE, Calgary
10. Into the Woods at Shawnessy Library
Address: 333 Shawville Boulevard SE, Calgary
11. The World is Your Stage at Fish Creek Library
The Fish Creek Library is going to become even more popular when Engine 23, a decommissioned fire truck is moved there, check out the progress here.
Address: 11161 Bonaventure Drive SE, Calgary
12. Build and Create at Signal Hill's Calgary Foundation ELC
Address: 5994 Signal Hill Centre SW, Calgary
Other play spaces in Calgary
---
Which one of these Early Learning Centres have you visited? Share with us your experience.
---
Spread the word! PIN this to your Pinterest board.