An honest review of the Hide and Seek indoor playground in Calgary with tips for your next visit.
We've visited the Hide and Seek indoor playground in Calgary with our 1,5-year-old son. With unusually freezing temperatures of -20C and below for several weeks, we were looking for indoor entertainment for kids other than our house. To my surprise, there are plenty of cool indoor play spaces in Calgary.
We've already been to a few Early learning centres in libraries, at a Creative Kids Museum in Telus Spark Science Centre, and we're checking out indoor playgrounds as well.
The first one we were to was Hide and Seek indoor playground, and I was impressed.
This is how our first visit looked like.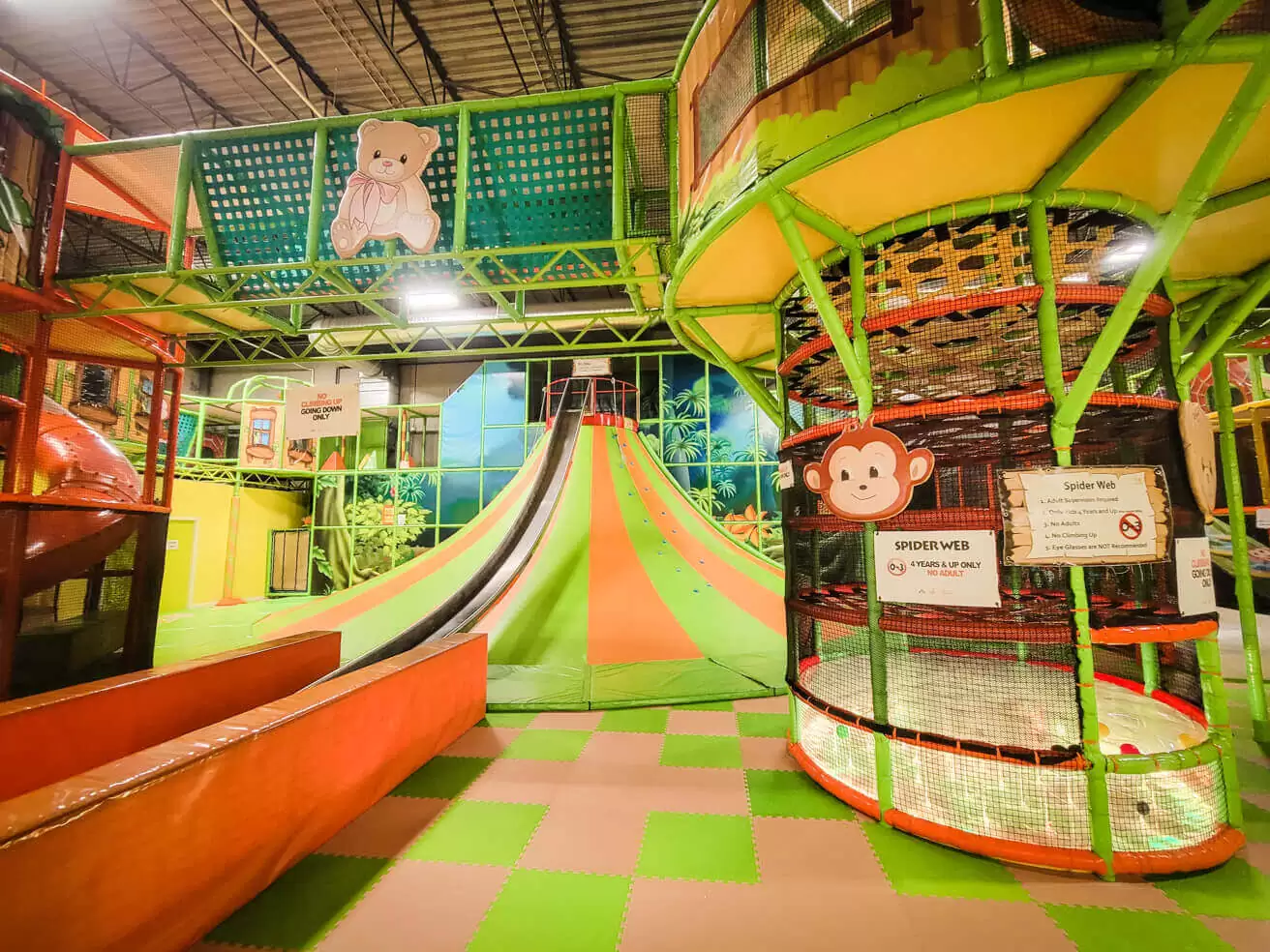 Hide and seek indoor playground
There were several cubbies for outdoor shoes and plenty of hangers for coats when we walked in. Since it was our first visit, we had to register at their computer, sign a waiver, and provide contact info.
We then paid the admission fee, and it was a bit difficult because our little boy was getting very upset for some reason. The staff even tried to entertain him while I looked for my wallet.
All three of us got a stamp on our hand with the same number, and they also checked the stamps when leaving so nobody could leave with a different kid. The gates to the playground area are locked at all times, and staff let you in and out.
The Café offers pizza, finger food like poutine or hot dogs, muffins, coffee, tea, chips, and sweets. Too much junk food for my liking, especially for kids. But at least they also had a few fruit cups, veggie cups, and purees.
The cafeteria has a lot of tables for adults to hang out, and they're all spread along the climbing structures to keep an eye on kids.


There are two areas for toddlers:
The Marketplace has a slide, tunnel, and what looked like inflatable swings on the ground. The amazing thing was that all of these structures, including the padded floor, were soft, so it wouldn't cause a bruise even if the baby fell.
Another toddler zone is a climbing structure with a slide, ball pit ad busy boards mounted on the wall. The ball pit was a huge hit!
READ MORE
15 Best indoor playgrounds in Calgary
The big climbing structure that takes up half the indoor playground space is intended for kids 3 and over, but our Martin enjoyed it so much that he quickly graduated from toddler slide to the bigger slide.
As kids climb through the structure, there are many tunnels and obstacles. It's fantastic even for the gross motor skills of small kids. Martin rarely needed our help to keep moving. All the open and closed slides looked so much fun!
We were there for over 2 hours and could easily stay longer; Martin had a blast, and so did all the kids we saw there!
We'll be back for sure.
READ FOR INSPIRATION
55 Family travel quotes to spark your wanderlust
Info for visiting Hide and Seek indoor playground
Address: 49 Aero Drive NE #18, Calgary
Contact: Website
Open: Monday to Thursday from 10 am to 7 pm & Friday to Sunday from 10 am to 8 pm
Admission: Under 1 & adults are free, 7.95 Cad 1-3 years (Monday to Friday) & 11.95 Cad weekend and holidays, 13.95 Cad 4-14 years (Monday to Friday) & 17.95 Cad weekend and holidays
Deal: Multi-pass for 10 entries costs 60 Cad + GST (1-3 years), 90 Cad + GST (4-14 years)
Useful tips:
Only kids pay admission; parents are free
Up to 2 adults can accompany a kid
Kids and adults must wear socks, no bare feet or shoes
You can purchase kids socks at the entrance
Overall the whole place was very clean, even the bathrooms (which says a lot with so many kids)
No outside food or drinks are allowed, so you need to purchase everything in their café
Other indoor playgrounds in Calgary
---
Have you visited the Hide and Seek indoor playground? Share with us your experience in the comments.
---
Spread the word! PIN this to your Pinterest board.