Would you like to take a road trip? Why don't choose the Canadian province of Alberta? Calgary is a great base to do just that. Most people head west to visit Banff and Jasper national parks. But there is so much more south of Calgary. We'll take you on a road trip through Southern Alberta.
Take the Alberta Highway 22 which was named the Cowboy Trail. It passes through the prairies, the eastern slopes of the Rockies, and takes you back in time when Alberta was occupied by ranchers and cowboys.
Road Trip through Southern Alberta
This is a great weekend trip for any time of the year. We did it in autumn during a warm weekend so we could still enjoy being outdoors for the most part of the day. After so many days spent in the Rockies during the summer, exploring the prairies and the cowboy country felt like an interesting change of the scenery.
Let's follow the cowboys of the old west through the ranch country on the Cowboy Trail.
Calgary
The Cowboy Trail runs all the way from Edmonton to the south of Alberta. We decided to explore the best of what it has to offer from Calgary.
If you would like to explore Calgary a bit, I would recommend to walk through Prince's Island Park which is located in downtown. Look for beavers and ducks in the ponds, try a swing shaped lik a cowboy hat, refresh at River Café and take a picture with the most famous bridge in Calgary – Peace Bridge (pictured above).
If you have more time, take a look at recommendations in our post 30 things to do in Calgary.
Parking note: free street parking after 6 pm and on Sundays in downtown. Any other time drive on Memorial Drive and find your spot on the 3rd to 8th Street NW just across Prince's Island Park.
Big Rock
From downtown Calgary, take Memorial Drive East and then Hwy 2 called Deerfoot Trail heading south. (More instructions on the map at the end)
40 minutes later you will arrive at "The Rock That Ran". Enormous rock in the middle of the flat prairies. It was part of a massive landslide in the Athabasca River valley between 12000 and 17000 years ago and taken on the top of a glacier to the present location.
Gigantic rock was named by the people of the Blackfoot First Nation as Okotok (meaning "rock"). Therefore the name Okotoks of the nearby town.
Black Diamond
Next stop is little town Black Diamond popular for its wild west looking streets. I've never seen a town like this. If you forget the cars, you feel like in a western movie.
We stopped at Marv's Classic Soda Shop which was appealing to us from the street. Such an incredible place to eat, we enjoyed their burgers while Elvis Presley was playing from the jukebox. I couldn't stop looking around for all the stylish décor.
Like a typical diner from the 50's, they serve burgers and fries, shakes, sodas and ice cream floats. Walls are decorated with Marilyn Monroe and Coke posters, jukebox for which you choose the song from your table, waiters wearing stylish uniforms and a lot of sweets you can buy for your long ride.
Heading further south, we passed a town Longview where oil is being pumped from the ground with pump jacks. You will see a lot of these on your drive through Southern Alberta since Alberta is known as an oil & gas region.
Bar U Ranch
Located around 100 km south of Calgary, it is considered a National Historic Site. 70 years old ranch was once one of Canada's largest, accommodating 30000 head of cattle and 1000 purebred horses Percherons.
We learnt what it was like for working cowboys in the Old West. Relive the history with costumed guides demonstrating ranching skills, baking homemade cookies and telling cowboy stories.
Ranch is open end of May – end of September and costs 7,80$ per adult or free if you have Park Pass.
After leaving Bar U Ranch, it takes around 1,5 hours to reach the next stop, which is the longest lasting route during the road trip. We took a detour from Cowboy Trail and took Highway 2 to be on time for a tour in Head Smashed in Buffalo Jump.
Head Smashed In Buffalo Jump
It is one of the oldest and largest buffalo jump located "where the Rocky Mountains meet the Prairies" and considered a UNESCO World Heritage Site. The buffalo jump was used for almost 6000 years by native people to kill buffalo by guiding them off the 11m cliff.
Prior to our visit, we booked a "Hike to the Drive lanes" with a Blackfoot guide, offered by the interpretative centre. During a four hour hike through the planes, we learnt how the people hunt for bison and saw a movie afterwards about this historical technique of the native people.
Why is it called Head Smashed in Buffalo Jump? According to a Blackfoot legend, a young Blackfoot man wanted to see the bison fall off the cliff from below but stood too close and was buried under the bison. He was found under the dead bison' bodies where his had was smashed in.
Because of the knowledge of the area and bison's behaviour, the native Blackfoot people were able to drive bison from pastures into the lanes created by cairns and dressing up as wolves. One of the Blackfoot dressed up as a baby bison and started to run into the direction of the cliff. Protective herd followed him and when the Blackfoot hid, all the bison ended up falling off the cliff. After people took all the carcasses to a camp to be butchered, they made every use of the animal – meat for eating during the upcoming months, bones for making tools and fur for clothing.
Thanks to our guide, the visit was the most informative presentation of the Blackfoot culture we've ever experienced. Check their website for opening hours and special events.
Pincher Creek
After a short drive, you will arrive to Pincher Creek, another picture square town. It offers many historical buildings with cowboy styled drawings on them. You can easily see how the people in town used to live.
Because of the strong wind on the prairies all year long, they've built a big amount of wind turbines to generate power.
We later heard it's rare to see anything in Alberta that isn't dependent on the oil & gas industry.
Interesting note: Furniture retailer IKEA purchased a wind farm near Pincher Creek with 20 wind turbines. It is IKEA's first wind farm outside of Europe and the largest investment by a retailer in Canada in wind energy. It produces enough power for 32 IKEA stores which is twice as much power as IKEA uses in Canada.
Lundbreck falls
Heading west from Pincher Creek, make a quick stop to see Lundbreck falls. We've seen (not live unfortunately) adventurous people kayak down the waterfalls.
It is also a great stop to spend the night in the campground and continue the next day.
Crowsnest Pass – Frank Slide
After about 5 minutes on the Crowsnest Highway look for an unusual tree on your right. The tree is ~700 years old, now standing thanks to help of local community in town Burmis. It has become a heritage symbol in Alberta.
Driving further you will notice a huge area of rocks surrounding the highway. Due to a massive rockslide in 1903, the mining town of Frank was buried under the rocks. 90 million tons of limestone rock slid down from Turtle Mountain within 2 minutes. It reached the opposite hills and even though the majority of the town survived, it is considered as one of the largest and deadliest rock slides in Canada estimated burring 80 people.
It is now a popular tourist attraction with interpretive centre providing stories and presentations of the tragedy where you learn why the part of Turtle Mountain fell.
Waterton Lakes National Park
Heading back through Pincher Creek, and then south, you will reach Waterton Lakes National Park. It forms Waterton-Glacier International Peace Park with its neighbour Glacier National Park in Montana, US.
Right after the sign of the park, take a detour to Bison Paddock to see wild bison roam the grasslands. (It is STRONGLY recommended to stay in the vehicle.)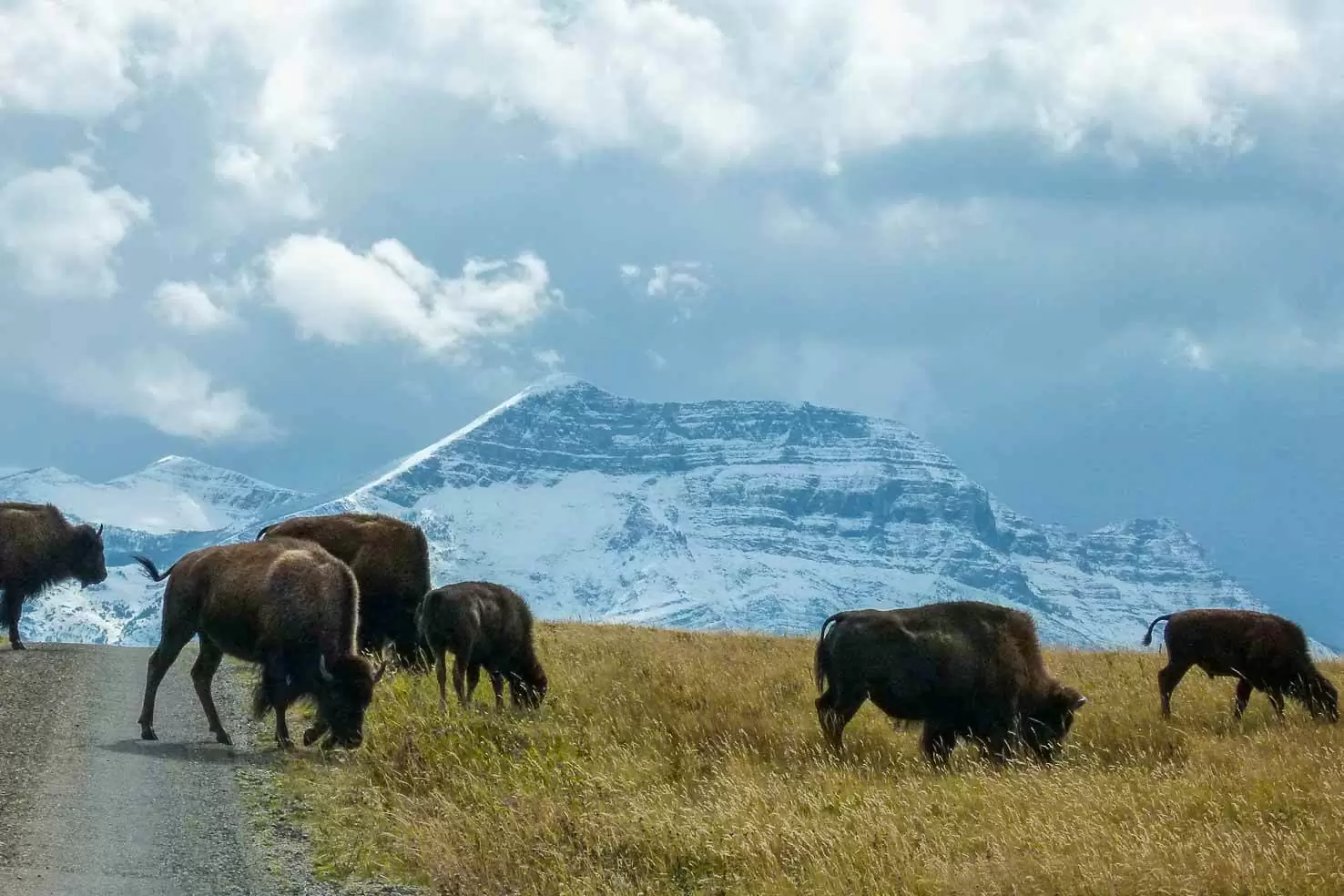 Highlight of the national park is the Waterton Lake, the deepest in the Canadian Rockies. I think the picture below speaks for itself.
It was the most informative weekend for us learning about history of native Blackfoot people and ranch region of Alberta. If you ever visit Canadian province of Alberta, don't forget to put the road trip through southern Alberta on your bucket list.
---
Would you like to take a road trip and visit Southern Alberta? What would interest you the most – Blackfoot culture or cowboys? Let me know in the comments.
---
Spread the word! PIN this to your Pinterest board.