Looking for a perfect place for your outdoor holiday? This is it. Once you finish reading this, you realize that Vancouver Island has everything you're looking for. Pack your bike and kayak to get even better experience from this evergreen island off the west coast of Canada.
You would need a rain jacket and a bear spray on Vancouver Island. Black bears live on the island and grizzlies are occasional visitors to the island, as they swim from the close-by mainland looking for more salmon.You might not have an unexpected guest at your picnic, but be prepared to see them walking on the beach. Unleash the outdoor spirit in yourself on Vancouver Island. Read and enjoy.
32 outdoor things to do on Vancouver Island road trip
Best things to do in southern Vancouver Island
Get your road trip campervan for the best price in Western Canada from Smile Campervans. Reserve yours as soon as possible.
Gardens and whale watching in Victoria
Victoria is the capital of British Columbia, right on the southern tip of the Vancouver Island. It might be the most British like city furthest from Europe with a strong British influence.
Most visited sites include Butchart Gardens, city downtown, historical and government buildings and Victoria Harbour. Would you like to see whales and orcas? You can buy a whale watching tour in the harbour. Almost 100 orcas live around the southern tip of Vancouver Island year round, but the best time is from April to October.
Salmon watching in Goldstream Provincial Park
It's one of the free attractions near Victoria, only 17 km from downtown. This temperate rainforest is a great place to observe salmon runs as they come here to spawn from mid-October to December. Observe the life cycle of nature and the salmon run – salmon migrate from the ocean to the river where they spawn. After spawning, most of the salmon die and the cycle starts again. It is an annual feast for eagles and bears, makes it easier to catch them.
Biking the Galloping Goose Trail
This trail is a repurposed old railway track that used to run between Victoria and Sooke in the beginning of the 20th century.  It's wide and flat which makes it great for easy off road cycling. With a length of 55 km, it's used by cyclists, hikers, runners and horseback riders. It starts in Sooke at Potholes Provincial Park, connects to Trans Canada Trail and ends in Victoria.
Visiting the tallest timber rail trestle in the world
In the heart of the warmest valley in Canada, you can find the Cowichan Valley Trail, a part of Trans Canada Trail. Recently repaired Kinsol Trestle is a must see a place on the trail, accessible from the town Shawnigan Lake. Kinsol Trestle is one of the tallest timber rail trestles in the world. You can cross it by bike, foot or on the back of the horse.
Hiking Juan de Fuca Marine Trail
Lesser known brother to West Coast Trail (mentioned below). You can start the Juan de Fuca Marine Trail in Port Renfrew going south or on China Beach for trekking north. There is no entrance fee and can be easily done in sections or at once in 3 or 4 days. It's 47 km long and crosses similar rugged coastal terrain as West Coast Trail.
We only did a small 6 km hike and already saw a black bear casually walking on the beach. The trail is open year round; the best for a hike is in summer between May and September. It goes along the coast so you need to check tide times or you might get stuck on the beaches with steep escape routes.
Walking through the lavender fields in Cowichan Valley
Visit the Damali farm, walk through the blossomed lavender fields and enjoy their fruit wines and lavender blends. The self-guided free tour will introduce you to 25 types of lavender. If you visit their annual lavender festival, you can try the different lavender food and learn how the famous Lavender essential oil is distilled. Want to learn even more? Stay and volunteer at the farm.
Best things to do in central Vancouver Island
Hiking the West Coast Trail
One of the most famous trails in the world is 75 km long multi day hike in a Pacific Rim National Park. You need to sign up on the list and book well in advance; a number of hikers is limited each year, it's only open for 5 months of the year. It was built on the trail which native people used for trading and traveling. This might be one of the best adventures on Vancouver Island for hikers.
Zip lining and bungee jumping in Adventure park
Do you have a fear of heights? No? That's good. Just outside Nanaimo, you can spend a whole day hanging on the rope high above the ground. Get your dose of adrenaline in WildPlay Element Park.  This great equipped fun park offers bungee jumping, zip lining, tree suspended walks or jump swing with speed more than 140km/h.
Exploring Newcastle Island or Gabriola Island
Newcastle Island belongs to a Provincial Park managed by natives only 10 min by boat from Nanaimo. To get there, you can either take a ferry or kayak. Come for half a day to swim on the beaches, relax or hike/bike network of trails with great views.
If Newcastle Island is too small for you, you can visit Gabriola Island just 20 minutes from Nanaimo by ferry. There is a lot to see on the island as it has three provincial parks and well-known sandstone formation called Malaspina Galleries with a lot of history, carved into sandstone formations. Or go for a 40 km bike ride around the island.
Caving (spelunking) in one of 1000 caves on Vancouver Island
Great geological and geographical conditions helped to create an enormous number of caves on the island. Whether you're a rookie or experienced, you can push your fear levels and walk in the enclosed and dark spaces. Inquire about spelunking in the local Visitor center.
Admiring old trees in Cathedral Grove, Macmillian Provincial Park
When Europeans came to North America, some of the trees in this forest were already 300 years old.  Stop in this forest on the way to Tofino anytime and explore yourself how 800 years old giant Douglas fir with almost 3-metre diameter looks like. Be careful in very windy weather as some branches and sometimes whole trees may fall down.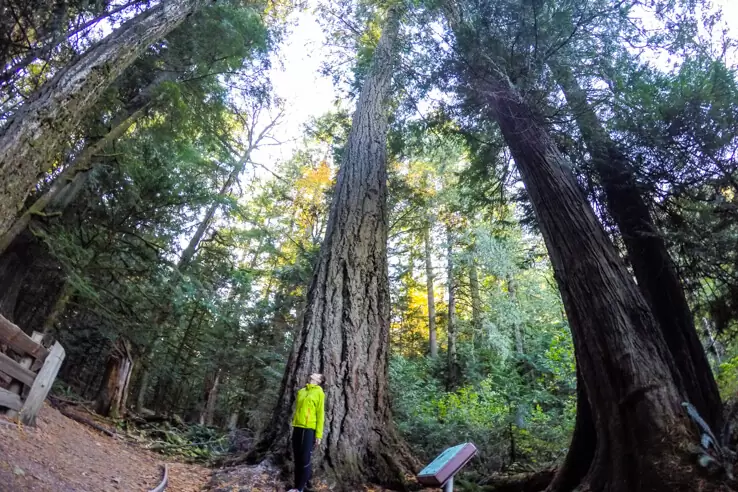 Caving and Cave Theater
Stop in Horne Lake Caves Provincial Park and explore possibilities for caving. You can access some parts of the caves by yourself but for most of them, you will need to book a guided tour. Spelunking in these caves can raise your heart beat. On the way out, stop by Canada's only Cave Theater, then go kayaking or paddle boarding on Horne Lake.
Hiking to Della Falls
Della Falls is the tallest waterfall in Canada (440 m) and getting there is not easy. Falls are in Strathcona Provincial Park but are accessible from Port Alberni on the other side. To see the falls, you can either paddle for 45 km on the lake or go by boat to get to the trailhead at the end of Great Central Lake. Then hike 16 km and you'll be there. It may take from 3 to 5 five days. You can also book a plane to the trailhead if you like flying.
Best things to do in western Vancouver Island
Flying above whales in a floatplane
38 km from Ucluelet, make a stop at West Coast Wild Adventures where you can see the whales from the sky in clear waters of Barkley Sound. Book a plane for a low altitude scenic floatplane trip. If you're brave enough, go zip lining over the old grown forest. In warmer days you can go kayaking or paddle boarding in the rocky canyon of Kennedy River. They rent all equipment so bring only your camera.
Salt water fishing in Barkley Sound
Just 30 minutes boat ride south from Ucluelet you will reach the Barkley Sound and Alberni Inlet. This inlet is home to the best fishing grounds in Canada and as they claim in Port Alberni:  The Salmon Fishing Capital of the World. Best time to fish in Barkley Sound is from late March to early September and common fish are cod, salmon, and halibut. Anglers need to get their licenses before heading out here.
Hiking Wild Pacific Trail in Ucluelet
If you're staying in Ucluelet or driving from Tofino, make a stop on the coast and go for a hike on recently built Wild Pacific Trail. It will take you through southern coastline of Ucluelet town with great ocean views. It has up to 15 km of walking options. Great spot for making coastline scenery pictures.
Watching marine wildlife in Ucluelet
The Southern tip of Ucluelet is a place where the active Amphitrite Point Lighthouse is. It is at the end of the southern leg of Wild Pacific Trail. Come before sunset or when the ocean is rough for great scenery pictures.
It's also a quiet place for whale watching from the shore. Another great spot for watching wildlife is Ucluelet port where sea lions feast on organic waste from fishing boats. You can go whale watching on the kayak or paddle board to Barkley Sound.
Surfing at the Long Beach
Tofino is surfer's hub in Canada.There is no better place to surf in Canada than the 16 km stretch of Long Beach. In summer, Long Beach is better for newbies and winter attracts experienced surfers. The only issue might be the water temperature; it's only around 4°C in winter and 16°C in summer. You can rent a board and wetsuit in Tofino in many rental shops and head south 20km to the Long Beach.
Walking on the Third Beach in Tofino
The trailhead for this short but nice trail starts near the community hall in Tofino. It brings you to a sandy beach in about 45 minutes, great for a relaxed afternoon. It can take more time if you bring your camera, especially during sunsets.
Another option how to get to Third Beach is from Bella Pacifica Campground. Walk on the beach for 20 minutes and you will reach the Third beach. If you want to set up your tent right next to the beach, check availability at Bella Pacifica Campground.
Kayaking in dugout kayak
Have you ever thought about how it would be to sit in dugout kayak used by indigenous people that you only saw in the movies? In Tofino, you can book a kayak tour with native guides, who will explain history, culture, and tradition of local natives. See their website for tour options.
Exploring a remote reserve of Clayoquot Sound
This remote UNESCO biosphere reserve with many inlets surrounds most of Tofino town. Did you know that natives and locals won the fight against logging companies to protect this authentic nature area? Some areas are only accessible by boat or floatplane. Here you can explore the true Canadian wilderness – black bears eating fresh berries from bushes or hiking in untouched rain forest.
Visiting natural hot pools in Maquinna Provincial Park
Take a boat for an hour and a half from Tofino to Hot Springs Cove and relax your body at the end of the day.When you disembark the boat, you will need to walk for 2 kilometers on the boardwalk. Once you reach the changing area, walk down the sharp rocks right to the spring.
Ocean water is heated underground and pushed up on the surface. Spring has a pleasant temperature of 50°C and mixed with ocean water makes a great place for relaxing. If you get lucky while on the boat you might be able to see whales, bears, wolves or bald headed eagle.
Don't forget to book your accommodation in Tofino as it's not easy to find one during summer.
Best things to do on northern Vancouver Island
Skiing or downhill biking at Mount Washington Alpine Resort
Skiing resort on Mount Washington gets up to 11 metres (36 feet) of snow cap every year, which is one of the deepest in Canada. They have trails for Nordic skiing as well. If you visit during summer, come here for great downhill biking or hiking.
Hiking in Strathcona Provincial Park
Strathcona is the oldest provincial park in British Columbia. It's located in the center of Vancouver Island and offers many hiking options, from developed front country trails to rugged backcountry trails. You can go biking, fishing or try motorized watersport. Visit any time of the year, you won't be bored.
Grizzly bear watching tour on Vancouver Island
Grizzly bears don't usually live year round on Vancouver Island. If you want to see a grizzly bear family fishing for salmon, come to Telegraph Cove. The tour will take you by boat to the mainland at Knight Inlet where you will be able to watch grizzlies in the wilderness from a safe distance. This quite pricey tour offers a rain check in case you don't see them which is very unlikely.
Whale watching in Telegraph Cove
Go on a three and half hour boat ride to see Orcas in their natural habitat.  The main target of the tour are Orcas (killer whales), but you probably see much more marine wildlife such as whales, dolphins or sea lions.
Sea kayaking in Telegraph Cove
If fully organized tours are not your thing, then rent a kayak and set off for self-guided kayaking experience. Options are almost endless in this wildlife rich part of Vancouver Island from a single day to multi day trips. Check this company site for rental prices on sea kayaks. If you are at right time in a right place you can see orcas up close in straights around Vancouver Island.
Compare prices on accommodation in Port Hardy.
Take a ferry from Port Hardy to Prince Rupert
This once in a lifetime opportunity to explore the coast of Northern British Columbia is the best value for your money. Check schedule, book and go. Best time on the ferry is in summer as ferry disembarks in the morning and the 13-hour trip is done during the day.
Stay on deck with binoculars and search for the wildlife in coastal waters, you might see whales, dolphins, bears or cougars.
If you want to upgrade your experience, extend your trip from Prince Rupert to Juneau, Alaska. Check BC Ferries and Alaska ferries.

Things to do all across the Island
See some movie shooting
Did you know Vancouver Island is a Hollywood hotspot? Many movies were filmed here, such as Twilight or War for the Planet of the Apes. Where are the sets? Usually around Victoria, Tofino or Cathedral Grove. When you drive around, look for crews and you might be able to spot a movie that you will see next year in the cinema.
Camping on Vancouver Island
Imagine sitting on the beach at dusk with the sound of breaking waves on a sandy beach. You feel the cold evening breeze sitting next to the bonfire. Grill stick in your hand and marshmallow/sausage on fire. Once you put out your fire, sneak in your tent by the beach. This was for us one of the most enjoyable things to do on Vancouver Island. You will find information about places available for a campfire in local visitor centers.
Biking
Bring your bike with you, you'll definitely make a use of it. You can choose from mountain biking, bike trekking Trans Canada Trail, downhill biking in a ski resort or just getting away from the crowds by biking on logging back roads. Buy Vancouver Island backroad map and set off. Most developed areas for biking are Gulf Islands, Sooke, Campbell River and bike trails in the central part of the island.
Visiting Aboriginal places and learning about their culture
Many areas of the island were inhabited by natives for a few thousand years. Their footprints are all over Vancouver Island. Three tribes used to live here and survived solely from fishing and trading. You'll see a lot of totems scattered around the island. Many aboriginals still live in coastal areas. Ask in visitor center about the native culture.
How to get on Vancouver Island
from Vancouver by ferry
Take a ferry from Tsawwassen (Vancouver) to Swartz Bay (Victoria) or from North Vancouver to Nanaimo. Make bookings in advance for weekends and holidays. Ferry leaves almost every 1 hour (no ferry departures from 10 pm – 6 am)
from Seattle by ferry
The ferry departs once a day and takes 2 hours and 45 minutes. Make bookings in advance.
by plane to Victoria
There are direct flights from the United States or within Canada.
If you're flying in, you will have to rent a car to see the best things on Vancouver Island.
More posts from British Columbia
Golden is close to six national parks
Revelstoke is a year-round outdoor hub
Fernie is the best kept local secret for outdoor junkies
---
Would you like to visit Vancouver Island? Which activity is your favourite?
---
Spread the word! PIN this to your Pinterest board.
Disclosure: Some of the links in this post are "affiliate links." This means if you click on the link and make a purchase, we will receive an affiliate commission, at no extra cost to you. We only recommend products and services we personally use and believe they will add value to our readers.