Let me tell you a secret. Maybe not so much for everyone. The more you do your research, the more beautiful places you discover. The more we visited Jasper National Park, the more we craved to get off the beaten path.
This is exactly how we found so many new places in Canada, that not a lot of people knew about. Even my colleagues from work, born and raised not far from Jasper national park didn't know about this place.
This, literally hidden, gorgeous spot is called Snake Indian Falls.
I should thank to Instagram for this one. Ever since I set up an account, it's been a constant inspiration. And of course the credit goes to a photographer from whom I saw this picture from, but don't remember his/her name.
Get off the beaten path in Jasper National Park
As it usually goes with these places, it's not easy to reach. Google couldn't find directions, so here they are:
from the town of Jasper, take Yellowhead Hwy towards Hinton,
after 12 km turn left onto Snaring Road, you'll pass Snaring River Overflow Campground (which is the cheapest way to stay in Jasper for 15$/night)
then it becomes Celestine Lake Road (closed Nov-May), drive for another 30 km or so to the parking area
!! This part is tricky – the last part of 30 km is a narrow one way gravel road with many blind corners. Times for driving in & out are on a big sign (every 2-3 hours in specific times), which are different from the times on the trail map we bought at Visitor Centre in Jasper. I'd recommend to call them and ask about the times (780) 852-3858.
We drove according to our map and were lucky no car was going the other way. There is just few places where you can pass an ongoing traffic.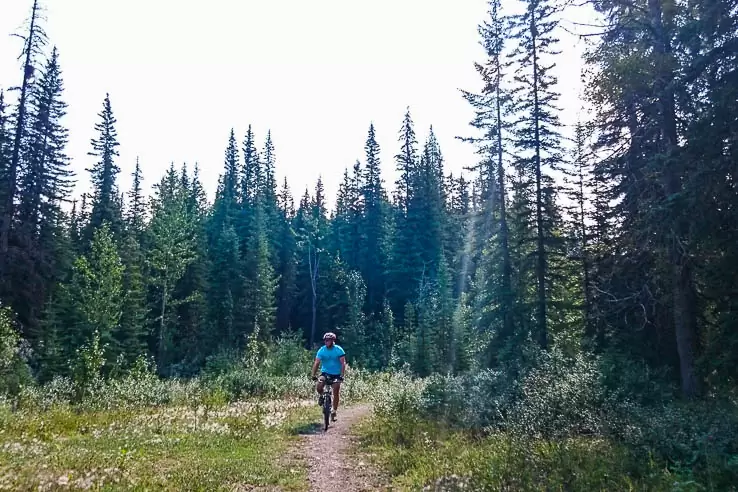 From the parking lot, you can either:
Depends on your fitness level and time you have available. Trail to the falls is 27 km one way.
We chose mountain bikes – fastest and the most enjoyable option for us. It took us under 5 hours both ways. Hikers usually do this trail in a few days, sleeping overnight in the backcountry.
Trail is mostly flat with few hills and through the forest. Carrying a bear spray and making noise along the way is always recommended. You are literally on your own and far from town.
We biked at easy pace and used the whistle often so bears and anything else could hear us. Wild animals are scared and disappear before you see them. Even though the bear might still keep an eye on you from the bush or a tree.
Trail is changing from single track to an old fire road. View of the Snake Indian River and surrounding mountains opens up a few times but you are in the forest for the most part.
We've met only two hikers along the way and they probably found the best spot to set up a camp they could – at the top of the waterfalls.
You can hear the waterfalls as you approach them. All of a sudden, the forest ends and opens up wide in front of you with a view of Snake Indian Falls.
Surprisingly, I haven't found a mention about the height but comparing the falls with me standing at the edge, I guess they are about 25 m tall.
They are loud, refreshing and nobody is spoiling the beauty around you. Great place to chill out and rest after the ride.
We were sitting at the edge for a while, let the sun shine on our faces and drops from waterfall cool off our legs.
This is what I call great reward after a long bike ride.
Here is a short video from the ride (including a scene where Michal thought I'm hilarious while I was totally exhausted chewing a not so tasty granola bar)
---
Have you found off the beaten path on your travels? Tell us in the comments below.
---
Spread the word! PIN this to your Pinterest board.