Surfing and releasing turtles – our goals and must do activities in Nicaragua. And we found a gem. It's an off the beaten path place with an authentic Nicaraguan feel.
We wanted to see a new place. A place which you cannot usually find reading travel blogs, lonely planet book or read a hostel's tours board.
So we looked at a map and picked a place we haven't heard about before. That's how we discovered beaches of Jiquilillo in Nicaragua, a quiet place where only locals live.
Tourism is so developed in Central America, that find a place not packed with backpackers is very hard. We've been lucky to find a few, and Jiquilillo beach is one of them.
There are just a handful of hostels/hotels in the area. We stayed at a beachfront eco hostel Rancho Esperanza.
This is how a perfect day look liked for us at Rancho Esperanza:
Waking up to the singing of birds is my idea of starting the day feeling relaxed. Having breakfast under the palm roof where soft sand on the ground is tingling your feet. After that, rent surfboards and catch some waves.
The waves and the whole stretch of the beach we shared with 3 other travellers from our hostel. After hours of trying beginners' luck on the waves, we hang out in a shadow and watch locals passing by.
We took shower in the garden to refresh from the Nicaraguan heat and headed for lunch. What they serve for 5 USD is a huge portion, almost lunch for two. Few boys couldn't finish it either. It was delicious and prepared by local women working in the kitchen.
After lunch, it was the perfect time to relax in the hammocks. I took a nap in a hammock several times during our time here.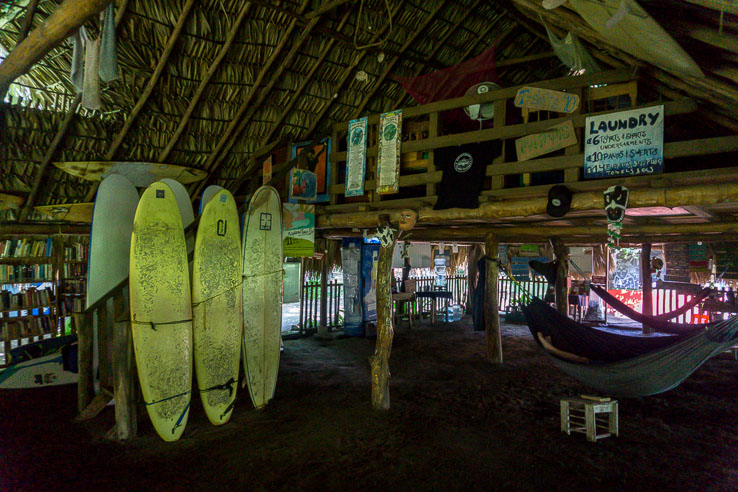 To stretch out the legs, we went for a beach run, barefoot, of course. My upper body was all worked up from the morning surf session, now my calves were talking to me. Running barefoot after a long time is not easy. I only had energy for 5km on this endless beach before the sea started calling to me and I had to jump in.
Unfortunately (for my body only), the waves were looking good again. We went for a 2nd surfing session as the sun went slowly down. Saying goodbye to a beautiful day standing on the beach, I couldn't wait for another delicious meal and swing in the hammock afterwards.
Since our arrival, we were interested in releasing baby turtles into the sea. Now we just had to wait and see if they hatch, and when. Lucky for us, today was the day. Hostel got a call from a hatchery that we can come release them.
After meeting our guide Rosa from the local community, all 5 guests of the hostel boarded a boat to the nearby coast of Padre Ramos. The little bay we crossed was unbelievably quiet and the moon reflected from the water surface.
Volunteers from turtle hatchery welcomed us with a talk about their mission. In the past, local people who mostly lived off of fishing were selling the eggs to salesmen, to make a living. At the end, not many turtles made it to the sea. Now, the organization taking care of the turtles buys the eggs from locals and brings them to the hatchery. Locals haven't lost their part of the income and hatchery is releasing more and more turtles to the sea every year.
With our headlamps on, we went to the tent where hatched baby turtles needed to be dug out from the sand. Volunteers carefully removed them from the sand hole where they hatched and put them in the bucket.
Covered in sand, they could finally move freely and started to run on each other. It was their reflex to go to the sea as soon as possible. We were able to hold them while they counted them in the basket. For such a little creature, they had quite a strong pull and ran away from our hands very quickly.
Today, 150 little baby turtles hatched. We then took them to the sea and released one by one. What a sprint. We were betting on whose turtle will touch the water sooner. Only 1 out of 1000 baby turtles will reach their adulthood. The rest won't make it because of predators and other invaders, such as poachers. Each of us was wishing that at least one of the turtles we released will make it and live a long life.
During the boat ride back, my sentimental mood was interrupted by one of the surfers who said to the captain of our boat, who was checking his phone:2
"No texting while driving."
We all burst into an enormous laugh when he continued…
"I guess you can, there is no traffic."
This American surfer is hilarious. Imagine that: it was pitch black, only the moon was shining and there was absolutely no boat or even a live soul around.
By now my body was telling me that maybe my day was a bit too active (surf, beach run, surf again). I arranged a massage for the next day and went to our little hut. It was clear that we are going to spend here a few more days.
Info about Rancho Esperanza on Jiquilillo Beach, Nicaragua:
From the south – one bus from Leon to Chinandega, then another to Jiquilillo. The bus driver can drop you off right in front of the rancho
From the north – one bus from Potosi heading to Chinandega. Tell the driver you are heading to Jiquilillo and he will drop you off on a junction. You catch another bus that will drive you straight to their entrance.
It's impossible to get lost; everyone knows Rancho Esperanza and people are more than happy to give you directions if you get off at the wrong stop.
they offer accommodation in private or dorm-style huts, camping or hammocks
offer food and drinks all day
founder Nate created volunteer programs & projects to help out the local community you can take a part of
there is no internet or ATM but when walking on the soft sand all day long, you will forget these things exist
Is surfing not your thing? Try their cultural excursions, boat or kayaking trips, learn Spanish, practise yoga, read one of their 500 books collection or just relax swinging in a hammock where you will for sure forget all your worries
Check out our video from 3 weeks in Nicaragua
---
Have you ever stayed in a place where you forgot about the outside world? I would love to hear in the comments below.
---
Spread the word! PIN this to your Pinterest board.

Disclosure: Some of the links in this post are "affiliate links." This means if you click on the link and make a purchase, we will receive an affiliate commission, at no extra cost to you. We only recommend products and services we personally use and believe they will add value to our readers.