Surfing and releasing turtles were our goals and must-do activities in Nicaragua. And we found a real gem and off the beaten place with an authentic feel called Jiquilillo, Nicaragua.
During our travels through Central America, we often stayed at hostels and learnt about many cool places from other travellers. But we also love to do our own research to discover less visited places.
It was month 3 of our trip around the world when we visited Nicaragua. We wanted to see something new, off the beaten path. A place which you cannot usually find reading travel blogs, lonely planet books or reading on a hostel's tours board.
Tourism is so developed in Central America that finding a place not packed with backpackers is hard. We've been lucky to find a few, and Jiquilillo is one of them.
So we looked at a map and chose a place we hadn't heard about before. That's how we discovered Jiquilillo in Nicaragua, a quiet fishing village and Nicaragua's hottest spot.
This blog post includes our experience at Jiquilillo, things to do, how to get there, and tips for visiting.
TIP
To learn more about this beautiful country, see our post 22 interesting facts about Nicaragua
Check out our video from 3 weeks in Nicaragua
Discovering Jiquilillo, Nicaragua
We arrived in Nicaragua the non-traditional way – by boat. It turned out that border crossing from El Salvador to Nicaragua through former pirate waters is much more fun than spending endless hours on the road.
We spent a few days in Potosi to observe the local Nicaraguan life and hike the Cosiguina Volcano. We were excited to see other off-the-path places where local people warmly welcome you. This tiny village was a great introduction to Nicaragua, and after a few days, we made our way to Jiquilillo.
Playa Jiquilillo is the most visited beach on Nicaragua's Pacific coast. But when we visited in October, we had the whole beach to ourselves.
There are just a handful of hostels and hotels in the area. We stayed at a beachfront eco hostel Rancho Esperanza.
Our stay at Rancho Esperanza, Jiquilillo, Nicaragua
This is how a perfect day looked like for us at Rancho Esperanza:
Waking up to birds singing is my idea of starting the day feeling relaxed. Having breakfast under the palm roof where soft sand on the ground tingles your feet. After that, renting surfboards and catching some waves.
We shred the waves and the whole stretch of the beach with three other travellers from our hostel. After hours of trying beginners' luck on the waves, we hung out in a shadow and watched locals passing by.
We took a shower in the garden to refresh from the Nicaraguan heat and headed for lunch. What they serve at Rancho Esperanza for 5 USD is a huge portion, almost a lunch for two. A few boys couldn't finish it either. It was delicious and prepared by local women working in the kitchen.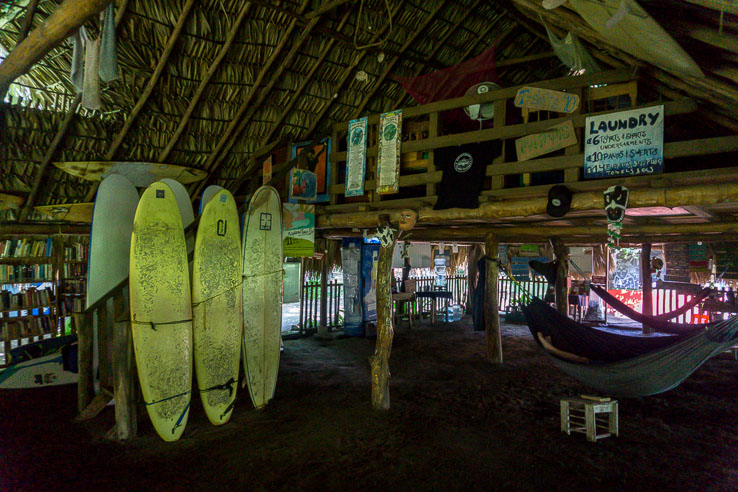 After lunch, it was the perfect time to relax in the hammocks. I took a nap in a hammock several times during our time here.
To stretch out our legs, we went for a beach run barefoot. My upper body was all worked up from the morning surf session; now, my calves were talking to me. Running barefoot after a long time is not easy. I only had energy for 5km on this endless beach before the sea started calling to me, and I had to jump in.
Unfortunately (for my body only), the waves were looking good again. We went for a 2nd surf session as the sun went slowly down. Saying goodbye to a beautiful day standing on the beach, I couldn't wait for another delicious meal and swing in the hammock afterwards.
READ NEXT
55 amazing pictures to inspire you to visit Nicaragua
Releasing baby turtles
Since our arrival, we have been interested in releasing baby turtles into the sea. Now we just had to wait and see if they hatch and when. Lucky for us, we came at the right time. Hostel got a call from a hatchery that we can come to release them.
After meeting our guide Rosa from the local community, all five hostel guests boarded a boat to the nearby Padre Ramos Nature Reserve coast. The little bay we crossed was unbelievably quiet, and the moon reflected from the water's surface.
Volunteers from the turtle hatchery welcomed us with a talk about their mission. In the past, locals who mostly lived off fishing sold turtle eggs to salesmen to make a living. In the end, not many turtles made it to the sea.
Now, the organization caring for the turtles buys the eggs from locals and brings them to the hatchery. Locals haven't lost their part of the income, and the hatchery is releasing more and more turtles into the ocean every year.
With our headlamps on, we went to the tent where hatched baby turtles needed to be dug out from the sand. Volunteers carefully removed them from the sand hole where they hatched and put them in the bucket.
Covered in sand, they could finally move freely and started to run on each other. It was their reflex to go to the sea as soon as possible. We were able to hold them while they counted them in the basket. They had quite a strong pull for such a little creature and ran away from our hands very quickly.
When we visited, 150 baby turtles hatched. We then took them to the sea and slowly placed them from the bucket to the sand. What a sprint we witnessed from the baby turtles!
We made it a fun game to bet on whose turtle will touch the water sooner. Then we learnt that only one out of 1000 baby turtles will reach adulthood. The rest won't make it because of predators and other invaders, such as poachers. Naturally, each of us wished that at least one of the turtles we released would make it and live a long life.
During the boat ride back, my sentimental mood was interrupted by one of the surfers who said to the captain of our boat, who was checking his phone:
"No texting while driving."
We all burst into an enormous laugh when he continued…
"I guess you can; there is no traffic."
This American surfer was hilarious. Imagine that: it was pitch black, only the moon was shining, and there was absolutely no boat or even a live soul around, not to mention we were going very slowly.
By now, my body was telling me that maybe my day was too active (surf, beach run, surf again). I arranged a massage for the next day and went to our little hut. It was clear that we would spend more days here than initially planned.
The calmness of Jiquilillo was a welcome break during our backpacking trip across Central America. A true place to unwind and relax!
10 things to do in Jiquilillo, Nicaragua
Is surfing, not your thing? Try their cultural excursions, boat or kayaking trips, learn Spanish, practise yoga, read one of their 500 books collections or relax swinging in a hammock where you will forget all your worries.
1. Surfing
The #1 reason travellers visit Jiquilillo is surfing, especially beginners like us. There are small waves, plenty of surf schools along the beach and unbeatable prices.
You can get a rental surfboard for 11 USD/day or pair it with lessons and have an amazing surf day with a board and instructor for 22 USD/day.
When we stayed at Rancho Esperanza, the surfboards were complementary, and we were stoked to find out they also had foam boards, which are much easier to navigate for newbies.
2. Kayaking & SUP
The Padre Ramos Nature Reserve offers kayaking in its calm waters. If you visit during a prime turtle hatchling season running from June to September, you might even spot a turtle on the beach.
I'm stoked to see that they offer stand-up paddleboard sessions as well!
3. Volcano hiking
Hiking up the Cosiguina volcano is more special than other volcanoes for several reasons:
It's off the beaten path, and you will likely have the whole volcano to yourself
After hiking up in the infamous Nicaraguan heat, you're rewarded with gorgeous views of a green crater lake
The Pacific Ocean offers views of El Salvador, Honduras, and Nicaragua
Read our full guide Hiking the Cosiguina Volcano, for all the details.
I highly recommend visiting if you didn't get a chance to hike up Cosiguina volcano when arriving in Nicaragua via Potosi. You can book a day trip tour at Rancho Esperanza.
4. Horseback riding
Try horseback riding at Padre Ramos Nature Reserve if kayaking isn't your thing. The long empty coast with abundant bird life and mangrove forests around is the perfect place for a chill ride.
5. Releasing baby turtles
Hands down, one of the best experiences we had in Nicaragua was releasing baby turtles into the ocean – as you can read above.
The hawksbill sea turtle is endangered, and the local non-profit organization helps with turtle hatching and safely releasing them into the ocean where they belong.
Ask at Rancho Esperanza to organize a tour for you. Whether you get to participate or witness releasing baby turtles, it's not to be missed when visiting Jiquilillo.  This experience is much cheaper than at San Juan del Sur, a backpacker's party heaven.
6. Visit the local fish market
Since this is a fishing village, it would be almost an insult not to visit their fish market or try a local meal if you're not an early riser for fish markets.
You can walk through Jiquilillo and find a few eateries that serve traditional and fresh grilled or fried fish with a giant cabbage salad. For a great filling meal, you pay around 100 cordobas (2.80 USD).
7. Relax at yoga or massage
Jiquilillo is a synonym for total relaxation, whether strolling on the beach or swinging in the hammock. However, if you'd like to take it to the next level, you can take a yoga class or book a massage right on the beach.
A local massage therapist came to see us at Rancho Esperanza, and I very much enjoyed the 30 min (for only 6 USD!) massage while listening to the waves.
8. Watch the sunset over the Pacific Ocean
Long walks on the beach are my favourite. And because of the hot days and even hotter sand at Jiquilillo Beach, sunset is the best time for a stroll.
It's also the best time to catch Wilson, Mr. Coconut Bread, on the beach, a local legend that sells the best coconut bread you've ever tasted.
9. Try cultural excursions
The best thing about staying in a small fishing village is the connection to the local culture. And Jiquilillo offers more than enough amazing cultural excursions to immerse in local life.
You can take food excursions such as tortilla and cheese making or learning how to climb a coconut tree and crack your coconut.
10. Walk or run on the beach
Beach walks are amazing, but I'm here to tell you that Jiquilillo Beach is perfect for a barefoot beach run. It's long with just enough stiff shore to run on. And the ocean is right there for you, waiting for a dip afterwards (even though the showers are a bit cooler and more refreshing than the ocean).
How to get to Jiquilillo, Nicaragua
1. Bus from the south: Leon to Jiquilillo
Catch one bus from Leon to Chinandega that takes 45 minutes to 1,5 hours and costs 18-30 cordobas (0.5 – 0.8 USD)
Then another bus to Jiquilillo takes 1,5 to 2 hours and costs 25 cordobas (0.7 USD). Buses from Chinandega to Jiquilillo depart 5x a day – if you need to confirm the schedule, ask at Rancho Esperanza when booking your stay.
The bus driver can drop you off right in front of Rancho Esperanza. While a bus schedule exists, the buses leave when full anyway, which may be sooner or later than the schedule suggests.
2. Bus from the north: Potosi to Jiquilillo
Catch a bus from Potosi heading to Chinandega. Tell the driver you are heading to Jiquilillo, and he will drop you off at a junction. You catch another bus that will drive you straight to Rancho Esperanza.
3. Leon to Jiquilillo by rented car
The American surfers we shared the hostel with came from Leon in a rented car. They said it was a fun experience but also a bit stressful. Driving in Nicaragua has its challenges due to the traffic and different rules, but they don't use street names or numbers.
So when they asked for directions, it looked like this: "Drive three blocks to church, then turn right. After you reach a farm, turn left and continue until you see another farm where you go right."
It might not be a big deal if you have a good memory and understand Spanish, but we preferred taking a bus when the local does all the navigating.
We wanted to see a new place. A place which you cannot usually find reading travel blogs, lonely planet book or read a hostel's tours board.
So we looked at a map and picked a place we haven't heard about before. That's how we discovered beaches of Jiquilillo in Nicaragua, a quiet place where only locals live.
Tips for visiting Jiquilillo
It's impossible to get lost; everyone knows Rancho Esperanza and other accommodations, and locals are more than happy to give you directions if you get off at the wrong stop.
There is no internet or ATM (but hotels & hostels accept card payments with a surcharge). But when walking on the soft sand all day, you will forget these things exist.
Jiquilillo is hot and humid year-round:

the average temperature is 31C to 35C during the day, and 21C to 26C at night
the ocean has a constant temperature between 27C and 30C
the wettest month is October, but when we visited, it didn't rain once during our 4-day stay
Tips for visiting Rancho Esperanza
They offer accommodation in private or dorm-style huts, camping or hammocks starting at 8 USD/night.
The large communal area has hammocks, books, and tables for all-day dining
They offer food and drinks all day (lunch & dinners range from 3-5 USD)
Rancho Esperanza's founder Nate created volunteer programs & projects to help out the local community you can take part of
Read more from Central America:
---
Have you ever stayed in a place where you forgot about the outside world, like Jiquilillo in Nicaragua? I would love to hear in the comments below.
---
Spread the word! PIN this to your Pinterest board.