The main hub for mountaineers and outdoor enthusiasts in Peru, and possibly the whole of South America, is Huaraz, the biggest city in the Cordillera Blanca region. Place, where nature is the decision maker, this Peruvian outdoor heaven will push your limits to the sky.
Want to get out of your comfort zone and try different outdoor activities in one place?
Want to know which place in South America is an adventurers' paradise?
The answer is Huaraz, Peru! A city nestled between two mountain ranges and snow-covered peaks above 6,000 m, one of them Peru's highest mountain Huascarán at 6,768 m.
Want to know more about Huaraz? You're in the right place. Keep reading and learn everything you need to know about this breathtaking place in our adventure travel guide.
We've spent several weeks in Huaraz and very much enjoyed mountain biking, mountaineering, trekking, hiking in Huaraz and getting to know the Peruvian culture.
This blog post is your ultimate guide to Huaraz that includes a history of the city, the best time to visit, trekking and hiking in Huaraz (with info about high altitude), things to do in Huaraz, how to get there and lots of tips we gathered from our experience.
Visiting Peru soon? Read our adventure travel guide to Peru
*In the spirit of full disclosure: This post may contain affiliate links, which means that if you purchase through them, we receive a small commission at no extra cost to you. See more details here. We appreciate your support!
Where is Huaraz
Huaraz is the capital of the Ancash region with more than one million people, although the city only has a population of 130,000. Huaraz lies at an elevation of 3,052 m above sea level, and at this elevation, your body will be tested for altitude sickness resistance.
Huaraz is located in the upper part of Santa Valley (Callejón de Huaylas) between the Cordillera Blanca and the Cordillera Negra mountain ranges.
It's a city to set up a base camp when you come to the Peruvian mountains to expand your boundaries while trekking, mountaineering and mountain biking. While Huaraz, Peru, is popular among outdoor enthusiasts, it's still off the radar for most travellers who usually only visit the Cusco region.
If you're not up to high-adrenaline experiences, such as mountaineering, I recommend visiting Huaraz anyway. The city itself, which is very different from Cusco, offers lots of fun things to do, and our guide also includes the best hikes in Huaraz.
Is Huaraz safe to visit? The only danger we've encountered in Huaraz is the high altitude. Of course, you need to be cautious in big crowds for pick-pocketing, and always check with local agencies if the particular region or hike is safe to do when you visit.
Quick facts about the Huaraz region
Location: Ancash region in northern Peru
Elevation: 3,052 m
Population: 130,000
Climate: warm with year-long average temperatures ranging from 3°C to 23°C
Seasons: dry season/Andean summer is April to October, the rainy season is November to March
Language: Spanish and Quechua (English is spoken in travel agencies)
Main attractions: mountaineering & Huascarán National Park
Safety: the most dangerous is the high elevation; acclimatization is necessary before any activity
Ministry of the Environment issued a ban on single-use plastic objects entering Huascarán National Park to protect the nature
THE MOST INTERESTING FACT
The Cordillera Blanca is the closest glacial-covered tropical mountain range in the world to the equator
An important history of the Huaraz region
The valley where Huaraz lies is tested by the power of nature every year, with really catastrophic outcomes almost every 30 years. This region is a place where nature makes decisions.
The Ancash region of Peru has been inhabited since 10,000 BC. The first signs of the modern human population had been found in Guitarrero Cave north of Huaraz. On the eastern slopes of Cordillera Blanca is another well-preserved proof of the Pre-Inca settlement Chavín de Huantar.
The archaeological site was occupied around 1200 BC and is about 6 times older than the famous Machu Picchu. In recent history, this region became known for devastating natural disasters. Two main reasons that caused them were rain and earthquakes.
Earthquake in 1941
In 1941, the city of Huaraz was flushed down by a flood probably caused by a local earthquake. A big chunk of a glacier fell into Lake Palcacocha and caused bursting the dam and releasing a great amount of water, mud, and ice.
The debris stopped at the confluence of the creek and river Santa and dammed the Santa River for a few days before finally debris were flushed down.  The flood killed around 5,000 people.
Earthquake in 1962
Another disaster happened almost three decades later. In 1962, two scientists notified the government of a massive crack in the wall of Nevado Huascarán mountain that was undermined by a glacier.
Earthquake in 1970
On the last day of May 1970, a massive earthquake struck at Peruvian coast. Consequently, a cracked wall detached from the mountain, and an avalanche buried the town of Yungay with 20,000 people. The avalanche reached a speed of 300km/h when it rolled down the hills. And that wasn't all.
The same earthquake a few kilometres upstream in Huaraz destroyed almost every single house. Above mentioned Lake Palcacocha dam burst in seams yet again and killed around 20,000 people in Huaraz. Only 91 people reportedly survived. The total death toll was up to 70,000 Peruvians across the country.
Keep these events in mind when you question the architecture of city buildings. Peruvians have strong character carved by nature as now roughly 130,000 people live in Huaraz.
Seasons and weather in Huaraz
Huaraz is close to the equator, and travellers can expect warm and stable weather all year long. Santa Valley and the Cordillera Blanca have just two seasons – rainy and dry. Due to its proximity to the equator, daylight hours are constant all year round.
Dry season / Andean summer
The dry season in Huaraz is April to October, the warmest months being the same summer months as in the northern hemisphere – July and August with daily highs of 23°C. The sky is clearer during the Andean summer, and that means that nights get quite cold.
Often the temperature gets below zero, especially when you are trekking in the mountains. On certain treks, the temperature can fall down to -11°C. This time of the year is the busiest. Most tourists come here, especially mountaineers, who need the best and most stable weather possible for their climbs.
Rainy season in Huaraz
The rainy season in Huaraz and the Cordillera Blanca starts in November and peaks in March with the most rainfall. We visited Huaraz in January & February and were quite satisfied with the weather.
Daily highs get to 20°C, but most importantly, night temperatures only go down to about 7°C, which is an ideal temperature for trekking (you don't have to carry a heavy sleeping bag and wake up with frost on the tent).
During the rainy season, most mornings are almost completely clear, and it usually starts to rain between 3 and 4 in the afternoon. Be careful as the rain might be heavy, and you will get soaked. The region experiences high water levels and flash floods with intense rain.
Our experience in the rainy season
One of our mountain biking trips ended in the afternoon in one of the biggest storms we've experienced. The local villagers offered us shelter during the heaviest rain, but the rain was just getting stronger; mud formed a creek on the side of the road, so we rather quickly biked down to the city. We were totally soaked when we reached the sunny Huaraz.
There are two popular treks in the Cordillera Blanca: Santa Cruz Trek (50km) & Cordillera Huayhuash Trek (120km). Santa Cruz Trek can be done all year long, and we didn't have any rain during the trek in January. The other trek is closed in the rainy season due to the dangers of landslides.
So when is the best time to visit Huaraz?
Best time to visit Huaraz, Peru
Huaraz, as a base camp for high-altitude adventures, is best to visit as soon as possible. The number of visitors is increasing every year, and global warming is slowly decreasing the size of the glaciers.
As you can see above from detailing the dry and rainy seasons, your visit doesn't need to be limited to a particular time. Great outdoor adventures await all year round.
Come to Huaraz if you want to:
see true Peruvian culture
try activities in high altitudes and test your endurance
train your body for high altitude
avoid herds of tourists seen in Cusco
get great prices for the tours
Landscape and geography of Huaraz & Cordilleras
Mountains are the most important element that makes this region so popular. Huaraz and the valley are surrounded by two mountain ranges – the Cordillera Negra and the Cordillera Blanca.
There used to be one range before Santa River sliced them in two at deep and narrow Cañon del Pato. The Cordillera Negra traps the warmth from the ocean, so it can have ice and snow only from 5,000 m elevation.
Mountain ranges are rugged and without compromises. The effects of global warming can be seen with increasing flooding frequency and melting of the ice cap. Once a ski resort, the Pastoruri Glacier is slowly disappearing and significantly shrank in the last 30 years.
Huascarán National Park in the Cordillera Blanca
Huascaran National Park covers most of the Cordillera Blanca mountain range. This range is the tallest tropical mountain range on the planet and part of the continental divide in South America. National Park was named after the tallest mountain in Peru, Huascarán (6,768m).
Huascarán National Park has 35 peaks taller than 6,000m, more than 700 glaciers, and UNESCO added it to the World Heritage List. The national park is home to many unique species: Queen of the Andes (plant), Vicuna (type of lama) and Spectacled Bear are a few of them. The entrance fee to the national park is S/.30 (8 USD) a day or S/.150 (41 USD) for 4-30 days.
You can find many mountaineering routes for beginners, day hikes or multi-day treks in Huascaran National Park. For cross-country bikers, every single valley offers blood-sweating uphill climbs up to almost 5,000 m elevation and endless downhill rides, mainly on dirt roads.
History of Cordillera Blanca
Mountains are what people are coming here for and dying for. In 1932 Annie Peck climbed Huascarán Norte and made the altitude record in women's climbing, only to later find out that she miscalculated the height of the mountain and lost the record.
Under the southern Huascarán peak during the 1970 infamous earthquake, 15 unlucky climbers from Czechoslovakia were buried under an avalanche and have never been found.
I'm deeply saddened just writing this – in January 2019, our favourite mountain guide Dario died with other climbers while mountaineering Mateo Peak, the same mountain we climbed with him 2 years prior.
Cordillera Huayhuash
Part of the Andes range, 100 km south of Huaraz, is the Cordillera Huayhuash. This range is protected since 2002 as Cordillera Huayhuash Reserved Zone.
The Cordillera Huayhuash is also home to the second tallest peak in Peru, Yerupajá (6,635m). Just 20 years ago, locals were welcoming tourists with guns and robberies. The situation has largely improved, and now they understand that tourism can bring them an income.
They charge tourists for passing through their land. Mountains don't have deep valleys, and mountain passes are higher and more difficult than in Huascarán National Park. The popular 115 km Huayhuash trekking circuit goes around the main ridge.
Breathing and altitude sickness
Being at an elevation above 2,500 m will impact your daily activities. Don't be surprised by having breathing problems while lying on the bed and doing absolutely nothing. Allow a few days to adjust to the altitude of Huaraz before doing any activities.
One thing is taking it slowly as you "feel the altitude" and the other is not being able to do anything while having really big problems with a headache and nausea. Read about altitude sickness before you go into high elevation. Altitude kills tourists every year that didn't recognize their symptoms and didn't descend from the elevation.
When we visited Huaraz, we had a hard time breathing just walking down the street on the first day. And that was after we were adjusting to high altitude in Bogota, Colombia, for a week.
What helps locals and helped me as well was drinking gallons of coca tea. Just a note for the curious ones – although cocaine is also made from the coca plant, it has nothing to do with coca tea. Coca tea is made of dried leaves which you can buy anywhere in Huaraz, and tastes like any other herbal tea.
READ FOR INSPIRATION
30 Best outdoor movies and adventure documentaries
Interesting things about Huaraz & Cordillera Blanca
Is a mountain in the Cordillera Blanca you saw many times while watching movies and had no clue. It was the inspiration for the Paramount Pictures logo.
It's another famous mountain. It was voted the world's most beautiful mountain at a photography competition in Munich in 1966.
Llamas (in Spanish) are everywhere, especially in the valleys of the Cordillera. When you see lamas behind each other and hear them humming, let them have their intimate moment in privacy.
The trendy superfood and substitute for rice comes from Peru. You can get one kilo for a stunning S/.10 (less than 3 USD) in the market compared to Western prices of 15 USD or more per kilo. You can taste many Peruvian dishes made with quinoa in Huaraz.
Knowing the local language goes a long way. It is not a touristy place where people speak English everywhere. Peruvians in Huaraz speak Spanish and their native language Quechua.
This was quite surprising but most of the houses (and hotels) don't have heating and are cold at night. Each place we stayed had big and very thick blankets, so we were warm at night. Just getting out of bed in the morning is not very pleasant. The silver lining is that it makes you more resilient.
Huaraz has a lot of small outdoor clothing/equipment stores. Prices are similar to any other part of the world. If you forgot to bring something, you should be able to find it here. And if you don't want to buy some camping equipment, travel agencies can rent you.
Luckily we only have good experience with street dogs. We found that carrying some rocks in your pocket to protect yourself from street dog gangs is useful sometimes, especially when you go outside of the main streets. They are usually friendly, just looking for food and have respect, but once in a while, a brave "gang" member can charge you, and rocks are handy. Sweet or threatening talk doesn't always help.
How to get to Huaraz and travel around
Most people arrive in Huaraz by bus from two main directions. They either fly to Lima and take a bus directly to Huaraz, or they arrive from Ecuador via Trujillo by bus.
Flying from Lima to Huaraz
A small airport 15 min north of Huaraz is mainly used by private mining companies which have mines near Huaraz. However, LC Peru Air Company offers daily flights from Lima to Huaraz and back.
Bus from Lima to Huaraz
It takes around 8 hours, as long as the road conditions are optimal. After or during strong rain, loose rocks and small mudslides can block roads or slow down traffic on the way to mountainous parts of Peru. But in general, the highway is in very good condition and travelling by bus is comfortable.
There are several companies you can use to book your ride to Huaraz. We booked our tickets through Busbud, our favourite bus tickets search engine. Peruvian bus companies offer reasonable, reliable and quality bus services.
Because the government is behind building bus terminals, every bus company has its own bus terminal. There are approximately 6 reliable bus companies which can get you to Huaraz.
Most of the international travellers stay in the Miraflores district in Lima, where many of the hostels are, and it's considered one of the safest parts of the city. Bus terminals are spread out in Lima, so check carefully from which terminal the bus to Huaraz departs and how long it takes to get there.
Getting out of Huaraz, you will have to deal with the same problem as in Lima. Huaraz doesn't have a main bus terminal yet (there's one under construction). Before it is built, you have to check where your bus is leaving from.
Buses to Trujillo and Lima also leave in the mornings and late evenings. It's definitely worth booking your bus at least a day in advance as they tend to be booked out.
Bus options between Lima & Huaraz
Companies offer a great variety of options for reclining seats from 140°,160° to 180° full bed seats.
All buses leave in the morning between 9-12 am or late evening 9-11 pm. Prices vary significantly as night buses are more expensive compared to day buses. Also, price varies from S/.30-120 (10 – 40 USD) depending on the type of seat.
We recommend taking a day bus to see the change in landscape (and temperature!) from desert-like Lima to snow-peaked mountains of the Cordillera Blanca.
We travelled with Linea bus company and found the seats very comfortable and spacious. The bus has a toilet on board, movies are played on the screen, and it stops for a 30-minute break at a restaurant. The bus driver was professional, and I didn't worry once (which is the opposite of bus travel in Bolivia or India).
Arriving at Huaraz from Trujillo and Chimbote (Ecuador)
The same national transporters offer buses from Trujillo and Chimbote to Huaraz. Big bus companies take the route via Casma to avoid dangerous Cañon del Pato as their buses wouldn't get through one-lane tunnels.
This bus route takes around 8 hours. Buses from Trujillo depart in the mornings and evenings at similar times as from Lima. They offer similar services, and prices vary from S/.30-120 (9 – 40 USD).
To get to Huaraz from Chimbote, there is an option of using small local bus services, Yungay Express and Turismo Huaraz, which takes you to Huaraz through 35 tunnels in Cañon del Pato. You will have less space on the bus, and it also can be packed during rush hours, but the view is priceless. The price of the buses is S/.40 (12 USD). These small buses depart more often than long-distance buses.
Traveling within Huaraz & Santa Valley (Callejón de Huaylas)
In Huaraz, you can easily wave down any taxi or tuk-tuk. In fact, you will be annoyed at how many taxis pass by you, honking like crazy; streets around the main square Plaza de Armas are very loud. Most of the rides are within S/.5-10 (1.5 – 3 USD). You can also use small shared taxis S/.3-5 (1-1.5 USD).
Travelling around Huaraz is really easy. Every 10 to 15 minutes, a small van (colectivo) leaves many of its stops.  Don't be surprised if the driver fits another 4 or 5 people in the already full combi at the first stop.
Usually, the official price list is taped to the window inside the van. They can even take bikes, but you will have to pay for used seats for your bike. Rides are from S/.2 – 10 (0.6 – 3 USD), depending on the distance. The only small problem is finding the right stop, especially in Huaraz, as the stops are spread around the city center. The best thing you can do is ask locals.
Where to stay in Huaraz
Many locals in Huaraz use their homes as an income source, so a lot of accommodation in Huaraz is a Bed & Breakfast style. Most of them offer a private room and a private bathroom with Internet included in the price.
Whether you use a Bed & Breakfast, a hostel or a hotel, keep in mind that most buildings don't have heating. To stay warm, they provide you with thicker blankets. Huaraz has plenty of hotels and hostels to choose from. Smaller towns in the valley also have decent accommodation options. The great thing is that breakfast with morning coca tea is often included.
Food & drinks to try in Huaraz
guinea pig
ceviche
papas a la huanciana
coca tea
pisco
local beer
Quechuan cuisine is very delightful, but one food, in particular, makes you consider your pet preferences. Guinea pig or "cuy" is a traditional meal and might not be for everyone. But if you're up for it, give local cuisine a chance.
In restaurants for locals, there is much more than guinea pigs, such as ceviche or papas a la huanciana. Huaraz also has several breweries, so you can try their local artisan beer.
Coca tea is the most common drink here and helps to cope with the altitude. Once you feel ok, try their alcoholic drink Pisco, which is made of brandy with lime juice and egg white – it's much better than it sounds. Maya also enjoyed a daily dose of vitamin C in freshly squeezed orange juice, which is sold on the street.
Where to eat and drink in Huaraz
Restaurants dedicated to tourists are within walking distance of the main square – Plaza de Armas. Some offer local cuisine, many on the other hand offer international. Some places offer vegetarian options, but meat dishes are still prevalent.
For breakfast, visit stands on the streets which have buns with freshly made fried eggs and cheese for just S/.2 (0.6USD). Add fresh squeezed orange juice for S/.2 (0.6 USD), and you have a delicious, cheap and fulfilling local meal! For a bigger selection of local food, visit local Mercado Central.
You can get traditional continental breakfast in restaurants around Parque Periodista. We also came here a few times for lunch menus for S/.10 (3 USD). We tried different restaurants every time, and all of them offered similar tasty fulfilling portions.
Dinner options will fit within S/.30 (9 USD) per person. Some restaurants have a quarter of a grilled chicken with fries for S/.8 (2.5 USD). We went twice to Noarabuena Pollos de la Brasa for their delicious chicken with garlic aioli, fries, and warm apple juice. We definitely recommend visiting this restaurant frequented by locals.
Some well-known places to eat and drink are Trivo Resto Bar, Creperie Patrick, Cevicheria Al Punto, La Brasa Roja, 13 Buhos and Picolo.
Activities in Huaraz & why you should come
We came up with the name for Huaraz: 'Outdoor Capital of South America' for a reason. If you have enough energy and your body can cope with the altitude, you have countless options to:
hike to the bluest lake in the Peruvian Andes
walk some great treks with 5,000m high mountain passes
bike hundreds of kilometres of high-altitude dirt roads
try mountaineering and climb some snow-capped peaks
or for the ultra-experienced, climb the tallest mountain in Peru, Huascarán
Huaraz used to be a great place for skiing, but global warming is causing the melting of the Pastoruri Glacier and skiing on the glacier is not possible anymore.
Things to do in Huaraz
The possibilities are endless. I'm sharing our experience, but you can find many more activities once you visit Huaraz if this isn't enough:
biking
hiking
trekking
mountaineering
cultural experience
Biking in Huaraz
Single day rides
Almost every single lake in the Cordillera Blanca is accessible by dirt road. It is due to extensive irrigation and power plant system in the valley. Most of the lakes are at an elevation of 4,000m or more.
You can try to bike up, or you can hire a ride and go only downhill. To get down to the main valley, you can have one to two hours long bike rides. There are a few great rides; just ask a tour agency.
The best downhill (dirt road) is from Portachuelo de Llanganuco to Yungay village, with an elevation difference of more than 2,300m. Want to step up your adrenaline experience? Bike Cañon del Pato, one of the deadliest roads in the world. You can read about our bike ride through Canon del Pato here or watch the video below.
Prices for bike tours in Huaraz vary from 30-80 USD per day; daily prices for bike rentals are only between S/.30 – 70(10-30 USD), where the most expensive bikes have hydraulic brakes and front or full suspension.
Multi-day biking
You can go traversing along the Cordillera Blanca or cross the ridge and bike along the east side of the mountains. For the strongest ones, ride the Huascarán circuit in 5 to 10 days. You climb more than 5,000m of elevation and a distance from 170 to 230 km.
Cyclists who have done it consider this ride one of the best circuits in the world. Agencies in Huaraz offer many easier options to ride in the Peruvian Andes. The best time to go on multi-day bike rides is during the dry season; most of the trails are located at high elevations, dependent on the weather.
7 Best hikes in Huaraz, Peru
Hiking in Huaraz is the most popular activity and for a good reason. Once you get acclimatized, there are so many options to visit turquoise lagunas, see glaciers, remote villages, and the most beautiful mountains in the world!
All travellers are highly advised to acclimatize in Huaraz first and then do an acclimatizing hike to adjust to a bit higher altitude. That means taking it easy on the first day without any activities and, on the second day hiking to an elevation higher by at least 1,000 m and returning back down to Huaraz.
You can go hiking by yourself or with an organized tour. If you've never been to 4,500m elevation, we recommend at least the first hike with a guide. As you are not familiar with the symptoms of altitude sickness (high altitude), guides are there to help you and provide some relief with effective remedies.
Most of these hiking trails are a bit hard to get to, and therefore I highly recommend going with a tour and a guide. While there are many hikes in Huaraz that you can read a whole book about, these are the top 7 hikes I recommend:
1. Laguna 69
My favourite hike in Peru is Laguna 69; check out those insane colours and our guide here!
Distance: 14 km out & back
Time: 5-6 hours
Difficulty: moderate
Elevation gain: 608m, hike starting at 3,950m
Entrance fee: S/.30 a day for Huascaran National Park
After a day of acclimatizing in Huaraz, we were recommended hiking to Laguna 69 as the first acclimatizing hike. We chose to go through a travel agency and booked the day before. If you'd like to book online in advance, this tour is the highest-rated one.
We started our day with a 6:30 am pick-up and headed to Yungay, where we had breakfast at a small local bistro. After a short photo break at Llanganuco Lakes in Huascaran National Park, we started hiking at Cebollapampa.
The first part of the hike was quite easy and flat as the trail followed the river, and the highest mountain in Peru, Huasscaran, was right in front of us. Once the uphill switchbacks started, everyone slowed way down. This is where you really start to feel the high altitude.
Taking small steps and lots of breaks helped until we reached the final steep section. Then after the miserable climb, the most rewarding view welcomed us to Laguna 69. What a day to remember! Seeing Laguna 69 was worth every breath. Once you visit, you'll know why this is considered the best hike in Huaraz.
2. Pastoruri Glacier
What once was a skiing resort is now a rapidly disappearing glacier you can visit as a day trip from Huaraz.
Distance: 3.5 km out & back
Time: 1-2 hours
Difficulty: easy
Elevation: 155m
Entrance fee: S/.30 a day for Huascaran National Park
Pastoruri Glacier, or Nevado Pastoruri, has lost more than 30% of its ice mass in the last 30 years, and it's one of the most affected glaciers by global warming in South America.
On the Pastorurti Glacier Tour, you first visit the Lake of Severn Colours and its thermal pools. The next stop is amazing tall plants, Puya Raimondi, also called the Queen of the Andes.
The final stop is the trailhead for Pastoruri Glacier. Because the trail starts at 4,800m, you will likely be out of breath from the beginning. But luckily, it's only about 1.7 km one way to reach the glacier.
3. Laguna Paron
The largest lake in the Cordillera Blanca competes with its beauty with Laguna 69.
Distance: 1.9 km out & back
Time: 1-1.5 hours
Difficulty: moderate
Elevation: 130m
Entrance fee: S/.30 a day for Huascaran National Park
Laguna Paron is the easiest hike in Huaraz since there's very little hiking involved. The quick and steep 1 km trail takes you to a viewpoint of Laguna Paron. After enjoying the views, head down to the shore and rent a kayak or a boat to enjoy Laguna Paron from a different perspective.
4. Laguna Wilcacocha
A beautiful hike in the Cordillera Negra with views of Cordillera Blanca & Huaraz.
Distance: 6 km loop
Time: 3-4 hours
Difficulty: moderate
Elevation: 390m
Laguna Wilcacocha is an ideal acclimatization hike as you reach the maximum elevation of only 3,700m.  Unlike in the Cordillera Blanca, where you're mostly surrounded by glaciers, on your hike to Laguna Wilcacocha, you're surrounded by wildflowers.
The Cordillera Negra is drier, and the landscape is very different from the Cordillera Blanca, where most of these hikes are located. It's definitely worth it to see this side of the valley as well.
You can get to the trailhead with colectivo Route 10 or Route E, departing from the corner of Raymondi and Hualcan Street near Mercado Central. Tell the driver your bus stop, and after about 20 minutes, you arrive at the trailhead/dirt road.
5. Laguna 513
A stunning hike with two lakes in the Cordillera Blanca you can visit without a tour.
Distance: 15.5 km out & back
Time: 6 hours
Difficulty: moderate
Elevation: 865m
Take a colectivo to Carhuaz and then another one to Shonquilpampa to get to the trailhead for Laguna 513. While it might look confusing when you arrive at a closed gate, you need to climb over the wall to get to the trail. Even though this hike is not as popular as Laguna 69, you can clearly see the trail.
The hike starts easily with a flat section passing farms and following the Chucchun River. After about 5 km, you reach the first lake, Laguna Rajupaquinan. The emerald laguna with a huge rock wall and Hualcan Mountain behind is a stunning sight. If you'd like a refreshing dip, this is your chance, as it's a bit harder to get to the shore of Laguna 513.
Continuing up the rock wall, you arrive at Laguna 513 after about an hour. The beauty of the turquoise Laguna 513 is striking, with the glacier above and Hualcan Mountain at your fingertips.
6. Four Lagunas
A challenging hike where you see four gorgeous lakes.
Distance: 23.5 km loop
Time: 10-12 hours
Difficulty: difficult
Elevation: 1,580m
While you can do this hike independently, only do so if you're acclimatized and fit. It's a gruelling hiking day, but very rewarding.
Take the colectivo to Wilcahuain, and after a short road walk, you arrive at the sign for Laguna Radian. You start a steep ascend almost immediately and reach Laguna Radian after about 5.5 km. Continuing around Laguna Radian, the next lake is Laguna Mullaca, after a steep descent.
The most difficult point on the trail is ahead of you as you climb through Paso del Zorro at 4,980m. Down the pass, enjoy the views of Laguna Carhuac and hiking through a field of orange boulders. Keep descending until you reach the fourth lake, Laguna Ahuac. From here, it's 6 km down back to Wilcahuain.
7. Laguna Shallap
A very unique green lake in Huascaran National Park you can visit without a tour.
Distance: 24 km out & back
Time: 6-8 hours
Difficulty: moderate
Elevation: 670m
Entrance fee: S/.30 a day for Huascaran National Park
Take a colectivo to Pitec and follow signs for Quebrada Shallap & Nevado San Juan to reach the trailhead. While this is quite an off-the-beaten-path hike, the trail is easy to follow as you hike mostly along the river. You reach the shore of Laguna Shallap at 4,250m.
Multi-day trekking in Huaraz & Cordilleras
Being constantly surrounded by snow-capped peaks more than 6,000m high is a real treat.
The most popular treks in Huaraz are:
1. Santa Cruz Trek
The well-known Santa Cruz Trek is a medium-difficulty trek that can be done in 3 to 5 days. As this was the second trek that we'd ever done, we went with a guide. Our group also paid for a porter who cooked for us and donkeys who took our backpacks. The total price for this trek is between S/.300-330 (90-100USD).
It also can be done independently when you're experienced; however, by taking the tour, you're helping the local economy. You will hardly find a more affordable multi-day trek in South America.
2. Huayhuash Trek
Another great multi-day trek is a little further south in the Cordillera Huayhuash, about 150 km from Huaraz. This is difficult to extreme trek with a distance of 145 km. You have to cross 5 passes over 5,000 m, and it takes between 10 to 14 days.
Create your own hiking itinerary and consult it with local agencies. There are more hiking trails than just the most popular ones. With the prices for services in Huaraz, it's simple and affordable to do your own private arranged tour, especially for groups.
Huaraz tours
Keep in mind: Be aware of scammers because they are common in Huaraz. Don't buy any tour on the street without checking multiple agencies before and then booking a tour.
The Cordillera Blanca is one of the most easily accessible high mountains in the world. By car, you can get to 4,500m in an hour. Therefore many inexperienced people try activities that they would never try elsewhere. That doesn't mean they are fit for it, and many people die here every year because of a lack of experience and poor judgment.
Know your limits when you book a tour, especially a mountaineering tour. Not every guide has the skills and knowledge to keep you safe. Check guides' licensing with Casa de Guias and compare tour information if it fits your skill level. Many agencies also don't have insurance for rescue activities. Check your insurance policy, if it covers the activity you're planning to do. Most common insurance plans don't cover mountaineering or climbing. In this case, consider upgrading your policy.
Any hike, trek or mountaineering climb can be booked with a travel agency. Many agencies to choose from are in the Parque Periodista.
Mountaineering
Not your thing?
It wasn't for us either, especially with my fear of heights.
So how did I end up climbing? We had lunch a few times in a restaurant right next to the travel agency that offered mountaineering ascent for beginners. That idea quickly sparked a massive flame in Maya's head.
The next thing I knew, we were sitting on a bus at 4 am on the way to our first mountaineering experience. If you've never tried it and you don't have a fear of heights or are ready to conquer it, Cordillera Blanca is the right place to give it a try. We climbed Nevado Mateo, and it was a great experience!
There are a few options for beginners to get the first taste of what is like to climb an ice-covered peak with the rope, axe, and crampons. Many agencies offer mountaineering day tours for a reasonable price of around S/.280-370 (90-120 USD).
For experienced professionals, the possibilities here are endless. From few-day climbs to Alpamayo to week-long Huascarán expeditions. Prices are negotiable and greatly reasonable with local guides.
I highly recommend watching the thrilling documentary about mountaineering in the Cordillera Blanca – Touching the Void.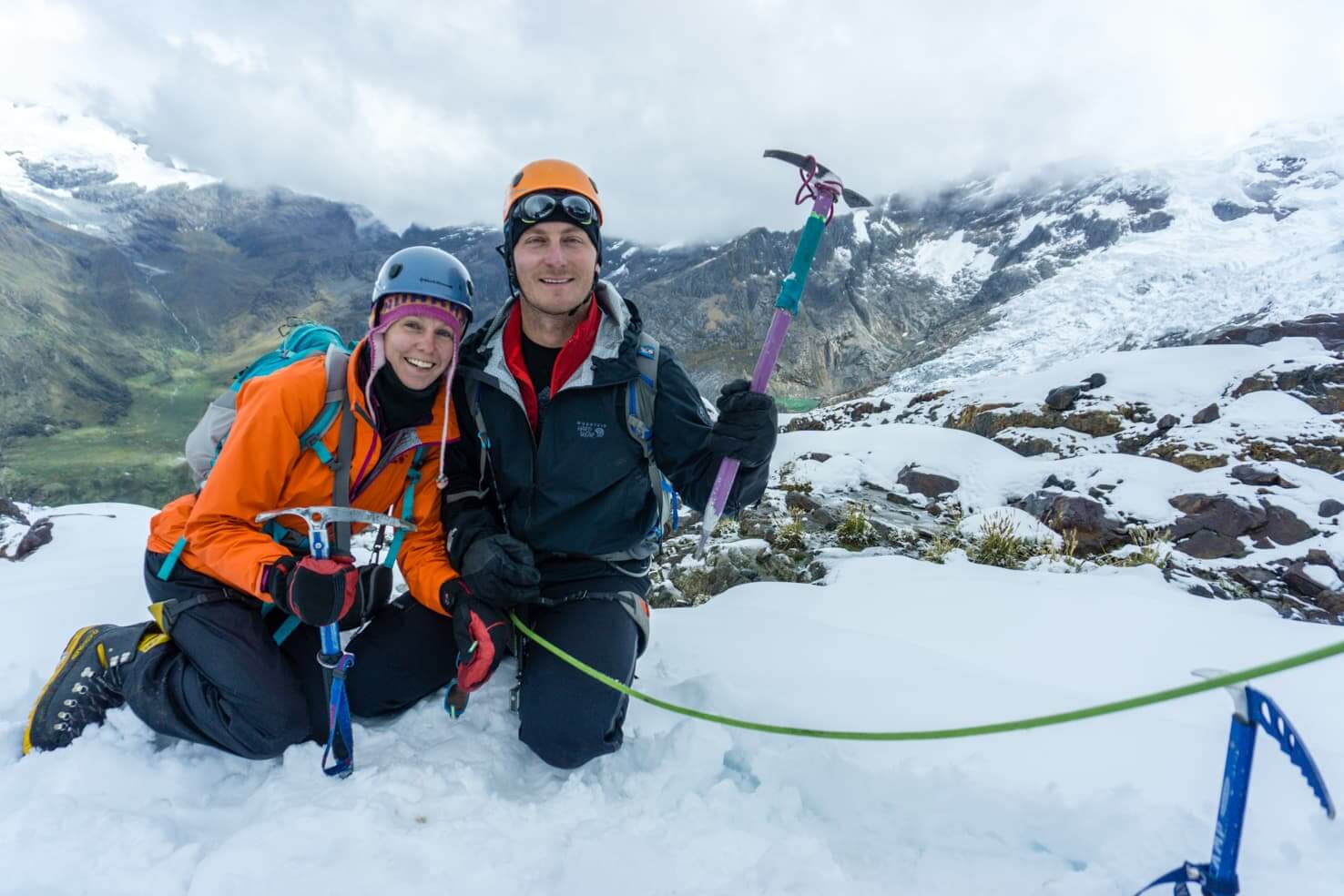 Climbing
Great rock climbing routes are in the Cordillera Negra, where temperatures are warmer such as Los Olivos and Hatun Machay. Other climbs include the walls of Monterrey, Torre de Paron or around Antacocha Lake. More importantly, a lot of routes are yet to be discovered.
Historical sites
Prehistoric ancient site Chavin de Huantar is only 3 hour's bus ride from Huaraz. The bus ride costs around S/.12 (4USD) and four daily bus lines will get you there. This UNESCO site was occupied 3000 AD by the Chavin people and offers a look into the city culture of this pre-Inca civilization.
Another really old site is Guitarrero Cave which was inhabited about 10000 AD, probably by ancestors of the Chavin people. The cave is located 2 km north of Shupluy, about an hour from Huaraz. Scientists found here old artifacts such as bones, textiles, seeds, and campfires.
A few minutes drive from Huaraz City are Ruinas Wilcahuaín, a well-preserved archeological site. The small house that reminds Chavin ruins. It was built around 600 AD.
Cultural experience
Wake up early and go observe people on the streets. Visit a local market in Huaraz. If you never had a chance to travel by colectivo, take a ride and enjoy the local experience. It's great to know some basic Spanish, so you can talk to locals about life in the Callejón de Huaylas.
On Sundays, you can visit the farmers market in Carhuaz. It's about an hour north of Huaraz. Colectivo costs only S/.5 (1.5 USD). You get an exceptional opportunity to make colourful pictures and vivid memories of Quechua culture. Locals come down from hilly slopes and sell the fruits of their labour. Bring home souvenirs from the market and help the local economy.
Day trips from Huaraz
How to spend a full day in Huaraz adventuring in the Andes?
You can hike to lakes, go mountaineering, visit local hot springs, and ancient sites, explore the culture of the Quechua people by visiting their markets or watch farmers working in the fields.
The most popular day trips are:
Hike to Laguna 69
Hike to Pastoruri Glacier
Mountaineering to Mateo Peak
Biking through Cañon del Pato
Visit the local market and walk the streets further from the main square to see how locals live in the Andes
Huaraz was destroyed by multiple natural disasters, so there are not many historical buildings to admire. Similar to other South American cities, the main square is called Plaza de Armas. It's surrounded by the Cathedral, Museum of Ancash Region and Artesanal market with local products.
During the day, you can buy a freshly made popsicle on the main square or take a picture with a lama and local Quechua ladies who frequent the square.
In the surrounding Cordillera Blanca mountains, you can go and relax in a couple of hot springs. Visit waterfall Maria Jiray or bike through the second-highest road tunnel in the world Punta Olimpica (4,736m).
Or maybe you want to cross River Santa on a cable car (you definitely need to have guts for it), look at the Cañon del Pato power plant or decommissioned open-pit gold Pierina Mine north from Huaraz.
I hope our Huaraz guide helps you plan the most epic trip to Peru and the beautiful Andes. Have a great trip!
---
Would like to visit Huaraz and Huascarán National Park?
---
Spread the word! PIN this to your Pinterest board.