Angel Falls is the most impressive waterfall we've ever seen.
Why?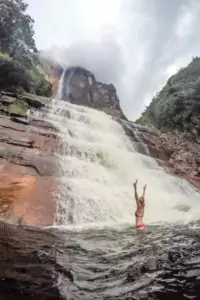 it is the tallest waterfall in the world
it's in the middle of the jungle
if you're lucky you can hear monkeys screaming
you can swim right underneath
it's not easily accessible so no crowds of tourists
no gift shops or restaurants around
Sounds too good to be true but that's how it really is.
But you know what else? It's not just about the falls. It is a full multi-day jungle experience we'll never forget. Keep reading and you'll find out what exactly it's about.
Visiting Angel Falls was our first experience in Venezuela. As we flew into Canaima national park, only 3 tourists and 2 pilots on board, I could already see why this place is very special.
Dense forest as far as I could see disturbed by copper-colour River Caroni with the strangest mountains spread around.
They are called table-top mountains or Tepui, which are very rare and unusual. Auyantepui Tepui is the source of the Angel Falls. And we were excited to see them, touch them, swim in them and absorb their beauty.
Visiting Angel Falls, Venezuela – the tallest waterfall in the world
We touched the ground on a small concrete strip in the jungle village Canaima. Few locals were selling souvenirs under the straw roof and our guide was already waving at us.
After a short walk on the orange dirt road, we arrived at our camp. It's a simple concrete building and has several rooms with beds and fans. We packed few essentials for spending a night in the jungle and headed out.
A small jeep style bus drove us to the river where our canoe was waiting for us. Ten people in a wooden canoe sailing against the river's current with 3 hours ahead of us. There were a few occasions where even the captain wished the engine or our strong paddler was more powerful. Rapids were strong and high and level of the river low.
Deeper in the Venezuelan jungle
We had to lighten the canoe and walked one part along the river while they took the canoe against the rapids. When we got back into the canoe, after a few minutes we smashed the bottom on the rocks and a big wave splashed across all of us.
That was definitely the best part of the ride. We didn't mind being soaking wet; the sun was so strong that our clothes dried within an hour.
When the river became calmer, we were handed our lunch – sandwiches and drinks. We knew we are close as we saw Angel Falls from the distance. After around 3 hours in a canoe, we were glad there is a little uphill hike involved to stretch our legs.
Being very careful is essential in the jungle. You never know where scorpions and other pain causing creatures are hiding. Half an hour later the famous Angel Falls were spraying on our faces. 979-meter waterfall! Can you believe it? Almost a kilometer tall waterfall in the middle of the jungle.
December is considered a dry season which was perfect – we were able to swim right underneath the waterfall.
Imagine it for a moment – you're floating on your back in a natural pool in the middle of Venezuelan jungle while staring almost 1 kilometer above to the world's tallest waterfall.
Needless to say, it was one of the best days of our lives!
When we walked back to the camp in dark, smiles didn't disappear from our faces for a long time. We slept in hammocks under the roof. There was no electricity, bathroom or running water and only a table for dinner which was prepared for us by our awesome guides. Sounds of the jungle and thoughts of the day didn't let us sleep.
As the jungle started to wake up in the morning, so did we. After breakfast, we hopped in the canoe and waved the Angel Falls goodbye.
Going with the current of the river, it only took us 2 hours to reach Canaima.
READ FOR INSPIRATION
30 Best outdoor movies and adventure documentaries
Even more waterfalls
And the 2nd day was just getting better. The afternoon was spent chasing even more waterfalls. There is a lagoon in Canaima surrounded by waterfalls. El Sapo was the biggest one, it made us think about how much bigger it could get in the rainy season.
Our canoe was jumping wildly on the big waves made by the waterfall. But our guide led us as close as possible to get sprayed by them. The hot day was getting more bearable when we got off the canoe and walked behind the waterfalls. We had so much fun I forgot to count all the waterfalls – I think there was 5 of them.
Another awesome day ended with local families who were enjoying the beach of the lagoon. We joined them for the sunset swim and kids enjoyed climbing on Michal who then threw them into the lagoon.
On our 3rd day, when waiting for our flight out of Canaima national park, we went for a stroll along the lagoon. What we found was another great surprise of the trip – colourful macaw parrots and a friendly toucan.
Parrot attack
A huge red macaw was walking on the tree and when Michal leaned closer to see him, the macaw just climbed onto him. After their little chat, Michal handed me his new friend.
The crazy parrot started poking on my hand so strongly that I had to throw him off and get a band-aid to stop the bleeding. Apparently Oli the macaw doesn't like women. Who knew? Obviously, we did not become friends.
I was shocked, shaking and crying. Have I just been attacked by a parrot? Of all the animals that could bite me or sting me in the jungle, this friendly looking macaw made holes on my hand that hurt for weeks.
But I didn't leave Canaima national park only feeling hurt by a parrot. Just as we were walking back to catch the plane, a toucan appeared in front of us. I was reluctant to get closer to him. A lady from a nearby hotel assured me that Tuki the toucan does not discriminate people based on their sex.
He climbed onto my hand; let me pet him while moving his head strangely to the side to look at me with his big brown eye.
When Tuki walked on the ground, he was bouncing with his feet towards Michal. It turned out that Tuki doesn't like the sound that flip flop make when you walk. He started to pick on Michal very softly which made us laugh so hard I still remember it as if it was yesterday. Did you know that even jungle animals have pet peeves? Didn't think so.
We boarded the plane and left Canaima national park full of wonderful memories. We have a lot to cherish throughout our lives.
WHERE DID WE GO NEXT?
Trek Mount Roraima, the oldest mountain on Earth
Crazy things about Angel Falls
Spectacular Angel Falls attract people from every corner of the world and you can find some really original ideas how to enjoy them:
Rappelling down the Angel Falls – our friend and tour guide from Slovakia was the first one who rappelled down the falls and lead the expedition. It's a long journey to hike to the top and then rappel down and looks absolutely amazing in my eyes. Watch the whole movie here
Slack lining above Angel Falls – Swiss slack-liners did the same as above, but they also put a rope above the falls and slack-lined across, almost 1 km above the ground! You can watch it here.
Angel Falls tour is one of the best things to do in Venezuela
Let me guess..now you want to see Angel Falls yourself and have an awesome jungle experience.
Good news! Here is all you need to know about visiting Angel Falls:
Where exactly is Angel Falls – the tallest waterfall in the world?
Angel Falls is in Canaima National Park, in the southeast part of Venezuela, in the state of Bolivar. The region is known as Gran Sabana and borders with Guyana and Brazil. It is the best adventure place in Venezuela. The trek to the famous Roraima Tepui also starts in this region.
And it looks like nothing you've seen before. More than 100 table-top mountains with endless waterfalls glamorizing the rugged jungle.
How to get to the Angel Falls?
By plane. There are no roads leading to the Canaima village from which you'll depart to Angel Falls. The easiest and cheapest way is to fly from Puerto Ordaz or Ciudad Bolivar to Canaima. You can bring a limited luggage because you'll be flying on a very small plane, usually for 4 passengers. We flew from Ciudad Bolivar and it took around 2 hours. Then another 3 hours on a canoe ad half an hour hike.
Where to buy the tour and how much does it cost?
Both Puerto Ordaz and Cuidad Bolivar have plenty tourist agencies, especially at the airports. Shop around and ask several of them what price they can offer you. Bargaining is common and will get you a better price. It is usually sold as a 3-day tour which is what we got.
You can buy flights and the tour separately but the more you'll buy from one agency, the cheaper it gets. It makes more sense to buy the tour as a package with flights.
You cannot visit Angel Falls on your own. From Canaima, only a guide can take you on a boat because it's a part of a protected reserve.
For a 3 day tour, we paid 200USD per person including flights, accommodation, 3 meals per day, transport and a guide.
More Angel Falls information
When to visit Angel Falls?
Angel Falls are spectacular any time of the year. Rainy season is between June and November when the flow of the waterfall is the strongest. We've visited in December during the dry season which allowed us to swim under the waterfalls.
But also the level of Carrao River, which leads to the waterfalls, was low and we walked a section along the river not to damage the canoe. Too far into the dry season won't allow the canoe to navigate the river.
You can still visit between January and April but wouldn't be able to reach the base of the waterfalls. You can purchase a fly over the Angel Falls in Canaima or when booking the tour, it's around 25 USD per person. I wish we'd known about this and brought enough money to buy a flight over.
What to bring?
Maximum luggage allowed on the plane is 10kg per person. We left most of our stuff in the hostel in Ciudad Bolivar and packed only some clothes, toiletries and swimming suit.
You want fast drying clothes, if the sun doesn't dry them, the humidity in the jungle won't help.
Our favourite essentials:
Long sleeve top for women – quick drying with sun protection
Long sleeve shirt for men – quick drying with sun protection
Shorts (for sitting and jungle hiking) – whichever you find are the most comfortable
Hat
Sunglasses
Running / trekking shoes
Sandals – for walking behind the waterfalls
Microfiber travel towel
Sunscreen
Bug spray
Water bottle with filter – so you can drink straight from the Angel Falls
and don't forget swimsuit and waterproof camera!
You need to take some local currency – bolivars. (Side note: you'll get used to the fact that most places in Venezuela are named after their liberator Simon Bolivar.) You can buy souvenirs along the lagoon or at the airport n Canaima. We bought few beers and snacks in town as well.
There is no ATM in Canaima and you shouldn't use ATMs in Venezuela at all. The ATM would exchange your money at an official and very low rate. You'll need to bring enough American dollars or Euros to Venezuela for everything you'll want to buy and exchange them on the black market.
It's not as bad as it sounds. Everywhere we went people exchanged their money on the street. Or just ask in your hostel or as in one of our occasions, in the bakery. The more you exchange, the better rate you'll get.
When we visited, the exchange rate for 1USD was 2000 bolivars, now (August 2017) it is 16000 bolivars. Fluctuation of Venezuela's currency is the highest in the world and changes daily. Sometimes it's cheaper to buy tours in bolivars and sometimes in dollars.
Is it safe to visit Venezuela right now?
That's not easy to answer. Yes and no. I wouldn't go to Caracas or to any major city because of all the protests against the Venezuelan government. But it's a huge country and you'll go to tourist places. Don't just read the news and think there are only bad things happening all over the country.
It's not as bad as it looks in the news. There are still tourists coming in and when common sense is your friend and you take some safety precautions, you should be fine.
If you're an experienced traveller, you know what I'm talking about. And if you consider yourself a newbie, write me a message and I'll get you in touch with an agency which will take care of everything for you.
We've met only lovely and friendly people during our time in Venezuela. I was more cautious in Guatemala which was the only place where we got robbed.
If you want to visit Venezuela, Canaima National Park is the safest place to be.
*In the spirit of full disclosure: Some links in this post are affiliate links, which means that if you purchase through them, we receive a small commission at no extra cost to you. We appreciate your support!
Read more adventures from South America:
---
Got questions about the stunning Angel Falls? Let us know in the comments.
---
Spread the word! PIN this to your Pinterest board.