During our trip to the Venezuelan jungle, we had the pleasure of visiting Wakahara village and meeting indigenous Warao people living in the Orinoco River Delta the traditional way. And we are bringing you a photo essay and a peek into their daily lives.
Together with our guide, we made our way from our jungle house in the Orinoco River Delta towards a tiny village to visit the indigenous tribe of Warao people. With the sounds and sights of the jungle, I felt like I was watching a movie.
Several toucans were flying above our heads, we saw blue and red macaws resting on the trees on one shore, and a squeaking group of monkeys on the other. If that wasn't enough, river dolphins were swimming almost along with our boat.
After a short ride, we were nearing the tiny Wakahara village to visit South American Indians, an indigenous tribe of Warao. The Warao people live mostly in South American countries in the northeastern part of Venezuela, Guyana, Suriname, and the Caribbean island of Trinidad and Tobago.
There are around 30,000 Waraos living along the Orinoco River, the third largest river in South America. The Warao people live on the Orinoco River Delta and form the second-largest tribe in Venezuela.
They speak the Warao language, so our Spanish was of no use. Our guide Clemente told us about their lives while we communicated with hand gestures and watched kids playing in the Orinoco River.
Life of Warao people
Waraos use dugout canoes curiaras as their only mode of transportation on the channels of the Orinoco River. The name Warao means in their indigenous language 'people of the canoe'. No wonder they learn to paddle sooner than they learn how to walk.
Warao people live in the thatched roof huts called Los Palafitos with no walls and sleep in hammocks. Huts are built on stilts due to daily changing water levels from one to two meters of the Delta. Several families live in each hut and since they only spend a few hours a day working in the fields, they have a lot of kids.
Warao people make beautiful baskets out of palm leaves. It takes several weeks from gathering leaves to a finished product and the whole family contributes their skills. When we arrived at their hut, women spread out their baskets and other handmade products.
Coming from Western culture, I was mesmerized not only by their handcrafts but also by their seating position. They're used to sitting on the wooden floor or wooden canoe all day and their joints seemed to be very flexible. Their intertwined legs would make a lot of aspiring yogis jealous.
Kids were running around us and were very curious. I don't know if we were more interested in them or they were more interested in us. Due to a worsening political situation, not many people visit Venezuela.
Waraos used to survive on fishing, hunting and collecting fruits from the jungle. Nowadays many of them work in the fields, kids go to school, and they have occasional access to electricity running through generators.
Waraos living in the modern world
While they seemed to be happy living with the little they had, our guide wasn't sugarcoating the truth.
Since the 60's when the Delta was dammed, the waters of Orinoco became too saline for river fish which had a huge impact on the lives of the Warao tribe. They were no longer self-sustaining due to a lack of fish to feed their families. The Warao tribe has one of the highest rates of malnutrition in Venezuela.
Most Warao people only use canoes, with few of them having motorboats and therefore any medical care is out of reach, even though they're used to paddling hours and hours to civilization for emergencies. For common illnesses, they're usually treated with herbs by their shaman.
Due to the oil and mining industry, the Orinoco River is very polluted. It doesn't provide them with food, but with the disease.
A small hope to improve their lives was tourism with travellers visiting camps built along the Orinoco River Delta. But due to a continuous unstable situation in Venezuela, people are afraid to visit. Michal and I were the only guests of one camp with several others totally empty.
"Help" for the Warao tribe
Our guide told us a funny story.
The former Venezuelan president Hugo Chavez was running an initiative to help all Venezuelans, including Warao Indians. In his efforts of helping, he gifted some Warao people washing machines to help them simplify their daily lives.
But since they have no running water, no access to washing soap and only a limited supply of electricity, they just use the washing machine as storage and continue to wash their clothes in the river.
As you can see in the picture below, the washing machine looks a bit out of place.
Waraos don't wear shoes. Their feet are wet, muddy or both living in the swamped forest. We saw that most of the kids were naked playing in the water. The interesting thing is, that the air and water of Orinoco Delta are the same temperatures. So you wouldn't be cold even if running around in soaked clothes.
Even small kids were incredibly skillful on the canoes. And I know it takes practise because when Michal and I tried the canoe, we almost tipped over but at least brought some laughs to kids.
When we were leaving their village, we've met several women returning from their daily jungle "hunt" of mono. It's a small fruit, the size of a lemon with a dark red peel, a big pit inside and orange coloured flesh they use to prepare juice.
Our guide exchanged with them a big ball of mono flesh for a bag of sugar which is expensive and hard to come by. We've tried the juice from the mono fruit and even though it tastes very sweet like a bit citrusy mango, I wasn't a big fan.
The next day we saw several Waraos passing by our camp and venturing into the jungle in search of food. Our guide invited us for a walk through the jungle and even had gumboots prepared for tourists. But I was still recovering from a very close encounter with a yellow python hanging over my head during our canoe ride on the Orinoco Delta.
It was a bit ironic looking at the shiny gumboots while Waraos were wading through the thick jungle mud almost knee-high bare feet. I bet thoughts of some hidden scorpions or snakes didn't even cross their minds.
And I did my best not to think about them either. I closed my eyes hanging in the hammock and let my mind drift away with the sounds of surrounding howling monkeys.
TIP
If you'd like to see an amazing movie about Warao Indians, watch Gone with the River – Lo Que Lleva el Río.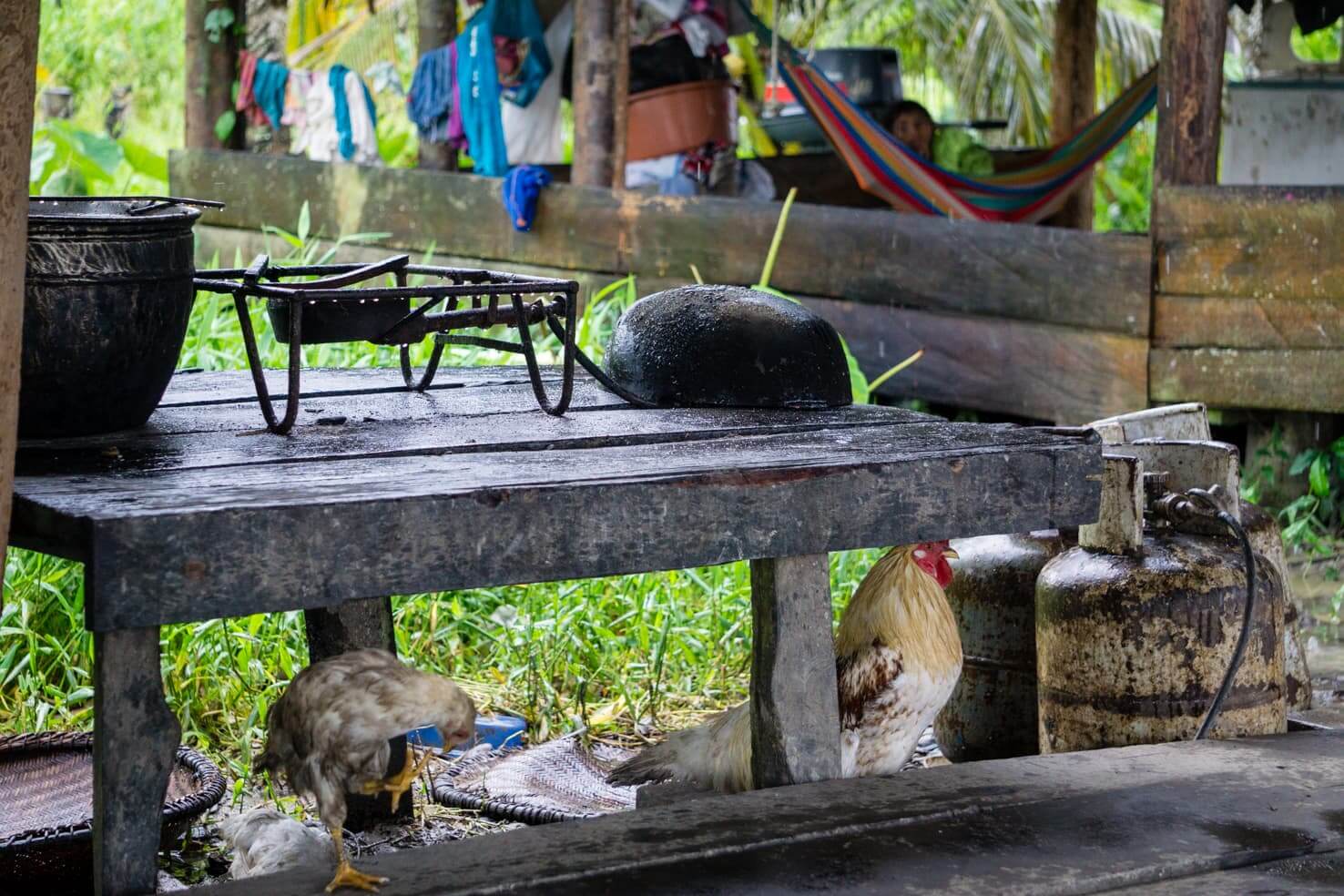 Read more about Venezuela
Can I put a tarantula on your head? My tarantula experience in Venezuela
Visit Angel Falls, Venezuela – the tallest waterfall in the world
Mount Roraima Trek: Guide to Venezuela's Lost World
---
Have you visited any indigenous tribe? Let us know something interesting you learnt about them.

---
Spread the word! PIN this to your Pinterest board.