People do crazy things when they travel. And we are no exception. But when you stumble upon something crazy and think of it as once in a lifetime opportunity, you just go and do it. That was exactly our approach when we found out we can try mountaineering for the first time in the Huascaran national park in Peru. We were going to climb Nevado Mateo at the altitude of 5150m.
Mountaineering is basically mountain climbing, not hiking up the mountain. You need special shoes, wear crampons, helmet and ice axe in snow conditions. It usually includes scrambling, rock or ice climbing, rappelling and crossing glaciers.
We have some experience with each of these activities so we thought, why not combine them and try something new?
It sure was a fun and exhausting day. This is our experience:
January and February are rainy season months. That means it usually rains in the afternoon. We had to start the day very early to get to the top of a mountain before noon and hope for the clear sky and a view.
We woke up at 3:30 am and met with our Peruvian mountaineering guide Dario, a guy from Chile and Netherlands who are joining our group at 4:00 am. We packed our gear, which we tried the day before – mountaineering shoes, crampons, harness, ice axe, helmet and another warm down jacket.
After the small breakfast and a ride from Huaraz 3050m to the start of the climb near Punta Olimpica Tunnel at 4740m, we already started to feel the high altitude. But we were too pumped up with adrenaline to worry about it. At 7 am, we arrived under Nevado Mateo which we were going to summit. We were offered to chew coca leaves to help fight the high altitude.  When dressed in our gear we began walking to the base of the mountain.
It was quite a cold morning with fresh snow around us. It started as a simple scramble on the snowy rocks up the steep wall. Our guide Dario tied Michal to him as he is scared of heights and was wondering if this was a good idea.
Partly sunny weather and temperatures above zero Celsius would make for a great climb if there wasn't the high altitude. We were all very slow, taking lots of breaks and supporting ourselves with the ice axe. Dario told us that making tiny steps and trying to breathe steadily is the best way to conquer Nevado Mateo.
We were half way up when it changed from slightly covered snowy rocks to ice and more than knee high snow. We reached the Mateo glacier. Dario tied us all with a rope and we put on the crampons. If the altitude problem wasn't enough, now we had to do really high steps to fight with the snow.
It started with a short steep ice wall to get onto the glacier and continued with snow slopes at around 40-50 degrees. It took the whole group 4,5 hours of climbing to get to the top of Nevada Mateo 5150m.
But once we got to the top..wow! Just wow! We've made it to the top of Nevada Mateo in Cordillera Blanca mountain range. From zombies trying to climb to the top, all of us suddenly changed to smiling newbie climbers.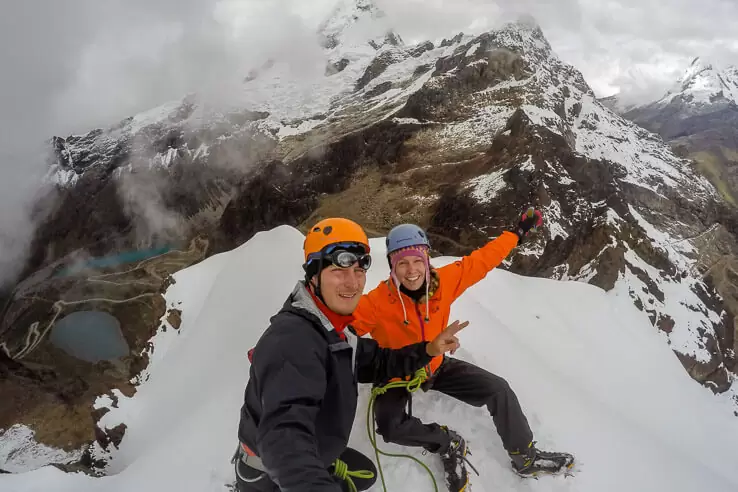 We've seen several glacier lakes, each has a different colour. Glaciers and snow peaked mountains were all around us with no other people or towns in sight. When the sky cleared up, we could see the highest mountain in Peru, Huascaran 6768m.
And even though I was sick for two days from the altitude, this was one of the best adventures I've experienced and would do it again in a heartbeat.
On the way down, when we were rappelling through one steep section, I couldn't believe what we've just done. It was an experience of the lifetime. We stayed true to one of my favourite quotes by Seth Godin: "If it scares you, it might be a good thing to try."
Tips for climbing Nevado Mateo 5150m
This is considered suitable for beginners, but it is challenging and you must be in good shape. Our group joined a 72 year old smoker after a knee surgery and he was still able to climb half way.
It is not very technical climb but the high altitude makes it a difficult one.
It is essential that you are acclimatised to the high altitude with day hikes around Huaraz.
Drinking coca tea or chewing coca leaves should help you fight the altitude.
Breakfast is a must – it's not a good idea to eat during climbing or climb on an empty stomach.
Good idea is to borrow a good down jacket, just in case. We didn't need it but were lucky with the weather.
If you have lousy beach sunglasses, borrow good once from the agency.
Sunglasses and sunscreen are both important. When the sun shines, the reflection from the snow can damage your eyes. All the equipment is in the price of the tour.
Shop around for an agency in Huaraz, they have different prices and usually offer the same service.
Don't try to breathe deeply, it won't work. Just breathe steadily while making short steps.
Tough it up! Once you are on top, you see it's worth the effort.
---
Would you like to try mountaineering? Or have you tried any crazy adventure activity? Let us know in the comments below.
---
Spread the word! PIN this to your Pinterest board.