Vancouver offers endless possibilities for outdoor activities. No wonder it's the #1 big city that foreigners and Canadians choose to live in.
The first time we visited Vancouver was in the spring, in May, few years back. We were coming from Calgary after a long and cold winter. Calgary was slowly waking up after the winter and everything was ugly brown. And we knew that Canadian winters are longer than what we were used to. I remember being surprised that the trees in Vancouver were in full blossom and the whole city was lush green. Winter in Vancouver was long gone.
Calgary and Vancouver are almost 1000 km away from each other. We were coming from the prairies to the coast. Of course, Vancouver has a different climate. It was a very pleasant shock.
Stoked for an ocean breeze and warmer weather, we brought our mountain bikes and a list of things to do in Vancouver.
How to spend 4 days in Vancouver outdoors
Stanley Park
First, largest and most popular park in Vancouver. It is located just outside the downtown, which makes it a great relaxing stop after the bustling city centre.
Our favourite part is the Seawall – 8,8km long pathway around the Stanley Park. We parked on the other side of the Lion's Gate Bridge, hopped on bikes and while biking across the bridge towards Stanley Park, enjoyed the view of the ocean.
People were walking their dogs, running, biking or rollerblading on the Seawall.
It can easily turn into a full day trip if you hike the trails (over 27 km forest trails), hang out on a beach or heated pool on the Second Beach.
We stopped several time while biking all around the park, watching seals and admiring the contrast between forest and the ocean view.
Don't miss out on visiting Stanley Park Totem Poles. British Columbia First Nations totem poles are the most visited place in all of British Columbia.
More info:
Park is open 24/7 all year round
You can drive into the park, parking is for a fee
Bicycles and tandem bikes are available for rent in the Stanley park
Lynn Canyon
Lynn Canyon Park was recommended to us for the Suspension Bridge by friends who used to live in Vancouver. Located in North Vancouver, it is a free alternative to the much pricier and more crowded Capilano Suspension Bridge.
We biked through the park for a few hours and ended with a little dip in the creek. Water was unbelievably cold – what a refresher for sore legs.
More info:
Park has several trails through the forest. Download a map here
If you are brave enough, try swimming in a 30 Foot pool. It's extremely cold even during summer. Which is not always a bad thing after a hike or bike ride.
Grouse Mountain
Popular for its skiing, our focus for Grouse Mountain was hike up the famous Grouse Grind hiking trail up the mountain. The Grouse Grind is a 2,9 km trail with elevation gain of 853m. It's very steep and challenging.
The official trail was closed but, lucky for us, locals offered a different alternative. We've met many hikers and runners on the trail. Calling ourselves runners, running a steep trail up the mountain is a different league. Hiking up in a brisk pace was challenging enough for us. We made it to the top in 49 min – not bad, record is 25 min. I used this garmin watches
to compare with others. You can find similar here
.
Once on the top, you can choose – mountain zipline, Lumberjack show, paragliding, helicopter tour or watching grizzly bear in a wildlife refuge.
 More info:
You can purchase a card with a chip. You swipe the card at the bottom, then on top and your time will be recorded and appear in the Chalet on top.
Wreck Beach & Jericho Beach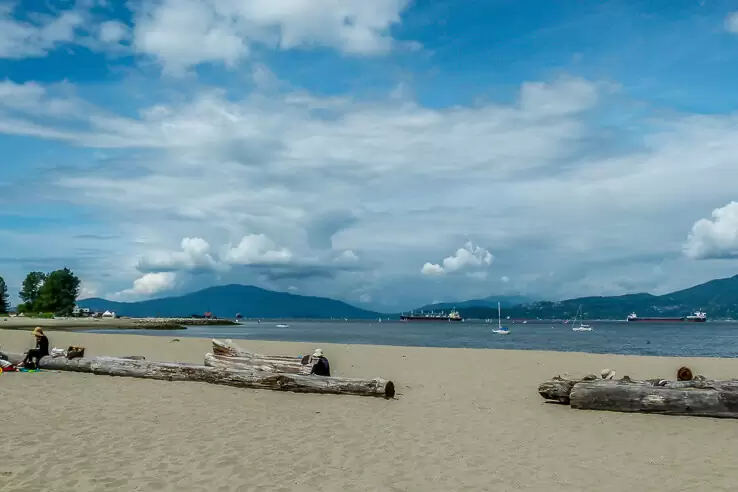 One thing we were looking forward to the most was running on the beach. After months of running on snow, this was a great stretch for the feet without squeezing them in running shoes. We ran barefoot!
I read about a long stretch of beach in Vancouver which would be awesome for running. Looking at a map, I've navigated Michal to Wreck Beach. Sign said: Clothing optional. Ok, let's see what's going on, we thought. Yes, it was a nudist beach. We took a short walk, met few smiling and nude people and returned to the car.
After a short drive, we found Jericho Beach. Bingo! Families enjoying the sun, seagulls above the head, view of the large ships and the ocean. Sunny weather, +23C and a light salty breeze.
We didn't even know how much we miss beach and the ocean until coming here.
More info:
Vancouver has over 20 beaches
Jericho Beach is one of the least crowded beaches and connects onwards to Spanish Banks Beach, which makes it a long run/walk
Lighthouse Park
Located at the shores of West Vancouver, it's one of the most scenic park. Walking through the rainforest among old Western Red Cedar and Douglas fir trees felt like arriving to a completely different part of the world.
Only a small park, but we hardly met any people. Network of hiking trails lead to the lighthouse on the shore. We had an evening picnic right next to it while looking on the islands and already dreaming of visiting them one day.
More info:
Lighthouse Park has 6 km trails – download a map here
Park receives a lot of rainfall all year round, therefore it is very humid
Some of the trees are over 500 years old
Popular spot for rock climbers
Cypress View Point
Visit of Vancouver would not be complete without a bird's eye view of the city. Nice view can offer Cypress View Point, it's on the second curve when driving to the Cypress Mountain. We had a glimpse of the city while taking the tramway down from Grouse Mountain.
More info:
The place to go for mountain biking. You can choose from more than 30 km trails – many cross country trails or more technical trails featuring natural challenges, such as logs or boulders.
If you have more time, choose one of the day trips from Vancouver and venture out of the city.
Are you continuing down to the US? Check out this West Coast itinerary
But having a little park to ourselves while enjoying the view of Stanley Park, the bay and several islands in the distance gave us enough time to reflect on our Vancouver trip. As we watched large ships sailing away from the harbor and out on the ocean, we said goodbye to Vancouver, and until next time…
Vancouver showed us how to enjoy outdoors while being in the city and we were thrilled to finally visit one of the most beautiful cities in Canada.
More posts from British Columbia
Golden is close to six national parks
Revelstoke is a year-round outdoor hub
Fernie is the best kept local secret for outdoor junkies
---
Have you been to Vancouver? Would you spend most of the days outdoors?
---
Spread the word! PIN this to your Pinterest board.