From the salt flat and its mirror reflections when the horizon disappears, to colourful lagoons filled with flamingos and snow peaked volcanoes above 5,000 meters high, you're going to be amazed during the Salar de Uyuni tour (also known as Salt Flats tour) in Bolivia. Without a doubt, it's one of the most beautiful places on the planet.
We were looking forward to seeing the salt flats ever since we've departed for our trip around the world. If you've seen pictures of the huge Bolivian salt flat thinking that must be amazing to see, I need to tell you something. It's freaking amazing and much better than you imagine it to be! As beautiful as the world's largest salt flat is, that is just the beginning of the surreal landscapes on the 3-day tour.
This article is detailing everything you need to know about the Salt Flats tour – where to start, how to choose the travel agency, cost and most importantly, what you'll see. I'm sure our pictures will speak for themselves and will convince you to visit Bolivian Salt Flats.
Salar de Uyuni / Salt Flats in Bolivia –what is it and why you should visit?
Salar de Uyuni is the world's largest salt flat spreading over 10,000 square km and containing more than 10 billion tones of salt. It contains more than 50% of world's lithium reserves which is being extracted and commonly used in all electronics. Even more interesting is that it's located at 3,656 meters above sea level in south-west Bolivia (not that far from the Atacama Desert in Chile, the driest place on Earth).
Why should you care?
Because during the 3 days on Salar de Uyuni tour, you can:
see the vastness of the enormous salt flat
try walking barefoot on theneedle-like salty surface (as I expected, it's not pleasant)
play with the perspective and create funny photos
see geysers and even snow(!)
lose a perspective of where the sky ends and the land covered with thin layer of water begins
see hundreds of flamingos
travel between snow peaked volcanoes more than 5,000 meters high
relax in a natural thermal pool
That's right, the tour is much more than just visiting the salt flat.
Best time to go to Salar de Uyuni
Our guide told that us they run Salar de Uyuni tours all year long. Best time depends on what you want to see. It was a coincidence that we've been there in March, during therainy season, which I think is the way to go.
Rainy season is from January to April and the salt flat is covered with a thin layer of water which causes the mirror-like reflections of the surface. During this time, some parts of the salt flat are deeper under the water and because the salty water destroys cars, the driver will only go through the edge of the salt flat (it's still a huge part).
If you walk the other direction of where the car is, you will see the horizon slowly disappearing and it will become fairly difficult to tell apart the sky and the surface of the salt flat, a truly unbelievable experience.
From May to November, most of the salt flat is dry and you can also visit the Incahuasi Island (cactus island). The itinerary of the tour is only slightly different during this time.
Where to start: La Paz to Salar de Uyuni
Travel agencies are in the town Uyuni and Tupiza and you can start wherever you like. We went from La Paz to Uyuni and started from there. If you're traveling from La Paz to Uyuni, there are 3 options:
by night bus – it takes 11 hours and you'll arrive in Uyuni at around 6 am, around 25 USD
by bus and train (during the day) – bus from La Paz to Oruro (4 hours), train from Oruro to Uyuni (7 hours), slightly cheaper than the night bus
by plane – 1 hour flight, prices start at 60 USD
Since there are not a lot of possibilities to travel by train in South America, we chose the train route. If you're not in a rush and taking a night bus, we highly recommend going by train and experience the local life while the train is passing lagoons, llamas,and flamingos.
Read our post for a more detailed overview of how to travel from La Paz to Uyuni by train + other options.
Choosing a Salar de Uyuni tour + options of the tour
Every tour agency in La Paz offers a Salar de Uyuni tour. We asked a few agencies for their prices and they are the same as travel agencies in Uyuni have. There is no need to pre-book the tour and you can choose an agency directly in Uyuni. The tour is also much more expensive if you book online in advance (usually double the price).
If you're arriving in Uyuni with night bus, you'll have plenty of time to find an agency for the tour, they are located on the same street and all leave at around 10-11am. The tour departs daily and it's very unlikely that travel agencies won't have space if you show up last minute.
We arrived in the evening by train and decided to spend an extra day in Uyuni as we weren't in a rush. There is not much to do there, it's a small dusty town on the edge of huge plains. Some people choose to go on a night tour to the Salt Flat for astrophotography.
When we asked in several agencies for the itinerary and costs, the verdict was that all agencies offer exactly the same route for almost the same price and they all use 4×4 car for 6 people + the driver.
At the end, we chose Salty Desert Aventours. The only difference was that they offered to visit the thermal pools at night when you can relax under the stars, unlike many other agencies who visit thermal pools in the morning.
Everything described here we've seen on a 3 day Salar de Uyuni tour.
There is also an option for a 1-day tour of the salt flat. You'll only see the salt flat and return back to Uyuni in the evening. If you're short on time, this is an option.
I believe that if you're coming this far in Bolivia, you deserve to see it all and should go on a 3-day tour.
Cost of Salar de Uyuni tour
The 3-day Salar de Uyuni tour costs 750 BOB (around 110 USD) per person. The price includes:
transport in a 4×4 Toyota
accommodation – 1st night at thesalt hostel. The building and everything you'll see inside is made of salt, even your bed! You can have a hot shower for a fee of 10 BOB. 2nd night was at a simple guest housewith thermal pools nearby.
all meals – they were delicious
Spanish speaking driver (guide)
If you want an English speaking driver, you would need to pay double the standard price. I don't think you need one, even though most drivers only speak Spanish, they are mostly drivers, not guides.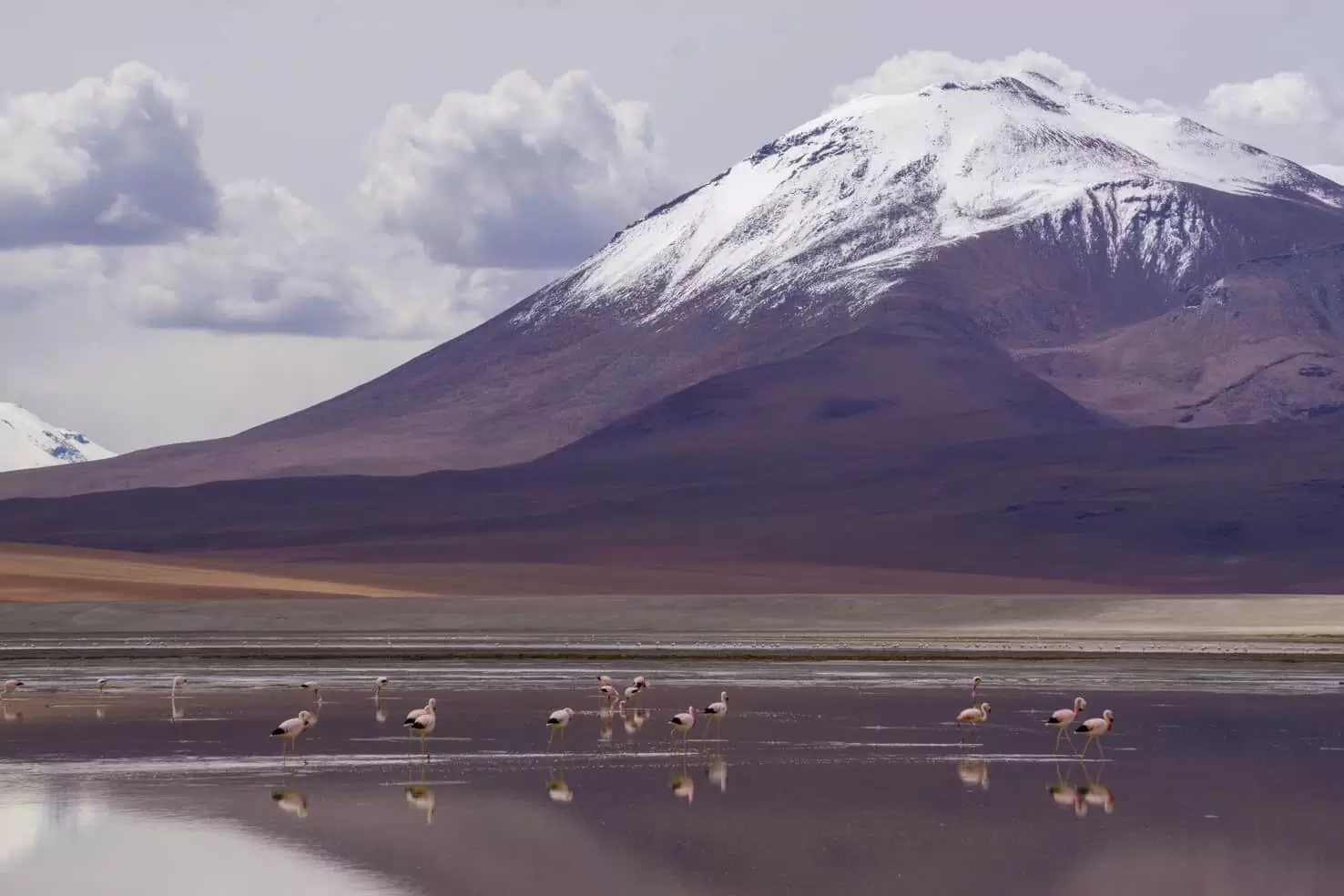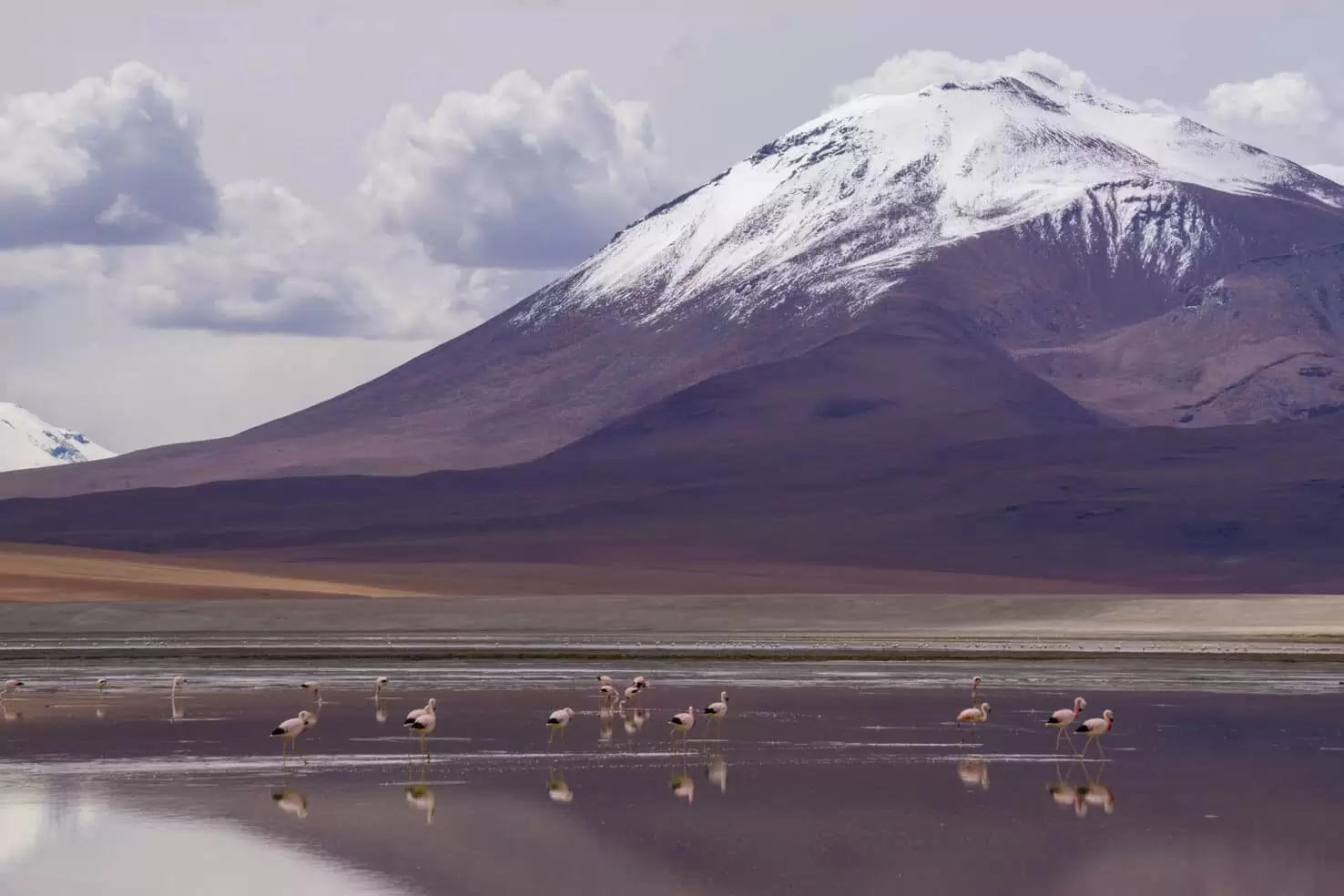 With basic Spanish, you will understand. Chances are that someone from your group can speak both languages and can translate for you. For more in-depth information about the salt flats, read before you go as drivers acting also as guides provide only basic info.
Tip: ask questions, a lot! Our guide was more than happy to answer and explain anything we asked.
Some agencies might have higher prices with a reasoning of abetter car or more experienced driver which is usually only a marketing trick. We researched closely around 5 agencies before we booked and they all offered exactly the same. We chose the agency that was honest about everything upfront.
Extras:
150 BOB (22 USD) for the national park you will visit (payable at the entrance)
6 BOB (1 USD) for the hot springs (if you want to go)
50 BOB (7 USD) if you would like to end the tour by going to San Pedro de Atacama in Chile
We paid 800 BOB (115 USD), our driver dropped us off at the Bolivia-Chile border from where another driver took us to San Pedro de Atacama.
You can also visit Salar de Uyuni tour starting from San Pedro de Atacama in Chile but it will be more expensive.
What to pack & other tips
Warm day clothes – as you will read below, you're going to need a few layers of clothing. You will be sweating in the t-shirt on the salt flat one day, and having a snow the next day
Warm night clothes – it's a desert and you'll be staying at high altitudes
Sunblock, sunglasses and hat – a classic combo for sunny weather, you can also burn your face at high altitude much faster than anywhere else
Water – it is provided with meals but you need to drink as much as possible to avoid a headache from the high altitude. We bought 2 gallon and always had water in the car.
Snacks – the meals are filling but I'm too hungry if I don't eat more than 3 times a day. There is a local shop in San Juan with snacks but it's quite overpriced.
Old shoes or flip-flops – you'll be walking on the extremely salty water. We used our old shoes which ended up completely covered in salt and threw them out after the trip.
Towel and swimming suit – hot or cold showers are in the salt hostel during the 1st night and you'll need towel for the thermal pools on the 2nd night
Headlamp – you won't find your way to the thermal pool without it, there is no lighting
Cash – for souvenirs, entrance to the thermal pool and national park
Camera – an obvious essential and don't forget extra batteries
What you will see on Salar de Uyuni 3 day tour
Salt Flat – Day 1
Car leaves from Uyuni at around 10:30 in the morning and the first stop is the Train Cemetery. Just outside of Uyuni is a junkyard of old trains. The funny part is, you can be a rebel and spray your own graffiti on it. We checked with locals in Uyuni and our guide, they all agreed it's ok since it's basically a waste. You will see many personal messages on the trains.
Tip: if you want the Train Cemetery without the crowds (all cars stop here in the beginning of the tour), you can go the night before. We watched a beautiful sunset from the train with nobody but locals racing on their motorbikes nearby.
Next stop is a village Colchani where many houses are built from salt bricks, you can buy souvenirs made of salt or some toys/props for your salt flat pictures.
Then, finally the SALT FLAT. It's so huge we felt we can go forever and see nothing else but the salt flat. We spent there several hours – having lunch, driving around, playing with perspective and taking way too many pictures, trying to walk bare feet on the salt (not very comfortable), visiting the salt museum and Dakar monument (Rally Dakar passes the salt flat in January every year).
1st night is spent at a salt hostel in San Juan. You sit on a salt chair at the salt table and sleep on a salt bed. How awesome is that!
From one extreme to another – Day 2
We drove through the giant desert with snow peaked volcanoes 5,000 meters high. The landscape was unreal and drivers deserve praises for navigating the desert with no roads and no signs.
Several lagoons along the way, all different colour, were full of flamingos. As we made our way to the geysers and mud pools, we reached the highest point of the trip 5,000 meters above sea level. Uyuni is only 3,700 meters above the sea and the big difference in altitude resulted in headaches for most of our group.
The biggest surprise of the trip was right here, it started snowing! We all enjoyed the change from the desert heat to the snowy hills and geysers, especially our Brazilian friends who experienced snow for the first time in their lives.
A long day ended by the lagoon where we stayed for the night and went to the natural thermal pool. Finding a trail to the pool with only a headlamp was a thrill, we were in a remote part of the world in the middle of the desert. The sky was clear, moon reflecting in the lagoon and we were just staring at the million stars above us.
The perfect ending to our Bolivian adventure.
Liberated from Salar de Uyuni altitude – Day 3
On our way to the Bolivia-Chile border, we passed several lagoons and waved Bolivia goodbye. We continued to San Pedro de Atacama in Chile with another driver and the rest of the group returned to Uyuni.
It only took about an hour to drive from 4,000m in Bolivia to 2,500m where San Pedro de Atacama lies. The relief in breathing was comforting. We spent more than 2 months at high altitudes but sometimes I still woke up with a headache or had problems breathing fully during the day.
We arrived in town before noon and were completely stunned by the high prices of accommodation and tours, especially when we came from budget-friendly Bolivia. Streets of San Pedro de Atacama were overflowing with backpackers, a complete opposite of silent Bolivian desert and freedom we felt during the past 2 days.
While the Atacama Desert is the driest place on Earth and the main reason people come to this part of Chile, we found out it has very similar landscapes to what we already saw in Bolivia.
Thanks to a girl from our hostel we learnt we don't have to wait until the prices of flight tickets drop. We can travel overnight to Santiago by a very comfortable bus with fully reclining seats. So the next day, we were on our way to Santiago and onwards to Puerto Montt, the start of the most scenic road in Chile and our Patagonian adventure.
What else to see in Bolivia?
Lake Titicaca – the highest navigable lake in the world and hike across the Island of the Sun in the middle of it
La Paz – the highest administrative capital in the world which is inhabited by indigenous Bolivians and if you're coming from western country, might also give you a cultural shock
Huayana Potosi (from La Paz) – we tried mountaineering in Peru, this is a Bolivian option suitable for beginners but we haven't tried it ourselves, only heard good things
Mountain biking (from La Paz) – agencies offer several downhill biking experiences
Amazon jungle – if you're on a budget, from what we've heard, going from Bolivia is a good option
We do not recommend biking down the famous Death Road if you're an experienced biker, here's why.
Traveling also to Chile? Check out these posts:
---
It was a highlight of our trip through South America. Would you like to visit the Bolivian Salt Flat? Let us know in the comments if you have any questions.

---
Spread the word! PIN this to your Pinterest board.