New Year is a time of reflection for me. I reflect on the previous year, what I've learnt, accomplished and in what areas I want to improve going forward.
I used to do this privately in my journal. Except for 2017, when I wrote a blog post 'Year 2016 in review – 50 things I'm thankful for'. Back then, Michal and I were at the beginning of our trip around the world. We were exposed to lots of new things every day and I had a lot to reflect on.
Then last year, I posted 'Around the world in 2018' summary. 2018 was a very busy traveling year, and I summarized our journey from New Zealand through Asia and Europe, and back to Canada with everything that happened – good & bad.
Now, I've decided to get back to writing a year in review post or rather a list of things I'm thankful for. As I enjoy reading these kinds of posts from others, I thought you might enjoy reading mine as well.
Hopefully, it will inspire you to do the same. I highly recommend writing it down so you can come back to it throughout the year to see how far you've come or if you need a little pick-me-up on a hard day.
You will see how your attitude towards daily mishaps changes when you realize how many good things happened to you in the last year.
*In the spirit of full disclosure: Some links in this post are affiliate links, which means that if you purchase through them, we receive a small commission at no extra costs to you. We appreciate your support!
Here are 20 things I'm most thankful for in 2019:
1| Books
I had a goal of reading at least 12 books in 2019, and coincidentally, that's exactly how many I've read. They are an infinite source of inspiration, wisdom and everyday advice. My top 3 I recommend have given me a very clear understanding of the most important things in business and personal life, and most of all, the tools for how to achieve my goals.
This book shaped my 2019. It concentrates on achieving one main goal for the year and explains how to handle all distractions and other responsibilities. Right after I returned it to the library, I bought a copy for Michal. I'm sure I will re-read it several times in the future.
If you consider your life to be busy, you need to read this book. It's about focusing on your priorities and not the distractions where the author explains how to protect your time and say no to the demands of those around you. The main takeaway is how to narrow down all your tasks and only focus on the essential.
A life-changing book if you adapt lessons from the book. It focuses on action instead of just positive thinking. The author explains in actionable steps and many real-life stories how to change your life through changing your mindset and attitude. If you ever said to yourself, "I can't", this book will change your outlook on that phrase.
My new list has 35 books. Let's see how long it will take me to finish them all. I've started a year with the book 'The monk who sold his Ferrari' about a life of an overworked lawyer and how his heart attack lead him to quit his former life and look for gurus in Indian Himalayas to search for happiness. Being only halfway through, I enjoy it very much.
2| Digital detox
I'm sure we've all heard the benefits of less screen time, especially when it comes to social media. They can be a wonderful source of inspiration and entertainment and also a source of self-doubt, jealousy and FOMO (fear of missing out).
To better concentrate on my goals and tasks I need to do, I'm staying off of all social media every Sunday. No matter how much inspiration Instagram and other platforms provide, there's nothing better than clearing your mind, focusing on your vision and starting a week relaxed and refreshed. No social media Sundays is one of the best habits I adopted in 2019.
3| Car camping
If you're following our blog long enough, you might have seen our car camping pictures from years ago with the simplest setup. In our Dodge Grand Caravan, we only had two front chairs, strapped our mountain bikes to them and using an inflatable mattress for sleeping. It was perfect for our needs.
Last year we upgraded when Michal came up with the idea of creating the most comfortable and multiuse setup. He built a bed that folds into a couch and even a small kitchen with sink and stove at the back of the car. It feels like 5* camping! The comfort of easily cooking your dinner, eating it on the couch and then sleep on a real mattress is priceless.
4| New business
After all the road trips we've done around the world and seen different campervans, Michal decided to build the most compact and small campervans for travelers in the Canadian Rockies. And so our new business Smile Campervans, was born.
We had a very successful season in 2019 and can't wait to welcome even more travelers in 2020.
5| Calgary's bike paths
With the focus on building Smile Campervans and this travel blog, we had a limited time in the mountains last year. I'm very thankful that Calgary, where we live, has an extensive network of bike paths for hundreds of kilometres around the city.
When I worked in an office at the beginning of the year, I was able to ride a bike to work on a bike path along the river. I saw deer almost every time. Such scenery almost made me forget that it took 45 minutes one way to work.
6| Stand-up paddleboarding
My long dream of having my stand up paddleboard came true. I became an ambassador for iRocker in May, just in time to take my SUP around the thawed out lakes in the Rockies.
Seeing the giant mountains around from a different perspective is amazing. We both enjoy stand up paddle boarding so much that we've even gotten certified in Advanced Flatwater Skills. We learnt a lot of different turns and tricks with the paddle. Now we're tempted to try it on the river as well.
Just writing about it makes me excited for the upcoming season.
If you haven't tried stand up paddle boarding yet, I highly recommend you do. You can leisurely paddle around a lake, stop in the middle and sunbath or pick up the pace and create a heart-pumping workout. I've tried doing yoga on the board, and it's a nice challenge for your balance.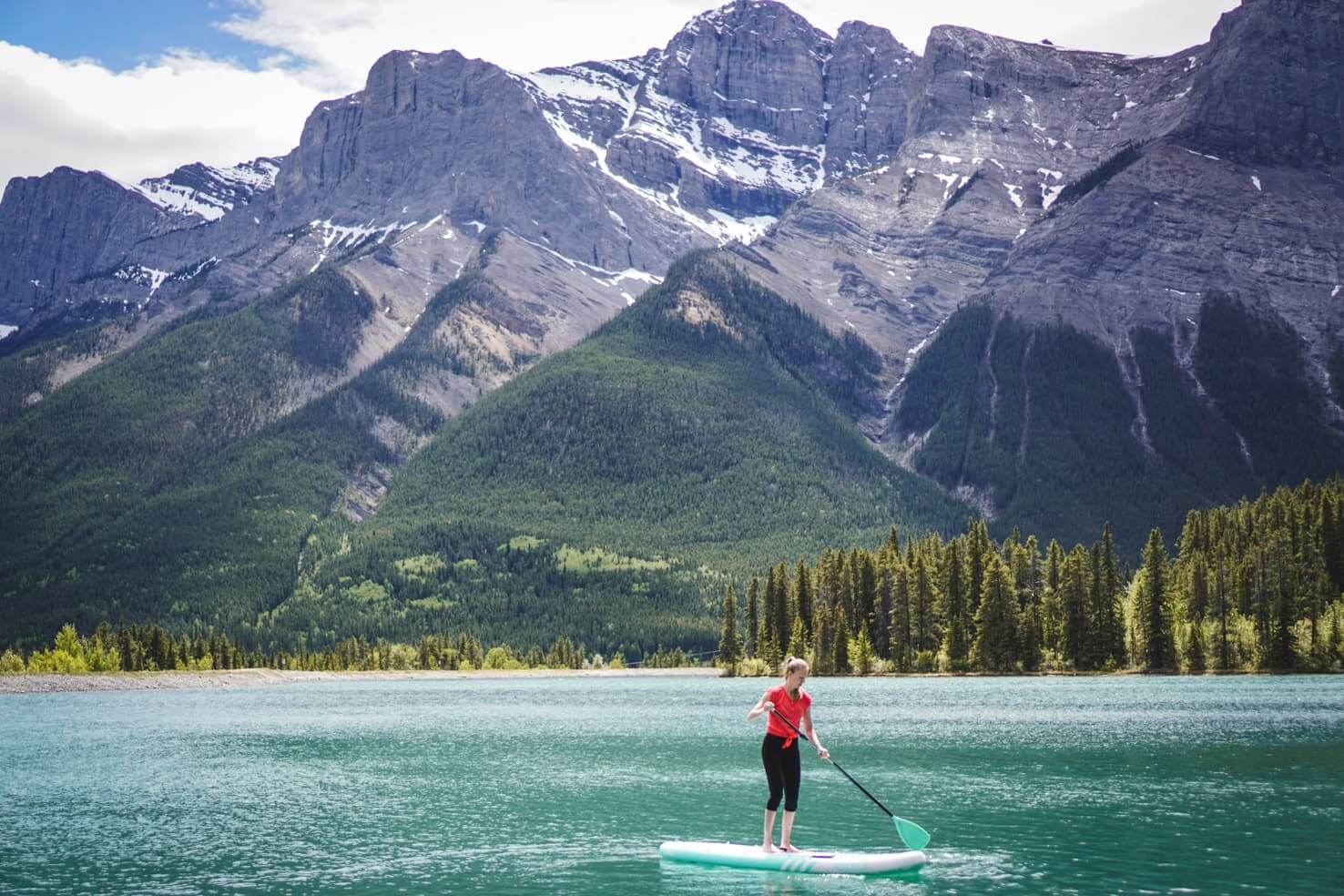 7| Canadian Rockies
Every time we're driving to the mountains, I'm so grateful we live here. The endless outdoor possibilities that Rockies offer are mind-blowing.
Apart from all the lakes for stand up paddleboarding, we explored new and very little known trails on a trail run, mountain biked new trails and reached new mountain tops, cross country skied in winter and skated on the mirror-like wild ice.
Next is fat biking – it's biking on the snow with wide mountain bike tires. I can't wait!
8| Creativity
Thanks to reading powerful books and my weekly social media detox, I've noticed my creativity increased. When no clutter occupies your mind, a lot of new ideas have space.
I've created:
And I have a long list of ideas I'm planning to accomplish in the near future.
9| Clear goals
Let's take the e-book as an example. The idea of creating an e-book was in my mind for quite a long time. But since I've never actually made a plan or scheduled the writing, it was still only an idea in my head.
Until I've read books mentioned in #1, I blocked the time in my calendar, created a schedule and started writing. With a clear goal in my mind and focusing on it, I finished the e-book in a few weeks.
This approach is what helped me finish many projects well before the deadline. I'm far from perfect and also a big procrastinator but doing my best.
Once again, at the end of the year, I've created a list of goals for 2020 and planned it carefully throughout the year with small steps on how to achieve them. I'm confident I will be successful in finishing all of them.
10| Podcasts
Spotify is my best friend on the phone. When going to the library or driving a car, I'm listening to podcasts about topics I care about. Annoying repetitive songs with endless commercials on the radio are no longer a pain in the butt. I stopped listening to the radio completely.
Instead, I tune in Side Hustle School by Chris Guillebeau, The Tim Ferriss Show by Tim Ferriss or Wild Ideas Worth Living by REI Co-op.
11| Journal
Journaling throughout the year is the best and easiest way to reflect back and see where you succeeded, what you accomplished and to keep track of all ideas. I used to write in my journal list of daily tasks to do and monthly goals to accomplish, without looking back on what worked and what didn't.
Thanks to keeping a record of my accomplishments and things that did not go well, I'm able to plan more efficiently in the future. And when having a bad day, it's always uplifting to read my previous accomplishments.
12| Blog campaigns
Travel with the Smile blog has four years. I wrote posts sporadically and found out a little late I'm focusing on wrong aspects of travel blogging when trying to grow. Since the beginning of last year, I shifted my focus and it showed.
I was able to work on several paid campaigns throughout the year, a lot of new doors opened up, and the income increased significantly. More and more readers found our posts very helpful when planning their trips and all the messages and emails I got are the sweetest rewards of my efforts.
13| Trail running & cold dips
Just as I set my goal for 2019 to focus on strength training and run longer distances, I'm happy to report I made it happen. Michal and I found several new hiking trails scarcely visited and great for trail running. The longest run was 21,1 km, which is a half marathon distance we ran from Canmore to Banff via Rundle Riverside Trail.
In case you're a trail runner heading to the Rockies, I will tell you our little secret, which includes an ice-cold dip at the end – Glacier Lake in Banff National Park.
14| Meditation
Meditation used to be a very irregular part of my mornings. Since I've read a book Bliss more by Light Watkins, it became my daily "bliss time".
He explains the meditation technique in the easiest way. You don't have to sit with your legs like a pretzel with your spine erected in the most uncomfortable way. You can sit on the couch and breath, that's it. It's a joyful and effortless practice that highly impacted my moods and stress levels.
15| Skateboarding
Ever since I've tried skateboarding on friend's board years ago, this activity fascinated me. It's not like many new sports I am usually able to learn very quickly. Skateboarding tests your balance skills and your patience.
And so I've finally bought used skateboard and went out whenever I didn't feel like going for a run. Spending a lot of time in the city last year made learning to skateboard even easier.
16| Proactivity
The proactive approach, instead of a reactive approach – that was the goal for 2019. A lot of times, it's hard. The natural reaction of humans to a negative situation is to blame others or circumstances. That is the reactive approach.
By looking at each mistake or a negative situation as a life lesson, you shift your focus and learn from it. That's it. No blaming. Learning and moving on.
17| Wild ice skating
I can't forget mentioning ice skating on the frozen lakes. Even though this season was shorter than the year before, I'm grateful we had a chance to skate on Lake Minnewanka in Banff National Park, the biggest wild ice hockey rink.
The experience is always surreal when the mountains around you reflect on the ice beneath your skates, and you keep on skating to what seems like infinity.
18| Michal
Michal and I have been together for almost 15 years. It will soon be more than half of my life. And every day I'm grateful for his smile, love and never-ending support.
Fun fact: we've got engaged at the end of the world – Puerto Williams in Chile more than two years ago. Let's see if we make it officially further 🙂 Maybe one day when we find meaning in having an official document.
19| Progress
Progress is what makes us keep going forward. Plans are nice and all, but unless we execute them and see progress, there's no motivation in continuing.
I see big progress in how our travel blog evolved in 2019 and that's what keeps me excited for more good things coming in 2020.
20| Experiences over stuff
Our life motto. As you can see from our blog posts, Instagram pictures, and if you know us personally also from experience, that is how we live. Spending very little on material things and instead investing in learning and new experiences.
That's the secret to growth and happy life.
---
I would love to hear from you, our readers. What are you most grateful for in 2019? Anything we share from the list?