I was looking forward to this day for several months. We were going to run famous New Zealand's hiking trail – 32 km long Routeburn Track. Even though we were excited about the alpine views, mountain ranges and glaciers, there was just one tiny issue. We've never covered such distance in one day before.
"Routeburn Track, the ultimate alpine adventure"
That's what New Zealand's Department of Conservation calls it. It is one of 9 Great Walks: "Premier tracks that pass through the diverse and spectacular scenery. From native forests, lakes, and rivers to rugged mountain peaks, deep gorges, and vast valleys."
The Routeburn Track is a one-way 32km long well-maintained trail with elevation gain around 1,400m passing through the mountains of Mount Aspiring and Fiordland National Parks.
Preparing for the Routeburn Track run(?)
Hiking the Routeburn Track was my plan ever since we came to New Zealand. When I asked in a trail running group on facebook about nice running trails in New Zealand, one guy suggested Routeburn Track. It has never crossed my mind before because of the distance but it made sense. We both love trail running. So why should we carry heavy backpacks and book huts months in advance when we can go for a 32km run and do it in one day?
I was excited to run the Routeburn Track but I knew I haven't trained enough to run such distance. Neither Michal nor me walked, hiked or ran this distance in one day before, let alone through the mountains. People usually hike the Routeburn Track in 2 or 3 days. Our plan was to run under 8 hours.
I was nervous, over the moon happy and we both were looking forward to the day ahead of us, neither of us really knew what to expect.
Routeburn Track profile from the Divide (Te Anau/Milford Sound) to Routeburn Shelter (Glenorchy/Queenstown)
Here are details from my Strava app if you're planning to hike or run the Routeburn Track.
Running the Routeburn Track
We started at the Divide, from Te Anau/Milford Sound side, at around 9:30 am. From the parking lot, the trail climbs slowly through the forest with occasional technical sections. To the highest point at Harris Saddle, we were going to ascend around 750m over 20 km and then down the valley.
The reason we chose to run from this side is simple. The climb up to Harris Saddle is longer and more technical, leaving easier descent to the finish. You know, when we'll be dragging our legs one at a time wishing to already see the end.
The Divide to Lake Mackenzie Hut
It couldn't have started better – fresh morning air and clear sky. I was taking it easy and ran slowly the slight uphill from the beginning. It was a smart move not to let the excitement overtake my legs and run like crazy, but rather save the energy for later. The shade formed by the humid forest gave us a much-needed relief from the sun as we were running up the trail.
The heat and humidity made my breathing slower and drops of sweat were coming down my back when we arrived at the waterfall. Drops of cold water sprinkled our bodies and we left just when the cold water was giving me goosebumps. This kind of surprises I like the most while trail running, a sudden beautiful view with refreshment.
Soon, the scenery changed from humid forest to a dry meadow. We passed a hut and the trail changed drastically. It was steep uphill on the rocks. Our pace decreased as we hiked up the rocks, our legs burning from the climb.
Lake Mackenzie Hut to Harris Saddle
When we arrived at Lake Mackenzie hut, the steepest part of the trail was ahead of us. We were hiking up the switchbacks above the lake, stopping at the streams to fill our bottles and catching a breath while admiring the views. The higher we got the more amazing views opened up. The lake's hues of blue and green were stunning; we've seen the valley from above and glaciers on a few mountain peaks.
Once we reached the top of this climb, it was my most favourite part of the Routeburn Track. We traversed on the side of the mountain and I was having a hard time focusing on the trail since there were so many mountain views around.
I never wanted the run to end. And you know what they say – be careful what you wish for, it might just come true (as I was about to find out).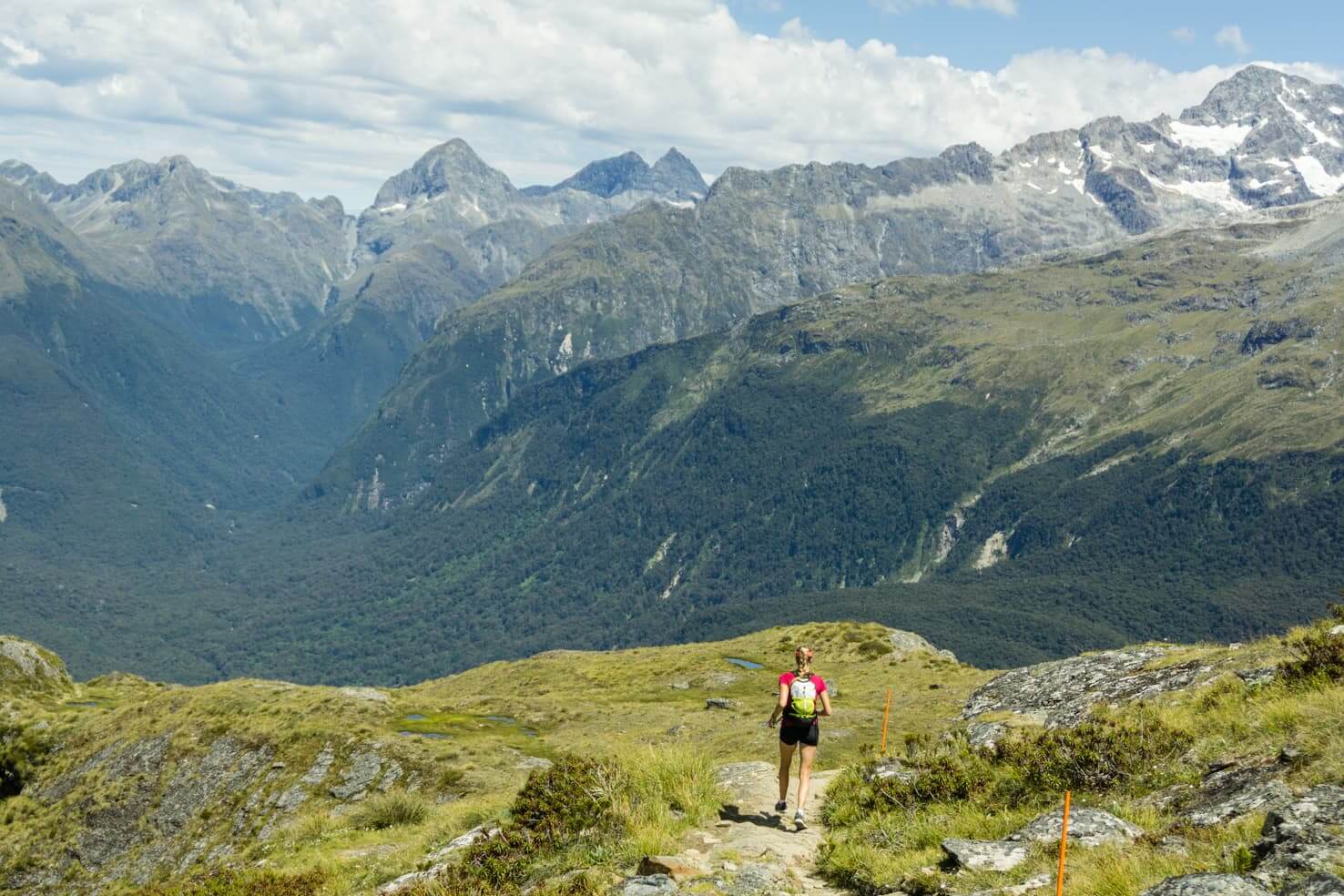 Luckily the trail is maintained, well-trodden and marked. We didn't have to stop once to look for directions. Despite running the Routeburn Track during the high season (in January), we've met very few people along the way.
When we had reached the Harris Saddle, the highest point of the Routeburn Track at 1,255m, we found two shelters and about 20 hikers taking a break. We joined them for a quick lunch break and continued our run to another valley.
Harris Saddle to Routeburn Falls Hut
Running down seemed easier and faster, but my knees were getting sore really fast. Even though Lake Harris was perfect for a quick dip, and few people did so, we ran past it as we still had around 10km to go.
We were running in the valley along a small river and mountains were rising all around us. Another beautiful waterfall was right next to the Routeburn Falls Hut. We had a quick toilet break at the hut chatting with few hikers.
I won't forget one lady's reaction we I told her I'm running the track in one day. She said, smiling and looking for an explanation on my face, that it is crazy and that I'm crazy as well. I replied that I probably am. She wished me good luck and we parted ways.
Routeburn Falls Hut to Routeburn Shelter
This was rather flat and endless section. Just a few hours prior I never wanted the run to end. And it came true, at least that's how I felt. My legs were tired, knees screaming, the whole body overheated and I kept running even though my smile disappeared.
Random streams were used to its full potential, for filling up our bottles and refreshing our bodies. We were running through a forest again with no views around to ease the pain. And just as we were debating whose idea was this and how the hell we're going to finish, a small but significant miracle happened.
A river formed pool appeared inviting us to restore our worn up bodies. We stripped our clothes to the underwear and jumped to the crystal blue river, all within a few seconds. It was ice cold, just like lakes in the Canadian Rockies we're used to. We stayed until the moment our toes and fingers were getting numb.
The run became much more enjoyable and I stopped looking for the end after every turn. I knew we were close.
We crossed a swing bridge and saw the parking lot at the Routeburn Shelter. I had happiness goosebumps. We've made it! We ran the Routeburn Track, survived and enjoyed our trail running alpine adventure.
Final thoughts
It was our biggest trail running accomplishment to this date. Although it was challenging, it was worth it to go for a one day run through the mountains. And as you could see, the views didn't disappoint either. We pushed our limits yet again and are already planning an adventure trail run in the near future.
It's worth to go if you head to New Zealand. Running or hiking, doesn't matter, the views will blow your mind!
Tips for running the Routeburn Track
Weather
That is always a tricky subject in the mountains. Check the forecast before you go and if you can, wait out the weather. Just two days before our run, when my mom was hiking with a friend, it was pouring rain all day long and missed out on the views. We were lucky with the weather as we didn't have time to go another day.
There were a few slippery sections in the forest but otherwise, it was quite dry. Most of the trail is exposed, especially in the higher elevation; therefore having a good weather can make or break your day.
Fuel for the trail run
Each of us had an energy bar, some cookies, dry apples and salty crackers. It was enough to fuel for an 8 hour day in the mountains. We also carried a LifeStraw water filter bottle and filled up from any stream along the way (there are many). We didn't want to take any risks of getting sick from the water, as it happened to Michal in Patagonia where he got beaver fever, you can read about it here.
Our running gear

We both ran in shorts and shirts since it was a very hot day and we were also carrying a dry set of clothes in case of rainy weather so we can change once we finish (we had to wait for my mom and her friend to arrive and pick us up).
Maya's running gear
T-shirt – I'm convinced that this shirt from Icebreaker is the best shirt ever for any outdoor activity. It's soft, warms you in cold weather and is still breathable and sweat-wicking in hot weather.
Shoes – my new favourite shoes are these trail running shoes from Adidas, they are lightweight, have good support on the rocky terrain and their grip never failed me. They would be ideal for cooler (rainy) conditions since they're waterproof with Goretex and don't breathe, but that didn't bother me at all.
Running backpack – I got a Kathmandu running backpack for Christmas and finally had a chance to test it out properly on Routeburn. And I love it! It can hold a lot of gear, has a lot of small pockets and fits around the body perfectly.
Michal's running gear
Hat – essential gear on a hot day. I think any hat would do the job, Michal's favourite is from Oakley
Shirt & shorts – basic sweat-wicking clothes. His preference is loose-fit and quick-dry shirt (unlike my merino shirt).
Shoes – Salomon trail running shoes have a good grip and are very comfortable on any terrain.
Backpack – Kathmandu pack which is meant for hiking but fits close to the body when you need to carry more stuff.
And of course – Strava app on the phone to keep track of the km and also using GPS to see where we are.
Car relocation
Routeburn Track is only 32 km long but the road distance from one end of the track to the other is 325km. You can either make a deal with friends who will hike one direction while you will drive and then you'll hike the opposite direction or you can use shuttle or relocation services. They will drop you off at the beginning of the track and pick you up when you finish or relocate your car to the other side of the track. Check the Routeburn Track brochure for options.
Our solution – my mom and her friend hiked the Routeburn Track (from Glenorchy to Te Anau) while we drove and we picked them up at the end two days later. We went to see the Milford Sound and camped near the beginning of the track. They dropped us off in the morning, drove back and picked us up in the afternoon from the Glenorchy side.
Camping
Before the run – the nearest hostels and hotels to the beginning of the trailhead at the Divide are in Te Anau, and there are a few basic DOC campsites between Te Anau and Milford Sound. We've stayed at the Cascade Creek Campsite (13$/person) which is the closest one to the start of the trailhead at the Divide, and also very close to Milford Sound.
After the run – Mrs. Woolly's Campground, one of the best campgrounds we've stayed at in New Zealand. It is a sustainable place running on net zero energy, have all the amenities you might need and best of all, the campground is surrounded by mountains. Morning glacier view was all I needed after a tough running day.
---
What do you think? Would you go for a run or hike? Either way, enjoy the great outdoors!
---
Spread the word! PIN this to your Pinterest board.


Disclosure: Some of the links in this post are "affiliate links." This means if you click on the link and make a purchase, we will receive an affiliate commission, at no extra cost to you. We only recommend products and services we personally use and believe they will add value to our readers.