Sparkle Sparkle is a festive indoor event at Telus Spark Science Centre with lots of light installations, Santa, Christmas movies, and activities.
We've loved visiting Telus Spark Science Centre since our son was a baby. The Creative Kids Museum provides many fun activities for babies, toddlers, and older kids. It's our go-to place to have fun indoors and at their outdoor playground. Sparkle Sparkle is a fun event during winter in Calgary.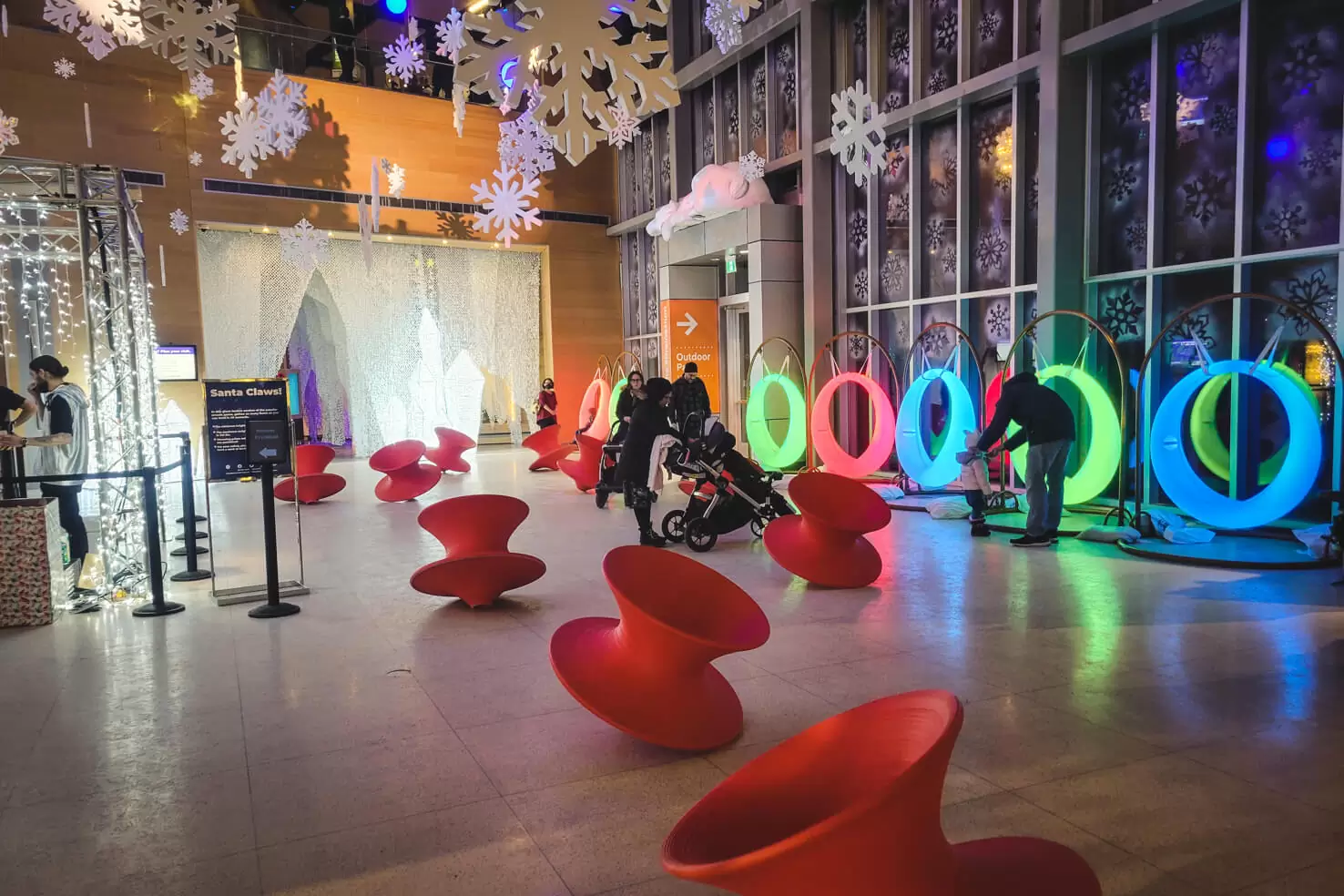 In winter, the Sparkle Sparkle event lights up the entire building and fills it with a festive mood. While the science centre is usually opened till 5 pm, December is a special month when it's open till 9 pm to see all the lights when it's dark outside.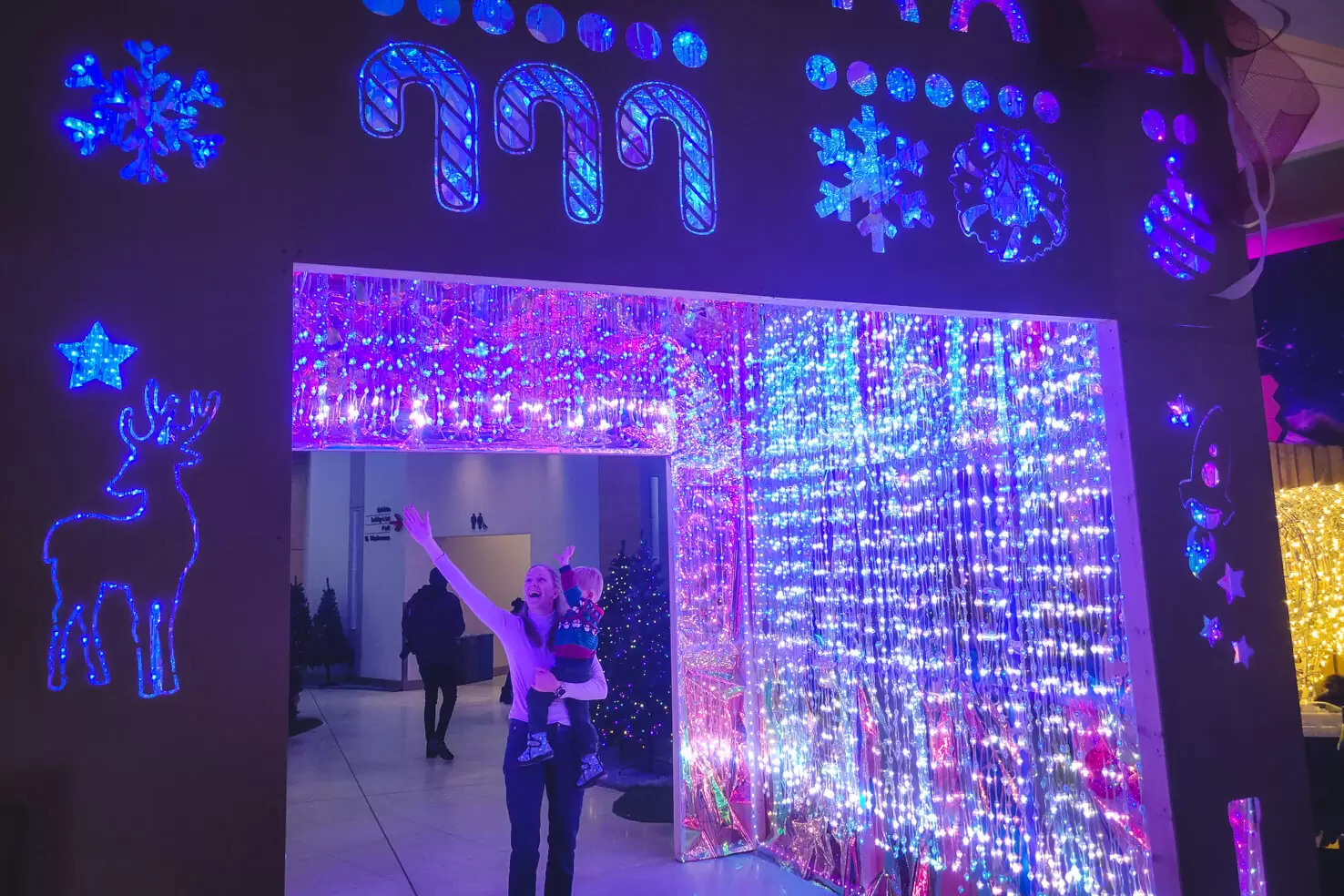 Here's everything you need to know about the Sparkle Sparkle event at Telus Spark Science Centre.
Info about Sparkle Sparkle at Telus Spark Science Centre
Dates: December 1 – January 2, 2023
Location: Telus Spark Science Centre, 220 Saint George's Drive NE, Calgary, Map
Time: from 5 pm to 9 pm for holiday activations; Dec 31, Jan 1 & 2 from 9 am to 5 pm
Contact: Telus Spark Science Center, (403) 817-6800, [email protected]
Admission:

26 CAD/adult
19 CAD ages 3-17
2 & under are free
Free for members (membership is 76 CAD/adult & 55 CAD for ages 3-17)
Free parking after 5 pm (or 7 CAD/day)
Click here to buy tickets
What I love about Sparkle Sparkle
Festive lights
All the lights around the science centre make you feel so festive and magical. Everywhere you look, there are different light installations. You can walk through a tunnel with changing flashing light strings, swing in big colourful circle swings, enjoy your drink looking at a giant fireplace, surrounded by lit-up Christmas trees, and more.


Drinks
They truly thought of everyone visiting with their menu. Adults can have festive cocktails, Abominable Snowman Mocha or a peppermint latté, and kids can get a delicious hot chocolate or a soft drink in a flashing ball cup.
Visiting Santa
You can visit Santa in his workshop with the elves and crack open a geode.
Dome show
At 6 pm, 7 pm and 8 pm, you can watch 'The Alien Who Stole Christmas' in the Infinity Dome – the largest 360-degree theatre in Calgary.
Spark store
The gift shop has lots of cool stuff for kids and adults alike. Members also get a discount.
Spark eatery
We love getting a warm pretzel in the eatery, but during Sparkle Sparkle, you can try their special – honey ham, creamy mashed potatoes and a spinach mandarin salad.
Tips about Telus Spark Science Centre
The science centre is open from 9 am but the holiday activities start at 5 pm. If you visit before 5 pm, check out the Creative Kids Museum, an Infinity Dome (featuring Polaris, Tricks of the Night Sky, Volcanoes: The Fires of Creation or Are We Alone?), or Digital Immersion Gallery featuring the bedtime story Goodnight Moon
The membership is worth it as you can visit throughout the year – their exhibits and digital immersion experiences are changing every few months
There's a room for coats, or you can hang them on your way to the Creative Kids Museum
While kids eight years and younger will appreciate visiting the Creative Kids Museum, older kids will have fun upstairs, where they can get hands-on experience with science experiments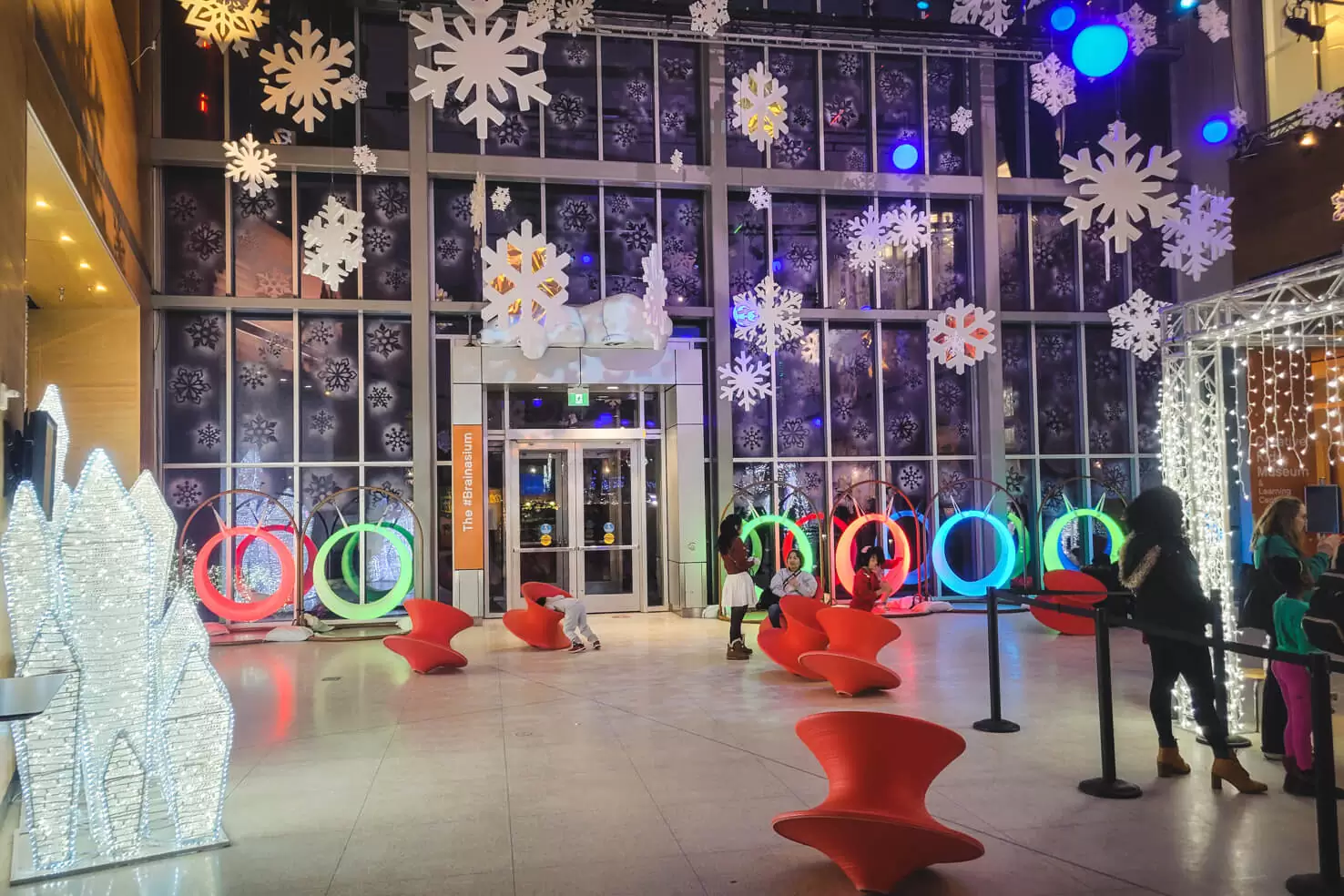 Sparkle Sparkle is a beautiful festive event for all ages. I hope this guide gave you all the information you need to experience Sparkle Sparkle and have a great time.
For more festive events, check out the Lions Festival of Lights and Ice skating at Olympic Plaza.
Winter activities in Calgary
Winter day trips from Calgary