Quarry Lake in Canmore is a breathtaking spot year-round with a mountainous background. Whether you like swimming, watching wildlife, biking or photography, Quarry Lake has it all. Here's all the info you need for visiting.
We visited Quarry Lake countless times in all seasons. I still remember the best morning at Quarry Lake. We parked our campervan at the empty parking lot, made a fresh breakfast of scrambled eggs, and walked around the lake. That's when we saw a big herd of elk grazing by the trees.
After the sun came out and warmed us up, we enjoyed the views of the serene mountain landscape behind Quarry Lake and went for a bike ride.
Since then, it has become one of our favourite family spots to enjoy a sunny day in the mountains. And thanks to the sandy beach and shallow water access, our son loves it, too.
Quarry Lake, Canmore – Everything you need to know before you visit
Where is Quarry Lake?
Quarry Lake is located southwest of downtown Canmore and is easily accessible.
You can get to Quarry Lake from Canmore:
By foot – you can park for free at Riverside Park, cross the Bow River bridge, and go through paved and dirt trails up to Quarry Lake; it takes about 20 minutes.
By bus – there are hints of construction along the road that looks like a future bus stop; fingers crossed!
By bike – the easiest and cheapest option- follow the above directions and bike the road to Quarry Lake.
By car – From Canmore, take Three Sisters Drive, then turn right onto Three Sisters Parkway/Smith Dorrien Spray Trail. It's only 3.7 km from downtown Canmore, about a 5-minute drive.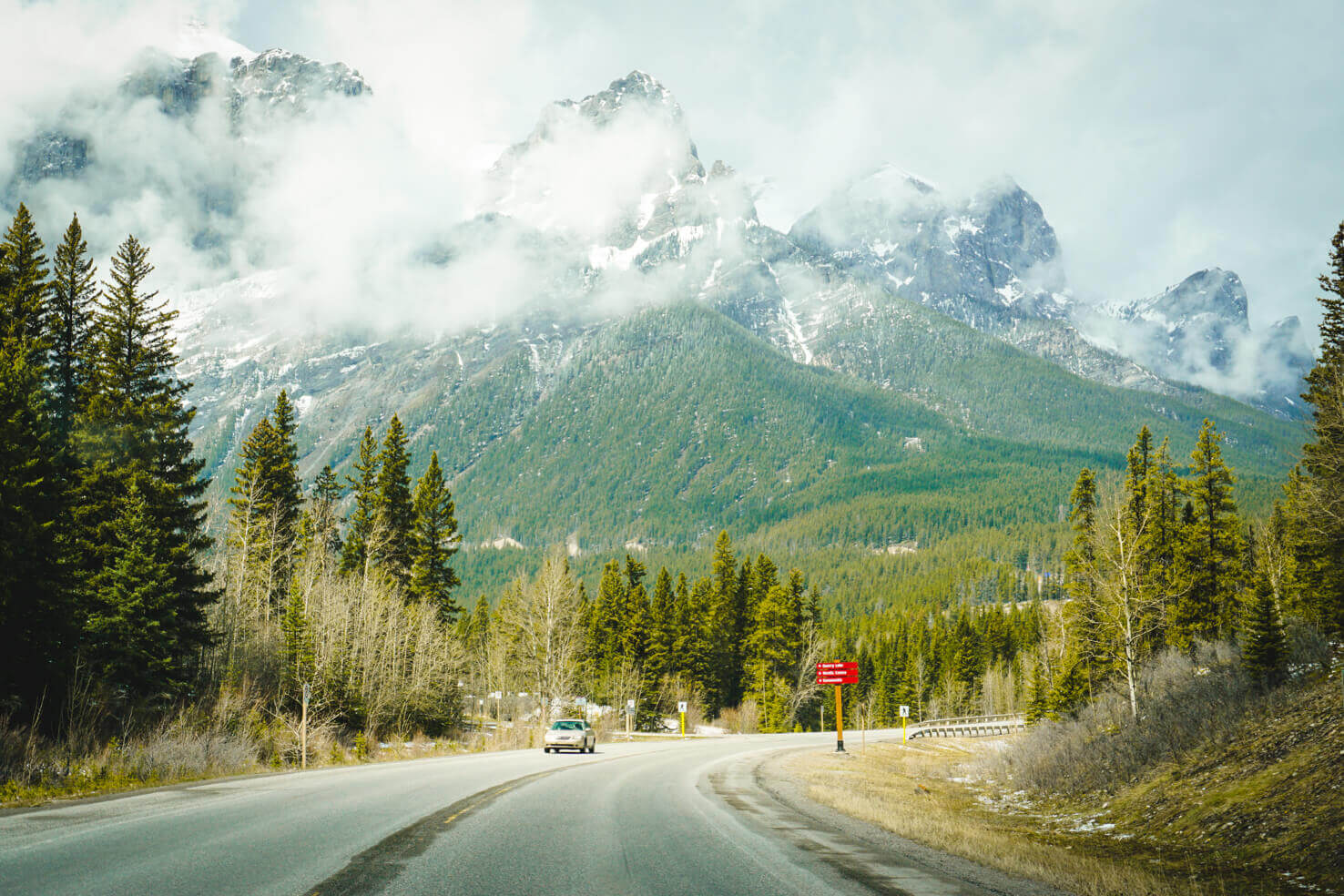 READ NEXT
47 Fun Things to Do in Canmore (With Insider Tips)
Parking at Quarry Lake
I can honestly say that the pleasant visits to Quarry Lake were ruined for many families by introducing the steep parking fees.
While Canmore residents can park at Quarry Lake for free when they register their car, visitors need to pay parking fees as follows:
10 CAD/2 hours
30 CAD/3 hours
40 CAD/5 hours
You can pay at the parking booth in the parking lot or through the Blinkay App.
As you can see, spending a day at Quarry Lake is quite pricey. Also, it's almost impossible to find a parking spot in summer unless you arrive early in the morning. That's why so many families often choose the small sandy beach at Riverside Park or go to Rundle Forebay (both free to park and visit).
Can you swim in Quarry Lake, Canmore?
Yes, you can swim in Quarry Lake. The water temperature is similar to the nearby Rundle Forebay. A quick swim during a hot summer day is enjoyable, but not for many. It depends on your comfort level.
Do you have to pay for Quarry Lake?
Quarry Lake is free to visit. The surrounding areas belong to Kananaskis Country, but Quarry Lake and the parking lot do not, so you don't need to purchase the Conservation Pass required for Kananaskis.
Amenities
Picnic tables, benches, and pit toilets are on both sides of the lake. One cool thing they have are free life jackets you can borrow.
How busy is Quarry Lake?
Quarry Lake gets extremely busy on hot summer days. To the point when there are no parking spots left and almost no space to put your blanket down by the sandy beach. But you can always walk or bike to Quarry Lake and then go to the south side of the lake for a quieter visit.
Activities
While the lake really is cold even in summer, I'm always amazed by all the sweaty parents looking at their kids having fun in the water, and they don't go to the water past knee height. I love a dip or a quick swim at Quarry Lake; it's an excellent immune booster and prepares your body for the long winter.
Picnic benches are located on both sides of the lake. There are no barbeques, but you're allowed to bring your own. The picnic views can't get any better!
The walking path around Quarry Lake is 1 km long. While you can't bicycle around, small kids can use their balance bikes on the trail. It's a beautiful walk all around.
There are several mountain biking trails just behind the Quarry Lake. You can take the Highline Trail from the parking lot and then continue:
on Powerline Trail, either west towards Rundle Forebay or east towards Three Sisters
or continue on Highline Trail through the forest area
Just remember to carry a bear spray and be aware of your surroundings. This area is highly visited by wildlife and is sometimes completely closed.
One of our first mountain biking rides in Canmore was on the Highline Trail when we had to turn around in the beginning due to grizzly mama enjoying the trail with her cubs.
If you'd like to see some wildlife (mostly elk), I recommend arriving in the morning or the evening; sightings are almost guaranteed at these times.


Quarry Lake might be fun for beginners or kids, but I highly recommend the nearby Rundle Forebay for SUP instead. Quarry Lake is very small, and if you're using an electric pump to inflate your SUP in your car, it's quite a walk to get to the lake.
Are dogs allowed in Quarry Lake?
Dogs are not allowed around Quarry Lake. However, a giant off-leash area right by the parking lot is very popular for dog owners.
History
Quarry Lake was an open pit coal mine just 50 years ago. It became a recreational area with a lake fed by mountain spring water.
What next?
As mentioned several times above, Rundle Forebay is a great place to spend a sunny day in Canmore. Rundle Forebay is the best and most scenic place for stand-up paddleboarding, closest to Calgary.
READ MORE
11 Best Places for Stand up Paddle Boarding in Banff & Around
We love biking and cross-country skiing at Canmore Nordic Centre. They have a rental shop onsite with fat bikes and skis, and you can warm up by the fireplace at the Daylodge in winter. In summer, mountain biking trails have a nice flow and range from easy to difficult.
If you like challenges, start biking the paved path at Canmore Nordic Centre, and then continue on the Rundle Riverside Trail to Banff. It's a challenging but scenic route.
An easy and gorgeous hike leads to a turquoise and emerald lake above Rundle Forebay. There's an easy and difficult trail to the Grassi Lakes. The easy one is great for off-trail strollers and kids, and the difficult one has several rocky steps and even a waterfall.
The trail is a 4 km roundtrip with 220 meters of elevation. While the best time to hike is from May to October, when the lakes are thawed, it's also often open in winter.