White, pink or black sand beach? Lombok has them all. Do you like surfing, snorkelling, swimming or stand-up paddleboarding? Find the best beach for each activity right here and choose from 12 different beaches.
Lombok Island in Indonesia is a beach paradise and unlike beaches in Bali, most of them are uncrowded. While the majority of the beaches are south near Kuta, Senggigi also has a few worth a visit. Here's a list of the best beaches in Lombok and a few that you can skip (and why).
Some people prefer white sand beaches with turquoise waters and don't care about much else. But the best beaches in my point of view are those that also offer water activities. Michal and I are those people who can't just lie on the beach the whole day and do nothing. As you will see below, we're listing the beaches that offer some kind of fun.
A quick overview of the best Lombok beaches
Best beach for:
Surfing – Tanjung Aan (beginners) & Mawi Beach (advanced)
Snorkeling – Pink Beach
Stand up paddle boarding – Kuta Beach & Tanjung Aan
Swimming – Mawun Beach & Tampah Beach
Running – Tanjung Aan, Selong Belanak (we also tried other beaches but were sinking in the sand)
Views – Tanjung Aan & Semeti Beach both have higher lookout points
Quietness (no beach sellers) – Semeti Beach & Tampah Beach
Swings – Tanjung Aan
Interaction with locals – Pantai Nipah near Senggigi (before sunset)
Black sand beach – Pantai Klui in Senggigi
Pink sand beach – east from Kuta
White sand beach – Semeti Beach & Tanjung Aan Beach
A detailed explanation of each beach is below.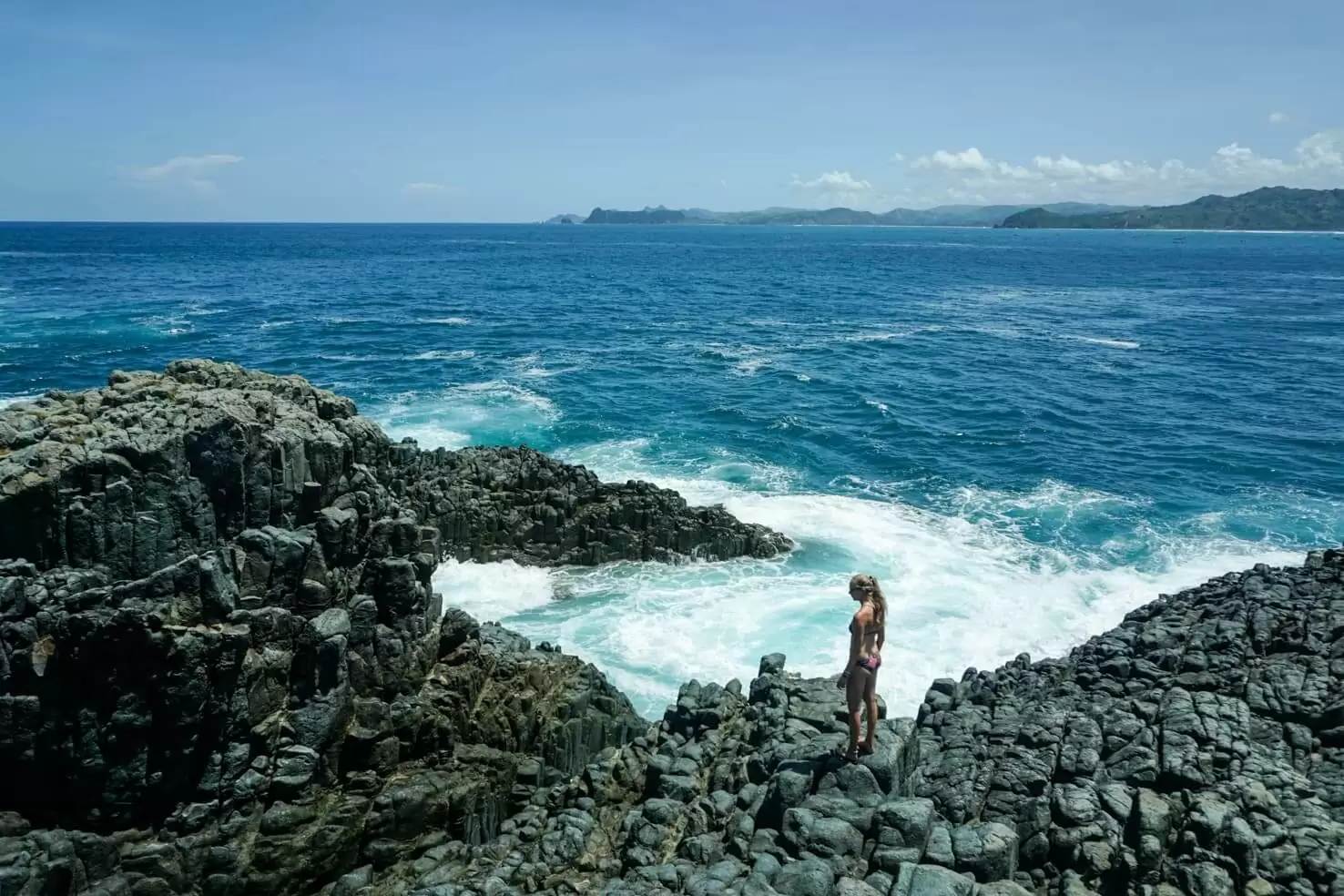 When you arrive in Lombok, head south to Kuta, which is only 20 minutes away from the international airport. It's a great base for beach hopping with lots of accommodation and food options. Read our travel guide to Kuta to see what you can expect.
Lombok beaches
Below are the beaches we explored during our time in Kuta. The ones marked with a star* we enjoyed the most.
You can visit these beaches either by scooter or a shared ride/taxi. I've seen most people rented a scooter, it's the cheapest and most convenient option (scooter rental 50,000 IDR = 3.50 USD per day).
The roads in the south of Lombok are well maintained and too quiet for a traffic congestion (the complete opposite of roads in Bali). The only other option would be to hire a driver or use a taxi. Ask your accommodation for these options, they should be able to suggest a driver or ask tourist agencies on the street (be prepared to haggle).
West of Kuta (south of Lombok)
1. Kuta Beach
It's right in Kuta and although mostly local tourists go there and don't swim, we found it to be a nice and quiet spot. Beach is lined with several warungs and further with surf shops and brand new road. It's an ideal place for stand up paddle boarding due to its calm water.
2. Areguling Beach
The first turn we made when we left Kuta was to Areguling Beach. There were a few surfers chilling in the warung and waiting for the waves but we found it to be too dirty to hang out at. Parking is 5,000 IDR per scooter.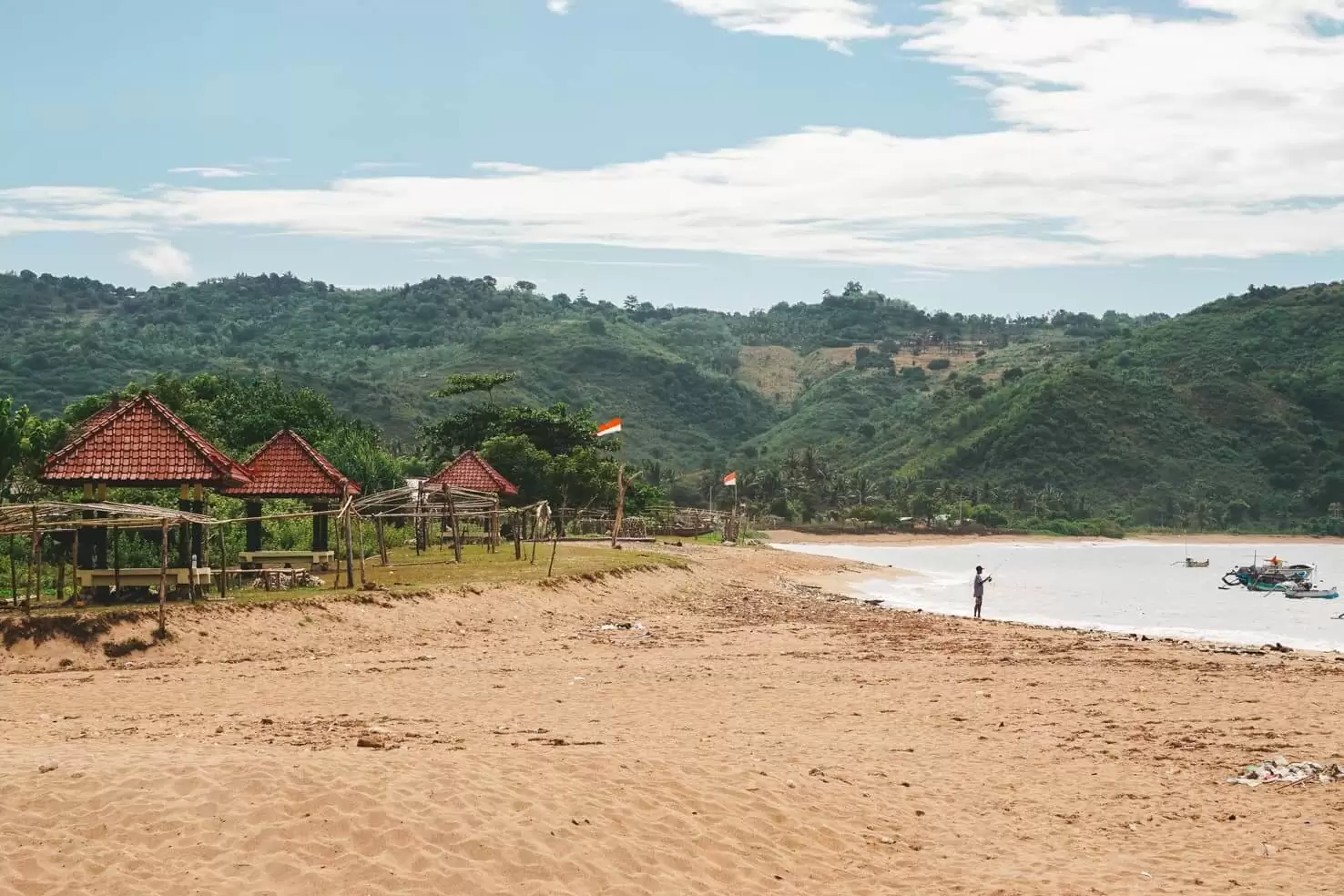 3. Mawun Beach*
A popular beach with locals and tourists. It's a typical beach with sun beds, warungs, and nice turquoise and not too shallow waters, great for swimming. Entrance fee is 10,000 IDR per scooter and we negotiated sun beds with 2 coconuts for 50,000 IDR.
We spent here around 2 hours mostly because a teacher and 8 of his students came up to us and asked if they can practice English. 10-year-old kids were very sweet and eager to learn new words and correct pronunciation. It was an unexpected interaction with the sweetest little locals.
4. Tampah Beach*
As the sign on the main road says – the cleanest beach in Lombok. Locals clean the beach every day!! And it looks quite different from other beaches. There are no beach sellers allowed.
Few shacks made from bamboo and palm leaves provide shade, warungs have good food – cooked, fresh fruit or coconuts, the water is ideal for swimming and the beach long enough for half an hour walk along the shore. Parking fee is 10,000 IDR per scooter.
5. Lancing Beach
This beach is on the same stretch as the previous Tampah Beach. But when you use the further entrance from the road, it's a different beach and you will be charged a parking fee of 10,000 IDR.
6. Mawi Beach
The cracked road to the beach is quite long but this is the place where advanced surfers go play. There is a shaded area for parking and chilling, few warungs and pretty big waves. If you're not an advanced surfer, you can easily skip this one as there's not much to do. Entrance fee is 10,000 IDR per scooter.
7. Semeti Beach
The same entrance for Mawi Beach is also for Semeti Beach, once you ride down the road and along the rice field, either turn right to Mawi Beach or left to Semeti Beach.
I have no idea why but this beach is completely deserted. There is absolutely nothing and nobody on the beach. But there is white sand, turquoise water and a rocky area on the left from which is a nice view over the ocean and the beach.
8. Selong Belanak
The dirtiest and furthest beach from Kuta. The first entrance is 10,000 IDR per scooter but we went further to see what's there and found out there is another entrance.
It's where locals live and where most of the fishing boats are. It's probably the reason why we didn't enjoy this beach. The entrance was lined with piles of garbage. When we parked our scooter we walked between houses and garbage.
We also went to check out the first (tourist) entrance but it was full of scooters and the beach looked very crowded with people and sun beds. Feel free to visit this beach and use your own judgment but I suggest skipping this one.
East of Kuta (south of Lombok)
9. Tanjung Aan Beach*
Tanjung Aan Beach is the whitest beach in Lombok. Some surf shops take beginners here to surf but since waves are quite far from the shore and reachable by boat, it's also a great place for swimming. The beach has several warungs with cooked and fresh food, swings in the water and I also saw a stand-up paddleboard rental for 100,000 IDR per hour.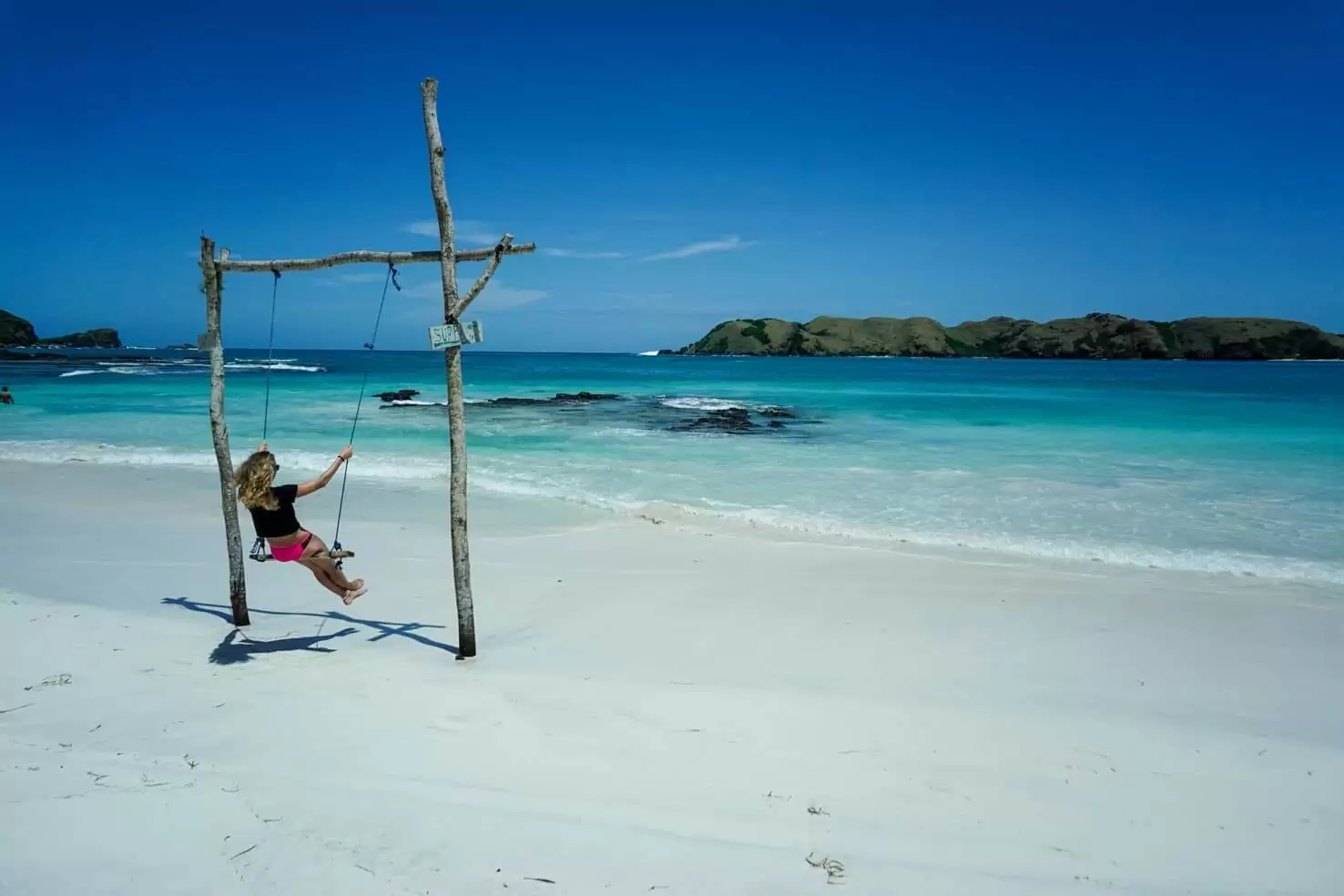 There is a hill you can walk up for a nice view of the beach or stay until sunset and go to the nearby Bukit Merese, a popular sunset spot. Entrance fee is 10,000 IDR per scooter.
You can read about our surfing experience here or find an ideal surfing spot based on your level here.
10. Pink Beach*
Yes, you read that right. One of the 10 pink beaches in the world is on Lombok Island. Pink Beach (Tangsi Beach) has a beautiful slight hue of pink sand.
It's located on the easternmost point of Lombok and takes around 2,5 hours by scooter. It's also possible to get there on a snorkeling tour from Kuta but you would miss out on seeing all the monkeys and meeting incredibly friendly locals.
You can go kayaking with kayak rental on the beach or snorkeling further from the shore with a local fisherman (but you need to bring snorkeling gear). There are several warungs with good food and also a cliff from which you can see the pink beach and another beach on the opposite side.
Near Senggigi (western Lombok)
Senggigi has several beaches but many of them are right by the hotel resorts or restaurants. I recommend driving along the coast north of Senggigi for a more local vibe.
11. Pantai Nipah
We've visited beach Nipah before the sunset and although we had to drive back partly in dark, it was worth the visit. There was a local football game on the football field right next to the beach. We bought a coconut and watched kids playing in the ocean, fishermen coming back home and admired their buckets full of fish.
12. Pantai Klui
The black sand beach which has a nice entrance through the palm trees. Kids were swimming or surfing in the water and local sellers were offering drinks and simple meals. There wasn't a single foreigner when we visited so we became the biggest attraction when locals stopped by to take a photo with us.
---
Which one of Lombok's beaches would you visit first?

---
Spread the word! PIN this to your Pinterest board.